Button, Brabham grab Indy Legends wins as Triple Crown championships intensify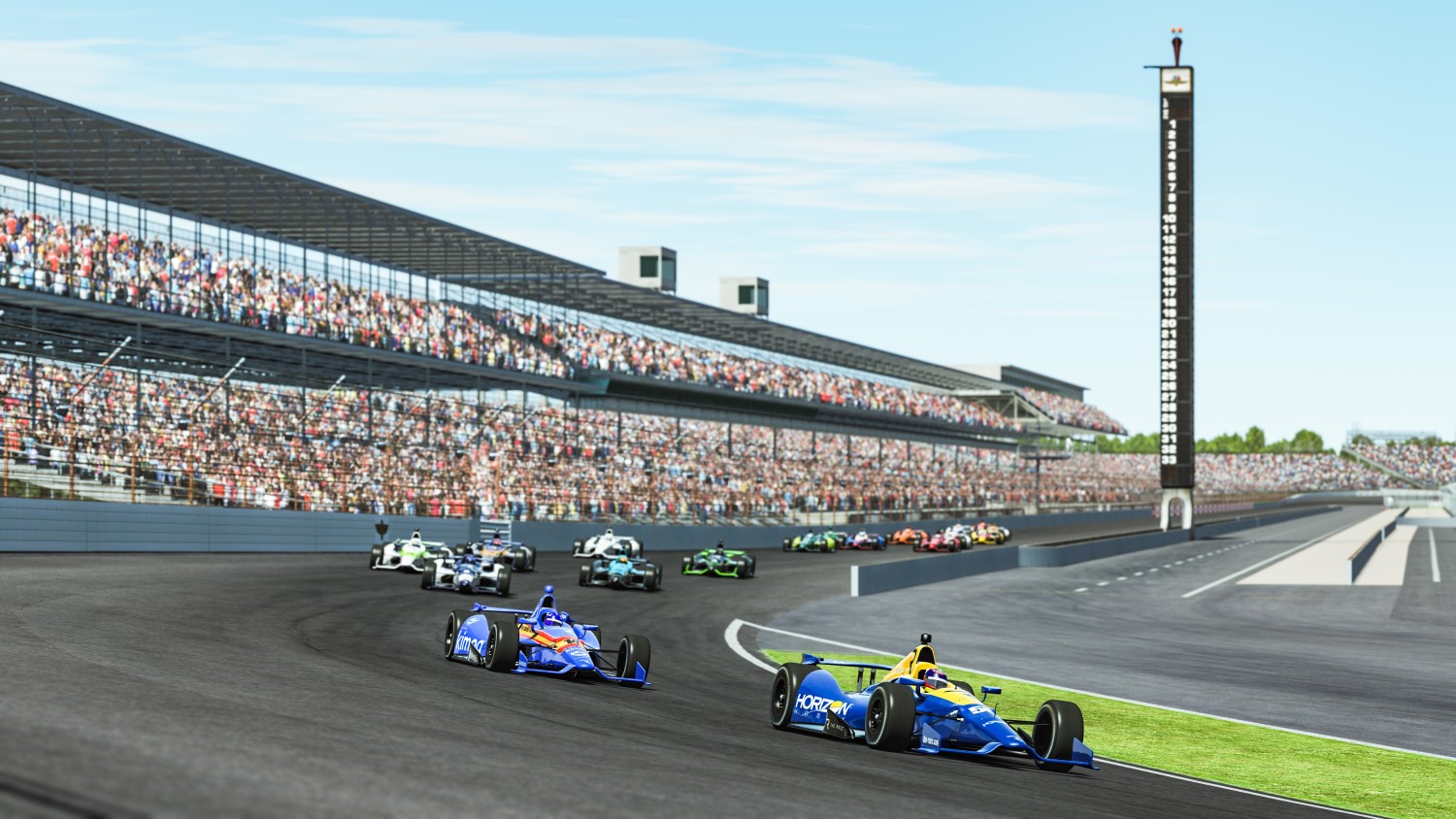 Alonso, running 2nd, would spin on the final lap trying to pass Button for the win
2009 F1 World Champion Jenson Button and 2009 24 Hours of Le Mans winner David Brabham were the big winners today in the Legends Trophy battle as The Race All-Star Series powered by ROKiT Phones completed its second race of the "Triple Crown" at Indianapolis Motor Speedway.
The Torque Esports-created series returned to Indy after staging the opening Triple Crown race two weeks ago in Monaco.
Brabham earned his first All-Star win on the virtual venue today where his father Sir Jack Brabham started the Indy 500 "rear engine revolution" in 1961. The three-time Formula 1 champion brought a rear-engined car to the speedway for the first time that year, beginning a transformation that resulted in the entire field being filled with rear-engined cars within eight years.
Two-time Indy 500 winner Juan Pablo Montoya took his third consecutive runner-up finish ahead of Andy Priaulx.
"Finally, I got to win one of these Legends races and on the oval at Indianapolis! I'm thrilled with that," Brabham said.
"It was fantastic racing on the oval, it's amazing, everyone is enjoying it. It's pretty intense in the race, just in trying to keep the car on the track. It's so close racing with the tactics. It's just little things here and there and you can lose a few hundredths and then you're way back on the grid.
"It's very competitive. There are great drivers in there and I'm just pleased to finally get a decent result."
Winners are grinners. His dad, his brother and even his nephew have raced at Indy – now @brabsracer has a virtual Indy win.

ðŸ"º Watch now at:
ðŸ'» https://t.co/WdVqh7S2NG
🇺🇸 Live on @ESPN 2
🇬🇧 Live on @Eurosport_UK pic.twitter.com/QD4ZYqzZRc

— The Race (@wearetherace) June 20, 2020
The reverse grid race mirrored the All-Stars Series first-ever Indianapolis event on May 23 where ex-Formula 1 teammates and World Champions Button and Fernando Alonso went head to head.
In May, it was Alonso who took the win with the pursuing Button getting loose on the final lap. This time the roles were reversed with Button holding the lead and the chasing Alonso suffering a spin in the last mile as he tried to chase down his rival.
"It was awesome to get a win, really cool. It's always so much fun driving with these guys," Button said.
"I wanted to be in front on the final lap and I knew that if I blocked it would be very difficult to be overtaken and he would lose a lot of downforce as you saw. This time it wasn't me that spun out, it was Fernando! A lot of fun, very happy."
Ex-World Rally Champion Petter Solberg was second across the line with ex-Formula 1 racer and three-time IndyCar race winner Max Papis completing his best finish to date in the All-Star series with third place – just ahead of Alonso.
WOW! @JensonButton takes the win, @alo_oficial takes the spin. Another incredible battle in the @wearetherace All-Star Series powered by @ROKiTPhonesUK #LegendsTrophy!

ðŸ"º Watch the recap now at:
ðŸ'» https://t.co/WdVqh7S2NG
🇺🇸 Live on @ESPN 2
🇬🇧 Live on @Eurosport_UK pic.twitter.com/XkVvFliRbk

— The Race (@wearetherace) June 20, 2020
Race Replay