Jimmie Johnson eyes IndyCar go for 2021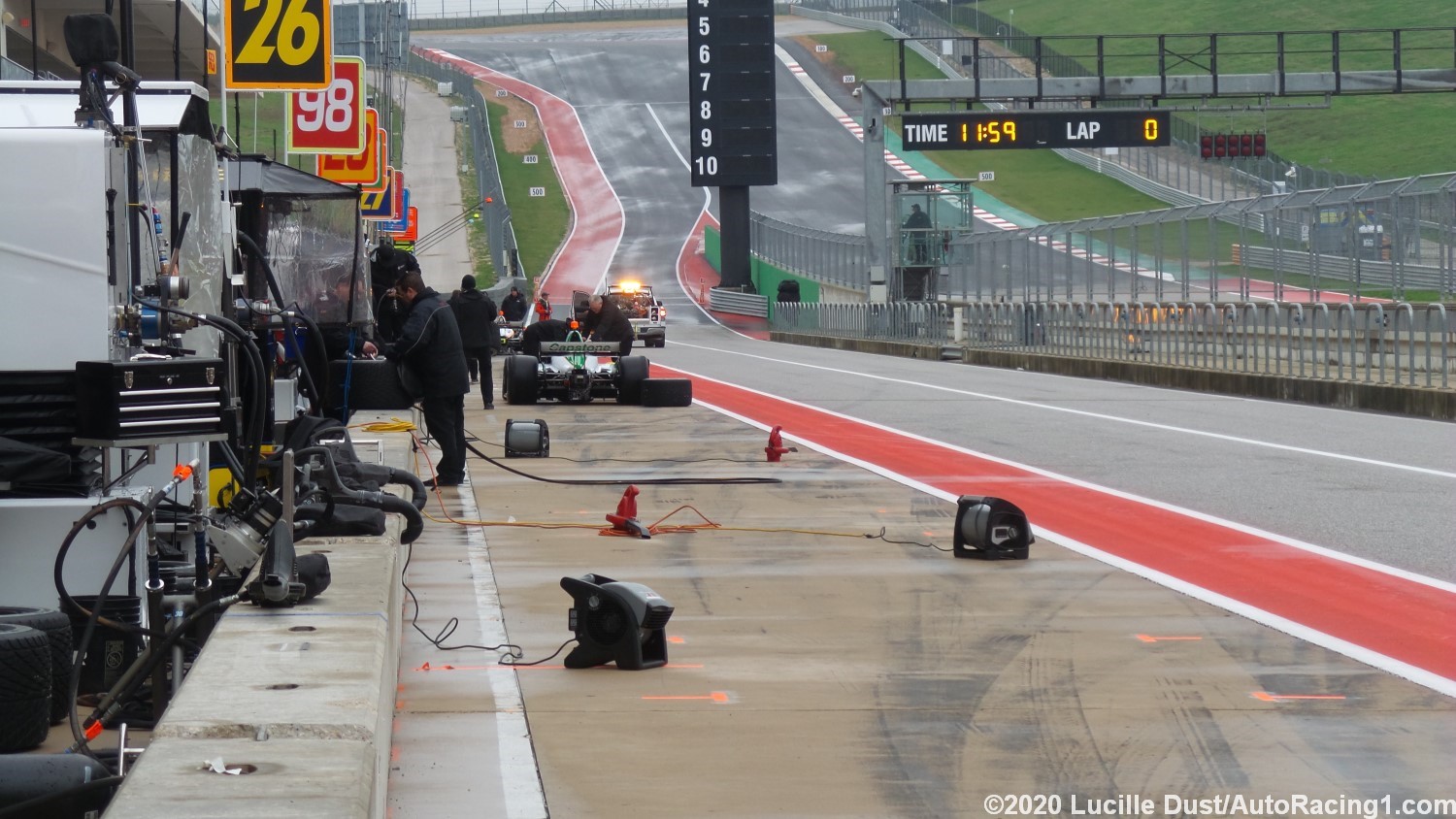 Currently under a red flag at COTA. Too wet and cold.
NASCAR ace Jimmie Johnson is here at COTA taking in the IndyCar Spring Training/Open test on a cold damp day in Austin.
Word is he is talking to the Arrows McLaren SP team and is open to trying out IndyCar Racing after his NASCAR contract expires this season. .
"I'm here to look around and have some fun," Johnson, 44, told NBC's Leigh Diffey during a taping for NASCAR America. "I have some great friends here in the Austin area. I have great friends here in this garage area, including my friends at McLaren. I did the Formula One swap with Fernando Alonso a few years ago. I just wanted to check it out."
"I love Austin and I always wanted to come to this racetrack. Hopefully, we get some cars on track and see some action."
ow that INDYCAR has created the aeroscreen, it has increased Johnson's interest in getting into the cockpit himself.
"The aeroscreen for me is huge," Johnson said. "From a safety standpoint, I'm used to having a roof over my head and a windshield in front of me. That safety step really opens up my interest in INDYCAR. I grew up going to the Long Beach Grand Prix and was an IndyCar fan and thought that was going to be what I did. But my career path went in a different direction.
"Getting in an Indy car, experiencing one and maybe racing one is all on my bucket list."
Johnson admitted that he considered running the Indianapolis 500 10 or 12 years ago. He discussed the possibility with team owner Roger Penske.
"INDYCAR has been something for me that as a kid growing up, I dreamed of racing," Johnson said. "As a kid in Southern California, I went to the Long Beach Grand Prix. Rick Mears was my hero and like me, he came from off-road racing. It's always been on my radar. My career took me to NASCAR. I have no clue what 2021 holds for me, but I'm open.
"If the right opportunity comes up, I would certainly consider it."
"Jimmie is a legend," Rahal told NBCSports.com. "It would be tremendous to have him in the INDYCAR paddock and racing with us. It would be an honor to race with him and against him. He is one of the best to ever do it. It's just that simple.
"I think the style of racing is intriguing. The cars are fascinating for people to see and drive nowadays. The safety is continuing to improve and get better. The health of the sport has increased so much since from when I came around, for a lot of people the sport is opening eyes again and want to come be a part of it.
"The biggest challenge for him will be the braking capabilities and the downforce compared to it. The acceleration will be quicker, but a Cup car has tons of power, too. He would adapt perfectly fine. Given some testing and everything else, he will be right there."
"I like to see guys accept the challenge and come over and do it. Scott McLaughlin and J.J. talking about it. Kyle Busch has expressed interest in running the Indy 500. All of these guys are opening their eyes to what is going on over here. INDYCAR is on the rise. They want to be a part of it."
Always a pleasure to catch up with â�¦@JimmieJohnsonâ�© . ðŸ'� Gotta find a good spot to keep this one! pic.twitter.com/oMJydy4gce

— Zak Brown (@ZBrownCEO) February 11, 2020