Another manufacturer quits DTM, will BMW be next?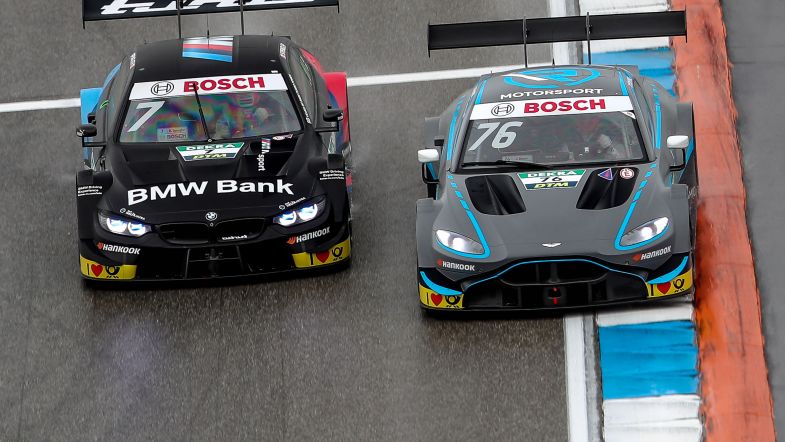 BMW battles Aston Martin in 2019.
Motorsport director Jens Marquardt says BMW will "analyze a changed situation" in the DTM following the announcement that R-Motorsport will leave the series after a single season.
The end of the Aston Martin program comes as no surprise after a tough debut campaign that ended with a split with engine partner HWA.
Whilst the new Class 1 regulations will come into force in Super GT in 2020, none of the Japanese brands that took part in the 2019 season finale at Hockenheim will join the DTM grid during the year ahead, leaving the series as a straight fight between Audi and BMW and with Mercedes quitting DTM to focus on Formula E, how much longer will it be before Audi and BMW quit? Audi and BMW both compete in Formula E, the future of automobile propulsion.
Reflecting on the news of R-Motorsport's departure, Marquardt admitted that it was a shame for the series, but pointed to the success of the joint races with Super GT in both Germany and then at Fuji as an indication of how the series can grow in future and vowed to work with series organizers ITR to help the DTM going forwards.
"We have regretted the fact that R-Motorsport will no longer compete in the upcoming DTM season," he said. "That's a shame, because the team has definitely enriched the 2019 series. This naturally results in a changed overall situation for the DTM, which we will analyze in detail together with the ITR.
"Basically, there are many good prospects with the international Class 1 regulations, the planned hybridization of the engines and the vision of an all-electric series. In order to fully exploit the potential of the series in the medium and long term, the participation of other manufacturers is essential.
"The basis for this is given by the Class 1 regulations and we were able to experience the scope of this international perspective for the DTM in 2019 at the joint events in Hockenheim and Fuji with the Japanese manufacturers. It is now important to build on this and at the same time to develop short-term solutions with a view to the 2020 season. BMW will continue to do its best to support the ITR in this way."