Atlanta Motor Speedway seeks 2nd Cup race and Casino
A standing room-only crowd at the Atlanta Motor Speedway demonstrated that a possible resort and casino in the area might have the support of the community.
It was a crowd that Rep. Rick Williams, R-Milledgeville, called the friendliest large crowd he had ever seen, noting that typically, large crowds visit meetings to express disapproval with a proposal.
Instead, residents spoke with excitement about the prospect of a possible resort on the Atlanta Motor Speedway grounds, with some calling the proposal an opportunity that the state and the area had to make the most of.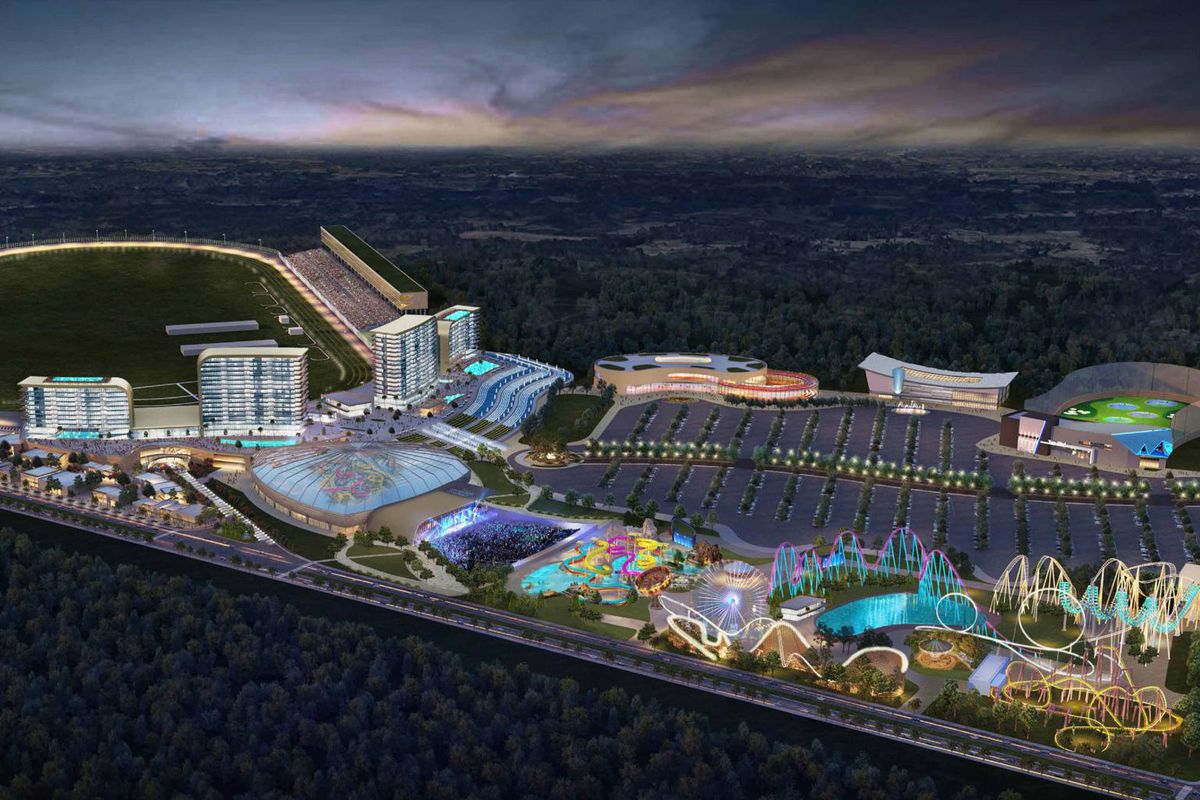 "I believe this is an opportunity Henry County can't afford to waste," said Stockbridge resident Kathryn Gilbert. "We had an opportunity to bring Pinewood Studios right here. What has happened in Fayette County? It's booming. We had that opportunity, and because of people that didn't want that 'awful' movie studio in their backyard, we lost it. Let's not lose this."
Another resident, Scott Davidson with Keller-Williams Realty, spoke of the impact a possible resort could have on home prices, stating it could provide an opportunity for builders to produce homes in the value of $400,000 to $500,000, and allow those that purchased homes worth $300,000 prior to the collapse of the economy around 2007 or so to sell their homes at resale value.
Willie Turner, a member of the Hampton City Council, spoke of his experiences in Vicksburg, Miss., where a handful of casinos now call home.
"When they introduced it, a lot of people were against it," Turner said. "But they brought in (a tax base,) the taxes went low and home value went high. They thought it'd be congested, but the congestion came from people who got jobs there. Casinos did a lot for the area. It brought in a lot of good-paying jobs. Sometimes we're afraid of change because we don't understand it. We have to give it a chance."
Very little opposition was presented at Thursday's meeting. However, some residents expressed concern about the impact that a casino and resort would have on the infrastructure that already exists in the area.
The proposed casino and resort would possibly be operated by Foxwoods, a partner of Atlanta Motor Speedway's parent company Speedway Motorsports, and a sponsor of a NASCAR Cup Series race at the New Hampshire Motor Speedway in Loudon, N.H., a track also owned by SMI.
Ed Clark, president of the Atlanta Motor Speedway, asked meeting attendees to picture a resort with a major hotel and convention space, gaming and dining facilities, high-end dining, a theme park with rides for all ages, an indoor/outdoor water park, concert venues, a golf skill arena, an outdoor adventure course, a major cinema, a grand scale night club and the like.
"We want to construct something our community does not have," Clark said.
Clark explained the facility is a natural location for this due to its proximity from downtown Atlanta and the Atlanta airport, as well as a general aviation airport located adjacent to the Speedway on the north side.
According to a conceptual drawing of the resort on display at the meeting, the proposed facility would be on the southern end of the Speedway grounds, currently occupied by parking and camping space.
Clark, who has been president of the Speedway since 1992, was very pleased with the large crowd and the positive sentiment shared by the community.
"(I'm) pleased and shocked with how many people showed up today," Clark said. "I didn't think we had such a network to let people know, but evidently word on subjects like this spreads pretty quickly. We were thrilled to have so many here.
"We always strive to be a good community citizen and support the community through our charity and other community things that we do," he also said. "It's obvious we have the support."
Clark cautioned residents to not celebrate prematurely, however, as there are many steps in the process before such a facility can be built in the area, and that other locations in the state will be competing with the Speedway for a casino gaming license. However, the support was still encouraging to see to the longtime track president.
"At this point in time as we move through the process, knowing we have this level of support, it's amazing," Clark said. "If it doesn't encourage you to go work a little bit harder to get this done, I don't know what would."
Clark also suggested that the success of the casino would help the track keep a date on the NASCAR Cup Series schedule moving forward.
"If we got this, not only do I think it would ensure our current race, and I don't see any opportunity for that race to go away, I think it would encourage us to get a second date back," he said. "Our company's already talked about it, and it's early in the game, but with the attractions here, why would you not ask NASCAR to take a look around and come back for a second date? You don't get it if you don't ask."
Back in 2011, the Kansas Speedway in Kansas City gained a second date not long after the track's casino project, the Hollywood Casino, opened to the public. Henry Herald