Erik Jones wins Busch Clash on a wing and a prayer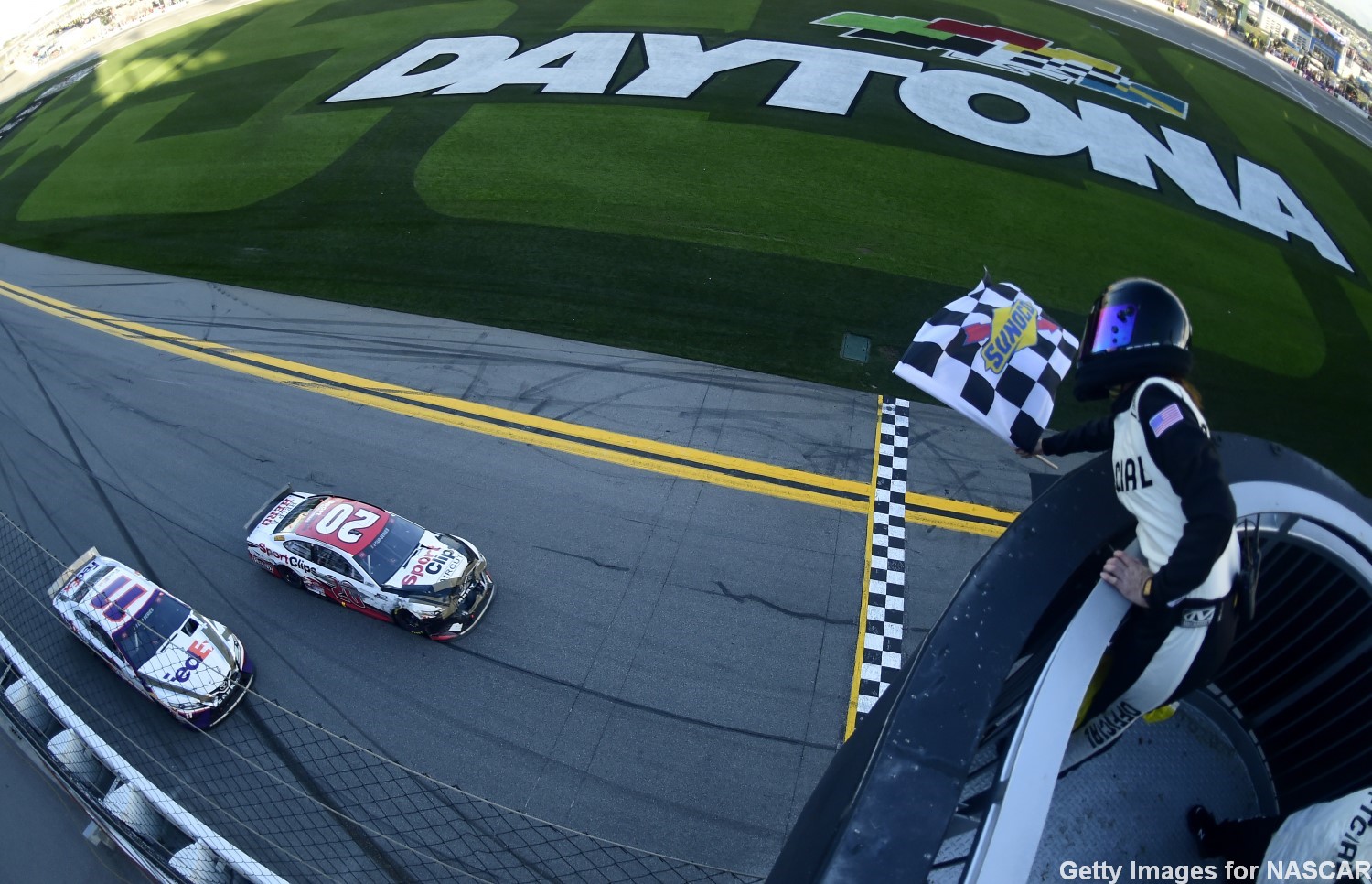 Erik Jones (20) wins the Busch Clash at Daytona
At the start of Sunday's Busch Clash at Daytona International Speedway, there were 18 cars on the starting grid.
When the checkered flag flew, only six were still running.
In the end, it was Erik Jones in a heavily damaged No. 20 Toyota getting the win in the non-points event for the NASCAR Cup Series, thanks to a push from teammate Denny Hamlin, who was running a lap down at the end.
The win came in triple overtime after a trio of multi-car crashes left the field decimated over the course of the final ten laps of regulation racing.
[adinserter name="GOOGLE AD"]"It was an awesome race," said Jones. "I've got to give a huge thanks to Denny (Hamlin) there in the 11. He stuck with us there that whole last lap. This thing wasn't the fastest car, I don't think, left in the race, but we brought it home. I owe him one for that one for sure. Really cool though. I mean Busch Clash first year back, to win that, that feels good and with SportClips again. These guys have been really loyal to me the last few years, so it's cool to get them another win and hopefully next Sunday, we cap off another one right here."
Jones takes home his first Busch Clash win, giving Joe Gibbs Racing their ninth event win as an organization.
And it didn't come easy, as the remaining cars swapped positions over and over in the final two laps. Coming into the final lap, the leaders were stacked three-wide, with Ryan Newman taking the lead, with Austin Dillon and Clint Bowyer in third.
But the duo of Jones and Hamlin hooked up and powered around the leaders down the backstretch, with Jones going on to take the win.
"I was hoping I could get pushing the 6 (Ryan Newman) and get up front and then hopefully, then Denny was going to help us." Jones said. "That didn't exactly work out. Everybody was slicing with that few of cars. He just locked on and we stuck together. I think honestly my car was so draggy, it wasn't too much for him to stay connected and he was able to push us home. Feels good to start off with another win."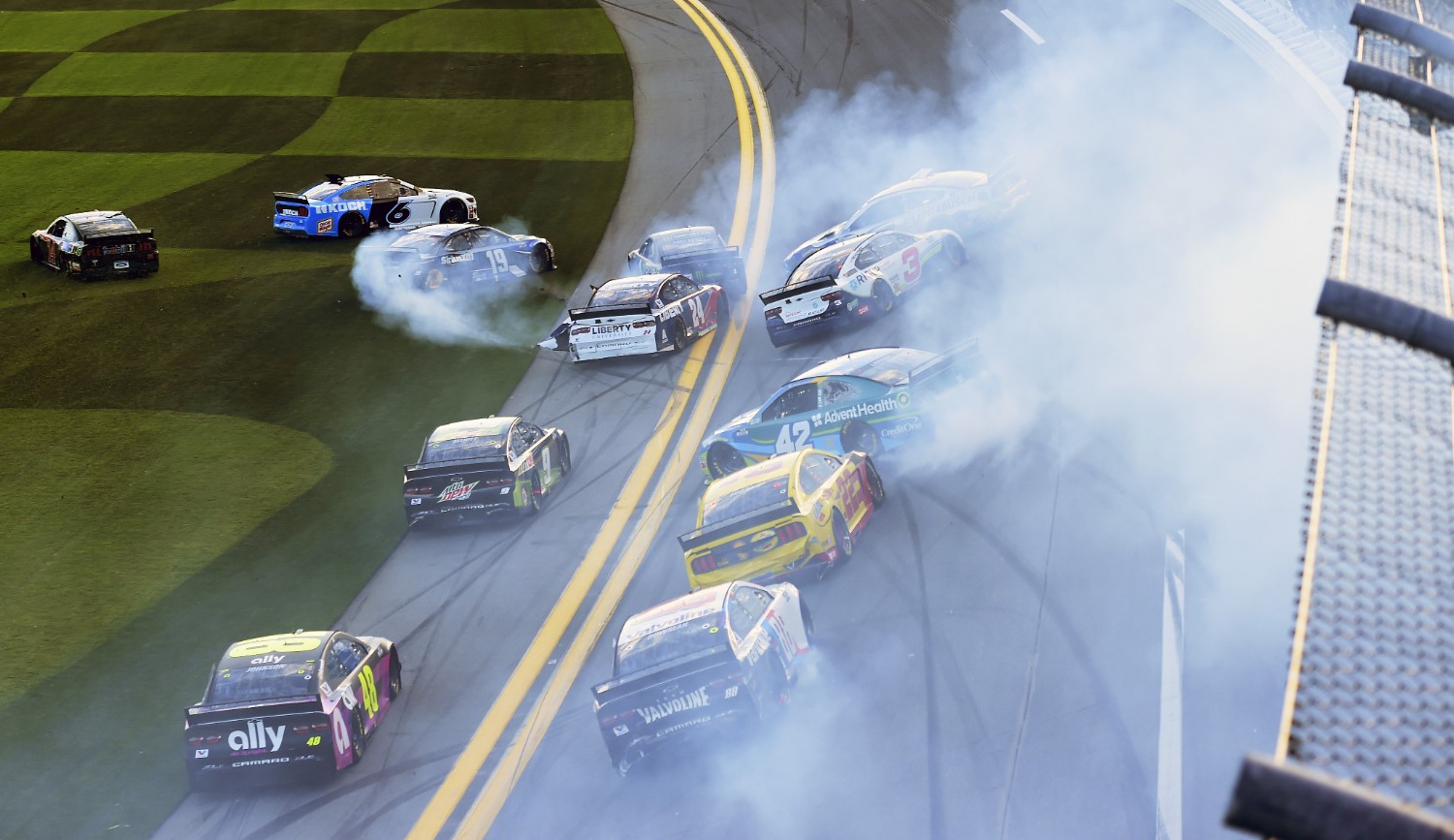 One of many multi-car crashes during Sunday's race
Jared C. Tilton/Getty Images
"It's so awesome," said Hamlin. "I mean I knew he needed to strap in because that last lap I was going to push him. I didn't care if I was going to push him into a wreck. I was just going to push him. It was fun. I mean my car was so, so fast. Proud of the effort there. Glad we got a team win, I mean that's all I could really do at the end was push him to victory."
Jones came back from a pit road incident and from being involved in two crashes to make the trip to victory lane.
"Yeah, it's pretty bad, but the Camry kept running strong," said Jones. "We came down and didn't really know what we were trying to fix. I couldn't see it, but could tell the hood was pretty torn up, and the right front was as well. I didn't know it was that bad to be honest with you until now, but it sure feels good to come out of here with a win, especially in a race with perseverance like that. You don't want to give up and when it pays off in the end, it makes it extra special."
The first melee broke out as Kyle Busch was trying to pass then leader Joey Logano on lap 66 of the 75 lap event. The two made contact as they raced through turn four, sending both around and collecting Brad Keselowski in the crash. All three were eliminated from competition. Hamlin and Jimmie Johnson were also involved, but were able to continue with minimal damage.
"I was going to look low, but I knew he was driving low, so then I was like okay, I'm going to go high and then he drove up the race track in front of me and then I was like okay, now I've got to cut back down and cut low," Busch said. "When I did, I touched him just a little bit, which then turned his car and then we were just sandwiched and the wreck was on. I don't know. Either you can race or you can wreck. The reason why we ride in single file is because we don't know how to race. Just a product of a few bad decisions there and we're all crashed."
"Yeah, Kyle had a run. I blocked it to the bottom," Logano said. "I blocked it back to the top. I thought I did a good job blocking and he just got to the inside of me and there really wasn't a hole there and he just hooked me around."
"I just got wrecked for no reason. Dumb, dumb racing," said Keselowski. "Dumb moves being thrown out there. Guys that don't know what they are doing so they throw crazy blocks. It is just ridiculous. We shouldn't be wrecking all these cars. I am not Tony Stewart, I am not as smart as he is and he can say it a lot better than I could but this is just dumb. We had a good race car. The MoneyLion Ford was capable of winning the race, led a lot of the race and we got destroyed for no reason."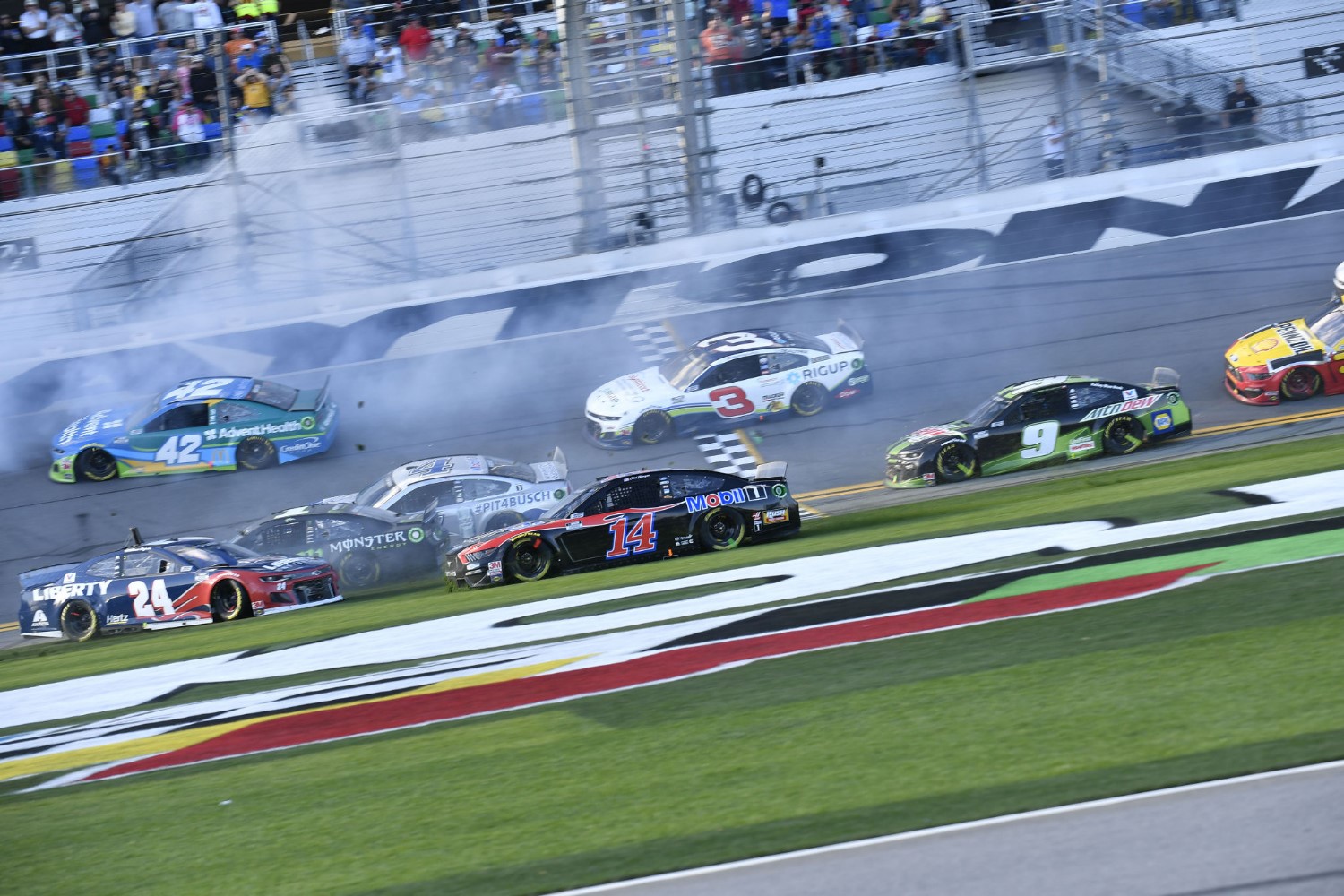 Multiple cars tangle on the restart
Mike Mercurio/AR1
The next broke out as the field came down for the restart, when both Newman and William Byron spun their tires. Both cars were sent down into cars on the inside line, gathering up nine cars in all in the shunt, including Kyle Larson, Kevin Harvick, Martin Truex, Jr., Johnson, Kurt Busch and Alex Bowman.
That set up the first overtime restart, which saw Hamlin move to the lead with a push from Chase Elliott. But Hamlin's car spun in turn three, gathering up several cars as he went, including Aric Almirola, Clint Bowyer, Joey Logano, Johnson, Harvick, Ryan Blaney and Jones. That led to a red flag condition to allow for track clean up.
On the second overtime restart, Larson moved to the point with a push from Elliott. As the duo raced into turn four, Elliott tried to make a pass on Larson, with Larson moving to block. They made contact, triggering another crash that also included Jones.
That set up the final restart, with Jones and Hamlin powering out front on the final half lap.
Dillon came across the finish line in second, with Bowyer in third, Larson in fourth and Newman in fifth. Hamlin was sixth, one lap down, as only six cars were still running when the checkered flag flew.
RACE RESULTS
| | | | | | |
| --- | --- | --- | --- | --- | --- |
| Pos | Car | Driver | Manuf | Laps | Behind |
| 1 | 20 | Erik Jones | Toyota | 88 | — |
| 2 | 3 | Austin Dillon | Chevy | 88 | 0.697s |
| 3 | 14 | Clint Bowyer | Ford | 88 | 0.717 |
| 4 | 42 | Kyle Larson | Chevy | 88 | 0.949 |
| 5 | 6 | Ryan Newman | Ford | 88 | 1.596 |
| 6 | 11 | Denny Hamlin | Toyota | 87 | -1 Lap |
| 7 | 9 | Chase Elliott | Chevy | 82 | -6 Laps |
| 8 | 12 | Ryan Blaney | Ford | 78 | -10 Laps |
| 9 | 22 | Joey Logano | Ford | 78 | -10 Laps |
| 10 | 10 | Aric Almirola | Ford | 77 | -11 Laps |
| 11 | 48 | Jimmie Johnson | Chevy | 77 | -11 Laps |
| 12 | 1 | Kurt Busch | Chevy | 77 | -11 Laps |
| 13 | 4 | Kevin Harvick | Ford | 77 | -11 Laps |
| 14 | 24 | William Byron | Chevy | 74 | -14 Laps |
| 15 | 88 | Alex Bowman | Chevy | 74 | -14 Laps |
| 16 | 19 | Martin Truex Jr. | Toyota | 72 | -16 Laps |
| 17 | 2 | Brad Keselowski | Ford | 66 | -22 Laps |
| 18 | 18 | Kyle Busch | Toyota | 65 | -23 Laps |