Tyler Reddick wins back to back Xfinity Series titles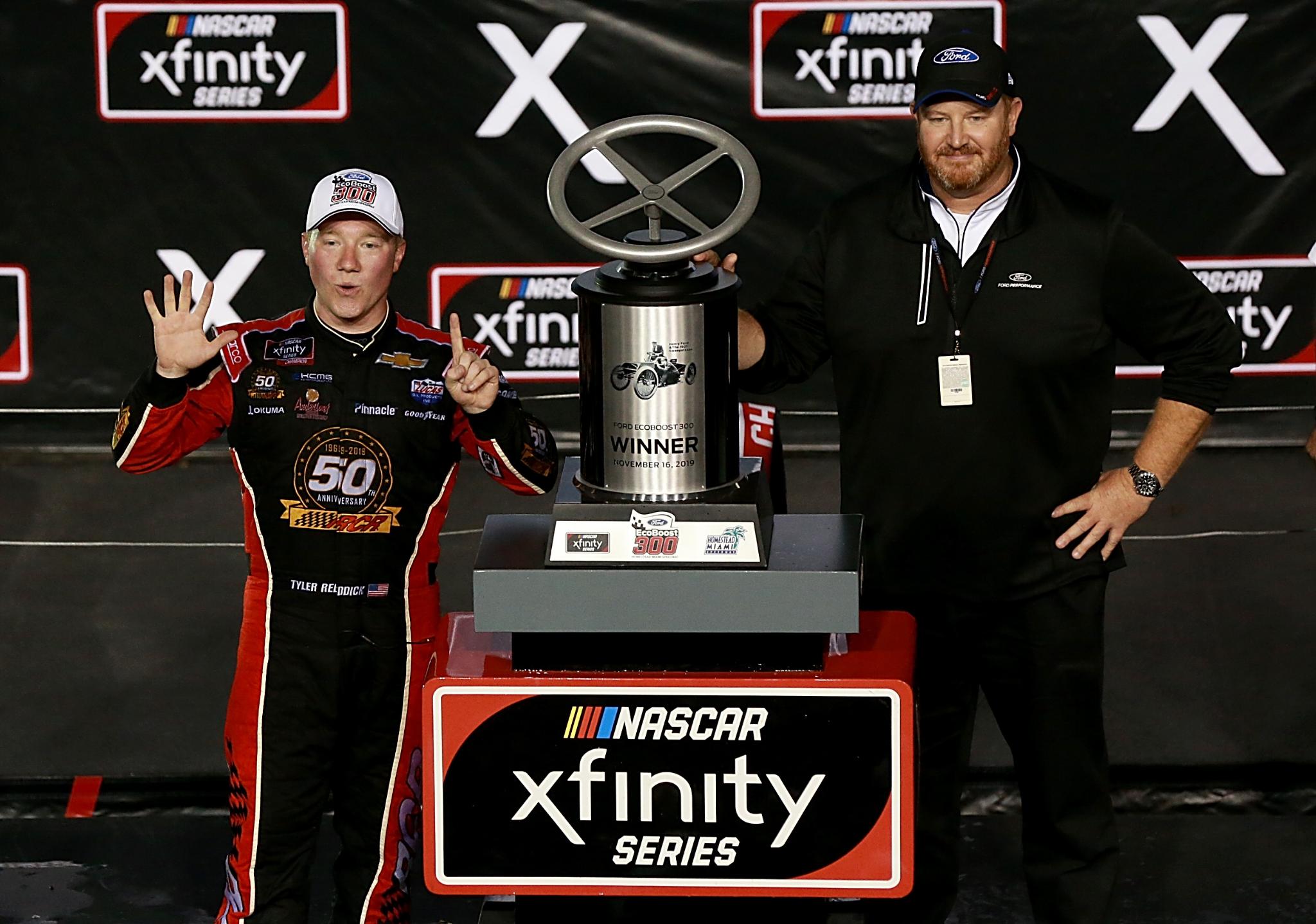 Tyler Reddick wins his sixth race of the season to clinch the Xfinity Series title
Sean Gardner/Getty Images
Tyler Reddick raced his way into the history books on Saturday as the first NASCAR Xfinity Series driver to win back-to-back series titles with two different teams after winning the Ford EcoBoost 300 at Homestead-Miami Speedway to score his sixth victory of the season and take home the series crown.
Reddick led the final 19 laps after passing race leader and fellow championship contender Cole Custer an ran flawlessly to the checkered flag, beating Custer, Christopher Bell and Justin Allgaier to Become just the seventh driver in series history to win back-to-back titles.
"It's about this race team, man, and I was just honored to pilot this Richard Childress Racing Chevrolet," said Reddick. "I'm losing my breath, I'm that excited. This one means so much more. It was just a lot better year, and it was really cool to go backâ€'toâ€'back."
Reddick won the 2018 series title driving for JR Motorsports before joining Richard Childress Racing, making him the first driver in series history to win back-to-back titles with two different teams. It also marks was the fourth driver's championship for Richard Childress Racing, who have already announced that Reddick will move up to wheel their No. 8 Cup Series ride in 2020.
"The first one was special, but this one means more and it's special in different ways on top of it, from the moment me and Richard sat down last year talking about doing something this current year and how much excitement and faith he had in my driving ability, and he thought we could â€'â€' well before I won the championship with JR Motorsports, he thought I could be a champion," said Reddick.
[adinserter name="GOOGLE AD"] "Did it last year at JR Motorsports, but this year we did it more consistently, had the most top 5s. Maybe not led the most laps, but we tooth and clawed our way for every top 5, every top 10, and that got us a regular season championship, and that allowed us to go through the playoffs in a manner that allowed us to get here even when we made a few mistakes along the way."
The day belonged to "The Big Three" – Reddick, Custer, and Bell – right from the outset, with Reddick taking the pole for the 200-lap event and leading the opening 33 laps.
Reddick, Custer, and Bell ran close to the top five for most of the race – combining to lead 136 laps.
Custer was the first of the Championship 4 to stumble, having to duck to pit road on lap 61 to fix a loose wheel – putting him well in the back of the pack and leaving him short on tires for the late stages of the race.
With Custer forced to fight his way back through the field, Bell and Reddick took turns battling it out up front through the second stage in well into the final stage.
On lap 160, it was Bell's turn to stumble as he missed the entrance to pit road while pitting under green, essentially wiping out the lead he had over the other contenders.
After shaking out the pit stops, Custer had rallied back to the lead and took over the top spot just seven laps later with a three-wide pass on Bell and Reddick.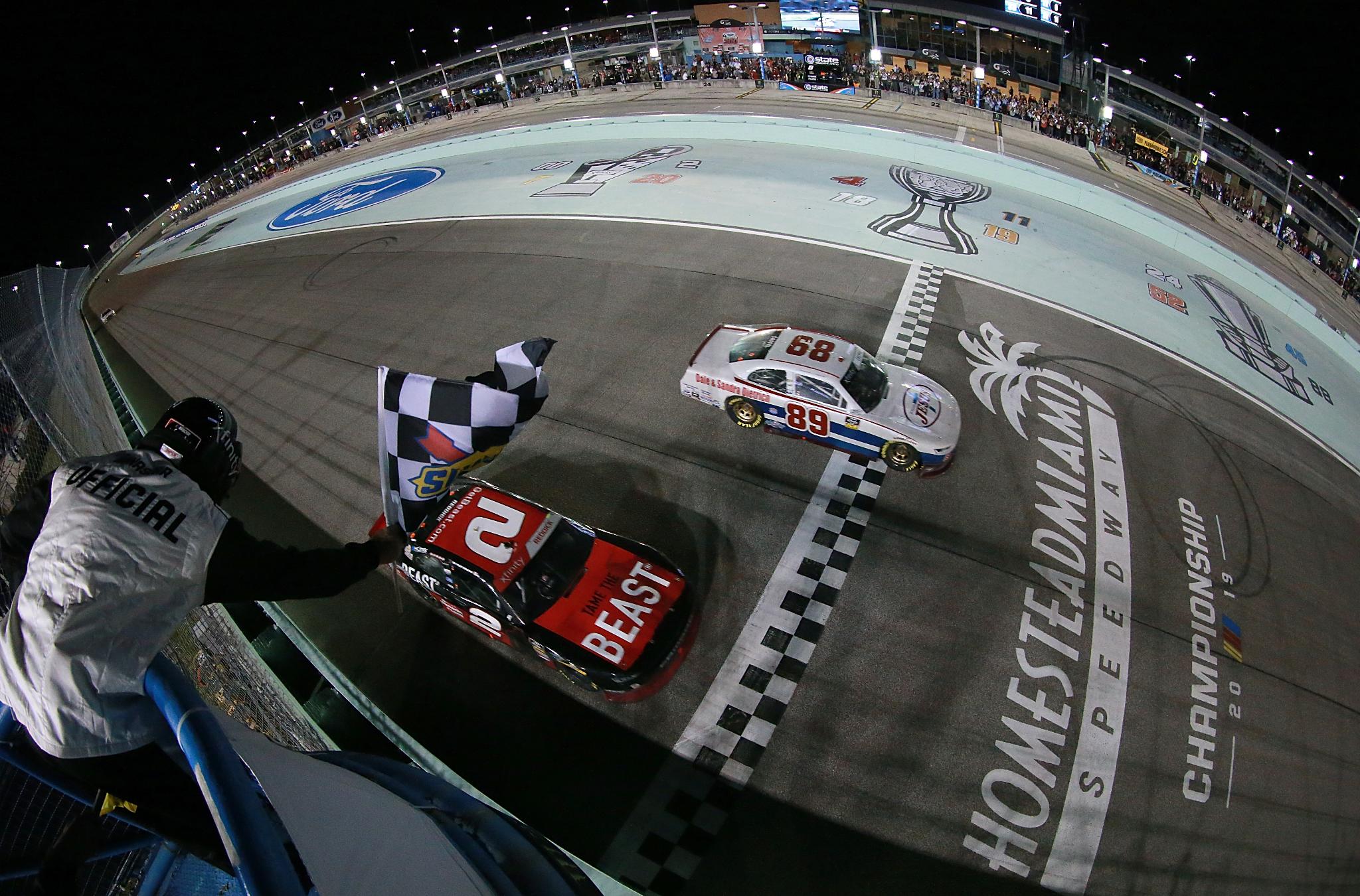 Tyler Reddick (2) crosses the finish line to win the Ford EcoBoost 300
Sean Gardner/Getty Images
Reddick powered his way into second and began tracking down Custer, finally securing the lead with a crossover on lap 181. Custer tried to run the high side to make up ground on Reddick and ended up brushing the wall and ultimately got beat to the line by 1.038 seconds.
Chase Briscoe finished third in the race, followed by Noah Gragson and Bell. Justin Allgaier ended the day in 14th.
Custer's runner-up finish marked the second-straight year he's finished second in the championship hunt in what will be his final full season in the Xfinity Series following Friday's announcement that he'll be moving up the Cup Series in 2020.
"I could kind of match (Reddick's) lap time there and studied his in-car all the way coming here trying to figure out how to run the top better. I got close," said Custer. "I tried to find a way to close the gap when I was behind and tried too hard and got into the fence.
"What can you say? Tyler can just rip the top here. That is all you can really say about it. I can't thank my guys enough this year. We have had an unbelievable year. It sucks to come home second two years in a row. We will take it. We were a lot closer this year."
Bell looked to have a strong run in the late stages of the race until his pit-road miscue that ultimately cost him his final shot at an Xfinity Series title, as he also is moving on to the Cup Series next season.
"It didn't help," said Bell of missing pit road. "We got beat by 17 seconds there. Ultimately, it didn't matter. For some reason, just can't hit on what I need to, to be able to get around this place for a 30 or 40-lap run
"Even really since the drop of the green flag, I knew that we were in trouble. We can't get around this place for some reason."
Justin Allgaier struggled for much of the day and never led a lap in Saturday's race, and ended up finishing fourth in the championship battle – marking the fifth time in his career he's finished in the top four in the standings.
"I'm not sure if they knew we were here or not. We didn't have the speed we were looking for tonight. It was disappointing," said Allgaier. "When I was able to run the top there for the middle part of a runny thought we were okay. We weren't great, but we weren't as bad. But just didn't have the speed that we were looking for tonight. It's disappointing, but at the end of the day, to race the way that we did, to have the playoffs that we did, to not only get the win at Phoenix but to really execute at the races that we needed to and point our way to Phoenix I thought was really good."
Chase Briscoe's third-place finish earned him 2019 Rookie of the Year honors over Noah Gragson, Justin Haley and Brandon Brown.
RACE RESULTS
| | | | | | | | | |
| --- | --- | --- | --- | --- | --- | --- | --- | --- |
| Fin | St | # | Driver | Sponsor/Make | Laps | Led | Pts | Status |
| 1 | 1 | 2 | Tyler Reddick (P) | Tame the Beast Chevrolet | 200 | 84 | 40 | Running |
| 2 | 2 | 0 | Cole Custer (P) | Haas Automation Ford | 200 | 15 | 35 | Running |
| 3 | 5 | 98 | Chase Briscoe # | Ford Performance Ford | 200 | 14 | 50 | Running |
| 4 | 10 | 9 | Noah Gragson # | PUBG MOBILE Chevrolet | 200 | 10 | 38 | Running |
| 5 | 7 | 20 | Christopher Bell (P) | Rheem/Watts Toyota | 200 | 37 | 32 | Running |
| 6 | 6 | 23 | John Hunter Nemechek # | Fire Alarm Services Inc. Chevrolet | 200 | 0 | 41 | Running |
| 7 | 3 | 22 | Austin Cindric | MoneyLion Ford | 200 | 40 | 42 | Running |
| 8 | 4 | 19 | Brandon Jones | Juniper Toyota | 200 | 0 | 34 | Running |
| 9 | 18 | 8 | Jeb Burton | State Water Heaters Chevrolet | 199 | 0 | 32 | Running |
| 10 | 9 | 18 | Harrison Burton(i) | iK9 Toyota | 199 | 0 | 0 | Running |
| 11 | 20 | 1 | Michael Annett | Pilot/Flying J Chevrolet | 199 | 0 | 29 | Running |
| 12 | 14 | 39 | Ryan Sieg | CMR Roofing Chevrolet | 199 | 0 | 25 | Running |
| 13 | 23 | 68 | Brandon Brown # | Vero Chevrolet | 199 | 0 | 24 | Running |
| 14 | 16 | 7 | Justin Allgaier (P) | BRANDT Professional Agriculture Chevrolet | 199 | 0 | 23 | Running |
| 15 | 13 | 89 | Landon Cassill | Visone RV Chevrolet | 199 | 0 | 22 | Running |
| 16 | 11 | 51 | Jeremy Clements | Fly and Form Structures Chevrolet | 198 | 0 | 24 | Running |
| 17 | 26 | 8 | Gray Gaulding | PANINI Chevrolet | 198 | 0 | 20 | Running |
| 18 | 17 | 90 | Alex Labbe | Globocam/rousseau/Silver Wax Chevrolet | 198 | 0 | 19 | Running |
| 19 | 22 | 36 | Josh Williams | Starbrite Star Tron/Simcraft Chevrolet | 198 | 0 | 19 | Running |
| 20 | 12 | 4 | BJ McLeod | KSDT & Company CPA Chevrolet | 198 | 0 | 17 | Running |
| 21 | 15 | 26 | Colin Garrett | Kraken Skulls Beard Oil Toyota | 198 | 0 | 16 | Running |
| 22 | 32 | 86 | Will Rodgers | Kelly Benefit Stratigies Chevrolet | 197 | 0 | 15 | Running |
| 23 | 25 | 52 | David Starr | Chevrolet | 196 | 0 | 14 | Running |
| 24 | 21 | 1 | Stephen Leicht | KSDT/Univista Insurance Chevrolet | 195 | 0 | 13 | Running |
| 25 | 36 | 99 | Ja Junior Avila | ART General Contractor Chevrolet | 195 | 0 | 12 | Running |
| 26 | 37 | 5 | Vinnie Miller | Pit Viper Sunglasses Chevrolet | 193 | 0 | 11 | Running |
| 27 | 35 | 35 | Joey Gase | MBM Motorsports Toyota | 193 | 0 | 10 | Running |
| 28 | 33 | 17 | Robby Lyons II(i) | RWR Chevrolet | 192 | 0 | 0 | Running |
| 29 | 38 | 74 | Joe Nemechek(i) | Chevrolet | 192 | 0 | 0 | Running |
| 30 | 28 | 78 | Matt Mills | JF Electric Chevrolet | 141 | 0 | 7 | Clutch |
| 31 | 27 | 93 | CJ McLaughlin | Sci Aps Chevrolet | 131 | 0 | 6 | Vibration |
| 32 | 31 | 0 | Garrett Smithley | KSDT/Florida Int'l University Chevrolet | 112 | 0 | 5 | Oil Line |
| 33 | 8 | 11 | Justin Haley # | LeafFilter Gutter Protection Chevrolet | 95 | 0 | 13 | DVP |
| 34 | 24 | 13 | Timmy Hill | CrashClaimsR.US Toyota | 57 | 0 | 3 | Brakes |
| 35 | 29 | 61 | Chad Finchum | Amana/SmithBilt Homes Toyota | 53 | 0 | 2 | Engine |
| 36 | 19 | 38 | JJ Yeley | RSS Racing Chevrolet | 20 | 0 | 1 | Suspension |
| 37 | 34 | 15 | Tyler Matthews | Line Tec Services Chevrolet | 14 | 0 | 1 | Accident |
| 38 | 30 | 7 | Ray Black II | ISOKERN Fireplaces & Chimneys/Scub Life | 4 | 0 | 1 | Engine |
[adinserter name="GOOGLE AD"]