Matt Crafton wins third NASCAR Truck Series title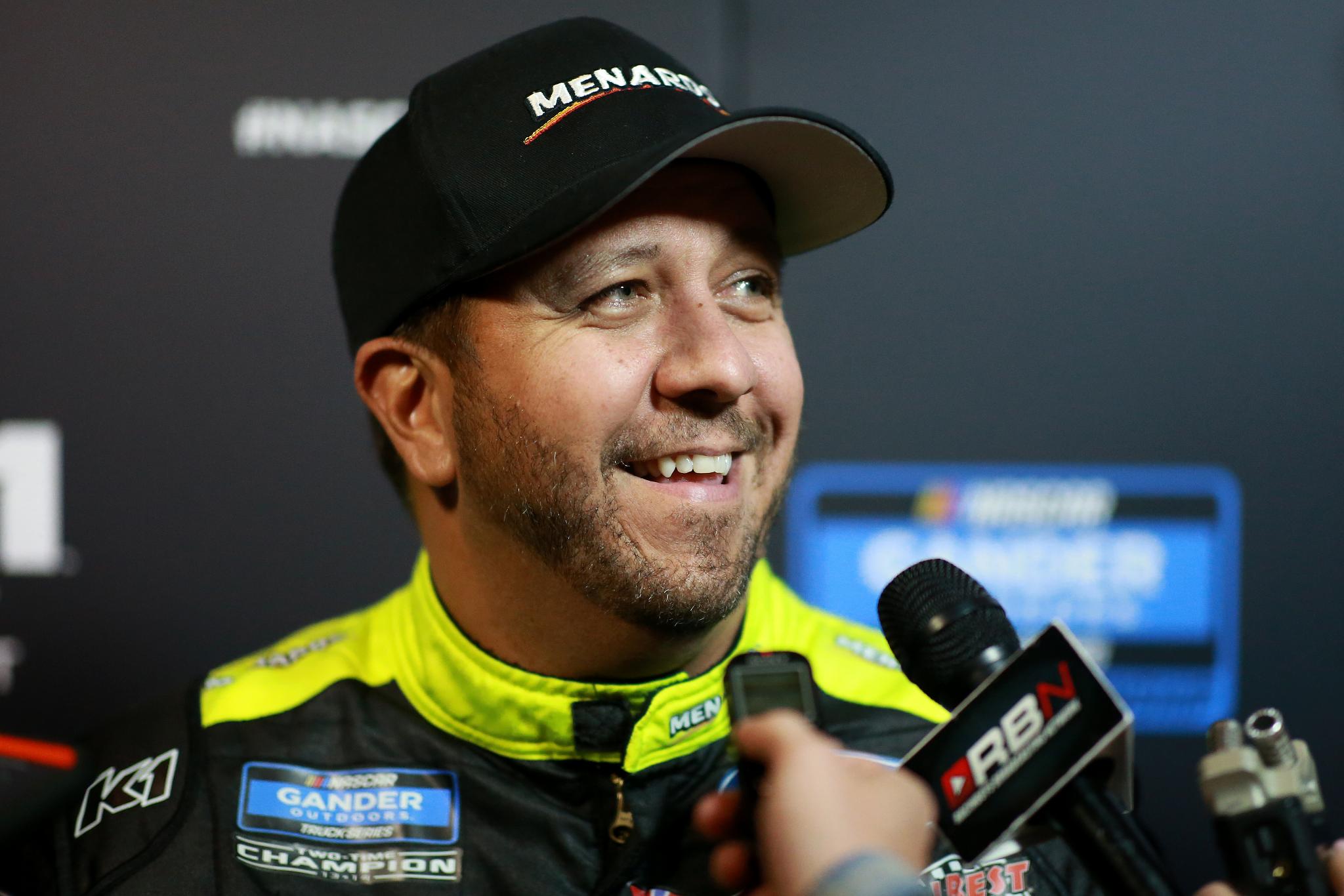 Matt Crafton wins his third Truck Series title
Sean Gardner/Getty Images
Remember that saying about old age and treachery? All but counted out for the title before the race began, without a win, and nearly a decade older than the next-oldest title contender, Matt Crafton, with tears in his eyes, was the one celebrating at the end. Still winless for the year after finishing second in the Ford EcoBoost 200, Crafton won his third Gander Outdoors Truck Series championship.
Austin Hill dominated the race, leading laps en route to the race win, his third of 2019 and his career. Hill failed to make the cut for the championship race after stumbling at both Martinsville and Phoenix, but showed that he will be a threat next year. He also clinched the manufacturer's title for Toyota.
The owner title? That went to the No. 51 of Kyle Busch Motorsports, which Christian Eckes piloted to third place in the race. The truck has featured seven different drivers in 2019, including owner Busch and former series champion Greg Biffle.
Championship contenders Ross Chastain and Brett Moffit rounded out the top five in the race. Johnny Sauter was sixth, Grant Enfinger seventh, Todd Gilliland was eighth, with Sheldon Creed and Parker Kligerman filling the top 10. Stewart Friesen was the final title contender in 11th.
[adinserter name="GOOGLE AD"]Friesen led the field to green after qualifying was rained out, setting the field on owner points, but Chastain took over the lead early, and most of Stage 1 was all about the battle between the Nos. 45 and 52 as Chastain and Friesen gapped the field by over two seconds. But it was Austin Hill who ran them down from over two seconds back with ten laps to go and took the green-and-white checkers in the first segment over Chastain, Friesen and Moffitt. Christian Eckes, fighting for the owner's title in the No. 51 for Kyle Busch Motorsports, ran fifth. Crafton quickly worked his way from eighth to fifth but wound up settling for sixth to conclude the segment, but with no stage points for the title contenders, remained in close contention.
Moffitt led the field to green after pit stops, with Friesen next to him and Crafton and Chastain just behind in third and fourth. But it only took Chastain a lap to rocket back to the lead, bringing Moffitt and Crafton along as Friesen dropped to fifth to kick off Stage 2. Hill wasn't done, though, working past Moffitt and pressuring Crafton for second before setting sail for Chastain and the lead.
None of the title contenders fought Hill very hard, because they had each other to contend with, running one after the other in second through fifth when the caution flew for fluid for Ray Ciccarelli's smoking truck. The race restarted with just a handful of laps remaining in the stage, and this time it was Hill and Crafton duking it out for the flag. Hill took the top spot again, with Crafton leading the title hunters in second, followed by Chastain, Moffitt and Friesen.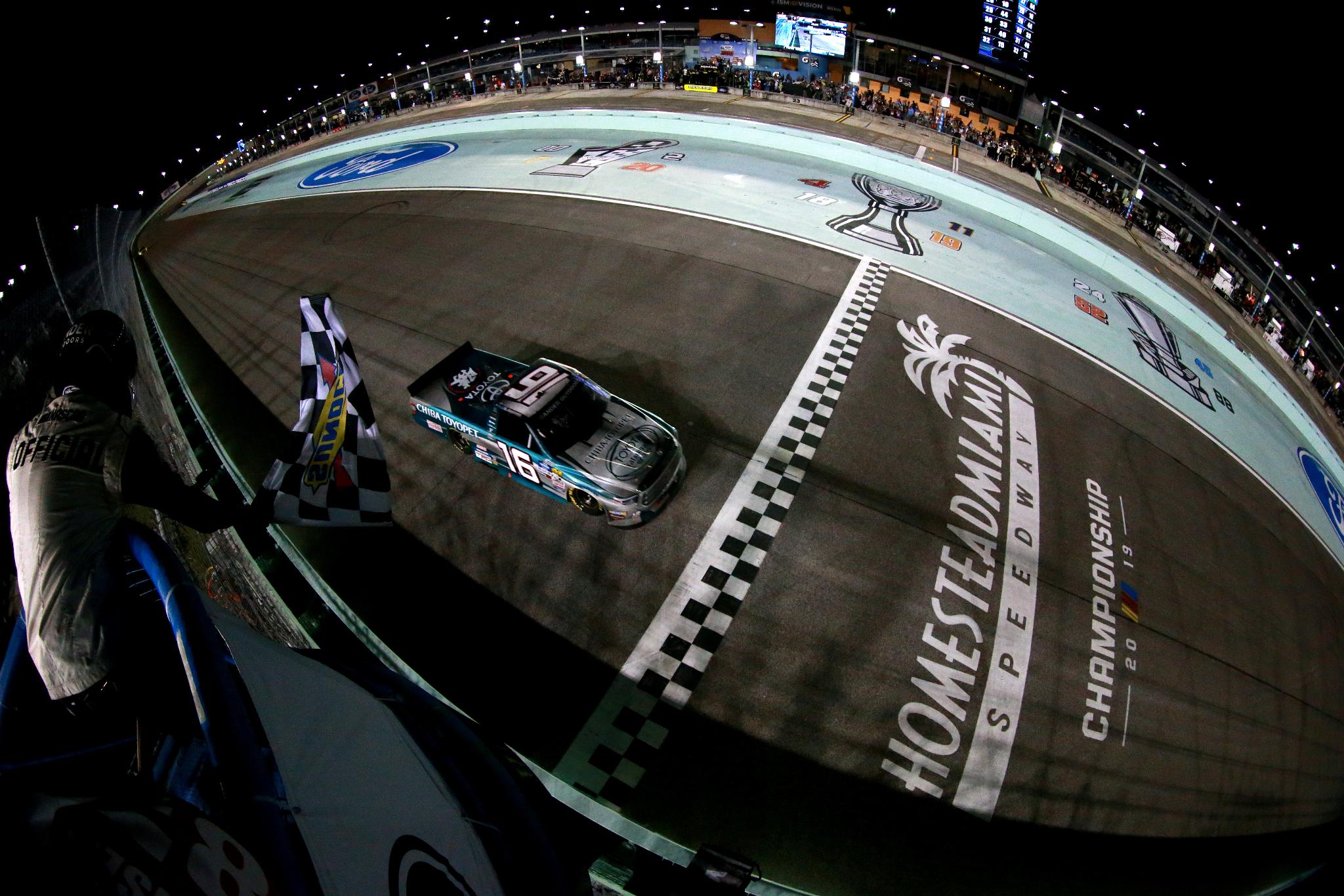 Austin Hill crosses the stripe to win his fourth truck series race of the season
Jared C. Tilton/Getty Images
Hill came out of the pits as the leader this time, with Chastain the biggest loser, dropping three spots.Eckes and Ben Rhodes stayed on track to leadwith Crafton and Hill behind them, giving Crafton a temporary cushion over the other title contenders thanks to Hill, but that didn't last long, as Friesen got around Hill for third as Eckes held the lead.
Hill reasserted his speed, moving into the lead again on lap 90. Before final pit stops, Crafton built up a three-second lead over Friesen, whose truck faded during long runs all night, and allowed Moffitt to battle him for third. Chastain trailed the group, running seventh after 90 laps.
The leaders made their final pit stops with just over 30 laps to go, and the four contenders all had clean stops, though Friesen did lose some ground to Moffitt and Chastain. Crafton was the big winner, inheriting the lead after the field cycled through stops. From there on out, it was a show of power as Hill retook the lead easily, while Crafton appeared to have the title race well in hand, leading Chastain by over seven seconds with fewer than 10 laps remaining. Eckes was holding down the owner title advantage in third.
Ten laps is an eternity when the whole season comes down to that span. Hill, Crafton and Eckes were the only ones not hoping for a caution in that span, but the yellow didn't come, and what was perhaps the series' most unlikely title scenario since the playoffs were added played out.
Crafton's title comes on the heels of what's now a 58-race winless streak for the 43-year-old. His season finale had a bit of everything: the lowest starting spot of any contender, some aggressive moves on his part, and virtual perfection from his pit crew, who gave him what proved to be an insurmountable gap on his final stop under green.
Chastain finishes second in points, Moffitt third, and Friesen fourth. Hill's win moves him to fifth in the final standings. Sauter, Enfinger, and Tyler Ankrum finished sixth through eighth. Ben Rhodes and Creed finished ninth and tenth for the year, outside the playoff cut.
Ankrumalso took home Rookie of the Year honors.
The road has been a bumpy one, and Crafton knows that.
"It feels amazing," said an emotional Crafton after celebrating with a burnout. "It's one step closer to what Hornaday has done, and they called us the underdog. I heard (FOX Sports 1 analyst Todd) Bodine and everybody say I was the underdog and I didn't have it. We fought harder. I guarantee you every one of these guys worked harder and this Menard's Ford F-150 was fast tonight. The first run I was like, 'Oh, boy we're in trouble.' But we just made air-pressure adjustments from there. We made a few adjustments to tighten it up because we thought the track was gonna be green, it was gonna go away, but this thing ran flawless all night and the motor was very good as well and everything just went our way. I was praying there, 'I do not want a yellow right here at the end of this thing.
"I guess I finally got out of the wheelchair and got up on the wheel and got it done. Like I said, I took a lot of criticism over the restarts and it was time to get it done now."
AUSTIN HILL, No. 16 Chiba Toyopet Toyota Tundra, Hattori Racing Enterprises
Finishing Position: 1st
How special is this win?
"I just have to give it all to my guys. This is probably the best truck that I've had. I know we were really good at Vegas, but man, this thing was good. At Vegas we were on a different tire strategy than other guys, but we weren't this time and we just showed then how good we actually were. I'm excited for the win, but at the same time it stings a little bit because I know if we would have been a little better in the Round of 6, we could be celebrating a win and a championship. I can't thank everybody on this team enough. Can't thank Chiba Toyopet, Toyota, TRD enough. With this win we locked up the manufacturer's championship for Toyota so I'm really glad that I could be a part of that and help that out. Awesome way to end the season."
How strong was your truck in tonight's race?
"This truck was on rails all night. Just a little on the tight side. Scott (Zipadelli, crew chief) made some awesome adjustments there and got the truck a little bit better. We were good all night. That pit stop, I kind of took it a little too easy coming down the pit road and I think that kind of hurt us a little bit on coming out third. I had to work extra hard to get back up there and get back to the lead. Can't thank Toyota enough. Chiba Toyotapet – this Toyota Tundra was really good all night long. TRD and United Rentals – can't thank those guys enough. To be able to win this race and lock down the Toyota manufacturer championship means a lot to me so I'm glad I could help Toyota out with that."
What is it like to have a truck so strong that no one can get around you?
"That's what we focused on all practice long. Last year they were pretty good running the bottom with Brett (Moffitt). That's all we focused on. We moved up to the top a few times throughout practice just to see what it would do up there, but it didn't fire off the best for like five laps and then all of the sudden whenever the tire wear started coming in, everybody else was dropping like flies and we could just keep wrapping that bottom. Anytime I wanted to roll the bottom or roll the very top, I could and make speed. And run the same times on the top or bottom. This truck was really good tonight, that's all I can say."
RACE RESULTS
| | | | | | | | | |
| --- | --- | --- | --- | --- | --- | --- | --- | --- |
| Fin | St | # | Driver | Sponsor/Make | Laps | Led | Pts | Status |
| 1 | 5 | 16 | Austin Hill | Chiba Toyopet Toyota | 134 | 56 | 60 | Running |
| 2 | 9 | 88 | Matt Crafton (P) | Jack Links/Menards Ford | 134 | 9 | 35 | Running |
| 3 | 2 | 51 | Christian Eckes | Mobil 1 Toyota | 134 | 26 | 40 | Running |
| 4 | 3 | 45 | Ross Chastain (P) | CarShield Chevrolet | 134 | 36 | 33 | Running |
| 5 | 4 | 24 | Brett Moffitt (P) | CMR Construction & Roofing Chevrolet | 134 | 3 | 32 | Running |
| 6 | 6 | 13 | Johnny Sauter | Tenda Heal Ford | 134 | 0 | 35 | Running |
| 7 | 7 | 98 | Grant Enfinger | Champion Power Equipment Ford | 134 | 0 | 37 | Running |
| 8 | 11 | 4 | Todd Gilliland | JBL/SiriusXM Toyota | 134 | 0 | 29 | Running |
| 9 | 12 | 2 | Sheldon Creed # | Chevrolet Accessories Chevrolet | 134 | 0 | 34 | Running |
| 10 | 27 | 75 | Parker Kligerman | Food Country USA Chevrolet | 134 | 0 | 31 | Running |
| 11 | 1 | 52 | Stewart Friesen (P) | Halmar International Chevrolet | 134 | 0 | 26 | Running |
| 12 | 10 | 99 | Ben Rhodes | Dish Fish/Go Fish Ford | 134 | 0 | 25 | Running |
| 13 | 13 | 18 | Harrison Burton # | Safelite AutoGlass Toyota | 134 | 0 | 24 | Running |
| 14 | 23 | 8 | Joe Nemechek | Fire Alarm Services/Fleetwing Chevrolet | 133 | 0 | 23 | Running |
| 15 | 19 | 12 | Gus Dean # | LG Air Conditioning Technologies Chevrolet | 133 | 4 | 22 | Running |
| 16 | 26 | 7 | Tanner Gray | Turtle Beach Construction Toyota | 133 | 0 | 22 | Running |
| 17 | 32 | 97 | Jesse Little | Diversified Utility Group Ford | 133 | 0 | 20 | Running |
| 18 | 15 | 2 | Tyler Dippel # | Lobas! Productions Chevrolet | 133 | 0 | 19 | Running |
| 19 | 14 | 22 | Austin Wayne Self | GO TEXAN Chevrolet | 133 | 0 | 18 | Running |
| 20 | 20 | 54 | Natalie Decker # | Arthritis Foundation Toyota | 133 | 0 | 17 | Running |
| 21 | 18 | 3 | Jordan Anderson | Bommarito.com/Rusty's Off Road Chevrolet | 132 | 0 | 16 | Running |
| 22 | 8 | 17 | Tyler Ankrum # | RAILBLAZA Toyota | 132 | 0 | 18 | Running |
| 23 | 28 | 56 | Tyler Hill | HairClub Chevrolet | 132 | 0 | 14 | Running |
| 24 | 16 | 20 | Colby Howard | Project HOPE Foundation Chevrolet | 132 | 0 | 13 | Running |
| 25 | 22 | 30 | Danny Bohn | Sierra Delta Toyota | 132 | 0 | 12 | Running |
| 26 | 30 | 9 | Codie Rohrbaugh | Grant County Mulch Chevrolet | 130 | 0 | 11 | Running |
| 27 | 29 | 4 | Cory Roper | Preferred Isdustrial Contractors Ford | 129 | 0 | 10 | Running |
| 28 | 25 | 10 | Jennifer Jo Cobb | Waldo's Painting Company Chevrolet | 128 | 0 | 9 | Running |
| 29 | 17 | 44 | Angela Ruch | Give A Child A Voice Chevrolet | 127 | 0 | 8 | Running |
| 30 | 21 | 33 | Josh Bilicki | Exotic Car Trader Chevrolet | 113 | 0 | 7 | Electrical |
| 31 | 31 | 49 | Ray Ciccarelli | CMI Motorsports Chevrolet | 48 | 0 | 6 | Oil Line |
| 32 | 24 | 15 | Anthony Alfredo # | Friends of Jaclyn Foundation Toyota | 0 | 0 | 5 | Engine |