Denny Hamlin Wins Martinsville Cup Series Pole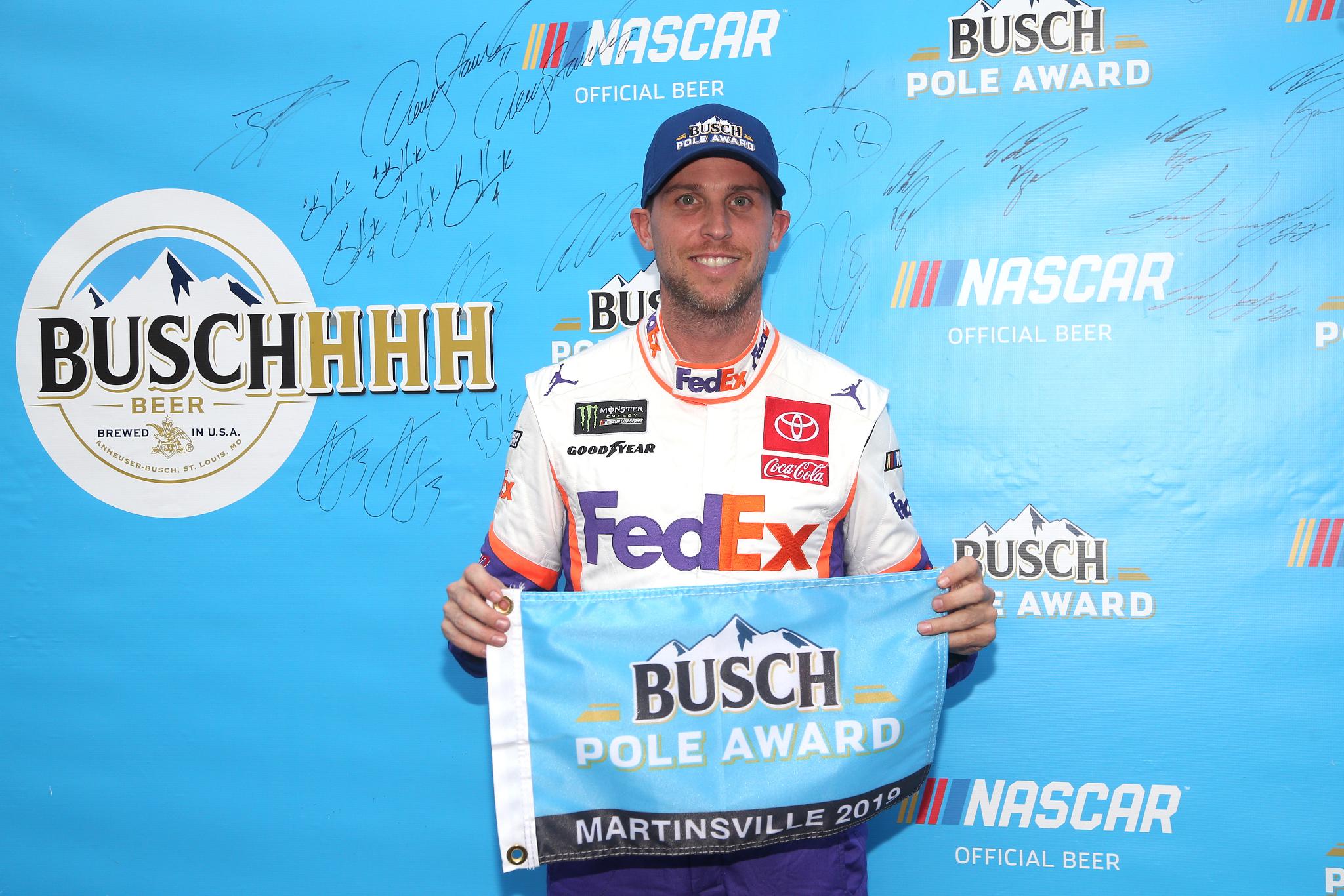 Denny Hamlin
Matt Sullivan/Getty Images
Denny Hamlin will start from the pole for Sunday's First Data 500 at Martinsville Speedway.
Hamlin, a five-time Martinsville winner, laid down a lap speed of 97.840 mph to claim the top spot.
"It was good," Hamlin said. "We definitely didn't expect to run that fast for sure. We didn't make any mock run and the fastest in practice was something like a 59 or something like that, so certainly caught us off guard, but really I just drove it to its capability and that's kind of all I had. I was happy with it. I knew when I ran it, I was pretty happy with the lap, so to have the pole is obviously a huge, huge deal here."
With two of the last three Martinsville winners going on to win the series title, Hamlin may be in a strong spot to bolster his championship hopes with a win on Sunday.
"Two of the three, so that's 66 percent. If they're in the Final Four, they have a 25 percent. It is part of just numbers," Hamlin said. "It just happens to be one of those things. I think really, you don't see many surprise winners at this race track. I think it's really just the best guys, the best drivers really perform really well at this race track. It's just challenging in so many different ways. It's challenging just to tell your crew chief what's right and wrong in the car. I think that it's more coincidence than anything, but certainly if it was the entire field – a lot of it is just because the Round of 8 guys will always step up in the Round of 8. They spend more time on their cars, things like that, so it's more coincidence, but a lot of it is just because those guys are great and I wouldn't know."
Fellow title contender Chase Elliott, with whom Hamlin tangled for the race win in 2017, will start second. However, the Dawsonville, Georgia speedster will have to start from the rear of the field after blowing an engine in practice.
"We'd still like to have a good pit pick. A lot of times, that can be as important as your starting spot," Elliott said. "So, obviously we don't get to keep our starting spot, but a good pit pick would be nice. It would be great to have that first pit box or a really good one. We'll do our best."
Hamlin's Joe Gibbs Racing teammate Martin Truex, Jr. starts third, Aric Almirola starts fourth and Michael McDowell will roll off from the fifth starting spot.
Ryan Blaney, Clint Bowyer, Erik Jones, Daniel Suarez and Joey Logano rounds out the top 10 starters.
Other notables include playoff contenders Kyle Busch and Kyle Larson, who tied on time, in 13th and 14th respectively. Busch gets the nod on his higher position in owner points.
Kevin Harvick was 22nd quick, the lowest qualifier among the title hopefuls. Nine-time Martinsville winner Jimmie Johnson will start 24th.
RACE LINEUP
| | | | | | |
| --- | --- | --- | --- | --- | --- |
| Pos | # | Driver | Sponsor/Make | Lap | Speed |
| 1 | 11 | Denny Hamlin (P) | FedEx Freight Toyota | 19.354 | 97.84 |
| 2 | 9 | Chase Elliott (P) | Mountain Dew Chevrolet | 19.383 | 97.694 |
| 3 | 19 | Martin Truex Jr (P) | Auto Owners Insurance Toyota | 19.429 | 97.463 |
| 4 | 10 | Aric Almirola | Smithfield Ford | 19.453 | 97.342 |
| 5 | 34 | Michael McDowell | A&W All American Foods Ford | 19.471 | 97.252 |
| 6 | 12 | Ryan Blaney (P) | Menards/Richmond Ford | 19.487 | 97.172 |
| 7 | 14 | Clint Bowyer | BlueDEF Ford | 19.488 | 97.167 |
| 8 | 20 | Erik Jones | Craftsman Toyota | 19.492 | 97.148 |
| 9 | 41 | Daniel Suarez | Haas Automation Ford | 19.506 | 97.078 |
| 10 | 22 | Joey Logano (P) | Shell Pennzoil Ford | 19.509 | 97.063 |
| 11 | 24 | William Byron | Liberty University Chevrolet | 19.525 | 96.983 |
| 12 | 95 | Matt DiBenedetto | Toyota Express Maintenance Toyota | 19.545 | 96.884 |
| 13 | 18 | Kyle Busch (P) | M&M's Halloween Toyota | 19.547 | 96.874 |
| 14 | 42 | Kyle Larson (P) | Clover Chevrolet | 19.547 | 96.874 |
| 15 | 2 | Brad Keselowski | Alliance Truck Parts Ford | 19.579 | 96.716 |
| 16 | 17 | Ricky Stenhouse Jr | Fifth Third Bank Ford | 19.593 | 96.647 |
| 17 | 38 | David Ragan | MDS Transport Ford | 19.619 | 96.519 |
| 18 | 8 | Daniel Hemric # | Chevrolet Accessories Chevrolet | 19.641 | 96.411 |
| 19 | 88 | Alex Bowman | Llumar Chevrolet | 19.65 | 96.366 |
| 20 | 37 | Chris Buescher | Clorox Chevrolet | 19.669 | 96.273 |
| 21 | 47 | Ryan Preece # | Kroger Chevrolet | 19.686 | 96.19 |
| 22 | 4 | Kevin Harvick (P) | Hunt Brothers Pizza Ford | 19.688 | 96.18 |
| 23 | 3 | Austin Dillon | American Ethanol Chevrolet | 19.732 | 95.966 |
| 24 | 48 | Jimmie Johnson | Ally Chevrolet | 19.742 | 95.917 |
| 25 | 1 | Kurt Busch | Global Poker Chevrolet | 19.745 | 95.903 |
| 26 | 43 | Bubba Wallace | Victory Junction Chevrolet | 19.756 | 95.849 |
| 27 | 6 | Ryan Newman | Blue Bird Ford | 19.762 | 95.82 |
| 28 | 32 | Corey LaJoie | CorvetteParts.net Ford | 19.796 | 95.656 |
| 29 | 13 | Ty Dillon | GEICO Chevrolet | 19.821 | 95.535 |
| 30 | 21 | Paul Menard | Quick Lane Tire & Auto Center Ford | 19.9 | 95.156 |
| 31 | 36 | Matt Crafton(i) | Surface Sunscreen/Tunity Ford | 20.031 | 94.533 |
| 32 | 0 | Landon Cassill(i) | Sea Deck/Units Chevrolet | 20.07 | 94.35 |
| 33 | 51 | BJ McLeod(i) | JACOB COMPANIES Chevrolet | 20.141 | 94.017 |
| 34 | 27 | Reed Sorenson | VIPRacingExperience.com Chevrolet | 20.15 | 93.975 |
| 35 | 53 | JJ Yeley(i) | GOTTA KILL IT TO HEAL IT Chevrolet | 20.292 | 93.318 |
| 36 | 15 | Ross Chastain(i) | VIPRacingExperience.com Chevrolet | 20.401 | 92.819 |
| 37 | 77 | Timmy Hill(i) | Spire Motorsports Chevrolet | 20.449 | 92.601 |
| 38 | 52 | Garrett Smithley(i) | RICH MAR FLORIST.COM Chevrolet | 20.477 | 92.474 |