Vettel leads Ferrari front row lockout at Suzuka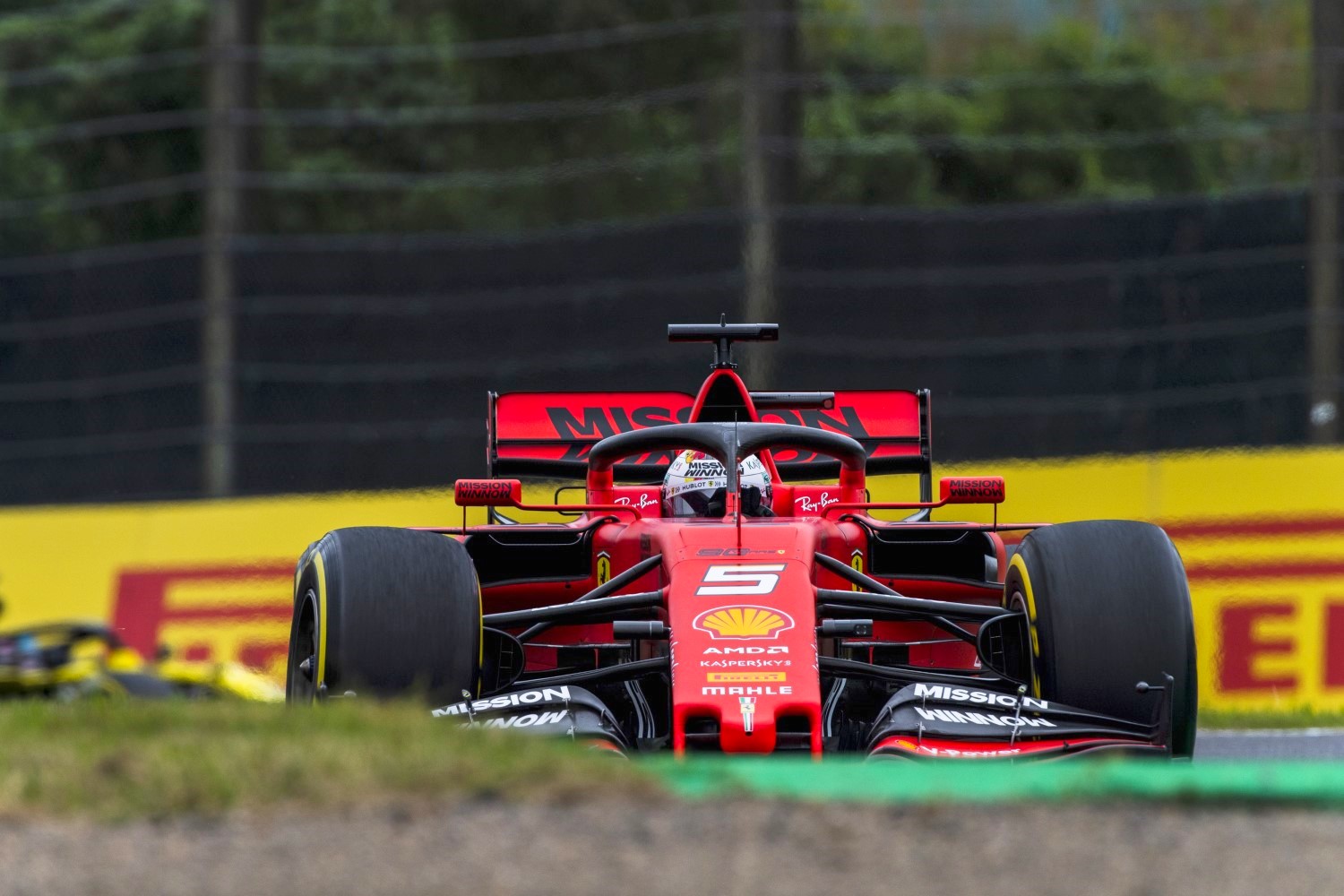 Sebastian Vettel wins his 5th Suzuka pole
Sebastian Vettel broke the Suzuka track record twice in Q3 on the way to taking pole position for the Japanese GP at Suzuka on Sunday morning after Saturday qualifying was rained out. Vettel's lap of 1m27.064s was enough to beat his Ferrari teammate Charles Leclerc by 0.189s.
The 2nd row was all Mercedes with Valtteri Bottas getting the best of his teammate Lewis Hamilton.
Max Verstappen and his Red Bull teammate Alexander Albon turned identical lap times to take 5th and 6th 0.787s behind.
Behind the top six, Sainz Jr. was 'best of the rest' in seventh, Norris was one tenth back and Pierre Gasly improved to steal ninth back from Romain Grosjean.
It was the first time Vettel outqualified Leclerc since June.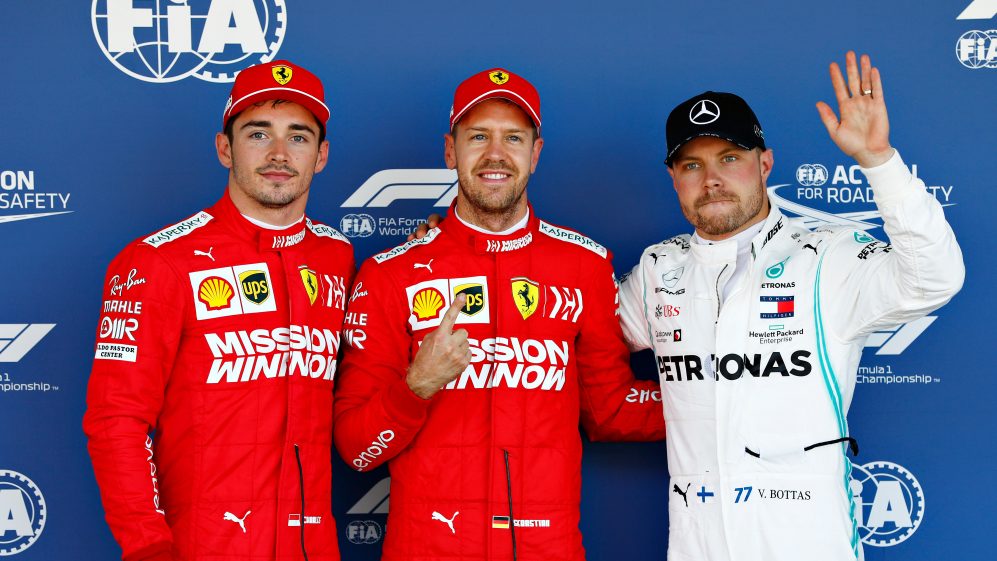 From left, Leclerc, Vettel and Bottas
"I think we're quite surprised, we didn't expect that, a front row lock out. Really enjoyed it." said Vettel
"Pole was not possible, Seb was too quick. Congratulations to him," said Leclerc.
Kevin Magnussen and Robert Kubica crashed out of the first few minutes of qualifying and will start at the back.
But the morning was all about Vettel, who was just "too quick" according to team mate Leclerc. It continues a remarkable turnaround for the German, who has been in a rich vein of form since the Singapore Grand Prix. Can he convert in a few hours time?
Qualifying Results
| | | | | | | | |
| --- | --- | --- | --- | --- | --- | --- | --- |
| POS | NO | DRIVER | CAR | Q1 | Q2 | Q3 | LAPS |
| 1 | 5 | Sebastian Vettel | Ferrari | 1:28.988 | 1:28.174 | 1:27.064 | 16 |
| 2 | 16 | Charles Leclerc | Ferrari | 1:28.405 | 1:28.179 | 1:27.253 | 16 |
| 3 | 77 | Valtteri Bottas | Mercedes | 1:28.896 | 1:27.688 | 1:27.293 | 21 |
| 4 | 44 | Lewis Hamilton | Mercedes | 1:28.735 | 1:27.826 | 1:27.302 | 20 |
| 5 | 33 | Max Verstappen | Red Bull Racing Honda | 1:28.754 | 1:28.499 | 1:27.851 | 16 |
| 6 | 23 | Alexander Albon | Red Bull Racing Honda | 1:29.351 | 1:28.156 | 1:27.851 | 19 |
| 7 | 55 | Carlos Sainz | McLaren Renault | 1:29.018 | 1:28.577 | 1:28.304 | 21 |
| 8 | 4 | Lando Norris | McLaren Renault | 1:28.873 | 1:28.571 | 1:28.464 | 21 |
| 9 | 10 | Pierre Gasly | Scuderia Toro Rosso Honda | 1:29.411 | 1:28.779 | 1:28.836 | 21 |
| 10 | 8 | Romain Grosjean | Haas Ferrari | 1:29.572 | 1:29.144 | 1:29.341 | 15 |
| 11 | 99 | Antonio Giovinazzi | Alfa Romeo Racing Ferrari | 1:29.604 | 1:29.254 | – | 15 |
| 12 | 18 | Lance Stroll | Racing Point Bwt Mercedes | 1:29.594 | 1:29.345 | – | 12 |
| 13 | 7 | Kimi Raikkonen | Alfa Romeo Racing Ferrari | 1:29.636 | 1:29.358 | – | 15 |
| 14 | 26 | Daniil Kvyat | Scuderia Toro Rosso Honda | 1:29.723 | 1:29.563 | – | 16 |
| 15 | 27 | Nico Hulkenberg | Renault | 1:29.619 | 1:30.112 | – | 13 |
| 16 | 3 | Daniel Ricciardo | Renault | 1:29.822 | – | – | 8 |
| 17 | 11 | Sergio Perez | Racing Point Bwt Mercedes | 1:30.344 | – | – | 9 |
| 18 | 63 | George Russell | Williams Mercedes | 1:30.364 | – | – | 10 |
| NC | 20 | Kevin Magnussen | Haas Ferrari | Crashed | – | – | 2 |
| NC | 88 | Robert Kubica | Williams Mercedes | Crashed | – | – | 1 |
[adinserter name="GOOGLE AD"]