Petit Le Mans Brings Factory Ford GT Program to End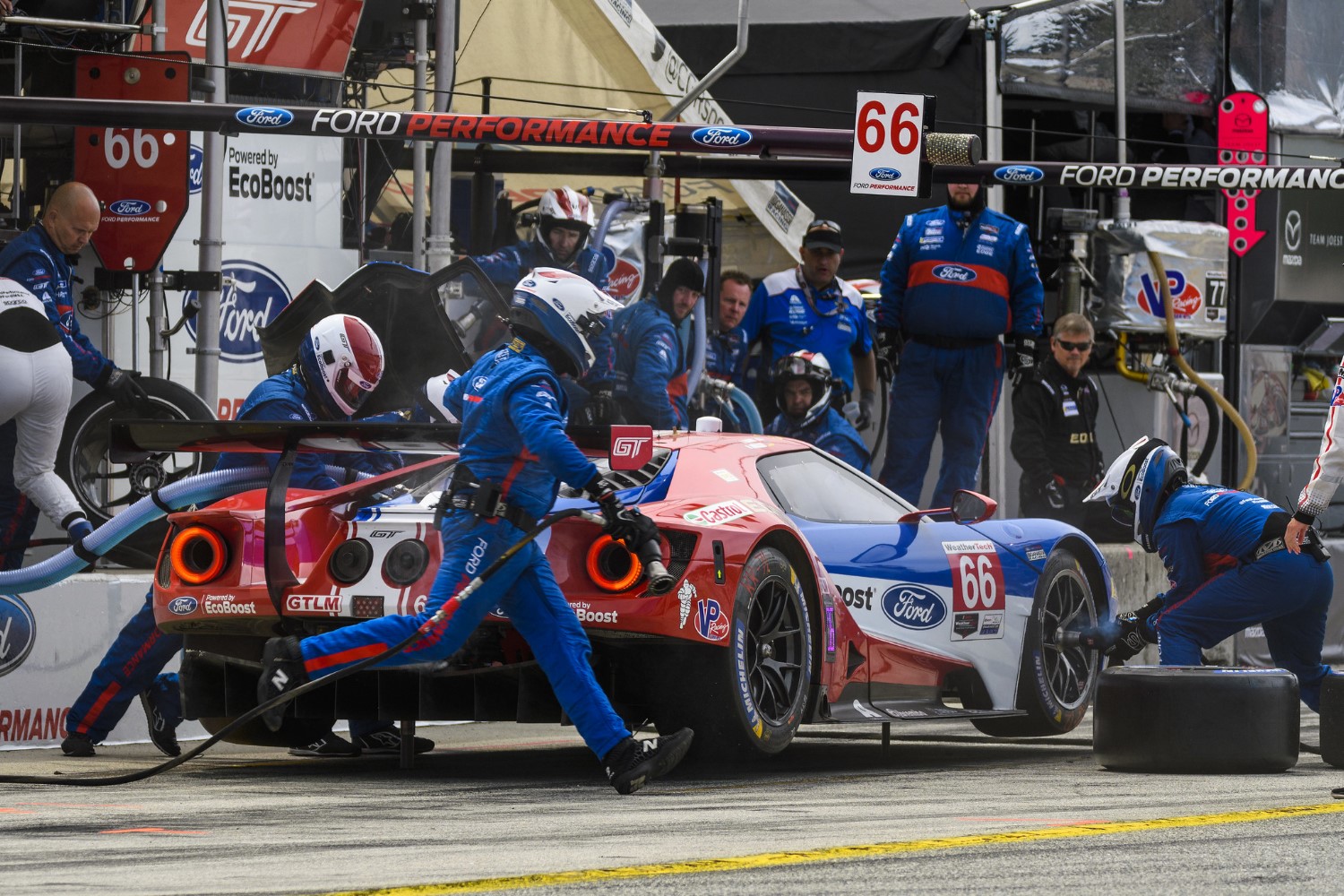 Ford pulling the plug on its IMSA program
The story that began with a walk down a bare basement hallway in the Product Design Center at Ford Motor Company will end at this weekend's Petit Le Mans at Michelin Raceway Road Atlanta.
The 10-hour IMSA WeatherTech SportsCar Championship race brings a close to the factory-backed Ford Chip Ganassi Racing Ford GT program. Globally, Ford CGR won 19 races with partners Multimatic and Roush Yates Engines. During the four years of the IMSA and FIA WEC program, 15 elite racing drivers competed for the four-car team tasked with bringing the road and race car campaigned by Ford to the checkered flag first.
Carrying the banner for the final time will be Joey Hand, Dirk Müller and Sébastien Bourdais in the No. 66 Ford GT, and Richard Westbrook, Ryan Briscoe and Scott Dixon in the No. 67 Ford GT. Those lineups remained essentially unchanged through the years, except when Bourdais missed a Le Mans 24 after crashing during qualifying for the Indy 500 in 2017. He rejoined the lineup at Petit Le Mans that year.
[adinserter name="GOOGLE AD"]"What we have to talk about is that there is really a feeling of being at home on this team, and being honored to be part of the Ford CGR family," Müller said. "It's been a great four years and I'm sad that it's ending. Joey and I are super close and are mates, which is probably not really unique in this level of racing, but I remember my very first test in 2015 and as soon as I touched ground and got out of the rental car, I felt like I'd been with the team forever. That's a unique feeling, what you normally probably don't get. There are no big egos. Everyone is as important as the next person. Everyone is working hand in hand for that one goal, winning races.
"Obviously Chip likes winners and there's a benefit of a lot of trophies in the workshop, and a few have been added from us, so they can see how successful that sense of team was with Ford CGR and Ford Performance and Multimatic. Nobody's selfish. Everybody thinks about the program and not about himself. Just being part of the program is a proud moment.
The drivers of the No. 66 Ford GT earned more poles than any other (9), including both IMSA and FIA WEC programs. The No. 67 team earned the most wins (8). The most successful track for the Ford GT was Road America, where Ford CGR earned three-consecutive wins and three poles. In FIA WEC competition, Ford GT was most successful in Shanghai (two poles, two wins). The team's best finish at Petit was a second-place finish in 2016 for the No. 66 car.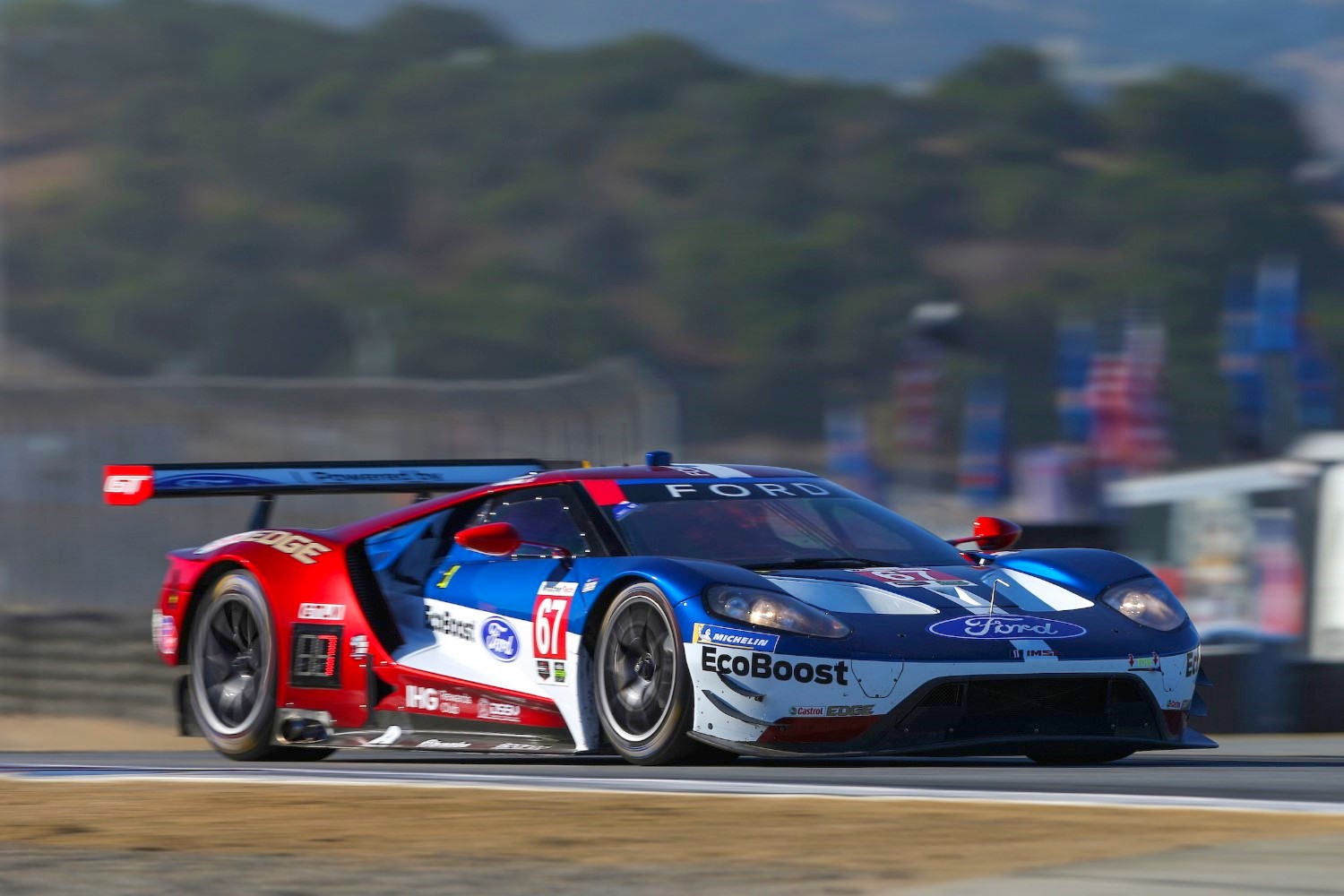 #67 Ford
"(Petit) is a massive race in itself and we're working really hard to finish the year and finish the program strong," Briscoe said. "It's one of my favorite circuits and events on the calendar and I'm looking forward to it."
While Muller, Hand and Bourdais will be remembered as the drivers who captured the GTE Pro class win at the Le Mans 24 exactly 50 years (to the day) the team handpicked by Ford did it first, Briscoe and Westbrook will be remembered as the first to win in this incarnation of the Ford GT. Their win at Laguna Seca in May 2016 sent the team to Le Mans with momentum that carried them to the top step of the podium there.
"A good part of the program has just been being part of the program from Day 1 until the end," Briscoe said. "It's such a historic program with such heavy involvement with everyone at Ford. It's just been so much fun rewriting history and comparing what we were doing to the 1960s. It's been a really special time of our racing careers. I've been proud of all of us having a leading role of what we did the last four years."
Quotes
Careers were set on new trajectories. History, as well as new, lasting friendships, was created. Memories that will go down as legend were made.
For the people who made Ford Chip Ganassi Racing happen, the best moments were often, but not always, of the podium.
No. 66 Ford GT – IMSA /No. 68 Ford GT (Le Mans 24)
Joey Hand
Favorite memory: "From Le Mans, when I passed the Ferrari on my final stint. That was my favorite memory because that gave us the lead and we never gave it back. The whole story just came together right there, amazingly. The whole 50-year anniversary thing was one thing, but the Ford vs. Ferrari thing played out exactly 50 years later. For me, that was the big memory from the Le Mans 24. Also, looking back, I got to see the replay that's been in the highlights a lot, the moment they show everyone cheering in the garage. Everyone was thinking 'this could be the time.' It was cool to be part of it."
What's one thing people don't know about the program?
"The story's been told, but just the time we all went to the Ford Motor Company Design Center and got a look at all the stuff in the basement. I don't know if people realize how true that is…being in a secret basement room that used to be used for storage. We walked in there…I thought it was a joke when we were talking about it, but the whole room had the design of everything in there. Every detail had been thought out. On one side, they had the street car, and the designs of the exterior, the interior, everything. Then on the other side, they had our firesuits, livery, all of it. Head to toe, they designed everything. That is still one of the coolest parts of the program to me."
Dirk Müller
Favorite memory: "That is obviously driving the last laps at the Le Mans 24, after seeing the checkered flag. Finally realizing what just happened. After four years, that was the big win. We were under so much pressure that first year and it all came together. The whole team. Not just us drivers, but the whole team did the perfect job. They executed it well and gave us the opportunity to fight for a victory."
What's one thing people don't know? "What a lot of people don't know is there was lots of crying going on over the radio (after the Le Mans 24 win in 2016). I could tell the boys were crying."
No. 67 Ford GT – IMSA /No. 69 Ford GT (Le Mans 24)
Ryan Briscoe
Favorite memory: "I have two. One was definitely being on the podium at Le Mans the first year, with Joey and Dirk and Seb winning and Richard, Scott and I on the podium with them. It was such an incredible moment. It's my only Le Mans 24 podium and just to be up there with the sea of people below, just that moment itself, was really incredible. Our Rolex 24 at Daytona win, and again with both cars on the podium, is the second one. It was a hard battle all race long with the 66 car and was just a massive win. Huge excitement."
What's one thing people don't know? "Definitely a big tradition has been finding a Mexican restaurant wherever we go. That's been driven mostly by Joey (Hand), but Mexican food is a must-find at every single event we go to."
No. 67 Ford GT – FIA WEC
Harry Tincknell
"There were some good wins along the way. Our home win at Silverstone was a great one in 2017, but I think the best moment was probably the 2nd at Le Mans in 2017. Following on from the 2016 victory. We had a great race in the No. 67. We ran pretty faultlessly at the front most of the way. I was third on the final lap and passed the Corvette for second with two corners to go, which we were told was the latest overtake for position in Le Mans history. That was a pretty cool moment. To get on the podium representing Ford was incredible."
What's one thing people don't know? "I think, on a serious note, working with Andy was amazing. I learned so much from him, coming into the team as a 23-year-old. I really learned from his experience, especially on the feedback and set-up side. Driving, as well, but it really molded me into the professional driver I am today. That was great. On a lighthearted note, his request to change to black balaclavas was quite amusing."
Ford Chip Ganassi Racing
Mike Hull, Managing Director, Chip Ganassi Racing
Favorite memory: "Our two American-entered Ford GTs finishing first and third at the Le Mans 24. The Ferrari in second place was also from an American entrant, Risi Competizione. When the nine drivers were on the podium, they raised three American flags and played 'The Star-Spangled Banner.' The podium is probably 30 feet in the air, in front of what appeared to be 50,000 spectators on the front straight. The European motor racing fans applauded the flags and the drivers. For an American in France, it was very moving."
What's one thing people don't know? "This has been a six-year program. The first two years, 2014 and 2015, our team ran a Daytona Prototype car to develop the engine, its components, radiators, heat exchangers, turbos, engine management, and electronics so that it was a totally developed engine package. As an entire package, it was fit right into the GT car when testing began prior to the 2016 race season. When GT testing began in October of 2015, our team was able to concentrate on the chassis itself as the engine and its accessories that were integral to the Ford engine plugged right in as we were all ready to go – that was a big step, immediately."
Ford Motor Company
Kevin Groot, Ford IMSA/WEC Program Supervisor
Favorite memory: "It has to be the Rolex 24 at Daytona win in 2018 when we went 1-2 with the Ford GTs. That felt so good. To have the cars and team run like clockwork for a 24-hour race and with so few yellows, and to be able to dominate like that. It's just doesn't happen that often."
What's one thing people don't know? "I think my favorite best-untold story involved Dirk in the middle of the night at Le Mans 2016. He was in the middle of his stint and getting some lights on his display. Dirk got pretty wound up and was saying 'the (expletive) lights are purple!' But nobody could understand him even as he repeated himself many times. This went on for quite a while, until the team had to get Joey on the headset to interpret what Dirk was saying."
Multimatic
Larry Holt, Chief Technical Officer
Most significant memory: "My favorite memory is from May 16, 2015, when the first Ford GT turned a wheel at Calabogie, where we test cars near Ottawa, and ran faultlessly for two days. Scott Maxwell started to make calls on the set-up, something that normally doesn't happen on the first run unless everything is really good. My strongest, overwhelming memory, though, is of the Rolex 24 at Daytona in 2016. It is not a good memory but it is a very strong story of how the team (Multimatic, Ford, Ford CGR) overcame adversity. We ran 18,000 km of testing between May 2015 and Daytona at the end of January 2016. There were a few small issues that we sorted but nothing that raised any flags on the cars' robustness and/or durability. But, as the world knows, one car was out of contention in the first hour due to a gearbox shift valve issue that we had never, ever encountered. The other car suffered the same problem and so both were completely out of contention early on. It was an amazing, bad turn of events that I will never forget for how depressed it made me feel, but also how it motivated us all to dig deep and fix that issue and double down on looking at every other system on the car, ending in a trouble-free run for three out of four cars at Le Mans five months later."
What's one thing people don't know? "There are many things people don't know about the program. The Ford CGR FIA WEC branch of the team was run by Multimatic Motorsports Europe. That was a big deal for us."