MotoGP: Marquez prevails in epic Quartararo fight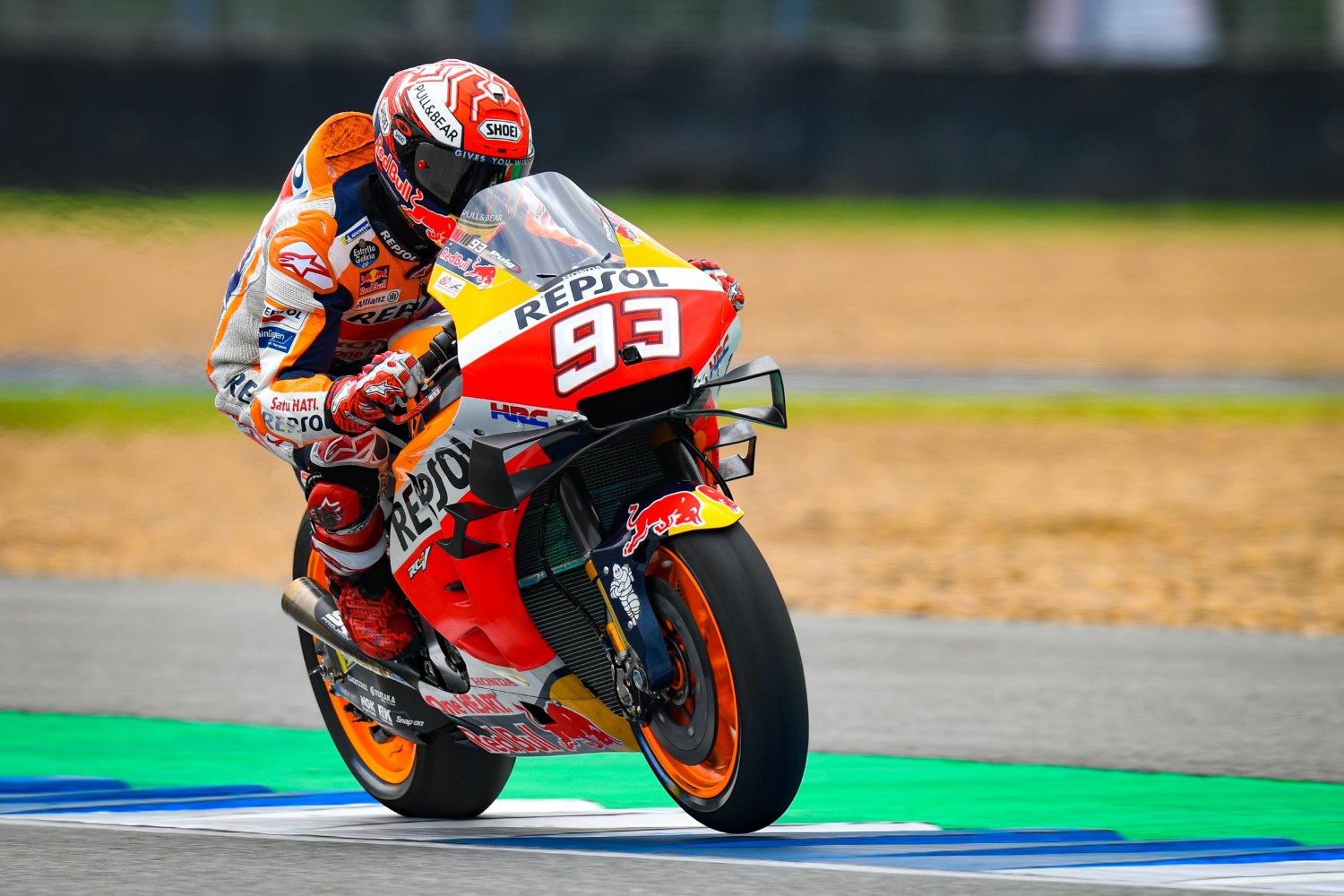 Champion Marc Marquez
The PTT Thailand Grand Prix won best Grand Prix of the year last year and once again, it was a fierce battle out front at the Chang International Circuit. In yet another head-to-head scrap, Marc Marquez (Repsol Honda Team) took on Fabio Quartararo (Petronas Yamaha SRT) in a thrilling climax, leaving it to the last lap to take victory in a final corner showdown. Marquez reigned supreme to take a second consecutive victory in Buriram to become the 2019 MotoGP World Champion, a sixth time in the premier class.
A full house at the Buriram Circuit were treated to an edge of their seats MotoGP race as they witnessed Marc Marquez crowned World Champion for the eighth time. From the front of the grid, Marquez charged forward and immediately began to chase pole setter Fabio Quartararo. With his only title rival, Andrea Dovizioso, a distant fourth Marquez was able to focus solely on the race win.
With tension mounting, it was lights-out and a fantastic start from Fabio Quartararo, as the 20-year-old Frenchman blasted into the lead at Turn 1, with Marc Marquez almost colliding with Franco Morbidelli (Petronas Yamaha SRT) on the short shoot to the first turn. Maverick Vinales made a good start and held on to third whilst Andrea Dovizioso (Ducati Team) also got away well, pushing through into fourth. Valentino Rossi (Monster Energy Yamaha MotoGP) didn't make big gains but was seventh by the end of Lap 1, moving through from ninth on the grid. It was a catastrophe for Jack Miller (Pramac Racing), who stalled his bike on the grid and had to start from Pitlane.
[adinserter name="GOOGLE AD"]The race settled down and Quartararo set an incredibly hot pace out front, pulling Marquez along with him as the two began to trade fastest lap times. Valentino Rossi had got ahead of Joan Mir (Team Suzuki Ecstar) at the final corner, whilst Alex Rins (Team Suzuki Ecstar) loomed in the background. There was a disaster further down the field as Mika Kallio (Red Bull KTM Factory Racing) crashed out at Turn 8. The Finnish rider was OK, but his race was run.
Lap 7 and Maverick Vinales had dropped out of contention for victory as the Spaniard struggled with a full fuel load in the early laps of the race. Andrea Dovizioso hadn't been able to make any further in-roads on the riders ahead but had pulled out a half-a-second advantage over Franco Morbidelli, whilst Valentino Rossi was under pressure from the Suzuki pairing of Mir and Rins. Danilo Petrucci (Ducati Team) had dropped to ninth but was two seconds clear of Aleix Espargaro (Aprilia Racing Team Gresini) in tenth.
There was drama for Valentino Rossi on Lap 10 and 11, as the Italian experienced a sudden drop-off in pace and found himself behind Rins and then Mir, the latter getting through at Turn 3. The 40-year-old nine-time Champion picked his pace back up but was just 1.7s off the back of the Suzuki. With Rins in clear air, he set of after Morbidelli.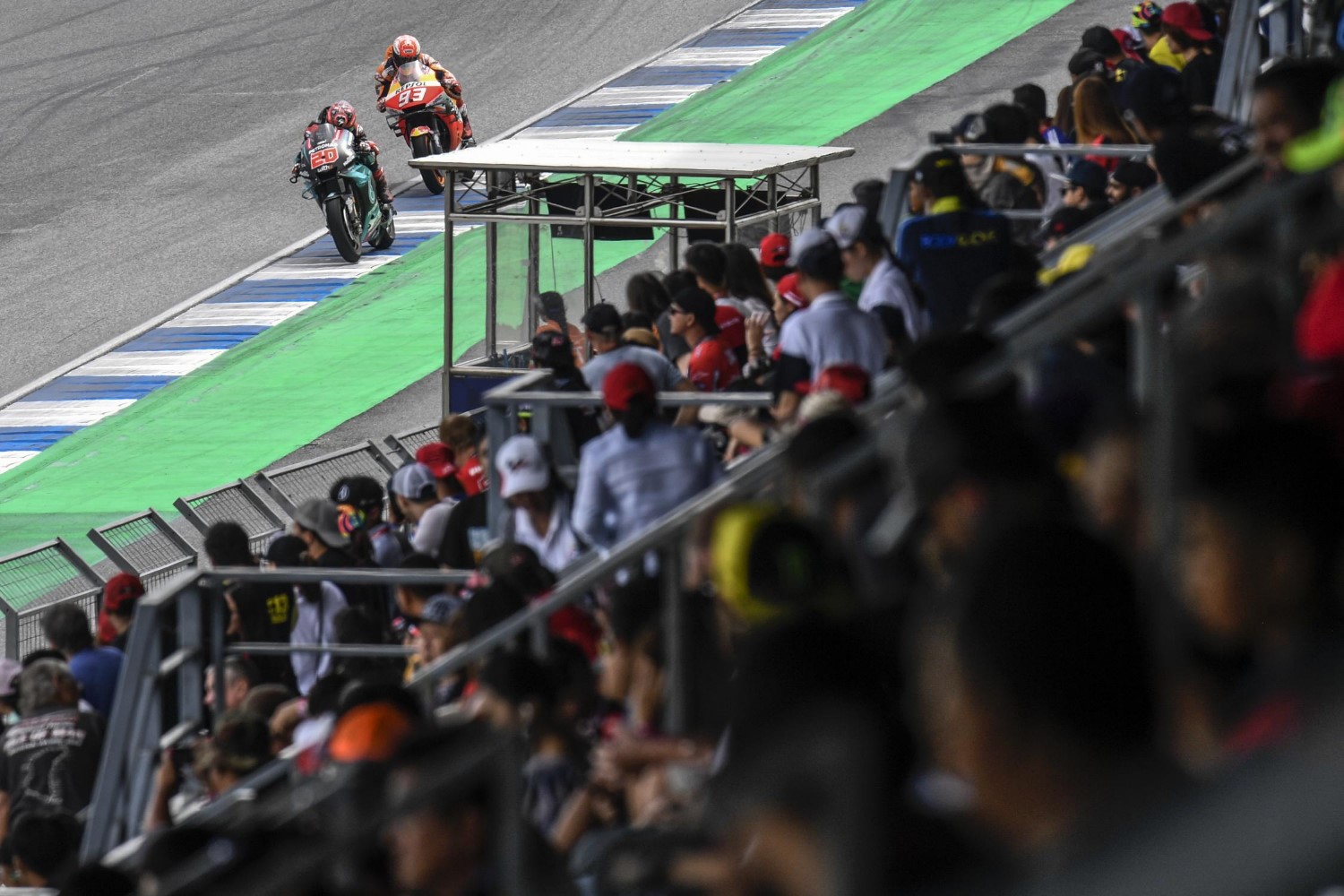 Marquez hounds Quartararo
At half race distance, the gap was down between the leading two and Marc Marquez had hit stalking mode; the Honda rider just sat in behind the rookie Frenchman, shadowing him. However, Quartararo responded a lap later, setting a scintillating pace as the two riders dueled. Behind them however, Maverick Vinales was closing in and set his personal best lap of the race for a third consecutive time. The race was reaching an incredible climax, as the leaders began to concertina together.
Lap 15 saw Alex Rins make his way into fifth place, getting ahead of Franco Morbidelli, who was having a very strong and solid ride inside the top six, a position he had held all weekend. There was disappointment behind though, as Aleix Espargaro retired into the pits from a top ten placing. This promoted Takaaki Nakagami (LCR Honda Idemitsu) into the top ten.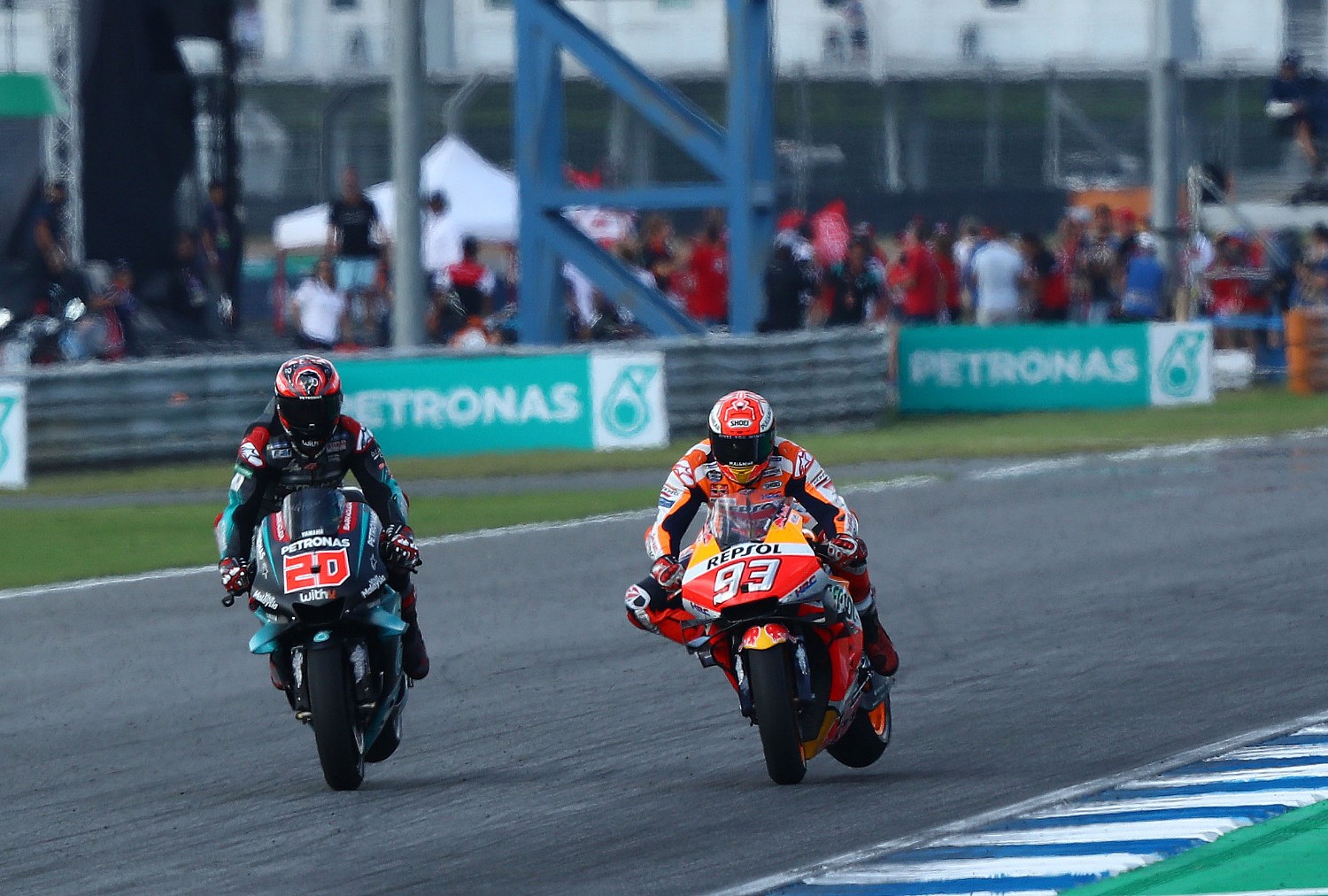 At the limit, rear wheels off the ground, the two brake hard on the final lap
The race was coming to a close and on Lap 23, after a few laps of more-or-less riding pillion with Quartararo, Marquez showed his hand at Turn 3 but ran wide, allowing Fabio back ahead. The crowd were on their feet as a second grandstand finish for a second consecutive year beckoned at the Chang International Circuit. Cheers and screams, the atmosphere was electric with history on the horizon in more ways than one.
On the final lap, Marquez tried again at Turn 3 and this time it worked, as he pulled his Honda down to an apex and then blasted onwards to Turn 4. Quartararo had been strong in the final sector for the entire race however and built in momentum all the way through from Turn 8. Closing through every corner, Quartararo tried one massive lunge at Turn 12, as the enormous Thai audience watched on. Going slightly wide, an opportunistic Marquez didn't settle for a safe second and sliced back through to take the win on the run to the line, whilst the Petronas Yamaha SRT outfit had to settle for second. Maverick Vinales couldn't get in on the action and in the end, was third.
Behind them, a magnanimous Andrea Dovizioso held on to fourth and Alex Rins took fifth from tenth on the grid. Franco Morbidelli was secured a sixth place ahead of Joan Mir, whilst Valentino Rossi could only manage eighth. Completing the top ten were Danilo Petrucci (Ducati Team) and Takaaki Nakagami in tenth.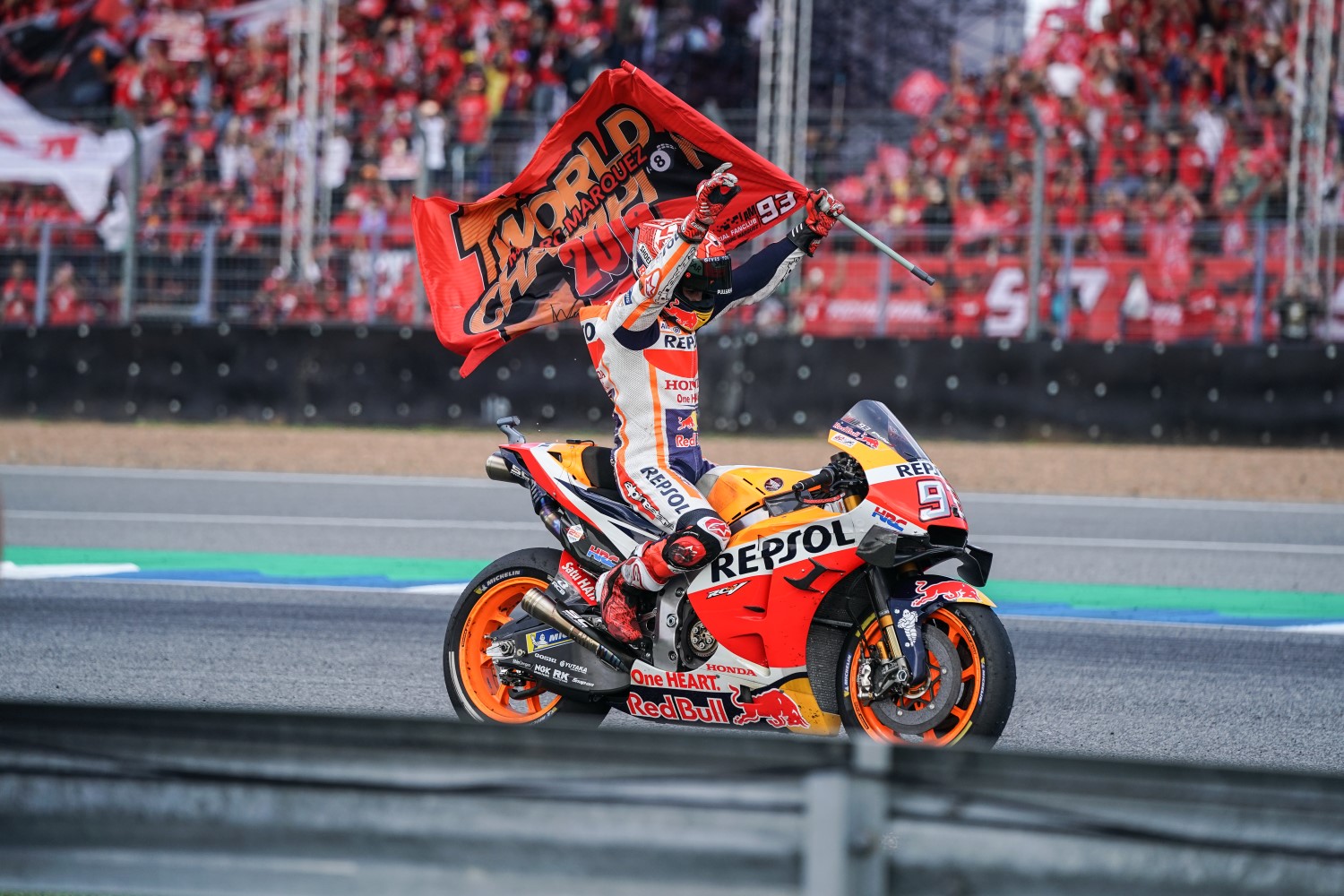 Marquez celebrates
With 325 points, nine wins, 14 podiums, nine poles and 10 fastest laps – Marc Marquez becomes the MotoGP World Champion alongside the Repsol Honda Team for the sixth time and takes the eighth World Championship of his career. The victory is also Honda's 150th in the MotoGP class – an achievement no other manufacturer has been able to match.
Marc Marquez
"I'm very happy. I'm so happy. When you have an advantage like I had you realize you are so close to the championship but you need to find something to keep you motivated. Today it was winning the race and it's what I did. Fabio was so fast during the race but I never gave up, even during the middle of the race where it looked like he was escaping. It was a beautiful way to win the championship – even if I wasn't thinking about it on the last lap! Arriving in parc ferme with the whole Repsol Honda Team there was fantastic;it's a dream to do it with the whole fan club and the nice celebration. Every year is special, it's not easy to keep everything perfect each year to fight for the title and I had a very hard winter with the injury but myself, the team and HRC managed it well. Now we'll enjoy this feeling a little bit!"
Results
| | | | | | |
| --- | --- | --- | --- | --- | --- |
| POS | RIDER | TEAM | BIKE | LAPS | GAP |
| 1 | Marc Marquez | Honda | Honda | 26 | 0.000s |
| 2 | Fabio Quartararo | Petronas Yamaha | Yamaha | 26 | 0.171s |
| 3 | Maverick Vinales | Yamaha | Yamaha | 26 | 1.380s |
| 4 | Andrea Dovizioso | Ducati | Ducati | 26 | 11.218s |
| 5 | Alex Rins | Suzuki | Suzuki | 26 | 11.449s |
| 6 | Franco Morbidelli | Petronas Yamaha | Yamaha | 26 | 14.466s |
| 7 | Joan Mir | Suzuki | Suzuki | 26 | 18.729s |
| 8 | Valentino Rossi | Yamaha | Yamaha | 26 | 19.162s |
| 9 | Danilo Petrucci | Ducati | Ducati | 26 | 23.425s |
| 10 | Takaaki Nakagami | LCR Honda | Honda | 26 | 29.423s |
| 11 | Francesco Bagnaia | Pramac Ducati | Ducati | 26 | 30.103s |
| 12 | Cal Crutchlow | LCR Honda | Honda | 26 | 33.216s |
| 13 | Pol Espargaro | KTM | KTM | 26 | 35.667s |
| 14 | Jack Miller | Pramac Ducati | Ducati | 26 | 39.736s |
| 15 | Andrea Iannone | Aprilia | Aprilia | 26 | 40.038s |
| 16 | Miguel Oliveira | Tech3 KTM | KTM | 26 | 40.136s |
| 17 | Tito Rabat | Avintia Ducati | Ducati | 26 | 44.589s |
| 18 | Jorge Lorenzo | Honda | Honda | 26 | 54.723s |
| 19 | Karel Abraham | Avintia Ducati | Ducati | 26 | 56.012s |
| 20 | Hafizh Syahrin | Tech3 KTM | KTM | 26 | 1m01.431s |
| – | Aleix Espargaro | Aprilia | Aprilia | 17 | DNF |
| – | Mika Kallio | KTM | KTM | 3 | DNF |
Rider Standings
| | | |
| --- | --- | --- |
| POS | RIDER | POINTS |
| 1 | Marc Marquez | 325 |
| 2 | Andrea Dovizioso | 215 |
| 3 | Alex Rins | 167 |
| 4 | Maverick Vinales | 163 |
| 5 | Danilo Petrucci | 162 |
| 6 | Valentino Rossi | 145 |
| 7 | Fabio Quartararo | 143 |
| 8 | Jack Miller | 119 |
| 9 | Cal Crutchlow | 102 |
| 10 | Franco Morbidelli | 90 |
| 11 | Pol Espargaro | 80 |
| 12 | Takaaki Nakagami | 74 |
| 13 | Joan Mir | 58 |
| 14 | Aleix Espargaro | 46 |
| 15 | Francesco Bagnaia | 34 |
| 16 | Andrea Iannone | 33 |
| 17 | Miguel Oliveira | 29 |
| 18 | Johann Zarco | 27 |
| 19 | Jorge Lorenzo | 23 |
| 20 | Tito Rabat | 18 |
| 21 | Stefan Bradl | 16 |
| 22 | Michele Pirro | 9 |
| 23 | Sylvain Guintoli | 7 |
| 24 | Hafizh Syahrin | 7 |
| 25 | Karel Abraham | 5 |
| 26 | Bradley Smith | 0 |
| 27 | Mika Kallio | 0 |