Scenes from first IndyCar Aeroscreen Test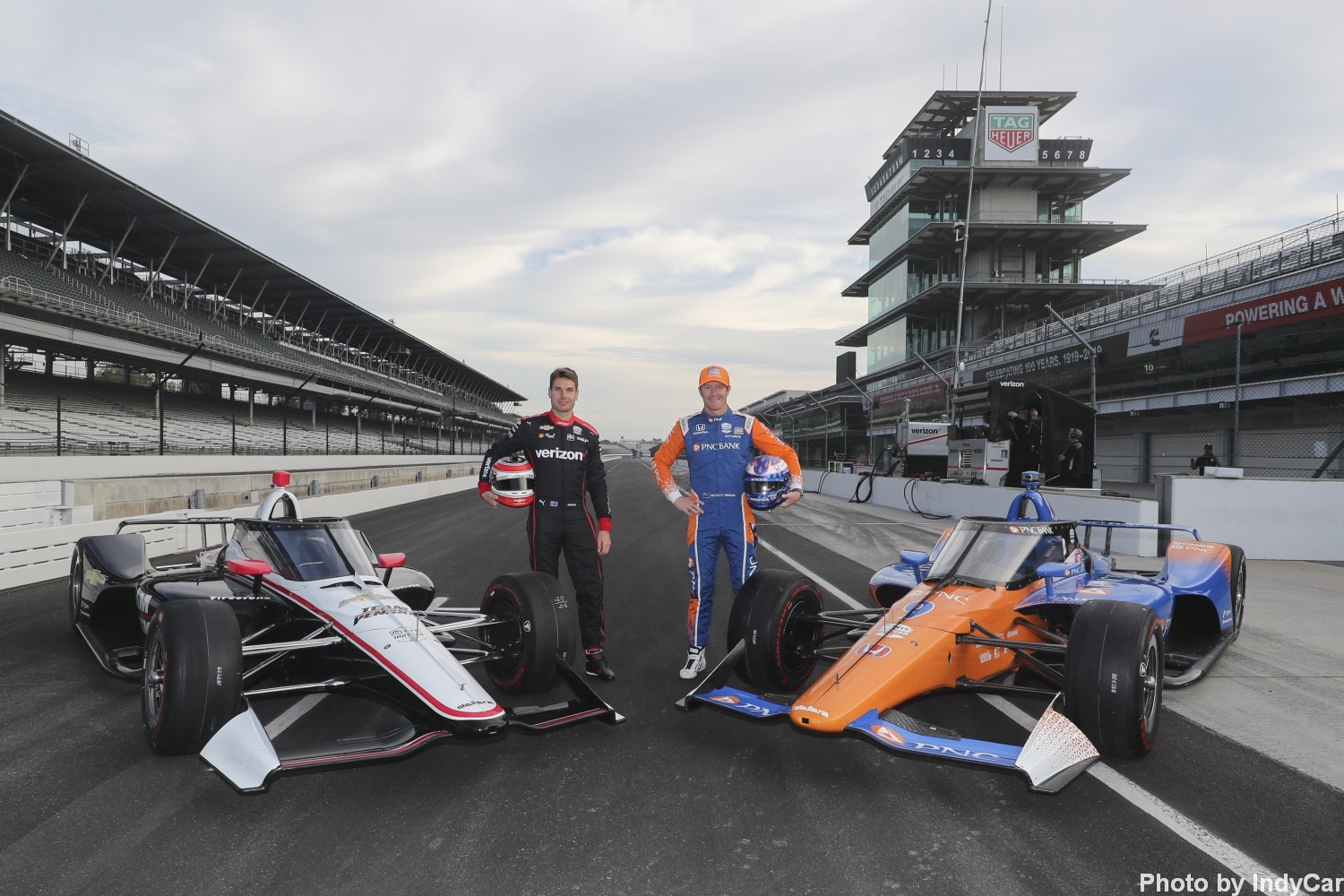 Will Power and Scott Dixon
Team Penske Chevy driver Will Power and Ganassi Racing Honda driver Scott Dixon track tested the new Red Bull Technologies designed Aeroscreen on the 7-year old Dallara DW-12 chassis at the Indianapolis Motor Speedway Wednesday.
Here are the first photos from that test.
Do you like the new look, or do you think it looks hideous?
The driver's had a positive first impression on the flat Indy oval. Still more testing to do.
The Aeroscreen has been developed in collaboration with Red Bull Advanced Technologies. The driver safety innovation encompassing the cockpit is comprised of a ballistic Aeroscreen anchored by titanium framework
[adinserter name="GOOGLE AD"]The Aeroscreen is the second phase of INDYCAR's effort to further enhance driver safety in the open-cockpit race cars. INDYCAR debuted the Advanced Front Protection (AFP) device for the INDYCAR Grand Prix that was held May 11 on the Indianapolis Motor Speedway road course. The 3-inch-tall titanium AFP was manufactured by Dallara to help deflect debris away from the cockpit area and the driver. The piece was used in this year's Indianapolis 500 presented by Gainbridge.
The RBAT design consists of a polycarbonate laminated screen that includes an anti-reflective coating on the interior of the screen, an anti-fogging device through an integral heating element and tear-offs, all of which will be produced by integrated third-party companies. Another feature for the drivers will be a cockpit-cooling duct designed by Dallara in their CFD.
The titanium framework mounts in three areas around the cockpit: the chassis centerline, two rear side mounts and roll hoop integration to provide enhanced load-bearing capabilities.
INDYCAR has scheduled additional Aeroscreen tests at Barber Motorsports Park, a permanent road course, on Oct. 7; Richmond Raceway, a short oval, on Oct. 15; and Sebring International Raceway, a road course which can simulate a street circuit, on Nov. 5. Aeroscreens are to be delivered to all NTT IndyCar Series teams before the end of the year.
Previously, INDYCAR conducted extensive testing with a windscreen concept developed in conjunction with PPG Aerospace, including on-track sessions in 2018 at ISM Raceway in Phoenix and Indianapolis Motor Speedway. The drivers who tested the windscreen did not report any issue but additional comprehensive testing at PPG's facility in Huntsville, Ala., revealed additional work needed before implementation. INDYCAR provided the research and on-track testing information from the project to RBAT for the development of the current design.
[adinserter name="GOOGLE AD"]