IndyCar Laguna Seca Sunday Press Conferences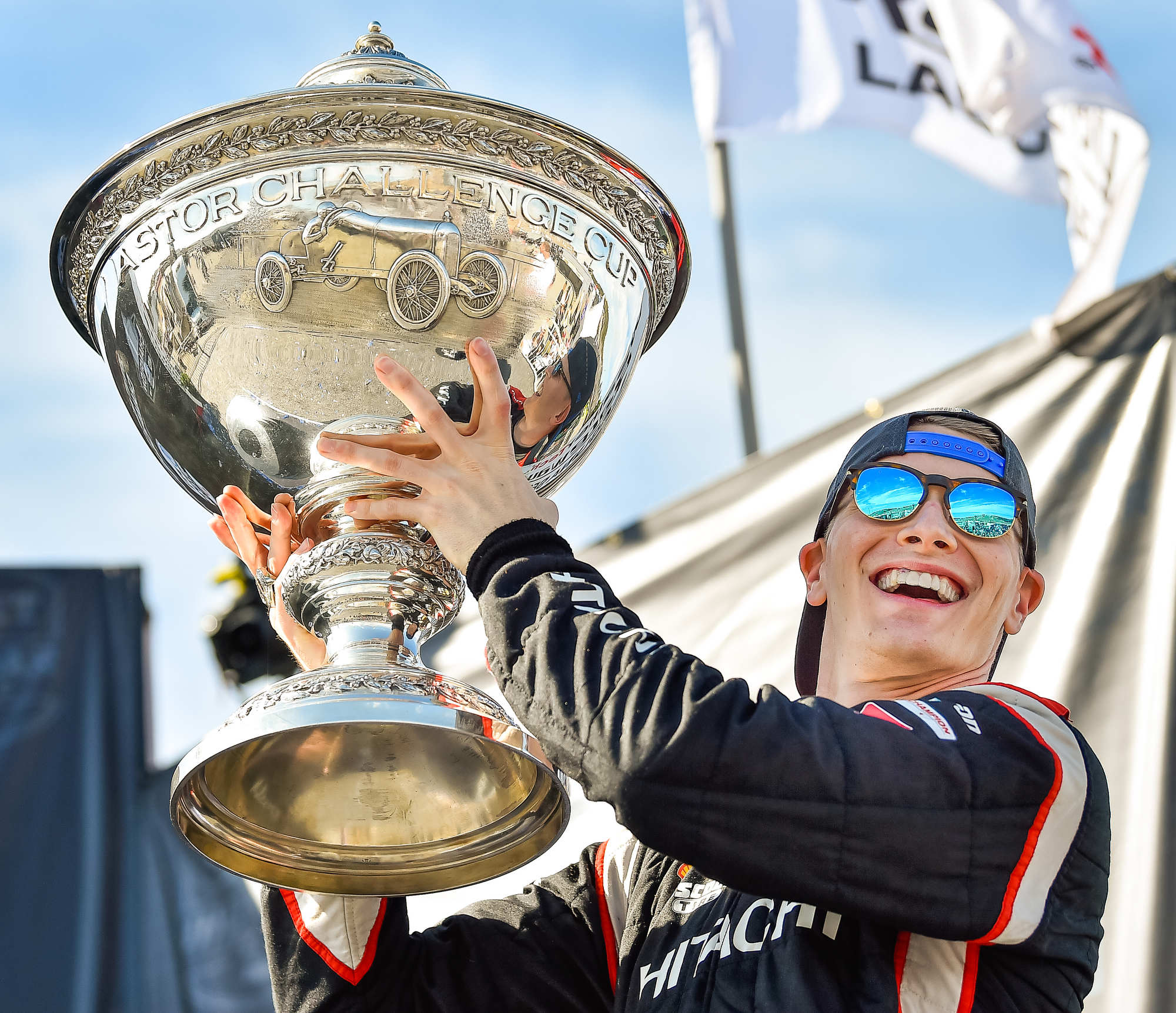 2019 IndyCar Champion Josef Newgarden
Participants:
Race Winner, Colton Herta
2019 Champion, Josef Newgarden
Championship Owner, Roger Penske
Manufacturer Champion, Ted Klaus of HPD
Rookie of the Year, Felix Rosenqvist
Championship runner-up, Simon Pagenaud
Third-place championship, Alexander Rossi
Colton Herta, Race winner, Harding Steinbrenner Racing
THE MODERATOR: Joined now by Firestone Grand Prix of Monterey race winner, Colton Herta. Congratulations. Good genes, as you said yesterday.
COLTON HERTA: Yeah. Yeah. Mixed with a lot of other things. But yeah, great car. A car that you could manage the tires pretty easily with, so that seemed to be really important.
And yeah, it was a tough race. It was either getting hounded by Dixon or Pagenaud or Power the whole time, so they definitely didn't make it easy on me. But yeah, happy to kind of put together what we had in Portland and learn from our mistakes of the tire wear issues and go forward with it.
Q. The one thing I was most intrigued by is how well you would learn from what happened in Portland and you led 83 of 90 laps. You obviously had things under control and a big improvement.
COLTON HERTA: Yeah. And you know, I'd never really felt too threatened until the end when Power was on me, and I thought I had it under control for, I guess, 80 percent of the race, 85 percent of the race.
[adinserter name="GOOGLE AD"]But yeah, it seemed like our tire wear was a lot better than a lot of people's. I would say for sure Dixon and Pagenaud, definitely not Power. He seemed to have a little bit of an edge. But that last two or three laps I would gap by like a second a lap and have a nice margin coming into the pits if anything were to go wrong or if I had a slow out-lap or in-lap.
THE MODERATOR: Obviously you had a lot of help this year in the Andretti program, but the Harding Steinbrenner Racing team as it stands at the moment goes out as a race winner. You had fabulous pit stops and good strategy. Talk about that as a collection of people.
COLTON HERTA: Yeah, it was a perfect race. Whenever you win an IndyCar race, it has to be a perfect race. You can't really make mistakes and get away with it, just because there's always two or three other guys on that day that can win. For sure there was a few guys that could win today, and we just outdid them. We had the pace on them, and we were definitely the best today, so we definitely deserved to win.
Q. You may not have gotten the Rookie of the Year title, but you were certainly the rookie of the year. To have two victories and three poles, you're not even 20 yet. How do you look back at all of that?
COLTON HERTA: You know, I think just look forward into next year. Obviously I'm really proud of what I did this year and what the team has been able to do and given me the car to do. But yeah, you kind of have to take it in the off-season. I like to take a month off and not really do much and then kind of look into focal points of what I lacked, and for sure I'd say going into the off-season it was going to be mostly about tire wear and maintaining the tires. I think I did that very well today, and most of the time I was doing it better than the other guys. I think now I can kind of focus on other things.
Q. I wanted to ask, you know when you were coming out of the — or when someone else is coming out of the pits like Power and you can see around the corner of your eye, I assume, as you're sort of going around the Andretti hairpin, do you know exactly where he needs to be relative to you that he won't be able to just come out and just chop you up?
COLTON HERTA: Yeah, kind of. You can definitely tell when you're accelerating because you view the corner off quite a lot, so you probably have two, two and a half seconds of acceleration where if you were to make contact, it would happen, so it's enough time to react.
But yeah, you can kind of gauge — obviously it's a lot tighter for him, so you can carry a lot more speed around the Andretti hairpin than the warmup lane. But I think, yeah, you have about a second, second and a half to gauge it and lift off.
But also the guy coming out can see in the mirror pretty well, and I really wouldn't expect that from Power or Dixon or Pagenaud to just kind of come across and hit you off track. But yeah, definitely got to be conscious of it.
Q. Simon Pagenaud urged the officials not to do anything to the track, not repave it or anything. What did you think of the track today and how the track prepared for this race?
COLTON HERTA: Yeah, it definitely makes — this is normally a place that you can't pass, normally a track that makes it very difficult to do overtakes, and I think the tire wear helps that because you have some guys that drop off drastically compared to others. I don't know how many passes there were, but yeah, I think it's important — it's definitely a different skill set. IndyCar, we go to all these different street circuits, permanent road courses and ovals, and they're all different in their own ways, and I think this place is unique because of the tarmac and how abrasive it is.
/
Yeah, I mean, I think if they did repave it, it would make the racing probably worse. But I'm not sure. I'm not sure what I would prefer. Obviously qualifying, you definitely want the track to be repaved and be going a lot faster. If they repaved it, we'd definitely break the track record. But I don't know if that's the best thing. It's definitely challenging right now how it is.
THE MODERATOR: In a minute we'll have Honda representatives up here, and they won a championship today. Your thoughts on everything Honda provided for you and the team?
COLTON HERTA: Oh, it's awesome to work with Honda and HPD. I grew up in Santa Clarita. I still live there. That's where HP is based. So it's four minutes away from my house. And actually worked with a lot of the guys growing up in go-karting. And yeah, I work out with a lot of the guys, too. I mountain bike with a lot of the guys from HPD.
Definitely feel at home there, and obviously my dad was with Honda for most of his career, and yeah, I get to know a lot of the guys, and they're just doing a tremendous job, obviously, and I was happy to kind of be part of two of their wins this year.
THE MODERATOR: What's on the to-do list? A lot of mountain biking this off-season? What else is on the to-do list?
COLTON HERTA: I think just finally do nothing. I've got Petit coming up with Bobby Rahal in his BMW, and then after that it'll just be about testing the IndyCars. Obviously getting used to the new car, obviously going to be in a different team next year working with a lot more of the guys at Andretti than just Harding Steinbrenner.
I think the off-season might actually be quite nice. I'd like to go to the F1 race just to go check it out if I have time, which I'm sure I will because I've got nothing going on.
THE MODERATOR: What about the band? Does the band have a lot of gigs?
COLTON HERTA: Yeah, actually we have a West Coast tour the end of November. We play Phoenix, San Diego, Los Angeles, Fresno, Sacramento and San Francisco. That's like the 22nd to the 27th of November.
Josef Newgarden, Team Penske – 2019 Champion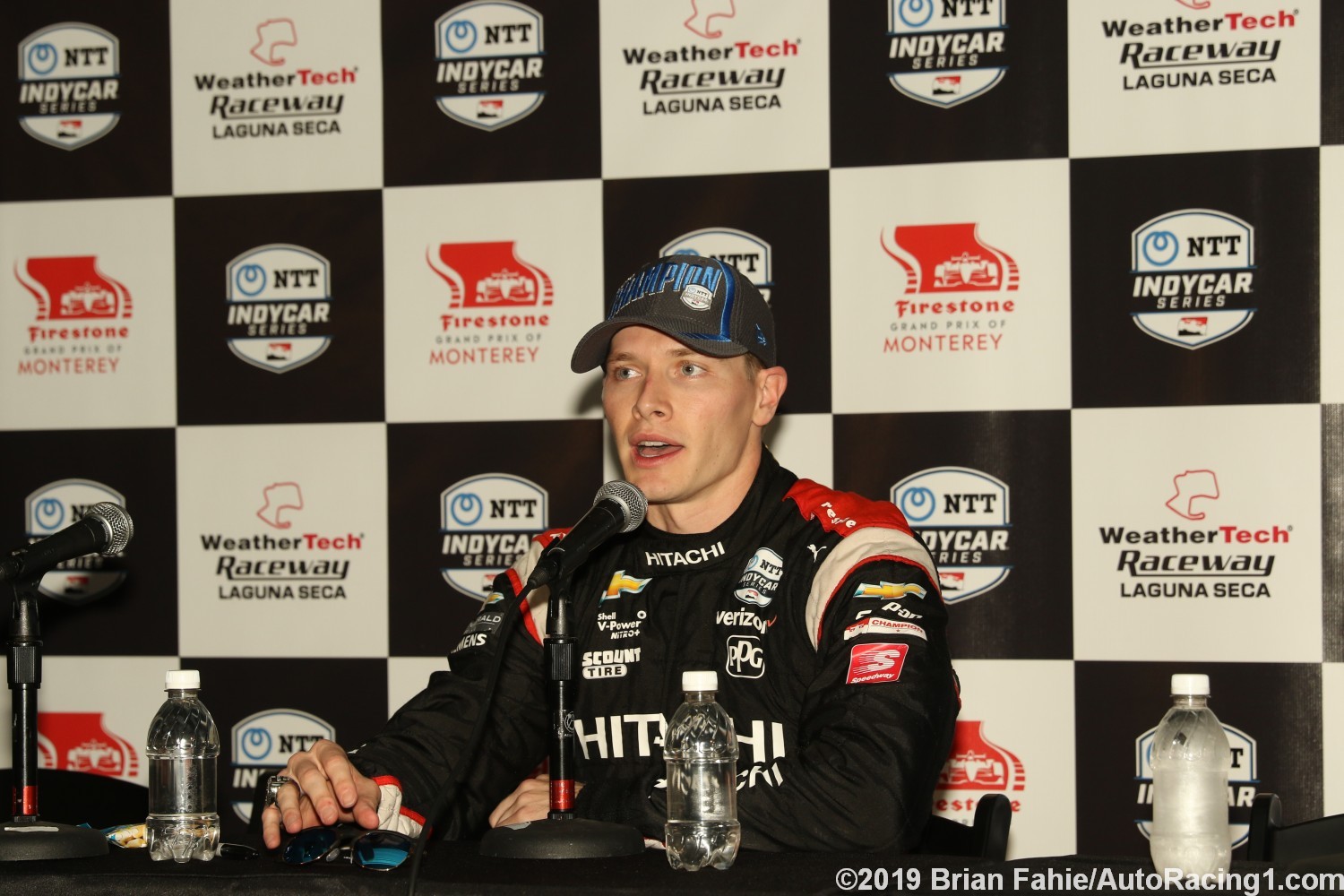 Josef Newgarden
THE MODERATOR: Welcome, champ.
JOSEF NEWGARDEN: I'm worn out. Emotionally worn out.
THE MODERATOR: I bet you are emotionally worn out. We all noticed a little edginess from you over the last couple weeks and maybe the last couple days, and I think by your reaction at the end of the race and Victory Lane suggested that there was more in there than we realized.
JOSEF NEWGARDEN: I'm just happy it's done with, to be honest with you. I've been dreading the last couple weeks because I don't think it really hits you until you get finally to Laguna or after Portland I should say, two weeks to go, because then you really realize the points situation.
It's just such a stressful deal with double points. I hated it. I hated thinking about it, and I know we didn't build up enough of a gap to make it super easy on ourselves, and I was just kind of dreading it, to be honest with you.
Just didn't know what was going to happen today, and I just wanted to make sure we secured the championship because I felt like our guys deserved it. Everyone works really hard in this paddock. It doesn't matter which team or what driver you are. I think everyone works really hard. I'm pretty intimate with my guys and know how hard they work personally, and I just wanted them to be rewarded with the championship.
That was weighing on me a lot. I was just happy we were able to get through today. It was kind of a chaotic event. There was moments where I didn't think it was going to go our way. We kind of set a strategy and stuck to it, and I don't know that it was working out part way through, but then you saw towards the end, the way things were positioned, it ended up being okay, which made me really pleased. But I think we were trying to cover our bases as a team.
The most important thing was for a Team Penske car to win the championship, and that's the way we devised our strategy, and you hope it works out in your favor, but ultimately what's important is the team winning the championship, and that was our plan. Just really proud of everybody. I'm just so thankful to have the opportunity, and I'm just happy it's over with, to be honest with you. I can't wait to go into this off-season. I think it's going to be a nice little rest before next year.
THE MODERATOR: Is the second championship more meaningful or do you have a better perspective because you've been around a little bit longer?
JOSEF NEWGARDEN: Yeah, I don't know why, but it feels more special. It really hit me. It just really, really hit me on the in-lap. I don't know why. I was just so emotional. I didn't quite get that way in the first one. I don't know if you don't have quite the respect for it or what it is. Maybe the way you said it is more appropriate. You just have more perspective on how difficult it is to be — you can win a race every week.
When you're in a season, those opportunities come every single week, but to win a championship, it doesn't come every week. That opportunity seldom is there, and if it is there, you really want to capitalize on it because you never know if you're going to get that again, and I think you really realize that the more years you do this.
I think this one just felt like it was more ours to lose. It was more ours to give away. I thought it was our year to win, and if we didn't, it was just going to hurt a lot. Just the effort would have been — not for nothing, but it just would have felt pretty bad to throw away what we had put together all season.
Q. Alexander Rossi said that, yes, he wanted to win, but he said from a sporting perspective the right guy won. Do you appreciate hearing that from your competitor?
JOSEF NEWGARDEN: I think that's very kind of him to say. You know, yeah, I don't know. I think we were all very deserving. I think Alex has had a tremendous year. He's certainly a tremendous competitor, very talented, very skilled at what he does, and he has a great organization behind him, too.
So you've got to respect the competition, and I think we've had incredible competition between him and Simon and Scott and Will. Those five guys have really been the core people I think at the top of this championship, and I think they were all deserving in a lot of ways to win the championship.
I think we've had the most consistent year. I think I really do believe we've put together the best championship run, and I'm glad that found its way to sealing the championship.
In a lot of ways, under the traditional points system, this would have been kind of a done deal. But it becomes a lot more exciting, and it obviously mixes things up with double points. That's where the wild card kind of comes in.
But the only thing I would say is I have a tremendous amount of respect for Rossi and his skill and his organization and what they've done. They're fine competitors. They're very difficult to beat every week, and that's what you want. Hats off to them for running just as strong of a season I would say.
Q. If you can elaborate, when you were back there sixth, seventh, eighth place and you don't really — you can't really figure the points out in your head like that, were you really anxious, thinking, wow, I might be —
JOSEF NEWGARDEN: No, I knew the points in my head, I can tell you that. I knew exactly where it was, especially at the end. I'm watching the monitors five laps to go, watching Will, and going, Will, let's make sure we're okay here. I saw him attacking Colton, and I'm like, oh, my gosh, he's very capable of winning this race, which is a good thing, I just didn't want to see them collide.
So I was very aware of what was going on. I'll be honest with you, I thought we were going down a rabbit hole that wasn't the right hole to go down. It was just we had set a plan as a group to win the championship as a team, and however the strategy was going to play out was going to dictate who won today. I should say the championship.
We were shadowing Rossi. That's what I was doing. There was a lot of moments where I think I could have blown by him and I didn't, and I just really tried to just stay around him all day, and in some ways that's really good because we were right there with him, but then in other ways he could suck us into a bad situation, and there was parts of the race where I thought that was happening.
I thought, you know, we had set out the routine that this is what I'm going to do and this doesn't seem like it may be working for us, specifically, but if that wasn't going to be the case, then the most important thing would have been for Simon to win the championship.
I think as a team member you just have to understand that. We work as a team, we work as a group, we try and prepare for all scenarios and, most importantly, win as a team. You hope that's you and the team that's going to win, but if it's not you, it has to be the team.
Yeah, I had my doubts today, but I just followed protocol, listened to my guys, and they haven't steered me wrong all year, and they didn't steer me wrong today.
Q. I asked IndyCar manager Kyle Moyer afterwards to give the whole overview of you winning a second championship, how that makes you different than a one-time champion. He said it makes you a two-time champion and the only one on the team that hasn't won the Indy 500 yet.
JOSEF NEWGARDEN: It means I'm still a loser on the team. I've got to —
Q. Doesn't that prove that at Team Penske it's never enough?
JOSEF NEWGARDEN: Well, there's one thing that Roger likes a lot, and that's Indy 500s, and I know that. I've known that since the beginning of my career, and I've been working on it. It's just one of those races you never know if it's going to turn your way or not. There's guys that go their whole career and they never win the Indy 500, and then there's guys that win it four times.
I hope we're in the second camp there, but you just never know. You can give your best there and you hope lady luck shines on you one day around that place, and I hope it does for us in the future, but I'm certainly going to be happy about what we put together over the last three years. Just being a part of this organization, it's been a dream ride so far.
Q. I was a little surprised by the emotion you showed. I've never seen —
JOSEF NEWGARDEN: I was, too. I don't ever cry.
Q. I had never seen you cry —
JOSEF NEWGARDEN: Actually, it infuriates my fiancée because I don't think I've ever cried in front of her. It disturbed her in some ways. She's like, you never cry, which is really — I don't know why you don't do that. You should cry at some point.
Q. It was good crying —
JOSEF NEWGARDEN: It was a good cry. I just felt like a big weight, to be honest with you. I still feel it when I think about it now. It's just a big weight. Especially when I saw all the guys when I got out. It meant a lot. It still does. It means a lot.
Q. Your family has obviously been a huge part of your development and your career, and it was exemplified by your maternal grandmother attending today's race. Give us maybe a little background on that.
JOSEF NEWGARDEN: Yeah, my mormor. That's how you say grandmother in Danish. She's traveled from Denmark to be here. It's so cool she was here for this and it all worked out. So that was a big deal. It's a long journey for her to not only come over to the States but to come to California and kind of make it through the whole weekend.
I'm so thankful she was here, and I think she's going to be hanging out with us through Christmas. So it's going to make it even more fun now.
But yeah, they support me endlessly over in Denmark. I have a lot of family over there and a lot of friends, and they watch me on TV every race, and they cheer me on, and they're up at 1:00 at night with their coffee, drinking it and watching the races. So I have a lot of support on the other side of the world, which has been fantastic.
Q. How old is she?
JOSEF NEWGARDEN: She's 80 now. I belive Mormor is 80, yeah? Yeah, she's 80. She's had a cool life. She's a cool lady. A great cook, too.
Q. Only her second race to see you?
JOSEF NEWGARDEN: I think, yeah, this is her second race. She came to Road America a couple years ago, and this is only the second one she's ever been to.
Q. If I go back with your grandmother of Danish nationality, a business question: Maybe it's a possibility we see some Danish companies joining you on the car in the future?
JOSEF NEWGARDEN: Hey, you never know, yeah. Maybe, yeah. That would be cool. It would be very cool. I mean, I'm proud of both my heritages for sure. I'm proud to be American born and grow up here in this great country, but I'm also proud of my mother's side from Denmark, and it's been a place that's been pretty close to me for many years. We've been over there a lot when I was younger and recently. So yeah, you never know, maybe we'll do some more with that country going forward.
Q. Two championships in three years, you've defeated the guys who were in some ways the faces of the series in Will and Simon and Scott. You could make the argument that kind of makes you the face of IndyCar, moving into this era of growth and new TV markets. What sort of obligations and responsibilities do you see that coming with the second championship, being one of the faces if not the face of IndyCar?
JOSEF NEWGARDEN: Well, I think it's still on all of our shoulders. You know, I don't think one person is going to make the difference. But you know, I'll try and be one of the champions to push the message of what IndyCar is all about.
I think what we really have to do is just continue to do what we've been doing. I mean, we show our product, I think we have the best racing product out there right now. It's the most diverse, and we talk about that a lot. It's very close as far as the parity of the teams. You don't know who's going to win every week. I mean, you can have an idea, but it gets mixed up quite a lot, and we have a lot of surprise winners.
So I think trying to champion the message of what IndyCar is all about, and we talk about we're fast, loud, and we're pure racing, and I think that's pretty much what we do, and that's what we're going to try and do in the future.
We've got a new car which Jay and his team has been working on pretty heavily coming in a couple years from now, we all want more power, we want to make IndyCar as true to its roots as we can while still pushing forward the safety of the sport.
Yeah, I guess that's your role as a champion is to push that message and just to be a positive light for that. That's really all I can do. I don't know if I can move the ball further by doing anything else significant. I mean, it's going to take all of us pushing in this common direction to try and push the sport forward. You know, it'll take me, it'll take guys like Rossi and Simon and Will, and it will take all of us I think to keep pushing the sport forward, and that's what we will plan on doing.
Q. Josef, do you know what the issue with your car was today, because obviously it was the most un-Josef-like drive?
JOSEF NEWGARDEN: Man, you're telling me. During the race I was like, I don't like this. I don't like the way I'm running this race. But today was the championship day. I think someone asked that earlier, kind of touched on it. Yeah, it was an odd race. I felt like we were going — I said this, too, I felt like we were going down a rabbit hole and it was just the wrong place to be going because I could see the writing on the wall where it was headed.
I was doing one thing. My goal was to shadow Rossi, and that's either going to be in my favor or it's not. And it looked like it was coming out of that favor, that sort of strategy. But I had to stick to the plan. Our goose was kind of cooked after the first stint. It was like, look, you've made your bed, this is what it is.
I do think we encountered a problem today, though. I don't know what happened. My first stint was very good. The car felt normal. Rossi was really slow in front of me towards the end, and I was just doing my game. I was shadowing him. I was nervous he was going to wreck me if I tried to pass him. It sort of seemed like it.
But then the second stint, as soon as I went to black tires, it was like something just happened. It was like we dropped a bunch of downforce or a shock went out or something like that, and I was really struggling with the car, but I was still keeping with my objective to shadow Rossi to the finish.
So I think something might have been going on there. I don't know what it was. But I also think the way the strategy was starting to fall — really Rossi's strength is what was hurting us. He wasn't very strong, either, and because I was following him and just trying to match where he was, it was kind of dragging me back at times. I think in the first stint we could have made a lot more hay. I think we could have passed him and just been up the road in a very different position.
I told everyone, look, today was — when you're in a race season, you have an opportunity every week to win a race, but you don't have an opportunity every week to win a championship. So today was purely about that. And I would agree with you, I don't think it was like our typical drive. I think normally we can blitz the field when we need to on a race style, and today was not that style.
Q. Harkening back to Mid-Ohio, it was kind of a move that you probably didn't need, one more position, but you're a racer and you saw a chance to go get another position, and you ended up stuck in the gravel. Was that kind of the wake-up-call moment where it was like, the rest of the way, I'm going with my ground game?
JOSEF NEWGARDEN: No, for me it was a blip. I mean, I know better than that. I knew when I did it, I knew better. It was like, come on. But I can't help myself sometimes. I've said that before. My natural instinct is to always want to go for more, go forward or get the maximum position, and sometimes you have to tell yourself no, that's not the right thing to do. And so I forced that. I knew it immediately, I said, when I did it, that was forced and stupid.
So it wasn't a wake-up call, it was just for me a blip, an unnecessary blip. It would have made today a lot easier if we didn't have that blip, but it's impossible every year to not make a couple mistakes, and I've made mine this year.
I'd say in a lot of ways we can be better than what we've done this year. I think we can put together a better season than what we did this season, and that makes me feel pretty good going forward. I think we did a good job. I think I did a relatively good job, but I can do better. I think as a team we can always do better, but me personally I can do better than what I've done this year, so we're going to focus on trying to turn it up a notch next season.
Roger Penske, Owner of Team Penske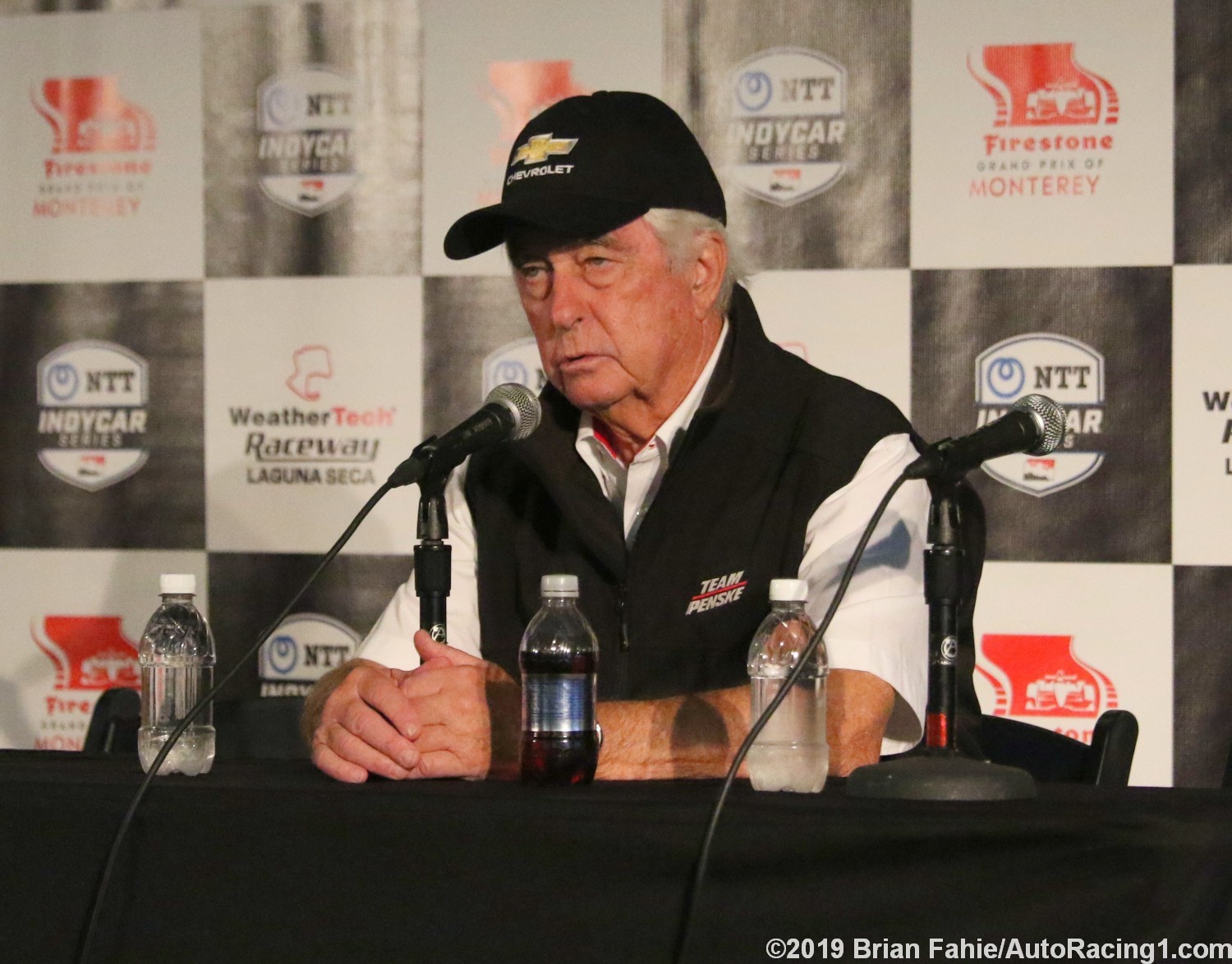 Roger Penske's team wins the Indy 500 and finishes 1-2 in the championship
THE MODERATOR: Next up in the press conference room is Mr. Roger Penske. Roger, it's a familiar gathering we have, third time in four years, 16 times overall. You continue to pile up victories and championships and Indianapolis 500 wins, and if you can cap it all off, you went 1, 2 in the championship this year. Just your overall thoughts.
ROGER PENSKE: Well, when you think about as long as we've been in this sport and continue to have a team of people who can execute as they have, not just this year but the past several years, you know, it's — the continuity of our team and the people makes the difference.
I think when we go to Indy, we have almost 700 years of experience around these cars, which makes a huge difference. Interestingly, when you go in our race shop, we have a big sign that shows how many people over 20 years, how many people over 10 years. It's almost 40 percent of our company, when you take all of the series we race in.
Josef, a great champion. You can see it in his eyes. You could see it the first time he won with us, and with Will and Simon, who just had an outstanding season, when you think about three wins and certainly the Indy 500 is the crown jewel that all of us want to have every year.
But the season was great, the poles and the competition. We've got a lot of young drivers coming up, Rosenqvist came in, Colton Herta outstanding, and then it's the Dixons and the rest of them that you have to race every single day, and Michael has got a great team, Chip does, and obviously the folks over at Arrow, and it's just on and on and on. I probably missed somebody. But the competition has never been better.
I think the teams, when you look at them top to bottom, it's competitive. I think the rules are in great shape, and it's affordable to go racing in IndyCar now, which I think is key, and if we keep the rules the way they are, then we can get data equity, we need to come back to these tracks the same time every year, and that's going to grow this fan base. I think the races are the right length, and we have a really key TV partner with NBC obviously showing us today on national television. It was a real superstar event for us, and obviously for the whole series and the IndyCar family and industry around the world that really looks at us every day.
I just have to say thanks to our people, Tim Cindric and our sponsors, Chevy, great power for the whole season. It's a real dogfight between Honda and Chevy. Nobody has much of a lead, and I think it's just how the chips fall each year. But overall our sponsors and NTT, having them come back and take over from Verizon was a great job to go from one year to the next and have a key company was very important to the series.
I want to thank the whole Hulman family and Mark Miles and Tony and their whole family for having the Indy 500. That race has only gotten better, and I think we can make it better every year, and that's where everybody wants to win, and certainly from my perspective we get ready at the beginning of the year, starting on Monday or Tuesday when our guys are getting back, we're starting to get ready for next year's Indy 500.
We've got three great champions that can race there, and, to me, we'll see what happens next year, but I thank all the media for the continued support of the series and certainly of our team, and we're going to be here, and we love to race.
I think one of the last races I won was back in the '60s here, '63 or -4 or -5 before I quit. So I raced here a lot at times with Gurney and Moss and many of the people that — Jack Brabham. When you think about those races, it was the LA Times or San Francisco Examiner race in those days, and we raced at LA Times down in Riverside.
It hasn't changed much. Same place, same coming up through Fort Ord. Nothing has changed, just the people and the racers. So thanks for having this opportunity for me.
THE MODERATOR: What we could see from your individual groups on the track today, it looked like real Penske excellence working together.
ROGER PENSKE: Well, if you really analyzed it, we went on black tires at the beginning to understand what we could do with them and knew that they would run longer and we could run longer and we had good stops we could jump a couple of cars and get ahead of Rossi, and I think that paid off because Simon and certainly Will were going to go for the win, and Tim had set it up that Josef had to stay behind Rossi all day.
So you saw we were within three, four, five seconds at the most, but it was a matter of staying out of trouble, and if we could have that buffer between first and wherever those two were, it would make a difference on the championship. It worked out fine. You never know, wasn't a lot of yellows, having problems. But good execution, I think the pit stops — I think we were 1 and 2 on pit lane today, the 2 car and the 12, which makes a big difference, and that's why we were able to jump a couple of cars when we came out. Great execution and reliability and certainly we had world-class guys behind the wheel today.
Q. I think you raced here countless times when IndyCar, Champ Car, whatever was the official name, but the first time with the Dallara, and I also think (indiscernible) previous races with different cars. Is this how you come to a new circuit, (indiscernible) to set them up?
ROGER PENSKE: Well, I think the cars are so much different than what they were — what was it, 15 years ago? Was that the last time? So 15 years ago, I think cars have really changed. But Dallara has given us a great reliable car, and when you think about the chassis that we won the Indy 500 with this year was three years old. That just shows you how good the pieces are and the parts.
But I think that the engineering people — we didn't have the data that we had today. We know every inch of this racetrack we have on data so we can set the cars up in simulation. We have that capability, and I think that's what we use. The drivers go to the simulator, they actually race on this track for a half a day in the simulator, just like being on the track, so when they get here, they know almost everything what the track feels like.
And when we go back home, they'll go back in the simulator and run the track again to see was it just exactly what I thought it was. That's the kind of technology — and everybody gets a chance, Chevy and Honda, they all have simulators that the drivers can use.
Q. I would ask you about Josef over the last couple weeks; he'd been a champion before, and he's obviously been in big moments, but was he a little bit nervous? Did you sense anything about him the last couple days?
ROGER PENSKE: Well, you know, listen, you have a 41-point lead, you've got double points, which we never knew what was going on. I think I ran into John Barnes today and I said, you know, what it's like, you're leading the last lap of the Indy 500, you hit the wall in the last corner, well, could have happened to us today, too, but fortunately it worked out. But I think Josef is a pro. He led throughout this whole season, came off right away with victories. I know he was on edge a little bit, but I know he's glad it's over.
Q. You mentioned that you knew he was on edge a little bit. He really broke down in tears after and needed to compose himself. Did you know that Josef was that emotional as a guy?
ROGER PENSKE: Was he an emotional guy —
Q. He broke down in tears. You said he was nervous, and when the race was over he literally was sobbing and needed to compose himself.
ROGER PENSKE: Well, I think there's so much emotion inside for someone like that because you've got to be perfect today, and I think the fact that he was able to execute the way he did, it was just a time to let it all out. His family was there, his mom, his grandmother, she came all the way from Denmark to see this race, so it was pretty special for her.
THE MODERATOR: As many times as you've done this, was your stomach churning the last half of the race?
ROGER PENSKE: My stomach churns all the time, so I'm used to it.
Q. You got 18th Indy 500 this year, you got the IndyCar championship. I know Supercars you've got a pretty good lead with McLaughlin, I guess Kes and Logano could win you a NASCAR championship. I know the year is not over, but could this season be one of your greatest ever?
ROGER PENSKE: Well, I think we've got 35 or 36 wins so far this season and a bunch of poles across the different series. But you know, we're in all of them. We got to execute at Road Atlanta with the Acura team in IMSA, and McLaughlin has just had a super season when you think about winning 17 races, probably more than anyone has ever won for us in one season. I think Mark Donohue had the record before.
But when you get into the Cup side, what do we got, eight to go here, and we've got three great drivers, and it's going to come down to the last four and maybe the last corner and what have you. But the good news is we're still in it, and our goal obviously is try to win all four.
But we understand it's a formidable challenge with the people that we're racing.
Q. Question for you about the second championship for Josef. We saw a lot more emotion out of him today than with his first. Is there a reason when drivers win the second one you see a little bit more from them? And even Brad has said in the past that winning the second championship for him would mean more than the first. Why is that from your standpoint, and what have you seen from Josef to make this one more special?
ROGER PENSKE: Well, I think when you're young, you just don't understand the elements and the pressure, and as you mature, you start to understand the circumstances that you're in, the things that can go wrong. And I think Josef has understood that, a lot of pressure with his new sponsor, with Hitachi.
So when you start putting that all together, and Brad knows that, Kyle Busch knows it, they all know it. They give you that strong-looking face, but inside I'm sure they're all churning, as we all were, before the race.
Q. We kind of litigated this in May when Simon won there, but the adversity that he faced earlier this year, the speculation, whether it was accurate or not, was thrust upon him. What have you learned from Simon throughout this entire run winning in Indy and then making this championship run that maybe you didn't know about him or you didn't expect to see from him?
ROGER PENSKE: Well, I think when he won the race in the rain, had the pole, you could see he was a different guy running in the 500, and to see him execute and then go to Toronto on one of the toughest courses that we have, we race on, and to see him win there, he really made a statement to us, quite honestly, as a team and certainly for himself, not only here in the U.S. but around the world, and you could see him today racing — I look at Dixon as the guy we've got to beat every weekend in and out, and racing him wheel to wheel. He's really proved his mettle, and obviously he'll be part of our team next year.
Q. Kind of a follow-up what I asked you when you walked in, two of the most famous names to come out of Culver Military Academy, yourself and George Steinbrenner. To bring the Steinbrenner name into IndyCar and to have them a winner, we've got new drivers coming in, new teams, we're going to need new team owners, how important is it to get guys like that involved in IndyCar?
ROGER PENSKE: Well, George Steinbrenner is from Cleveland where I'm from, so we have that in common, and I knew George Sr. And to have a Steinbrenner in motorsports is terrific. It's like Ganassi, it's like Andretti, all these people, Rahal, on and on and on. To see what they've put together, a small team, and the quality and the capability of Colton Herta is amazing. You could see him today, he ran a perfect race, stops were good, we were right next to him. So I think they've got great momentum, and you're going to hear a lot about them in the future, and I think we need more owners and ones who understand how to win and want to win.
Ted Klaus, President, Honda Performance Development
THE MODERATOR: We're joined by Honda Performance Development president Ted Klaus, who took the role as president back in early March, as I remember. Successful season, a championship for the engine manufacturer side. Let's talk about the gratification. I believe this is two in a row for Honda.
TED KLAUS: Yeah, thank you very much. Two in a row is extremely gratifying. We all know that everything you do in life tends to be incremental, and so I had the pleasure of joining and stepping up on top of what my predecessors have built before me, including the most recent president, Art St. Cyr. I'm just really pleased to have earned this second championship. It was very tight, so it's very gratifying.
THE MODERATOR: And to cap it with a race win to end the season and what you saw from Colton and others, obviously Scott Dixon and so forth, talk about just how gratifying it was top to bottom with your lineup?
TED KLAUS: Yeah, it's a great question. You see the skill of a Scott Dixon or the skill of an Alexander Rossi, and then you see the emerging skill, and you can't harness the rookies that really our partner teams go and excavate this talent, and they support it. A lot of them are supporting it in the lower series.
/
Just very, very humbled and proud to be working in partnership with our teams and to support the young next generation stars, not just drivers but really stars who can inspire even younger kids.
THE MODERATOR: Top four rookies all on Honda power.
Q. Ted, Honda is a Japanese company and NTT is a Japanese company. What does this mean for the country of Japan, and what's the reaction in Japan?
TED KLAUS: Yeah, I had the pleasure this year of — at the Indianapolis 500, because we all know that's an amazing day in motor sport with the Monaco F1 race also happening the same day, but we had the top really five executives over from Japan. We hosted them, and that was an exciting race.
At the end of the race, it was extremely emotional to be so close and yet so far, as we know in life.
So I think the thing that's common in Honda, and I've had the pleasure in my long career at Honda to work on projects that were global projects.
Just to give you a sense of Honda, when we talk about racing, it's just about going and challenging our people and challenging our technologies, our processes, and in many ways, Honda is very similar to these race teams, Harding Steinbrenner, Andretti, Ganassi, Bobby Rahal and Dale Coyne, Michael Shank. We have a lot in common, and that drives us. But it's extremely important and gratifying. Sorry for the long answer.
Q. Your predecessor won his final championship, you've won your first. Do you feel like there's any additional pressure to repeat for next year, or is it just business as usual?
TED KLAUS: The pressure for us is to take care of our teams, to win the Indy 500 every year, and to earn the driving championship. You know, the manufacturer's championship generally is an outcome of those targets.
Q. Is it more rewarding knowing that you're replacing competition with Chevrolet and they pushed you so far this year?
TED KLAUS: Yeah, I had the pleasure of working on the other side in IMSA with Acura Team Penske, and we had the pleasure of competing against Chevy, as I've said publicly, and I'm anxious to have a third manufacturer, even more competition.
So yeah, there's no sense celebrating if it's not such an excellent competitor. Ilmor and Chevy, to win two years in a row against them with Team Penske being so strong, it's quite an accomplishment. I'm very proud of it.
THE MODERATOR: Ted, congratulations to Honda, and pressure is on for number three.
TED KLAUS: Pressure is on. Thank you, all.
Felix Rosenqvist, Chip Ganassi Racing
THE MODERATOR: We welcome to the press conference room, driver of the No. 10 NTT DATA Honda for Chip Ganassi Racing, Felix Rosenqvist, who is IndyCar's Rookie of the Year for 2019, and honestly, that might have been the best fifth-place finish of the season right there. Congratulations. A big charge, obviously you started deeper in the field than you wanted. Can you describe how aggressively you drove in this race today?
FELIX ROSENQVIST: Yeah, it was an interesting race because there was a lot of deg on the tires, and we all knew that. It was not just being aggressive all the time. It was kind of pick your moment and then after that trying to save the tires, trying to save the fuel.
You can feel every time you push through a corner properly, the next corner you're just on high. It was really tricky managing that, but I think we did a really good job with it. We were really good on the reds, maybe a little bit worse on the blacks, at least compared to the Penske cars. They seemed to come back a bit at the end of the stint.
Yeah, strategy was perfect, I'd say. That safety car helped us a little bit for sure. Yeah, it was a hell of a year. My Chip Ganassi NTT DATA crew has just been flawless all season, especially the pit crew. They've just never done any mistakes, just a few slip-ups, but I think we had the most solid crew of anyone this year, and I think they deserve this sixth finish in the championship and Rookie of the Year. Really good finish.
THE MODERATOR: I would think a pretty gratifying day even though a victory would have been the most complete part of the day.
FELIX ROSENQVIST: Yeah, that's still the missing part. I think we had a good chance this weekend for sure. Yesterday we were really fast, but yeah, we had to start from 14th, and that's how it is. At least we made it more exciting with the rookie championship. Colton did an amazing job, his second win this year. I think he's going to be one to watch next year, so big congrats to him. He did an amazing job this year.
Q. I understand that you won 50 grand for winning the Rookie of the Year title. Will that cover whatever fine you're going to get issued for your comment yesterday?
FELIX ROSENQVIST: I haven't heard about any fine yet. No, I mean, obviously yesterday was a tough day. We were all — if I didn't get angry, I think there was something wrong with me. We all go 100 percent into this with full hearts, and when something like that happens, which I still think was pretty bad decision, but anyways, that's passed, an opportunity to get angry. It's part of the show, I guess, for you guys.
Q. When you dropped down to 12th in the championship overall at some point in the year, did you believe that you would end up finishing sixth overall, that you'd have such a strong second half of the season?
FELIX ROSENQVIST: Honestly not. As I said, we were really far behind at one point, and I just tried to focus on the rookie championship. I knew technically I could get sixth today, but I didn't know until I finished the race, and I was kind of shocked about it.
I guess the rail cars didn't finish that well, so yeah, I'm actually more happy about that than the rookie title. Being sixth, that's probably best of the rest, I'd say, all the guys in front of me have done a better job for sure, but all the Penske guys and Scott and Rossi, they've done a hell of a job this year, so hopefully we can be in that mix next year.
Q. Felix, how big of a deal is it with what happened with qualifying yesterday to get this good finish?
FELIX ROSENQVIST: It was a big deal. You know, this weekend was our time to sort of end the season on a high, and starting 14th is not normally the way to do that. Yeah, tried to use that little bit of anger to go forward today.
That was good, I think, and still, I think, it was a controlled drive. As I said before, you kind of had to be sensible when you had to and aggressive when you had to, and actually made a really interesting race here at Laguna. I think everyone enjoyed that, so looking forward to coming back here next year.
Q. You brought in a new audience, you're Swedish, et cetera, a European audience to watch the series this year. What would you tell other drivers in your situation that are looking at this series now that you've actually had a full season under your belt?
FELIX ROSENQVIST: I mean, I would encourage anyone to come over here. I know many guys are looking to do it, and some of my friends, they're always asking about how IndyCar, how are the ovals. That's probably the biggest question I get. Maybe a lot of drivers are scared of the ovals, which I can understand. I challenge anyone to come here and do well on the ovals immediately.
Doing well in the championship itself for sure is not easy. It's been the biggest challenge I've had. But yeah, I really hope that more Europeans come over here and show — bring IndyCar more to Europe because there's a big racing audience there, as well. With me and Marcus, we probably increase that audience a lot, so yeah, hopefully more guys come in.
Simon Pagenaud, Team Penske
THE MODERATOR: We welcome second in the championship, Simon Pagenaud from Team Penske. As I watch the highlights of while Felix was finishing up, you were in most of the shots. You were pretty exciting today. It didn't go as well as you'd like, but you certainly gave it everything you had.
SIMON PAGENAUD: Yes, it was a big day for us at Team Penske, that's for sure. The mission for me was simple: It was to go to the front and then be aggressive.
We had a pretty aggressive strategy on tires, but our car was actually really, really good on long runs. So it was very important to go to the front, and we did that after the first stint. We managed in the pit sequence to jump Rossi, which was the number one goal, be ahead of him so we could secure somewhat the championship for the team.
But then I realized that I had the pace to go get Dixon and Herta, so I tried, and unfortunately the lock was Dixon. It was very, very difficult to get around him. I was out of Push-to-Pass, which I had to use in a pit sequence to jump people, and I spent too much money, basically, too quick (laughing).
But overall I thought it was an amazing race. I thought we gave a great show for the fans, and it was a great crowd out here today, and there's nothing to be disappointed about. I tried as hard as I could all weekend. You saw me drive with my heart. I won Indianapolis this year. There's nothing to be disappointed about. We finished second. That's the second time we're second in the championship. We won the championship in '16. I think the numbers talk for themselves.
Do I want to win the championship? Of course. But I'm just equally happy for Josef and the whole team, to wrap up the Indy 500 and the championship in one year is just absolutely incredible.
I had a blast. I had a blast today. It was disappointing not to get Dixon because I really thought I had a shot for the win and Herta. But it is what it is. I tried everything I had and it didn't work out.
THE MODERATOR: You made a couple moves on Scott in Turn 2 that looked pretty close. Did you think you had it?
SIMON PAGENAUD: Well, I was bluffing. I thought he was going to give up, and he did not. Certainly surprised me. He was more aggressive than usual. You know your opponents, you know what you can do with them or not, and I knew with Scott, if I — I knew if I was overly aggressive, that maybe he would maybe give up. But he did not give up. He's a tremendous champion. I could have maybe pushed him off, but that's not my style. I'm a clean racer, and I respect him a lot.
I tried, I gave it an honest try, and it wasn't enough.
The other day if I qualified a little better, I think it would have happened. But again, I think on the whole weekend, I don't think we could have done much better than this. So yeah, it was our fate.
THE MODERATOR: You did have one little scuffle there with Alexander Rossi early in the race. He ended up getting pushed into the dirt. How was that moment?
SIMON PAGENAUD: Well, listen, I had a mission. The mission was to be ahead of Rossi, so I was going to be ahead of Rossi at any cost. He came out of the pits, he was on cold tires, I was on warm tires, I went to the inside, he blocked. I was like, man, you're blocking, I'm going for it. And I think he knew that. I was in a position today that I had nothing to lose. I didn't really care if I was going to be third or fourth in the championship, to me it was either second or first.
So my mission and the Team Penske mission was to be ahead of Rossi to lock it in for the team. I was going to do it at all costs.
Q. Simon, I think today there was more passing in this race than there's been in the 22 races before. Just talk about how maybe you were surprised it was that racy, but it was really kind of fun to watch.
SIMON PAGENAUD: Absolutely. The biggest thing this track has to do is absolutely not repave the track. Leave it as it is. The track is absolutely perfect. No need to change anything. It's perfect. It creates the perfect racing because there's some tire degradation. The last corner is a hairpin and you're going into a double left, which allows you to run two lanes because the inside is so used up, the outside lane has got more grip.
So it opens up opportunities for inside lane, outside line, like you saw me and Rossi — Dixon do. That's the biggest thing, I think tire degradation always creates great racing because it differentiates aggressive cars and setup versus more conservative like we had.
So you know, I think Laguna has always been a great racetrack for racing in sports cars. Certainly I used a lot of my tricks here that I learned in sports cars today. I hope nothing changes because I think they've got the perfect format.
Q. Were you surprised (indiscernible)?
SIMON PAGENAUD: No, actually I noticed in the warmup, practice, whenever it was — it's a long weekend. I think it was Friday. Yeah, Friday afternoon I noticed you could really pass. Yeah, I was expecting that. I was expecting at least our car — I knew we could pass, so that was good to see. Good fun.
Q. Did you feel anything about the team strategy hampered your personal strategy towards winning the championship?
SIMON PAGENAUD: Not at all. Actually it was the other way. I think I had full support from TC, Tim Cindric, and Roger, even Josef himself, Will, and they had my full support, as well, on the other side. At the end, it was like, don't create a yellow. That could be a problem for Josef, so I had that in my head. They told me about it. I had it in my head, I'm like, I am not punting Dixon off, so I had to try and pass him clean.
You know, on my side, TC told me the mission is to go forward and try to win the race. So I was pretty much free to do whatever I wanted. When I got around Josef, I took the outside because I didn't want to put him at risk. I wanted him to give him the choice to do whatever he wanted, and I didn't want to risk him. So I went toward the outside, and he gave me the room, so I went around, took as much room as I could to avoid getting him in trouble.
From then on, my goal was to go forward and try to catch people, which we did. Mission accomplished, except I didn't win the race, but mission accomplished because we were 1 and 2 in the championship. That was to me a perfect Penske strategy today.
Q. I take it the yellow at the halfway mark was probably not what you wanted to see; that was impactful to your day, as well?
SIMON PAGENAUD: Yeah, I don't know, was it?
Q. You were better on the long runs?
SIMON PAGENAUD: Yeah, for sure, and that's when I was really catching Dixon and Herta. I really think it would have helped if we kept going on that run. But you know, that's racing. It's the way it is. There's nothing you can change, and it's the way it was going to be.
Certainly on long runs we were really strong, and I really enjoyed driving the car today. It's awesome. We've turned things around massively compared to last year. I've heard a lot of negative comments on my '18 season, but the reason why I'm here today in Indy is because of the '18 season. So out of all negatives you've got to transform it into positive, and that's exactly what we did. I'm so proud of that.
THE MODERATOR: I want to ask you one about Josef. Alex had said earlier that the best driver, the best team, crew, the best year came from Josef as you look at it as a whole. He's a deserving champion I'm sure you feel?
SIMON PAGENAUD: Absolutely. I think he had the most consistent season. He was fast when he had to be. He took care of his own destiny, and he was definitely — he had the championship from the first race. I think he was the most deserving guy to win it this year. I love personally working with Will and Josef because we push each other and improve each other every session. Every race I feel like I'm a better driver than I was in Portland.
Yeah, Josef really deserves it. He does. I think he was the best championship driver this year, and his crew did a great job, too, and Team Penske was the best team. Very happy for them for sure. Yeah, we'll see what we can do next year, come back and try to beat them.
Q. Just kind of rate the season. I know from a fun standpoint, you've had a smile on your face even before Indy. You seem like the stress was even gone — we were trying to put it there for you, but it didn't seem like you were taking it. Can you tell us how it's gone this year?
SIMON PAGENAUD: Absolutely. There were a lot of rumors about me, which was very negative. It was all made up, and I don't know why that was happening. The performance was there, and we turned things around in the winter already, and I felt really confident going into the season.
So I took the approach of staying positive and trying to let the universe go my way this year, and certainly we turned things around in that aspect in May. We had a lot of bad luck to start the season, despite having performance, and we just kept getting better and better through the year.
But certainly winning Indy, on a personal, note was a huge relief, just because personally I feel more relevant in my sport. I feel like I've stamped my time. It's a very fulfilling accomplishment, and it certainly helped me to drive better and be a better driver after that, a hundred percent.
Q. Do you now feel as comfortable with this car as you did with the previous generation car in your unbelievable year of 2016?
SIMON PAGENAUD: Yeah, I think so, and I think you've seen me drive even better than then. I've managed to work on other areas of my driving style, and I think you saw it today. I can be really aggressive. I can pass people, and I can — it was something I couldn't really do before. I had to start up front and go.
Now I can start in the middle and go to the front, which is a new thing that I can do. I've improved myself, and I feel like, especially this weekend, we've come to a point where I really enjoy driving this car just as much as '16.
Obviously next year things are going to change with the aeroscreen because that's going to move the weight of the car forward, so we're going to have to adjust again, but I think we've understood the philosophy that I need. So it's quite exciting, and yeah, as you see, I still have a grin on my face. I enjoy myself driving, which is the most important thing.
Alexander Rossi, Andretti Autosport
THE MODERATOR: Alex, how do you describe today? It looked like rear tires went away on you there in the second stint and it was a struggle thereafter.
ALEXANDER ROSSI: Yeah, everything. I mean, I think the blacks were much friendlier for us, which was unfortunate because we started on the used reds. We made the decision to go opposite of the two cars in front at the start because we knew we were ultimately racing them.
We took a gamble. We were pretty committed to trying to do something different, and if we ended up third swinging, it was better than just being complacent and coming home second.
It was a risk that didn't pay off, unfortunately, but yeah, it was — it just wasn't meant to be.
THE MODERATOR: You had a memorable moment early in the race with Simon Pagenaud. Talk about that maybe a little bit. Good, hard racing.
ALEXANDER ROSSI: Yeah, that's what IndyCar is about.
Q. Alex, commiserations but awesome job all year. When you were battling with Pagenaud, were you thinking in terms of him possibly beating you to second, or is it all or nothing at that point?
ALEXANDER ROSSI: Yeah, I mean, you don't really care. I mean, it was just a car that you were trying to beat because — yeah, you were trying to win, right, so you don't want to go backwards. At the end of the race when we knew that the championship was pretty much out of touch, it became about trying to close down on Simon.
But yeah, I mean, it just was — for whatever reason, we didn't have the tire life that we needed. I think we were one of the better cars on blacks and were able to pull back a pretty big deficit, even on the final stop there after that restart. But our bed was kind of made after the first stint. It was pretty diabolical.
Like I said, we wanted to take a gamble to try. It's unfortunate that two years in a row we're in a position to where we have to kind of roll the dice. I'd rather be in either leading or within more of a realistic shot so that you can do more of a normal race-type thing. But regardless, I doubt that even if we started on new reds we had the pace to win. We probably had a third-place car, which again, wouldn't have been enough anyway.
Q. I know this is a little trite and way too soon, but how would you rate your season? I know you came up a little short, but still, overall, how would you rate it?
ALEXANDER ROSSI: Yeah, I mean, I think we minimized a lot of our mistakes last year. Ultimately I think in one way or another, we gave Scott a championship. I think we didn't do that this year. I think just Penske and the 2 car specifically were stronger than us, and that's going to happen.
You can't take away from the fact that Josef led all but one race this season. And from a sporting perspective, probably the right guy won. He came into this thing with a pretty big lead, and if it had gone away on double points, I would have loved it, but ultimately it probably wouldn't have been the outcome that should have happened. Josef did a great job, Simon did a good job there at the end, and we just were a couple points short.
Q. You just said you took a gamble or the team took a gamble and it didn't pay off. What should have happened to put it into a positive —
ALEXANDER ROSSI: Just the reds should have been better. We were looking at kind of — it's hard because it's a new race with no historical data, so we were looking at qualifying and the fact that used reds on a second run were as quick if not quicker than the new reds, so we took that as an indication that maybe the reds would hold on longer than people were expecting.
Ultimately that wasn't the case. There was — it was an educated risk. It just wasn't a shot in the dark, crazy, zero probability shot at something. But nonetheless, the conservative strategy would have just been to match the cars around us and hope to pick up spots through the start or attrition or whatever.
But yeah, I just think it comes down to if you have the car, any strategy that you go on can look pretty magical. But we just didn't have it today.
Q. Felix came through pretty strong towards the end there; did you have any issues with that? He made some pretty solid moves, pretty aggressive moves I would say.
ALEXANDER ROSSI: No. I mean, I'm all for it. I'm going to give them to people, so I'm not going to complain when they give them back. That's the way racing should be in my mind. Felix did a great job considering the setback he had yesterday.
Yeah, I had no problem with it. Everyone was racing for their own championship, whether it was us or the rookies, so they have as much right as we do to get positions and try and win the race.