Leclerc wins 3rd straight pole in Singapore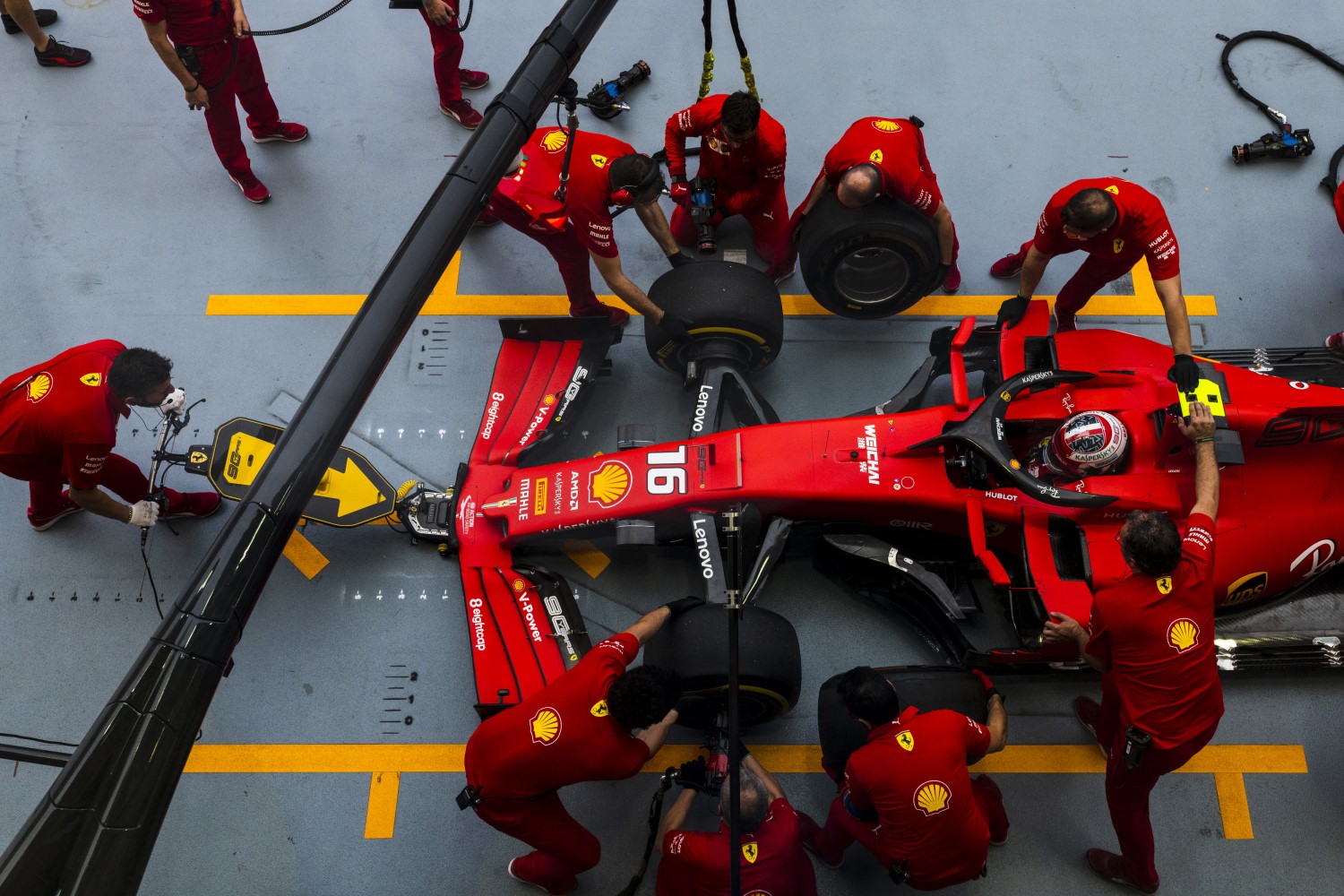 Charles Leclerc gets final adjustments before winning the pole, his third straight
Ferrari ace Charles Leclerc turned a sensational final lap in qualifying to win the pole position for the Singapore GP while Lewis Hamilton managed to push Sebastian Vettel off the front row after Vettel was quickest after the first runs.
Leclerc's time of 1m36.217s was enough to deny Hamilton another pole by 0.191s while Vettel messed up his final run and ended up 0.220s behind in third.
"If you look at the lap, there were some moments where I thought I had lost the car and now I'm on pole position… The team has done an amazing job to bring the package we needed," said Leclerc.
Ferrari were expected to struggle here. The track didn't suit their car. The opposition were too strong. Don't tell that to the Monegasque driver, defied expectations and under huge pressure laid down an unbelievable lap.
"The final attempt should have been better. I was feeling good, so maybe peaked a bit early. I had a tiny wobble so no point finishing the lap," said Vettel.
Vettel put a brave face on it, but he can't be happy with being out-qualified by his team mate for the eighth straight race. As for Leclerc. Well. The real deal.
"I don't know where Ferrari have picked up their pace today, Charles put some great laps in. I needed something special and I gave it everything. I got everything out of the car," said Hamilton
Max Verstappen and Valtteri Bottas rounded out the top-5 for Red Bull and Mercedes.
More to follow…..
Qualifying Results
| | | | | | | | |
| --- | --- | --- | --- | --- | --- | --- | --- |
| POS | NO | DRIVER | CAR | Q1 | Q2 | Q3 | LAPS |
| 1 | 16 | Charles Leclerc | Ferrari | 1:38.014 | 1:36.650 | 1:36.217 | 17 |
| 2 | 44 | Lewis Hamilton | Mercedes | 1:37.565 | 1:36.933 | 1:36.408 | 18 |
| 3 | 5 | Sebastian Vettel | Ferrari | 1:38.374 | 1:36.720 | 1:36.437 | 16 |
| 4 | 33 | Max Verstappen | Red Bull Honda | 1:38.540 | 1:37.089 | 1:36.813 | 15 |
| 5 | 77 | Valtteri Bottas | Mercedes | 1:37.317 | 1:37.142 | 1:37.146 | 18 |
| 6 | 23 | Alexander Albon | Red Bull Honda | 1:39.106 | 1:37.865 | 1:37.411 | 16 |
| 7 | 55 | Carlos Sainz Jr. | McLaren Renault | 1:38.882 | 1:37.982 | 1:37.818 | 19 |
| 8 | 3 | Daniel Ricciardo | Renault | 1:39.362 | 1:38.399 | 1:38.095 | 18 |
| 9 | 27 | Nico Hulkenberg | Renault | 1:39.001 | 1:38.580 | 1:38.264 | 18 |
| 10 | 4 | Lando Norris | McLaren Renault | 1:38.606 | 1:37.572 | 1:38.329 | 19 |
| 11 | 11 | Sergio Perez | Racing Point Mercedes | 1:39.909 | 1:38.620 | – | 14 |
| 12 | 99 | Antonio Giovinazzi | Alfa Romeo Ferrari | 1:39.272 | 1:38.697 | – | 14 |
| 13 | 10 | Pierre Gasly | Toro Rosso Honda | 1:39.085 | 1:38.699 | – | 12 |
| 14 | 7 | Kimi Raikkonen | Alfa Romeo Ferrari | 1:39.454 | 1:38.858 | – | 14 |
| 15 | 20 | Kevin Magnussen | Haas Ferrari | 1:39.942 | 1:39.650 | – | 14 |
| 16 | 26 | Daniil Kvyat | Toro Rosso Honda | 1:39.957 | – | – | 7 |
| 17 | 18 | Lance Stroll | Racing Point Mercedes | 1:39.979 | – | – | 8 |
| 18 | 8 | Romain Grosjean | Haas Ferrari | 1:40.277 | – | – | 8 |
| 19 | 63 | George Russell | Williams Mercedes | 1:40.867 | – | – | 7 |
| 20 | 88 | Robert Kubica | Williams Mercedes | 1:41.186 | – | – | 6 |