Laguna Seca: IndyCar Owners Know What It Takes To Win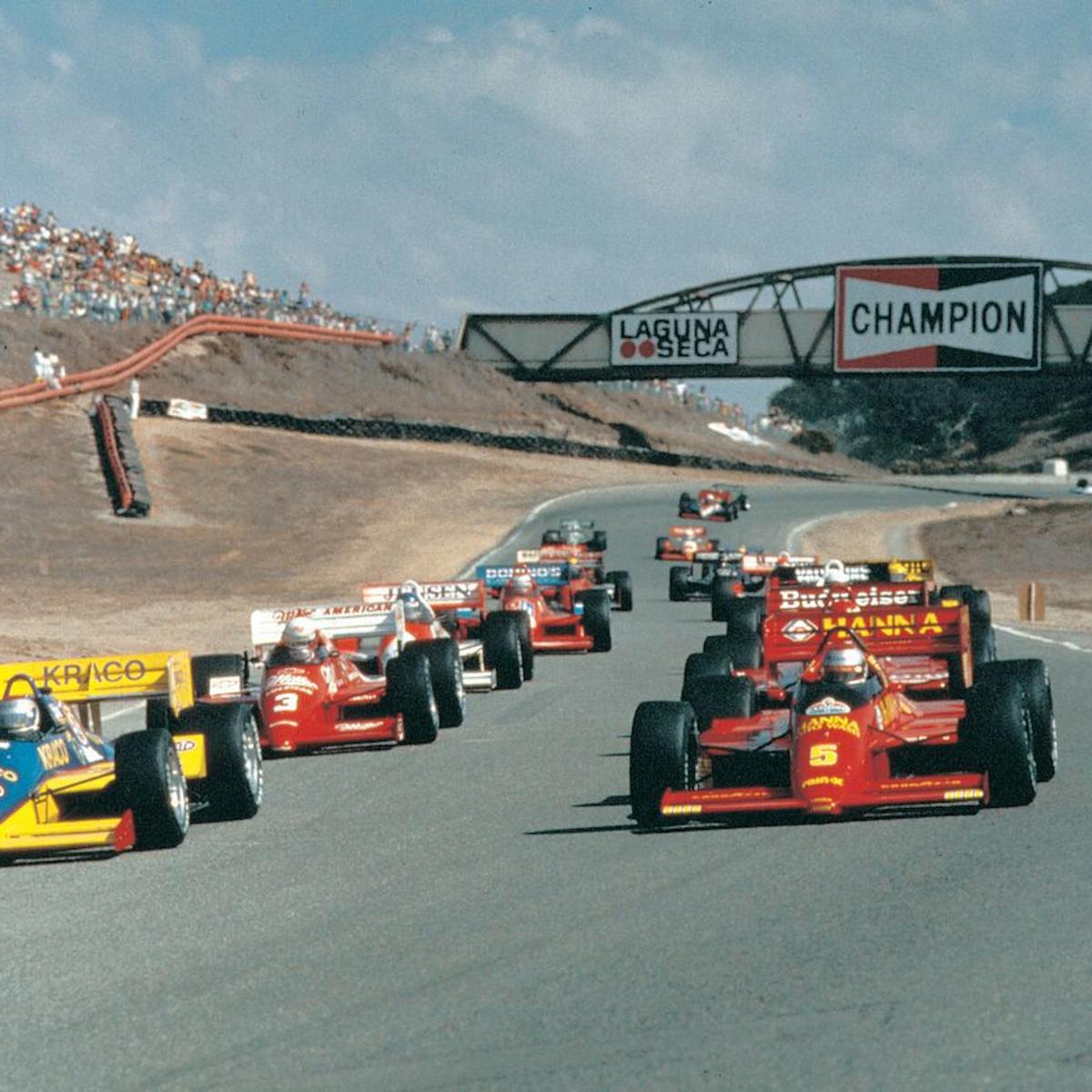 Start of the 1987 CART IndyCar race – this year's crowd will pale in comparison
While the NTT IndyCar Series will be making its debut at the WeatherTech Raceway Laguna Seca during this weekend's Firestone Grand Prix of Monterey, a group of current team owners enjoyed immense success on this scenic but demanding layout during their driving days.
Owners Bobby Rahal of Rahal Letterman Lanigan Racing, Michael Andretti of Andretti Autosport, Bryan Herta of Andretti Herta Autosport with Marco & Curb-Agajanian and Jimmy Vasser of Dale Coyne Racing with Vasser-Sullivan combined for nine victories and six poles during the Championship Auto Racing Teams (CART) era at the 2.258-mile permanent road course in Monterey, Calif.
WeatherTech Raceway Laguna Seca will be the setting for the NTT IndyCar Series season-closing Firestone Grand Prix of Monterey on Sunday (2:30 p.m. ET / 11:30 a.m. PT local, TV: NBC) to determine the series champion among the remaining contenders. Team Penske's Josef Newgarden (No. 2 Hitachi Chevrolet) leads Andretti Autosport's Alexander Rossi (No. 27 NAPA AUTO PARTS Honda) by 41 points, teammate Simon Pagenaud (No. 22 Menards Chevrolet) by 42 and five-time series champion Scott Dixon (No. 9 PNC Bank Honda) of Chip Ganassi Racing by 85.
"Laguna, with its ups and downs, a lot of elevation change, differing amounts of grip level depending on where you are on the track, just a very intense circuit," Rahal said. "When you win there, you feel like you've really done something."
Rahal should know.
He is the track record holder for most Indy car wins with four, which came consecutively from 1984-87. One of those victories also came from the pole in '85.
[adinserter name="GOOGLE AD"]"Anytime you win, it's pretty favorite, right?" Rahal said. "Probably the fourth (win was most special) because that was the race that really won the championship for me in '87. Of course, I won in '86 and won the championship, but we had to go to Miami to finish the job. But '87, winning there, that just put the nail in the coffin for the championship and for other people's hopes, so that was a good race to win. My first big win was in Can-Am there in 1979. I think we've had, either me as a driver or as a team owner, I've had somewhere around 10 or 11 wins at that track – IMSA, INDYCAR, Can-Am – so naturally, we always look forward to going back."
Andretti won back-to-back races from the pole in 1991-92 and added four more podium finishes at Laguna Seca during his career. That first win, however, carried the most significance for him.
"Actually I would say that's probably where has been my greatest moment – was at Laguna in '91. At that time, there was (also) the Marlboro Challenge," said Andretti of the CART non-points, all-star race that was part of that year's season finale weekend. "I won the Marlboro Challenge, (then) I started on the pole, won the race and won the championship in '91. Dad (Mario Andretti) was on the podium (finishing third) with me actually to share that moment. So that was a very, very special weekend."
Herta is tied with Mario Andretti for most career poles at Laguna Seca with three (1997-99), two of which resulted in victories in '98 and '99. He also was the race leader in 1996 when Alex Zanardi made the dramatic move simply known as "The Pass" in the Corkscrew to overtake Herta on the final lap for the win.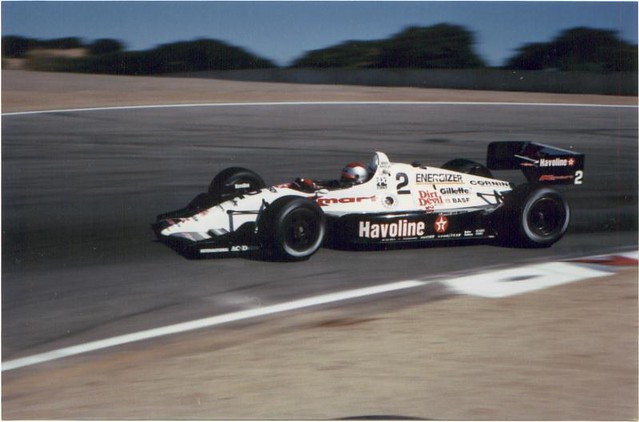 Michael Andretti winning at Laguna Seca in 1991
"Going back to Laguna for me is great. It's, I guess, kind of a home race, Long Beach is more my home, but it's just less than four hours up the road for me and obviously (I) had a lot of races there," said Herta, who grew up in Valencia, Calif. "I was able to win some races there, lost one kind of infamously there. Going back there feels really great for me and I'm so excited to watch Colton (Bryan's son) now race on that track, a track that I had success on and see how he does. I think that will be a lot of fun."
Vasser won the championship the year his Chip Ganassi Racing teammate Zanardi made "The Pass" and also notched a victory there the following year. Given that he grew up roughly 50 miles for the track, it holds a lot of memories for him.
"I grew up just north of Laguna Seca in Morgan Hill, California, so that was really my home track," Vasser said. "My father and I would go out to the races; I think it was the Camel GT and the INDYCAR races and really got kind of interested in Formula Fords, so we bought a Formula Ford.
"I had my first big race win there in 1984 in front of the INDYCAR crowd in Formula Ford. I won the Formula Atlantic race there in 1987. I won my INDYCAR title there in '96, won the INDYCAR race in '97 the same day Zanardi won the championship in '97 that day. I just have so many great memories of Laguna Seca. Magical things have seemed to happen for me there."
The layout makes the course quite demanding with its elevation changes, speed the drivers can carry through various segments of the track and, of course, the signature Corkscrew.
"I think what makes this track different from any other you race at is, obviously, the Corkscrew," Andretti said. "It's quite an interesting corner. There's nothing like it in the world. I think that's what makes that track different than any other track."
Herta said the "elevator drop" in the Corkscrew is perhaps the most unique sensation he has ever experienced in a race car.
"The elevator drop from the top of the Corkscrew to the bottom of the Corkscrew from inside the car is amazing," he said. "I think you're dropping like four stories in like, a second or second-and-a-half. It happens really, really fast, so it's quite a sensation. You don't do that anywhere else. I've never done that in a race car anywhere else in the world. That's kind of the signature thing.
"The really unique thing about it from the driver's standpoint is when you're sitting down low inside that car, you turn in and you're driving off a cliff. You cannot see the road, you can't see the bottom, you can't see the corner at the bottom of the hill. So you're really, every lap, just kind of taking this leap of faith blind and trusting that the bottom's going to be down there and it's going to catch you."
According to these veterans, the pressure on the championship contenders will begin to intensify during Saturday's Firestone Fast Six Qualifying (4:30 p.m. ET / 1:30 p.m. PT local, TV: NBCSN).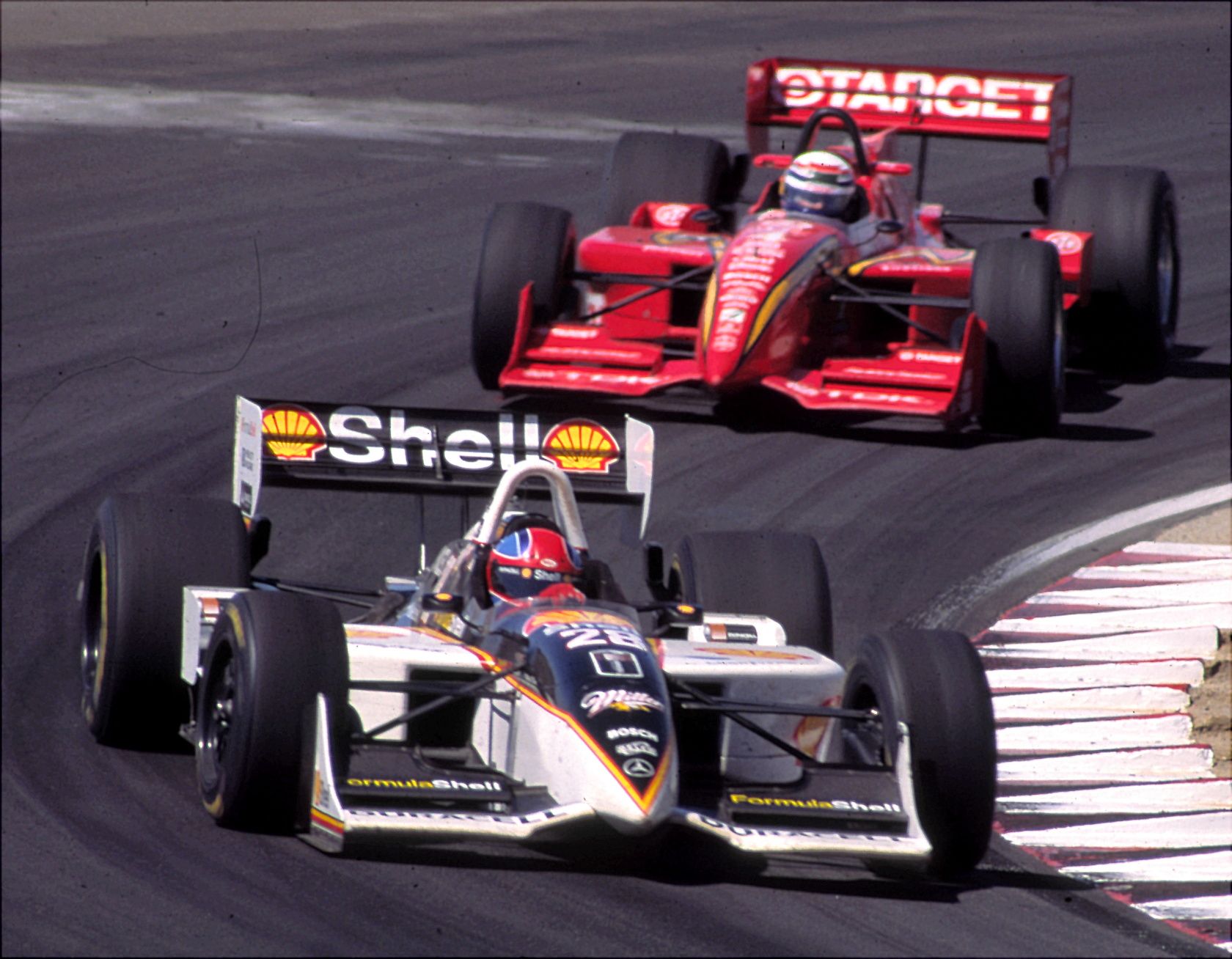 1996 – the famous Bryan Herta Alex Zanardi battle
"It's a tough track, you know track position is very important so qualifying is going to be really, really important as well for the outcome, I think, of the race," Andretti said. "Saturday is going to be an important day. There's going to be a lot of pressure on the guys to put in a good lap."
"I think you should definitely be tuned in Saturday because qualifying is going to be really an important session for these guys," Herta added. "It's going to set the tone for the race and it's going to be all-important to qualify well. If you want to close out your championship, you better have a good Saturday and a great Sunday."
To add to the drama, the Firestone Grand Prix of Monterey will be a double points race. That means that each finishing position will be worth double its traditional points of 50 for first place, 40 for second, 35 for third and so on down the line. Drivers also can earn one bonus point for the pole, another point for leading a lap and two for most laps led. Bonus points are not doubled for this race.
"First off, the real pressure is the fact that it's double points," Rahal said. "A couple of years ago Graham (Rahal, Bobby's son) was second going into the final race at Sonoma. He got hit by (Sebastien) Bourdais, then they penalized Bourdais and when they penalized Bourdais they dropped us another position in the final standings, and we ended up going from second to fifth in the championship or something.
"So for everybody, the fact that 100 points or a little over a 100 can really make a big difference for where you finish up the year. So you go into that weekend knowing that and then it's all about, 'How do we make the best of it?'"
"There's almost enough built-in pressure in this sport to do your job and to do it right," Vasser said. "Especially with the double points, anything can happen. That track is very difficult to drive. It's tricky, it doesn't have a lot of grip. The track hasn't had a resurface in a long time, so it's very easy to make a mistake. Those guys are going to have to be on their toes for sure, as they always are at this level. It's all on the line, for sure."
And a costly mistake will be magnified as a result of the double points.
"Laguna Seca will punish you if you make a mistake – that I know," Herta said. "So to go there with several guys still in the championship hunt fighting for a championship and having that kind of pressure on a track that demands perfection, I think that's going to be really interesting."