Acura Team Penske dominate at Laguna Seca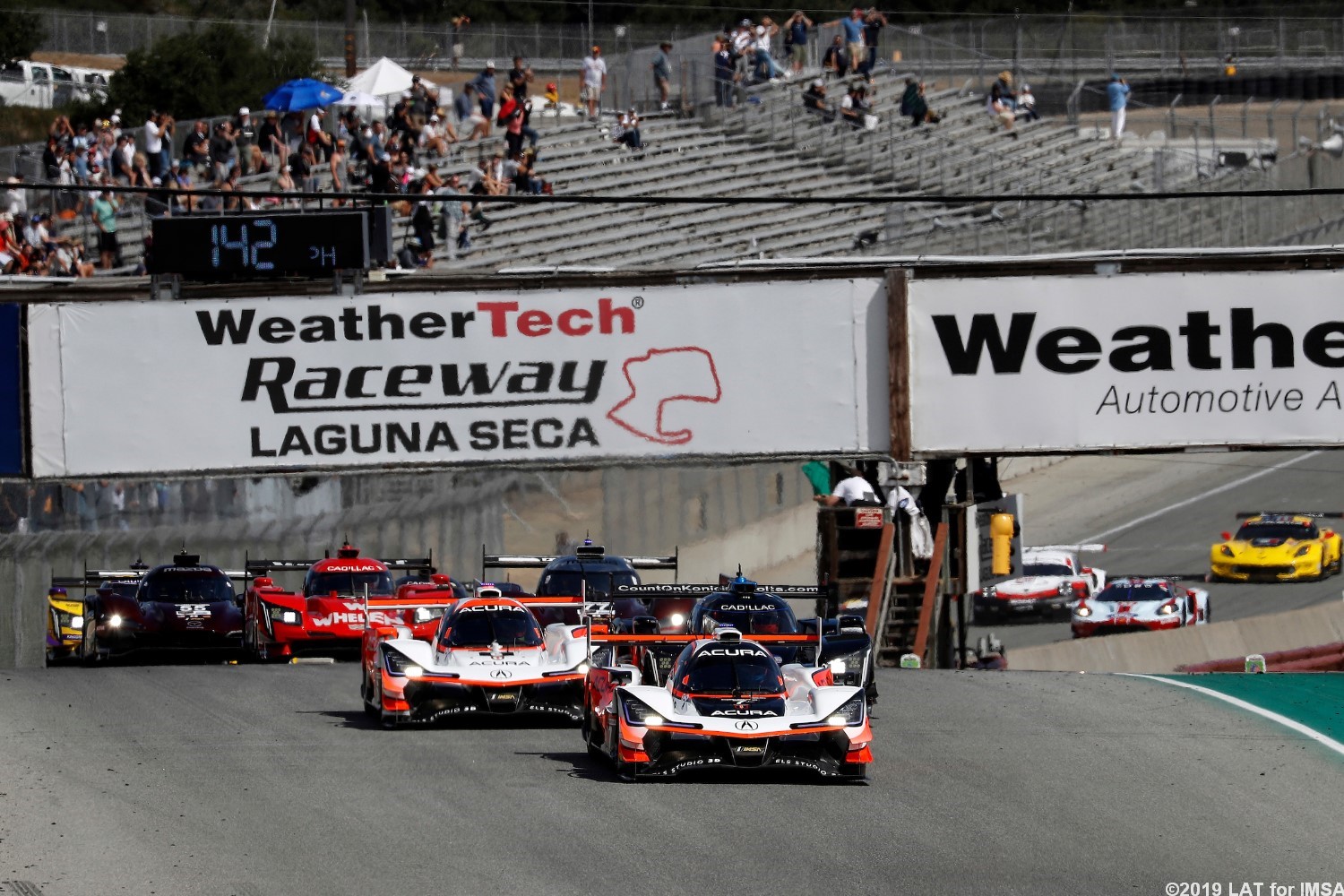 Acura Team Penske start 1-2 and finish 1-2
Acura Team Penske swept today's IMSA Monterey Grand Prix, dominating the two-hour, 40-minute contest at WeatherTech Raceway Laguna Seca as Dane Cameron and Juan Pablo Montoya scored their third victory of the season and a 1-2 result for Acura. The result unofficially clinches the Manufacturers' Championship for Acura, while Cameron and Montoya neared the drivers' title.
Starting from the pole, Ricky Taylor took the #7 Acura ARX-05 prototype to an early lead, with teammate Montoya close behind. Near the end of the first hour, the pair swapped positions in traffic, with Cameron now at the wheel of the #6 Acura Team Penske entry.
Except for pit stops, the #6 Acura led the rest of the way for the third win of the season for Cameron and Montoya, and their seventh consecutive podium finish. They now hold a 12-point lead in the DPi Drivers' Championship, and will secure the title with a finish of eighth or better at the season-ending Petit Le Mans 10-hour race in October.
With an eight-point lead in the Manufacturers' Championship, Acura will officially claim the title at the season finale next month.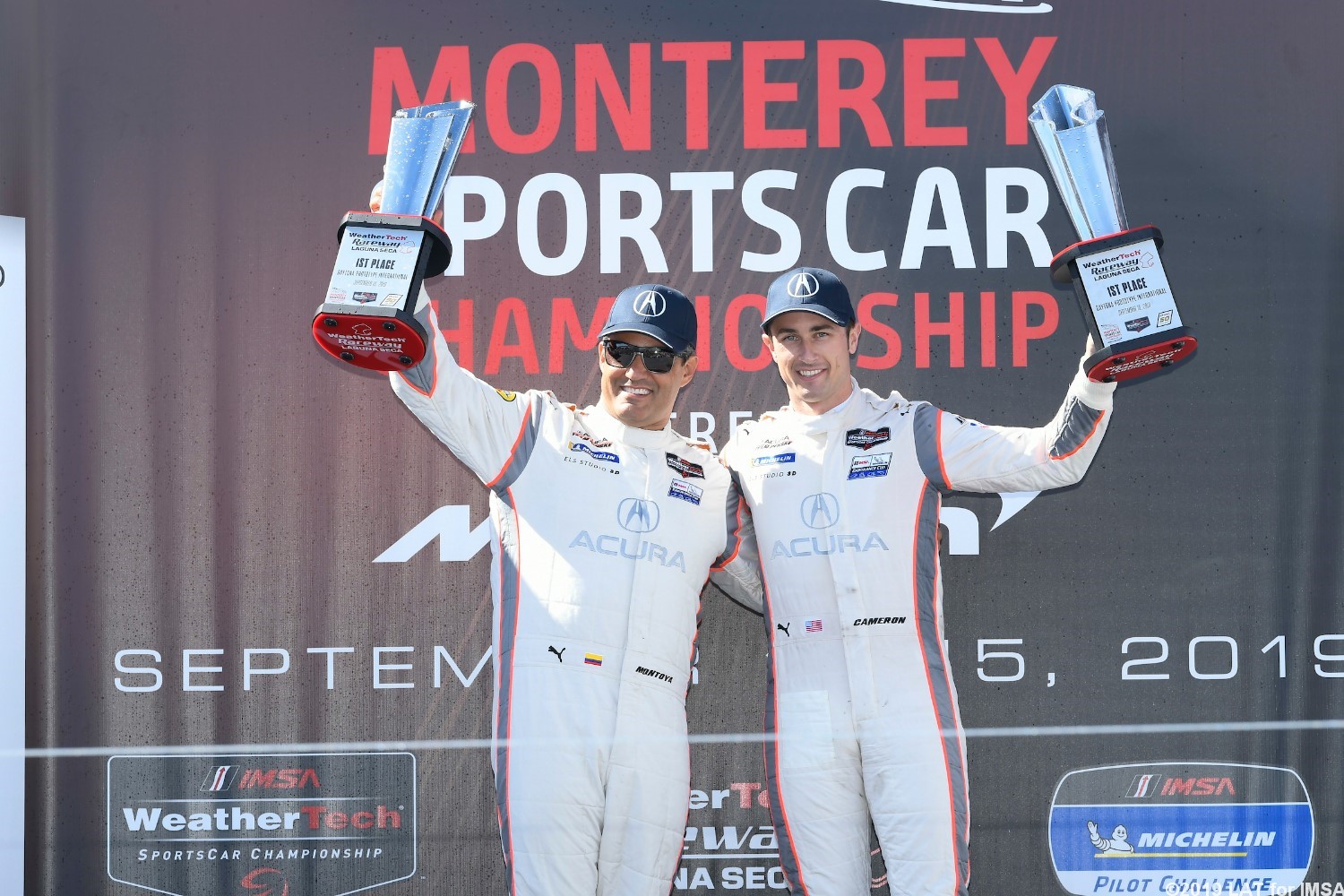 Montoya and Cameron
After fending off a mid-race challenge from the Cadillac prototype of Jordan Taylor and Renger van der Zande, Ricky Taylor and co-driver Helio Castroneves came home second to complete the 1-2 finish for Acura, moving the pair to third in the drivers' title chase with one race remaining.
The Action Express Racing-run Cadillac DPi-V.R came home third, thanks to a late-race charge from Derani, who got around the No. 10 Wayne Taylor Racing Cadillac DPi of Renger van der Zande for position with ten minutes to go.
It gave Derani and Nasr their first podium finish since Detroit, with van der Zande and Jordan Taylor, who ran third for the majority of the race settling for fourth.
The No. 5 Mustang Sampling Racing Cadillac DPi of Felipe Albuquerque and Joao Barbosa completed the top-five.
McMurry and Kellett win LMP2
LMP2 saw PR1/Mathiasen Motorsports score its fifth consecutive class win, with Matt McMurry and Dalton Kellett taking their No. 52 Oreca 07 Gibson to a one-lap margin over the No. 38 Performance Tech Motorsports entry.
The pole-sitting Performance Tech entry started from the rear of the field after electing to start Cameron Cassels, who remains in the title fight with points leader McMurry heading into Petit Le Mans.
Ganassi Ford GT takes GTLM honors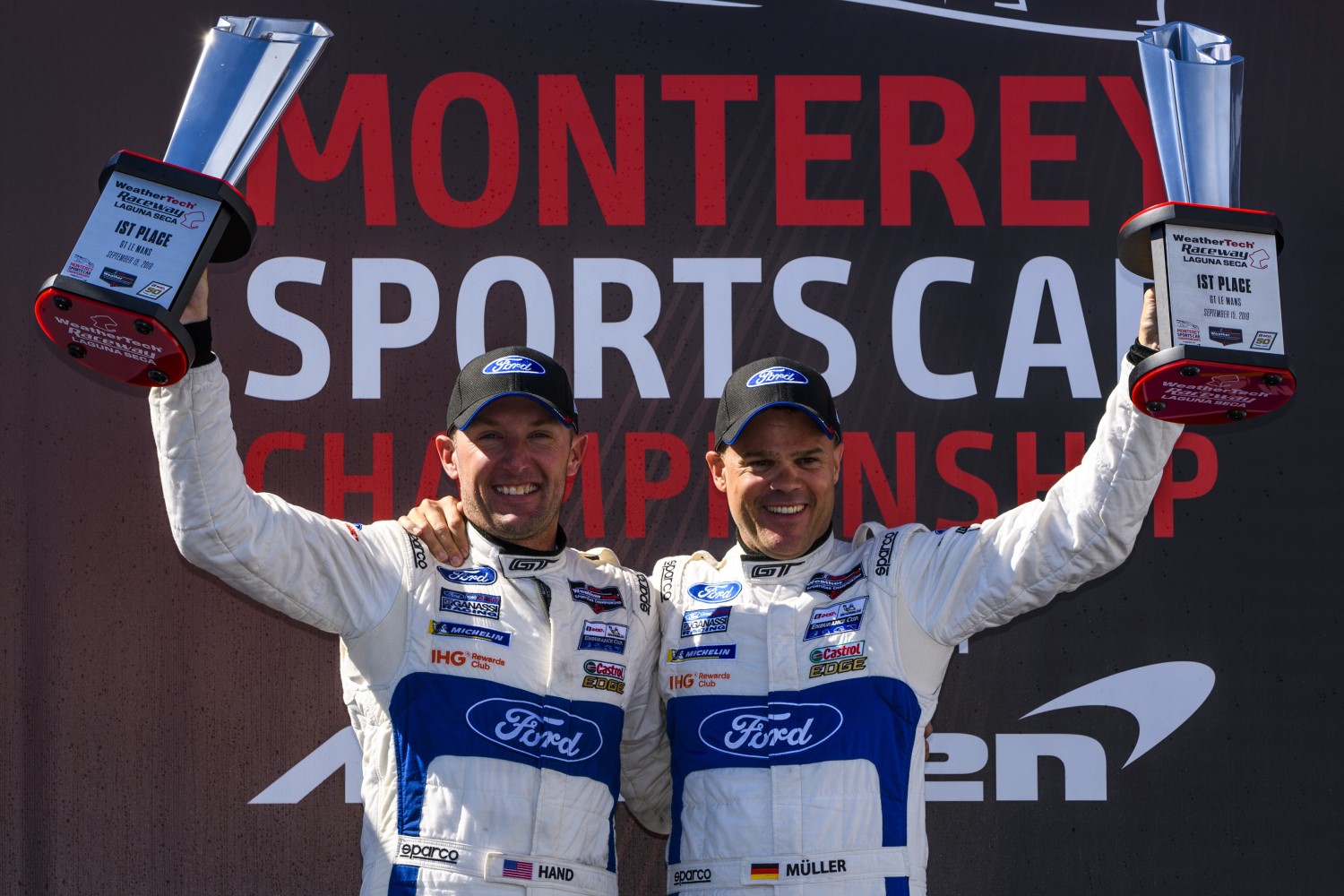 Hand and Muller
Joey Hand and Dirk Muller held nothing back in a win at WeatherTech Raceway Laguna Seca Sunday – their first together in front of Hand's hometown crowd.
Muller started the No. 66 Ford GT on the front row for the second-consecutive year after qualifying p2.
"This one feels pretty good," Hand said. "I've been trying to win at this track for a long, long time, since my first race in 1998. It feels good because it's my hometown track, but it feels best because of the people I have behind me. Everyone on my team at Ford Chip Ganassi Racing and Ford Performance, but also my family and friends who support me all year long. This one's for my wife, my kids, and my family who always have my back and cheer me on. I had a feeling about this weekend and it was comfy from the get-go. It was time to set sail."
Results
| | | | | | | | | |
| --- | --- | --- | --- | --- | --- | --- | --- | --- |
| Pos | PiC | No. | Class | Drivers | Car | Laps | Behind | Gap |
| 1 | 1 | 6 | DPi | D. Cameron/J. Montoya | Acura DPi | 121 | -0.000 | -0.000 |
| 2 | 2 | 7 | DPi | R. Taylor/H. Castroneves | Acura DPi | 121 | 9.784 | 9.784 |
| 3 | 3 | 31 | DPi | F. Nasr/P. Derani | Cadillac DPi | 121 | 19.131 | 9.347 |
| 4 | 4 | 10 | DPi | R. Van Der Zande/J. Taylor | Cadillac DPi | 121 | 20.122 | 0.991 |
| 5 | 5 | 5 | DPi | J. Barbosa/F. Albuquerque | Cadillac DPi | 121 | 23.543 | 3.421 |
| 6 | 6 | 77 | DPi | O. Jarvis/T. Nunez | Mazda DPi | 121 | 24.349 | 0.806 |
| 7 | 7 | 54 | DPi | J. Bennett/C. Braun | Nissan DPi | 120 | 1 Lap | 1 Lap |
| 8 | 8 | 85 | DPi | M. Goikhberg/T. Vautier | Cadillac DPi | 119 | 2 Laps | 1 Lap |
| 9 | 9 | 84 | DPi | S. Trummer/S. Simpson | Cadillac DPi | 119 | 2 Laps | 1:02.460 |
| 10 | 1 | 52 | LMP2 | M. McMurry/D. Kellett | ORECA LMP2 | 117 | 4 Laps | 2 Laps |
| 11 | 2 | 38 | LMP2 | C. Cassels/K. Masson | ORECA LMP2 | 116 | 5 Laps | 1 Lap |
| 12 | 1 | 66 | GTLM | J. Hand/D. Mueller | Ford GT | 114 | 7 Laps | 2 Laps |
| 13 | 2 | 24 | GTLM | J. Krohn/J. Edwards | BMW M8 GTE | 114 | 7 Laps | 20.039 |
| 14 | 3 | 3 | GTLM | J. Magnussen/A. Garcia | Chevrolet Corvette C7.R | 114 | 7 Laps | 2.568 |
| 15 | 4 | 4 | GTLM | O. Gavin/T. Milner | Chevrolet Corvette C7.R | 114 | 7 Laps | 6.194 |
| 16 | 5 | 25 | GTLM | C. De Phillippi/T. Blomqvist | BMW M8 GTE | 114 | 7 Laps | 2.088 |
| 17 | 6 | 67 | GTLM | R. Briscoe/R. Westbrook | Ford GT | 114 | 7 Laps | 9.042 |
| 18 | 7 | 912 | GTLM | E. Bamber/L. Vanthoor | Porsche 911 RSR | 113 | 8 Laps | 1 Lap |
| 19 | 8 | 911 | GTLM | P. Pilet/N. Tandy | Porsche 911 RSR | 113 | 8 Laps | 15.415 |
| 20 | 1 | 48 | GTD | B. Sellers/C. Lewis | Lamborghini Huracan GT3 | 110 | 11 Laps | 3 Laps |
| 21 | 2 | 63 | GTD | C. MacNeil/T. Vilander | Ferrari 488 GT3 | 110 | 11 Laps | 31.424 |
| 22 | 3 | 44 | GTD | J. Potter/A. Lally | Lamborghini Huracan GT3 | 109 | 12 Laps | 1 Lap |
| 23 | 4 | 9 | GTD | S. Hargrove/Z. Robichon | Porsche 911 GT3 R | 109 | 12 Laps | 1.807 |
| 24 | 5 | 33 | GTD | B. Keating/J. Bleekemolen | Mercedes-AMG GT3 | 109 | 12 Laps | 24.666 |
| 25 | 6 | 57 | GTD | K. Legge/C. Nielsen | Acura NSX GT3 | 109 | 12 Laps | 2.421 |
| 26 | 7 | 96 | GTD | B. Auberlen/R. Foley | BMW M6 GT3 | 109 | 12 Laps | 34.596 |
| 27 | 8 | 86 | GTD | M. Farnbacher/T. Hindman | Acura NSX GT3 | 108 | 13 Laps | 1 Lap |
| 28 | 9 | 14 | GTD | R. Heistand/J. Hawksworth | Lexus RC F GT3 | 108 | 13 Laps | 32.917 |
| 29 | 10 | 76 | GTD | P. Holton/M. Plumb | McLaren 720S GT3 | 108 | 13 Laps | 2.934 |
| 30 | 11 | 12 | GTD | F. Montecalvo/T. Bell | Lexus RC F GT3 | 106 | 15 Laps | 2 Laps |
| 31 | 10 | 55 | DPi | J. Bomarito/H. Tincknell | Mazda DPi | Not Running | 66 Laps | – |
[adinserter name="GOOGLE AD"]