Penske Acura front-row sweep at Laguna Seca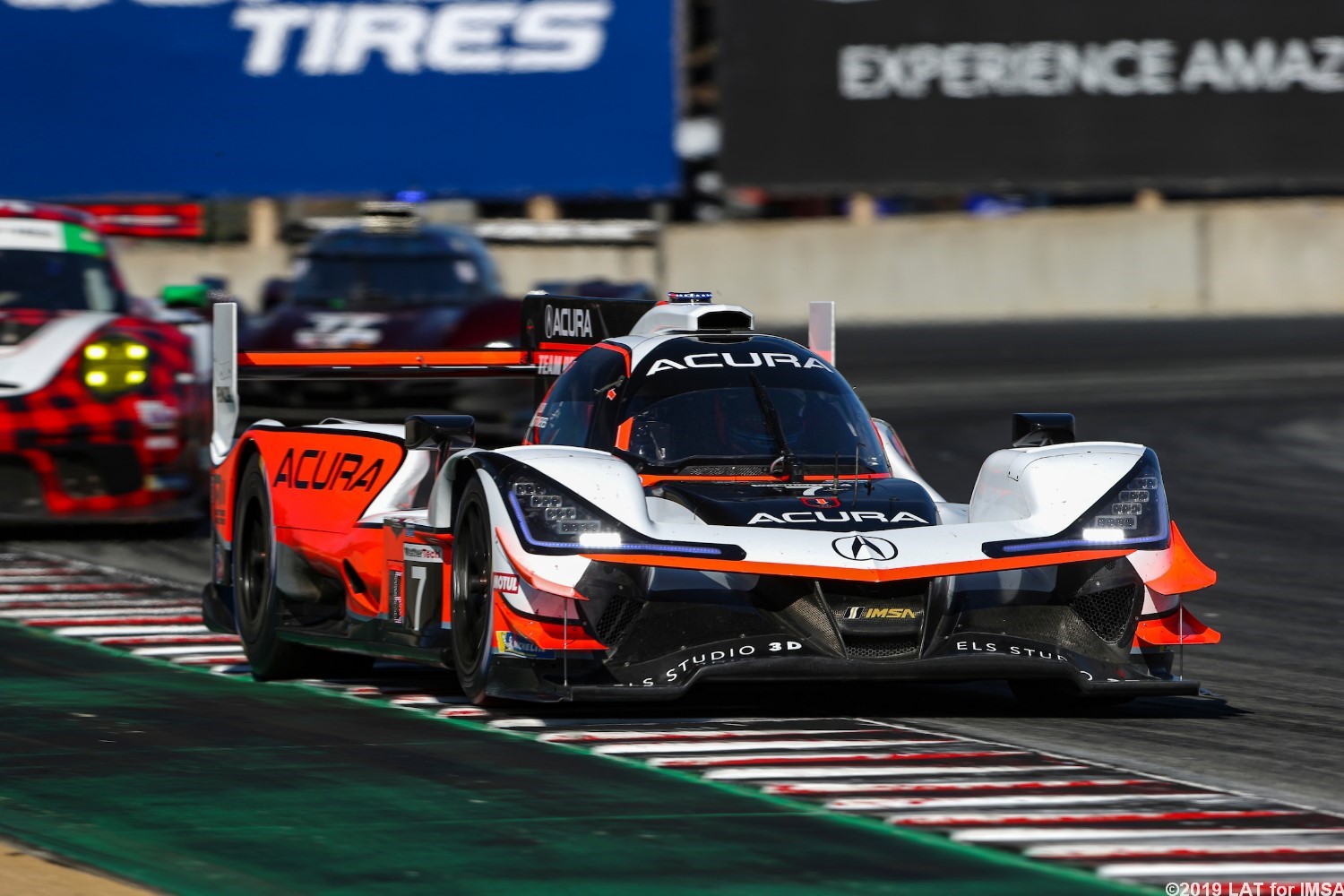 #7 Penske Acura on pole
Ricky Taylor is the new IMSA WeatherTech SportsCar Championship track record holder at WeatherTech Raceway Laguna Seca. He broke the record – set last year by his brother, Jordan Taylor – on Saturday in qualifying for Sunday's Monterey SportsCar Championship Powered by McLaren.
But Ricky, who drives the No. 7 Acura Team Penske ARX-05 Daytona Prototype international (DPi), was quick to report that his father – IMSA legend Wayne Taylor – actually had a faster lap at the picturesque 2.238-mile road course.
"Jordan had the pole last year and I had the pole this year," Ricky said. "But the first thing I saw was my dad, who caught me with a little piece of paper that said he did a 14.9 in the Intrepid. So, we're still not as good as dad."
Nevertheless, Ricky's lap of one minute, 15.035 seconds (107.373 mph) broke Jordan's previous WeatherTech Championship record of 1:16.181, gave him the Motul Pole Award and led a 1-2 sweep of the front row for Acura Team Penske. It was his 19th career IMSA pole position and he'll look for his 20th career IMSA win – and first of the season – on Sunday in front of a national NBC television audience (3 p.m. ET) with three-time Indianapolis 500 winner Helio Castroneves as his co-driver.
"Qualifying in the team is always emphasized quite heavily," said Ricky. "We put a lot of work into the qualifying car. Qualifying performance this year has been really good. To get the front row is definitely what we've been going for."
[adinserter name="GOOGLE AD"]Joining Taylor on the front row will be Juan Pablo Montoya in the No. 6 Acura ARX-05 DPi. Montoya, who turned in a best lap of 1:15.343 (106.934 mph), will join co-driver Dane Cameron in hopes of preserving or extending their lead in the WeatherTech Championship DPi point standings in Sunday's penultimate race of the season.
They're currently seven points ahead of No. 31 Whelen Engineering Cadillac DPi-V.R co-drivers Felipe Nasr and Pipo Derani. Nasr put the No. 31 fifth on the starting grid with a lap of 1:15.610 (106.557 mph), while Derani won here last year in the No. 22 Nissan DPi.
"I think, in the back of our minds, everybody's main priority is the championship for the No. 6 car," Ricky Taylor said. "So, by us blocking out the front row, we can kind of control our destiny for the race. Obviously, the No. 7 wants to win the races, and if we win that's points the No. 31 car didn't get. And the more points we can take away from the field, the better."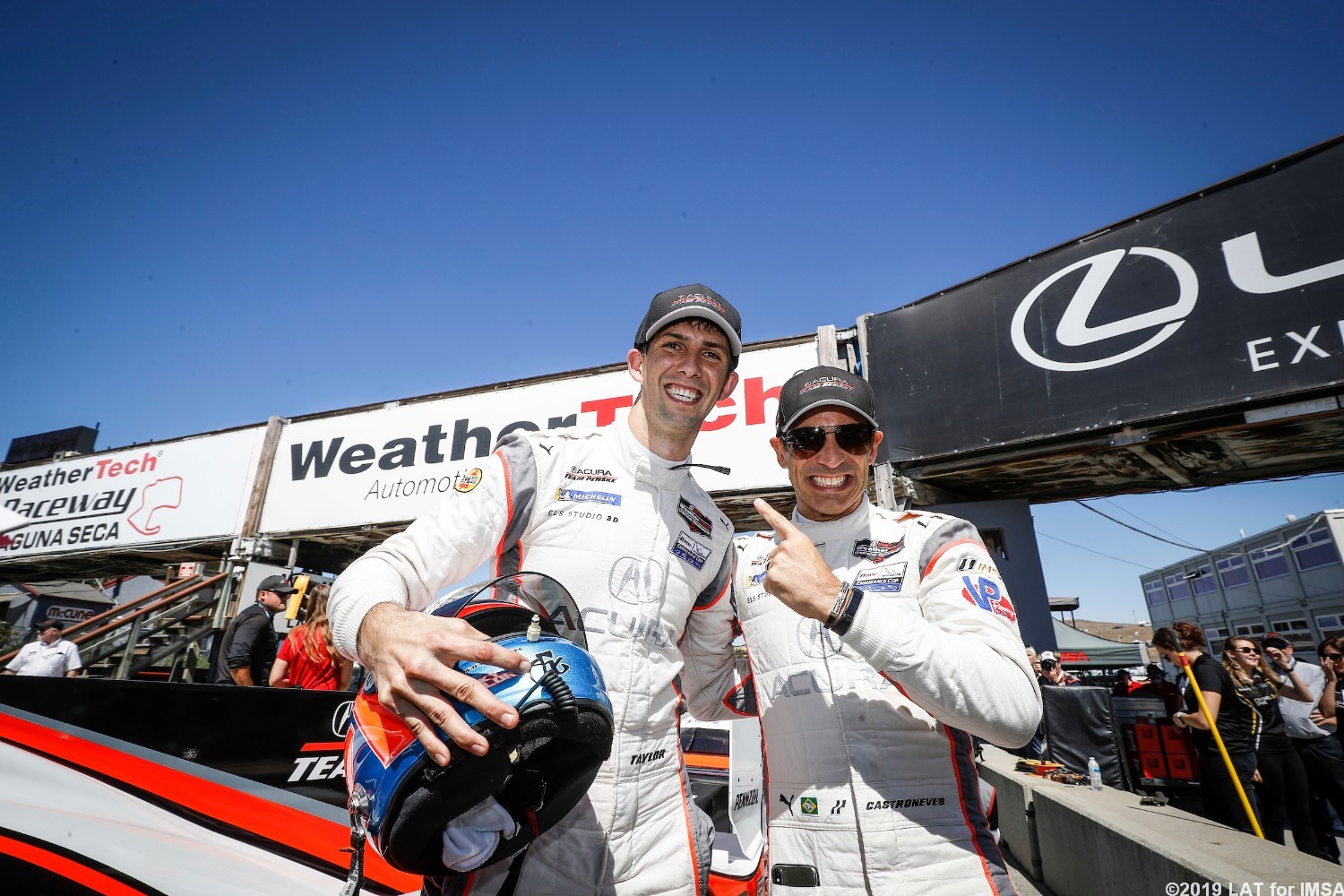 Ricky Taylor and Helio Castroneves
Jordan Taylor will start one row behind his brother after qualifying third in the No. 10 Konica Minolta Cadillac DPi-V.R at 1:15.488 (106.729 mph). He and co-driver Renger van der Zande are looking for their first win since the season-opening Rolex 24 At Daytona in January. Van der Zande also won here two years ago with a thrilling, late-race pass on Cameron at the top of the Corkscrew.
Tristan Nunez qualified fourth in the No. 77 Mazda Team Joest RT-24P DPi at 1:15.517 (106.688 mph). Mazda has won each of the last three WeatherTech Championship DPi races, a streak Nunez and co-driver Oliver Jarvis will look to continue Sunday. Nunez and Jarvis also won earlier this year at Canadian Tire Motorsport Park.
Masson Takes Third Career Motul Pole Award in LMP2 Qualifying
In LMP2 class qualifying, Kyle Masson picked up the third WeatherTech Championship pole position of his career in the No. 38 Performance Tech Motorsports ORECA. Masson posted a best time of 1:16.817 (104.882 mph) and will go for his second victory of the season on Sunday alongside co-driver Cameron Cassels.
"It's been a very solid weekend," Masson said. "We came here with a very competitive car, and we polished it up and did what we needed to do to get the car to rotate. Laguna has such low grip and coming into the weekend, everyone was struggling with understeer so we tried to just focus on getting the car to rotate and getting it into the apex as quick as week could. From there on out, we had oversteer on the exits. It's been our job to just manage that as a driver."
BMW on GTLM Pole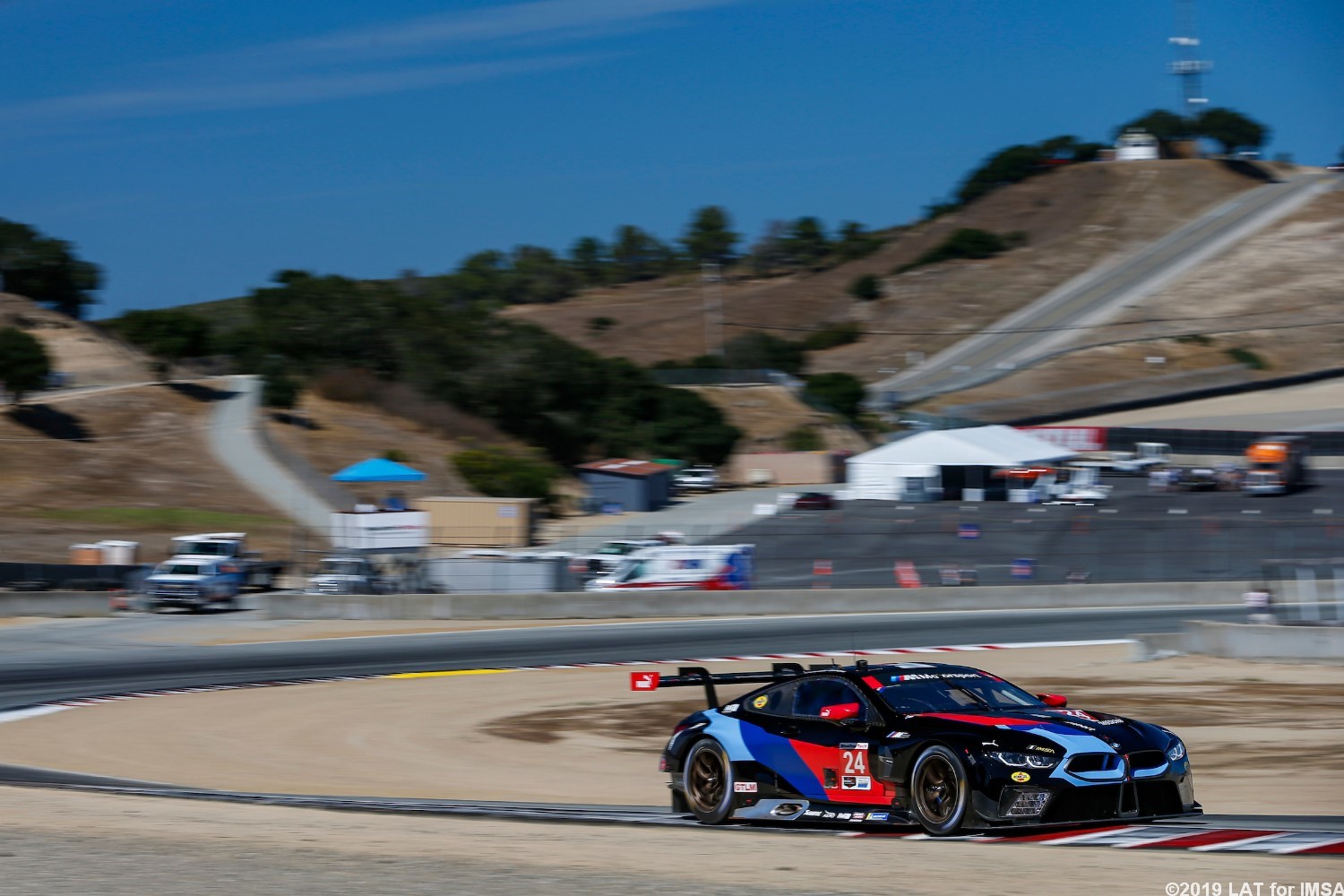 #24 BMW
Seeking to reverse their fortunes, the crew of the No. 24 BMW Team RLL BMW M8 GTE opted to go "back in black" with the car's paint scheme for the Monterey SportsCar Championship Powered by McLaren. It's worked, at least for IMSA WeatherTech SportsCar Championship qualifying Saturday at WeatherTech Raceway Laguna Seca.
Jesse Krohn put the No. 24 BMW atop the time sheet in GT Le Mans (GTLM) to lead the class heading into Sunday's race. On his lone flying lap, Krohn was clocked at 1 minute, 21.557 seconds (98.787 mph) around the demanding 11-turn, 2.238-mile permanent road course. The lap broke the GTLM track record of 1:21.914 set two years ago by Toni Vilander.
"This track has very high tire deg (degradation), so we knew that we needed to get the lap time done as soon as possible to save the tires for the race," Krohn said. "I was basically fueled in for two laps, aiming to do it on the first lap. Glad we were able to do it."
Glad, indeed. On the ensuing lap, as Krohn tried to squeeze out a better lap time, he ran wide in the high-speed Turn 6 – going into the sand off track before gathering the car, lifting off the accelerator and cruising back to pit lane. He waited out the session from there to officially earn his second WeatherTech Championship pole position, the first coming earlier this season at Canadian Tire Motorsport Park.
"No mistakes on the first lap, it was just sort of to get a banker in," Krohn said. "On the second lap, I tried to push a little bit more. I was going to improve but then pushed a little bit too much and abandoned the lap because I felt like the first lap was good enough."
Krohn and co-driver John Edwards look to extend BMW Team RLL's run of success at WeatherTech Raceway in Sunday's race. The team has been victorious in three of the past four years.
"We switched to the black livery car, that has brought us some luck in the past – maybe some today as well," Krohn said. "It's been good for the team for the past few years. Unfortunately, we weren't the ones getting the success last year (Alexander Sims and Connor De Phillippi drove the sister No. 25 to the class win). We're hoping to redeem on that and hopefully be the guys standing on top with the black car."
Dirk Mueller qualified second in GTLM on Saturday, with a lap of 1:21.684 (98.633 mph) in the No. 66 Ford Chip Ganassi Racing Ford GT. Tom Blomqvist was third in the No. 25 BMW at 1:21.891 (98.384) mph.
Laurens Vanthoor was fourth in the No. 912 Porsche GT Team Porsche 911 RSR (1:21.942, 98.322 mph). Vanthoor and co-driver Earl Bamber take an 11-point lead into the race over teammates Patrick Pilet and Nick Tandy in the No. 911 Porsche.
Tandy had an adventurous qualifying session, spinning coming out of the famous Corkscrew turn and being forced to coast down the hill backward before righting the No. 911 and pulling into pit lane. Tandy wound up last among the eight GTLM cars in qualifying.
Lewis Earns First Motul Pole Award in Paul Miller Lamborghini with Last-Minute Flyer at WeatherTech Raceway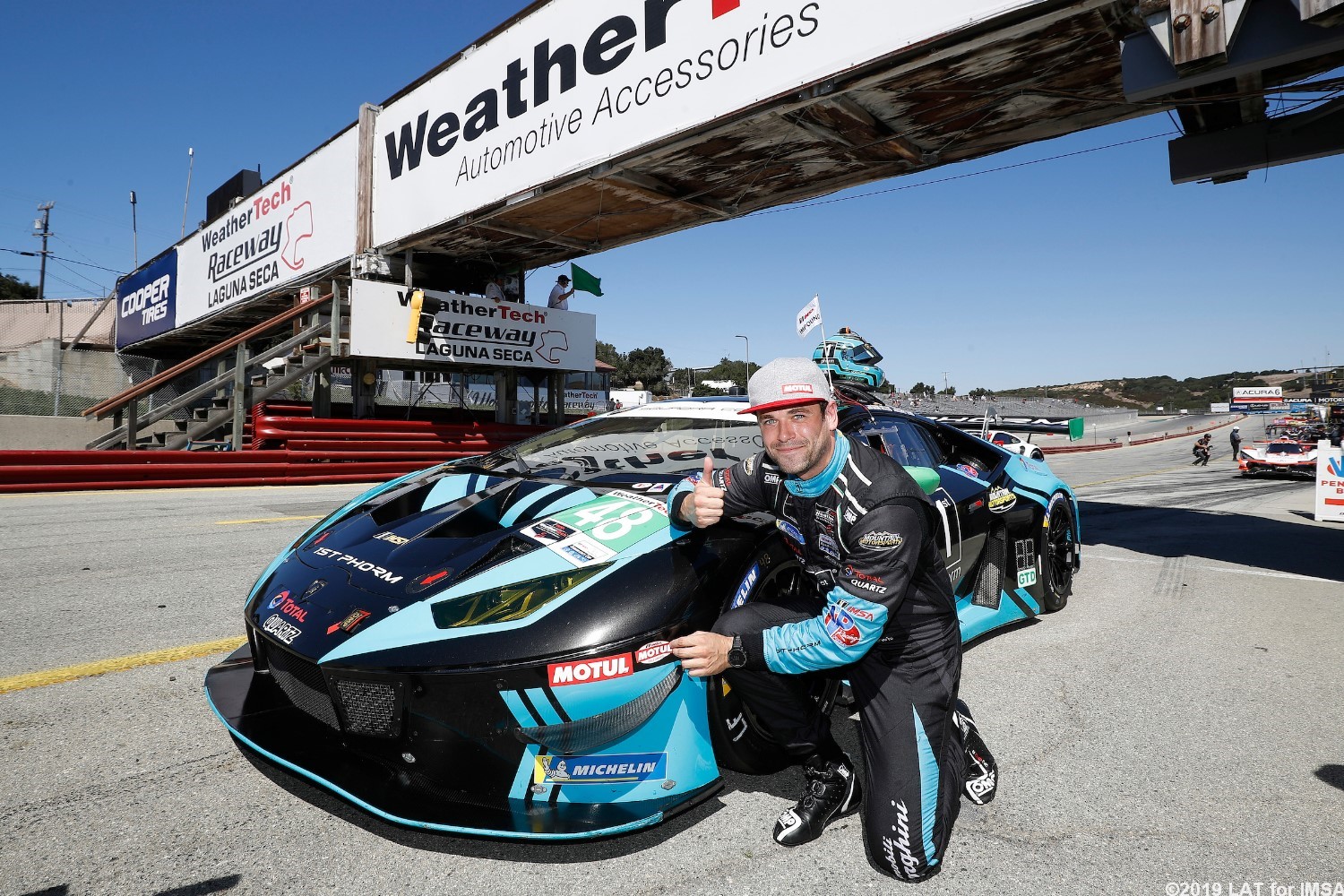 Corey Lewis
After topping both practice sessions on Friday at WeatherTech Raceway Laguna Seca, Paul Miller Racing was a heavy favorite in Saturday's IMSA WeatherTech SportsCar Championship qualifying session.
But it took a last-lap, nail-biting performance by Corey Lewis to put the team on top of the GT Daytona (GTD) class in the No. 48 Lamborghini Huracan GT3. Lewis' time of 1 minute, 24.962 seconds (94.828 mph) earned the first Motul Pole Award of his WeatherTech Championship career.
Five minutes into the session, an incident with the No. 73 Park Place Motorsports Porsche led to a lengthy red-flag delay, but teams were given an additional four minutes to meet minimum qualifying time.
As time ticked down on the extended session, Lewis sat seventh in class behind GTD championship leader Trent Hindman, a three-time pole winner this season, Trent Hindman. Ultimately, Lewis bested Hindman's time set in the first portion of the session by 0.101 seconds.
"Towards the end, we knew we'd only have one shot to do it," said Lewis, who will be co-driving with Bryan Sellers. "We knew we'd have the pace to do it and the tire degradation was really good. With the track conditions being so inconsistent throughout every session, really. But it turned out well in the end with my first pole, so I'm pretty proud of that one, especially for the Paul Miller Racing organization and 1st Phorm. It's a long time coming for me, my first pole, so I'm super stoked."
Lewis became part of the full-time driver lineup for Paul Miller at Lime Rock Park, substituting for the remainder of the season for sidelined Ryan Hardwick.
The most recent race in which Lewis' car sat on pole – 2017 at VIRginia International Raceway co-driving with starter Jeroen Mul – went on to win. He's hoping for more of the same in Sunday's Monterey SportsCar Championship Powered by McLaren.
"I don't want to think too far ahead, but like I said, we think we have a race car that can win this race," said Lewis. "I think the biggest thing will be focusing on the tire degradation, and keeping the car fast on the long run. We'll see what this car can do tomorrow."
Starting third will be Cooper MacNeil, who posted his fastest time of 1:25.118 (94.654 mph) in the first five minutes of the session, but parked the No. 63 Scuderia Corsa WeatherTech Racing Ferrari 488 GT3 for the remainder of the session after the red flag.
Zacharie Robichon did the same in the No. 9 Pfaff Motorsports Porsche 911 GT3 R, with a fourth-best time of 1:25.165 (94.601 mph).