Las Vegas: Bowyer wins Cup pole, Custer on Xfinity pole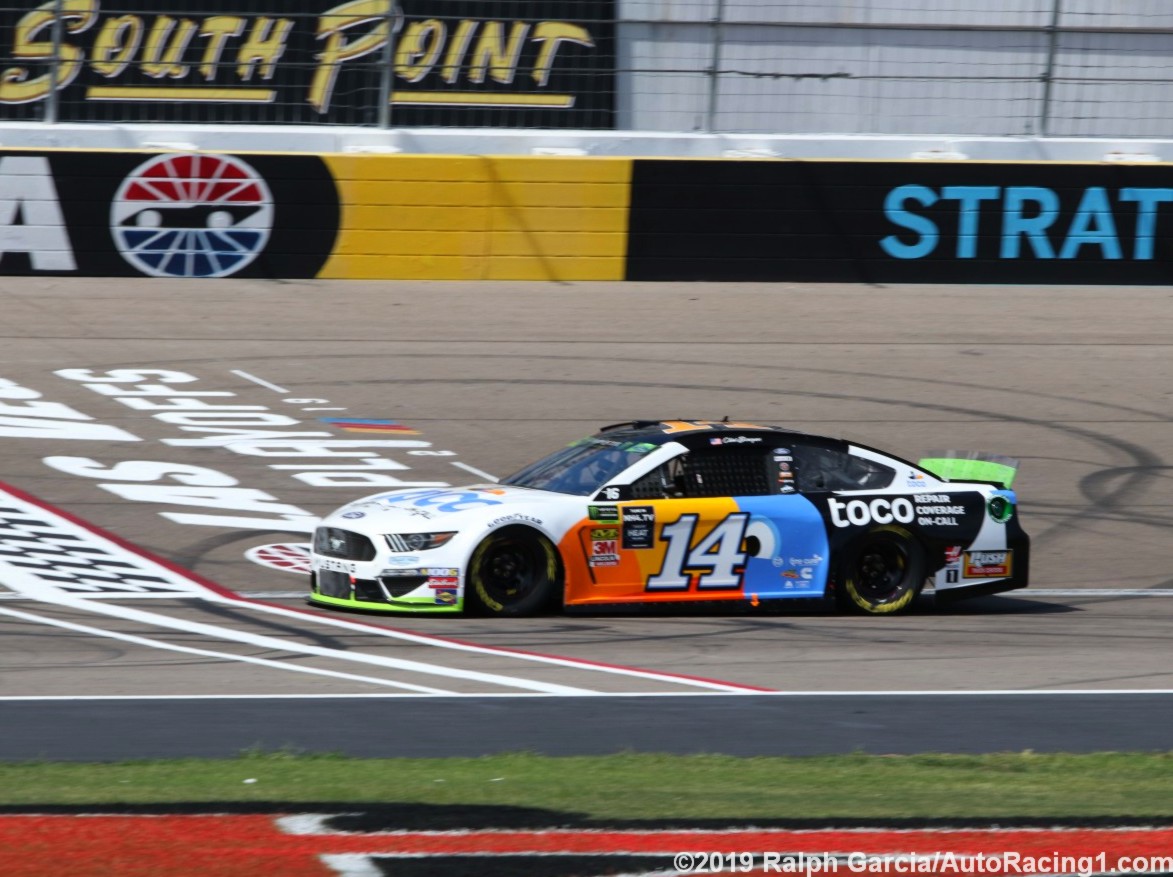 Clint Bowyer leads Ford pole sweep
Stewart-Haas Racing flat out dominated Cup qualifying for the South Point 400 and it was Clint Bowyer who led the charge with a 178.926 mph lap. Daniel Suarez will start alongside Bowyer on the front row with Kevin Harvick and Aric Almirola locking up the second row.
Gragson and Labbe will have to start from the rear of the field but at least they get to race their primary cars.
Three qualifying efforts after Gragson's incident, Alex Labbe had a similar experience when the back end of his No. 90 Chevrolet stepped out in Turn 3. He, too, failed to post a qualifying speed.
"This is Vegas," he said. "This is my hometown. I'm going balls out, balls to the wall. I tried to carry it. I was running loose, but overall, just super thankful. Barely, barely nicked the tail on the right, rear. I was nuttin' up for sure and going for the pole."
Gragson made no apologies for his over exuberance.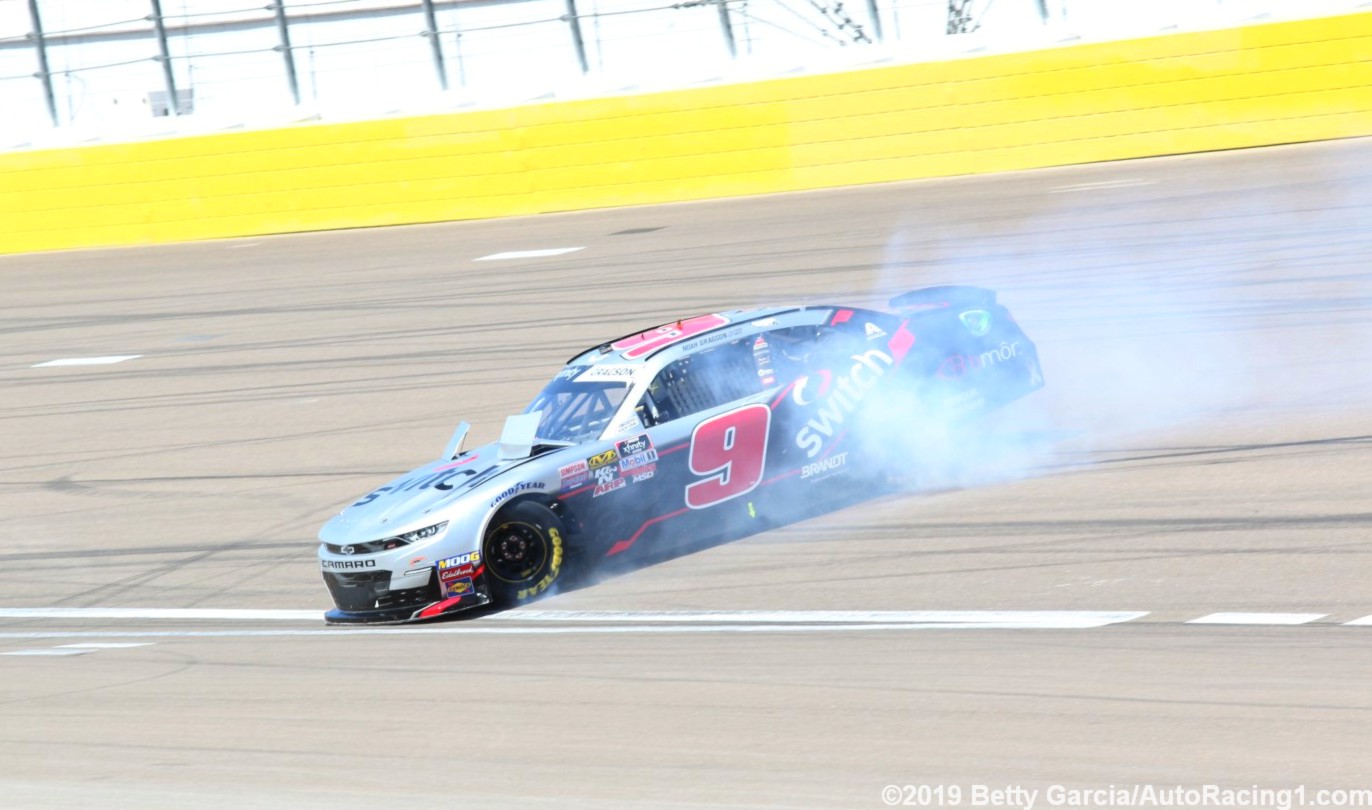 Noah Gragson spins
Las Vegas' own Noah Gragson lost the rear end of his racecar going through Turns 3 and 4 and did a masterful job of steering through the slide, just barely kissing the outside wall with the left, rear. The car continued down pit road and came to a stop just a couple feet from the infield wall.
Two drivers had trouble during qualifying but in both their cases, things could have turned out much worse.
"I'm a little nervous," Sadler admitted, prior to qualifying. "I woke up this morning a little bit nervous. I haven't been in a car in a while. Bur really, I'm excited. People want me to be sad. I've had a great career. I've met a lot of great people."
Sadler qualified a respectable 14th for the race in a car sporting a red and yellow paint scheme that harkens back to the early days of Sadler's career.
His first Cup Series victory came in spectacular fashion in Thunder Valley on the high banks of Bristol. Driving a backup car, Sadler battled back from a 38th place starting position and a backstretch pit stall to win the race. In doing so he broke a record set by the late, great Dale Earnhardt for winning at Bristol from the lowest starting position.
Xfinity Qualifying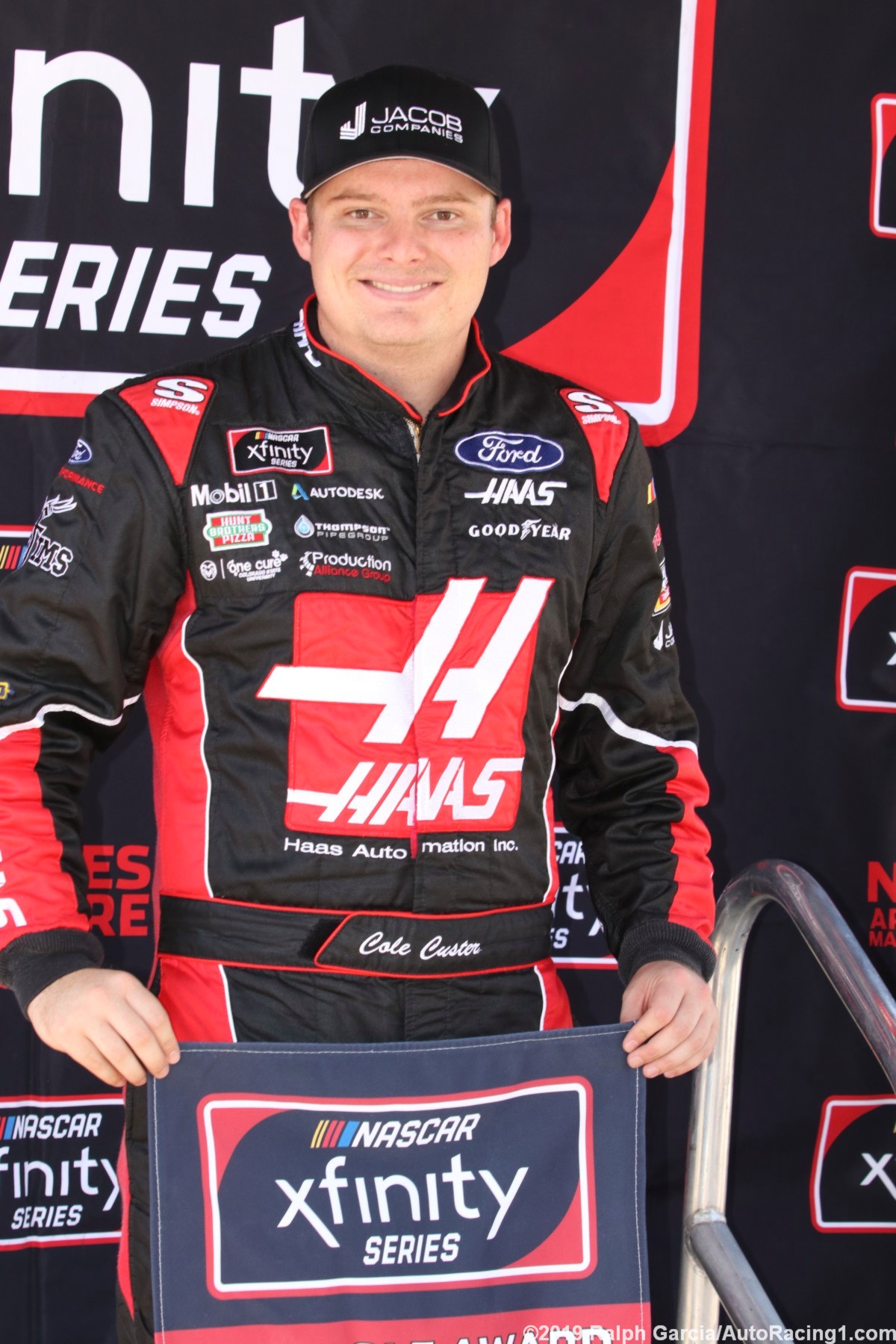 Cole Custer
On a track that was hot and slick, Cole Custer hung on to win the pole for this evening's Rhino Pro 300 with a 181.372 mph lap. Christopher Bell was the final driver to take a qualifying lap and he just missed knocking Custer off the pole with a 181.056 mph effort. Starting 3rd through 5th are Justin Allgaier, Tyler Reddick, and Austin Cindric.
Rhino Pro 300 Preview
When the checkers fall after this evening's event, it will mark the end of the 2019 Xfinity Series regular season and put a period on the professional racing career of Elliott Sadler. Sadler cut his racing teeth on the shorts track of Richmond and North Carolina and raced against some of the best drivers in the sport's history.
Wrapping up the NXS Regular Season
Coming into this race Tyler Reddick (ranked 1st) and Christopher Bell (ranked 2nd) are the only two drivers with a chance to clinch the regular season championship. As it stands, Reddick has the decided advantage, needing just 11 points to clinch. Bell is 50 points behind and if the two should end up in a tie, Bell would win by virtue of recording six wins to Reddick's four. Bell starts the race from the second position, while Reddick will line up fourth, right on Bell's back bumper.
Xfinity Lineup
Pos
No.
Driver
Car
Time
Speed
1
00
Cole Custer
Haas Automation Ford
29.773
181.372
2
20
Christopher Bell
Rheem/Smurfit Kappa Toyota
29.825
181.056
3
7
Justin Allgaier
BRANDT Professional Agriculture Chevrolet
29.840
180.965
4
2
Tyler Reddick
TAME the BEAST Chevrolet
29.909
180.548
5
22
Austin Cindric
MoneyLion Ford
29.924
180.457
6
19
Brandon Jones
Juniper Toyota
29.948
180.313
7
98
Chase Briscoe #
Ford Performance Ford
30.096
179.426
8
10
Elliott Sadler
Nutrien Ag Solutions Chevrolet
30.143
179.146
9
89
Landon Cassill
Visone RV Chevrolet
30.169
178.992
10
11
Justin Haley #
LeafFilter Gutter Protection Chevrolet
30.289
178.283
11
1
Michael Annett
Pilot/Flying J Chevrolet
30.312
178.147
12
51
Jeremy Clements
RepairableVehicles.com Chevrolet
30.478
177.177
13
23
John Hunter Nemechek #
Berry's Manufacturing Chevrolet
30.490
177.107
14
38
JJ Yeley
RSS Racing Chevrolet
30.538
176.829
15
18
Riley Herbst(i)
Monster Energy Toyota
30.577
176.603
16
08
Gray Gaulding
JT Marine Chevrolet
30.725
175.753
17
86
Brandon Brown #
Vero True Social Chevrolet
30.762
175.541
18
61
Tommy Joe Martins
Diamond Gusset Jean Co. Toyota
30.827
175.171
19
39
Ryan Sieg
Lombard Bros Gaming Chevrolet
30.842
175.086
20
07
Ray Black II
ISOKERNFrplcs&Chmnys/ScbLf Chev
31.011
174.132
21
4
BJ McLeod
teamjdmotorsports.com Chevrolet
31.083
173.728
22
8
Ryan Truex
Bar Harbor Chevrolet
31.101
173.628
23
01
Stephen Leicht
teamjdmotorsports.com Chevrolet
31.157
173.316
24
5
Matt Mills
J.F. Electric Chevrolet
31.170
173.244
25
74
Kyle Weatherman
Chevrolet
31.218
172.977
26
0
Garrett Smithley
teamjdmotorsports.com Chevrolet
31.272
172.678
27
17
Joe Nemechek(i)
RWR Chevrolet
31.399
171.980
28
15
Tyler Matthews
LineTec Services Chevrolet
31.486
171.505
29
36
Josh Williams
Starbrite Star Tron/Simcraft Chevrolet
31.670
170.508
30
52
David Starr
Circle Track/Franklins Signs Chevrolet
31.691
170.395
31
93
CJ McLaughlin
SciAps Chevrolet
31.828
169.662
32
35
Joey Gase
Nevada Donor Network Toyota
31.918
169.184
33
66
Chad Finchum
LasVegas.net Toyota
Owner Points
34
78
Vinnie Miller
Pit Viper Sunglasses Chevrolet
Owner Points
35
13
Stan Mullis
LasVegas.net Toyota
Owner Points
36
9
Noah Gragson #
Switch Chevrolet
Owner Points
37
90
Alex Labbe
Martin and Cain Warehousing Chevrolet
Owner Points
38
99
Ja Junior Avila
Art General Contractors Toyota
0.000
0.000
Monster Cup Lineup
| | | | | | |
| --- | --- | --- | --- | --- | --- |
| Pos | No. | Driver | Car | Time | Speed |
| 1 | 14 | Clint Bowyer (P) | Toco Warranty Ford | 30.180 | 178.926 |
| 2 | 41 | Daniel Suarez | Haas Automation Ford | 30.189 | 178.873 |
| 3 | 4 | Kevin Harvick (P) | Mobil 1 Ford | 30.206 | 178.772 |
| 4 | 10 | Aric Almirola (P) | Smithfield Ford | 30.252 | 178.501 |
| 5 | 1 | Kurt Busch (P) | GEARWRENCH Chevrolet | 30.318 | 178.112 |
| 6 | 8 | Daniel Hemric # | Cessna Chevrolet | 30.366 | 177.830 |
| 7 | 3 | Austin Dillon | Bass Pro Shops/Tracker Off Road Chevrolet | 30.454 | 177.317 |
| 8 | 9 | Chase Elliott (P) | NAPA Filters Chevrolet | 30.463 | 177.264 |
| 9 | 48 | Jimmie Johnson | Ally Chevrolet | 30.488 | 177.119 |
| 10 | 34 | Michael McDowell | Love's Travel Stops Ford | 30.490 | 177.107 |
| 11 | 38 | David Ragan | Select Blinds Ford | 30.527 | 176.893 |
| 12 | 17 | Ricky Stenhouse Jr. | SunnyD Ford | 30.531 | 176.869 |
| 13 | 11 | Denny Hamlin (P) | FedEx Ground Toyota | 30.539 | 176.823 |
| 14 | 24 | William Byron (P) | Liberty University Chevrolet | 30.567 | 176.661 |
| 15 | 42 | Kyle Larson (P) | Clover Chevrolet | 30.590 | 176.528 |
| 16 | 47 | Ryan Preece # | Kroger Chevrolet | 30.615 | 176.384 |
| 17 | 6 | Ryan Newman (P) | Oscar Mayer Bacon Ford | 30.618 | 176.367 |
| 18 | 2 | Brad Keselowski (P) | Autotrader Ford | 30.619 | 176.361 |
| 19 | 88 | Alex Bowman (P) | Nationwide Chevrolet | 30.620 | 176.355 |
| 20 | 18 | Kyle Busch (P) | M&M's Hazelnut Toyota | 30.633 | 176.280 |
| 21 | 21 | Paul Menard | Menards/Monster Ford | 30.672 | 176.056 |
| 22 | 22 | Joey Logano (P) | Pennzoil Ford | 30.674 | 176.045 |
| 23 | 12 | Ryan Blaney (P) | PPG Ford | 30.706 | 175.861 |
| 24 | 19 | Martin Truex Jr. (P) | Bass Pro Shops Toyota | 30.721 | 175.776 |
| 25 | 95 | Matt DiBenedetto | Barstool Sports Toyota | 30.726 | 175.747 |
| 26 | 20 | Erik Jones (P) | CRAFTSMAN Gas Monkey Toyota | 30.740 | 175.667 |
| 27 | 13 | Ty Dillon | GEICO Chevrolet | 30.742 | 175.655 |
| 28 | 37 | Chris Buescher | Natural Light Seltzer Chevrolet | 30.774 | 175.473 |
| 29 | 36 | Matt Tifft # | Surface/Maui Jim Ford | 30.808 | 175.279 |
| 30 | 00 | Landon Cassill(i) | William Hill Sports Book Chevrolet | 30.839 | 175.103 |
| 31 | 43 | Bubba Wallace | Victory Junction Chevrolet | 30.893 | 174.797 |
| 32 | 15 | Ross Chastain(i) | Xchange of America Chevrolet | 31.027 | 174.042 |
| 33 | 32 | Corey LaJoie | Schluter Systems Ford | 31.081 | 173.740 |
| 34 | 52 | Garrett Smithley(i) | Honest Abe Roofing Ford | 31.411 | 171.914 |
| 35 | 51 | BJ McLeod(i) | Jacob Companies Ford | 31.413 | 171.903 |
| 36 | 53 | JJ Yeley(i) | AQRE.app Ford | 31.538 | 171.222 |
| 37 | 77 | Reed Sorenson | Chevrolet | 31.752 | 170.068 |
| 38 | 27 | Joe Nemechek(i) | Chevrolet | 32.070 | 168.382 |
| 39 | 66 | Joey Gase(i) | Nevada Donor Network Toyota | 32.086 | 168.298 |
[adinserter name="GOOGLE AD"]