Austin Hill draws first blood in Vegas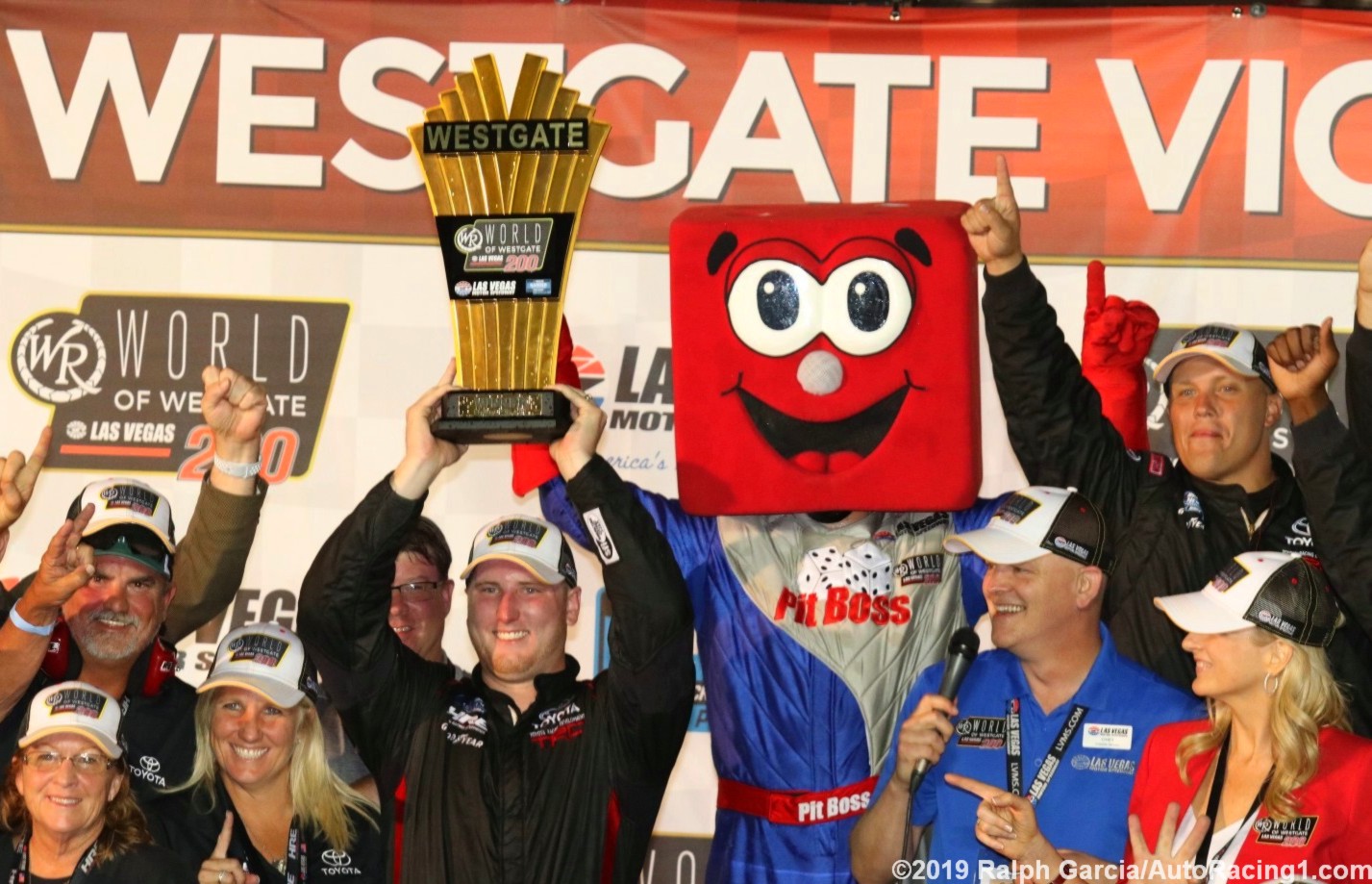 Austin Hill
Austin Hill cashed in on a big win in the Westgate 200 at Las Vegas Motor Speedway to move on to Round 2 of the NASCAR Xfinity Series 2019 Playoffs.
Hill battled back from a pit road miscue to take the lead with 11 laps to go and beat Ross Chastain to the checkers by 1.8 seconds.
How the Race Unfolded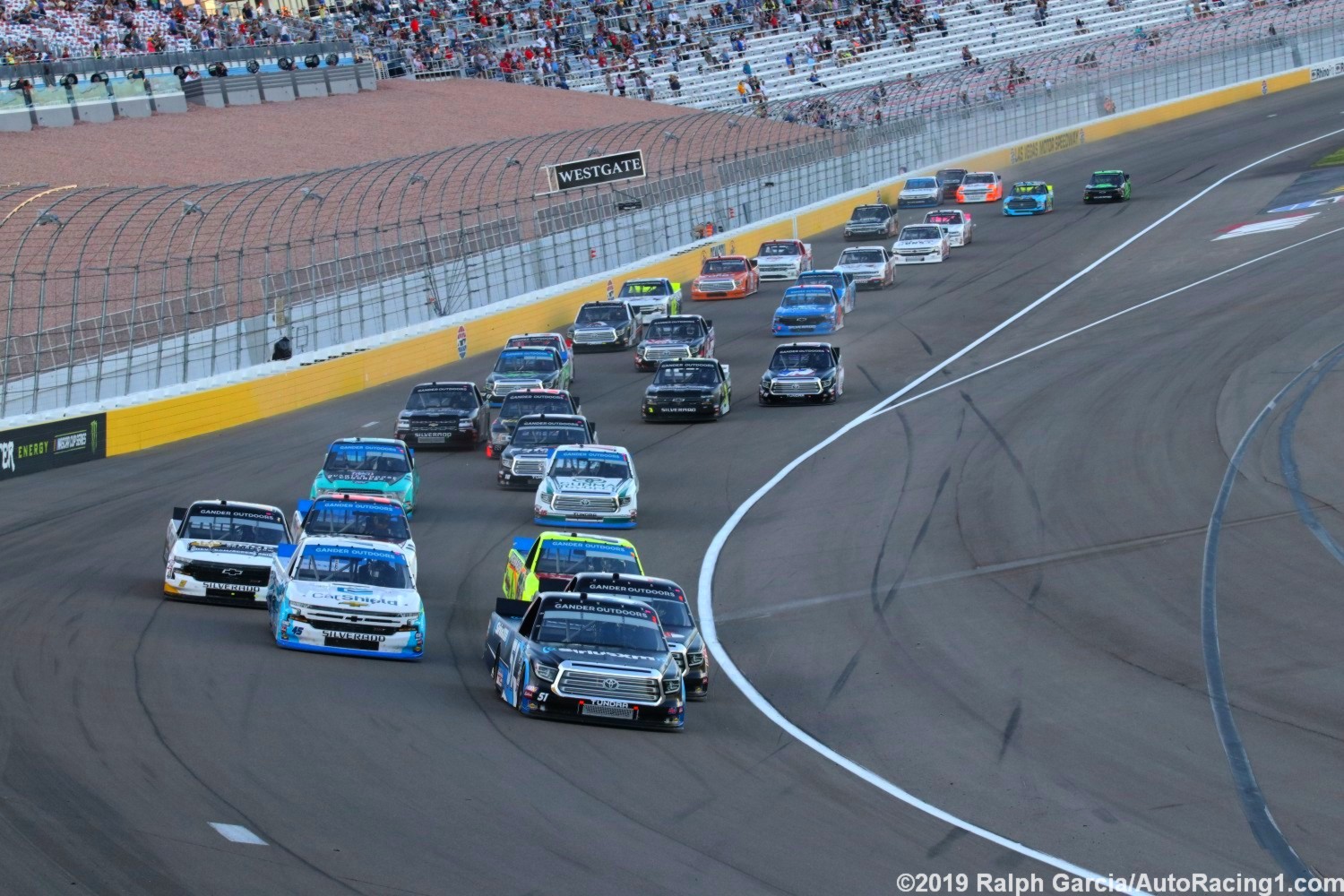 Race Start
6:05 pm – Westgate 200 – Green Flag – The engines are fired and we are ready to roll. Christian Eckes leads the field off pit road.
Enfinger's truck was still running on pit road, so the engine's not dead yet. The crew is now trying to find the oil leak that caused the smoke and dampened the track.
Eckes led the first 3 laps before he was passed for the lead by Chastain. Running 3rd through 5th under caution are Crafton, Hill and Creed.
6:20 pm – Lap 5, Under Caution – Grant Enfinger brings out the first caution of the race as a huge plume of smoke erupts from his truck. Enfinger is a Playoff driver.
Lap 14 – Moffitt has battled from the back of the field up to 12th.
6:27 pm – Back to Green on Lap 13 – We are back to racing with Chastain on the point.
Enfinger has retired his truck and that will end his 2019 title hopes.
6:40 pm – Chastain Wins Segment #1 – This is Chastain's 6th stage win of the season. He has also won a stage in four consecutive races. 2nd-10th: Crafton, Hill, Sauter, Gilliland, Creed, Poole, Burton, Moffitt, Ankrum.
Back to Green on Lap 37
Crew member over the wall too soon on the No. 9 truck. Burton will restart at the rear.
Safety violation for No. 5 – Lupton will restart at the rear of the field.
Stewart Friesen is the second Playoff driver to have trouble. Friesen's truck is down on power. The crew is replacing a plug wire, so he'll lose at least one lap on pit road.
[adinserter name="GOOGLE AD"]6:45 pm – Segment #2, Green Flag – After pit stops Hill takes the lead, followed by Burton, Chastain (who had a slow stop), Eckes, Creed, Sauter, Crafton, Ankrum, Gilliland and Moffitt.
Top 5 under caution: Hill, Chastain, Moffitt, Eckes, Rhodes.
6:47 pm – Under Caution, Lap 41 – We are under caution as the remaining two Thorsport Motorsports' trucks blow engines at exactly the same time. That will put Sauter and Crafton out of this race. Enfinger was already out of the race after blowing a rear seal.
6:58 pm – Back to Green on Lap 46 – We're back to green flag racing with Hill leading the way. According to Crafton, the problem he and Sauter had was related to debris on the track. Sauter hit whatever it was first and then Crafton hit the same piece of debris.
7:04 pm – Chastain Wins Segment #2 – Chastain hangs on to win the second segment. Chastain's strong performance thus far puts him into Round Two of the Playoffs. 2nd-10th: Hill, Moffitt, Rhodes, Poole, Eckes, Creed, Gilliland, Ankrum, Dean.
We're back to green on Lap 67. And just like that, smoke pours out of Sauter's truck and we're back under caution.
Sauter is back on the track. His crew thinks he had an oil leak. They're going to try to limp their truck along.
7:14 pm – Segment #3 – Green Flag – Brett Moffitt takes the lead on pit road. Behind him it's Eckes, Hill, Chastain, Poole, Gilliland, Creed, Rhodes, Ankrum, Burton
Back on the track: Moffitt, who has raced from last to first, chooses to restart on the inside lane. And we're back to green on Lap 73.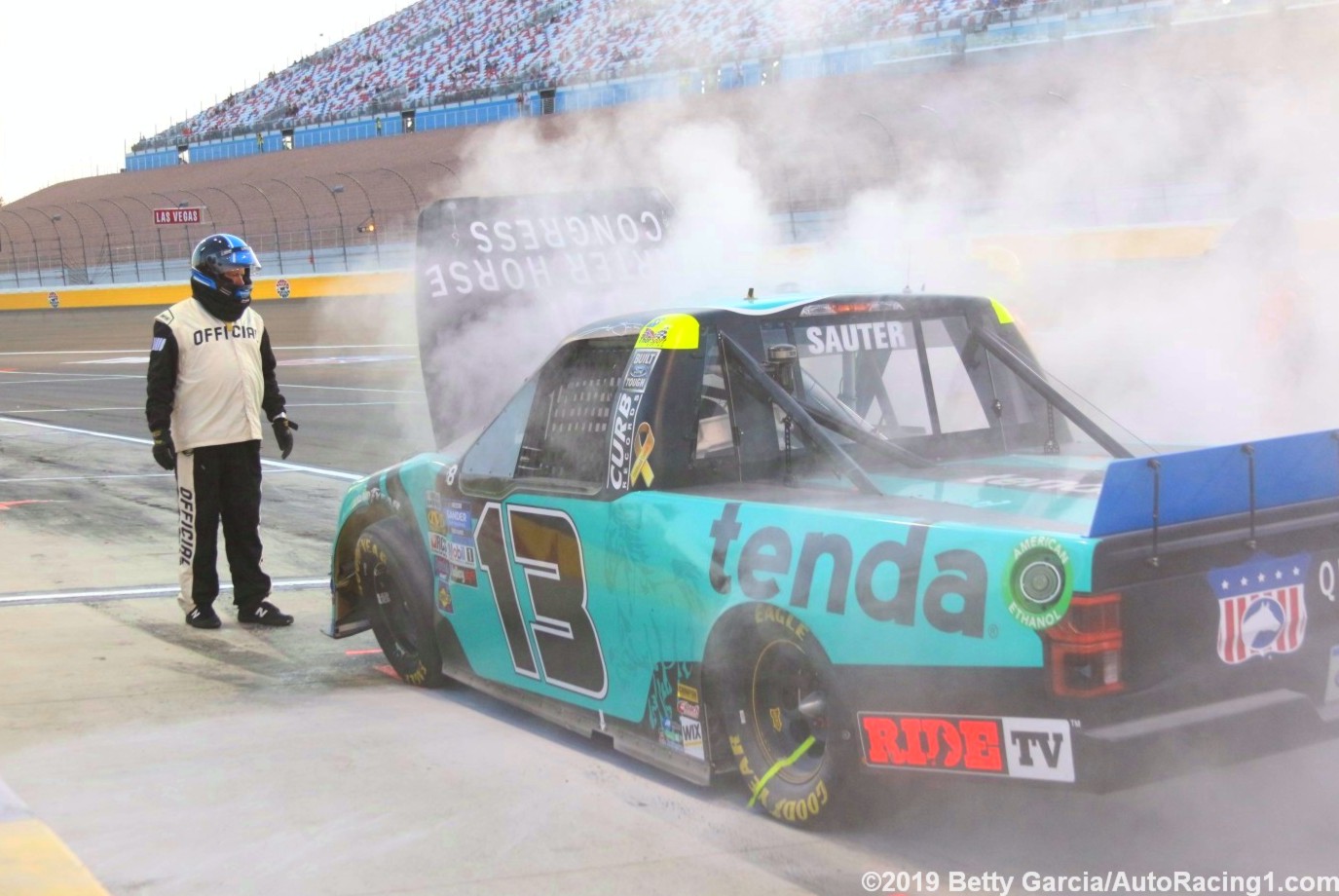 Sauter 'dun blew up'
7:20 pm – Lap 69 Update – Sauter is done for good this time. He rolls to the garage.
7:27 pm – Under Caution, Lap 80 – We've slowed things down again. It's another engine issue and this times it's the No. 02 truck of Tyler Dippel. The Top 5, under caution, is Chastain, Creed, Moffitt, Rhodes and Burton.
Green flag on Lap 87
Top 5 for the restart is Chastain, Moffitt, Creed, Ankrum, Rhodes
Hill had to make a second stop after a miscue. He'll drop to the rear for the restart.
7:35 pm – Back to Green – The drivers took advantage of that caution to come to pit road. Creed, Chastain, and Moffitt were among those that took on fuel only.
3rd-5th: Eckes, Creed, Moffitt.
7:50 pm – Update, Lap 110 – Chastain continues to lead. He has about a 1.2-second advantage over Hill who flew up through the field after that pit miscue.
7:55 pm – Update, Lap 112 – Austin Hill takes advantage of a small wiggle by Chastain and sweeps into the lead with 11 laps to go.
8:00 pm – Austin Hill Wins the Westgate 200
Winner Quotes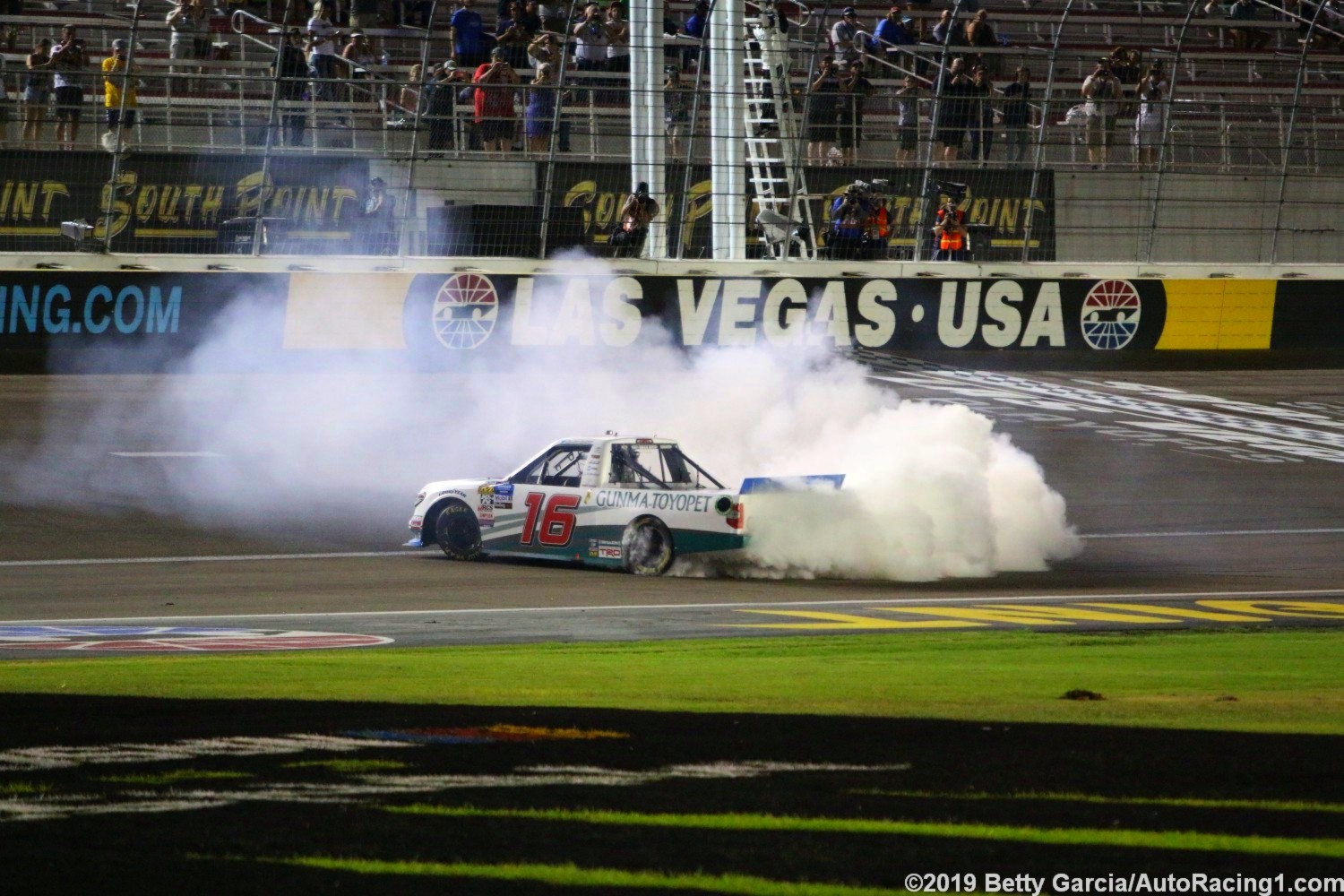 Hill burns some rubber
AUSTIN HILL, No. 16 Gunma Toyopet Toyota Tundra, Hattori Racing Enterprises
Finishing Position: 1st
What does this win mean to you?
"It means the world to me. This is the hardest one I've had to win. We were going to stay out that last caution and we stayed out and everybody else pitted. We decided we needed to pit or we were going to be screwed. We came down pit road, restarted at the tailend of the longest line and it stayed green. I had to drive all the way through the field and this truck was unbelievable. I can't thank Gumma Toyopet for coming on board. Toyota, TRD, the Aisin Group, United Rentals – everybody and all my partners that allow me to do this. HRE, Scott (Zipadelli, crew chief) and the boys gave me a heck of a piece tonight. We wouldn't have won this race with them. We're two-for-two with this truck so we're going to try to go three-for-three with it. Can't thank all the boys enough."
Did you make a statement to the field with this win tonight?
"We for sure made that statement. When I saw the 45 (Ross Chastain) in my sights, we were running close to lap times and I started changing my line a little bit. We picked up two or three-tenths there changing my line. That was a big statement win. We drove by the 45 like he was sitting still and then just kept pulling. We were a little scarce there for a little bit – our truck was cutting in and out. I don't know if fuel pressure was messing up or what. I was crossing my fingers every lap I came by after I took the lead. I'm worn out. Coming from the back like that, it was all I took to get to the lead. We did it."
Did you think you could make it back to the front of the field after the pit stop?
"When we first went back green, I thought it would be nice to pick off a few of these guys and have a caution. At the same time, I didn't want the caution because every restart we had, the last three restarts we had anyways, when I would go through the gears, it kept cutting in and out. I don't know if we were having a fuel pressure issue or what was going on. I was actually really scared of that. When I saw the 45 (Ross Chastain) when I got to second, my number one thing was just hoping we didn't have any issues. I thought we had an issue, but luckily it all went away. As I was catching the 45, I was trying to see where his weakness was and at first, we were running about the same times and I started changing my line a little bit and picked up two-tenths there. When I got to him, traffic was just perfect timing. He got really tight behind somebody and got aero-pushed and I was able to drive up under him and just hold him out getting into one and clear him. This truck was so good. I can't thank everyone enough. To be two-for-two with this truck is pretty special."
What does this drive carry further into the Playoffs?
"It means a lot. Coming into tonight, our number one goal was getting stage points and we did that, we got stage points in stage one and stage two. Got through that and after the second stage and we knew that some of the Playoff drivers had some issues, my only concern was going for the win. That's all I really cared about. I didn't think we were going to be able to catch them under green, but we did. It's even more of a statement win because we had a little bit of an issue during practice and lost our truck chief. I know he was up watching us in the stands, but this is so special."
Results
| | | | | | |
| --- | --- | --- | --- | --- | --- |
| POS | CAR | DRIVER | MANUF | LAPS | BEHIND |
| 1 | 16 | Austin Hill (P) | Toyota | 134 | — |
| 2 | 45 | Ross Chastain (P) | Chevy | 134 | 2.116 |
| 3 | 51 | Christian Eckes | Toyota | 134 | 4.536 |
| 4 | 2 | Sheldon Creed # | Chevy | 134 | 9.503 |
| 5 | 4 | Todd Gilliland | Toyota | 134 | 10.083 |
| 6 | 30 | Brennan Poole | Toyota | 134 | 13.732 |
| 7 | 24 | Brett Moffitt (P) | Chevy | 134 | 16.771 |
| 8 | 99 | Ben Rhodes | Ford | 134 | 18.342 |
| 9 | 18 | Harrison Burton # | Toyota | 134 | 18.822 |
| 10 | 5 | Dylan Lupton | Toyota | 134 | 19.503 |
| 11 | 17 | Tyler Ankrum # (P) | Toyota | 134 | 22.252 |
| 12 | 15 | Anthony Alfredo # | Toyota | 134 | 24.254 |
| 13 | 87 | Anthony Mrakovich | Chevy | 134 | 29.664 |
| 14 | 3 | Jordan Anderson | Chevy | 134 | 31.448 |
| 15 | 12 | Gus Dean # | Chevy | 133 | -1 |
| 16 | 9 | Codie Rohrbaugh | Chevy | 133 | -1 |
| 17 | 22 | Austin Wayne Self | Chevy | 133 | -1 |
| 18 | 11 | Spencer Davis | Toyota | 133 | -1 |
| 19 | 52 | Stewart Friesen (P) | Chevy | 132 | -2 |
| 20 | 20 | Spencer Boyd | Chevy | 132 | -2 |
| 21 | 38 | Colin Garrett(i) | Chevy | 131 | -3 |
| 22 | 44 | Angela Ruch | Chevy | 131 | -3 |
| 23 | 34 | Justin Johnson | Toyota | 127 | -7 |
| 24 | 10 | Jennifer Jo Cobb | Chevy | 90 | -44 |
| 25 | 54 | Natalie Decker # | Toyota | 87 | -47 |
| 26 | 02 | Tyler Dippel | Chevy | 80 | -54 |
| 27 | 19 | Derek Kraus | Toyota | 77 | -57 |
| 28 | 33 | Mason Massey IV | Chevy | 63 | -71 |
| 29 | 13 | Johnny Sauter (P) | Ford | 45 | -89 |
| 30 | 88 | Matt Crafton (P) | Ford | 39 | -95 |
| 31 | 98 | Grant Enfinger (P) | Ford | 6 | -128 |
| 32 | 8 | John Hunter Nemechek(i) | Chevy | 0 | -134 |
# DENOTES ROOKIE
(I) NOT ELIGIBLE FOR POINTS
(*) REQUIRED TO QUALIFY ON TIME