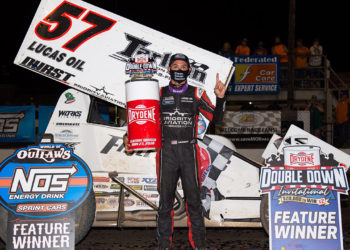 Kyle Larson
Trent Gower/World of Outlaws
On Saturday night Kyle Larson scored his fifth sprint car victory in seven days, sweeping the World of Outlaws weekend at Knoxville Raceway.
Larson passed Brian Brown for the lead with 17 laps remaining, and eased to his second straight NOS Energy Drink Sprint Car Series triumph on the half-mile dirt oval in Knoxville, Iowa. Defending series champion Brad Sweet, Larson's brother-in-law, finished second, and Logan Schuchart was third.
It was the third victory in seven Outlaws starts this year for Larson.
"Thanks to everyone on this car," said an elated Larson. "Everybody who has helped me out. It just means a lot to be out here having fun, challenging for wins every night."
"I took a glance at the board on the restart and saw that he (Brown) was right on me," Larson said. "I knew he was right on me. I knew he was going to run the top in (turns) three and four and thought if I could get a good three and four, he might not slide me the next end. But I didn't get through there like I needed to, and he got the run and got by me. I knew my car was really good, so I just stayed patient behind him. Then Brad, he got to my inside and I cleared him off of (turn) two, otherwise that could have been the deciding factor of the race."
He bested the past two Series champions to the sweep the Brownells Big Guns Bash weekend, beating 10-time Series champion Donny Schatz the first night and reigning champion Brad Sweet the next.
The win was not only the Elk Grove, CA native's third World of Outlaws win this season – the first time he's won more than two Series races in a year – but his fifth Sprint Car win in six days. No one and nothing have been able to get in the way of his trophy hunting path.
"He (Larson) did a really good job," Sweet, of Grass Valley, CA, said. "He was driving really hard. He's a great race car driver. He runs the car on the ragged edge and makes it work and gets by lap cars. We had a great race car tonight compared to last night. A lot of great notes moving forward here. Big gains."
.@dirtvision REPLAY: Kyle Larson drives away from @BradSweet49 to sweep the weekend at @knoxvilleraces! #LiveNOS pic.twitter.com/6CDZYPmDyO

— World of Outlaws (@WorldofOutlaws) June 14, 2020
NOS Energy Drink Feature (30 Laps)
1. 57-Kyle Larson [4][$10,000]
2. 49-Brad Sweet [2][$5,000]
3. 1S-Logan Schuchart [8][$3,000]
4. 2-Carson Macedo [13][$2,700]
5. 17-Sheldon Haudenschild [10][$2,500]
6. 21-Brian Brown [6][$2,200]
7. 2M-Kerry Madsen [12][$2,000]
8. 24-Rico Abreu [5][$1,800]
9. 18-Ian Madsen [11][$1,600]
10. 39-Sammy Swindell [20][$1,450]
11. 15-Donny Schatz [17][$1,300]
12. 7BC-Tyler Courtney [16][$1,200]
13. 17W-Shane Golobic [15][$1,100]
14. 7-Tim Kaeding [18][$1,000]
15. 39M-Anthony Macri [22][$950]
16. 17A-Austin McCarl [23][$900]
17. 7X-Justin Henderson [14][$850]
18. 83-Daryn Pittman [1][$750]
19. 41-David Gravel [21][$725]
20. 14-Parker Price-Miller [3][$700]
21. 1A-Jacob Allen [7][$700]
22. 56N-Davey Heskin [19][$700]
23. 55-Hunter Schuerenburg [24][$700]
24. 83R-Lynton Jeffrey [9][$700]
Lap Leaders: Daryn Pittman 1-9; Kyle Larson 10, 14-30; Brian Brown 11-13
KSE Hard Charger Award: 39-Sammy Swindell[+10]