4th win in 6 days – Kyle Larson wins Outlaws at Knoxville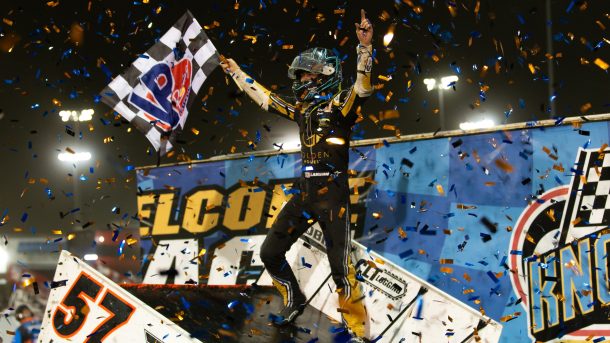 Kyle Larson
Trent Gower Photo
Kyle Larson's last attempt at taking on the Outlaws two weeks ago saw 10-time World of Outlaws NOS Energy Drink Sprint Car Series champion Donny Schatz steal the win from him on the final lap.
In his return Friday night at Knoxville Raceway, Larson, again, found Schatz was the driver Larson had to beat. This time, he gaped the Fargo, ND driver to prevent another late pass during the first night of the Brownells Big Guns Bash doubleheader.
"It's awesome," Larson said in Victory Lane. "It's a pleasure to drive for (car owner and crew chief) Paul Silva and everybody who helps out on this team."
Once he took the lead from Schatz with 15 laps to go, Larson ran to home base on a home run swing. Lap cars did little to slow him down. The only hindrance he faced was when his nose wing fell down on the final lap, giving him little downforce on the front of his car. It caused him to miss his marks, but they were tiny errors in the overall scope of the race. The Elk Grove, CA driver crossed the finish line 3.1 sec. ahead of Schatz, bringing the crowd of fans to their feet – Knoxville's first time with fans at a World of Outlaws race this year – and giving Johnny Gibson a special memory for his 2,000th consecutive race.
Larson had already accumulated three wins in four days before the night and this wins was his 4th in 6 days.