IndyCar to be sold (5th Update)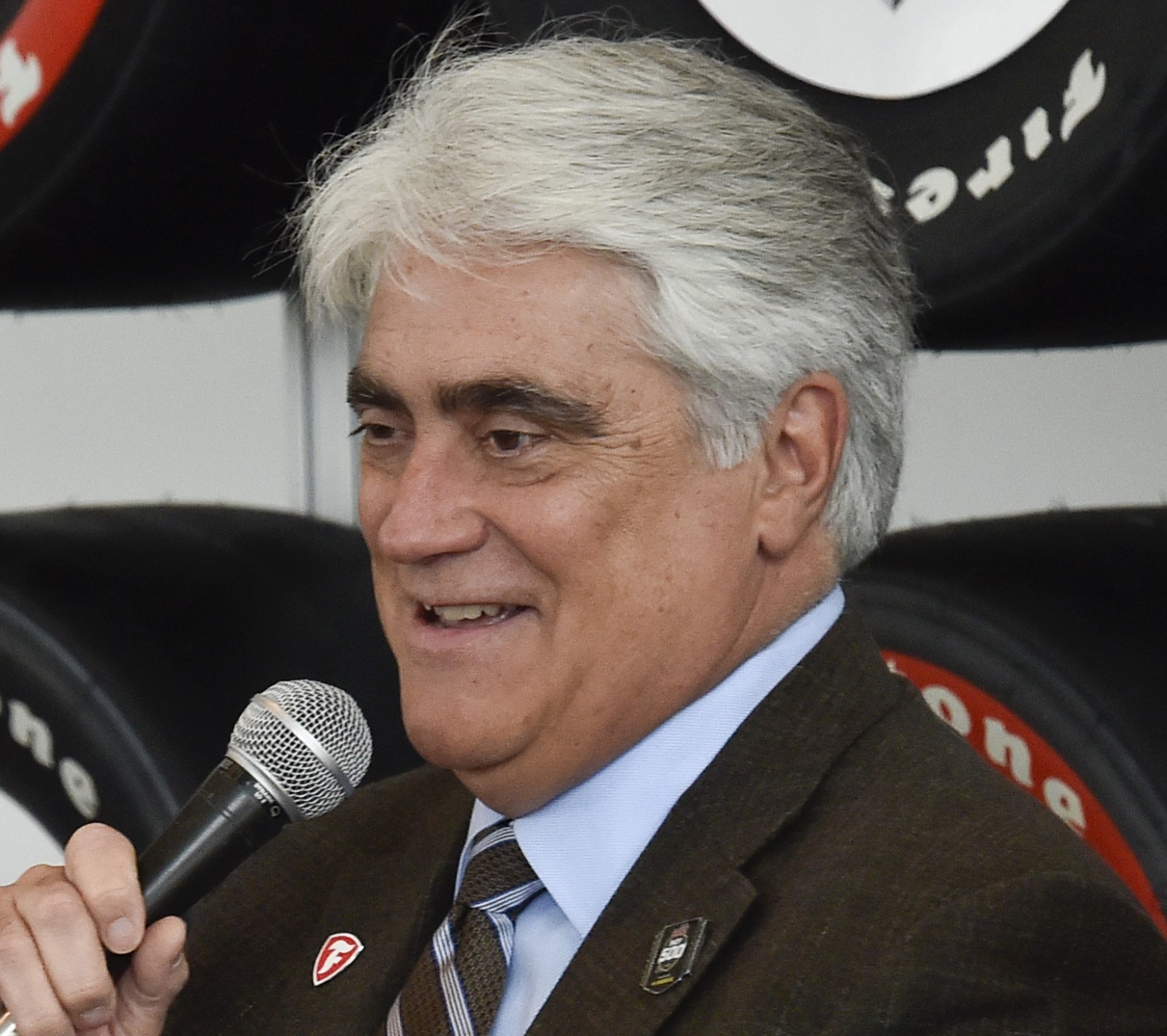 Mark Miles said IndyCar was not for sale, but AR1.com maintained it was.
UPDATE This rumor is upgraded to 'fact' today although IndyCar was not sold to Liberty, but to Roger Penske. See Hot News
11/10/18 The original rumor was that Liberty wanted to buy IndyCar and the Indianapolis Motor Speedway, but the powers to be keep saying it is not for sale.
That was the case before the Nov. 3 death of Mari Hulman George–the matriarch of IMS and IndyCar Series parent Hulman & Co. And it's still the case.
"As a practice, we don't discuss our corporate ownership structure. However, the passing of Mari Hulman George does not affect the operation of IMS and IMS is not for sale," Speedway President Doug Boles told Anthony Schoetle of IBJ.
Purdue University President Mitch Daniels is trustee of the Hulman family trust, to help manage its assets and the transition from one generation to the next.
John Malone was again looking to buy IndyCar and IMS, but was he turned away?
So even if he and any of Mari Hulman George's children wanted to sell the track or IndyCar Series, it might be difficult because it could undercut the "generation-skipping trust" Tony Hulman set up decades ago, sources told IBJ's Schoetle.
The tax treatment of generation-skipping trusts fundamentally changed with the Tax Reform Act of 1976, which added provisions ensuring that a transfer tax is imposed at least once every generation.
But the law grandfathered earlier trusts, which of course the IMS one falls under. Under those prior rules, "a transferor could establish a trust that would last for many years and benefit several generations of beneficiaries, without the imposition of any subsequent estate or gift taxes," according to a primer on the law by Baltimore attorneys A. MacDonough Plant and Lynn Wintriss.
Bottom line – if the family wants to sell to Liberty, Liberty is likely to have a large tax bill to assume as part of the purchase. We doubt Liberty would be interested in buying just the IndyCar series, and for right now the bosses say that is not for sale either. However, the source for this original rumor was from insiders, so the question remains, were the talks serious? Are they now terminated? Are they on hold, with an agreement that we'll talk more later?
Only time will tell.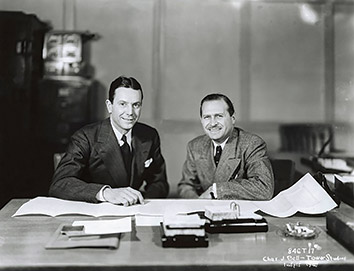 Anton Hulman Jr., left, bought the Indianapolis Motor Speedway in 1945 and named race car driver Wilbur Shaw, right, track president. (Photo courtesy of Indianapolis Motor Speedway)
11/03/18 With the unfortunate passing of Mari Hulman George the rumors immediately restarted that the family will now move to sell everything to Liberty or another buyer. Mari was the primary force behind keeping the Speedway and the IndyCar Series in the family.
"Tony Hulman was a savant," one person familiar with his business dealings told IBJ.com. "He was way ahead of his time in using generation-skipping strategies that were brilliant."
"Tony Hulman, a Yale graduate, was a really, really smart man, and he knew what the Speedway meant to the state and what it meant to his family," Speedway President Doug Boles told IBJ.com.
Boles added that Hulman secured the business for "generations of which he hadn't even met," but declined to elaborate on the structure of the family's succession plan.
Estate taxes on the entirety of Hulman & Co. would be staggering. Estate taxes on much smaller enterprises—notably the Miami Dolphins—have caused the controlling family to sell because family members couldn't cover the sizable bill.
So-called generation-skipping trusts are designed specifically to protect a family's assets from generation to generation as they appreciate in value, while heirs receive income generated by the assets in the form of dividends.
Without the trusts, people with great wealth had sought to pass assets straight to their grandchildren to avoid paying estate taxes twice—once when the assets passed to their children and again when they passed to their children's children. The estate planning strategy adopted by Hulman and Rockefeller in some cases can push estate taxes more than 100 years into the future……but eventually they come home to roost and one of the generations gets stuck with the bill.
It is rumored that much of the family does not even live in Indianapolis anymore, having moved to places like Florida we are told. So time will tell whether they keep it or sell out to an entity that can grow it.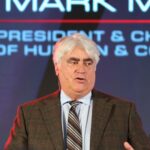 Mark Miles denies rumor, but its his job to.
09/10/18 Our sources tell us the buyout talks are still ongoing despite Mark Miles denial (of course he would deny it). We hear the talks now center around how many votes the Hulman-George family would have on the board after the buyout.
It's natural for them to want some say in what happens to the Speedway and to IndyCar as they want to see its history preserved. We hear Liberty has big plans for IndyCar if they end up buying it, one can only imagine how big the Indy 500 and IndyCar would be if Liberty brings its media savvy to bear.
07/29/18 This rumor is downgraded to 'speculation' today. AR1 bumped into Hulman & Co. CEO Mark Miles today at Mid-Ohio, and we asked Miles about the rumors of Liberty Media possibly buying the Verizon IndyCar Series and the Indianapolis Motor Speedway.
"B.S.," said Miles, rather succinctly. He went on to say that INDYCAR/IMS had a relationship with Liberty that included regular dialog. In particular, he noted that Liberty has inquired about some of the cost savings measures utilized by INDYCAR. But as for a Liberty buyout/takeover/whatever, Miles was emphatic in his denial.
But of course we would not expect him to admit it if they are in negotiations, so we will keep this rumor as 'speculation' for now and see what happens. Why would they be having regular dialog with Liberty?
07/05/18 If you recall AR1.com had exclusive reporting over two years ago that Liberty Media met with IndyCar, including Mark Miles, and made a play to buy the IndyCar Series but not the Indy Speedway. This is 'fact.'
Liberty was turned away so they went and bought F1 instead.
Now we hear they were back recently in Indianapolis and our sources (OversteerTV and others) tell us this time they want to buy both the IndyCar series and the Indy Speedway.
So why would Liberty Boss John Malone want to buy IndyCar when he has F1 – a far more valuable property?
The possibilities are endless (all speculation):
IndyCar would cost a drop in the bucket to buy compared to F1 and IndyCar needs a big stimulus
Liberty can deliver global TV for IndyCar, instantly quadrupling its value
Liberty wants a bigger footprint in the USA than F1 can deliver
Liberty thinks IndyCar is better racing and has a better formula and can deliver a good product to venues that cannot afford F1
Both run turbo V6 engines and the new 2021 F1 engine spec will only have KERS (MGU-K). The new 2021 IndyCar spec should have KERS too – so if both series run the same engine spec, the possibilities are endless.
F1 teams can buy the spec IndyCar chassis (Dallara builds the IndyCar chassis as well as the Haas F1 chassis) and that gives Ferrari, Mercedes and Renault an easy avenue into the Indy 500. Think instant sellout. Can you image Sebastian Vettel, Max Verstappen, Fernando Alonso, Lewis Hamilton, etc. running in the Indy 500 every year with Ferrari, Mercedes, Alfa Romeo, and Renault power against Chevy and Honda?
The Indy 500 becomes part of the F1 World Championship like it used to be
Can you imagine joint F1 and IndyCar race weekends – IndyCar on Saturday and F1 on Sunday – at places like Road America, Long Beach, Spa, Silverstone and Monza with some drivers from both series competing in the other? Think instant sellouts
Gives Ferrari big exposure in the USA market so they will never leave F1.
IndyCar knows that all its oval races have failed (except the Indy 500 and Gateway – which will fail eventually) so getting out of oval racing, except for the 500, is a prudent thing
The Hulman and George family saw the France family putting NASCAR up for sale, so why not do the same with IndyCar. Get out while the getting is good and let the mega players like Liberty grow the sport.
Or maybe they merge the two series together and have an East and a West Division complete with playoffs and an overall champion.
The speculation could be endless. Let's see where this all goes. Mark C. reporting for AR1.com