Will Typhoon force Japan GP reschedule? (4th Update)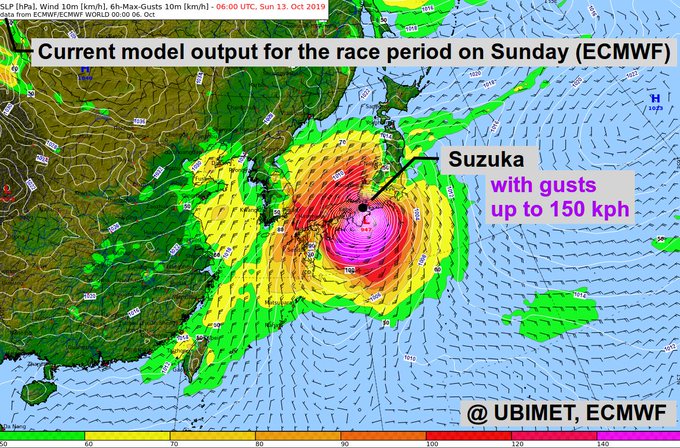 Typhoon will impact Suzuka
UPDATE This rumor is upgraded to 'fact' today. Saturday's Japanese GP sessions have been cancelled due to the Typhoon, with qualifying set to take place on Sunday at 10:00am local time.
10/10/19 This rumor is upgraded to 'strong' today. Formula 1 is considering calling off all activity at Suzuka on Saturday.
Saturday is when the local area is expected to bear the full brunt of a typhoon that has been categorized by the Japan Meteorological Agency as "violent".
Formula 4 support races have already been called off for Sunday morning to give the FIA flexibility to reschedule the F1 weekend.
The big rumor on Thursday is that all of Saturday's activities at Suzuka – including qualifying – will be completely cancelled.
"I heard that the organizers could completely cancel the entire program on Saturday," said Kimi Raikkonen.
"When I started my career, the cars could cope with much more rain than now, but the tires don't work so well today," the Alfa Romeo driver added.
If qualifying is cancelled, it is expected to instead take place on Sunday morning, in the hours before the race.
"Let's see how everything goes," Raikkonen added.
"I remember several times when they talked about rain but it didn't happen. I also remember having qualifying on Sunday morning somewhere.
"It's not the best situation for everyone but it's better than nothing. Yes it makes Sunday more hectic but it's the same for everyone." (GMM)
10/08/19 (GMM) F1's governing body is monitoring severe weather reports in the days before the Japanese grand prix.
Alarming forecasts by the Japanese meteorological agency (JMA) are predicting that Typhoon Hagibis will be categorized 'violent' when it hits landfall – the highest possible descriptor.
"It could be the strongest to hit Japan this year," JMA said.
The forecasts also say winds could reach a staggering 240kph, bringing torrential rain.
On Twitter, former F1 meteorologist Steffen Dietz published an alarming weather map that depicted Suzuka right at the center of the typhoon.
"Picture shows the worst case, currently predicted by one model," he said.
Not long after Anthoine Hubert's death, the FIA is likely to react to the situation with caution, also given that Jules Bianchi crashed at Suzuka in 2014 and later died just days after a similar typhoon.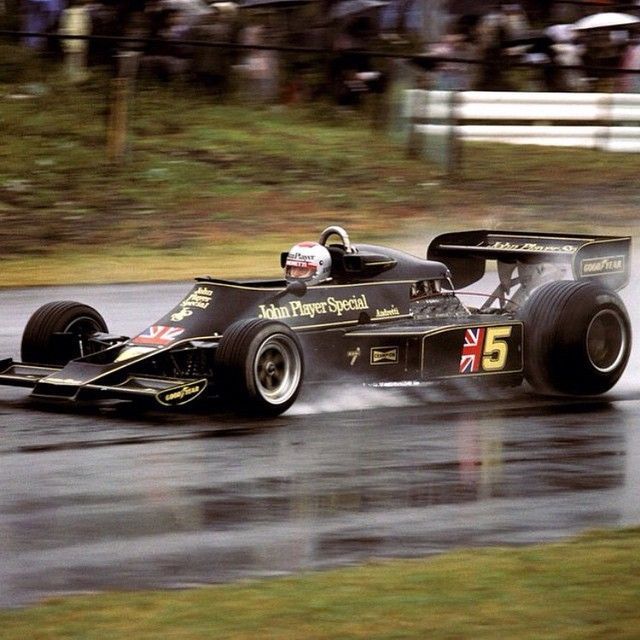 In 1976, Mario Andretti won the race held in torrential rain at Fuji
10/07/19 Organizers for this weekend's Formula 1 Japanese Grand Prix are on alert with news that Typhoon 'Hagibis' is set to make landfall on Saturday.
Hagibis began its life in the open waters of the Western Pacific Ocean and has swiftly developed into a Category 5 Super Typhoon with winds in excess of 170mph. Japan's Meteorological Agency (JMA) is currently predicting it will reach the highest level of "violent".
Its current trajectory means it will pass over the Mariana Island's of Saipan and Guam on Tuesday, before shifting direction, heading north towards Japan over the course of the coming week.
Hagibis is expected to weaken as it hits lands, but winds are still expected to be in excess of 100mph.
The Japanese Grand Prix is no stranger to storms, with numerous events being affected by the tropical weather.
In 1976, Mario Andretti won the race held in torrential rain at Fuji.
10/06/19 With typhoon #Hagibis a potentially threatening weather situation comes up for Suzuka.
Picture shows the worst case, currently predicted by one model.
It's just a hint + still a week to go, but model agreement and current formation are impressive! Stay tuned.