NASCAR discusses Bubba Wallace noose investigation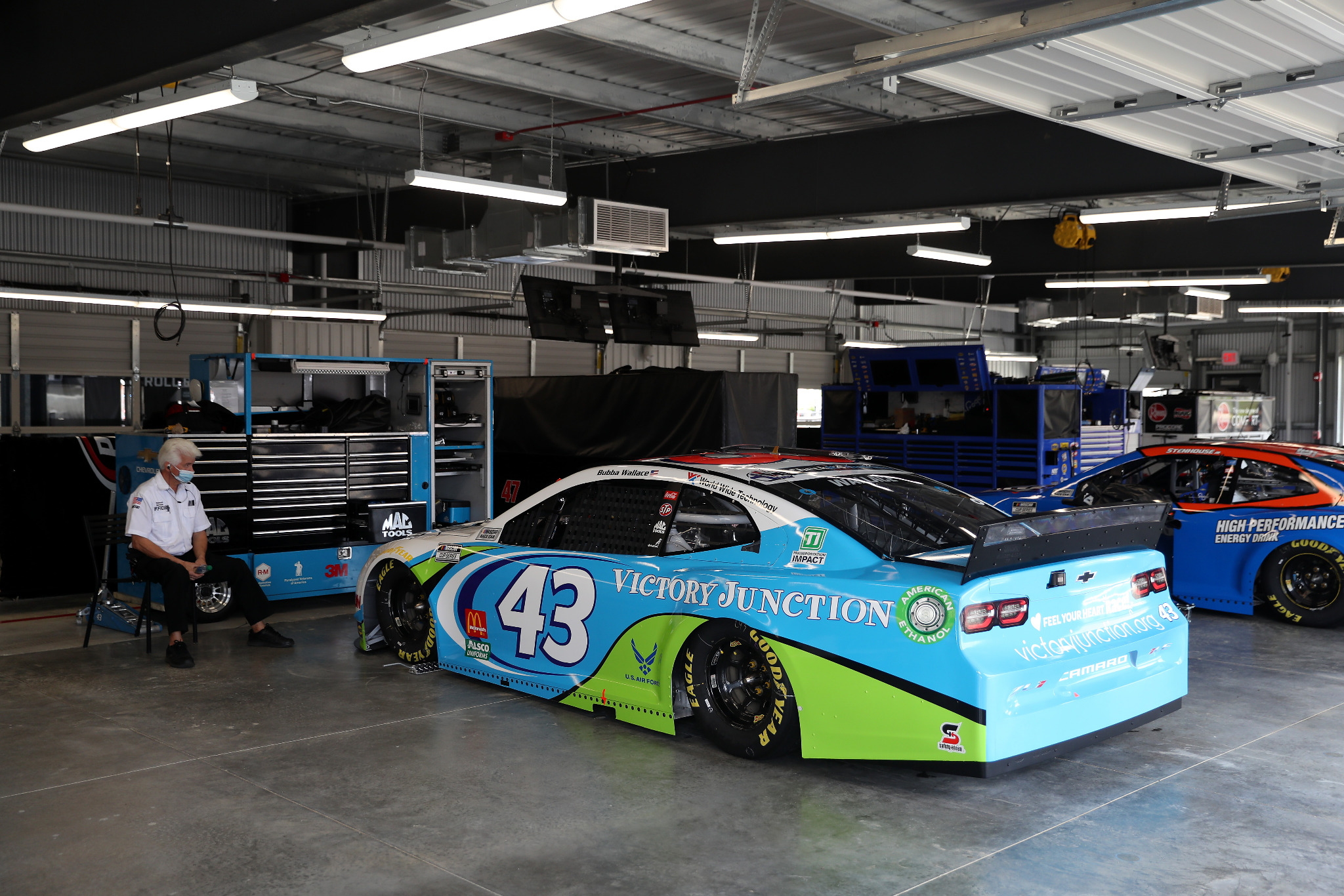 Bubba Wallace's car sits in the garage at Talladega
Chris Graythen | Getty Images
NASCAR announced on Thursday that the sanctioning body had completed its investigation in the alleged noose that was found in the garage stall of NASCAR Cup Series driver Bubba Wallace during the GEICO 500 at Talladega Superspeedway on Sunday.
In a teleconference with the media, NASCAR President Steve Phelps discussed the timeline of Sunday's incident, and said that NASCAR acted swiftly out of concern for the safety of Wallace – NASCAR's only African-American drive – who they believed might have been the target of a hate crime.
NASCAR also released a photo of the noose as it was found in the garage stall.
"As you can see from the photo, the noose was real, as was our concern for Bubba," said Phelps. "Given the facts presented to us, we would have pursued this with the same sense of urgency and purpose. Upon learning of and seeing the noose, our initial reaction was to protect our driver."
Phelps said the noose – which was at the end of a rope attached to the roll-down door of Wallace's garage stall – was found by a crew member from Wallace's Richard Petty Motorsports team who alerted NASCAR security around 4:30 Sunday afternoon. Around 6pm, senior NASCAR officials met and decided the incident merited further investigation, at which time the FBI was brought in.
Through their investigation, the FBI determined that the pull-down rope had been present prior to Sunday race, and in fact photo evidence had been discovered that showed the rope had been tied into a noose sometime during a NASCAR race held at the track the previous October.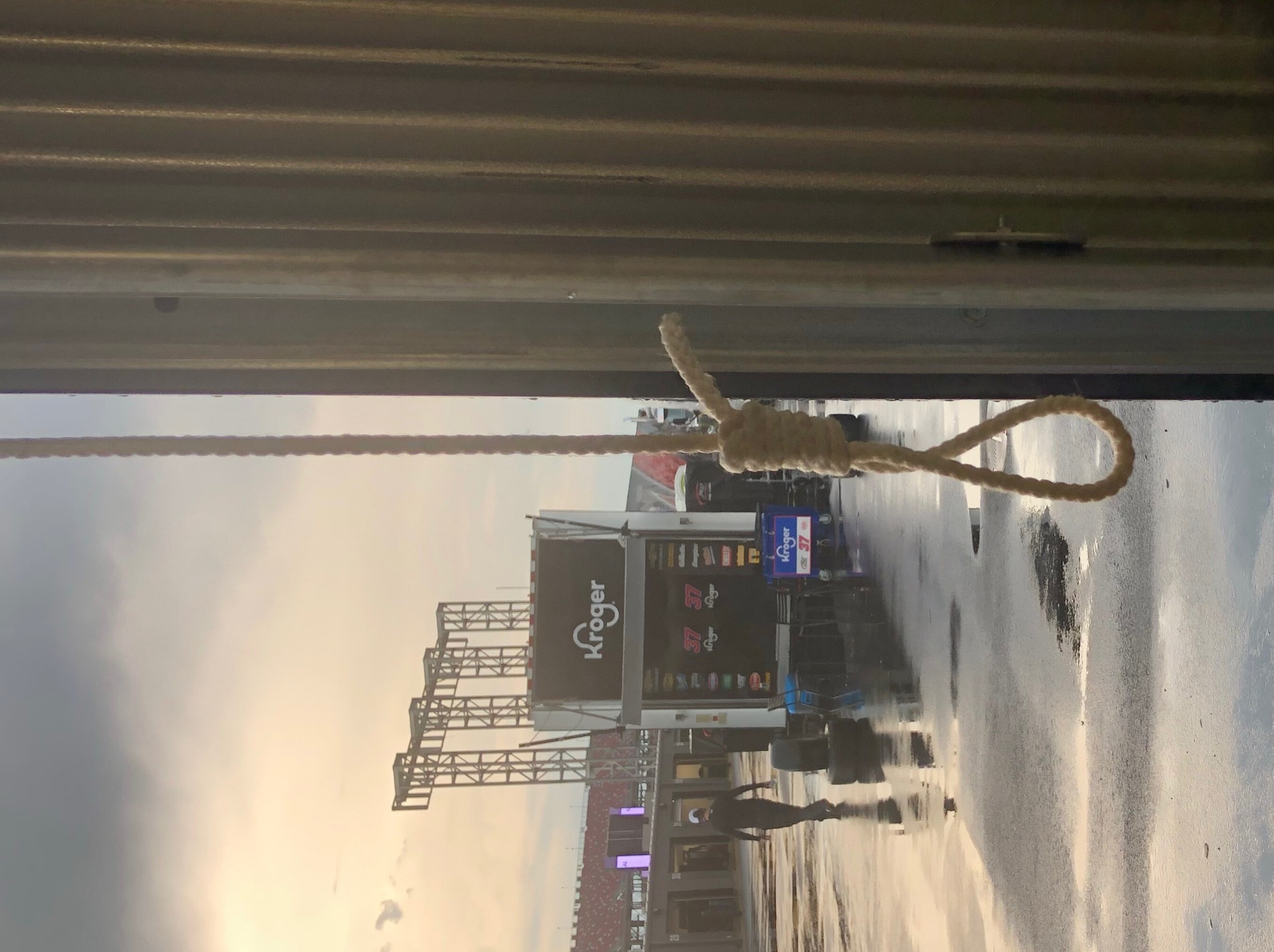 NASCAR released a photo of the piece of rope that had been tied into a noose that was found in Bubba Wallace's garage stall at Talladega
NASCAR
Based on the evidence, the FBI concluded Wallace had not been the victim of a hate crime, and that no charges would be filed.
Shortly after the FBI released its findings on Tuesday, the Wood Brothers Racing team, who had occupied the same garage stall during the October 2019 race weekend, released a statement saying one of their crew members had noticed the noose at the time, but had not brought it to anyone's attention.
Why the noose had not been noticed by NASCAR officials prior to last Sunday is something Phelps says still needs to be answered.
"We determined that the noose was not in place when the October 2019 race weekend began but was created at some point during that weekend. Given that timing and the garage access policies and procedures at the time, we were unfortunately unable to determine with any certainty who tied this rope in this manner or why it was done," said Phelps. "How could it have gone unnoticed by so many people in October 2019 and for the morning on June 21, 2020? Our ultimate conclusion for this investigation is to ensure that this never happens again, that no one walks by a noose without recognizing the potential damage it can do."
NASCAR had already been in a heighten sense of security during last weekend's events, with it being the first race weekend held since NASCAR instated a ban of Confederate flags at all of their sanctioned events.
The flag ban had been in response to calls from Wallace for racial reforms in the sport in the wake of the social unrest in the country following the death of George Floyd on May 25.
Wallace's statement had made himself a target of criticism and risk to his safety and to other drivers at the track precipitated NASCAR's decision to act.
"Bubba has put himself out there and I know there's been a lot of hate that has been spread his way, social media and other places, so it's important for us to increase his security and we have done that," sad Phelps. "We need to keep Bubba safe. We need to keep a member of our family safe."
As part of their investigation, Phelps said that NASCAR officials checked all 1,684 garage stalls at the 29 tracks NASCAR competes at, and found only 11 pull-down ropes had knots in them, and only one – Wallace's garage – was tied in a noose.
As for who tied the rope into a noose and why, Phelps said they have no way to determine that.
"We'd like to have complete resolution here and have all the answers," said Phelps. "Based on all the video and photographic evidence and all the interviews we have done we were not able to determine who crafted the noose. We have no idea what the intent was at all, whether there was any malice in it or whether it was just fashioned as a noose for a pulley. We don't know that."
"I know that's unfulfilling but there's nothing — I wish there was more we could do, but we can't and so we have drawn this matter to a close."