Portland GP post-race Press Conference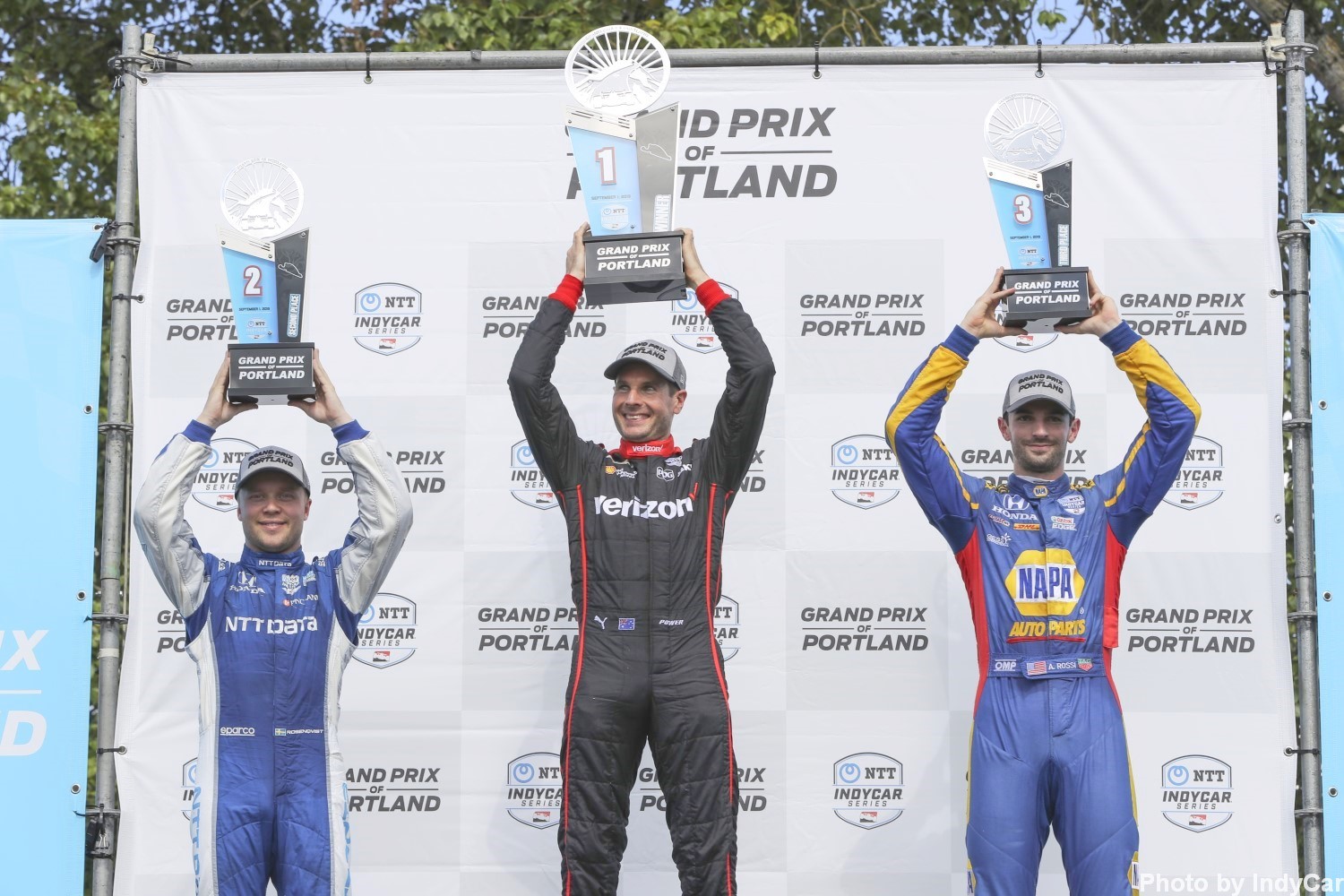 From left, Rosenqvist, Power and Rossi
Drivers:
1 – Will Power, Team Penske
2 – Felix Rosenqvist, Chip Ganassi Racing
3 – Alexander Rossi, Andretti Autosport
5 – Josef Newgarden, Team Penske
THE MODERATOR: We welcome Will Power to the media center. Today was a convincing win. How about this: Sixth all-time in IndyCar victories with 37, tied with Sebastien Bourdais.
WILL POWER: Yeah, no, it's definitely a great day. Was obviously disappointed not getting pole, making that mistake yesterday, but as you see, you never know how races can turn out, and it turned out great for us.
Q. You saw Scott Dixon pull off the racetrack. That changes the dynamic.
WILL POWER: Yes.
Q. What was your approach at that point?
WILL POWER: Well, yeah, it was just trying to pull as big a gap to Felix as possible. He was kind of frustrating me today. He went a lap longer, too, so I thought if he goes a lap longer he could jump us so I need to pull at least a three-second gap to cover the pit sequence.
Q. And all through the season as you were not winning races, you said, these things can turn like that. Now you've won two of the last three and have a lot of momentum to carry into Laguna.
WILL POWER: Yeah, no question. It's crazy how things don't fall your way and then they start falling your way. It just goes through cycles. Obviously, at the beginning of this year I was doing everything I could to win races, and it just wasn't happening. Now things start to fall your way, the hard work kind of pays off, and yeah, just drained and happy.
Q. You're one of a handful of drivers that used to race at PIR in the other series. How gratifying is it to not only set the pole last year but now be a victor here? Is there any sentimentality with winning in Portland because of your history here?
WILL POWER: Yeah, I would say, yeah. There's a lot of Indy car history here. There's been some great races and great drivers win at this track, so it has a history. Growing up as a kid, these are the tracks that you looked at. It's like Long Beach, Portland, Cleveland we don't go to anymore, but Road America. These tracks are the ones that you really want to win at just because of the history of the sport.
Yeah, very happy to have — I love winning at tracks I haven't won at, too, to add it to my list.
[adinserter name="GOOGLE AD"]Q. From lap 40 to I think 51 or 52 you were behind Dixon before he pulled in the pits with this battery problem. In those laps when you followed Dixon, was there a chance to attack him?
WILL POWER: No, we had to — like our car was really good the second half of a stint on blacks. You know, and I think you could see Felix really fell off the second half, and I'm guessing that Dixon's car would have been similar, so that was going to be our chance to get him, but obviously he fell out.
Q. And the second question, from qualifying to race day, did the team make any significant changes to the car?
WILL POWER: Yeah, I did. I did, based on my race last year. The car was different.
Q. If memory serves, you did your first Champ Car test here back in '05 —
WILL POWER: Actually that's true. This was my very first track I ever drove at in the U.S. That was my first test. I forgot that. It was the first place I came to, so it's awesome to win here. I remember that going down the back straight thinking to myself, I could get paid to do this. It was a great feeling because the car had so much power. I was just like, man, getting paid to do this, this would be awesome, and it actually happened. It's great.
Q. A couple of weeks ago over at your shop when you had talked about you had a year in 2013 like this where you just couldn't win and then all of a sudden you finished with win, win, win, is this starting to look a lot like 2013?
WILL POWER: Yeah, it is, actually. You know, yeah, strong results. Mid-Ohio was strong, finished fourth there, and I obviously won at Pocono and crashed out last week, but won here. So yeah, definitely looking that way. It would be really nice to win at Laguna, and yeah, so we'll see.
Q. Would it have been easy to switch to a three-stop strategy if that's the way things had gone because you looked really aggressive on the first restart getting past Jack, re-passing Jack. Were you ready to go flat out if that's what Herta and Dixon had done?
WILL POWER: Yeah, it was an obvious two-stop at that point. Once we had all the yellows at the beginning, it was like, this is a two-stop. As soon as I saw 10 laps of yellow, I'm like, yeah, everyone is doing — can almost run hard on a two-stop, you didn't have to save much at all. You can almost bank on every year someone braking too late in that first chicane. Every year. I don't know what it is, it's deceiving or something as you're coming to the braking mode, there's always somebody — I don't know what happened, but I'm guessing someone hit the back of someone and hit the back of someone. It's just, yeah, standard Portland first turn, people can't help themselves. It just happens here year after year.
Q. How much concern did you have going to the last restart with just a few laps to go?
WILL POWER: Yeah, I was — I couldn't believe it. I was like, you've got to be kidding me. It's never easy. I was very determined to get a good restart. I'm thinking, I'm not making this easy for anyone, so I made sure I went well. I think Felix's tires had dropped quite a bit anyway, so there wasn't much he could do. My car still felt really good.
Q. Of all of your victories in your great career, do you ever take a moment to step back and kind of reflect on what you've been able to accomplish in your driving career here with IndyCar?
WILL POWER: Yeah, I do, actually. You know what, I get very disappointed in my career because of some of the things I've let go. I feel like I should have been champion more times. But yeah, it's something that you — look, after you win the 500 you're very satisfied with your career and that paves the way, and then the next year you're like, man, I need to start winning races, and you get just — it's disappointing. Sometimes you can forget that you've had a great career.
But it's a tough series. It's tough to win races, so any win you get, you're just over the moon. But any win I get at the moment and any pole I get, the pole is getting me closer to Mario's all-time record, and any win I get moves me up the all-time list, and I think you'd be lying if you don't look at that stuff at times. You don't think about it when you're driving, but I know Dixon would most definitely look at that stuff, too. He might say he doesn't. Because you're up amongst drivers that you idolized as a child, as a kid, so it's just kind of surreal that you can put yourself up amongst names like Mario Andretti, AJ Foyt, Michael Andretti, the Unsers, these names that for me, people that always seemed above me because it's somebody you idolized as a kid. It doesn't seem right to have your name amongst them, know what I mean, when you really idolized someone, even if you've reached the same level as them in your career, but it just doesn't feel like — still feels like they're above you, untouchable.
Q. Does that push you more?
WILL POWER: No, I just think you — I just think competition and winning is what drives me. I love to win, and the stats are just a bonus. You can look at later in life and go, wow, that was a good career, yeah.
Q. As far as driver all-time victories, the names were always AJ and Mario. Conceivably when you get into the top 5 it'll be you and Scott Dixon, so what does that say about this generation of drivers when you look at the whole history of the sport?
WILL POWER: Yeah, when you look at — that's what I've been thinking lately. You've got to look at this generation as one of those generations when you had AJ, Mario, the Unsers as — with Dixon and I'm sure Rossi and Newgarden, these guys are going to be around for a long time. That's going to be an era that kids look up to, like wow, that was a great era of competitive IndyCar racing, probably the most competitive era ever. Yeah, I've kind of been thinking that. You look at the field, the series, the teams now, it's just so cool to be a part of it right now, and it's growing, and the continuity of drivers, new teams coming in, it's fantastic.
THE MODERATOR: We'll bring in second-place finisher Felix Rosenqvist of Chip Ganassi Racing and Alex Rossi of Andretti Autosport. Felix, strong finish, tied your best finish in INDYCAR. What were your thoughts on this one, and did you feel like you had a chance on Will (Power) at the last restart?
FELIX ROSENQVIST: Yeah, I thought it was a pretty good race. We had good fuel mileage, kind of hoped for a little bit less safety car because Honda, in general, has been stronger than Chevy on fuel mileage. But it was a flat-out race from quite many laps in the end. I was really strong on the reds. I thought that's where we made our race, really good, almost no degradation, could just keep doing really good laps, good fuel mileage. So I definitely felt like we had a chance when we put on the blacks today. But I thought Will and Penske were a bit better on the blacks, and we couldn't really do much there. I sort of closed the gap and then I thought I used my tires a bit too much and then I kind of struggled in the end with a loose car.
So yeah, it was good starting P5, finishing second, I'll definitely take it. Good to show the NTT DATA car up there two times at the end of the year, so try to go for the win in Laguna.
THE MODERATOR: Alex, it probably feels like it is what it is today, a podium finish. It normally is a pretty good finish, but Josef comes home fifth; you're 41 back going into the last race of the season. Sum up today, look forward to tomorrow?
ALEXANDER ROSSI: Yeah, I think it was kind of the best we could do today. I think that we didn't have the pace of the two leaders, which is the most disappointing part. We were kind of just stuck in third, and I felt like we had Colton covered, but couldn't really challenge Will and Felix. So good job to them. But yeah, as you said, Josef came from a pretty disappointing — or bad first lap for him and still finished fifth.
It's going to be interesting at Laguna. Obviously double points creates a lot of opportunity. We saw what happened in 2015 with (Juan Pablo Montoya) and Scott (Dixon), so we'll just go try and win, and hopefully the rest takes care of itself.
Q. Did you anticipate your teammate Ryan Hunter-Reay with his move on Jack Harvey? It looks like you probably recognized the situation pretty early and backed out approaching Turn 1 and were able to avoid contact.
ALEXANDER ROSSI: Yeah, yeah, I think Ryan just missed it for whatever reason. I think he was defending against me and maybe got caught up in that, but it's unfortunate because I think he was a strong car and that would have ultimately taken points away from Josef. But neither here nor there, it was a spot for us at the time, so yeah.
Q. Did testing here earlier help you out any?
ALEXANDER ROSSI: Yes and no. I think we rolled off okay, and there's so many good teams and drivers here that most everyone figures it out by Friday evening and going into practice three on Saturday morning. When we tested here, it was like 55 degrees, and these Firestone tires are very sensitive to ambient and track conditions, so it was unfortunate because we came in a hot part of the year, it was just a really cold day. I don't think that what we had was super relevant. It wasn't bad, it's just not like we had an advantage on other teams.
Q. Felix, you had a good run here. Where did you stand with the circuit before you came here and where are you at now after finishing second? And have you felt anything similar from Mid-Ohio? Of course the tires had some similarities.
FELIX ROSENQVIST: You said how I feel about the track?
Q. Yeah, compared to Friday when you came here the first time?
FELIX ROSENQVIST: I mean, I felt we started off really well. Our car felt spot on first practice, and then it kind of went away from us towards qualifying. As Alex said, the track is really sensitive to temperature and the balance of the car changes, not even between sessions but also during a run, it changes massively. That's why at the end of the race we had massive oversteer and it kind of came out of nowhere. It's a tricky place for sure, it's a tricky surface to try to figure it out. But yeah, I thought it was good fun, this track. Definitely a good race.
Q. Alex, I doubt that you are any of the type of guy that's going to get nervous or stressed about the championship situation, but what do you do for the next few weeks here waiting for this? You guys haven't been there yet, so you've got to wait for the test day. Is it just a waiting game for you? How do you handle it mentally?
ALEXANDER ROSSI: Yeah, I mean, you just go through it as usual. It's nice to get a break for the guys. These three in a row stretches are tough for everyone, so everyone will get a break, go home, reset. It's my girlfriend's birthday next weekend, so we're going to go to Maine, so I'm just chilling and having a good time. We'll show up at Laguna ready and do everything we can to win. There's no point getting nervous. You have to go into it trying to win a race like you would every other weekend, and if we can do that, then the rest is out of our control.
Q. Felix, I think you're ahead in the Rookie of the Year ahead. I'm wondering how much if at all that matters to you, or are you just thinking about wanting to get the best result in the last race?
FELIX ROSENQVIST: I mean, I'm pretty hungry for a win. You know, we've been kind of close two times. I thought Mid-Ohio was definitely closer, but we've definitely been there, and we've been there on merit, as well. It hasn't been like a fluke result.
I'm definitely aiming for a win in Laguna, and when we tested there in January, I thought our car felt good. Obviously, it was really cold, so probably not much to read into it, but it's an awesome track, and I think it suits my style, and also it's new for everyone, which probably benefits me because many drivers here have done a bunch of most tracks. So yeah, all in for Laguna.
And Rookie of the Year? Yeah, I mean, normally we would care more about the real championship, but we're not fighting for it, so the Rookie of the Year is definitely a fun bonus championship, and it's been pretty good. There have been a lot of good drivers, Santino (Ferrucci) and Marcus (Ericsson) and Colton (Herta), and every one of them have been very quick, so it's going to be hard, but I think we took a good leap today, so I'm not sure how the points are looking, but yeah.
Q. Many years ago your countryman Stefan Johansson, now living here in America, raced in Champ Car. Is he giving you some advice when you go into circuits which are unknown for you, never raced before?
FELIX ROSENQVIST: Well, I think Stefan and I are probably working more outside of technical stuff. I mean, Stefan is definitely an awesome driver. He's done really good things. But yeah, he's not really giving me any advice on track anymore. I think we're past that point. It's more Dario (Franchitti) looking after that bit.
THE MODERATOR: We're in the media center with fifth-place finisher Josef Newgarden of Team Penske. Josef, fifth place, not on the podium, not a victory, but my sense is since you gained points on the rest of your championship contenders, this might feel like a victory.
JOSEF NEWGARDEN: Yeah, I mean, I would have liked more points, but at the end of the day, it's not a bad result for us. You know, we kind of — I made our bed for us yesterday in qualifying. You start 13th you kind of put yourself in a hole already, and we just tried to climb out of it today as best as possible, and I don't think we can be mad about where we climbed to. It was pretty decent.
You know, what could have happened if we started up front more? Maybe we could have done more damage and won the race or finished second or third and would have been a little better off. But I think, for the most part, fifth is pretty pleasing on the day. We just missed all that chaos. It happened right in front of me in Turn 1, so I was in the mess. But fortunately we didn't touch anything, it was just right in front of us. I stopped and then went around it, and we got going again.
But yeah, a relatively good day, I guess, for the most part. We just need to have a better weekend in Laguna. Obviously, it's still going to be quite tough with the double points. If it wasn't double points I think it would be a lot easier, but double points is going to make it difficult.
THE MODERATOR: Given how close you were to the two cars that made contact, was it a real challenge to get stopped there?
JOSEF NEWGARDEN: Yeah, I flat-spotted my right front just a little bit. It was a really low speed so it wasn't terrible, but I was just trying to stop. I had nowhere to go because it was right in front of me. And the decision-making process, I couldn't really go right because Rahal was coming right at that moment, and then once they hit, they were kind of flowing to the left, and then I was just kind of stuck right in the middle. So I just waited for it all to stop and then went around it. I was kind of lucky in a way.
THE MODERATOR: Did you say anything to yourself because the first thing I thought of was Scott Dixon last year. He basically didn't hit anything, either.
JOSEF NEWGARDEN: Well, his (first lap) was even worse. That was bad. No, I was just trying to stop, stay out of the way. I was like, man, it's lap 1, last thing you want is to get into a wreck, so I just tried to stop and went around, and it was all good after that.
Q. Did the contact on lap 1 change the strategy for the rest of the day?
JOSEF NEWGARDEN: Yeah, I think it just took so long for that yellow. I mean, it was really perplexing actually why it took so long, and the more the laps ticked off, the more you go, well, this is a no-brainer two-stop, like you said. Why would you do a three-stop? A three-stop is going to be more of a gamble at that point than a two-stop. The guys who didn't want to gamble, it was a pretty easy decision to go to two.
Q. You talked about this track a little bit, how much you enjoy this track, and then Hinchcliffe sort of made a comment about it, he's been out on the first lap in the first two, and he said that corner is just so difficult for people. Of course, he's probably a little frustrated. But what do you think of that corner?
JOSEF NEWGARDEN: Well, I mean, I was all right with it. It is a tough corner. It can sneak up on you. But it looked to me like just one person. I don't know. I shouldn't comment because I have not seen the replays. But it sounds like one person caused the whole issue there. Maybe I'm wrong. It was just Rahal, right? Rahal missed the braking point. That's all it takes. It takes just one person.
But you know, you can get that anywhere. I don't know if that's a Portland thing necessarily. For sure there's more history here of Turn 1 incidents, maybe more so than other places, but I like it here. I think it's a great track. We've got a great fan base up here, which is really important for us. It's a track where you can't have — there's not much margin. You can't make a lot of mistakes here. Same thing in qualifying. That's what happened to us. I just made a small mistake, and it's just so tight that it shoves me just out of transferring, and that's just the nature of this place. If you make a small mistake, it really penalizes you, so I think from a driver's standpoint it's a lot of fun. It's very fun to drive, great atmosphere like I said, so I'm a big fan of it.
Q. As you alluded to, Dixon avoided serious trouble last year, finished fifth, and went on to win the championship. You avoided trouble here, you finished fifth, I thought you'd be more comfortable with the larger points lead, but your buddy Mr. Cindric says, well, we were kinda hoping to be 50 or more?
JOSEF NEWGARDEN: Yeah, 60 would have been better. Well, really 70. 70 would have been nice. Heck, 90. 90 would have been lovely. No, it's honestly not enough with double points. It's just not. I don't think we're very comfortable. Yeah, maybe we've got Scott's mojo from last — it was like Scott could do no wrong last year. Nothing ever bad happened to him, and this year he's had a couple of small things hit him here right at the end, the radiator and now the battery deal. I don't know what it was, but it sounded like that's what it was. It's like he's got the complete opposite of what he had last year.
That's IndyCar. Sometimes this cycles around. You'll get the good years, you'll get the bad. Hopefully, we continue to have a good year in Laguna and then kind of finish it off because you never know when you're going to have a bad year again. It's far from over, but I for sure would rather be in the position we are in instead of second or third.
Q. You just said earlier with the double points situation, it makes the final round at Laguna a little bit more difficult. Is it maybe not an advantage for you or can it not be an advantage for you, that number one, IndyCar never has driven for such a long time in Laguna, and second, that Penske has driven so many races in Laguna, okay, with different cars, but has collected a lot of data about what to do and what not to do?
JOSEF NEWGARDEN: Well, I think because we have test days there coming up before the race weekend, it kind of equals out for everybody. I don't think anyone has an advantage. With it being new, I don't know that that helps us. It brings more unknown. I think it's more of a variable that it's a brand new circuit essentially because it's been so long since we've been there. New car, new tires, it's all different from last time.
It's essentially a new circuit. We don't really know what it's going to bring, and that's just more of a variable. I don't think that helps us; I think it's a wild card if anything.
Q. By the time you navigated Turn 1 and Turn 2 and you went through the little chicane, was that relief or was that frustration that you're 18th? At least that's how you exited.
JOSEF NEWGARDEN: More relief. I was just thankful that no one plowed into me. That's what you're waiting for is someone to hit you or just something bad to happen, and it almost did, but we just, fortunately, avoided it. I really wasn't worried about where we came out just because it was lap 1, and it was like, that doesn't matter. As long as we can get through the start, then we can get going. So I was more happy about that, that we got through it with a car that was still in one piece.
Q. Did you know Pagenaud got hit behind you?
JOSEF NEWGARDEN: I had heard he may have had a suspension issue.
Q. Chilton ran into the back of him.
JOSEF NEWGARDEN: Wow. See, he wasn't so lucky. He wasn't as lucky as me with that.
Q. So the next two weeks, no race. Is this can't wait to get started and run the race, or are you happy to have a break?
JOSEF NEWGARDEN: Yeah, it would be nice to just go do it next weekend, but we'll take the time. Take the time and try as be as ready as we can be.
Q. Following up on what he was just asking, I mean, it's not like you're just jumping right into another race. It's a long layoff for such a big race coming up. How do you deal with that mentally? How do you process that? Do you try to push the pressure part of it aside? Do you just focus on it more? How do you deal with that?
JOSEF NEWGARDEN: I think you just treat it like any other race, and we have breaks in the schedule that are a couple weeks in between, so it's not abnormal for us. We've done it before, so it's not abnormal. Yeah, so we'll just take all the time we can to get better and talk about it and research it and just try and be prepared for when we show up.
The Thursday helps a lot. We've got a full test day there before the weekend. That kind of gives you a lot of time to get in the mode that you need to be for the finale.
Q. You had a lot of Push-to-Pass left after the restart. You had about a minute and a half. Was there ever a thought to really go all out to try to get up to third or second after the restart?
JOSEF NEWGARDEN: I mean, I saw Colton struggling a bit. I think maybe we could have forced the issue if we needed to, but it just wasn't a need. We avoided a big mess at this beginning. We climbed as much as we could, and once we got to that fourth or fifth place, that's just where we were. It was going to be forcing the issue to do anything else. You know, we just had that to really protect, and that's all we were planning to do with it. Just weren't able to make much more happen. I think our kind of destiny was set at that point. We were just trying to bring it home.