Toyota dominates Silverstone with 1-2 finish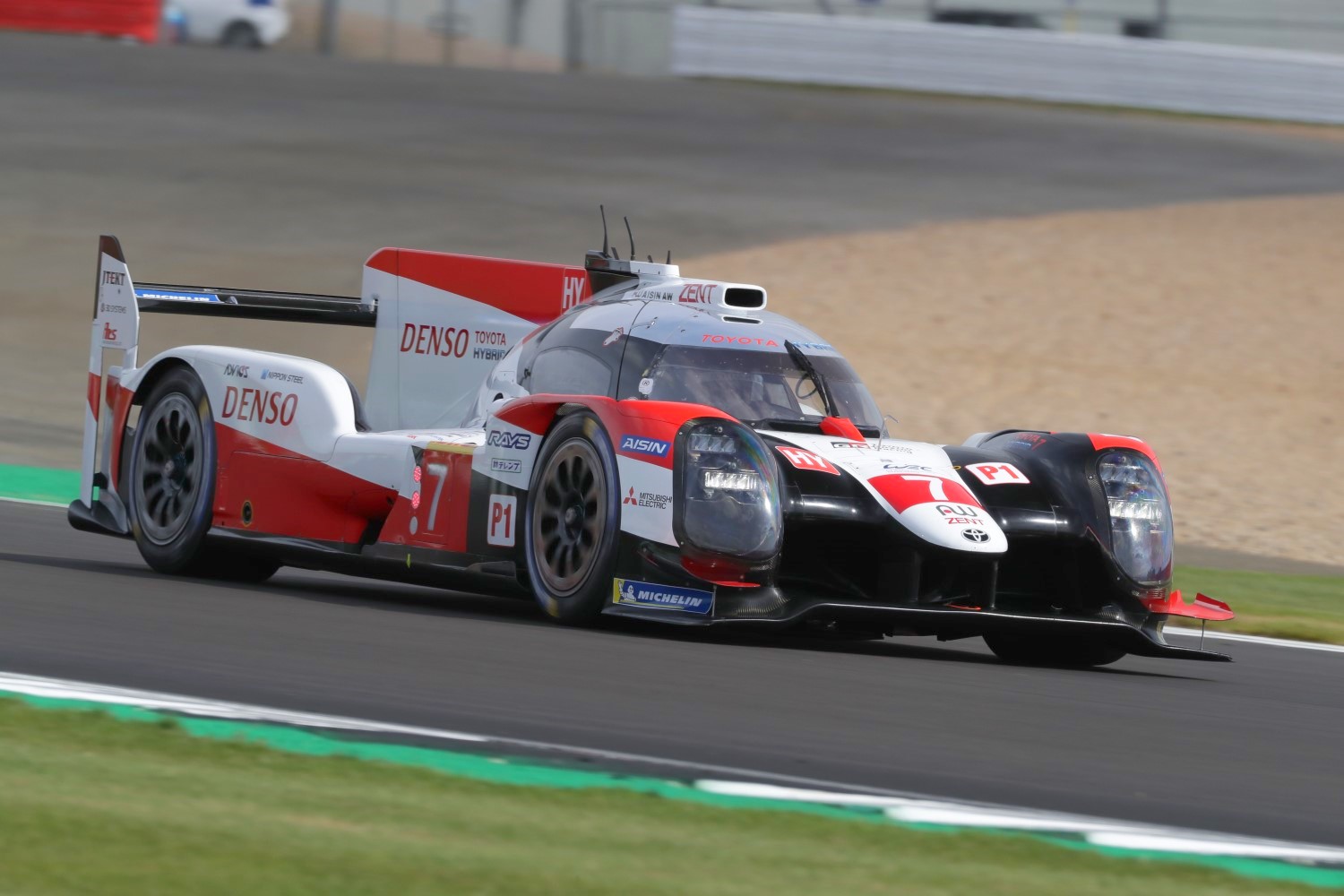 Winning #7 Toyota
Mike Conway, Kamui Kobayashi and Jose Maria Lopez took the first win of WEC's Season 8 after a thrilling 4 Hours of Silverstone today.
It is the third win for the Japanese squad at Silverstone and despite Mike Conway having won nine WEC races, it marks the first victory for the British driver at his home event. A total of 49,600 enjoyed Silverstone for the WEC season-opener where 20 British drivers represented their home country.
Toyota claimed the LMP1 runners-up spot with the two TS050 Hybrid LMP1 No. 7 and No. 8 crews separated by just under 2 seconds as they crossed the finish line. The two Toyotas swapped positions on several occasions, with Kobayashi passing Brendon Hartley at the race's half-way point following a brief spell of rain.
The third podium spot was taken by the No. 3 Rebellion Racing R13 – Gibson car with Nathanael Berthon, Pipo Derani and Loic Duval at the wheel. Rebellion's sister No. 1 car finished fifth after losing time due to a puncture.
Team LNT's No. 5 and No 6. Ginetta G60-LT-P1 AER cars were fourth and sixth respectively. The opening hour saw plenty of drama for the British squad as the No. 6 car lost its right-rear wheel before returning to the pits again shortly after.
Cool Racing takes stunning LMP2 victory on WEC debut
[adinserter name="GOOGLE AD"]The highly-competitive LMP2 category which has a total of eight teams for Season 8 – including four brand new squads – saw newcomers Cool Racing take a win on their WEC debut.
The victory was made even more impressive considering the Oreca 07 Gibson car lost one of its crew after team-mate Alexandre Coigny was forced to sit out due to an injury he sustained during yesterday's ELMS race.
his left Nicolas Lapierre and Antonin Borga to bring the No. 42 car home 49.311s clear of runners-up Signatech Alpine Elf in the No. 36 Alpine A470 – Gibson car driven by Thomas Laurent, André Negrao and Pierre Ragues.
Third place finishers Racing Team Nederland made up of Frits Van Eerd, Giedo Van Der Garde and Job Van Uitert had a strong advantage at the race's half-way point in the No. 29 Oreca but the race's second safety car allowed Cool Racing to take the lead where they remained for the rest of the race.
The No. 37 Jackie Chan DC Racing entry was fourth overall, the team using Goodyear's tyres with the American tyre manufacturer also supplying JOTA and High Class Racing who finished 5th and 7th respectively.
United Autosports' WEC debut got off to an unfortunate start after the British team were forced to retire early in the race due to a mechanical issue with Paul di Resta at the wheel. Elsewhere WEC debutants Cetilar Racing finished sixth in a Dallara P217 – Gibson.
Porsche Sweep to 1-2 in LMGTE Pro
The Porsche GT Team triumphed in the LMGTE Pro class at Silverstone today as the No.91 car of Gianmaria Bruni and Richard Lietz led home stablemates Michael Christensen and Kevin Estre in the No.92 911 RSR.
It was a well-judged debut victory for the new-look Porsche 911 RSR-19 and ensured that Porsche took its first victory at Silverstone since 2014.
Bruni and Lietz gained the upper hand in the wet second hour but that was clawed back by their opposition once dry running and the second Safety Car period closed the field up once again.
Aston Martin claimed third position at their home event with the No.97 car of Alex Lynn and Maxime Martin capitalising on a late-race penalty for No.51 AF Corse Ferrari which finished fourth.
The No.51 AF Corse Ferrari 488 GTE Evo led the race from pole position but was forced to make an unscheduled pit stop due to a puncture. James Calado and Alessandro Pier Guidi fought back valiantly but were also hit with a further penalty.
The sister Prancing Horse entry of Davide Rigon and Miguel Molina was in contention until the third hour when an on-track altercation with the No.6 Team LNT Ginetta at the ultra-quick Becketts corner ended its race.
The second of the Aston Martin Racing Vantage AMR entries driven by Nicki Thiim and Marco Sørensen took fifth position in the final classification.
AF Corse take LMGTE Am victory for Ferrari
In LMGTE Am AF Corse made up for some of its LMGTE Pro class disappointment as the No.83 AF Corse entered Ferrari 488 GTE Evo took a well-judged victory.
Francois Perrodo, Emmanuel Collard and Nicklas Nielsen claimed the win after taking the lead of the ultra-competitive class in the final hour.
For Perrodo and Collard it was a repeat of their 2016 win at Silverstone, while Nielsen took a debut victory after making the move of the race with a courageous move around the outside of Ben Barker's Gulf Racing Porsche at Stowe Corner.
Their victory was largely thanks not only to Nielsen's skill but also the wet weather experience of Collard who ensured that the team took a comfortable win despite having to complete a Drive Through Penalty after being judged not to have slowed sufficiently when a Full Course Yellow period was announced.
The No.98 Aston Martin Racing entry of Paul Dalla Lana, Darren Turner and Ross Gunn claimed second position ahead of the MR Racing Ferrari of Olivier Beretta, Motoaki Ishikawa and Kei Cozzolino.
Home heroes Gulf Racing looked set for a runners-up position until the final minutes of the race but were forced to pit ensuring they slipped down to fourth place.
Race Results 4 Hours
| | | | | | |
| --- | --- | --- | --- | --- | --- |
| POS | CLASS | DRIVER | CAR | LAPS | Behind |
| 1 | LMP1 | M.Conway, K.Kobayashi, J.M.Lopez | Toyota | 129 | 0.000s |
| 2 | LMP1 | S.Buemi, K.Nakajima, B.Hartley | Toyota | 129 | 1.901s |
| 3 | LMP1 | N.Berthon, P.Derani, L.Duval | Rebellion/Gibson | 128 | 1 Lap |
| 4 | LMP1 | C.Robertson, B.Hanley, E.Orudzhev | Ginetta/AER | 124 | 5 Laps |
| 5 | LMP2 | N.Lapierre, A.Borga, A.Coigny | ORECA/Gibson | 124 | 5 Laps |
| 6 | LMP2 | T.Laurent, A.Negrao, P.Ragues | Alpine/Gibson | 124 | 5 Laps |
| 7 | LMP2 | F.van Eerd, G.van der Garde, J.van Uitert | ORECA/Gibson | 124 | 5 Laps |
| 8 | LMP2 | H-Pin Tung, G.Aubry, W.Stevens | ORECA/Gibson | 124 | 5 Laps |
| 9 | LMP2 | R.Gonzalez, A.Davidson, A.F.da Costa | ORECA/Gibson | 124 | 5 Laps |
| 10 | LMP1 | B.Senna, G.Menezes, N.Nato | Rebellion/Gibson | 123 | 6 Laps |
| 11 | LMP2 | R.Lacorte, A.Belicchi, G.Sernagiotto | Dallara/Gibson | 122 | 7 Laps |
| 12 | LMP2 | M.Patterson, K.Yamashita, A.Fjordbach | ORECA/Gibson | 122 | 7 Laps |
| 13 | GTE Pro | G.Bruni, R.Lietz | Porsche | 115 | 14 Laps |
| 14 | GTE Pro | M.Christensen, K.Estre | Porsche | 115 | 14 Laps |
| 15 | GTE Pro | A.Lynn, M.Martin | Aston Martin | 115 | 14 Laps |
| 16 | GTE Pro | J.Calado, A.P.Guidi | Ferrari | 115 | 14 Laps |
| 17 | GTE Pro | M.Sorensen, N.Thiim | Aston Martin | 114 | 15 Laps |
| 18 | GTE Am | F.Perrodo, E.Collard, N.Nielsen | Ferrari | 114 | 15 Laps |
| 19 | GTE Am | P.D.Lana, D.Turner, R.Gunn | Aston Martin | 113 | 16 Laps |
| 20 | GTE Am | M.Ishikawa, O.Beretta, K.Cozzolino | Ferrari | 113 | 16 Laps |
| 21 | GTE Am | M.Wainwright, A.Watson, B.Barker | Porsche | 113 | 16 Laps |
| 22 | GTE Am | C.Ried, M.Campbell, R.Pera | Porsche | 113 | 16 Laps |
| 23 | GTE Am | E.Perfetti, D.Kolkmann, M.Cairoli | Porsche | 113 | 16 Laps |
| 24 | GTE Am | S.Yoluc, C.Eastwood, J.Adam | Aston Martin | 113 | 16 Laps |
| 25 | GTE Am | B.Grimes, J.Mowlem, C.Hollings | Ferrari | 113 | 16 Laps |
| 26 | GTE Am | T.Flohr, F.Castellacci, G.Fisichella | Ferrari | 113 | 16 Laps |
| 27 | GTE Am | B.Keating, F.Fraga, J.Bleekemolen | Porsche | 112 | 17 Laps |
| 28 | LMP1 | M.Simpson, O.Jarvis, G.Smith | Ginetta/AER | 112 | 17 Laps |
| 29 | GTE Am | T.Preining, G.Giraudi, R.Sanchez | Porsche | 111 | 18 Laps |
| – | GTE Pro | D.Rigon, M.Molina | Ferrari | 54 | Retirement |
| – | LMP2 | P.Hanson, F.Albuquerque, P.Di Resta | ORECA/Gibson | 2 | Retirement |
[adinserter name="GOOGLE AD"]