Toyota locks out front row at Silverstone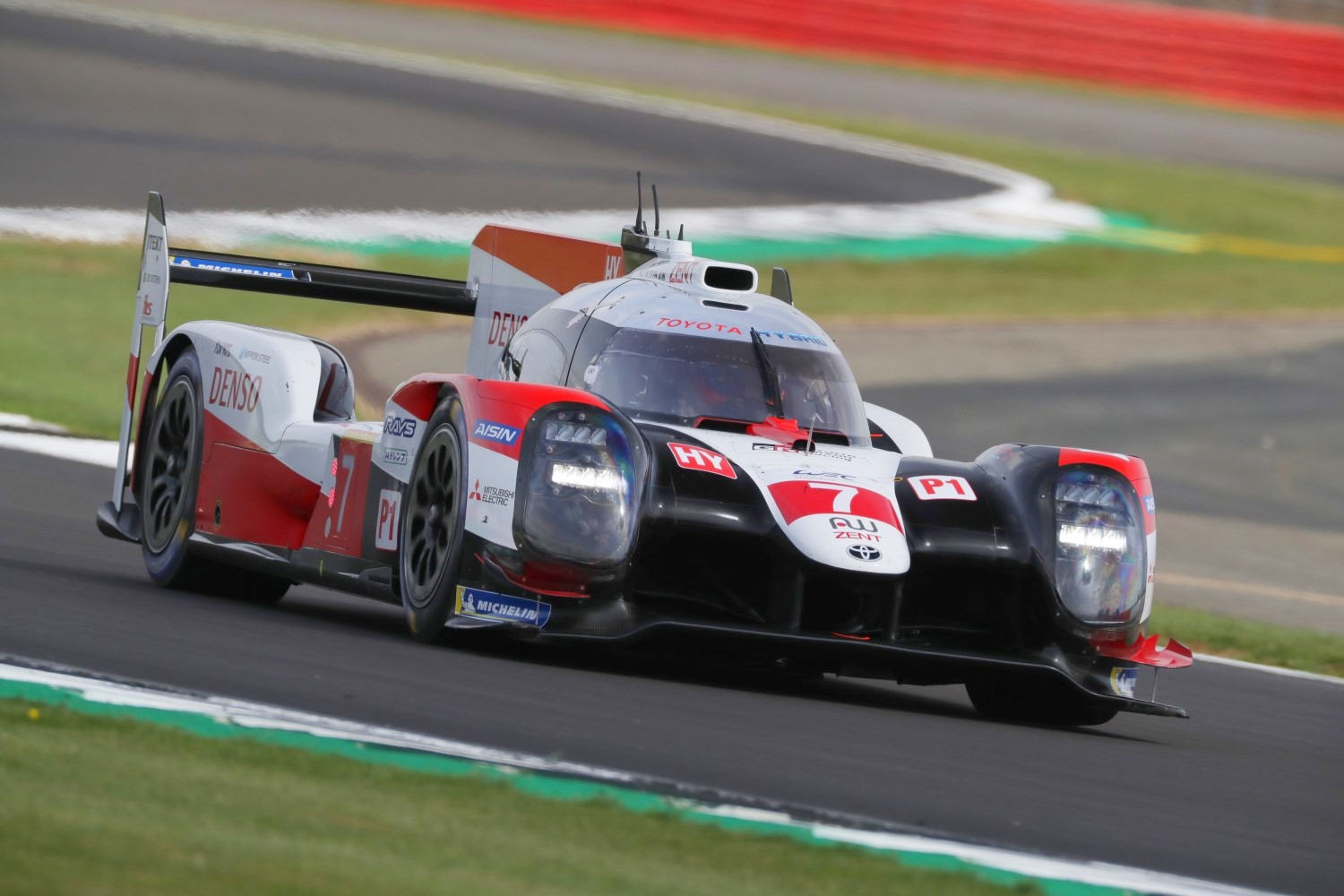 Mike Conway and Kamui Kobayashi, win pole in the #7 TS050 HYBRI
Toyota Racing locked out the front row for the opening race of the 2019-2020 FIA World Endurance Championship (WEC) season in qualifying for the 4 Hours of Silverstone.
On a warm, dry afternoon, Mike Conway and Kamui Kobayashi, who share the #7 TS050 HYBRID with Jose Maria Lopez, earned pole position and the bonus point to take an early lead in the World Championship with an average lap time of 1min 36.015secs.
Kamui's lap time of 1min 35.992secs was the fastest ever set by an LMP1 car at Silverstone, an achievement all the more remarkable as the #7 crew had to work through the night to switch to the spare chassis after the original monocoque was damaged at the end of second practice on Friday.
Sunday's race will begin with an all-TOYOTA front row after Sebastien Buemi and Kazuki Nakajima took second place in qualifying in the #8 TS050 HYBRID they share with Brendon Hartley, who will make his TOYOTA GAZOO Racing race debut at Silverstone.
The #8 crew were just 0.300secs behind the sister car, with both TS050 HYBRIDs holding off a renewed challenge from Rebellion Racing, whose #1 car was 0.545secs away from pole position. A year ago, the nearest non-hybrid competitor was 2.037secs off pole, while Rebellion were 2.352secs away.
The first race in the 2019-2020 WEC season begins at midday on Sunday, starting an eight-round contest for World Championship honors which will run all the way to the checkered flag at the 2020 Le Mans 24 Hours on 14 June.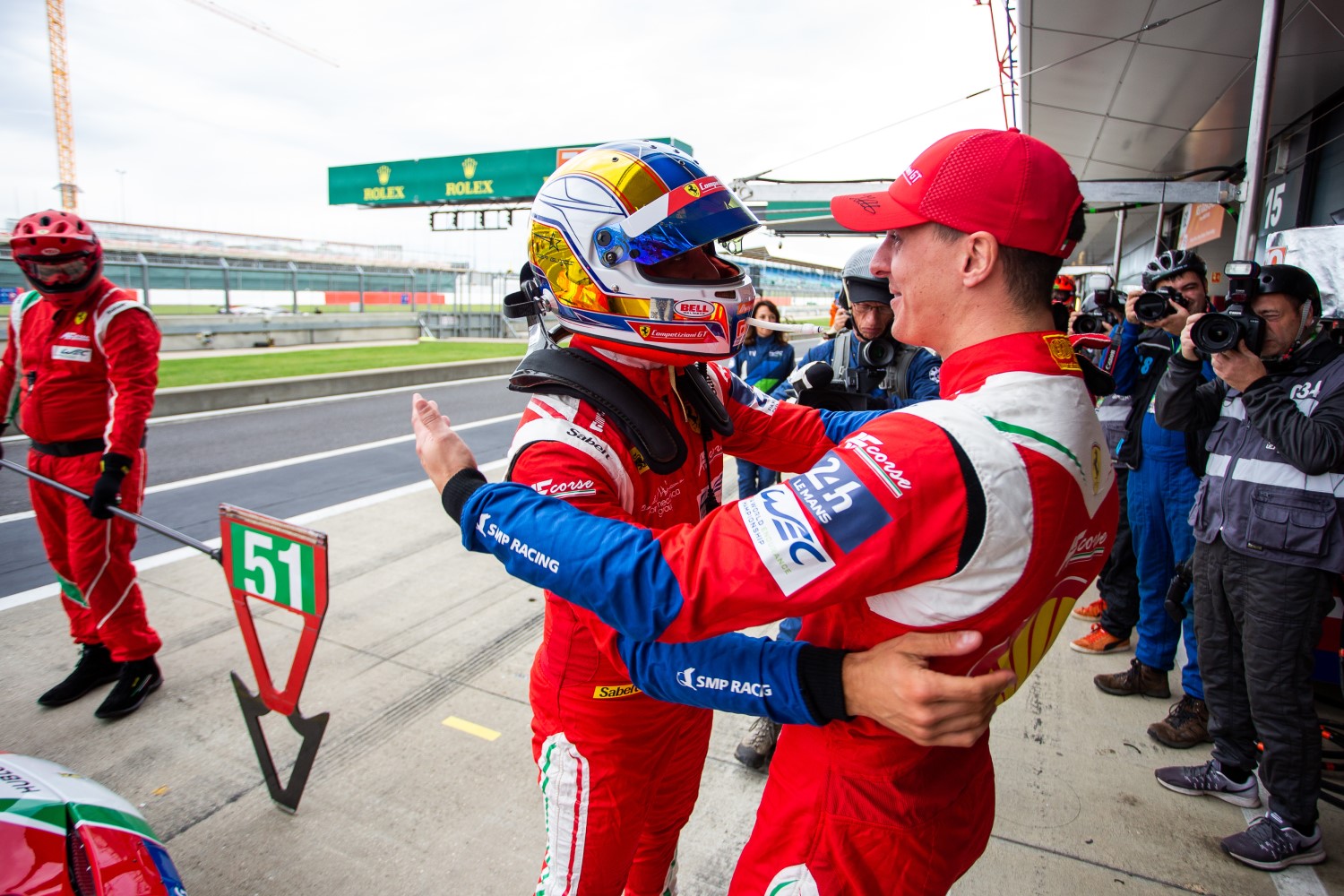 #51 drivers take LMGTE pole
Headlines
Kobayashi sets fastest lap of weekend so far with a time of 1m35.992s
No.8 Toyota of Sebastien Buemi and Kazuki Nakajima start second with average time 0.3s behind pole sitters
No.1 Rebellion Racing entry driven by Bruno Senna and Gustavo Menezes place third ahead of sister No.3 R13-Gibson of Berthon and Derani
British constructor Ginetta will line-up fifth and sixth for WEC debut outside of Le Mans with Team LNT cars
In LMGTE Pro the AF Corse team take 1-2 as No.51 Ferrari 488 GTE Evo takes the pole
Alessandro Pier Guidi takes overall best lap time of 1m54.019s as he combines with team-mate James Calado to set unbeatable average of 1m54.171
No.71 Ferrari of Davide Rigon and Miguel Molina joins stablemates on front row as there average of 1m54.302 is just 0.131s behind
Third in class is the No.97 Aston Martin of Alex Lynn and Maxime Martin ahead of No.91 Porsche of Richard Lietz and Gianmaria Bruni which is classified fourth
Session red flagged with ten minutes remaining after Bruni scatters debris on Hangar Straight after earlier spin in No.91 Porsche 911 RSR
LMP2 sees Racing Team Nederland take first WEC pole position as Giedo Van Der Garde and Job van Uitert set an average of 1m40.948s with Van Uitert taking overall quickest lap of 1m40.850s
The Aston Martin duo are 0.2s clear of the category opposition which is led by No.56 Team Project 1 Porsche driven by Egidio Perfetti and Matteo Cairoli
Third is No.98 Aston Martin Racing and fourth No.83 AF Corse Ferrari
[adinserter name="GOOGLE AD"]Mike Conway (TS050 HYBRID #7): "I'm very happy with pole position. I had a decent lap, maybe a little time lost at turn 13 but enough to secure pole position and that's the important thing. We weren't sure what Rebellion would come up with; they are very strong in sector two and three so it looks like it could be very close tomorrow. Congratulations to Kamui for his lap and also the team who put a brand new car together overnight. A huge thank you to them; I hope we can give them the result tomorrow."
Kamui Kobayashi (TS050 HYBRID #7): "Firstly thanks to the team for their hard work to fix the car. It was a light contact in second practice which didn't cause damage itself but I spun over the kerbs and this damaged the chassis. They had a big job last night so thanks a lot for the great work. My lap was pretty good and I tried to maximise the performance. The car felt really great and we have good long run pace as well so I am quite confident for the race. We never know what can happen in a race; we will do our best."
Sebastien Buemi (TS050 HYBRID #8): "The team did a good job in today's qualifying. The most important task was to qualify in first and second and we achieved that. I am quite happy with my lap. Both cars are very close but congratulations to car #7; they did the better job today. Now we will focus on the race and the fight with car #7 and also the Rebellions, who are much closer now."
Kazuki Nakajima (TS050 HYBRID #8): "It was a good qualifying for the team and this makes us very happy. Congratulations to car #7, they set some very good laps. We will now try to understand where we lost out and try to improve for the race. We have almost 24 hours to do that due to the early qualifying start so we will be working hard to get the win, which is the most important task."
Qualifying Result
| | | | | |
| --- | --- | --- | --- | --- |
| POS | CLASS | DRIVER | CAR | GAP |
| 1 | LMP1 | M.Conway, K.Kobayashi, J.M.Lopez | Toyota | 0.000s |
| 2 | LMP1 | S.Buemi, K.Nakajima, B.Hartley | Toyota | 0.300s |
| 3 | LMP1 | B.Senna, G.Menezes, N.Nato | Rebellion/Gibson | 0.545s |
| 4 | LMP1 | N.Berthon, P.Derani, L.Duval | Rebellion/Gibson | 1.009s |
| 5 | LMP1 | M.Simpson, O.Jarvis, G.Smith | Ginetta/AER | 1.205s |
| 6 | LMP1 | C.Robertson, B.Hanley, E.Orudzhev | Ginetta/AER | 1.449s |
| 7 | LMP2 | F.van Eerd, G.van der Garde, J.van Uitert | ORECA/Gibson | 4.933s |
| 8 | LMP2 | P.Hanson, F.Albuquerque, P.Di Resta | ORECA/Gibson | 5.668s |
| 9 | LMP2 | H-Pin Tung, G.Aubry, W.Stevens | ORECA/Gibson | 5.961s |
| 10 | LMP2 | N.Lapierre, A.Borga, A.Coigny | ORECA/Gibson | 6.002s |
| 11 | LMP2 | T.Laurent, A.Negrao, P.Ragues | Alpine/Gibson | 6.201s |
| 12 | LMP2 | M.Patterson, K.Yamashita, A.Fjordbach | ORECA/Gibson | 6.399s |
| 13 | LMP2 | R.Gonzalez, A.Davidson, A.F.da Costa | ORECA/Gibson | 6.870s |
| 14 | LMP2 | R.Lacorte, A.Belicchi, G.Sernagiotto | Dallara/Gibson | 7.348s |
| 15 | GTE Pro | J.Calado, A.P.Guidi | Ferrari | 18.156s |
| 16 | GTE Pro | D.Rigon, M.Molina | Ferrari | 18.287s |
| 17 | GTE Pro | A.Lynn, M.Martin | Aston Martin | 18.977s |
| 18 | GTE Pro | G.Bruni, R.Lietz | Porsche | 19.052s |
| 19 | GTE Pro | M.Sorensen, N.Thiim | Aston Martin | 19.134s |
| 20 | GTE Pro | M.Christensen, K.Estre | Porsche | 19.478s |
| 21 | GTE Am | S.Yoluc, C.Eastwood, J.Adam | Aston Martin | 20.019s |
| 22 | GTE Am | E.Perfetti, D.Kolkmann, M.Cairoli | Porsche | 20.356s |
| 23 | GTE Am | P.D.Lana, D.Turner, R.Gunn | Aston Martin | 20.454s |
| 24 | GTE Am | F.Perrodo, E.Collard, N.Nielsen | Ferrari | 20.474s |
| 25 | GTE Am | T.Flohr, F.Castellacci, G.Fisichella | Ferrari | 20.727s |
| 26 | GTE Am | C.Ried, M.Campbell, R.Pera | Porsche | 21.336s |
| 27 | GTE Am | T.Preining, G.Giraudi, R.Sanchez | Porsche | 21.492s |
| 28 | GTE Am | B.Grimes, J.Mowlem, C.Hollings | Ferrari | 21.919s |
| 29 | GTE Am | M.Wainwright, A.Watson, B.Barker | Porsche | 22.184s |
| 30 | GTE Am | M.Ishikawa, O.Beretta, K.Cozzolino | Ferrari | 22.321s |
| 31 | GTE Am | B.Keating, F.Fraga, J.Bleekemolen | Porsche | – |