IndyCar Bommarito Automotive Group 500 Postscript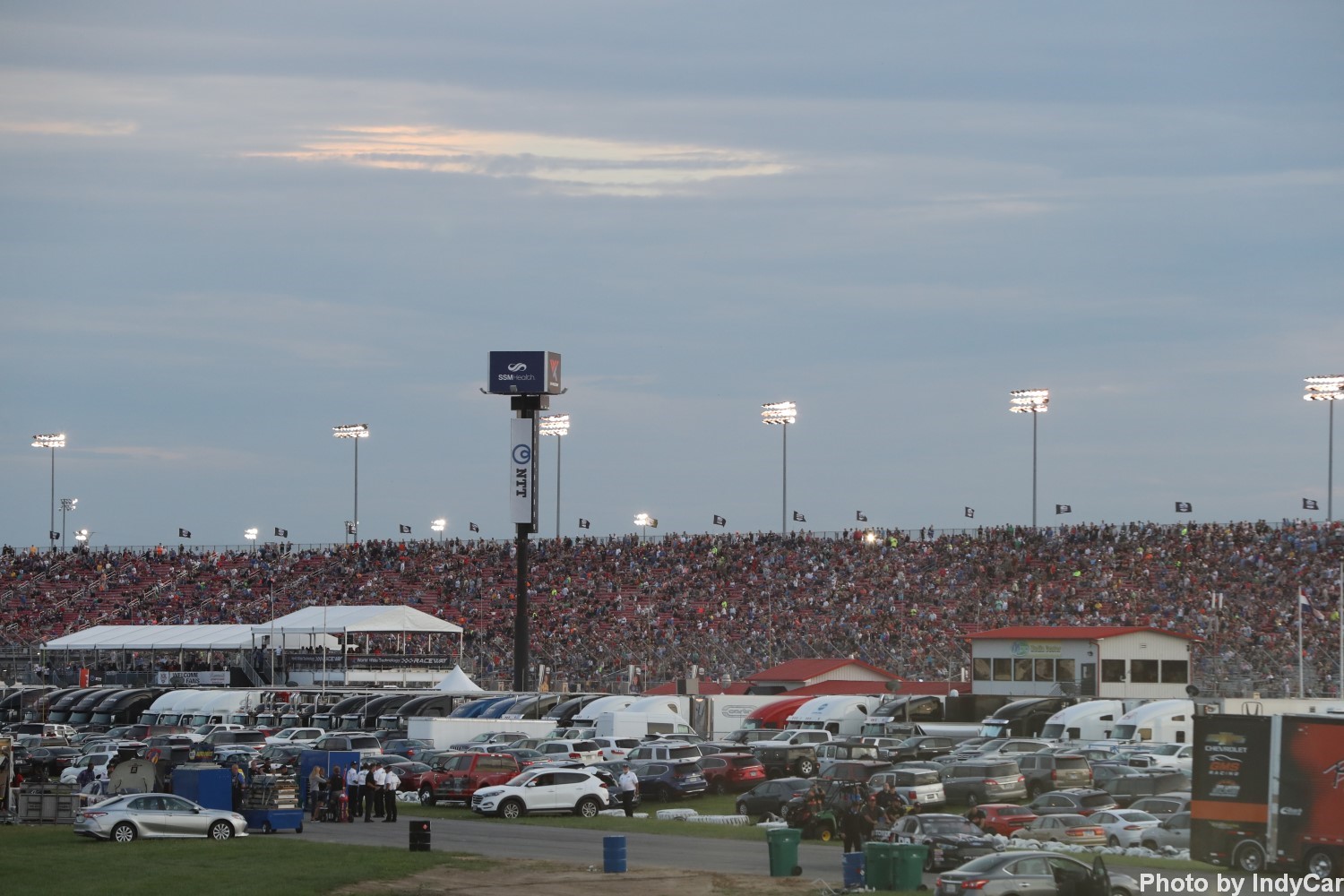 When you have a race promoter who has a clue, big things happen
Redemption for Takuma Sato, the arrival of a new star in Santino Ferrucci, and another last lap mishap for Josef Newgarden, means we have a lot to get to following this past weekend's Bomarito Automotive Group 500 at World Wide Technology Raceway.
However, I'm going to begin with what I believe to be the biggest story from this weekend: the event itself.
Let's face it: lighting money on fire has arguably been a better proposition than an IndyCar oval event in recent years. Kentucky, Fontana, New Hampshire, Phoenix, Milwaukee, and others have been removed from the calendar in recent seasons due to their lack of ability to draw a crowd, not to mention the ash heap of failed events before. So when it was announced that IndyCar would return to the 1.2-mile in Madison, Illinois, I figured it would be about three years and done.
Well, here we are three years in, and World Wide Technology Raceway is THRIVING! Robin Miller reported on NBC Sports Network prior to the race that the track had to open the turn 1 grandstand due to about 11,000 extra tickets sold.
So, why exactly, is WWT Raceway thriving? There are probably a number of reasons, and we don't have room to cover them all. However, let's briefly touch on a few.
In Market Activation
Throughout the three years, the event has promoted heavily through local sporting teams such as the St. Louis Cardinals and St. Louis Blues. The Cardinals have long had a passionate following, and the Blues winning their first Stanley Cup in June probably didn't hurt. This past Sunday, Blues players were out in full force adding a very local flavor to the event.
Content
I've been beating on this for years: you need 'stuff' to entertain the spectators. Pocono, for example, had nothing other than vintage cars running in the infield between IndyCar sessions. A few years ago I was out at Fontana for the series finale, and the undercard was vintage IndyCar laps.
WWT had three races plus the festivities with the Blues all in one day. Some race promoters get it, others haven't a clue.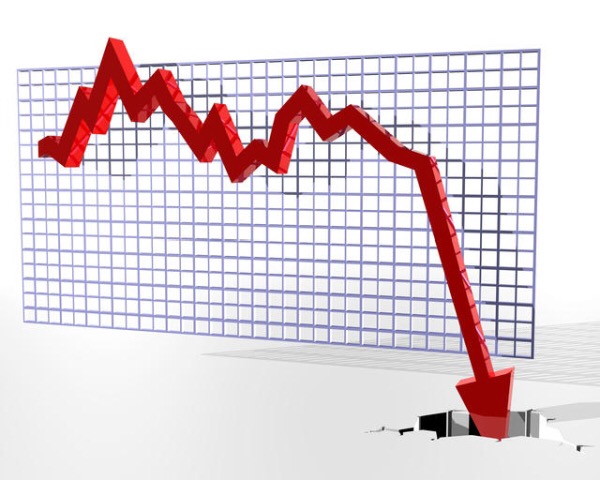 Night races are good, but NBCSN TV ratings plummet at night
Night
I've been at Iowa for both day and night races. At the risk of over-simplification: night better than day.
In the hot summer months having the main event at night as opposed to spectators baking in the middle of the day, can't hurt.
Reputation of the Facility
Think about the Indianapolis Motor Speedway, Long Beach, or Road America. Part of the reasons those events have enjoyed success is simple: people like going to those places. The facilities themselves are part of the draw.
While WWT Raceway is not on the level of those above, one industry insider told me the track has built a strong reputation locally of meeting and/or exceeding the expectations of its attendees. Thus, there is probably equity in the actual facility itself.
And there are probably a host of other factors. However, what's undeniably clear is that anyone thinking about starting an IndyCar event would be well served by taking a longer look at the efforts of WWT Raceway.
Moving on…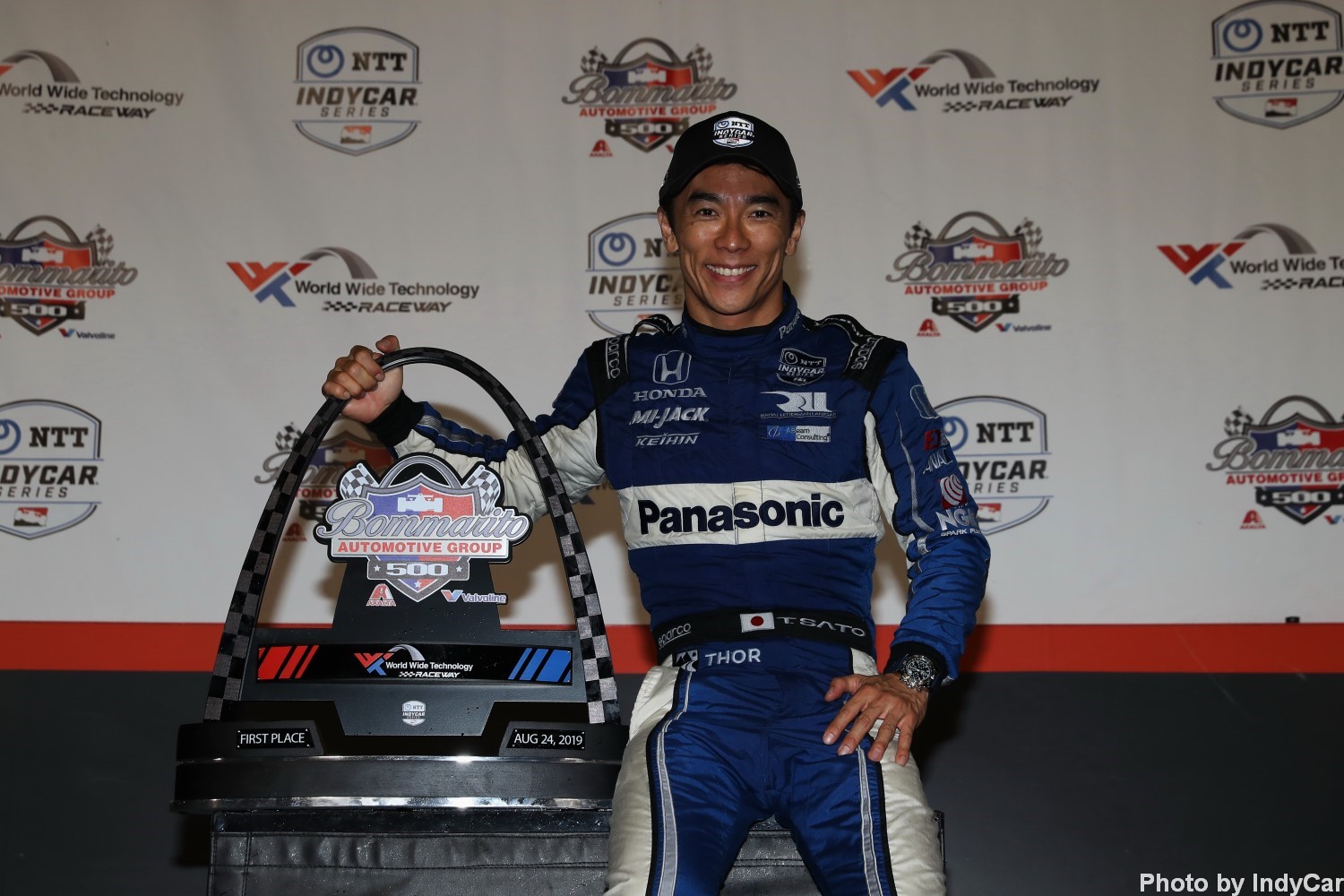 Sato silences his critics
In the last few days, we've heard a lot about redemption for Takuma Sato. The 2017 Indianapolis 500 winner, of course, was seen by many as the instigator of the five-car wreck on the opening lap of the ABC Supply 500 at Pocono, before going out and winning Saturday night. And while I took a somewhat more nuanced view of the matter than 'Blame Sato', no one can dispute that caution should have probably trumped valor that early in a 500-mile race, nor that Sato has a history of not making the wisest decisions behind the wheel.
Now, what makes Sato's sometimes less-than-gentlemanly behind the wheel doesn't square with his demeanor outside the car. Putting aside the bizarre confrontation with Sebastien Bourdais at Toronto, Sato has long been extremely friendly, calm, and gracious outside the car to media, fans and fellow competitors alike. Think about it: facing heavy criticism last week, Sato didn't point any fingers at another driver nor lash out at any of the fans or commentators who castigated him. He simply presented what he believed to be exculpatory evidence.
Furthermore, when given the chance to perhaps settle a score or set something straight on television before Saturday's race with Robin Miller, Sato spoke philosophically about how lucky he felt to race in front of such a great crowd for such a supportive team. Heck, he even thanked the media!
And maybe it was all an act. But if that's the case, Sato has been fooling me and numerous others for a really long time.
Of course, something that absolutely no one is confused about is the fact that Takuma Sato has always been fast; and that if he can keep it out of the fence, he can run with absolutely anyone. Even now at 42 years of age, Sato is winning poles and perhaps driving better than he ever has. Following a near first lap accident Saturday with nearly all of the principles from the Pocono crash nearby (what a story that would have been!!!!!), Sato fell to the back.
By midway through the race, he had driven himself back to the middle of the field, and also stretched his fuel window further than the leaders. He found himself out front after a late and was able to score an impressive – albeit somewhat fortuitous – victory.
And what a fitting victory he was. After all, it culminated a six-day stretch in which the conundrum that is – and always has been – Takuma Sato – was on full display.
Ferrucci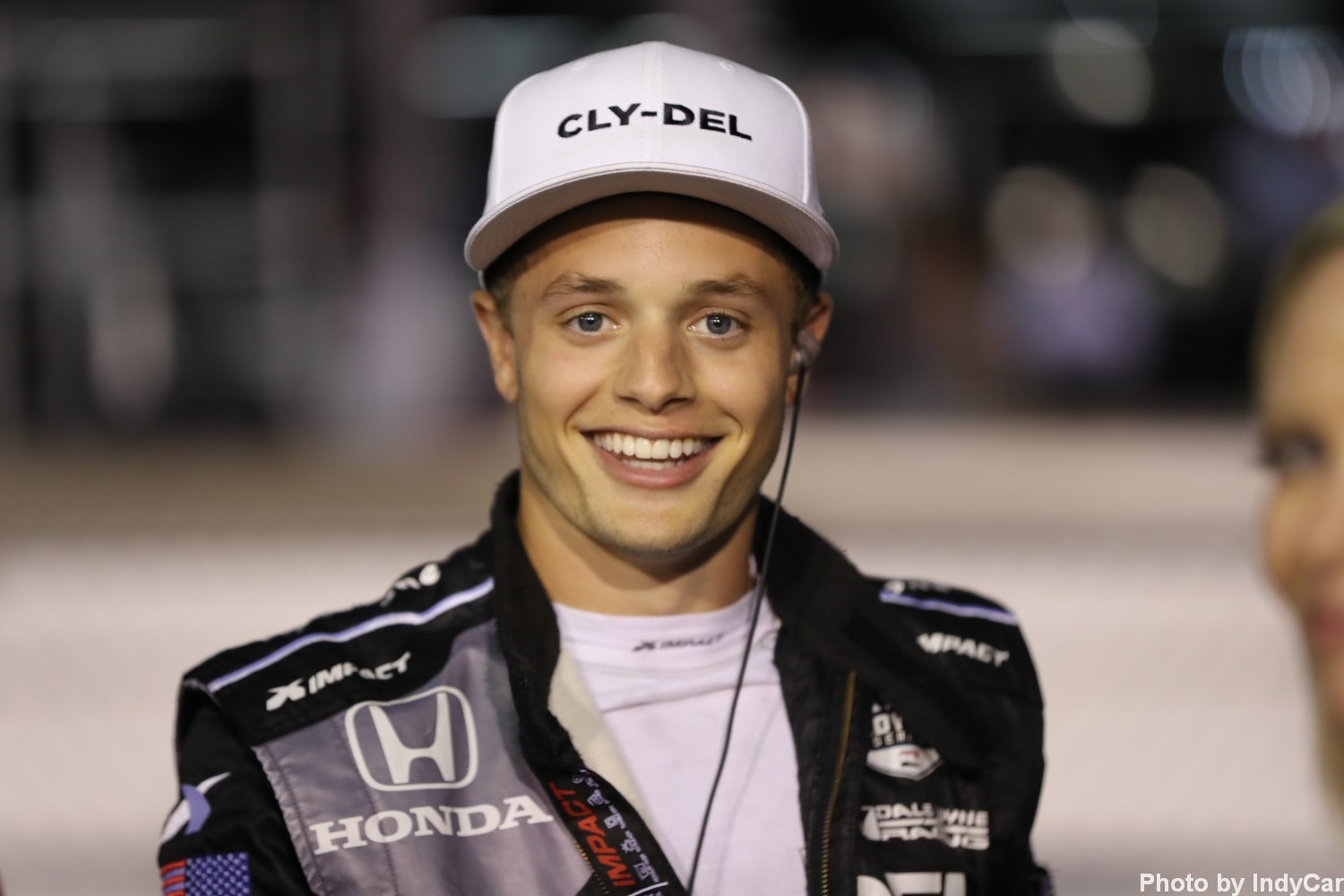 Santino Ferrucci – the real surprise of 2019
Saturday turned out to be Sato's night, but the most impressive performance I would argue came from one Santino Ferrucci.
Now, people have grown somewhat tired of the Ferrucci narrative, particularly the amount of coverage he gets on the race broadcasts. However, the fact that people are running out of positive superlatives for Ferrucci is in fact, a large part of the story.
See, this Connecticut kid, who showed up in IndyCar with all sorts of buyer-beware signs, has not simply been quick; the story is not so much that he and his No. 19 Dale Coyne racing team moved past people named Power, Newgarden, Pagenaud and Bourdais on merit to lead 97 laps Saturday. No, the story is that he has balanced youthful aggression with incredibly clean driving; driving that has been completely incongruous with his previous reputation.
Also, Ferrucci has three fourth-place oval finishes in 2019. That alone would be impressive for a rookie, but it becomes even more impressive when you account for the history of Dale Coyne racing on ovals.
Get this:
In thirty-six seasons of competing in Indy car style racing, and over 300 oval race entries, Dale Coyne Racing has earned a grand total of three oval track podium finishes:
Roberto Moreno 3rd – 1996 U.S. 500
Justin Wilson 1st – 2012 Texas
Ed Jones 3rd – 2017 Indianapolis 500
Yes, that is the complete anthology of Dale Coyne Racing's oval success, at least when it comes to top-three finishes.
So, Ferrucci hasn't just been running well on ovals. He's been running well with a team whose best work has, historically at least, come on road and street courses.
Newgarden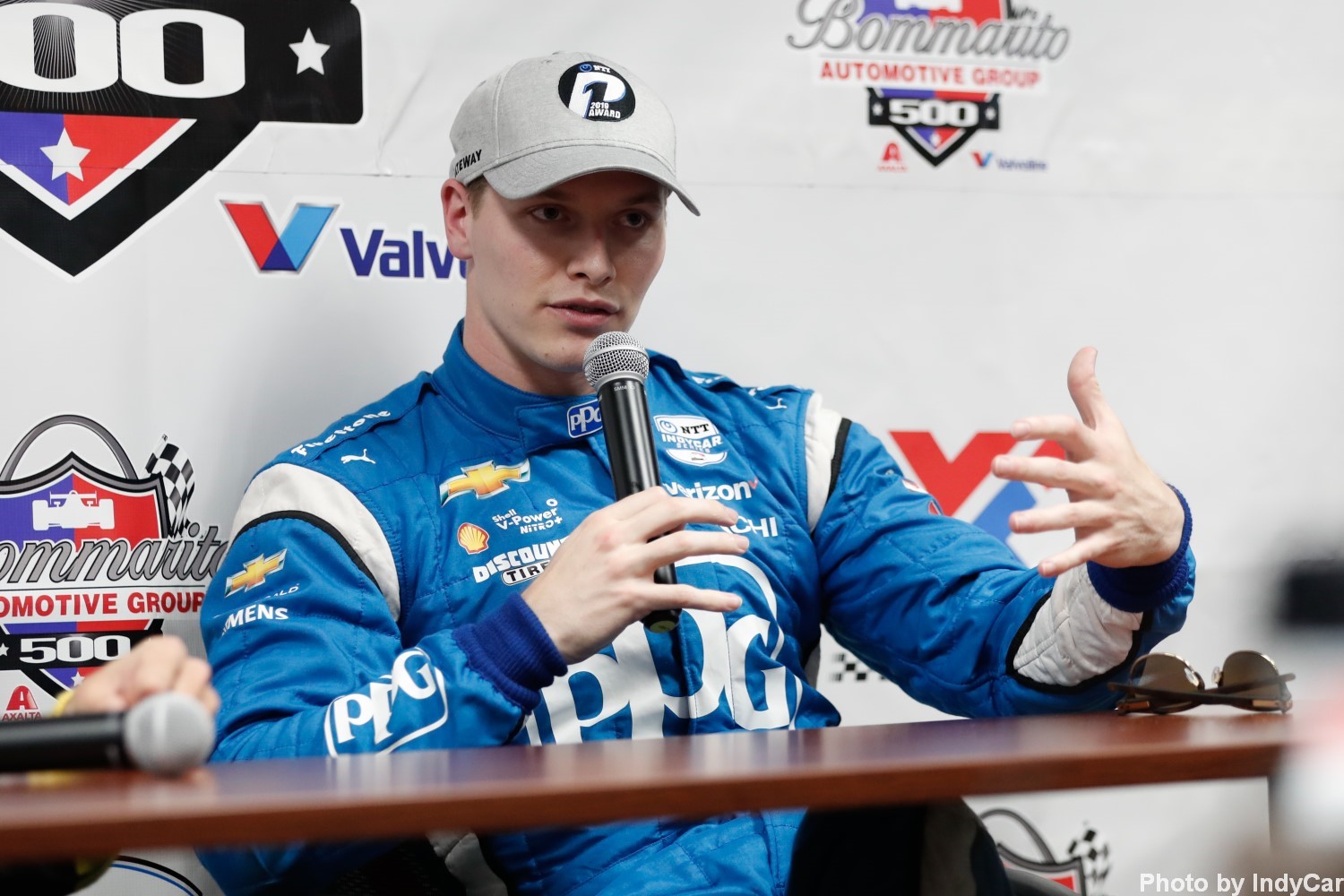 Newgarden tense under pressure
Josef Newgarden had some misfortune with cautions and the like on Saturday before spinning in reaction to Ferrucci's near accident on the final lap. The spin dropped the 2017 series champion from 5th to 7th in the final standings, and let his displeasure be known following the race.
Of course, the Gateway mishap came a month following a spin on the final lap at Mid-Ohio that dropped Newgarden from 4th to 14th. Should this championship slip away, Newgarden will surely rue the points lost.
On a bigger picture level, is it me, or has Newgarden appeared more tense this summer? Remember his frustration following qualifying at Iowa? I'm not sure exactly what is driving this, but his teammates have won the past two Indianapolis 500s, and expectations are understandably high given his championship lead. And gone are the days where Newgarden could take a 'grip it and rip it' attitude driving for Sarah Fisher and the little engine that could. Now, he drives for the big engine that most definitely can, and probably should.
Now, we've seen Newgarden respond favorably before, as he did at Sonoma two years ago following a misstep at Watkins Glen. Can Newgarden pull that off again? Luckily, for Newgarden his closest contenders did little to capitalize on his fortune Saturday. Pagenaud finished fifth, while Rossi (13th), Dixon (20th), and Power (22nd) all experienced difficulties.
What that means is that in the coming two races, it's Newgarden's championship to lose, and he needs to get himself in the best frame of mind sooner rather than later.