Toyota Gazoo Racing Begins WEC title Defense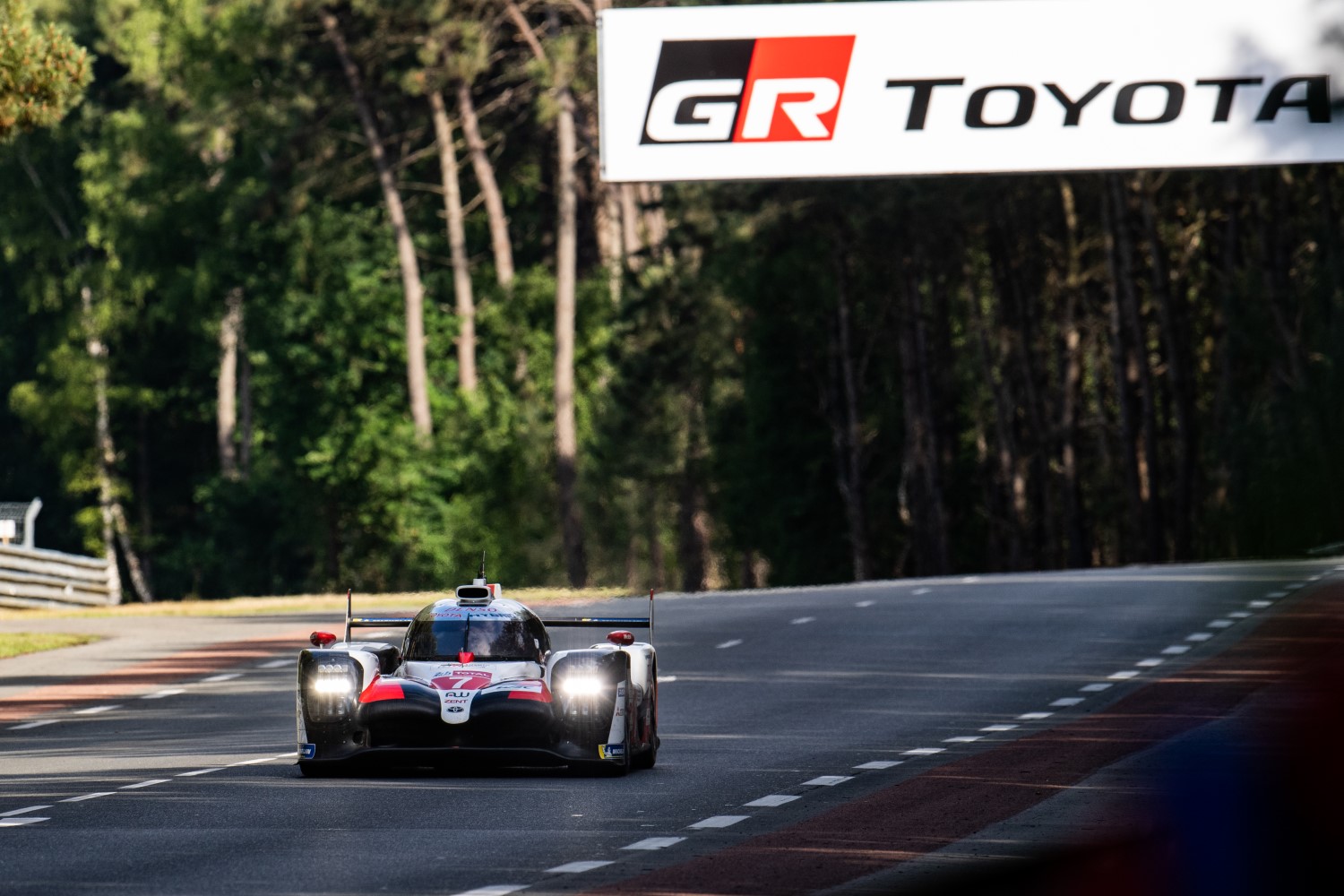 Toyota has zero challengers in the LMP1 hybrid class
TOYOTA GAZOO Racing will begin the Defense of its FIA World Endurance Championship (WEC) title when the 2019-2020 season kicks off in Great Britain this weekend with the 4 Hours of Silverstone.
Following a near-perfect 2018-2019 season, in which the team made history by winning the Le Mans 24 Hours twice, TOYOTA GAZOO Racing returns to action for the last season of the iconic TS050 HYBRID car, which features eight races on four continents and concludes at La Sarthe on 14 June 2020.
For the start of its fourth and final season, the TS050 HYBRIDs will compete in high-downforce specification, giving a race debut to the new aerodynamic configuration which was also used during the Prologue test in Barcelona last month.
Home favorite Mike Conway leads the #7 TS050 HYBRID line-up alongside Kamui Kobayashi and Jose María Lopez while World Champions Sebastien Buemi and Kazuki Nakajima are joined by Brendon Hartley, who will make his TOYOTA GAZOO Racing debut at Silverstone.
Silverstone was the only race which TOYOTA GAZOO Racing did not win last season; following a one-two victory both cars were excluded after failing post-race technical checks due to floor damage after hitting curbs. That disappointment means the team is even more determined to earn another victory at the historic English circuit, where it won six-hour races in 2014 and 2017.
[adinserter name="GOOGLE AD"]This year's Silverstone race is the first of the WEC's modern era to be held over four hours, during which the leading cars can expect to complete close to 800km on the 5.901km circuit. They will be fighting to earn the Royal Automobile Club International Tourist Trophy, first awarded in 1905 and won by motorsport legends such as Tazio Nuvolari, Stirling Moss and Graham Hill.
The TS050 HYBRIDs will face a challenge from LMP1 non-hybrid rivals Rebellion and Ginetta, boosted by revised regulations which enhance their performance. At Silverstone, the TS050 HYBRIDs will be 94kg heavier than the non-turbo Rebellion and 85kg heavier than the turbo-charged Ginetta. Meanwhile, the Rebellion is permitted 61% more fuel per stint than the TS050 HYBRID, with the Ginetta's turbo engine allowed 50% more.
Fans get their first chance to see the 2019-2020 WEC grid in action on Friday, with two 90-minute practice sessions while qualifying takes place on Saturday lunch time prior to a midday day start to Sunday's race.
This weekend marks the first visit to a WEC race in his new role for Katsuyoshi Hikichi, new President of TOYOTA Motorsport GmbH (TMG), the Cologne-based technical centre where the TS050 HYBRID is designed and assembled. He takes over the role at TMG of Hisatake Murata, who remains as Team President of TOYOTA GAZOO Racing WEC and Field General Manager of GAZOO Racing Company.
Hisatake Murata, Team President: "We are all looking forward to the start of the new WEC season and we are determined to give the TS050 HYBRID the successful farewell it deserves in its final races. TOYOTA GAZOO Racing has worked hard with the ACO to generate an exciting spectacle for fans in LMP1 and we expect a tough race in Silverstone thanks to the revised regulations. This makes it more important than ever that we are fully focused and work together strongly as a team to have a trouble-free weekend so we hopefully start the season with a victory. It will be tricky but we have worked hard to prepare ourselves in the relatively short time since Le Mans so I believe we are ready for the challenge."
Mike Conway (TS050 HYBRID #7): "Silverstone is a special place for me, not only as my home race but because the track itself is really cool, with fast and flowing corners. When you put together a fast lap there, it is very rewarding because it is so quick. It's a really fun track, although traffic can be difficult there and you have to get your timing right. There's always a big crowd and I have family and friends supporting me, so I would love to finally win my home race; I've been close a few times but I hope this is the year."
Kamui Kobayashi (TS050 HYBRID #7): "I think we are well prepared for the start of the new season; our car performed well at the Prologue and completed a lot of laps. We don't know exactly how competitive the non-hybrid LMP1 cars will be but we expect them to be closer, which will be more challenging for us. Obviously we are expecting to fight for the World Championship and Le Mans, so everyone wants to make a positive start at Silverstone. I am feeling confident."
Jose María Lopez (TS050 HYBRID #7): "I cannot wait to start the new season at Silverstone. I think the team is getting better every year and that's also true for car #7. The relationship within the car crew is very strong, also with the engineers and mechanics. Mike and Kamui are more than mega-quick team-mates; we are all good friends as well. So I think we are stronger and better prepared than ever. I hope we can show this at Silverstone by starting the season with a win."
Sebastien Buemi (TS050 HYBRID #8): "It's always a good feeling to start the season as World Champion; we achieved a lot last season. Now we are focused on the new season and the first race at Silverstone, where we want to make a winning start. The competition from the other LMP1 cars looks to be quite challenging this year following the regulation changes so we are expecting a fight and we know we need to prepare ourselves thoroughly to get the right result on Sunday."
Kazuki Nakajima (TS050 HYBRID #8): "Last season was probably the toughest I have ever experienced because the fight was so close with the sister car at every race and I am expecting a similar challenge again. I'm very proud to be World Champion and of course Sebastien, Brendon and I want to stay on top this season. We all want to make a strong start at Silverstone, but it will not be easy because we know car #7 is very strong and we expect much more from our non-hybrid LMP1 competition this season as well."
Brendon Hartley (TS050 HYBRID #8): "It's exciting to have my name on the side of the TS050 HYBRID for its final season; it's been an incredible car. I am looking forward to racing again; I haven't done a lot of racing since the end of the 2018 Formula 1 season but I have been very busy with testing and simulator work so I feel sharp. I need to get back in the groove of traffic management in WEC but I am ready to go and I can't wait to get started at Silverstone."