Rins nips Marquez at the line at Silverstone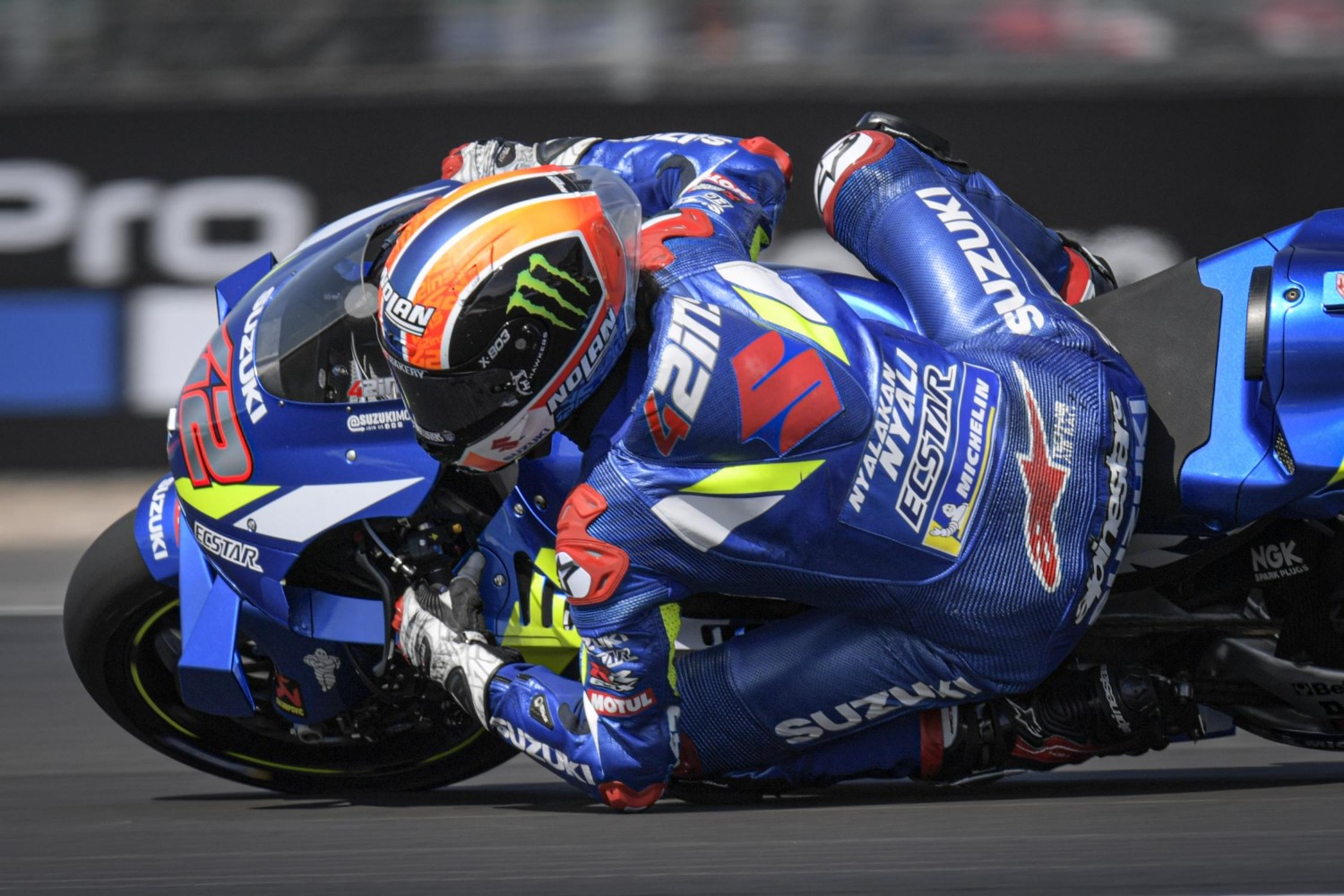 Alex Rins snookers Marquez
Alex Rins timed his last corner attack to perfection and stole the win from Marc Marquez at the British MotoGP.
For all the last 200 yards Marquez kept his Suzuki rival at bay for the entire 20-lap race with Rins struggling to find a way past the Repsol Honda rider.
Rins made his charge for glory starting on the outside of the final corner to get the drive to the finish line charging up the inside.
Marquez, battling tire wear late on, also got loose and lost vital momentum to enable Rins to take victory by 0.013s – marking it the second consecutive race Marquez lost at the final corner.
[adinserter name="GOOGLE AD"]Despite having to settle for second place, Marquez still extends his championship lead to a dominant 78 points following a disaster start for Fabio Quartararo and Andrea Dovizioso – as a first corner clash between Quartararo and Dovizioso saw both riders tumble out..
The MotoGP rookie crashed out on the exit of the first corner and collected Dovizioso.
Dovizioso was stretchered off track and taken to the medical Centre, while his Ducati caught fire with a full fuel tank.
Without Quartararo and Dovizioso in contention, Marquez and Rins began their race-long victory scrap which would last until the final corner.
Behind the front two, Maverick Vinales ran out of laps to catch the leaders despite his strong late race pace meaning he had to take third place six-tenths of a second back for Monster Yamaha.
Valentino Rossi endured a mid-race fade after dropping behind his Yamaha team-mate meaning he had to settle for fourth place and over 10 seconds back at the finish.
How it Happened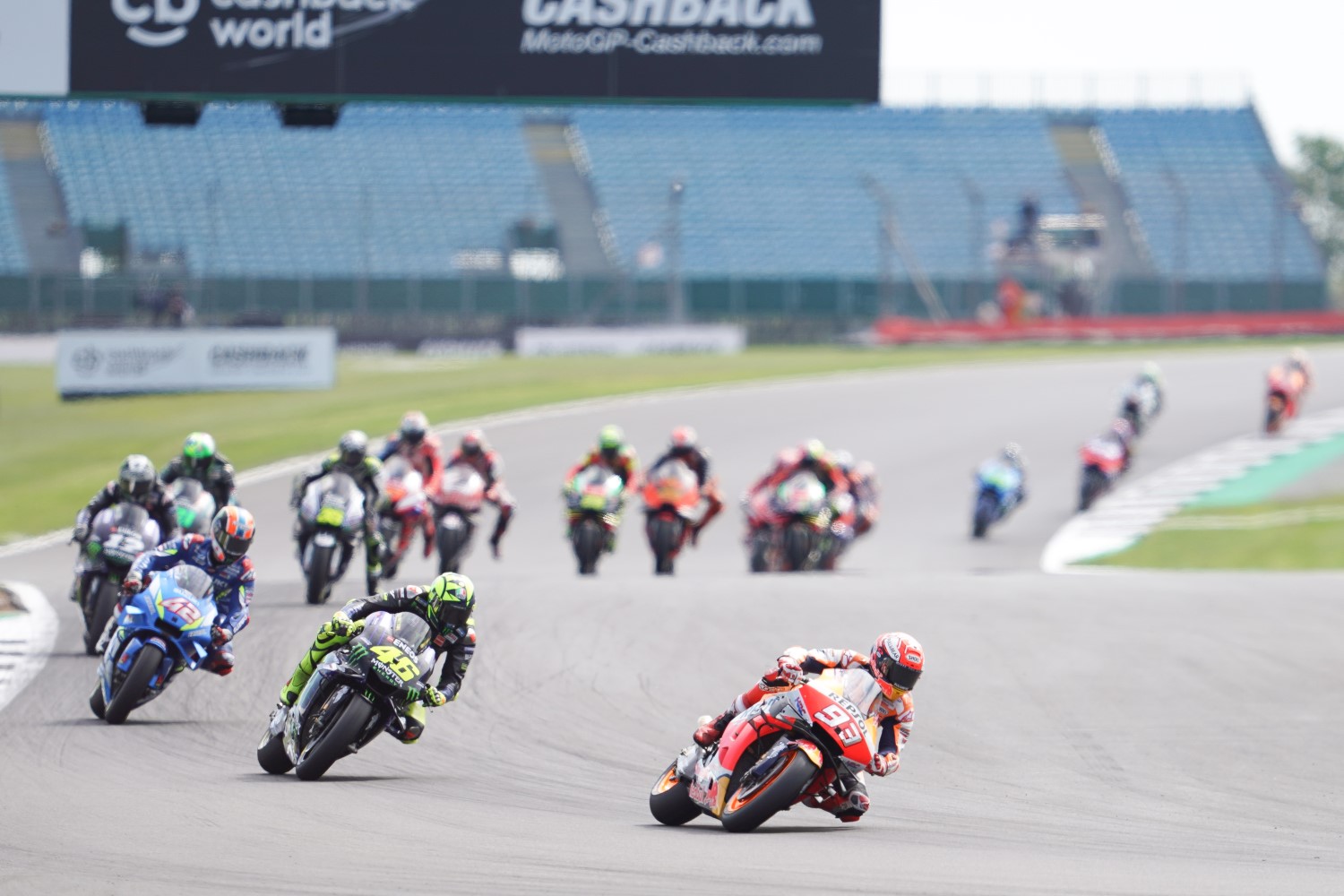 Marquez leads at the start
Silverstone was set for a barnstormer, but nobody saw what was coming at the first corner. The lights went out and heading into Copse for the first time, Quartararo's back end slipped round as the Frenchman reacted to Rins getting out of shape in front of him. Quartararo crashed and unable to take avoiding action, Dovizioso collided with the stricken Petronas Yamaha as two leading race contenders crashed out on Lap 1. Dovi headed to the medical centre for a checkup after landing heavily and was later transported to Coventry hospital, confirmation that Dovi has no broken bones, but he needs further checks after taking a big knock to the head.
Meanwhile, Marquez had got away well from pole and was leading the race from second place Valentino Rossi (Monster Energy Yamaha MotoGP), with Rins third. The latter didn't take much time to pass 'The Doctor' though and the number 42 slipped into second, with himself and Marquez slowly edging clear of Rossi in third. On Lap 4, the leading duo were over a second clear, with the gap to Rossi stretching lap by lap as Vi nales smelt blood on his teammate. Lap 6 ticked by and Vi nales pounced, passing Rossi down the Hanger Straight but at this point, Marquez and Rins were over two seconds up the road.
Rins was locked onto the tailpipes of Marquez. Sector 1 and 3 looked like the areas where Rins had an edge on the number 93 and on Lap 8, the Suzuki was leading. Coming up the hill from Copse, Marquez sat up slightly to seemingly tell Rins: 'go on then, you can lead for a bit.' That didn't last long however, Rins was wide at Stowe corner and it was Marquez who had the baton once more. There was nothing to separate the pair, with Vi nales flirting around the 1.5/2 second margin behind.
With four laps remaining, an error. On the exit of the Vale chicane, Rins was out the seat. This dropped Rins 0.6 back to give Marquez some breathing space but would it be the turning point of the Grand Prix? No. Rins reeled in Marquez by the end of the lap as we set ourselves for a tense final three laps. In the meantime, Vi nales was still hovering at 1.5 seconds back.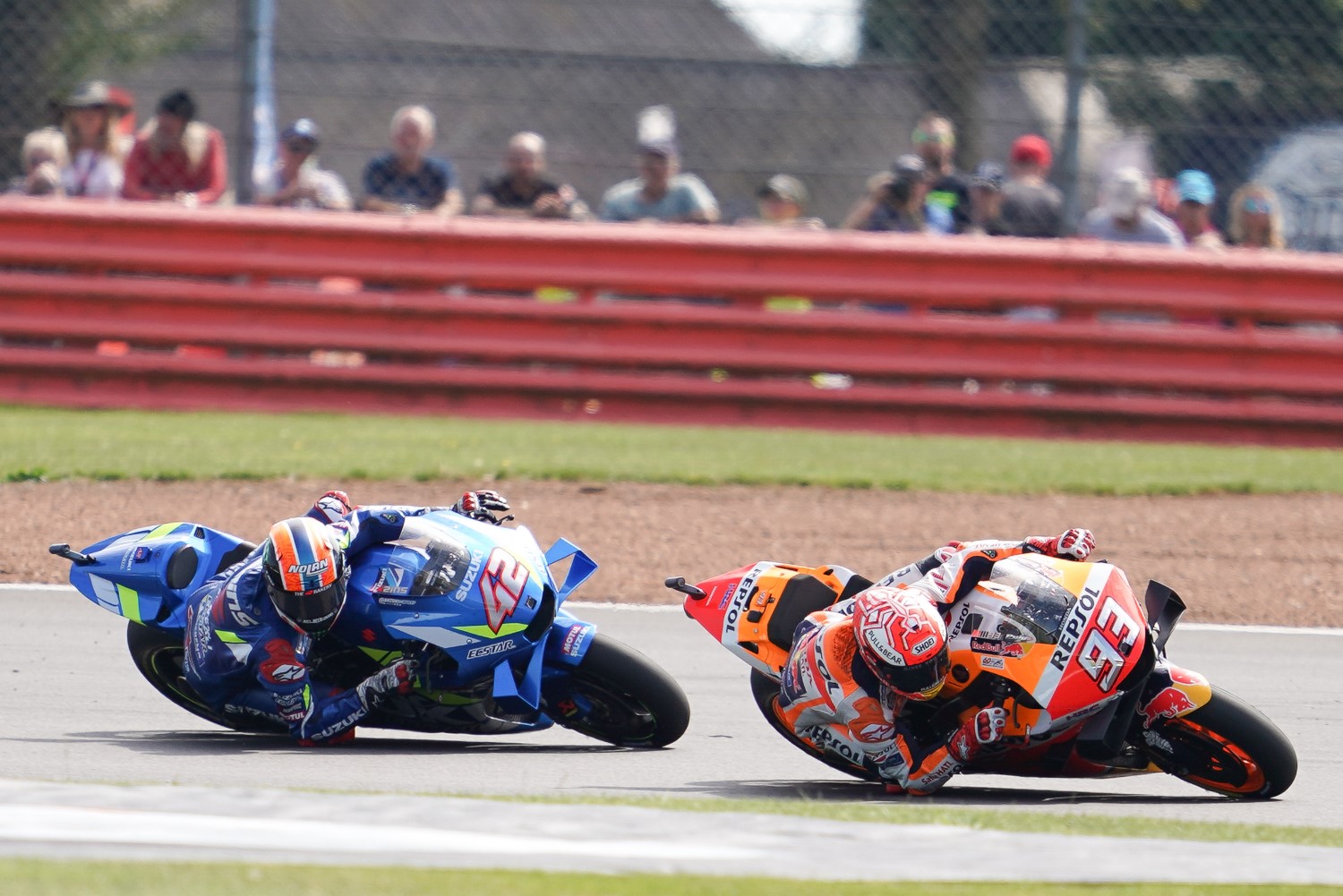 It was a race long battle between Marquez and Rins
On the penultimate lap, Rins made a move stick. A unique one too, the GSX-RR dived under the RC213V at Turn 15 but immediately, on the Wellington Straight, Marquez blasted back past. Last lap time, nothing between them. But a Yamaha rider was now just 0.5 back from Rins – surely Vi nales couldn't claw this back? A little further down the road, Marquez was on the defensive. Heading into Sector 3 – a place Rins had been strong all race – the Repsol Honda was holding the tight line. No way through at The Loop for Rins, but would Marquez' run onto the straight be hampered? Seemingly not. Marquez held it into Brooklands – the last real overtaking spot – but Rins was strong round Luffield and through Woodcote. The lap previous saw Rins get alongside Marquez round the outside at the finish line – Roberts and Sheene esque from 1979 – but was ran wide. At the final corner, Marquez knew Rins had the advantage and tried to cover it off. The Repsol Honda had a slight twitch on the rear as Rins took a wide, sweeping line on his Suzuki and spectacularly won the race to the line to win by just 0.013! Later on, Rins revealed he thought it was the last lap on the penultimate lap…
Vi nales was close, but not close enough to challenge in third. Rossi's dreams of a return to winning ways faded as the race went on but nevertheless, 'The Doctor' will take the positives from another P4. Franco Morbidelli (Petronas Yamaha SRT) had his mentor in sight but couldn't quite hunt him down, a top-five for the Italian equals his best MotoGP™ result. Home hero Cal Crutchlow (LCR Honda Castrol) takes a P6 away from Silverstone after starting from ninth, the Coventry-born rider held off a late charge from Danilo Petrucci (Ducati Team) and close friend Jack Miller (Pramac Racing). The Ducatis finished seventh and eighth respectively, as Pol Espargaro (Red Bull KTM Factory Racing) had the trio in his sights to land KTM a top 10. And completing the top 10 was Aprilia Racing Team Gresini's Andrea Iannone – the Italian claiming his best result on board an RS-GP.
Johann Zarco (Red Bull KTM Factory Racing) and Miguel Olveira (Red Bull KTM Tech 3) crashed out at The Loop with 12 to go, with Aleix Esparagro (Aprilia Racing Team Gresini) the other non-finisher.
Results
| | | | | |
| --- | --- | --- | --- | --- |
| POS | RIDER | NAT | TEAM | BEHIND |
| 1 | Alex Rins | SPA | Suzuki Ecstar (GSX-RR) | +0.000s |
| 2 | Marc Marquez | SPA | Repsol Honda (RC213V) | +0.013s |
| 3 | Maverick Vinales | SPA | Monster Yamaha (YZR-M1) | +0.620s |
| 4 | Valentino Rossi | ITA | Monster Yamaha (YZR-M1) | +11.439s |
| 5 | Franco Morbidelli | ITA | Petronas Yamaha (YZR-M1) | +13.109s |
| 6 | Cal Crutchlow | GBR | LCR Honda (RC213V) | +19.169s |
| 7 | Danilo Petrucci | ITA | Mission Winnow Ducati (GP19) | +19.682s |
| 8 | Jack Miller | AUS | Pramac Ducati (GP19) | +20.318s |
| 9 | Pol Espargaro | SPA | Red Bull KTM Factory (RC16) | +21.079s |
| 10 | Andrea Iannone | ITA | Factory Aprilia Gresini (RS-GP) | +25.144s |
| 11 | Francesco Bagnaia | ITA | Pramac Ducati (GP18)* | +40.317s |
| 12 | Sylvain Guintoli | FRA | Suzuki Ecstar (GSX-RR) | +45.478s |
| 13 | Hafizh Syahrin | MAL | Red Bull KTM Tech3 (RC16) | +54.783s |
| 14 | Jorge Lorenzo | SPA | Repsol Honda (RC213V) | +56.651s |
| 15 | Karel Abraham | CZE | Reale Avintia Ducati (GP18) | +89.282s |
| 16 | Tito Rabat | SPA | Reale Avintia Ducati (GP18) | +91.716s |
| 17 | Takaaki Nakagami | JPN | LCR Honda (RC213V) | +100.420s |
| DNF | Aleix Espargaro | SPA | Factory Aprilia Gresini (RS-GP) | DNF |
| DNF | Miguel Oliveira | POR | Red Bull KTM Tech3 (RC16)* | DNF |
| DNF | Johann Zarco | FRA | Red Bull KTM Factory (RC16) | DNF |
| DNF | Fabio Quartararo | FRA | Petronas Yamaha (YZR-M1)* | DNF |
| DNF | Andrea Dovizioso | ITA | Mission Winnow Ducati (GP19) | DNF |
* Rookie.
Rider Standings
| | | | | | |
| --- | --- | --- | --- | --- | --- |
| Pos. | Rider | Num | Nation | Points | Constructor |
| 1 | MARQUEZ Marc | 93 | SPA | 250 | Honda |
| 2 | DOVIZIOSO Andrea | 4 | ITA | 172 | Ducati |
| 3 | RINS Alex | 42 | SPA | 149 | Suzuki |
| 4 | PETRUCCI Danilo | 9 | ITA | 145 | Ducati |
| 5 | VINALES Maverick | 12 | SPA | 118 | Yamaha |
| 6 | ROSSI Valentino | 46 | ITA | 116 | Yamaha |
| 7 | MILLER Jack | 43 | AUS | 94 | Ducati |
| 8 | QUARTARARO Fabio | 20 | FRA | 92 | Yamaha |
| 9 | CRUTCHLOW Cal | 35 | GBR | 88 | Honda |
| 10 | MORBIDELLI Franco | 21 | ITA | 69 | Yamaha |
| 11 | ESPARGARO Pol | 44 | SPA | 68 | KTM |
| 12 | NAKAGAMI Takaaki | 30 | JPN | 62 | Honda |
| 13 | MIR Joan | 36 | SPA | 39 | Suzuki |
| 14 | ESPARGARO Aleix | 41 | SPA | 33 | Aprilia |
| 15 | BAGNAIA Francesco | 63 | ITA | 29 | Ducati |
| 16 | IANNONE Andrea | 29 | ITA | 27 | Aprilia |
| 17 | OLIVEIRA Miguel | 88 | POR | 26 | KTM |
| 18 | ZARCO Johann | 5 | FRA | 22 | KTM |
| 19 | LORENZO Jorge | 99 | SPA | 21 | Honda |
| 20 | BRADL Stefan | 6 | GER | 16 | Honda |
| 21 | RABAT Tito | 53 | SPA | 14 | Ducati |
| 22 | PIRRO Michele | 51 | ITA | 9 | Ducati |
| 23 | GUINTOLI Sylvain | 50 | FRA | 7 | Suzuki |
| 24 | SYAHRIN Hafizh | 55 | MAL | 6 | KTM |
| 25 | ABRAHAM Karel | 17 | CZE | 5 | Ducati |