Bommarito Automotive Group 500: Newgarden on pole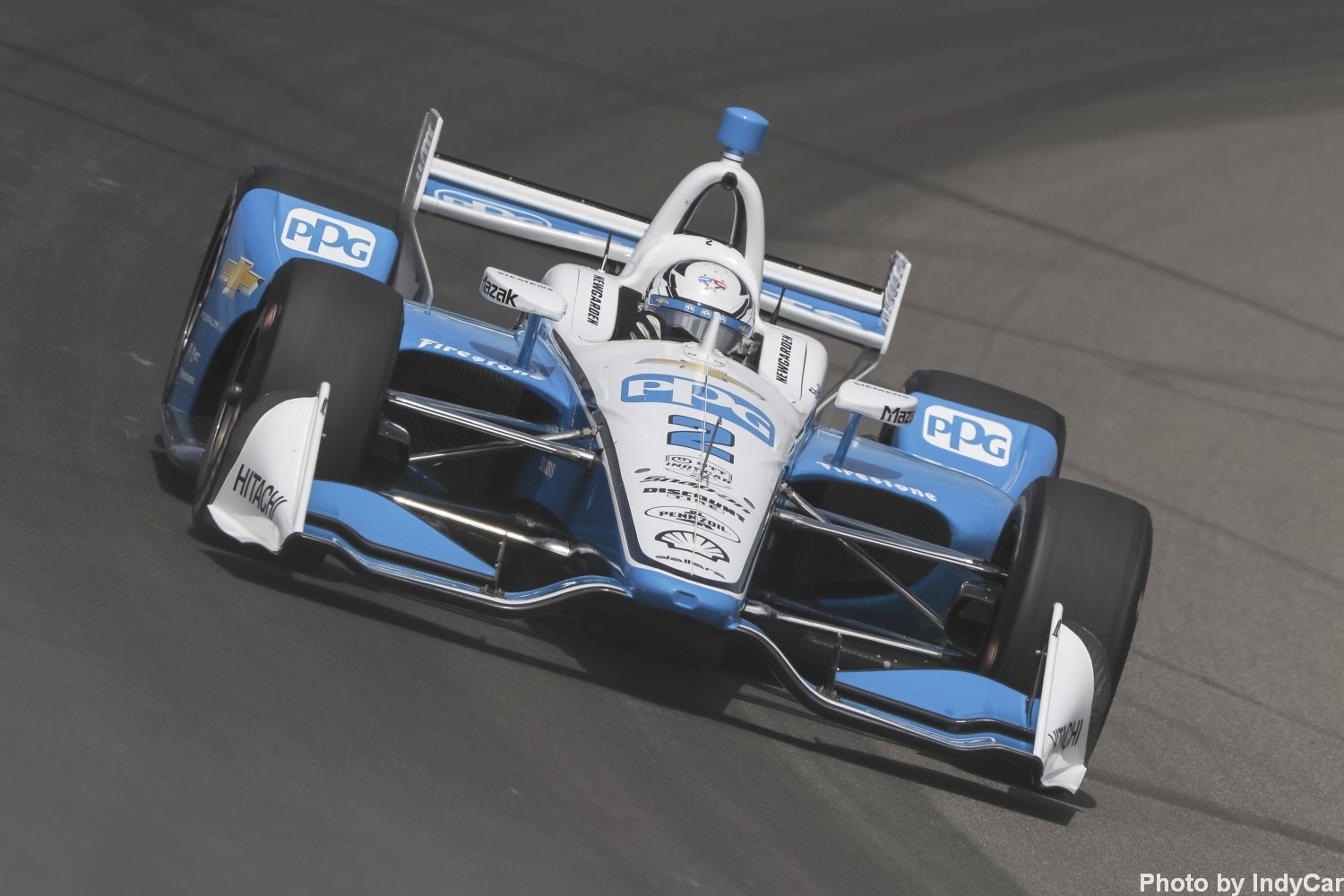 Newgarden storms to pole
Josef Newgarden saved the best for last, as he snatched the Pole from Seb Bourdais by 6/10 of a mph. Bourdais will start alongside, with Will Power and Simon Pagenaud in the second row. Santino Ferrucci was the fastest rookie, and will start in 6th place.
Newgarden, the points leader, is out to bury 2nd in points Alexander Rossi in the Andretti Honda. Two years ago he punted team mate Pagenaud in a pass that ultimately determined the championship. The consensus of drivers, articulated by Bourdais in the post-qualifying press conference, is that the elbows will be out in this race.
Notable in disappointing runs has to be Ed Carpenter, who will start 17th. Ed has traditionally done well on ovals, but has struggled in his oval starts of late.
********************
Two years ago Josef Newgarden won this race by punting team mate Simon Pagenaud out of the way. We asked him if there was a probability of this year's win coming the same way. After joking about not having a crystal ball he said that the track really needs a second groove. Firestone brought stickier tires in hopes that this will happen, but so far the consensus is that we're not there yet. Drivers will try to find a second groove in practice tonight.
It's also entirely possible we'll see some crunch time during the opening laps. The last two years have featured opening lap crashes, and since passing is difficult here the drivers will be anxious to grab a spot or two. Add into that the rubber that will be left over from the NASCAR and Lights races, and there might be some early retirements.
The NTT IndyCar Series returns to the track this evening for a final 60-minute practice that will run from 9:15-10:15 p.m. ET (8:15-9:15 p.m. CT local) and available on NBC Gold.
The Bommarito Automotive Group 500 (248 laps, 310 miles) will be broadcast live on the NBC Sports Network, beginning with pre-race coverage at 8 p.m. ET (7 p.m. local) and green flag at approximately 8:45 p.m. (7:45 p.m. local). The race also will be carried live on the Advance Auto Parts INDYCAR Radio Network and SiriusXM Satellite Radio (XM 209, Sirius 98, Internet/App 970),
Quotes
[adinserter name="GOOGLE AD"]1st – JOSEF NEWGARDEN (No. 2 PPG Team Penske Chevrolet): "It helps to start up front. I'm glad we got this one finished off. When we were in Iowa, I thought we had a car that could win the pole. So I'm just happy we got it right tonight. The PPG Chevrolet was so good right off the truck. Once we finished practice, we didn't touch it before qualifying. Chevy has done an amazing job and gave us some great power to get the pole."
2nd – SEBASTIEN BOURDAIS (No. 18 SealMaster Honda): "A very strong run for the SealMaster Honda. It was a really solid effort and the guys gave me a great car. It felt very similar to Phoenix (took pole there in 2018). You never completely know how things are going to evolve from the practice run. The conditions are so different. During the run, there was a lot of sliding around in Turns 1 and 2. I gave it everything I had and I'm just really pleased with the run."
3rd – WILL POWER (No. 12 Verizon Team Penske Chevrolet): "Yeah, on the second lap, I had a big moment in (Turn) 1 and (Turn) 2. The Verizon Chevrolet was good, though. I knew it would be close. I don't know how close it really was. The car was on the right rear and I had to catch and get out of the throttle, then get back on it on Lap 1 there. Great job for Team Penske though. We are all up there."
4th – SIMON PAGENAUD (No. 22 Menards Team Penske Chevrolet): "The first lap was very difficult. The car moved around a lot. I was very active in Turn 1 and Turn 3. The car came alive on the second lap, though. I'm very happy with the performance. I think the No. 22 Menards team did a good job. Team Penske and Chevrolet – we are fast as usual. Should be a good race."
5th – TAKUMA SATO (No. 30 Mi-Jack / Panasonic Honda): "After the first practice, I felt positive. We made great progress and I was able to commit in qualifying. I'm very happy for the team. They did a great job. It's an extremely challenging track. Turns 1 and 2, and Turns 3 and 4 have very different characteristics. The car was quite loose in Turn 2, but then nearly flat out in Turns 3 and 4. It's a fun track. I am optimistic for the race."
6th – SANTINO FERRUCCI (No. 19 Cly-Del Manufacturing Honda): "I'm really happy with our qualifying run. We have good momentum going right now and things are going really well. The car was great in practice this morning and I was confident going into qualifying. I took it a bit easy on the first lap, but when I saw how great the track was I pushed harder on the second one. The No. 19 Cly-Del Manufacturing Honda was awesome in qualifying, so hopefully our race car will be as good and we can go out and pass some cars tomorrow."
7th – JAMES HINCHCLIFFE (No. 5 Arrow Schmidt Peterson Motorsports Honda): "I have to thank the Arrow SPM team a ton on this run. We rolled off the truck with a couple of problems for first practice, and my teammate Marcus [Ericsson] was able to come here and test a few weeks ago, and he really helped develop the car from where we were last year. I have to thank him a lot, this is his setup. He was obviously quick in P1, we had all sorts of problems and just didn't get a good run in. For me, I kind of had to just pony up and get after it. Because we were able to go after Marcus, we knew what the car had. Very happy for the Arrow Schmidt Peterson Motorsports guys and the Arrow car."
8th – SCOTT DIXON (No. 9 PNC Bank Chip Ganassi Racing Honda): "I'm not sure if we had an issue with where our tire pressures were at or something, but it just kind of felt weird. The PNC Bank car was a lot better earlier in the day, so I think we need to learn a bit more why that was the case. I think if we ran another lap or two we would have been faster. I think our car will be good on the longer run for sure. I think our car is really good overall and I'm excited for the race."
9th – RYAN HUNTER-REAY (No. 28 DHL Honda): "We were a little loose there on Lap 2 in Turns 1 and 2, and had understeer in Turns 3 and 4, and had to lift on Lap 1 a little bit. We just missed the balance a touch – it wasn't much, but it doesn't take much around here. We'll focus on practice tonight and try to make a good race car. I think it will be a one-groove race and track position will be important, but we'll do all we can to try to take the DHL car to the front tomorrow."
10th – FELIX ROSENQVIST (No. 10 Monster Energy Honda): "Last week was tough. We only did one lap and more than anything we missed out on the experience of running the whole 500 miles. But this is a new week. It's a new track and a new car, too. And even a new partner in Monster Energy. It's not new to our Ganassi team (in NASCAR with Kurt Busch), but it's their first time with an INDYCAR primary. We're excited about this partnership. Our car wasn't bad in qualifying, but I'm confident we can improve for the race. We tested here a few weeks ago so I'm pretty comfortable around here already."
Remainder of Drivers (alphabetical – with qualifying position):
MARCO ANDRETTI (Qualified 22nd – No. 98 Oberto Circle K / Curb Honda): "The second lap I was still digging out of the hole from Lap 1. Gave it a crack and just lost it. It's a bummer; I should have taken a little off of it there and just put two solid laps down but I was going for it."
ED CARPENTER (Qualified 17th – No. 20 Ed Carpenter Racing Chevrolet): "We really have gotten better as the day has gone on, but where we unloaded was too far outside the window. We used up a lot of time in that first practice correcting that. During my qualifying run, I bottomed a little too hard on the second lap and got loose in Turns 3 and 4. We'll have to work our way through the field tomorrow night."
CONOR DALY (Qualified 18th – No. 59 Gallagher Carlin Chevrolet): "It's just such a shame – it's an ice skating rink out there. These Carlin guys did an awesome job with the No. 59 Gallagher Carlin Chevrolet and we had a really good session this morning, but with the oil dry down we just didn't have a chance. We didn't even really get to show our true pace this morning because we saved a set of tires, so I feel like we could've been even stronger if we weren't the first one out again in this qualifying session. There was just no grip at all in Turn 1, which is where you need it the most. It is a shame because the car was good and we were really aiming to start in the top 10, which was completely realistic with the car we had in this morning. We'll just work on our race car tonight and work our way up from the back like we did last weekend."
MARCUS ERICSSON (Qualified 14th – No. 7 Arrow Schmidt Peterson Motorsports Honda): "Our run was not perfect because of that (adjusting his line to avoid the oil dry). I think our first lap, it affected my Turn 1 but from then on I knew sort of how it affected the grip so the second lap I was happy with. It's a shame because the first lap was too slow. I'm a bit disappointed with that, but the Arrow car was really good in P1 and good again in qualifying. I'm hopeful we can do something good in the race tomorrow."
COLTON HERTA (Qualified 12th – No. 88 Capstone Turbine Honda): "Qualifying didn't go as well as we had planned today. I'm not satisfied with a 12th-place start for tomorrow. Luckily, anything can happen in 248 laps around this place. Now we have another hour practice to switch gears to race mode before green flag tomorrow night. Proud of the work the No. 88 Capstone Turbine Honda guys do for the team and me, looking forward to going green tomorrow night!"
TONY KANAAN (Qualified 20th – No. 14 ABC Supply AJ Foyt Racing Chevrolet): "It wasn't a good run for us. The car had a lot of oversteer, which was the opposite of what we had in practice and that slowed the car quite a lot. We'll have to work on the race setup this next session and see what we can come up with for the race."
CHARLIE KIMBALL (Qualified 19th – No. 23 ripKurrent Carlin Chevrolet): "The track was just a lot different for our qualifying run than where it was this morning in practice after that oil dry went down. The car balance caught me out in Turn 1 and I had a big moment on the warmup lap just trying to carry some momentum. It's tough because you only have two laps to get the most of the car and when you're first out and the track conditions aren't where they should be, it's just extremely difficult. The No. 23 ripKurrent Carlin Chevrolet is definitely stronger than where we qualified, but we just didn't have a chance with track conditions the way they were. Thankfully, we have another hour of practice under the lights tonight and 248 laps of racing tomorrow night."
MATHEUS LEIST (Qualified 21st – No. 4 ABC Supply AJ Foyt Racing Chevrolet): "I thought we had a better pace, but we just struggled with oversteer in both turns and I don't think it was because the track was a little bit dirty. I think overall we were more to the oversteer side. We'll work on the car to make some changes for the last practice and try to get a good baseline car for the race tomorrow."
SPENCER PIGOT (Qualified 13th – No. 21 Ed Carpenter Racing Chevrolet): "It was tricky there in Turns 1 and 2. There was oil dry down right there at the bottom of the corner where you want to be. It was a difficult run, it just felt like the whole car lacked grip all of the way through. We definitely made some improvements from practice to have a solid run. We'll see what we can do tomorrow."
GRAHAM RAHAL (Qualified 16th – No. 15 Mi-Jack Honda): "I thought it (the car) was going. I got so sideways in Turn 1 (on his first qualifying lap). I thought it was gone. I sent her in there and we just didn't have enough. Once she settled down into the bowl, she just gave up. Going into it (qualifying), I felt really good. The car was nice and stable in practice, but we almost lost it in Turn 1 on that first (qualifying) lap. She went all the way around pretty much. It wasn't as bad as Marco's, but it was close and that's it. When you lose momentum as bad as that, it's (qualifying run) over. It's disappointing. We'll just have to work our way forward."
ALEXANDER ROSSI (Qualified 11th – No. 27 NAPA AUTO PARTS Honda): "Last year we had a car that was really quick – leading both practice sessions. It is a little bit different experience this weekend. We have one more practice session to dial it in. The NAPA Andretti Honda just isn't where it needs to be."
ZACH VEACH (Qualified 15th – No. 26 Gainbridge Honda): "I was shaking after my run; it was a bit scary. I think we were just a little too free, but we held onto it as best as we could. I think we still needed about two-and-a-half more tenths. The oil dry in (Turn) 1, they said it was clean, but it was still down there. It just upset the rear a little too much."
Qualifying Results
| | | | | | | | | |
| --- | --- | --- | --- | --- | --- | --- | --- | --- |
| Pos | No | Name | QSPEED | Diff | QL1 | QL2 | Engine | Team |
| 1 | 2 | Josef Newgarden | 186.508 | –.—- | 186.610 | 186.406 | Chevy | Team Penske |
| 2 | 18 | Sebastien Bourdais | 185.927 | 0.1508 | 185.770 | 186.083 | Honda | Dale Coyne Racing w/Vasser-Sullivan |
| 3 | 12 | Will Power | 185.896 | 0.1588 | 186.152 | 185.641 | Chevy | Team Penske |
| 4 | 22 | Simon Pagenaud | 185.143 | 0.3556 | 184.926 | 185.361 | Chevy | Team Penske |
| 5 | 30 | Takuma Sato | 185.050 | 0.3802 | 185.226 | 184.874 | Honda | Rahal Letterman Lanigan Racing |
| 6 | 19 | Santino Ferrucci | 184.830 | 0.4380 | 184.535 | 185.126 | Honda | Dale Coyne Racing |
| 7 | 5 | James Hinchcliffe | 184.452 | 0.5377 | 184.493 | 184.412 | Honda | Arrow Schmidt Peterson Motorsports |
| 8 | 9 | Scott Dixon | 184.293 | 0.5800 | 183.396 | 185.198 | Honda | Chip Ganassi Racing Teams |
| 9 | 28 | Ryan Hunter-Reay | 184.206 | 0.6030 | 183.929 | 184.484 | Honda | Andretti Autosport |
| 10 | 10 | Felix Rosenqvist | 184.130 | 0.6231 | 183.931 | 184.330 | Honda | Chip Ganassi Racing Teams |
| 11 | 27 | Alexander Rossi | 184.070 | 0.6391 | 183.816 | 184.324 | Honda | Andretti Autosport |
| 12 | 88 | Colton Herta | 183.399 | 0.8178 | 183.468 | 183.331 | Honda | Harding Steinbrenner Racing |
| 13 | 21 | Spencer Pigot | 183.211 | 0.8682 | 183.048 | 183.375 | Chevy | Ed Carpenter Racing |
| 14 | 7 | Marcus Ericsson | 183.180 | 0.8765 | 182.477 | 183.889 | Honda | Arrow Schmidt Peterson Motorsports |
| 15 | 26 | Zach Veach | 182.547 | 1.0471 | 182.800 | 182.294 | Honda | Andretti Autosport |
| 16 | 15 | Graham Rahal | 182.065 | 1.1774 | 181.591 | 182.542 | Honda | Rahal Letterman Lanigan Racing |
| 17 | 20 | Ed Carpenter | 181.334 | 1.3767 | 181.839 | 180.832 | Chevy | Ed Carpenter Racing |
| 18 | 59 | Conor Daly | 179.399 | 1.9120 | 179.486 | 179.313 | Chevy | Carlin |
| 19 | 23 | Charlie Kimball | 178.982 | 2.0290 | 179.036 | 178.928 | Chevy | Carlin |
| 20 | 14 | Tony Kanaan | 178.974 | 2.0312 | 179.119 | 178.829 | Chevy | AJ Foyt Enterprises |
| 21 | 4 | Matheus Leist | 178.290 | 2.2241 | 177.642 | 178.944 | Chevy | AJ Foyt Enterprises |
| 22 | 98 | Marco Andretti | 175.192 | 3.1168 | 172.116 | 178.380 | Honda | Andretti Herta w/Marco & Curb-Agaj |