Pocono 500 Sunday Press Conference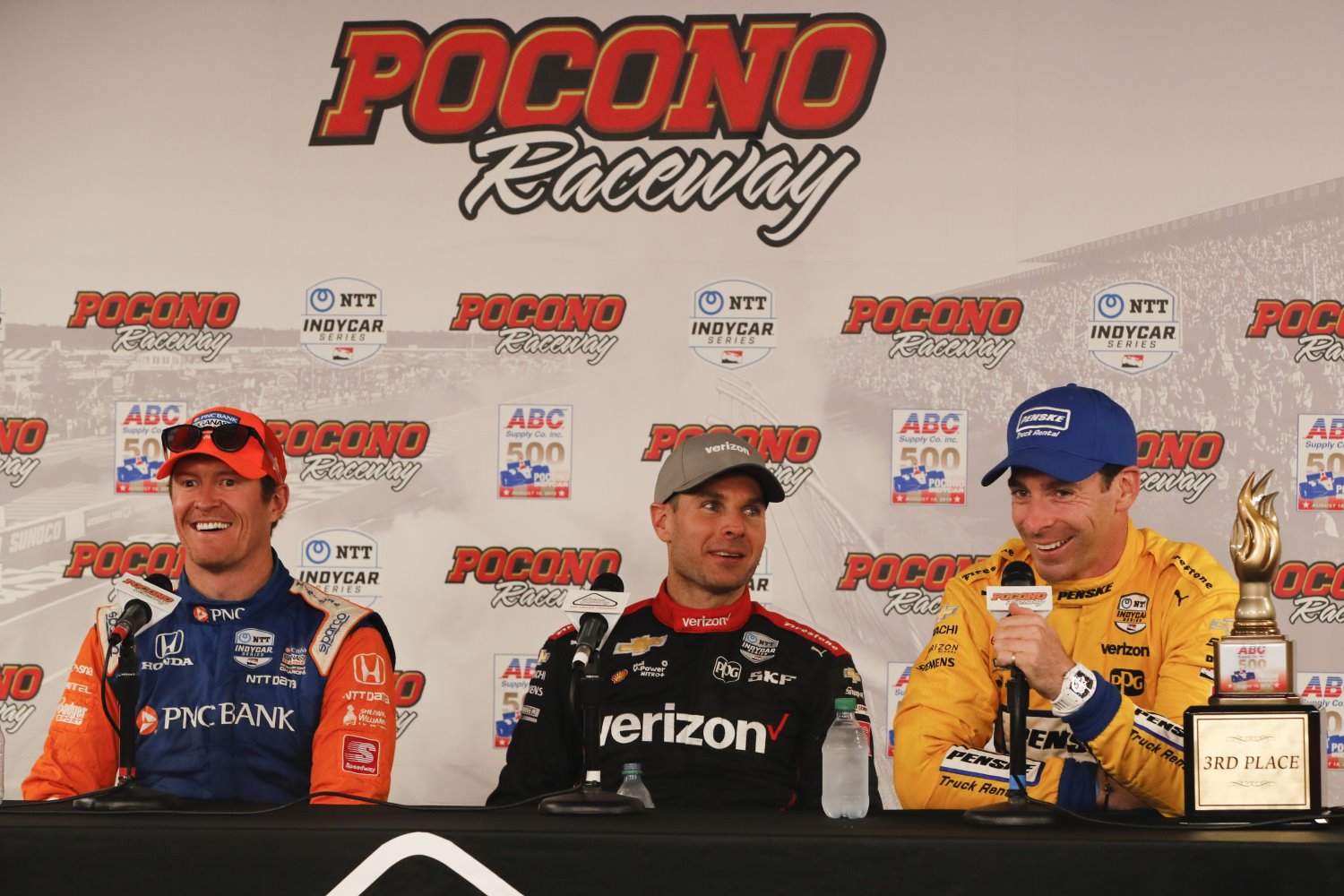 From left, Dixon, Power and Pagenaud
Drivers:
1 – WILL POWER, Team Penske
2 – SCOTT DIXON, Chip Ganassi Racing
3 – SIMON PAGENAUD, Team Penske
We'll keep our head down and see what we can come up with for the last three races.
THE MODERATOR: Simon, a bold move to take the lead on the opening lap. You had a strong car. My sense is this is a little bit of a disappointment.
SIMON PAGENAUD: Well, it's a great day. Very happy for Will and Team Penske to get another win here in Pocono. It's pretty awesome. I think we showed our cars were the strongest today.
Overall it's a pretty good points day for us on the 22 car this weekend. Obviously, yes, I did think we could have done a little better. At least we would have tried. I think we had the car to do so.
But Will found a way to the front. As he always does here, was definitely the (indiscernible) of the team at the end. Who knows what would have happened, but I think we could have challenged at least.
At the end of the day it's not a bad day. We'll take it. Go to the next one, keep pushing.
THE MODERATOR: Will, Scott made the reference that even in headlights you probably would have won this race. The determination you've had to get back into Victory Lane almost unmatched.
WILL POWER: Yeah, I was very determined today, especially knowing I had the car to do it. Kind of sat back and saved fuel a lot. When I got shuffled back second or third stop with the yellow, we were able to move forward pretty quickly and get back to these guys.
Yeah, got the car right. The car was very fast, as well. When my spotter said, The rain is coming, I just turned the fuel up and I went as fast as I could. Yeah, it was good, good day.
THE MODERATOR: Third win in four years for Will at this racetrack.
We'll take questions.
[adinserter name="GOOGLE AD"]Q. Will, during practice yesterday, didn't seem like there was anything remarkable about the speed of the car. When this weekend did you know you had a car that could do what you did in this race?
WILL POWER: We weren't struggling at all. Just some people run light fuel. We were straight into heavy fuel running, really understanding the car. I think we just tried a lot of things to get an understanding of what we needed for the race, particularly the downforce level we need to run, which everyone in the field ended up on anyway.
As soon as the race started, I knew we had a good car. I knew we had a good car going in. Yeah, we just made some adjustments, kind of had a lot of push. Obviously back in traffic there, I ended up trimming out a little bit at the end there. All the right moves.
Q. Will, you just said a minute ago you had the car to win. Nevertheless, I had the impression the first 20, 25 laps the car wasn't so up to speed. Came to life after your first pit stop. Did you make any important adjustments at the pit stop?
WILL POWER: We didn't. I actually had just leaned out as much as you could and sat in the train. The train wasn't that spread out. I knew if I could get a few laps on fuel, plus we topped off, that I could pump out some really fast laps at the end.
Actually made it back to second in that stint. I don't know what position I was when I pitted, but made a lot of positions. Clear track, ran hard, yeah.
Q. Will, you have more superspeedway wins than Helio now. You can bug him.
WILL POWER: That's good to know.
Q. Was there one thing that clicked for you or one thing you were told that made it click?
WILL POWER: When I was told it was going to rain, I could see it coming, but my spotter said, There's rain about 20 minutes out, you need to go. I was full rich. I knew I had only one chance to get Scott. Our tires were good. I pushed very hard to do that. Tried to get a gap.
Q. Was there one thing in your career back in 2013 that it just clicked?
WILL POWER: Oh, you're talking about superspeedways?
Q. Yes.
WILL POWER: I don't know. I mean, honestly, the first superspeedway win was Texas, but really it was at Fontana. I always did reasonably well on ovals, it's just that I did extremely well on street courses. Won all my races there. Look at the contrast. No one else is winning on superspeedways really. No one dominates.
Just got a lot of experience on the them now, know what I want from the car, can always get it pretty good, know when to take the risk and when not to.
You can't beat experience on these sort of tracks. It's not easily learned because going in the wall hard is kind of how you learn.
Q. The fact that for the second year in a row, the start of the race there was an incident with some good drivers involved. You guys are the champions, experienced drivers. Is that kind of disappointing to you? These guys should probably be able to start a race at Pocono better than that.
WILL POWER: Yeah, I mean, looking at the replay, I don't know what happened there, whether Sato got a seam or something. Man, I mean, you just can't do that. Yeah, the seams down the back there, you'll see cars move around a lot. Maybe that's what happened. Being threeâ€'wide, pretty tough going into there. Being close, like it will move half a foot, six inches either way when you're on it.
I don't know what happened. Yeah, it really sucked to see the yellow in turn two on the first lap. I feel bad for the guys that were taken out that were in the championship hunt, too, especially Rossi.
Man, you just got to respect these places in every situation. It's not (indiscernible).
Q. Fontana in 2012, that pretty much ruined your championship.
WILL POWER: Yeah, yeah, yeah. That was actually in the corner. Here actually on the straight, going straight, the car will follow the seam, you'll kind of move around a lot.
Q. Will, I'm pretty sure the field was pretty good. After the first red flag, after that you got a little bit of luck going to the pits right before the yellow. How does this feel to have this luck and get the third win in Pocono?
WILL POWER: Look, I got the luck and then I got it taken away again on the next yellow. I stayed out. Kind of netted zero (laughter).
Yeah, over the moon to get the win obviously. Just very frustrating when you go a long time without a win. Especially when you have the speed, the capability to do it.
High expectations from Roger Penske. We're expected to do well and expected to win. Kind of a relief.
Q. The points championship, I think Josef is 35 ahead of Rossi and 40 ahead of Simon. I think Scott is only 52 behind. Do you feel it's still pretty wide open with three races to go?
SIMON PAGENAUD: Yeah, personally I'm pretty excited that we gained points on Josef for a few races now. It's a championship, the best may win over the year. Obviously he's my teammate. I can only think of good things for him. But I also want to win, so does Scott, so does Rossi.
Bullshit? He says bullshit (laughter). I want to win, he's right. We all want to win.
It's good to be in it. I think there's three races to go, all the chances in the world for our team. We're going to keep pushing. That's what we've been doing. Just keep pushing, doing what we do, try to win races. That's going to be the name of the game till the end. I love it.
SCOTT DIXON: Yeah, I think honestly until you're out of it, you're never really out of it. I don't know what the points gap was going in '15 for us, behind Montoya, but I think it was in the 60s. It's definitely achievable from the point deficit right now.
There's still a long ways to go. I think the next two will be pretty interesting. St. Louis is going to be a lot of fun. Then Portland will be interesting. For a lot of us, too, it was interesting to get back to Laguna for a while. Some teams struggled more than they thought they would. Laguna will be a pretty interesting race with double points.
Q. A slight change of pace here. You had a couple weeks off between your last race and this one. We heard about the exploits of you playing the saxophone, Will. Simon, you went home to France, brought the Borgâ€'Warner trophy there. Say a little bit about that.
SIMON PAGENAUD: Yeah, absolutely. First of all I want to thank Borgâ€'Warner and INDYCAR for organizing this French media tour. It was honestly an honor to be able to bring the most valuable trophy in the world in my home country. Even though I've been racing here for 14 years, you guys have welcomed me like your son, I appreciate that. But it was good to bring awareness about our sport.
I think the Indy 500 doesn't need the awareness. I think everybody knows it's the biggest race in the world. When you keep saying it, keep saying it, bring this amazing trophy with all the faces on it, it just wakes up people. It helps enhance what it's all about.
The fact that it's the one fastest race in the world, that a Frenchman won it, I was very, very proud. I can't thank Borgâ€'Warner. Honestly, it sounds like a (indiscernible) speech, but they are an incredible partner of the series making sure we keep those traditions, making sure we keep on building. That's what makes this race so special. I was very excited to be there with that.
Personally I think we gained a lot of followers in France, so that's a good thing. It was the first time actually that the likeness of a driver was unveiled outside the U.S. Again, a big step for Borgâ€'Warner and INDYCAR. But we don't forget the U.S. don't worry about that. It was just a way to bring more people in. I think we accomplished that. I was very grateful for the situation.
Q. (No microphone.)
SIMON PAGENAUD: Yeah, my hair is awesome on the trophy. My face won't age any more, so that's really cool. Next to this guy, which means a lot to me, because we raced together for so long. He's taught me a lot. It's pretty good to be next to models and your heroes.
Q. Scott, when you look at your last couple of championships, you've rallied to win them. If you look at the performance the last four races, four podiums, what does it say about the resiliency you show that you're able to rally, overcome, come from behind in the championship?
SCOTT DIXON: I think that's kind of the team's MO, to be honest. Last year, we took the lead of the championship at Texas and carried it through, which was very different, felt a lot different. It's a lot more stressful that way.
But, no, I think the team, even Dario's championships were similar to that scenario. The start of the year, midway you're kind of there, thereabouts, but really came on in the latter parts of the year.
Simon kind of spoke of earlier, it's the best over the full year. Sometimes that down part creates determination not just in yourself but also in the team. It also allows you a little bit of difference, maybe in strategy can you take more risks, you can go for race wins. If you get on a roll, it just starts to feel good for everybody and it kind of continues a little bit longer.
I don't know. There's been many championships won many different ways. Josef took the lead for the championship the first race, so we'll see.
Q. Will, after you had your race at Toronto, you had to start in the back, didn't turn out well. The issue at Iowa. Now two top fives in a row. How great is it that things seem to be coming together at the right point of the season?
WILL POWER: Yeah, kind of too far out now. But it turns around eventually. If you keep performing and doing the work, eventually it turns around for you. Can't have bad luck all the time. It's not all bad luck, believe me. There's always a reason. It's rarely bad luck, honestly. Always put it down to something that wasn't done right.
This sport has become so tough these days, you can't leave anything on the table in any way. If you do, you're simply not going to win.
Q. Gentlemen, we saw some comments during the race from Robert Wickens, Sage Karam, whether INDYCAR should be running here at Pocono in the future. What are your thoughts after finishing the race today? Do you see those changing as you get more time to think about it?
SCOTT DIXON: Honestly I feel bad for Pocono. The group of people here that work, they work extremely hard. I felt the crowd today at the start of the race was fantastic. It was gaining some really good momentum. Hopefully it does continue.
But down to weather, some mistakes that have happened on track, honestly they could happen anywhere, if you look at Justin or Robby, those can happen anywhere. I feel bad that it gets a bit of a bad taste in that scenario. I think the drivers in a lot of situations can do a better job to help that situation.
Honestly, I hope we come back. I just want to say a big thank you to everybody here at Pocono, the fans and everybody that come out, because it's definitely a tough place. Will can tell you how rewarding it is to win here just because it is so difficult to get it right.
WILL POWER: I agree. It's a great oval for us. Obviously some unfortunate accidents here, like Scott said, that could happen anywhere. Kind of got a bad rap for that.
The crowd is up 15% every year we come back. It's getting better. Like Scott said, the crowd was great today. It's a good racetrack, man. A good track for racing. I really hope we come back, I do. I think the guys do a great job. A cool track for us. It's hard for us to find good ovals these days that suit our cars.
SIMON PAGENAUD: Tough to add to that. I think they said it all.
It is a fun track to drive on. Real unfortunate, close to New York, a great market for INDYCAR. It's an opportunity to bring people from New York to the Indy car races. Really enjoy that.
I love personally superspeedways. I think it's been the best, like they said. Obviously when you're traveling at such high speed, you know a crash is going to be a big crash.
Hopefully we can come back and hopefully we can keep working with people at Pocono because it's been a lot of fun. I've been racing here since 2012 in the series. I've enjoyed it more and more every year. So we'll see what happens next.
As a driver, I really enjoy coming here.
THE MODERATOR: Gentlemen, thanks.