Harvick looks to carry momentum into Michigan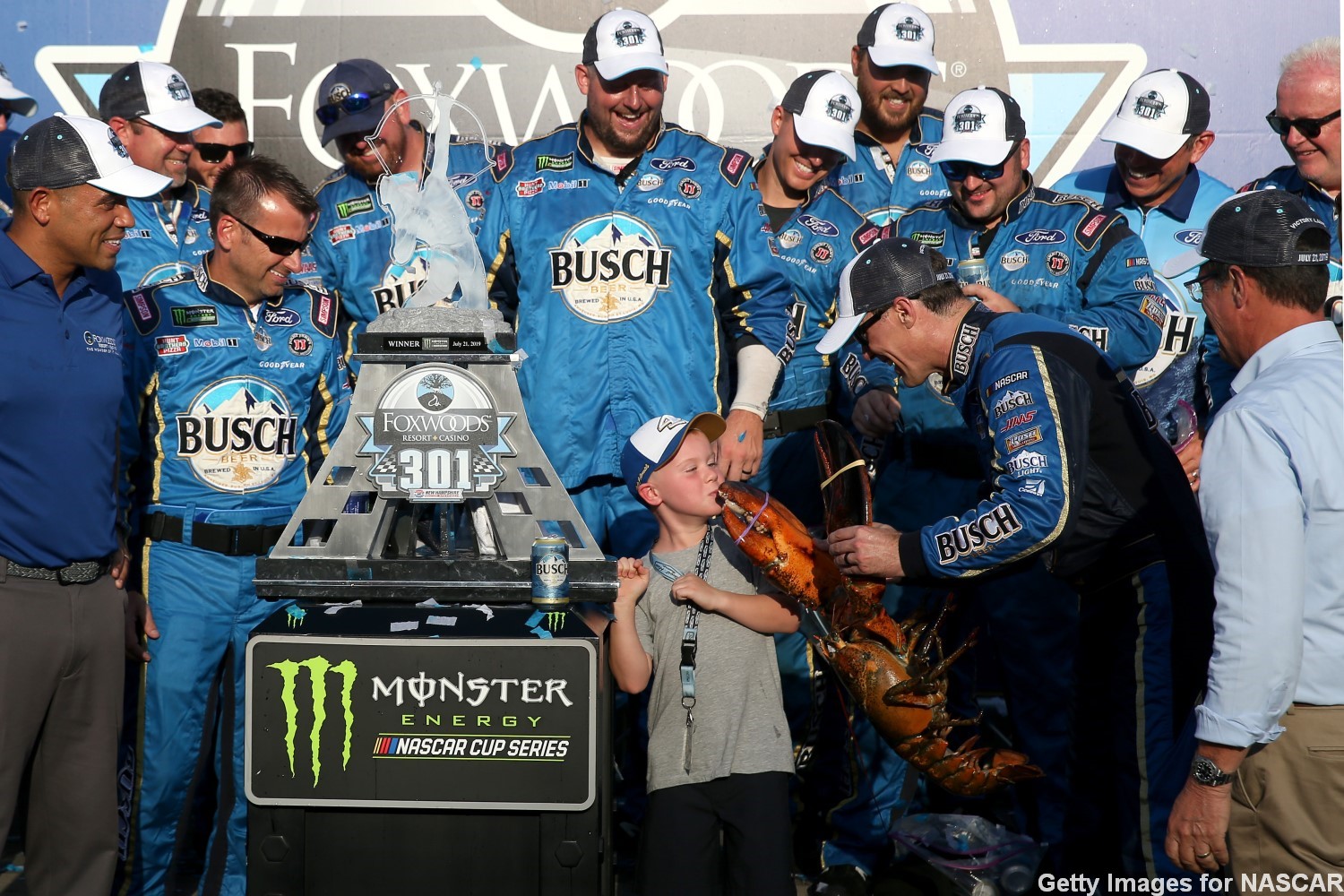 Harvick celebrates with son Keelan and a huge lobster
After securing his first victory of the 2019 season three weeks ago in New Hampshire, Kevin Harvick and his Stewart-Haas Racing team feel not only a giant monkey off their back, but that the result finally equaled the team's performance and expectation.
Since the victory, Harvick has scored two more top 10s. He won the pole position at Pocono, Pa. and led an impressive 62 laps. Last week he finished seventh on the Watkins Glen, N.Y. road course. In just the last six races, Harvick's No. 4 SHR Ford has led 247 laps of his season total 544 laps out front – that's 45 percent of his 2019 season mark.
And there's plenty of reason to think that the positive vibe check out best bookmaker & casino bonuses continues this week at Michigan International Speedway, where Harvick returns as defending race champion.
His career work at the two-miler is impressive. He's won twice, had 12 top-five and 18 top-10 finishes and led 495 laps in 37 starts.
Last year, he won the August Michigan race and finished runner-up in the June version. He has six finishes of seventh or better in the last eight races at Michigan. In particular, since the 2014 champ joined Stewart-Haas Racing, he's fared particularly well at this important venue located just outside America's Detroit-based auto manufacturing headquarters.
In 11 starts with SHR, Harvick has the win last year and four runner-up finishes. He's had top-five starts in five of the last six races. And Harvick has led 172 laps (34 percent of his career total) in just the last three Michigan races.
A good run this weekend is not only further confirmation that his team has this track figured out, but that the No. 4 group is in a good place for the 10-race Playoff portion of the schedule that begins in four weeks.
And with two of the sport's auto makers headquartered nearby, this is an exclamation point race for Ford and Chevrolet. Ford has 38 victories there – the highest victory count for the company at any track the Cup series races – including the last three races.
The contenders. …
Strictly looking at the championship points standings – but understanding the possibility that several drivers could score a Playoff-qualifying win at the next four venues – there is an intense battle among drivers ranked 15th to 17th in the standings. The top 16 drivers will advance to the 10-race Playoffs, which begin at Las Vegas on Sept. 15.
Following last weekend's intense racing on the Watkins Glen, N.Y. road course, seven-time series champion Jimmie Johnson moved back into Playoff eligibility.
Clint Bowyer is ranked 15th, 12 points ahead of both 16th-place Johnson and 17th-place Ryan Newman. Although Johnson and Newman are tied in points, Johnson holds the playoff edge by virtue of a higher finish on the season.
All three drivers have won previously at Michigan.
Bowyer, driver of the No. 14 Stewart-Haas Racing Ford, won a rain-shortened June, 2018 race, but it is his only top-10 finish in the last eight starts at the track. He was fifth on the starting grid in this year's June race but finished 35th. He does bring some momentum, however, with a sixth-place finish at Kentucky and an 11th-place finish at Pocono prior to his frustrating 20th-place showing at The Glen on Sunday.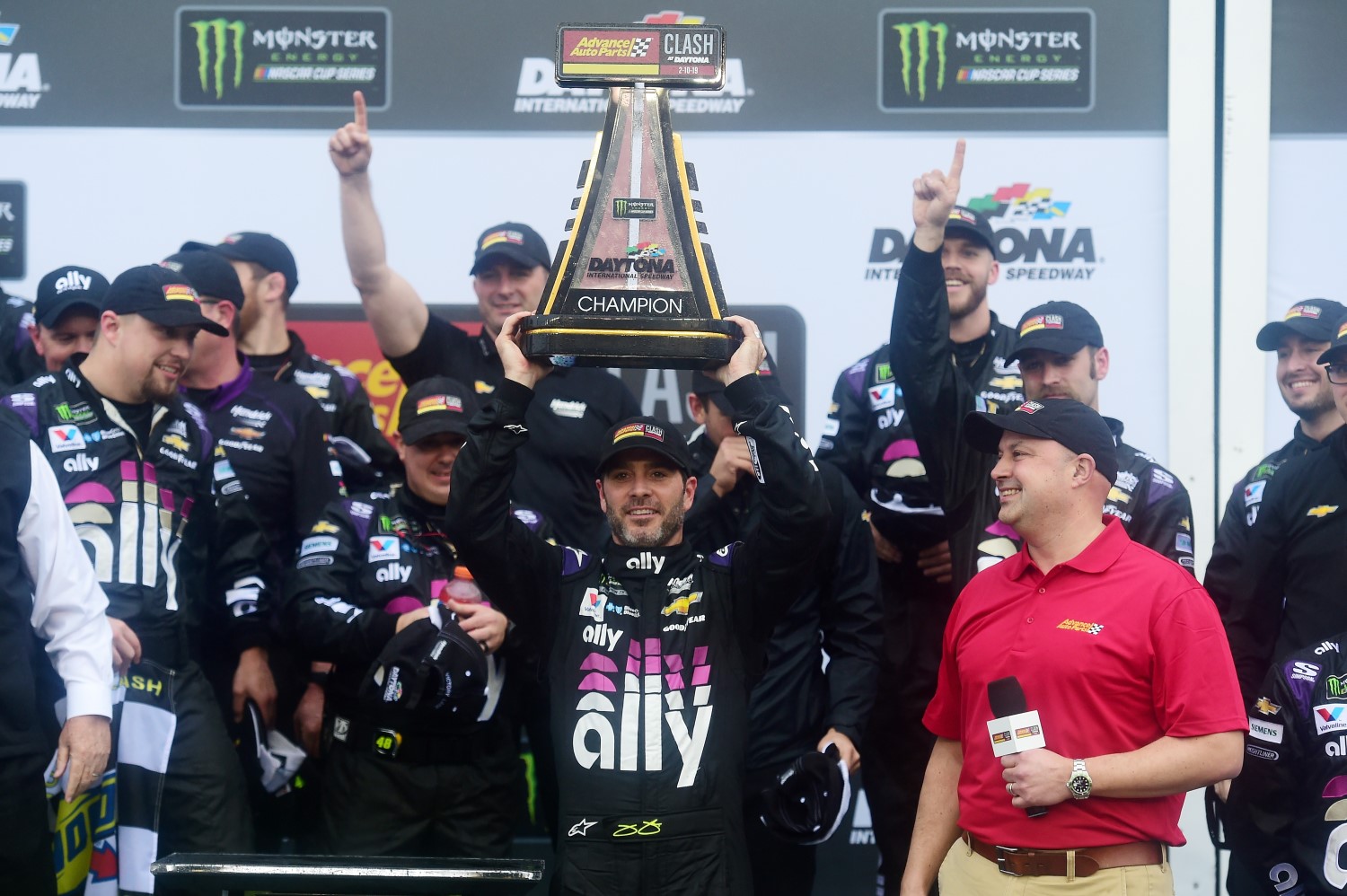 Jimmie Johnson winning Daytona Clash
Johnson, driver of the No. 48 Hendrick Motorsports Chevrolet, scored his one Michigan win in 2014. He's led an even 700 laps at the track and has five top-five and 13 top-10 finishes in 35 starts. He led 13 laps in this late summer race last year and had back-to-back top-10 finishes in 2016 (sixth) and 2017 (10th). He picked up some important stage points last week at Watkins Glen, N.Y. before being spun out late in the race and settling for a 19th-place finish. He earned top fives at Chicago (fourth) and Daytona (fifth) in July but hasn't had a top 10 in the four races since.
Newman, driver of the No. 6 Roush-Fenway Racing Ford, is coming off his worst finish of the season – 25th at Watkins Glen, N.Y. He has three top-10 efforts in the last five races, however, including a best of fifth at Daytona in July. A two-time Michigan winner (2003-04), he is the only driver among this trio with a top-10 effort in the first Michigan race this season – an eighth place. He has a pair of top-10 finishes in the last four races at the track and a fourth place in this race in 2017 is his best result since his 2004 win.
[adinserter name="GOOGLE AD"]