Acura sweeps front row at Road America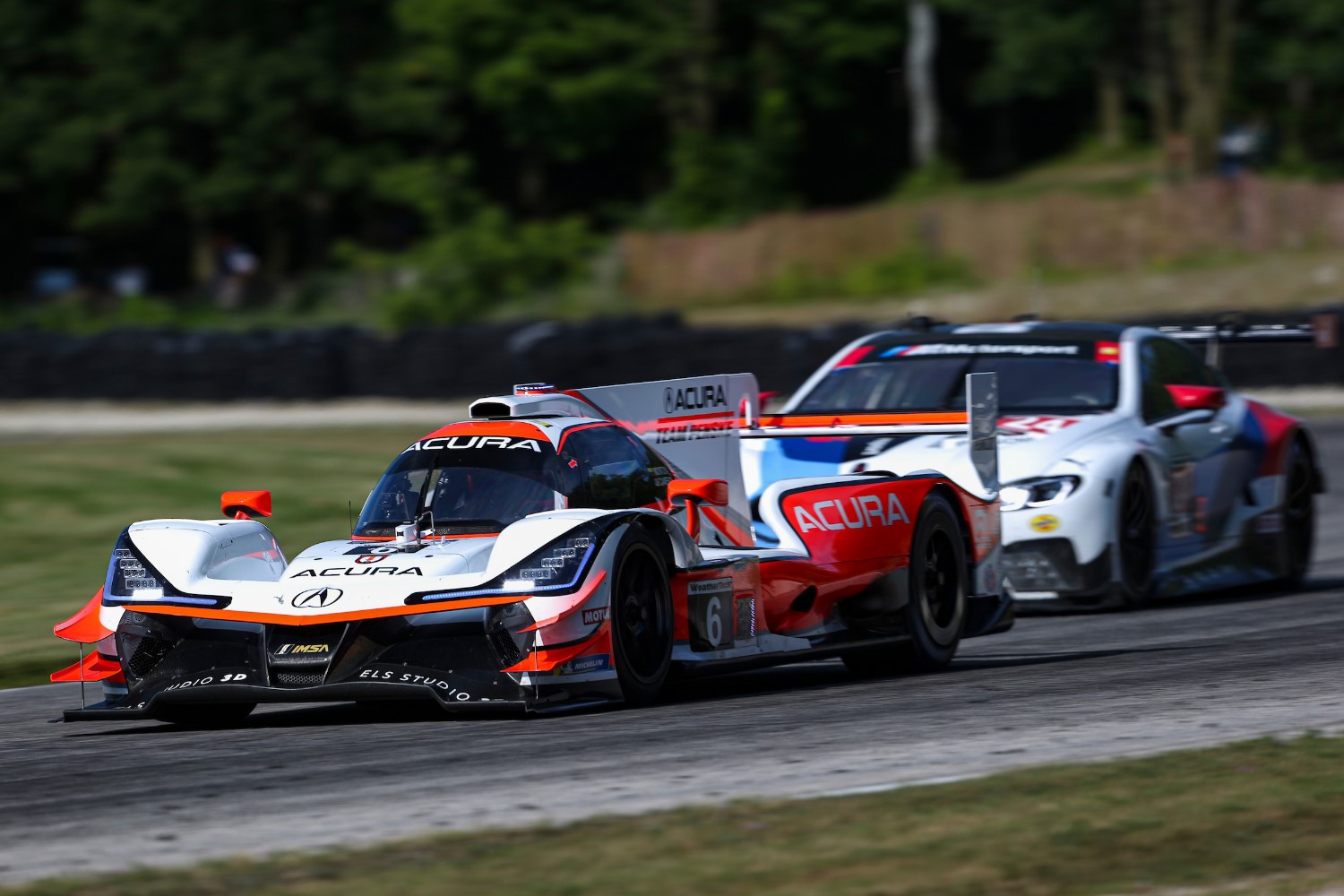 #6 Acura on pole
Acura Team Penske swept the front row in qualifying today for Sunday's Road America Road Race Showcase, with Dane Cameron claiming the pole with a new lap record time of 1:48.715 in his Acura ARX-05 prototype, and teammate Helio Castroneves claiming the outside of the front row with second-fastest qualifying run.
Acura Team Penske ARX-05
Cameron and co-driver Juan Pablo Montoya paced all three practice sessions prior to qualifying, and Cameron went to the top of the time charts in his first flying lap of the 15-minute session, remaining there for duration to take his first pole of the season, and the third of the year for Acura.
Teammate Helio Castroneves turned in a late-lap flyer to qualify second with a lap of 1:48.731, just 16 thousandths of a second off Cameron's best lap time. Cameron and Montoya currently hold a three-point lead in the IMSA WeatherTech SportsCar Championship drivers' title chase, with Castroneves and Ricky Taylor ranked third.
ameron went nearly three seconds faster than the previous WeatherTech Championship record of 1:51.644 set by Robert Alon last year in a JDC-Miller Motorsports ORECA LMP2 machine to score the Motul Pole Award. And he needed every bit of it, as teammate Helio Castroneves threw down a last-lap flyer of his own in the 15-minute qualifying session to put the No. 7 Acura DPi on the outside of the front row, a scant, 0.016 seconds slower than Cameron's lap.
[adinserter name="GOOGLE AD"]"It got a little stressful there for us," Cameron said. "It got a little close, good job to him. That's pretty standard Castroneves procedure to throw a big one in there at the end. I'm super happy to be on pole, and just really happy with how everything is going at Acura Team Penske. HPD has done a great job for us. We're really coming on form when we need to as the back half of this championship, for the three races to go for us. It's game-time to win the championship."
Cameron and co-driver Juan Pablo Montoya enter Sunday's race looking to extend their lead in the WeatherTech Championship DPi standings. They're currently three points ahead (20-7-204) of No. 31 Whelen Engineering Cadillac DPi-V.R co-drivers Felipe Nasr and Pipo Derani. Cameron and Montoya also will be looking for their third victory of the season and their sixth consecutive podium result.
Castroneves – whose best lap was a 1:48.731 (134.025 mph) – and co-driver Ricky Taylor are currently third in the DPi standings, just nine points in arrears of their No. 6 teammates. They are still looking for their first victory of the season.
Oliver Jarvis led a Row 2 sweep for Mazda Team Joest, putting the No. 77 RT24-P DPi he shares with Tristan Nunez third on the grid with a best lap of 1:48.949 (133.757 mph). Jonathan Bomarito qualified fourth in the No. 55 Mazda DPi, posting a best lap of 1:49.381 (133.229 mph) in the car he will co-drive with Harry Tincknell. Mazda Team Joest is looking for its third consecutive victory in Sunday's race after the No. 77 won the last DPi race at Canadian Tire Motorsport Park and the No. 55 won the previous event at Watkins Glen International.
Simon Trummer completed the top five with a best lap of 1:49.911 (132.586 mph) in the No. 84 JDC-Miller Motorsports Cadillac DPi-V.R. Trummer's co-driver is Stephen Simpson. Derani wound up sixth on the grid at 1:50.111 (132.346 mph) in the No. 31 Cadillac.
In the LMP2 class, James French earned his 12th WeatherTech Championship Motul Pole Award with a best lap of 1:52.037 (130.070 mph) in the No. 38 Performance Tech Motorsports ORECA. It's a hometown race for French, who hails from nearby Sheboygan, Wisconsin, and he'll go for the victory on Sunday with Canadian co-driver Cameron Cassels.
"It feels absolutely fantastic to be back here, especially in this car," French said. "It's super, super quick around here, and just tons of grip. The power is amazing. Amazing, beautiful circuit. The weather turned out to be pretty nice for us. It looked like it was going to rain and it didn't. Luckily, it dried up for us and we were able to do some quick times. It was a blast."
BMW Fails Inspection Loses GTLM Pole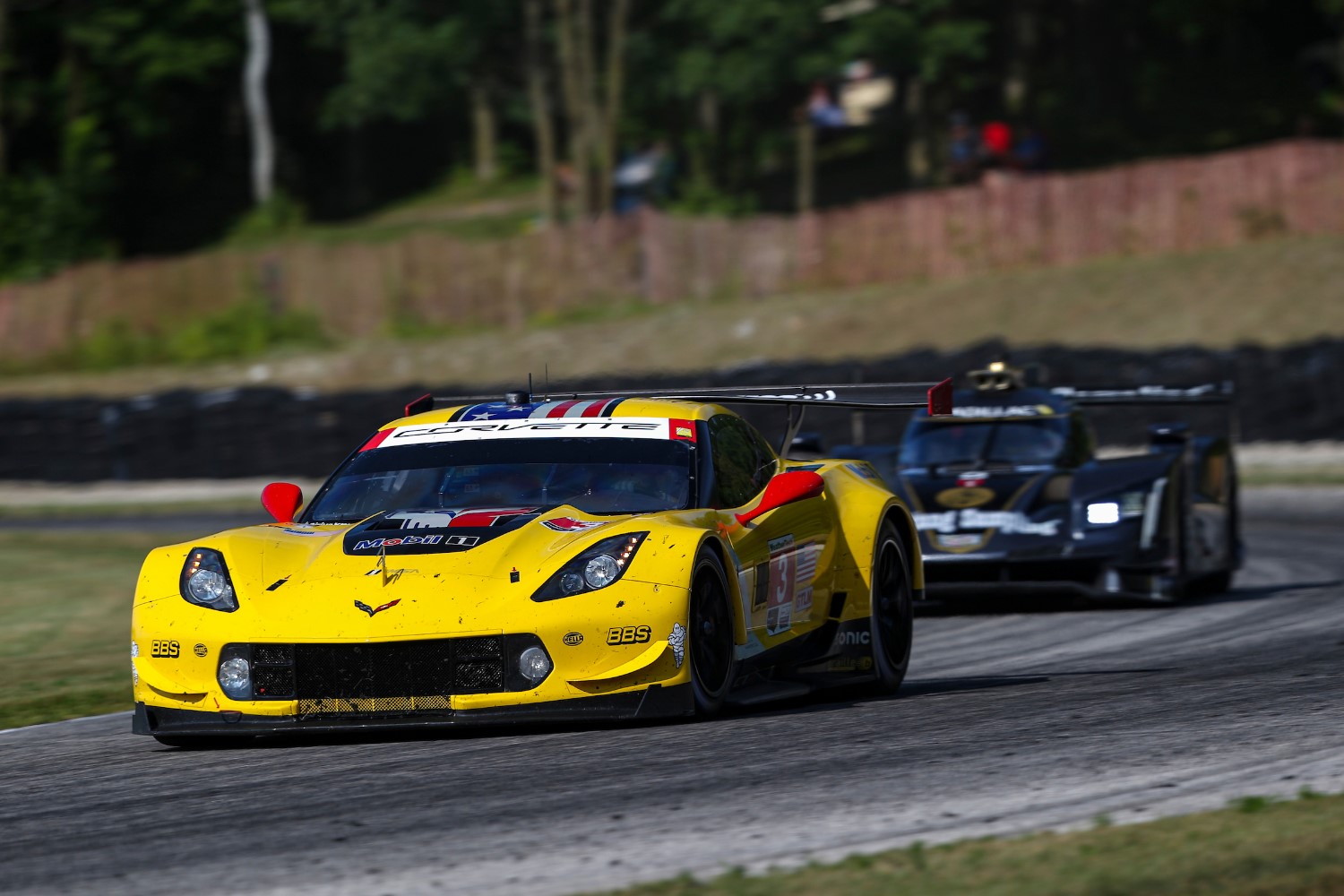 Corvette will lead GTLM
BMW Team RLL has lost its GT Le Mans class pole position for the IMSA Road Race Showcase at Road America after a post-qualifying scrutineering check.
The No. 25 BMW M8 GTE's ride height was found to be non-compliant with the 50mm limit stated in the WeatherTech Championship technical regulations, warranting a penalty to send it to the back of the class grid.
This came after Tom Blomqvist set a new class lap record around the four-mile Road America circuit to pace the GTLM qualifying session on Saturday afternoon.
BMW's sister No. 24 car, which was qualified on the second row of the grid by Jesse Krohn, has also been sent to the back for the same infraction.
It means the No. 4 Chevrolet Corvette C7.R will start from pole position after Oliver Gavin initially qualified second-quickest with a time of 2:00.633.
Gavin will be joined on the front row of the class grid by Ryan Briscoe in the No. 67 Ford GT, while the sister No. 66 Chip Ganassi-run Ford will start third.
Lineup (Before BMW Penalty)
| | | | | | | | |
| --- | --- | --- | --- | --- | --- | --- | --- |
| Pos | Pic | No. | Class | Drivers* | Car | Time | Behind |
| 1 | 1 | 6 | DPi | D. Cameron / J. Montoya | Acura DPi | 1:48.715 | 0.000s |
| 2 | 2 | 7 | DPi | R. Taylor / H. Castroneves | Acura DPi | 1:48.731 | 0.016 |
| 3 | 3 | 77 | DPi | O. Jarvis / T. Nunez | Mazda DPi | 1:48.949 | 0.234 |
| 4 | 4 | 55 | DPi | J. Bomarito / H. Tincknell | Mazda DPi | 1:49.381 | 0.666 |
| 5 | 5 | 84 | DPi | S. Trummer / S. Simpson | Cadillac DPi | 1:49.911 | 1.196 |
| 6 | 6 | 31 | DPi | F. Nasr / P. Derani | Cadillac DPi | 1:50.111 | 1.396 |
| 7 | 7 | 5 | DPi | J. Barbosa / F. Albuquerque | Cadillac DPi | 1:50.783 | 2.068 |
| 8 | 8 | 10 | DPi | R. Van Der Zande / J. Taylor | Cadillac DPi | 1:50.799 | 2.084 |
| 9 | 9 | 85 | DPi | M. Goikhberg / T. Vautier | Cadillac DPi | 1:51.251 | 2.536 |
| 10 | 10 | 54 | DPi | J. Bennett / C. Braun | Nissan DPi | 1:51.257 | 2.542 |
| 11 | 1 | 38 | LMP2 | C. Cassels / J. French | ORECA LMP2 | 1:52.037 | 3.322 |
| 12 | 2 | 52 | LMP2 | M. McMurry / P. Kelly | ORECA LMP2 | 1:53.264 | 4.549 |
| 13 | 1 | 25 | GTLM | T. Blomqvist / C. De Phillippi | BMW M8 GTE | 2:00.344 | 11.629 |
| 14 | 2 | 4 | GTLM | O. Gavin / T. Milner | Chevrolet Corvette C7.R | 2:00.663 | 11.948 |
| 15 | 3 | 24 | GTLM | J. Krohn / J. Edwards | BMW M8 GTE | 2:00.767 | 12.052 |
| 16 | 4 | 67 | GTLM | R. Briscoe / R. Westbrook | Ford GT | 2:00.835 | 12.120 |
| 17 | 5 | 66 | GTLM | J. Hand / D. Mueller | Ford GT | 2:00.922 | 12.207 |
| 18 | 6 | 912 | GTLM | E. Bamber / L. Vanthoor | Porsche 911 RSR | 2:01.038 | 12.323 |
| 19 | 7 | 3 | GTLM | J. Magnussen / A. Garcia | Chevrolet Corvette C7.R | 2:01.085 | 12.370 |
| 20 | 8 | 911 | GTLM | P. Pilet / N. Tandy | Porsche 911 RSR | 2:01.836 | 13.121 |
| 21 | 1 | 33 | GTD | B. Keating / J. Bleekemolen | Mercedes-AMG GT3 | 2:05.250 | 16.535 |
| 22 | 2 | 48 | GTD | B. Sellers / C. Lewis | Lamborghini Huracan GT3 | 2:05.663 | 16.948 |
| 23 | 3 | 76 | GTD | P. Holton / M. Plumb | McLaren 720S GT3 | 2:05.723 | 17.008 |
| 24 | 4 | 9 | GTD | M. Campbell / Z. Robichon | Porsche 911 GT3 R | 2:05.890 | 17.175 |
| 25 | 5 | 86 | GTD | M. Farnbacher / T. Hindman | Acura NSX GT3 | 2:06.028 | 17.313 |
| 26 | 6 | 96 | GTD | B. Auberlen / R. Foley | BMW M6 GT3 | 2:06.105 | 17.390 |
| 27 | 7 | 14 | GTD | R. Heistand / J. Hawksworth | Lexus RC F GT3 | 2:06.425 | 17.710 |
| 28 | 8 | 57 | GTD | K. Legge / B. Figueiredo | Acura NSX GT3 | 2:06.426 | 17.711 |
| 29 | 9 | 91 | GTD | A. Imperato / D. Olsen | Porsche 911 GT3 R | 2:06.432 | 17.717 |
| 30 | 10 | 63 | GTD | C. MacNeil / T. Vilander | Ferrari 488 GT3 | 2:06.537 | 17.822 |
| 31 | 11 | 73 | GTD | P. Lindsey / P. Long | Porsche 911 GT3 R | 2:06.886 | 18.171 |
| 32 | 12 | 44 | GTD | J. Potter / A. Lally | Lamborghini Huracan GT3 | 2:07.509 | 18.794 |
| 33 | 13 | 8 | GTD | P. Chase / R. Dalziel | Audi R8 LMS GT3 | 2:08.156 | 19.441 |
| 34 | 14 | 12 | GTD | F. Montecalvo / T. Bell | Lexus RC F GT3 | 2:08.289 | 19.574 |
| 35 | 15 | 74 | GTD | G. Robinson V / L. Aschenbach | Mercedes-AMG | 2:08.392 | 19.677 |