Max Verstappen wins pole for Hungarian GP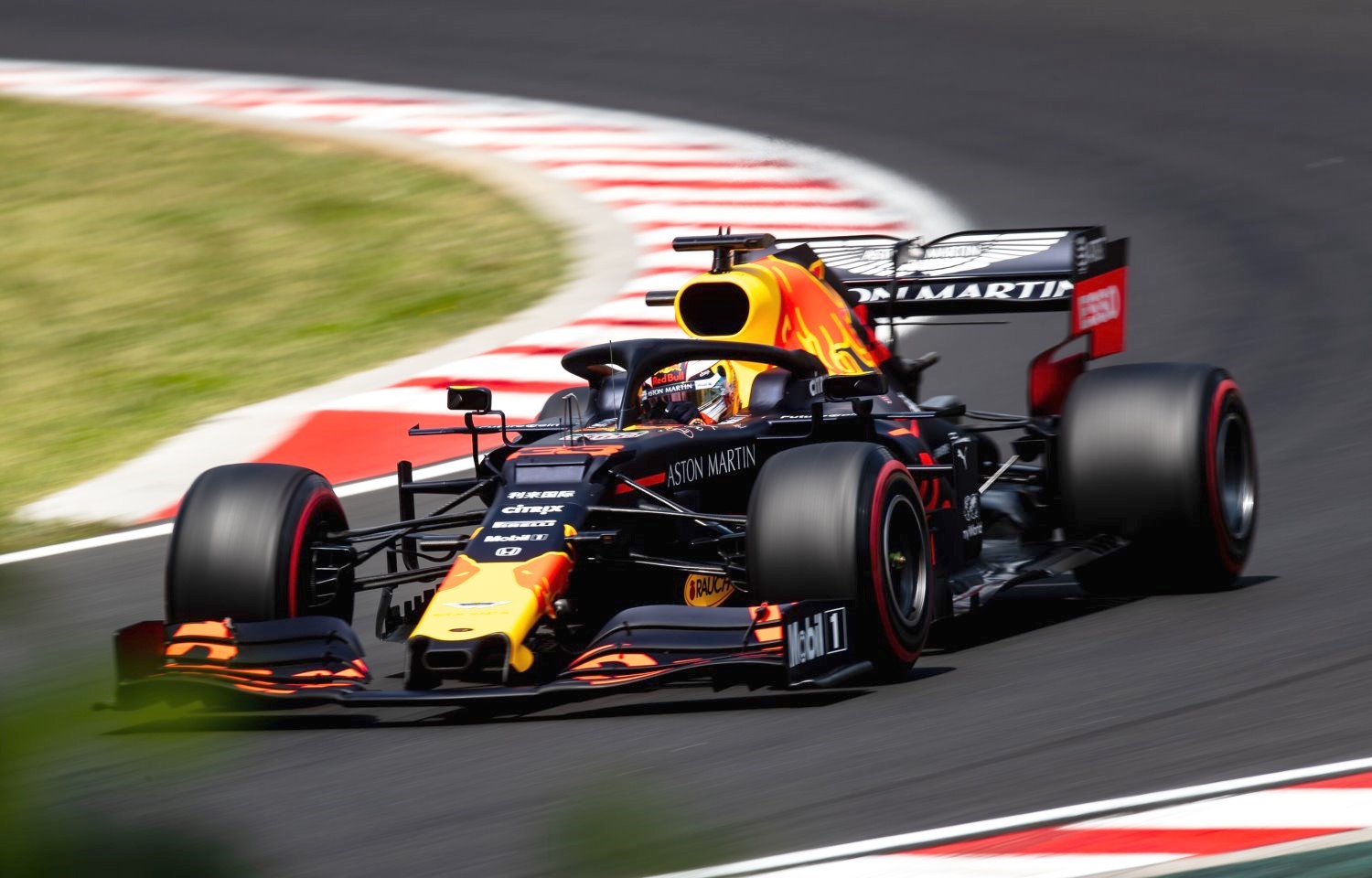 Max Verstappen wins first ever F1 pole
Max Verstappen and his Honda powered Red Bull beat the Mercedes team of Valtteri Bottas and Lewis Hamilton to win his first ever F1 pole for the Hungarian GP.
Verstappen becomes the 100th different F1 pole sitter.
The Ferraris of Charles Leclerc and Sebastian Vettel rounded out the top-5 but they are out to lunch for the race on Sunday.
"I've been chasing a bit this weekend," says Bottas, who lines up second. "I'm pretty pleased with the lap in the end, but it is tomorrow that counts. We are here to fight for the win."
Q3 – Verstappen finally gets his first pole position
[adinserter name="GOOGLE AD"]Bottas, who had very little running after an engine issue in first practice, sprung a surprise as he pipped Hamilton after the first runs to go top of the pile, but then Verstappen's loyal fans erupted when the Red Bull driver went quickest by nearly two-tenths.
There was tension in the closing stages as Leclerc lit up the timesheets and was up on Verstappen's leading time after the first two sectors. But as has happened all weekend, the Scuderia lost bags of time in the low-speed final sector.
It was largely irrelevant, though, because Verstappen was absolutely on it behind him and was not to be denied as he went even quicker, crossing the line to become the first Dutchman in F1's history to take pole on a track where he had never previously started in the top three.
Bottas pushed him hard but just missed out with team mate Hamilton failing to make the front row for only the second time this season. Leclerc's fourth place meant he out-qualified Vettel for the fifth race in a row, while Gasly ended up 0.878s slower than team mate Verstappen in sixth.
Norris secured his fifth top-eight start in six races with both McLarens making it into the top eight for only the second time this year, while it's a second consecutive top 10 start for Grosjean.
But the day belonged to Verstappen – the fourth youngest pole-sitter in history – and Red Bull, who would have marked Hungary's tight and twisty Hungaroring out as one of the circuits they had a strong chance of winning ahead of the season.
Given their recent run of form – Verstappen has won two of the last three races – it's going to take a mighty performance from Mercedes and Ferrari to stop them converting. But given how unpredictable the last three Grands Prix have been, anything can happen…
THE KEY QUOTE
"It's incredible. This one was still missing and the car felt good all weekend. Of course, you know it's always going to be hard in qualifying, but we managed to do it. A big thank you to the team, the car was flying out there in qualifying, it was incredible. Still a race to do and that's at the end of the day the most important, but for me today was an important one, a very nice one and also a great one for the team." – Max Verstappen
Red Bull
Verstappen has long been a force to be reckoned with on race day, but thus far a qualifying pole has eluded him. Not anymore, the Dutchman becoming the 100th F1 pole-sitter in a scintillating display in Hungary. He is the form driver on the grid at the moment and it showed today, with one of those laps that live long in the memory. Gasly had no answer to his team mate today and lines up sixth.
Max Verstappen, 1st, 1:14.572
"It has been a great day and the car was hooked up straight away in qualifying. To come out on top is incredible and my first pole position will always be a special one. It's also nice to get pole on a great track like this as a qualifying lap on low fuel is so enjoyable. You can really feel the grip of the car with the full downforce and it's a lot of fun out there. We are closing in on the front-runners all the time and Honda keep pushing hard to optimize everything. Today was another great day for everyone within the Team, but that Team also includes Honda, so a big thank you as the car has been flying. The hard work is paying off and it's great to see. I haven't done a long run this weekend but lately our car has been even better in the race, so I don't feel too worried. We just need to try and get a clean start and get the job done. I also didn't realize there were so many Dutch people in Hungary at the moment and it was amazing to see them all in the grandstands. We are all very close so tomorrow should be another exciting race."
Pierre Gasly, 6th, 1:15.450
"I'm disappointed as I didn't put a clean lap together and I made a few mistakes otherwise I think I could have taken the fight to Ferrari for P4 or P5. In the end we've qualified in P6 which is still a decent position but for sure we wanted a better lap time. Tomorrow we start on the medium tire, we'll keep pushing flat out and hopefully we can do something with the strategy and recover some positions. Also, a big congratulations to Max on pole position. It's really deserved and great for the whole Team. On a tricky track like this where it's difficult to overtake, it's a good advantage and we have a strong car as he proved today, so there is everything to play for. In Free Practice, no one managed to do any long runs so we don't know what the tires are going to do over 70 laps which could also make things interesting."
Christian Horner, Team Principal
"That was a fantastic performance by Max. I'm really pleased to see him get his first pole position and become the first Dutchman to do so. It was absolutely nip and tuck throughout and his first run in Q3 was a brilliant lap. To then better it would have been tough but he managed to chip away and it all came down to the last two corners. I think Valtteri had a little bit of oversteer in Turn 13 whilst Max absolutely nailed the final two corners and two hundredths of a second was the margin at the line. Max brings Honda its first pole since 2006 and the Hungaroring is an important track to have grid position so hopefully we can convert it for a good haul of points tomorrow. I think we're really starting to get performance on the car, the teams in Milton Keynes and Sakura are doing a great job and we've definitely made progress in the first half of the year. On Pierre's side, he made it through Q2 on the harder tire which was our aim, but then unfortunately in Q3 he made a mistake on his fast lap. In P6, he's right next to the Ferraris but everything is still to play for."
Mercedes
Mercedes looked to have a proper three-way fight on their hands in the battle for pole, and so it proved. They managed to tame their Scuderia rivals, but ultimately had no answer to the might of Verstappen. Bottas deserves commendation for pushing the Dutchman so close considering how disrupted his Friday was, while Hamilton will be kicking himself after making a mistake in the first sector. But with a slip stream, all is not lost for the reigning world champion…
Lewis Hamilton, 3rd, 1:14.769
"Naturally, we're always targeting first place. But Max did a great job, congratulations to him, and so did Valtteri. It got away from me a little bit during Qualifying. It was a difficult session, the car didn't feel quite the same as in FP3 and I struggled a bit. But we're still in the fight and in a good position for tomorrow. There's a long run down to Turn 1, so it's going to be very interesting. It's not the easiest place to overtake, but strategy will come into it. So, we'll be pushing hard tomorrow."
Valtteri Bottas, 2nd, 1:14.590
"I've been chasing a little bit this weekend, after missing out on Practice One and only doing limited laps in Practice Two. I only really started getting into my rhythm this morning and it was just getting better and better through Qualifying. So, I'm pleased with the lap in the end. It was very close with Max but he just managed to sneak ahead. They've been quick all weekend but tomorrow is what counts. We're here to fight for the win and there's a lot of support for me from the Finnish fans, so we'll be giving it everything and it's going to be a good battle."
Toto Wolff, Head of Mercedes-Benz Motorsport
"That was a very close session and exciting to watch but we didn't come out on the right end of it. I don't think our car was the quickest today: Valtteri had an almost perfect lap but it wasn't quite enough for pole, probably when we look back at it we will see some places where we could have gained a fraction of time. Lewis wasn't feeling as comfortable and the car didn't let him make the steps forward we normally see in qualifying. Our feeling is that we haven't progressed with the car as we would have hoped, so we need to dig through the data and find out why. Tomorrow's race will be hard-fought: this is a tough circuit for overtaking, so the start will be important, then it will come down to strategy and making the most of our opportunities. There is still everything to play for."
Andrew Shovlin, Trackside Engineering Director
"It's always frustrating to miss out on pole by such a small margin but Valtteri did a great job considering he effectively missed the first practice session. When it's that close there are so many places and ways that you could have made up the difference, but the bottom line is that we weren't quick enough. The balance wasn't perfect, we picked up a bit of rear grip during Qualifying and ended up struggling to turn the car in some of the slow corners which cost a bit. It's a difficult track to overtake on but we've got two cars near the front and hopefully that will give us a bit of opportunity to put Red Bull under pressure. We're not sure where our competitors will be on pace tomorrow as the running was so limited on Friday. We did manage to do a long run on the Medium with Lewis and it seemed to be working well on our car but it's hotter tomorrow so we'll need to wait until the opening stint to see where we are."
Ferrari
Vettel had looked the happier of the two Ferrari drivers overnight, but went the wrong way with set up and struggled in FP3. Come qualifying, he couldn't find a way to match his team mate, being out-qualified for the fifth race in a row. Leclerc wasn't faultless – he crashed heavily in Q1, damaging his rear wing and diffuser. But the youngster immediately put that incident behind him and wasn't afraid to push the limits on his way to grabbing fourth.
Sebastian Vettel, 5th, 1:15.071
"Today went pretty much as we expected and reflects what we have seen in the last few races. Our car is very quick down the straights but it's not the best through the corners and that means we struggle to keep the tires alive right to the end of the lap when we are trying for a quick time. You can see that from the fact we are quickest in sector 1 and then we suffer over the rest of the lap. In fact, it will be a very difficult race in terms of tire management and given the characteristics of our car, it would suit us to see high temperatures tomorrow, because we would then be able to put our competitors under pressure. If that's not the case, then it will be a one stop race and it's less likely that we can be in with a chance. Overtaking is difficult here, but not impossible, so let's wait and see how things go tomorrow."
Charles Leclerc, 4th, 1:15.043
"On the one hand, I am happy with my lap in Q3. On the other, the mistake I made in Q1 was unnecessary and I will make sure that it doesn't happen again. The team did a great job to get the car back in shape for us to go out in Q2. I believe that we got the best result we could today. So far this weekend, we have been lacking grip. Our competitors are strong, especially in the corners, and it will be a difficult race for us tomorrow."
Mattia Binotto, Team Principal
"It's not surprising that we were fourth and fifth fastest today. We knew we weren't favorites here, given the level of aero downforce generated by our car at the moment. Here in Hungary, we were keen to confirm our progress and see where we stood compared to those ahead of us. The gap is closer than we might have expected and to a certain extent, that's encouraging. We therefore had further proof today that we are on the right path in terms of our development of the SF90. Seb's qualifying was straightforward, but Charles' was slightly compromised by the accident in Q1. We changed the rear wing, but there were still some damaged parts left on the car and maybe he also lost a bit of confidence in that final corner."
Qualifying Results
| | | | | | | | |
| --- | --- | --- | --- | --- | --- | --- | --- |
| POS | NO | DRIVER | CAR | Q1 | Q2 | Q3 | LAPS |
| 1 | 33 | Max Verstappen | Red Bull Racing Honda | 1:15.817 | 1:15.573 | 1:14.572 | 16 |
| 2 | 77 | Valtteri Bottas | Mercedes | 1:16.078 | 1:15.669 | 1:14.590 | 19 |
| 3 | 44 | Lewis Hamilton | Mercedes | 1:16.068 | 1:15.548 | 1:14.769 | 22 |
| 4 | 16 | Charles Leclerc | Ferrari | 1:16.337 | 1:15.792 | 1:15.043 | 17 |
| 5 | 5 | Sebastian Vettel | Ferrari | 1:16.452 | 1:15.885 | 1:15.071 | 18 |
| 6 | 10 | Pierre Gasly | Red Bull Racing Honda | 1:16.716 | 1:16.393 | 1:15.450 | 19 |
| 7 | 4 | Lando Norris | McLaren Renault | 1:16.697 | 1:16.060 | 1:15.800 | 18 |
| 8 | 55 | Carlos Sainz Jr. | McLaren Renault | 1:16.493 | 1:16.308 | 1:15.852 | 20 |
| 9 | 8 | Romain Grosjean | Haas Ferrari | 1:16.978 | 1:16.319 | 1:16.013 | 21 |
| 10 | 7 | Kimi Raikkonen | Alfa Romeo Racing Ferrari | 1:16.506 | 1:16.518 | 1:16.041 | 20 |
| 11 | 27 | Nico Hulkenberg | Renault | 1:16.790 | 1:16.565 | | 12 |
| 12 | 23 | Alexander Albon | Scuderia Toro Rosso Honda | 1:16.912 | 1:16.687 | | 14 |
| 13 | 26 | Daniil Kvyat | Scuderia Toro Rosso Honda | 1:16.750 | 1:16.692 | | 14 |
| 14 | 99 | Antonio Giovinazzi | Alfa Romeo Racing Ferrari | 1:16.894 | 1:16.804 | | 14 |
| 15 | 20 | Kevin Magnussen | Haas Ferrari | 1:16.122 | 1:17.081 | | 13 |
| 16 | 63 | George Russell | Williams Mercedes | 1:17.031 | | | 9 |
| 17 | 11 | Sergio Perez | Racing Point Bwt Mercedes | 1:17.109 | | | 6 |
| 18 | 3 | Daniel Ricciardo | Renault | 1:17.257 | | | 6 |
| 19 | 18 | Lance Stroll | Racing Point Bwt Mercedes | 1:17.542 | | | 9 |
| 20 | 88 | Robert Kubica | Williams Mercedes | 1:18.324 | | | 9 |
[adinserter name="GOOGLE AD"]