Honda Indy 200 Postscript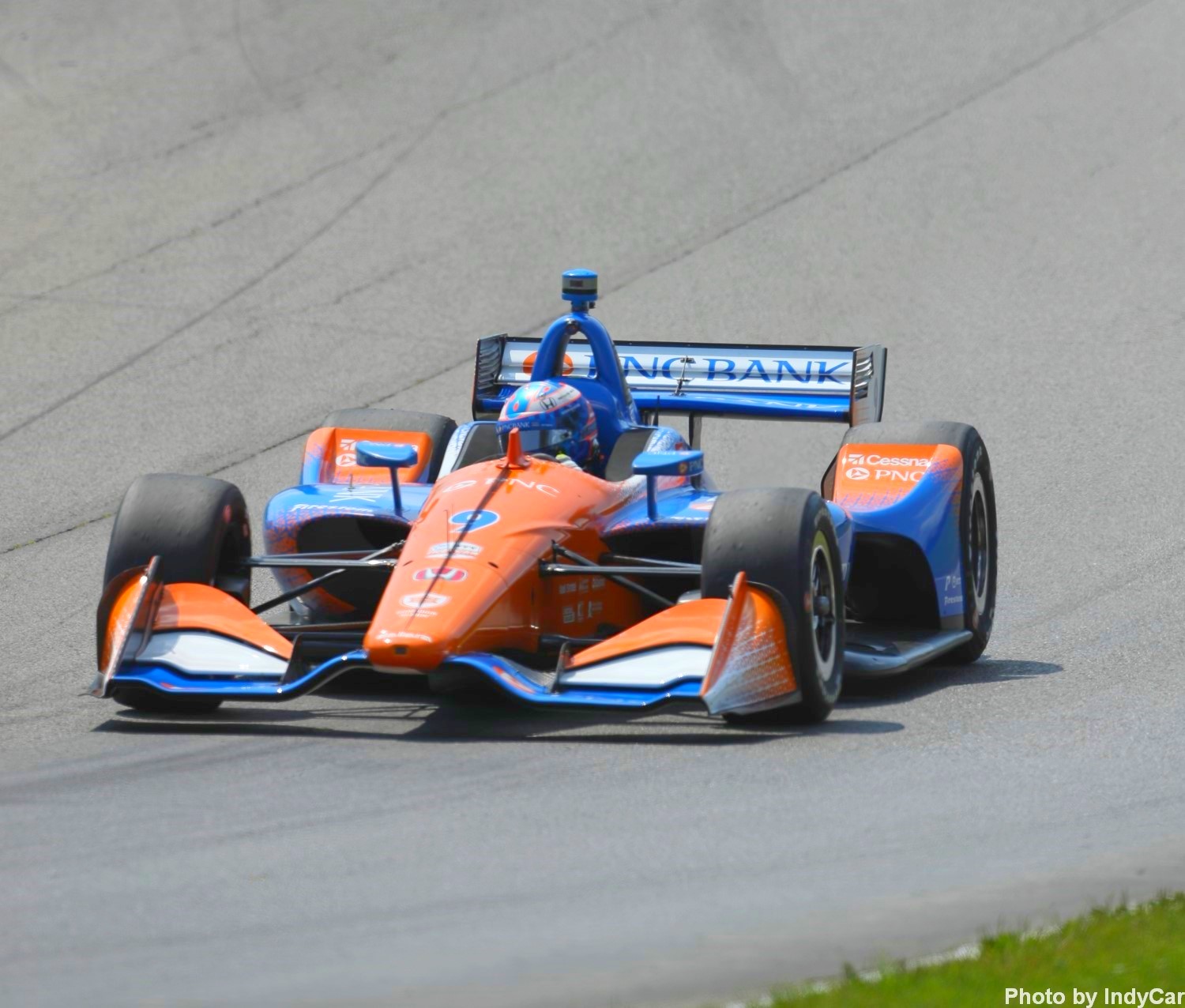 Race winner Scott Dixon
About 90 minutes to an hour before the green flag fell for Sunday's Honda Indy 200 at Mid-Ohio, I spent some time talking to a few of the strategist types. This is something I typically do every year at Mid-Ohio as optimal strategy can vary year-to-year between two and three pit stops depending on a host of factors.
Granted, none of the teams are ever going to totally give away their plan. However, for Sunday, I knew that the teams were less confident about the durability of the Firestone Reds than in prior years. And my reconnaissance seemed to indicate that while the teams could do the race on two stops fuel-wise, the degradation of the Firestone Reds probably meant that three stops would be necessary. So confident was I that this would be the race winning strategy, that I made note of it in my Sunday Overheard from Mid-Ohio thread.
Well, go ahead and leave it Scott Dixon, Mike Hull, and Chip Ganassi Racing to make me look like a schmuck.
On a day when it seemed the optimal strategy was three stops, Dixon and Hull went for two. On a day when the optimal strategy seemed to be to shed the Firestone Red tires as soon as possible and run the majority of the race on Blacks, Dixon and Hull ran the final two stints on the Reds.
[adinserter name="GOOGLE AD"]Sure, the No. 9 PNC Bank Chip Ganassi Racing squad got a little help from some uncooperative lapped traffic late in the race (we'll get to that). But in the end, it was another classic Dixon/Hull/Ganassi win. They zigged when most everyone else decided to zag. And of course, the strategy worked because no one is better than Dixon when it comes to maximizing the speed of a car while simultaneously preserving its limited resources.
Make that 46 career American Championship wins, and counting, for the 39-year-old Kiwi.
Of course, there was other news from Mid-Ohio, and let's get to it.
Rossi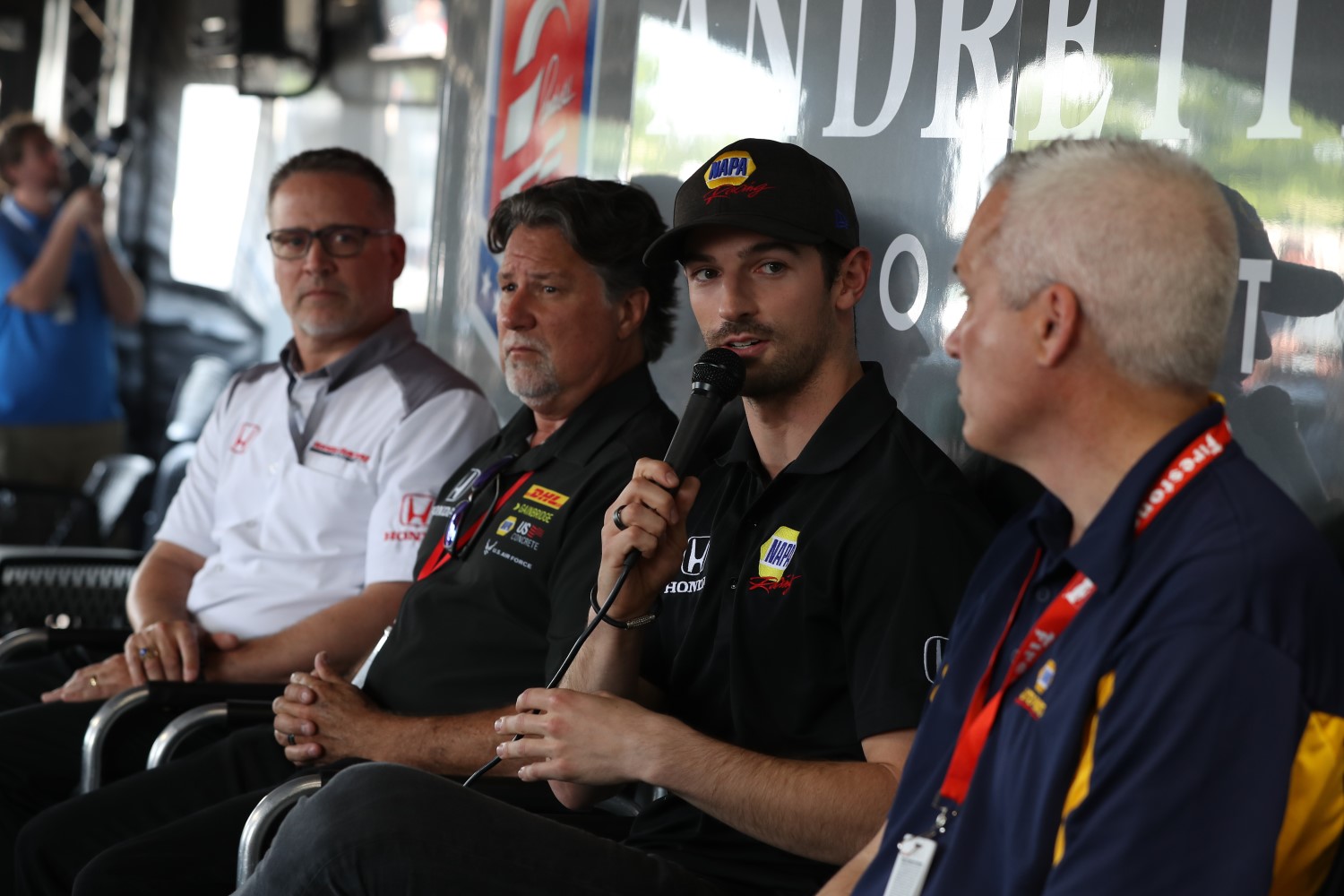 Rossi is no longer in play
The biggest news from the weekend was undoubtedly the announcement that Alexander Rossi will return to Andretti Autosport for 2020 and beyond. While not exactly a shock, Rossi was the key 2020 Silly Season domino and his maintaining the status quo, makes it seem that barring something unforeseen the Big 3 Teams will return intact.
Now, I don't know if Rossi was offered a ride by Team Penske as some reports suggest. While there are a lot of mouths to feed at Penske already, it is well, Team Penske. That alone certainly would have made Rossi think a little bit.
And while I think Penske would be hard to rebuff, presuming all else was close to equal, I get Rossi's decision to stay put. Rossi appears poised to be the lead driver at one of Penske's top challengers, a status Dixon has benefited from for nearly two decades.
The Rumors that won't go away
The Rossi news was somewhat usurped this weekend by the now on-again McLaren to IndyCar rumors. Call me what you want to call me, but I have never and still do not understand the motivation behind a full-season IndyCar program for McLaren. Do they really see IndyCar as a platform to sell McLaren cars in the United States? Is Zak Brown somehow trying to appease partners in the United States?
Look, if someone has anything that would shed light on what has now been a two-and-a-half year rumor that arguably makes less sense now than it did when it started, my contact information is below.
TV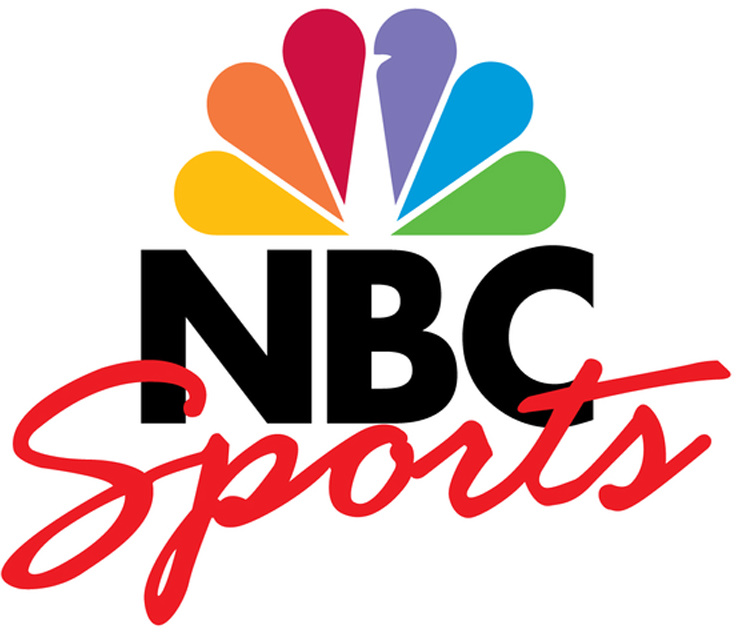 A 0.47 rating on 'network' TV is the lowest in IndyCar history
One thing that certainly isn't McLaren in would be the Mid-Ohio TV rating. 0.47 ON NETWORK TELEVISION is hard to do.
Yes, I know this subject has been beat to death, and I hate writing about it. I'm also long on record as saying that IndyCar's less than stellar TV ratings are symptomatic of issues bigger than any one broadcasting partner. There was also no harsher critic of ABC's blasé and at time, unprofessional coverage of IndyCar. And in this department, NBC is FAR superior.
However, for all those who believed moving everything under the NBC umbrella was somehow going to be a magic elixir, I think there's enough evidence in by now indicating that much heavy lifting remains needed.
Blue Flag/No Blue Flag?
There was some controversy towards the end of the race, as Felix Rosenqvist and Ryan Hunter-Reay were closing in quickly on Dixon. They both had some lapped cars, who were in their own battle for position, to deal with, and those lapped cars did not exactly make their effort to challenge Dixon for the lead easy.
We checked the IndyCar rulebook to see if it covered moving lapped cars out of the way in the last 5 or 10 laps so the fans could see a battle for the race win without lapped cars ruining it for everyone. Much to our chagrin, we could find no such reference.
This is what we found in the INDYCAR Rule Book
7.2.5 Blue (Flag)-
7.2.5.1 – An informational blue flag notifies a Driver that an approaching Car is attempting to overtake.
7.2.5.2 – At Road/Street Course Events, a command blue flag ordered directly by INDYCAR and displayed from the starter's stand directs a Lapped Car to give way to the overtaking Car within one (1) lap.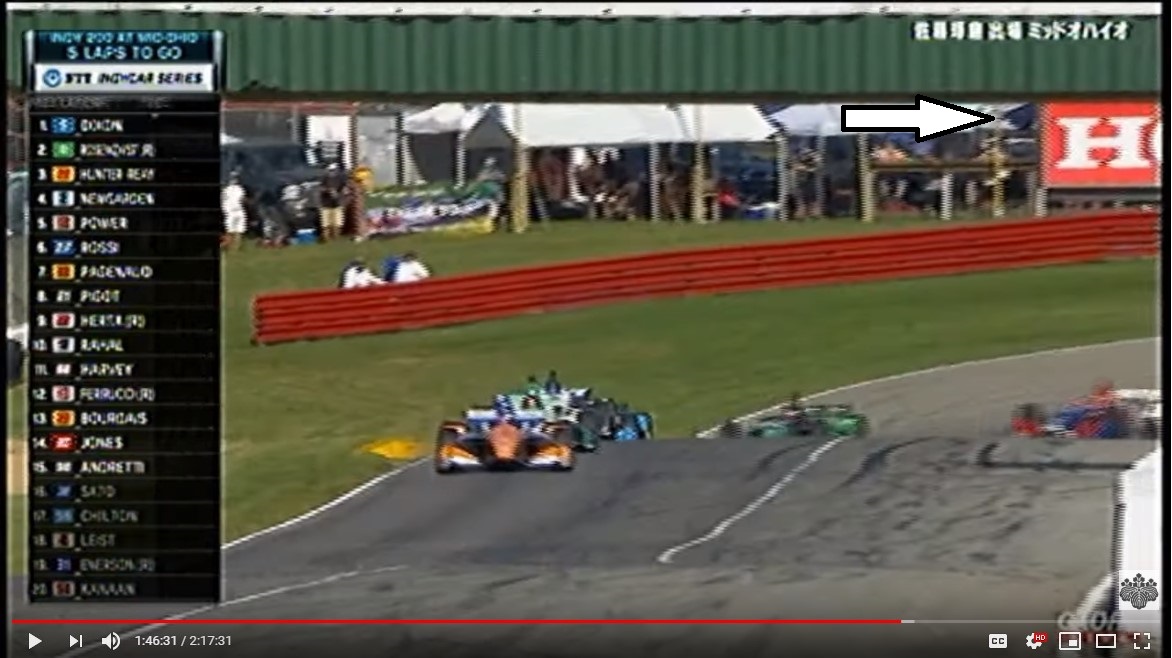 We have proof from this photo that the 'command' blue flag was thrown to the lapped cars with 5 laps to go despite IndyCar telling us in an email they only do it if cars are in danger of going two laps down, which is contrary to how the rule is written. The cars did not move out of the way in time and screwed Rosenqvist and Hunter-Reay.
The above essentially tells us that there are two types of blue flags: informational and command. An informational flag is essentially a courtesy to a slower Car that a faster Car is attempting to overtake, while a command blue flag which orders a "LAPPED Car" to cede position to an overtaking Car within one lap. This flag is displayed only at the starter's stand and is a directive from INDYCAR.
We later checked with the series regarding this matter with respect to the finish of the race, and were given a statement in a very timely fashion. Ultimately however, the statement prompted other questions that will require further follow up.
For now, what we would like to pursue is some sort of provision for late in races. While the rule above allows drivers to battle in order to maintain the lead lap, I'd argue that at the end of the race for the win should be prioritized over say the race for 17th. With a given time frame prior to the end of the race depending on the track (Road America would obviously be a different number of laps than Iowa) INDYCAR should have the discretion to display the Blue Flag to cars not only in danger of going a lap down, but also those already lapped that are impeding cars fighting for the win.
While the finish was exciting Sunday at Mid-Ohio, it could have been even more exciting. Rosenqvist was obviously, closing on a struggling Dixon on worn soft red tires, while Hunter-Reay and Newgarden were posting fast lap times as well, meaning there could have been a legitimate four-way battle for the win. Yes, I know Max Chilton and Marco Andretti are fighting for 17th, and I know they have sponsors too. If you want to put a provision in that one car cannot take advantage of another car ceding position to the leaders, so be it. However, people come to races to watch the battle for the win. That should be the priority in the closing laps, and in my opinion, the rules can and should reflect that.
Here are additions we recommend to the current blue flag rule wording:
7.2.6 Blue Flag for Last 20 miles of the Race
Once the race is less than 20 miles from the finish, if a battle for the lead is developing between the leader and the 2nd and 3rd place cars, Race Control shall move aside any lapped car(s), or car(s) about to go a lap down, that could impede the battle for the lead. This driver(s) will be shown the command blue flag to move over and let the leaders through, and the driver(s) must obey within one lap.
In this situation, the drivers(s) instructed to move aside, should they be having their own battle for position, shall not change position until they have fallen behind the leaders, then may resume their battle for position. If they use the blue flag as an opportunity to pass for position, they will be instructed to fall back to the order before the blue flag was thrown.
While the wording of the above would obviously would need to be looked at in terms of the rest of the rulebook, we do believe it is a more than reasonable starting point in discussing a welcome change.
Brian Carroccio is a senior columnist for AutoRacing1. He can be contacted at BrianC@AutoRacing1.com.