Honda Indy 200 Sunday Press Conference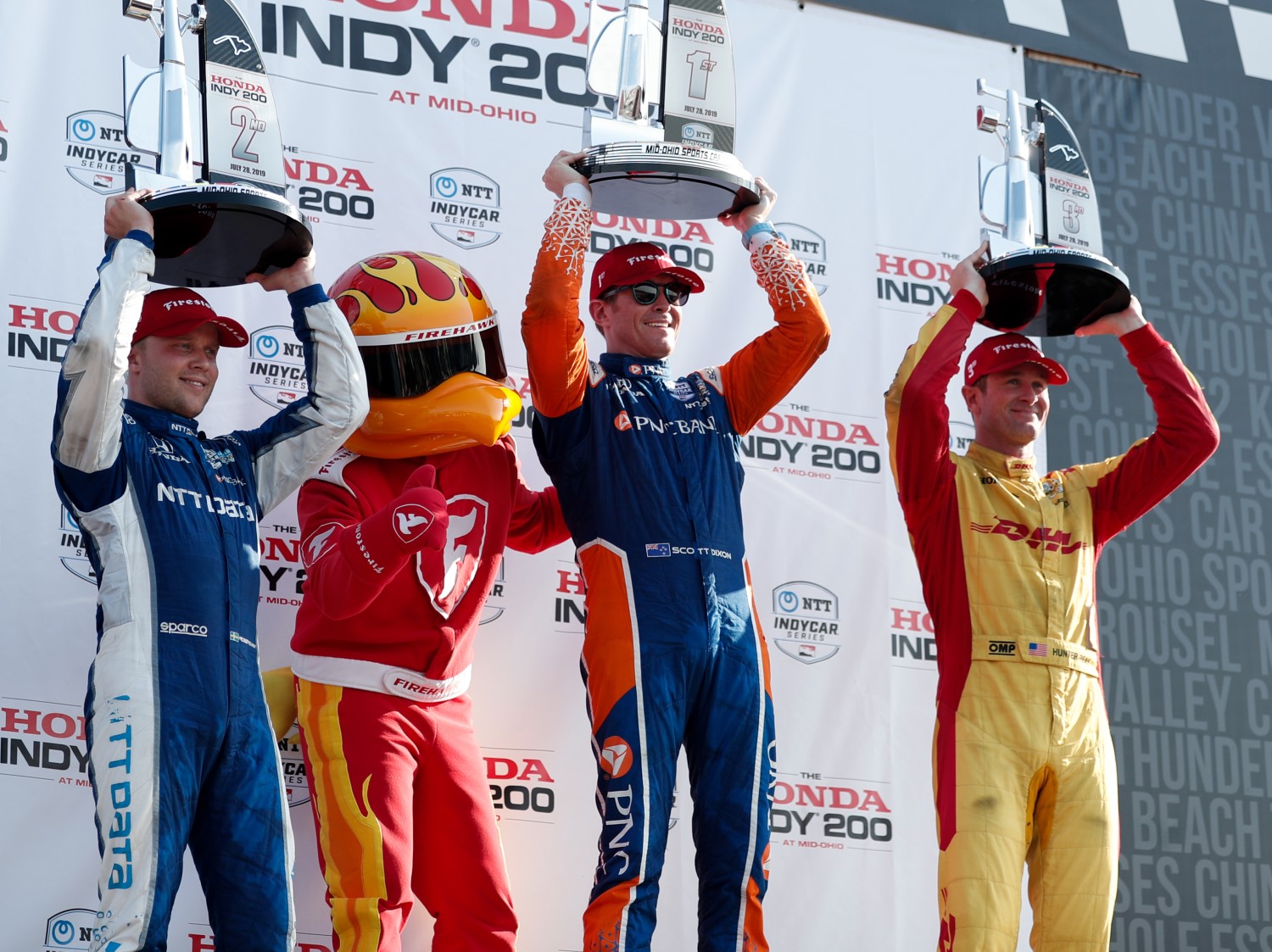 From left, Rosenqvist, Dixon and Hunter-Reay
Drivers:
1 – Scott Dixon, Chip Ganassi Honda
2 – Felix Rosenqvist, Chip Ganassi Honda
3 – Ryan Hunter-Reay, Andretti Autosport Honda
THE MODERATOR: We'll begin with race winner Scott Dixon, now six wins at this racetrack. That's a record for this INDYCAR event. 108 wins now for Chip Ganassi's team, which breaks the tie for second place all time previously with Newman-Haas Racing. No. 46, you have a lot of races. This is probably one of the more memorable last few laps you've had. Defensive driving, too.
SCOTT DIXON: Yeah, not just the last lap. I think it was honestly with about 15 to go, I started moaning to the team, I'm like, 'Man, I think we're going to have to pit again.' A lot of it, I think, was just bad choices from my front. I think after the race, Chip (Ganassi) said that he had decided that we should have gone to blacks. And I said, well, how did you and the team — how did we not go to blacks? But I said, it looks like the reds are holding on pretty well, but we made adjustments to the first set of sticker reds, had quite a bit of understeer. We made those changes for the used second set that already had four laps on it from qualifying, and they just couldn't take it. It was too aggressive.
Luckily I used them early to try and get past some of those lap traffic cars that did help us later on, I think at least delay Felix getting to us. But ultimately had we gone to the black tires, we would have maintained our eight- or 10-second gap, but it definitely made it exciting for me and I'm sure everybody else.
And huge respect for Felix (Rosenqvist). He drove clean, and ultimately, I don't know, it was going to be hard for any car to come past, even though we were about three seconds slower a lap than anyone else.
THE MODERATOR: That's the third-closest finish on a non-oval aside from two that happened in Portland. Felix said when he got to Turn 2, he thought you were leaving him an opening and then it disappeared. Is that what happened?
[adinserter name="GOOGLE AD"]SCOTT DIXON: Well, you know, I haven't really reviewed it, but I'm not going to leave the door wide open by all means. That corner is quite tricky because the approach can be done so many different ways and also how you go to apex or where you use the apex and then the curve actually adds about another two, three foot if you want to use that, as well, and then even a bit of grass.
I knew he was going to come in deep there. I thought he was actually going to just wait to get a good exit off of 2, and ultimately I think had he just been a little bit more patient there, I think he would have got me probably going into 4, but because that kind of messed up his momentum and kind of got him into dirty stuff a little bit, it took him a little time to react after that one.
It worked out perfectly for us. Again, I think it was just bad choices on my front that put us in that situation, though.
Q. One of the decisive moments of the race was the fantastic side-by-side battles you had with Will Power. That was really a man's race right there. How difficult was it and how cool was it to be involved in a fight like that and both of you not give an inch?
SCOTT DIXON: Yeah, honestly, from where I sat, he didn't really give me any room, which I was kind of disappointed, especially on the approach. When you're coming in there at 185 miles an hour and he was giving me kind of a half a car width into (Turn) 4, I expected a little bit more from him on that. And then obviously when I got around him in 5 and then he just drove me off, obviously it's good for a spectator, but for me it was not so good. I knew we were going to get him, it's just — it added like another five- or six-second delay to what I had.
But Will is going to drive tough. He's racing for wins right now, and he's a hell of a competitor, and as we've seen, the guy is super fast. But I probably would have expected a little bit more from him on those situations.
Q. What's it like to be the king?
SCOTT DIXON: I wouldn't know.
Q. Of Mid-Ohio. You understand that.
SCOTT DIXON: I'm the king of my own lunchtime maybe.
But no, these days are huge. I think I understand and know what it takes to get something — I think the ones like this coming from eighth and being able to pass cars and make the strategy work and as a team effort and have a one-two finish for Chip I think is huge. It could have been a one-two either way there the last lap with Felix.
But just super proud of the team, and it's — almost unheard of to have cars that were sixth and eighth on the grid come through and drive through the field like we did today to finish first and second.
Q. Is there a comfort level when you know that the guy who's chasing you the last three laps is your teammate, meaning y'all know what kind of the rules are, don't hit each other, so to speak? Did that give you a little bit of a comfort that you could kind of do your thing and not have to pay a big penalty?
SCOTT DIXON: Probably pretty sure that next time he's not going to let that slide. I think there's a big understanding in any team that the last thing you want to do is take each other out. And Felix is a rookie here in IndyCar but has raced in many different series and has much broader knowledge of racing than I even do because he's touched so many different kind of formulas.
Again, I keep saying it, but he's a big talent. He's going to win a lot of races. He was super fast all weekend. I'm not sure why they switched to the three strategy unless he just wasn't getting the fuel mileage. But they were darned fast in the race.
Q. Let's go to the physical aspects of this race today. It started at peak heat of the day, and then I noticed there were a couple other drivers, they're handing food to people. This one ended pretty late.
SCOTT DIXON: Yeah, it's — I think you condition yourself. Well, listen, and normally by this point of the season, everybody should be pretty race fit, and today I think definitely on the two-stop wasn't too bad. The hard part for me typically is when the car gets really difficult to drive. Like that last 15 laps was like on ice, and just the amount of corrections you were having to make constantly through one corner is what takes it out of you. Your arms kind of get tired of just kind of having to catch, and this car specifically, the wheel weight and the kickback that it has on the wheel is quite demanding.
Q. Felix said here earlier it was exciting banging wheels. Was it exciting for you, as well? And question number two, with a sixth win here, is there something magic or special, any explanation why you're successful here at Mid-Ohio?
SCOTT DIXON: You know, I probably would have preferred just winning the race by eight or 10 seconds as opposed to banging wheels for a few laps. But that's what IndyCar produces. We have the best racing in the world. To have what typically is a circuit that you can't pass, and to have the action that we had today is unbelievable, with what Firestone do, what IndyCar do, the split in strategies, for me even being in the car, it was full on. Even with lap traffic and you're trying to pass them.
Today was actually one of those days that we haven't had for a little while as far as that much passing going on. Even with the first six, eight, ten cars on the grid you had a lot of falloff in different places and people that weren't maybe going the right direction. But even as the race started, I think you saw 10 cars on the alternate tire and 13 or more on the primary, which we haven't seen a split like that. That produced very good racing today.
And then the sixth win, it feels really good, just for the sheer fact that we hadn't won here since 2014. We've won a lot here as a team, but it's been a while since we've won. We've had some strategy — I think last year — well, last year we obviously kind of set sail, but I think we had a good podium situation there. There's always races that you can analyze and maybe work out a little bit different. But today was a good hard race, and man, we really worked for it.
Q. Was your car different from yesterday or in particular something (indiscernible)?
SCOTT DIXON: Yeah, I think our pace — it's just that last little bit that I haven't been able to get. And qualifying, to be honest, I think we made a pretty big mistake with gears. We were very different to the 10 and probably most of the field, which we'd started with on Friday, and it seemed quite handy. But once the corner speed came up a ton with the reds, the gears were way too short. I think that was maybe a bit of a downfall in qualifying.
And then every session we changed the car a lot. To adapt to it that quickly and trying to get the most out of it, I just didn't do a good job. Felix found some really good pace. It's been fun working with him and having a lot of similarities and things that we like. It's been a little bit of time since I've had teammates like that. That definitely helps, I think, not just right now but also for the future of the team and development.
Q. One of the more important developments of the race happened I think maybe after you crossed the finish line or pretty close, when Josef banged wheels with Ryan there and I think he finished pretty far back. That really, I think, helps your championship chances.
SCOTT DIXON: Yeah, I think going in, what were we, 98 points back and now 62 or low 60s right there, so that's a big shift. Those are the weekends you need. We always go on about that 100-point mark, but when you come to the last race if you're that far back it's going to be impossible.
Yeah, you've got to take it. You don't wish that on anybody. Talking to Ryan, who I guess that altercation was with, he really didn't know what Josef was trying to do. Kind of a bit surprised to be honest, especially in the situation that he's had, but it happens. It happens to the best of us. We make these mistakes, and the unfortunate part with Josef, I think that's going to wind him up even more and he's going to be super strong come Pocono. Either way, I think he's going to be the person to beat. That team is super strong right now, and we're going to have our work cut out.
Q. The 60-some points, is that doable in four races?
SCOTT DIXON: Yeah, it's double points for the last one. I don't know what it was with Montoya in '15, but it was similar —
Q. 40 something.
SCOTT DIXON: Maybe high 40s, somewhere around there. Anything is possible, man. I don't know, we've just got to keep our head down. We can't start thinking about that right now, and if you win races, that will take care of it.
————-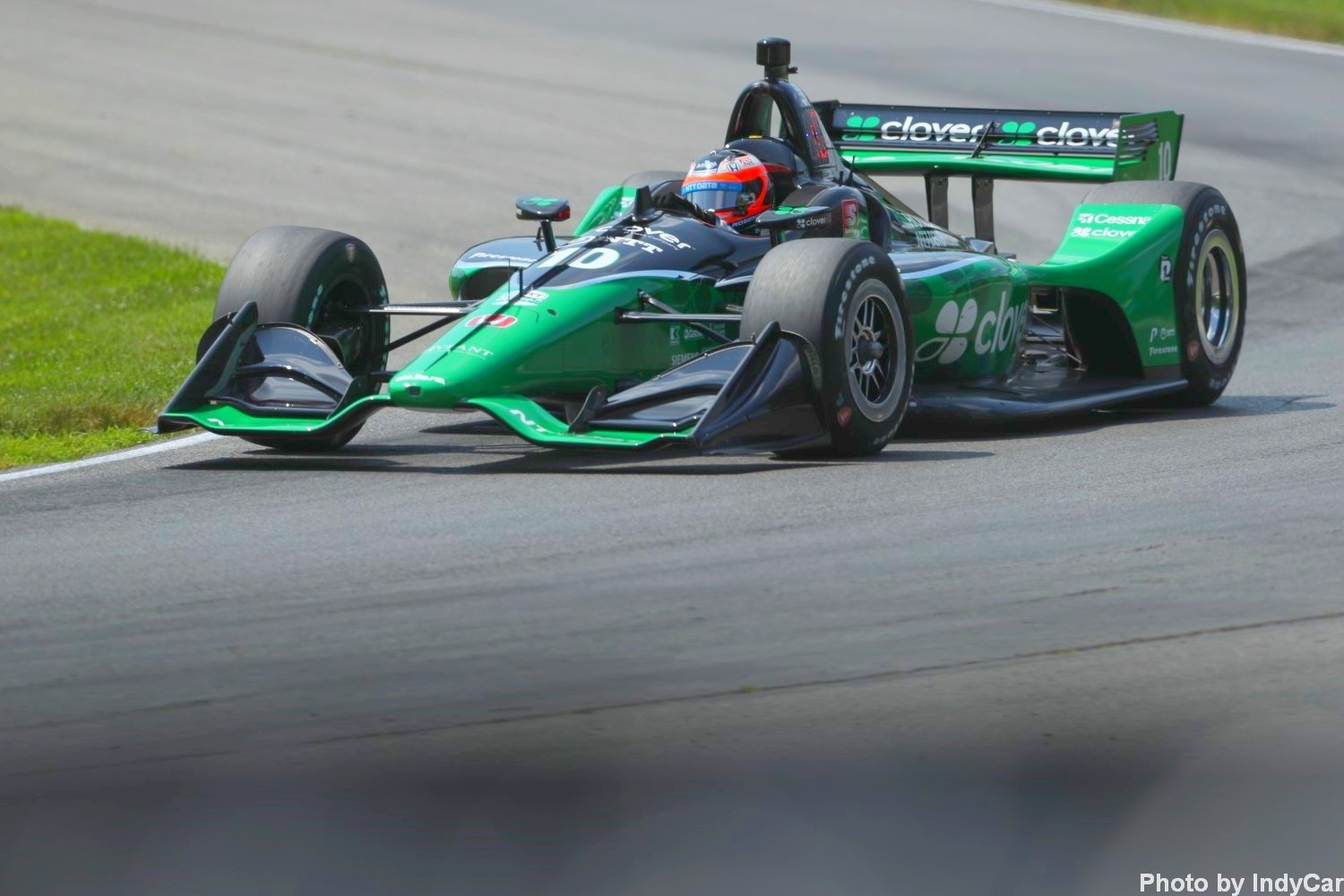 Rosenqvist was the fastest car, but the officials ruined his chance to win.

AR1.com Opinion:

With 5 laps to go the move over flag should have been thrown for the lapped cars between Dixon and him so they could have had a fair fight for the lead. Since when do you ruin a late race pass for the lead for the fans by allowing cars that had zero chance of winning get in the way? The officials blew it.
THE MODERATOR: Joined now by Felix Rosenqvist. Almost a first victory, yet a career-best finish in the NTT IndyCar Series, so mixed emotions today from you?
FELIX ROSENQVIST: Yes and no. I think we have to keep the perspective. Had our first podium today and also a one-two finish for Chip Ganassi Racing. Obviously tough when I think we really had the right strategy and the pace to win the race. With those five lap cars in front of us it was going to be difficult, and I was really frustrated on the radio, and Barry (Wanser), my strategist, tried to really keep me calm and tried to pick off one by one, so I used a lot of Push-to-Pass to get through (Max) Chilton and Marco (Andretti) and whoever was in front of me.
I think it's a bit of a shame because maybe at times we were missing out on a good battle when you had to race cars that were fighting for P24 (P15 actually). But anyways, that's what it is.
I really want to credit (team owner) Chip (Ganassi) for letting us race. The last lap, I think everyone really enjoyed that. We were enjoying it. We were banging wheels in Turn 2 there, was a bit exciting. But Scott (Dixon) is always going to fight you hard but fair, and I think I did the same, and maybe one more lap we could have got him. But yeah, it was awesome.
Q. Turn 2, did you expect to be that close to him when you arrived there on the last lap?
FELIX ROSENQVIST: Yeah, I was, and I thought he was struggling both with fuel and especially tires, and he braked kind of early into (Turn) 2 and I thought he actually kind of let me go because he was going a lot slower at the time, and then he kind of veered in at the last moment and we hit a little bit. Yeah, just kicked up a lot of dirt on my tires. I couldn't really make the attack I wanted for the last couple of corners. But yeah, he's clever and he's never going to be easy to pass even when he's running out of tires.
But yeah, it was a good day. I want to thank Honda and Clover and NTT DATA for just putting together an awesome package from qually onwards. Actually we struggled a little bit in practice and then we just came out on top with a one-two finish.
Q. I haven't seen (team advisor) Dario (Franchitti) this happy in a long time. He was in your pits, I think, for most of the race or the entire race. Can you give me a little bit of feedback about what he was helping you with, how helpful it is, and exactly what maybe his — well he's happy as all get-out, but does it feel like his success and your success are going hand in hand?
FELIX ROSENQVIST: Yeah, definitely. He was really happy, and I think he likes when I'm going for it, you know, when I'm not playing it safe and not thinking about too much ahead, just trying to attack and be aggressive. It was the same at the Indy 500 when we started in the back and I was fighting my way forward, and even if we had a crash in the end, he was just super happy, and it was like, you could see he's over the moon when you have a good performance. Then actually in the race he doesn't talk to me, but during the weekend, he's a great support, and I think both on the road courses and especially the ovals, he's always there, and he's been to almost every session I've done in an Indy car. So yeah, we really have a good relationship, and he's also to thank for this good result.
Q. Felix, you just said a couple of minutes ago that it really was exciting, but should it not also be a risk to lose your second position?
FELIX ROSENQVIST: Well, it's always a trade-off. If you play it too safe, you're never going to win the race, and I think — I mean, if the team tells you to go for it, you go for it. That's also an instruction. The instruction was not to take it easy and not pass Scott. They said, try to get him, but think about he's your teammate.
You know, it's kind of a mixed call. But in INDYCAR you can touch, and we see all the time that you can touch, and we can always bang wheels, and I think that's one of the great things for the sport is we can actually go really aggressive against each other without spinning or losing parts. I actually had a touch with Chilton once. He kind of brake-checked me in Turn 12 I think it was, and I ran into his rear wheel and my car was fine, and I think that makes up for a lot of the good racing we're having in the series.
Q. Felix, they mentioned on the radio, you just mentioned that they said, 'Remember he is your teammate.' Did that play into your aggression level going against Scott at the very end there?
FELIX ROSENQVIST: I mean, if it was someone else, obviously you would have gone a bit harder. But being Scott, you know he's going to fight you fair. I mean, I know a couple other drivers in this championship who I wouldn't go even as hard as I did with Scott because there would just be an accident. So yeah, I think he's always on the right level of aggression and safety at the same time. And I really enjoy, every time I fight against him, it's actually impressive how clever he is, not only when it comes to his speed but also the way he races, and when you race side by side, he rarely takes the wrong decision, and you could see that today. He was on four tires, low fuel, and he still came out in front. I'm sure we would have got him with another lap, but the race is what it is. The lapped cars is what it is, and he won the race, so credit to him, and maybe next time we get him.
Q. What did he teach you on the last lap there with how close you were battling?
FELIX ROSENQVIST: Well, I mean, he never gives up, and I think that goes with what Ryan was saying. When you're on a three-stopper, for example, you have to push every lap. You just have to — every tenth counts, and how close the series is right now, you can't afford to just play it safe at any time. Even with the lapped cars, I used probably 60 seconds of Push-to-Pass just to get through lapped cars. Yeah, it's just tough all the time, and sometimes you feel you're wasting tires, wasting Push-to-Pass to get through the field, but in the end it's actually worth it because whenever you pass someone you just take off. Like your lap time is one second quicker. It's a tough form of racing.
Q. Were you affected at all in that battle by the fact that if you got it horribly wrong, Hunter-Reay and Newgarden will close right back up to you, so if you'd had a scruffy moment they would both — and the Chip Ganassi one-two would go out the window?
FELIX ROSENQVIST: I think it was pretty safe because we had those lapped cars behind, and I mean, they didn't make it easy for me, and I don't think they made it easy for Ryan, either, so we kind of had a buffer in the back, and as long as they were there I thought it was safe. But obviously if we had two, three more laps it's going to be a real scrap to the end there with maybe three, four cars.
Yeah, but I think it was — at this time it was all good.
Q. A little bit of symmetry here that this finish came at Mid-Ohio where we did a story on you earlier in the week because this is where it all started for you?
FELIX ROSENQVIST: Yeah, it's always been a place I liked. I never actually raced here, but there's always been a good flow for me at this track. Maybe it reminds me a bit more of the European tracks, kind of flowing, pretty smooth. It's not as bumpy as most of the tracks we have here. Yeah, it just keeps bringing me good memories here at Mid-Ohio. It's an awesome place, and I also want to thank all the fans for coming out. Like it's one of the races you really think about fans when you're in the car because you can see them everywhere. Yeah, it's cool that everyone comes out to this race every year.
Q. And also the value of having Dario work with you for the most of the season and also what did Chip say to you?
FELIX ROSENQVIST: He was over the moon. I think he was happy with the one-two. Dario was also over the moon. I think everyone deserved — we had a tough year. I think even Scott has had a tough year. He's been excellent. I've been struggling a little bit mid-season, had sort of flashes of speed all the time, never managed to put it together, but this weekend everything just came together for both of us, and yeah, I think everyone just — it's a big relief, especially for the 10 car crew to get that podium. It's been a long time, and you can see they're hungry for it every weekend. Yeah, big credit to them. They did an awesome job the whole weekend.
Q. Were you surprised that he was able to make the reds last that long? I was thinking you might have had a shot at him sooner. Were you surprised he was able to stretch them that far?
FELIX ROSENQVIST: I thought I was good on my reds, as well. I think we could have done a two-stopper if you wanted to, but I think we decided to split the strategies on the two cars because if you have the opportunity, you kind of want to — if you have two cars running one and two, you don't want to go the same strategy in case something goes wrong. So obviously Scott being the master of fuel save, I think they decided to go with that strategy for him, and I went for a three-stopper. But I thought the reds held on well, and actually the further the race went, the better they held on because the grip improved on the track all the time. So I saw a bunch of cars being a lap down on reds and they had good pace. So yeah, I think the further a race goes, the better the reds go, as well.
Q. How much does it damper your, I don't know, your aggressiveness when you see it's your teammate between you and victory?
FELIX ROSENQVIST: Well, it's always playing with fire, you know, when you see that orange car. Chip's first rule is always don't take out your teammate or we're going to have a serious discussion. He always says that before the race, and that's going to stick in your head for sure when you're catching up to Scott. As I said before, I trust him to give the room when it's needed and to be aggressive when it's needed, and I didn't really feel worried about it. I mean, when my team trusts me to go for it, I trust them that that's the right call and I do what I'm told, go for it, have fun.
—————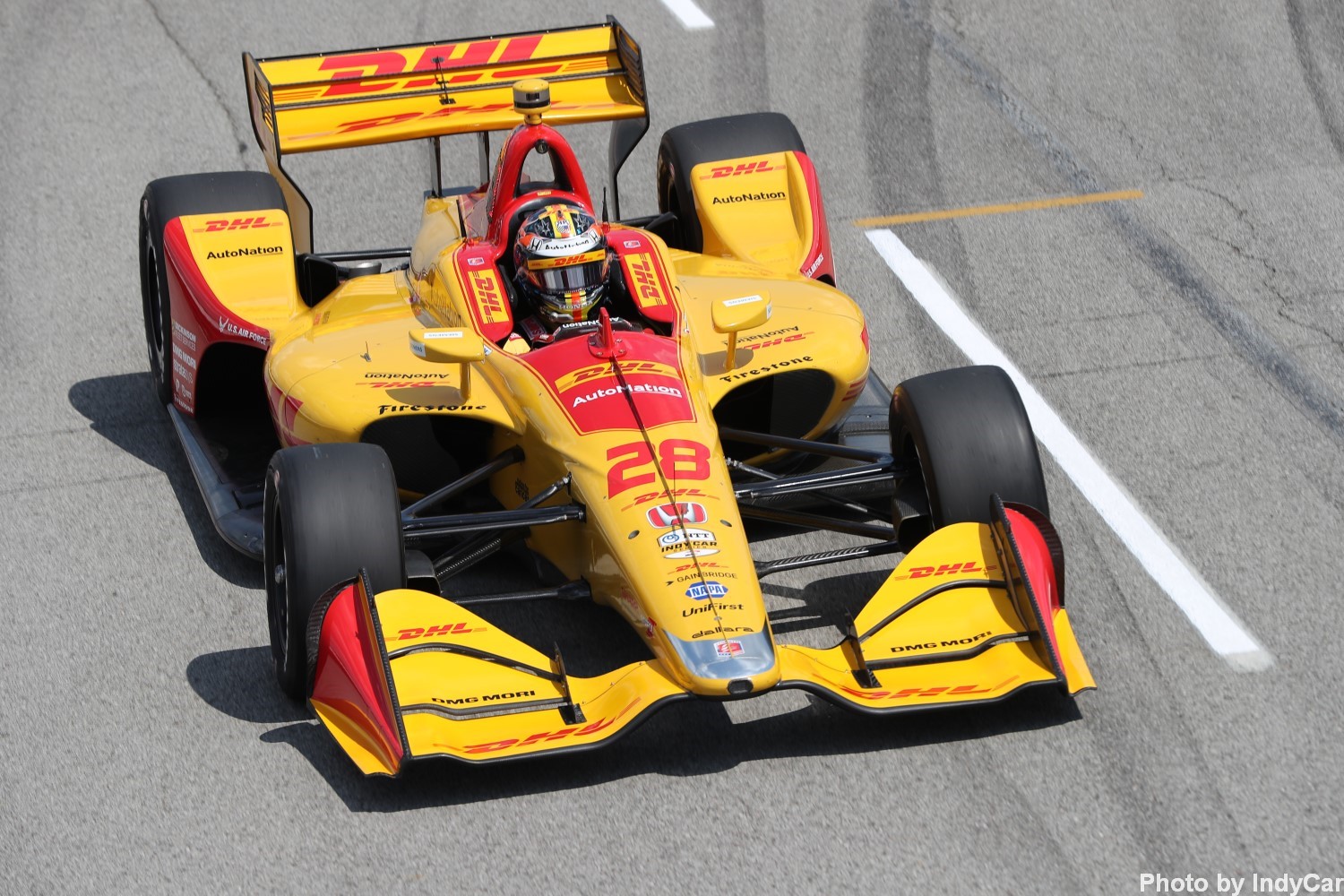 Hunter-Reay saved face for the Andretti team who were otherwise off the pace
THE MODERATOR: We welcome Ryan Hunter-Reay, today's third-place finisher. Ryan, that was quite an eventful last few laps. It looked like you had a shot at maybe more than third. But still it's your first podium in quite a while, but I think you wanted more?
RYAN HUNTER-REAY: Yeah, absolutely. Like you said, we were really pushing hard there at the end, and to see how quickly we were closing on (Scott) Dixon and (Felix) Rosenqvist, I thought they were in traffic, and I thought, 'Man, this could go anybody's way.'
I'm not really sure what Josef (Newgarden) was thinking there doing that. He tried to go around the outside, and the line through that corner is that you do a diamond and you come back to the apex, so he had to expect I was coming back at some point, and then just shoved his nose in there. I don't know, with the championship like that, leader, totally baffled me. I'm just glad it didn't cut down our right rear tire after fighting like that all day.
We started 10th. Amazing strategy from this No. 28 DHL Honda team. Obviously we've had a string of pretty poor results lately, and it's just a matter of execution. We stumbled at Iowa. We really gambled when it went cold at night. We thought it was going to be more of an understeering race, and we put all our money down on the table and we lost it all in the first hand. That's how sometimes this sport goes. But we were close today.
We were closing in on these guys. Obviously congrats to Ganassi. They ran a great race, good strategy, and we were closing on them, but just came up a little bit too short, so if we keep knocking on the door like that, we'll win plenty. It was nice to just get back on form where we should be.
Q. Did you have a chance to talk to Josef after the race?
RYAN HUNTER-REAY: No. Where I got out of my car was right there across from his pit when he got out of his. I'm sure if he had an issue with it, he would have come and talked to me. I'm sure he would have probably liked that last lap back for sure.
Q. With the various strategies going on, is that enjoyable when some are on two (stop strategy), some are on three, you never really know where you're at?
RYAN HUNTER-REAY: As a driver you have no idea. You just have to keep your head down because every lap that you're going — like the three-stoppers, every lap you're going you have to go as hard as you can because that could be the difference between the two-stopper coming out in front of you at the end or something. I've been through too many of these things where a lap or two of just letting off and conserving can really bite you in the rear end. So you never know. I had no idea where it was going to go until it kind of shook out there with 20 to go.
Q. Your season hasn't been the greatest in the world, but this is moving you the right direction; do you feel like that's true?
RYAN HUNTER-REAY: I feel like we're just back to where we really should be. We've had speed. You look at Road America, we had speed. We had speed at plenty of the races. We finished fourth and fifth at Detroit, just missed the podiums there. We were just missing a little something. We definitely had it this weekend. We got it back. We qualified 10th. That put us in a pretty big hole to dig ourselves out of. But it's just little things. Right now as competitive as this series is, if you're missing a tenth and a half here or a tenth there, it's a big deficit, and if you're not executing 100 percent on strategy or approach or any of it, there's going to be somebody else who is. Yeah, we just missed a few, and it's nice to be back where we should be when we executed. That's what we did today.
Q. When Rossi was struggling at the end of his second stint, how tempting was it for you to go for it and make your break from Josef at that point rather than act as a buffer between?
RYAN HUNTER-REAY: It was tempting, but to be honest with you, you can close in on a car from a ways back, but once you got within four or five car lengths, it was a different deal. You're sliding all around, the dirty air, it's a big difference. That's why even when I saw Josef close up at one point on me, I wasn't too worried because I knew once he got close enough, it was going to become a whole different world for him.
Yeah, at that point it really wasn't worth taking that much out of the tires to have a run at Alex, considering we were both on different strategies.