Verstappen wins crazy wet German GP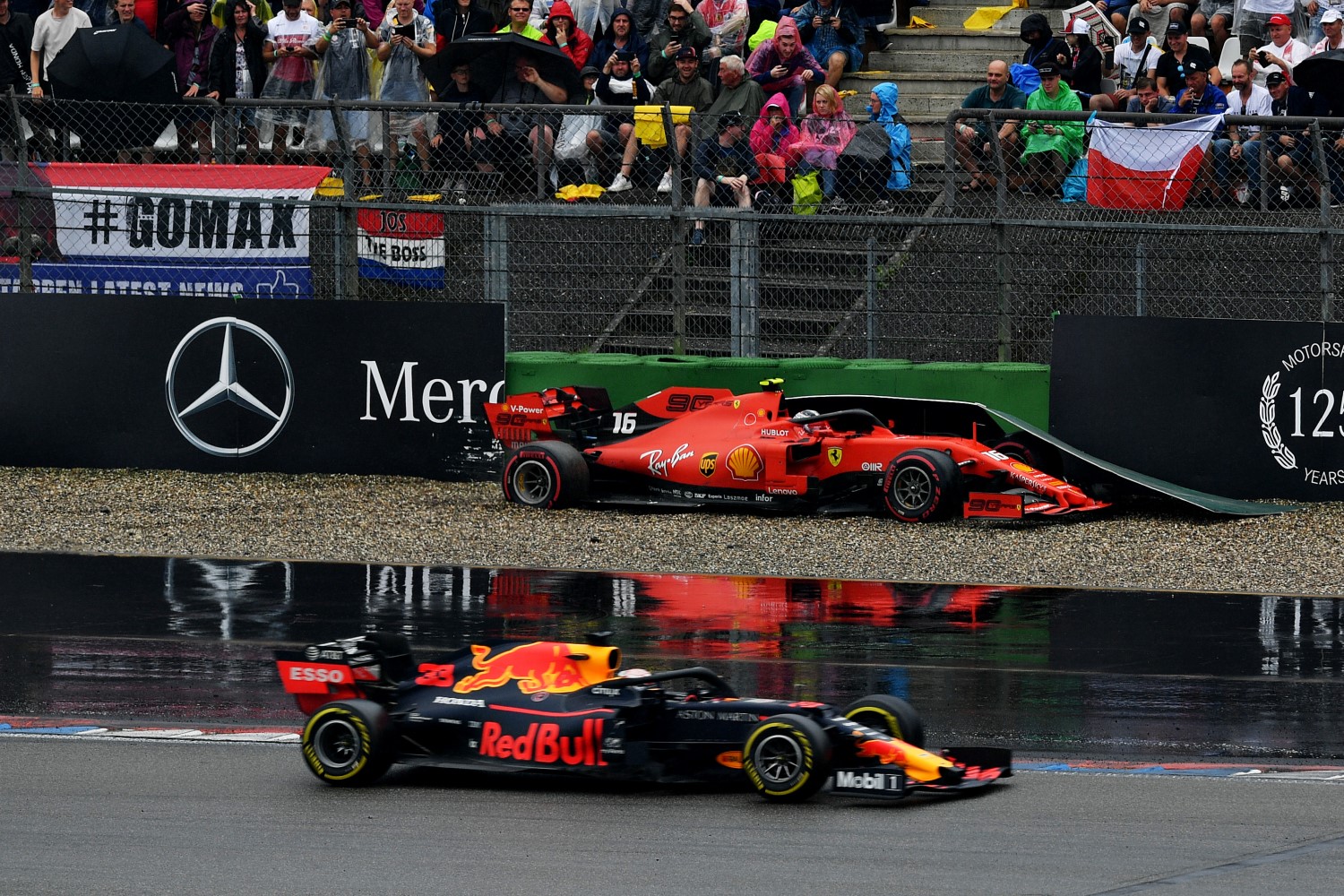 Max Verstappen leads as Charles Leclerc stuffs his Ferrari into the barriers
Max Verstappen spun in the wet but his team made great strategy calls and he otherwise drove a perfect race given the conditions to win the German GP at Hockenheim, his 7th career F1 win, in a race that saw many crashes, safety cars and pit stops.
Sebastian Vettel had the drive of the race after starting dead last to finish 2nd for Ferrari while Daniil Kvyat got a third place podium for Toro Rosso and Lance Stroll came home 4th for Racing Point after his team put him on slicks before anyone else, which was the right call.
Meanwhile Lewis Hamilton spun out twice, taking off his front win in the process and finished down in 11th place while his Mercedes teammate crashed out after he failed miserably trying to pass Lance Stroll for third. The anger in Toto Wolff's face as he banged his fists in fury had to make you wonder if Bottas just threw his Mercedes ride away.
Red Bull Team Principal Christian Horner had his head in his hands at the start, as both Verstappen and team mate Pierre Gasly got handfuls of wheelspin to drop way down the pack. But that was just the first of series of twists and turns as the rain came, and then eased, and then returned, before the track finally started to dry out in the closing stages.
[adinserter name="GOOGLE AD"]Starting second, Verstappen and Red Bull mastered the strategy, taking a gamble to switch to mediums first, then realizing their mistake and diving back into the pits. The Dutchman pitted five times in total, but made the right calls at the right time to emerge at the head of the field.
Vettel crossed the line second, the German making up seven places in the last 15 laps to cap a marvelous comeback, after starting dead last having not set a time in qualifying. And he would be joined on the podium by a tearful Daniil Kvyat, the Russian securing a shock podium for Toro Rosso after the Italian team pitted him for fresh boots at the perfect time.
Lance Stroll briefly led the race in the final stint, after Racing Point rolled the dice and put him on dry tires. The move proved inspired and while he battled bravely, he eventually succumbed to Kvyat and Vettel to take fourth, ahead of McLaren's Carlos Sainz, who at one stage was as low as 14th.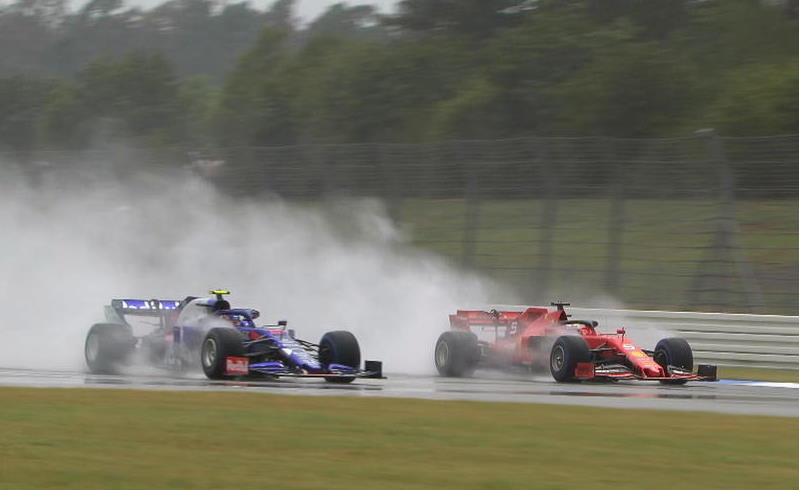 Vettel passed Kvyat for 2nd on the next to last lap
Alexander Albon survived contact with Pierre Gasly on the final lap to take sixth in the other Toro Rosso, ahead of the Alfa Romeo duo of Kimi Raikkonen and Antonio Giovinazzi, with Haas drivers Romain Grosjean and Kevin Magnussen banging wheels but escaping unscathed to complete the top 10.
What of championship leader Lewis Hamilton? He pitted six times, led the race for large chunks but a spin at the penultimate corner spat him into the barriers, breaking his front wing, and then he spun later in Turn one and got lucky he just kissed the barriers and kept going.
Ferrari's Charles Leclerc's race ended in the barriers in the next to last corner, just when he had hauled himself into victory contention from P10 on the grid, while Mercedes' Valtteri Bottas and Renault's Nico Hulkenberg were also casualties when running in P3 and P4 respectively.
UPDATE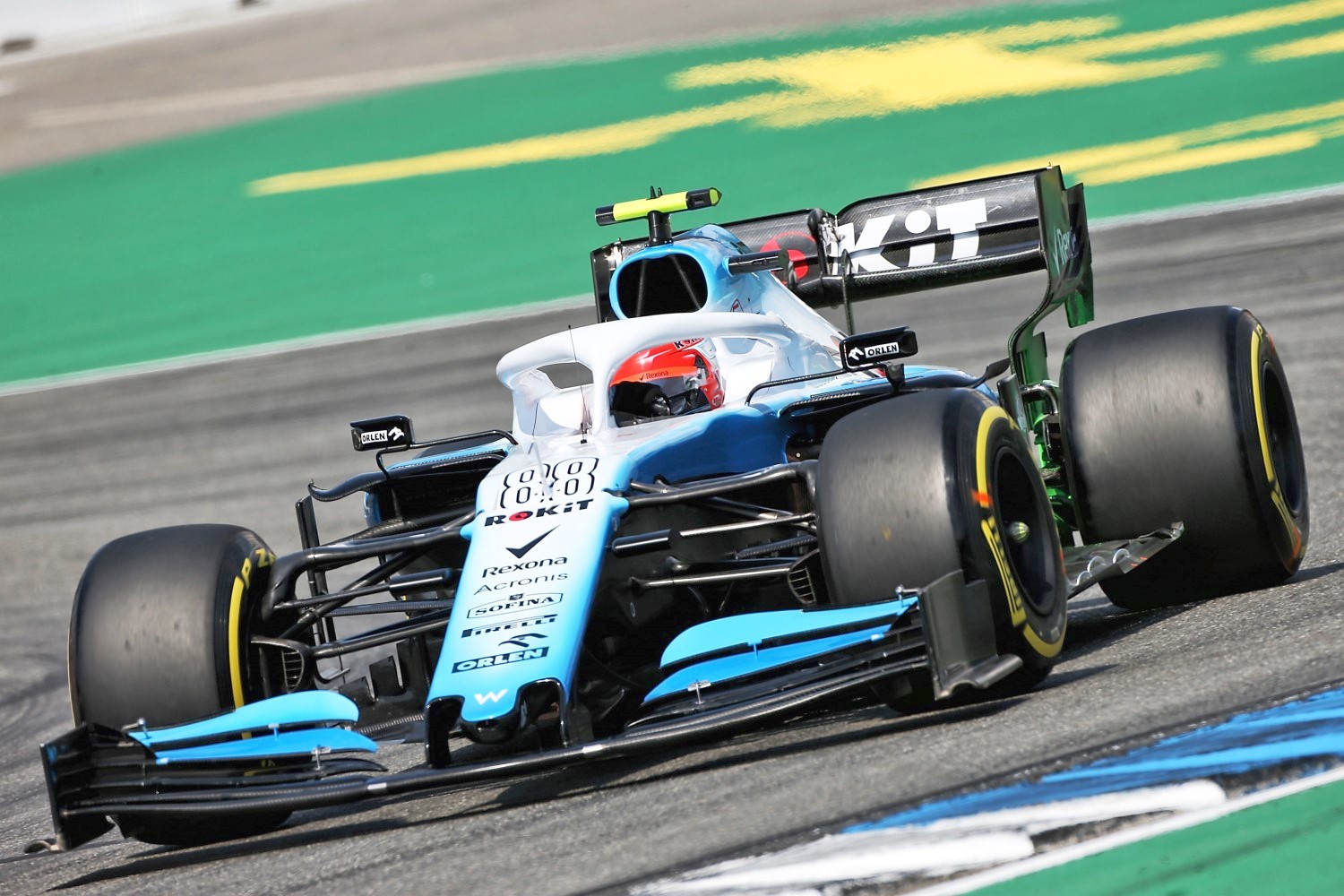 Kubica gets one point
Joy turned to heartbreak for Alfa Romeo hours after the German Grand Prix as the stewards penalized Kimi Raikkonen and Antonio Giovinazzi for clutch infringements at the start of the race, knocking them out of the top 10 and promoting four drivers up the order, including Robert Kubica to give Williams their first point of the 2019 campaign.
Raikkonen and Giovinazzi crossed the line seventh and eighth respectively, giving Alfa Romeo their best result of the season. However, soon after the race, the stewards summoned a team representative to discuss an alleged breach of Article 27.1, related to clutch torque application during race starts.
The stewards found the torque in the clutch at the start did not match the torque demand as the driver released the clutch within the specified 70 millisecond maximum period. This time was measured at approximately 300 milliseconds.
They compared this breach to that of a false start with a potential advantage and therefore opted to give both drivers a 10-second stop-and-go penalty, which equates to 30 seconds added to each of their race times.
It means Romain Grosjean moves up to seventh and Kevin Magnussen slots into eighth. World championship leader Lewis Hamilton scores two points in ninth, meaning he extends his points scoring streak to 23 races, while Kubica scores his first point since returning to F1 this season after an eight-year hiatus with 10th.
Wolff: Things could not have gone worse
The German Grand Prix was described as a "bad day" that "could not have gone much worse," by Mercedes team boss Toto Wolf.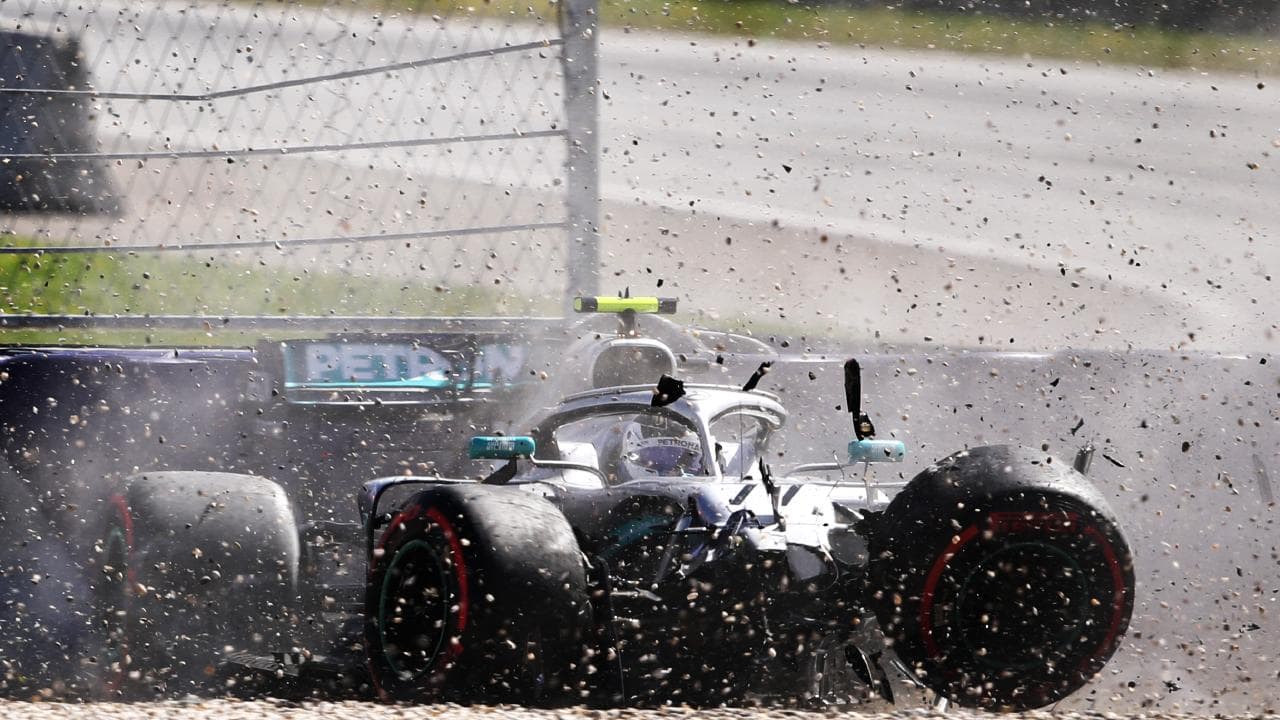 Bottas wads up his Mercedes
When Valtteri Bottas made the most of a slow-starting Max Verstappen to snatch second and ride shotgun behind teammate Lewis Hamilton, it was looking pretty rosy for Mercedes. But the race started to unravel when polesitter Hamilton lost control at the penultimate corner, skating off track at the same point as Charles Leclerc had done moments earlier.
Whereas Leclerc retired, Hamilton continued – but he had a broken front wing and was forced to enter the pits beyond the legal entry point, meaning he picked up a five-second time penalty and caught his team off guard as they weren't expecting him to pit.
Though the initial damage was only a drop from first to fifth, the penalty hurt when he stopped next time around as the field was bunched following a Safety Car and he was dead last. A team decision to switch to slick tires at the wrong time and another gnarly spin, this time at Turn 1, compounded a miserable day and he ended up 11th.
"We had a decent start of the race with good pace and then obviously you have incidents, crashing out in tricky conditions, the wrong calls, and this is where it all started to go wrong. It unfortunate [for Hamilton] because crashing right at the entry of the pit lane obviously you are not prepared."
Bottas looked set for a podium, having run a solid race, but he made a mistake when trying to pass Lance Stroll and crashed heavily, putting him out of the Grand Prix and compounding Mercedes to their first pointless race of the season.
"[The crash] was just a mistake," added Wolff. "Many others made the mistake, Leclerc crashed and many others crashed. Overall it was for us a bad day, it was for the drivers a bad day. It simply could not go much worse."
Bottas took the blame for the crash. "I learned for sure a lot," he said. "I made a mistake myself. The team also told me to push harder, I was pushing as hard as I could to get to the podium, so obviously I pushed a bit too much in that corner and lost the rear end.
"It was my mistake, maybe I should've tried to stay more calm and taken my time but if I didn't try that hard I could've never maybe reached the podium. At least I could've got some points, which would've been important."
Quotes
MAX VERSTAPPEN
"To come out on top after a race like that is amazing and for the Team to win for the second time this year with Honda is incredible. I don't know exactly what happened at the start but it seemed that everyone on the right side of the grid had a bad getaway and low grip. I had a particularly poor start when I released the clutch but stayed calm and followed the Mercedes cars closely. It was hard to pass due to the dirty air and the tires started to struggle as the track dried. From there onwards we always made the right decisions. Even though the first slick tire was maybe a bit hard and I had a few moments, with a 360 spin, I luckily kept going. Once I was back on the Intermediates and in the lead I was able to control the race and really show the pace of the car. Once you are ahead you can take a few less risks and everything feels a bit nicer. The conditions were very tricky and it was all about survival. It was definitely not an easy race and very tricky with the changing conditions. The Team made all the right calls. They were giving me the right information and keeping an eye on all the other teams and sector times. They were really on top of things and everyone worked so well together. It has been one of my most difficult races and it is great to come out on top. For sure I enjoy driving in the wet but also you need a good car for that. You can find a bit of pace in yourself but today we had both things right and I'm very happy with the result. The orange fans were standing up, especially when I was in the lead which was also amazing to see. A big thank you to the whole Team and it has been a crazy but amazing Sunday."
PIERRE GASLY
"That was an insane, crazy race and it just had everything. With the rain, crashes, safety cars and pit stops, it was a lottery and there were a lot of opportunities so I'm quite disappointed not to have made the most of it on my side and not finish the race. Towards the end, I was fighting with Alex during the last few laps and we made contact, which took my front wing off and gave me a puncture, so I had to stop the car. I don't know what to say but it's annoying not to score points when you have a race like this. At the start, I had wheel spin so I was slow off the line and I lost a lot of positions into Turn One so it was quite hectic from there. In these conditions, it's a gamble when to pit and when not to and sometimes you just need to get lucky but the pace was there so we will keep pushing and next week, we go again in Hungary. For the Team and Honda, it was great to get Max's win today and bag another decent amount of points."
CHRISTIAN HORNER, Team Principal
"What an unbelievable performance from Max and the Team today and it took five pit stops to win that race. Max kept his head in tricky conditions, he had great pace when he needed it and he made that win happen. It's fantastic for Honda to see two engines and both teams on the podium, and a massive congratulations go to Toro Rosso and Daniil Kvyat, who also became a father last night. The pit stop crew were unbelievable today and that was the reason for sending our Chief Mechanic, Phil Turner, up to collect the Constructors' Trophy as he did an amazing job. For Pierre, it was a shame as he had sections of the race that were going really well for him and it looked like he would finish in the top five, but it wasn't to be. He had an incident with Albon late in the race which I've only briefly seen, but thankfully both of them were unhurt and Pierre will bounce back."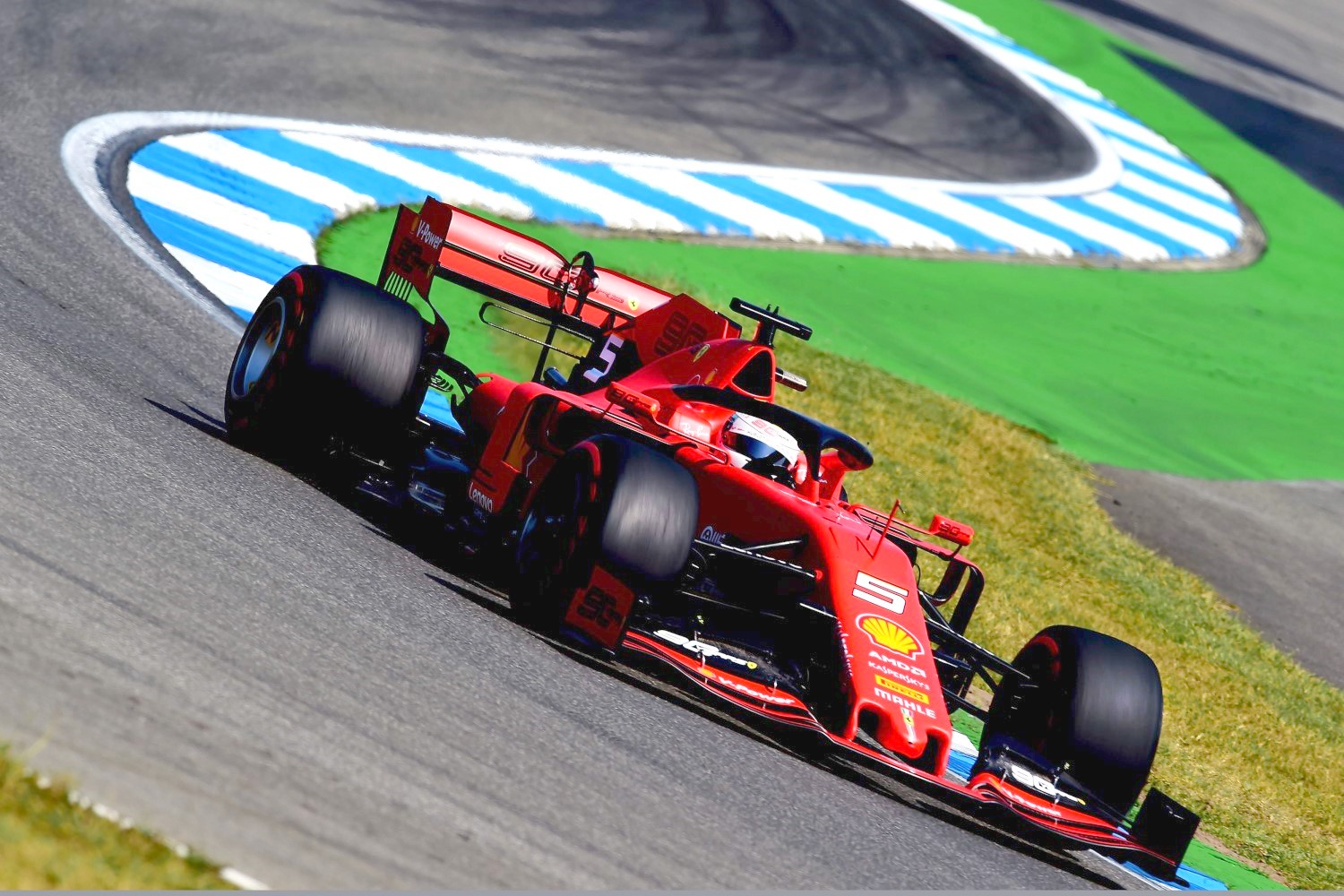 Vettel last to 2nd
Sebastian Vettel
"That was quite a race. I enjoyed it even though it was a tricky race, something of a lottery. It was a very long one and I don't even remember all of it. It was very tough at times, especially on the intermediates in the slippery conditions. I made up a lot of ground immediately after the start and in the first couple of laps, even though it was difficult to see. After that, it was quite hard to get into a rhythm as I did not feel so comfortable on the intermediates and their degradation was quite high. It was hard to tell if the lack of grip was because of the track being greasy or because the tires were going off. To be honest in these kind of races you can't count on anything until the last couple of laps. I think I was about P8 when the last safety car came out. There are so many decisions to make, but overall we stayed on track and in the race. In mixed conditions when it was starting to dry on the slicks I felt comfortable and that's when we made up the most ground."
Charles Leclerc
"It is a disappointing end to the weekend for me. After a good start, we worked our way forward in rather tricky conditions. The team did a great job and let me arrive in second place to fight for the win. The strategy was the right one and the car felt good. Unfortunately, I made a mistake in turn 16 and lost control of the car. I hit the wall and that was the end of my race. It's a shame and I am sorry for the team and our fans. Seb did a great job today and his result is well-deserved. Our car and performance were strong all weekend, in both wet and dry conditions, which is a positive. We have to stay focused and we will give our best again at the next race in Hungary."
Mattia Binotto Team Principal
"What a race! The car worked well all weekend, in all conditions. Today it proved to be quick, even in the final part of the race in the dry on a much cooler track than we had to deal with in the extreme heat on Friday. That is definitely an important consideration, as was the fact it also went well in the wet. We are very happy for Seb as this fantastic second place is a great confidence boost. He has been in great form all weekend and today he produced a brilliant drive, coming through from the back of the field. As for Charles, he's aware today was an opportunity missed, but he will get over it. There are plenty more races and there is no doubt that the guy is very quick and today he was delivering an extraordinary performance. It's true that maybe we could have come away with more today, but that's racing. Thanks go to all the crew in the garage who worked so hard to get the cars fixed this morning so they were ready to race. We've had some difficult moments, but it's at times like these that you see what the team is made of and that's the important thing."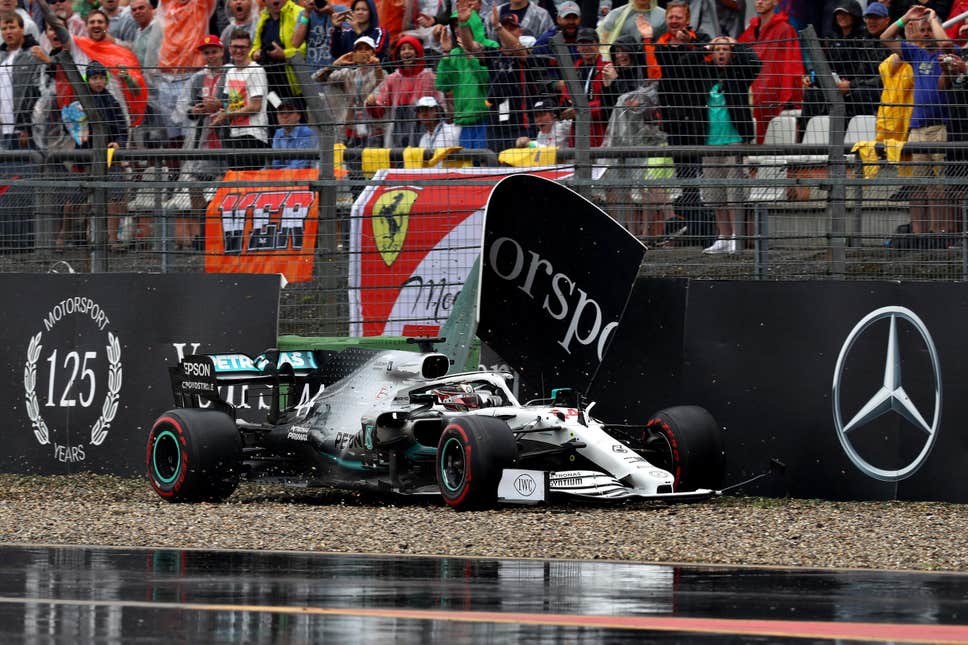 Hamilton crashed twice
Lewis Hamilton
What a crazy race. This has been one of the most difficult races we've had as a team for a long time. I thought I had the race under control, but we took a risk going out on slicks and the race fell apart from there. I went wide at Turn 16 and it was like ice out there, then hit the wall and damaged my wing. I made a mistake and paid the price. I was in the lead and then finished P11. I'm not even sure how, but that's very painful and I'm just glad it's over. It's hard to perform when you're not at 100 per cent. I need to make sure I'm fit and healthy again in time for the next race. You live and you learn from days like this. It's important now that we regroup for Hungary. I'm happy for Seb, who fought his way back to P2 from the back, and how good to see Daniil and Toro Rosso on the podium too – good for them.
Valtteri Bottas
That was a really tough race and I'm very disappointed. It was tricky out there: the track was very slippery and the conditions changed all the time. It was very easy to make a mistake and unfortunately I made a mistake in the end which lost us a lot of points. It's a shame because today was a good opportunity for me to make up some points to Lewis and it was my own fault that I ended up not getting any points at all in the end. I had a good shot to get a podium and I was pushing hard to get past Stroll. I was quite close to the limit in Turn 1, then I suddenly lost the rear and just went off; I don't think there was any time to catch the car. It's very disappointing for the entire team, but we'll give it everything to come back stronger in Hungary.
Toto Wolff
This one hurts us to the core: it was a disastrous result today. We had a decent start of the race with good pace. Then obviously you add incidents, crashing out, tricky conditions, the wrong calls and in the end you're left with zero points after running 1-2 in the opening laps. Lewis's incident happened right at the pit entry, so we were not prepared when he came in and made the wrong calls afterwards. Valtteri crashed like many other drivers today, which made a bad day even worse for us. Our 200th race in F1 has been the most difficult day we've had in a long time, but we are united in the pain as we are united in the joy of winning. Today is a day for us to look at our mistakes and to learn from them, so we can come back stronger next weekend.
Andrew Shovlin
A very frustrating day. We had opportunity to get both cars in really good points but failed to take them and that's always painful. The weather wasn't easy to deal with, the rain was coming and going and around midway we were in reasonable shape but got caught out on dry tires when the rain got heavier. With Valtteri we went to mediums the lap after Max, which was ok but we should have reacted sooner when the safety car came out to take the opportunity to go to back to intermediate and that cost him the position. With Lewis our timing was about as bad as it could be, we'd stopped for softs just as the conditions were getting worse and then he slipped off the track the next lap in the same place as Charles went off. We were ready for Valtteri to come in, so when Lewis needed a nose change we just weren't ready and lost a load of time. Despite all that, we were still 2nd and 3rd during the next safety car period but we were too cautious with the jump to dry tires and lost position with both. On top of that, Lewis had the penalty to serve and should have done that earlier as we lost of a load of positions once everyone was bunched up. We then had both drivers spin at turn 1 in the damp, which pretty much finished our day. Really disappointing and sometimes these days help you improve so we are looking forward to getting back on the track next week in Budapest.
Daniil Kvyat
"It's incredible to be back on the podium in what could be called my 'second career'. I thought it would never happen again in my life, so I'm so incredibly happy. There's so many emotions I still need some time to let it all sink in! This achievement is so great for us since it's 11 years since Toro Rosso's last podium with Sebastian in Monza. It was such an amazing day and I'm so happy. Thank you to everyone in the team, it was just an incredible day. I was readier than ever to fight for this kind of position. This year I feel more mature, my head is cooler, and I'm readier to fight on top, so I think I proved that today to myself and everyone around here. I hope this will become a habit soon! These kinds of races aren't easy, it was a tough call to pit that lap earlier, but it's a 50/50 call between the team and me, we win and lose together and today we won together."
Alexander Albon
"It was a good race today! I was a bit scared at the start, learning how the car behaves in the wet around this track, although, I'm really happy with how I performed as it was my first time in these conditions in an F1 car. The pace was really good, we were a bit fortunate and we timed our first pitstop right, and I was really excited racing in P4, I was thinking 'OK here we go!' Unfortunately, at the second stop we were caught out and pitted a lap later than Dany to switch from wet tires to dry, so four cars passed us. It's funny, it's like a disappointing P6 because we were running in P4 for quite a while. It was an amazing job by the team, the strategy was great and we were able to bounce back from a difficult Qualifying."
Lance Stroll
"I'm really happy with that. What an amazing day! Fourth place feels great considering everything that happened this afternoon. I was running at the back for most of the race; I spun a couple of times and we pitted five times! As special as it is to finish fourth, I am disappointed that the podium slipped away from us. I think a critical moment was the mistake I made in turn eight on my second or third lap on slicks, which is when Daniil [Kvyat] managed to get ahead of me. We tried our best to keep the quicker cars behind, but the podium was just out of reach. Today's race shows why you should never give up because it's never over until it's over. It's great to see how much this result means to the team and it was so special to see the crew celebrating on the pit wall when I crossed the line. This important result is for everyone in the team and we will enjoy this moment."
More to follow……
Race Results
| | | | | | | |
| --- | --- | --- | --- | --- | --- | --- |
| POS | NO | DRIVER | CAR | LAPS | BEHIND | PTS |
| 1 | 33 | Max Verstappen | Red Bull Racing Honda | 64 | +0.000s | 26 |
| 2 | 5 | Sebastian Vettel | Ferrari | 64 | +7.333s | 18 |
| 3 | 26 | Daniil Kvyat | Scuderia Toro Rosso Honda | 64 | +8.305s | 15 |
| 4 | 18 | Lance Stroll | Racing Point BWT Mercedes | 64 | +8.966s | 12 |
| 5 | 55 | Carlos Sainz | McLaren Renault | 64 | +9.583s | 10 |
| 6 | 23 | Alexander Albon | Scuderia Toro Rosso Honda | 64 | +10.052s | 8 |
| 7 | 8 | Romain Grosjean | Haas Ferrari | 64 | +16.838s | 6 |
| 8 | 20 | Kevin Magnussen | Haas Ferrari | 64 | +18.765s | 4 |
| 9 | 44 | Lewis Hamilton | Mercedes | 64 | +19.667s | 2 |
| 10 | 88 | Robert Kubica | Williams Mercedes | 64 | +24.987s | 1 |
| 11 | 63 | George Russell | Williams Mercedes | 64 | +26.404s | 0 |
| 12 | 7 | Kimi Raikkonen | Alfa Romeo Racing Ferrari | 64 | +42.214s | 0 |
| 13 | 99 | Antonio Giovinazzi | Alfa Romeo Racing Ferrari | 64 | +43.849s | 0 |
| 14 | 10 | Pierre Gasly | Red Bull Racing Honda | 61 | DNF | 0 |
| NC | 77 | Valtteri Bottas | Mercedes | 56 | DNF | 0 |
| NC | 27 | Nico Hulkenberg | Renault | 39 | DNF | 0 |
| NC | 16 | Charles Leclerc | Ferrari | 27 | DNF | 0 |
| NC | 4 | Lando Norris | McLaren Renault | 25 | DNF | 0 |
| NC | 3 | Daniel Ricciardo | Renault | 13 | DNF | 0 |
| NC | 11 | Sergio Perez | Racing Point BWT Mercedes | 1 | DNF | 0 |
Note – Verstappen scored an additional point for setting the fastest lap of the race. Raikkonen and Giovinazzi had 30 seconds added to their race times for use of driver aids at the start.
[adinserter name="GOOGLE AD"]