Power wins pole for Honda Indy 200 at Mid-Ohio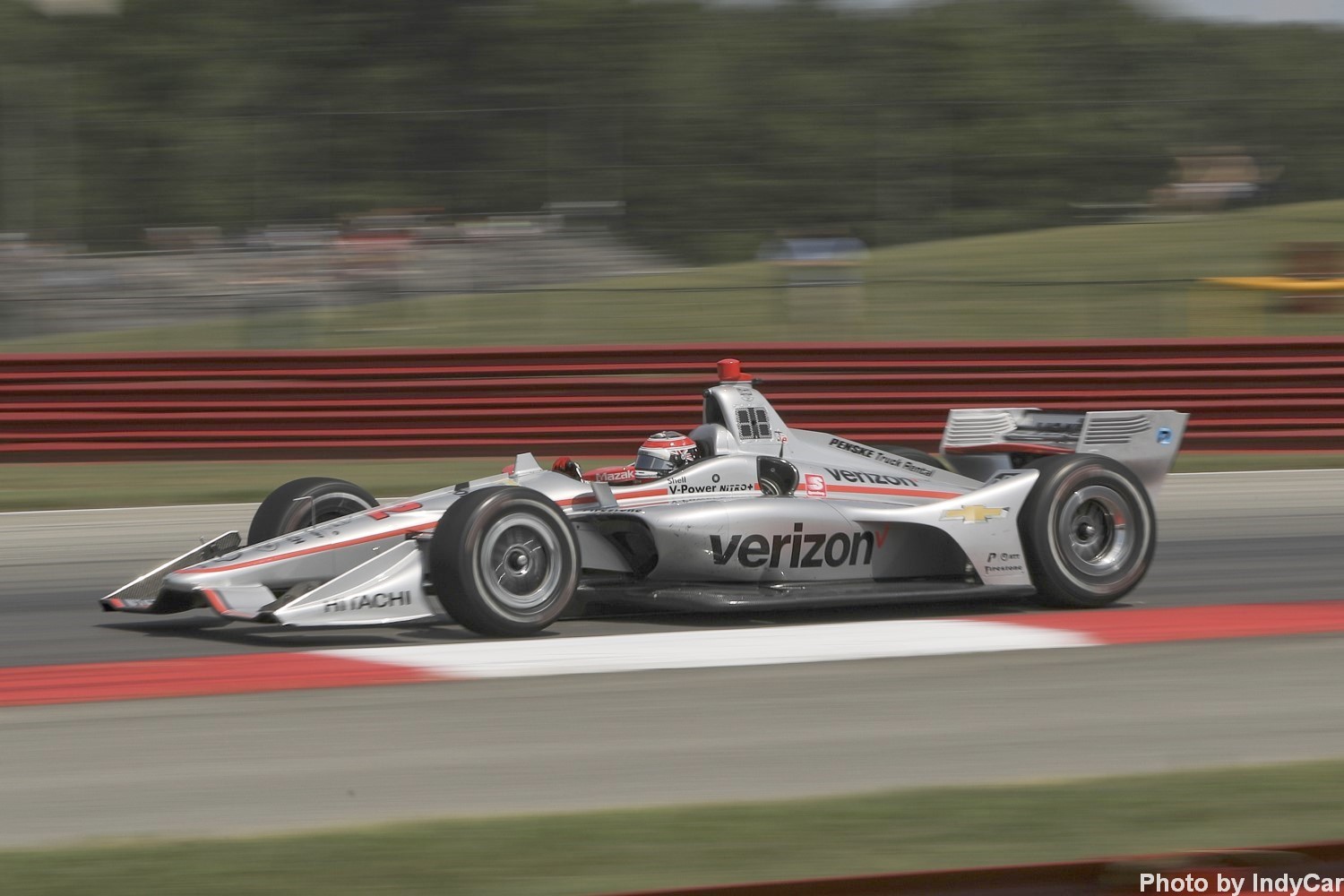 Will Power on pole
Will Power put his #12 Penske Chevy on pole for the Honda Indy 200 at Mid-Ohio with a 1m05.157s lap, 0.7s slower than Alexander Rossi's pole from last year.
Rossi will start 2nd in his #27 Andretti Honda but his time was 0.4s slower than the time he put up in the Q2 round (more on that in a bit)
Rossi was followed by the Team Penske duo of Josef Newgarden (No. 2 PPG Team Penske Chevrolet), who was third with a lap of 123.560 mph (1:05.7885), and Simon Pagenaud (No. 22 Menards Team Penske Chevrolet), fourth at 123.358 mph (1:05.8958).
Rounding out the Firestone Fast Six were Dale Coyne Racing with Vasser-Sullivan driver Sebastien Bourdais (No. 18 SealMaster Honda) at 122.784/1:06.2040 and Chip Ganassi Racing rookie Felix Rosenqvist (No. 10 Clover Chip Ganassi Racing Honda) at 122.253 mph/1:06.4914.
If not for Rossi overcoming his inferior car with skill (his teammates were nowhere) Team Penske would be starting 1-2-3.
Earlier today, Rossi's Andretti Autosport team announced the team has reached a multi-year agreement to continue with Honda power in the NTT IndyCar Series, and a multi-year deal with Rossi to continue driving for the Indianapolis-based organization.
********
[adinserter name="GOOGLE AD"]So why were the speeds so slow compared to last year? Alexander Rossi 'supposed that it was due to tire differences. He mentioned that Firestone often brings a different tire, etc etc. However, a few minutes later Will Power disagreed. Will said that the track was "degraded", "polished" and "quite shiny." In other words, perhaps more like your local go kart track after a few summers of use. He didn't want to change it though — "When they resurface a track they ruin it" he commented. "They should never be allowed to pave ovals." He's not the first driver to ever say this, nor is IndyCar the first to note this problem. The track now is more difficult to race than ever, and the better talent and teams comes to the front.
The other question of the day was "Why are you so fast?" Given Will's stunning performance today, not to mention the possibility of someday breaking Mario Andretti's record for number of pole wins, the subject had to be discussed. "I just get into a zone" he began, "I just get into a state where I get it all right." He supposed that musicians find that same mental state, as well as other athletes. If he could bottle the formula to find that zone, all sorts of performers and athletes would line up to learn from him.
Having noted the possibility of breaking Mario's record, Powers' record of 12 consecutive seasons is on the line. Power is strangely winless this year — and he was open about talking about "little mistakes" that cost him a win the last couple of races (ie, the missing of the pit entrance at Iowa). But he thought that this pole win was kinda a "stick it" moment to this disappointing season — while hoping that tomorrow the season doesn't stick him back.
"Just after the year we've had – even the past couple of weeks – it's been bloody terrible," Power said in referencing the street race in Toronto and the oval race at Iowa Speedway. "It's been a couple of mistakes by me. I was determined to get pole here and equally so to win the race.
"It beats you down a bit when you have constant bad runs and things just don't flow your way. There's always a turning point; that's the good news. When you have a bad race there's a good chance the next one will be good. If 10 of them like mine haven't been good, well, the next one will definitely be good."
*********************
My personal opinion, shared by many in IndyCar — Chevrolet has a good engine, but they need to be very thankful that Penske has a very good shock company. Between the quality of the drivers (three of the best, what, four?) and the ability show up and run fast every weekend, Penske (arguably) could be running minivans and be competitive this year. Grabbing 3 of the top 4 spots while the other Chevy teams struggled in qualifying is one good argument to my point.
Quotes
Top 10 Qualifiers:
WILL POWER (No. 12 Verizon Team Penske Chevrolet): "I have such a fire burning in me when I do a lap like that. So happy to get the pole. So happy. It's great for confidence for me and for my guys. I feel so bad for my guys. I've made some mistakes, so it was good to pay those guys back with some positive energy, and for our supporters as well for all the effort they put in. It's been a tough year. I had a lot of energy to get pole today. I really want to win a race now. The things that haven't gone our way…it just starts to wear on you. For me, it just makes me faster and more aggressive that leads to mistakes. That was just a really neat, hard lap to put in. Not a sector was wrong. I studied all the data I could all week long to understand how to do every sector as perfect as possible."
ALEXANDER ROSSI (No. 27 NAPA AUTO PARTS Honda): "Looking back at (qualifying), Will (Power) did a really slow first lap of his two-lap run and I did two push laps in a row. I think I ran out of tire because they were used Firestones by the time I got halfway through the lap and that's where the deficit came from. A little bit of a strategy call they made better than us, but I think our race car is great. The boys have done a really good job overnight. We struggled yesterday. The NAPA Andretti Honda boys put their heads together and made it happen today and the front row is a good place to start.
JOSEF NEWGARDEN (No. 2 PPG Team Penske Chevrolet): "Good day and good qualifying result for us on the PPG Chevy team. To qualify first, third and fourth is about as good as you can do, so great job overall by Team Penske. You could see how our work from the test we had here made a difference. Chevy's done a phenomenal job – the last three or four weeks we've just been on it. That gives us a lot of confidence on the PPG car that we can tap into that consistency and have a strong result tomorrow."
SIMON PAGENAUD (No. 22 Menards Team Penske Chevrolet): "Awesome result for Team Penske to have three cars in the (Firestone) Fast Six and congratulations to Will (Power) for winning the pole. I really thought we would be able to get a front row starting spot with the Menards Chevy, but I think I affected the strategy a little too much and we didn't have the right tires on the car at the end. Tomorrow, we'll go racing hard. It's going to be an exciting race with all the championship contenders starting at the front, so it should be a lot of fun to watch."
SEBASTIEN BOURDAIS (No. 18 SealMaster Honda): "The SealMaster Honda No. 18 is strong and has been strong all weekend. A very solid effort by the whole Dale Coyne Vasser-Sullivan team. The first run was perfect. It was just about as good a run as I could do. I may have had a little bit more in it, I overshot one corner, but I could bring the tires perfectly where I wanted them to be. In the second round, the No. 60 car went off the track in Turn 2 and threw a lot of dirt on the track when I was on my hot lap. So I had to abort that lap and go again. In the Firestone Fast Six, we re-ran the tires from the second round. The sun came out a little too early for us and the hotter track temperature hurt us a little bit. We lost a bit of grip. When you are first in the first round you want to do more, but I'm happy with fifth especially after last year."
FELIX ROSENQVIST (No. 10 Clover Chip Ganassi Racing Honda): "I think we had a great session and I'm really happy with the results. Obviously, you want to do better in the third round, but for whatever reason, the tires just weren't there and there was nothing left to get from them. I was happy with the second qualifying round on both primary and alternate (Firestone) tires and I felt we nailed that and the times we were able to achieve. We just need to work a little harder in that final segment to compete with the guys who were up there at the top going for pole. I'm confident we can get there and think we have a good Clover car for the race tomorrow afternoon."
COLTON HERTA (No. 88 Capstone Turbine Honda): "We just came up a little short today in qualifying. The car was good, but we lost a little bit of speed on the last run in Round 2. We went fastest on our first timed lap, which is odd because no one has done that at Mid-Ohio before. The No. 88 Capstone Turbine Honda guys qualified seventh, which is still a great starting position here, and we can do a lot with that during the race tomorrow. I'm really looking forward to tomorrow."
SCOTT DIXON (No. 9 PNC Bank Chip Ganassi Racing Honda): "I definitely felt off. It will be interesting to see what the No. 10 car (Felix Rosenqvist, teammate) did there in qualifying (sixth). It was just hard for us. On the initial turn in for us, we had a lot of understeer and the car was very snappy off the corner. We went fairly different as a result of how the practice went this morning, so the No. 10 went one route and we went another. Maybe we just went a little too far. Either way, good job by Felix to get into the (Firestone Fast Six) shootout for the team."
JACK HARVEY (No. 60 AutoNation SiriusXM Honda): "I am really happy with a top-10 start. We are only a part-time team, but we are competitive like a full-time team. I know how important this race is for everyone at Meyer Shank Racing and we have put ourselves in a good position to have a great race day. My goal is to make everyone that is here to support us as well as our partners, AutoNation and SiriusXM, proud. We are right in the window to have success and I know that the MSR guys can put together a great car for me to be competitive tomorrow."
RYAN HUNTER-REAY (No. 28 DHL Honda): "After (Practice 1), we knew we needed some speed, so we threw some setup changes at it. I think the car was pretty decent. We advanced on to the top 12 and then got too aggressive with the front of the car and missed the (Firestone) Fast Six. We just came up a bit shy today, but still inside the top 10 and we'll do our best to turn that into a fight for the DHL team."
Remainder of Drivers (alphabetical):
MARCO ANDRETTI (No. 98 UniFirst / Curb Honda): "We wanted more out of qualifying but didn't have the setup to get us there. We were loose on entry and couldn't pick up the speed. We need to concentrate on containing the back (of the car) for the race and get creative with strategy to move our way up."
MAX CHILTON (No. 59 Gallagher Carlin Chevrolet): "Obviously compared to last year, where we got through to the Firestone Fast Six, it looks like we've made a step backwards but I think last year we just kind of scraped through because of red flags. I truly believe we had more pace today than we did last year. It's just super close out there. You know, three tenths would've gotten me comfortably into the Firestone Fast Six. I really maximized everything I could. We didn't get a run on reds (Firestone alternate tires) yesterday, so that was really my first red run of the weekend. I think if I knew what I know now on the reds, we might have been able to get (Scott) Dixon with those two tenths we were just shy of. When we're only two tenths off of Ganassi car, I think we can be proud of the job we did. We're in a good place for tomorrow and I'm hoping we can bring home a good result for the No. 59 Gallagher Carlin Chevrolet."
RC ENERSON (No. 31 Lucas Oil School Carlin Chevrolet): "That wasn't quite the qualifying result we were looking for. I think we definitely had a little more pace than we showed today and we really just need to dial the car in just a little bit more. The temperature change and the major difference between reds (Firestone alternate tires) and blacks (Firestone primary tires) really caught me off guard today, especially not being on reds for a really long time. We need to make some changes and improvements before green flag tomorrow, but the No. 31 Lucas Oil School Carlin Chevrolet feels really strong in traffic. We'll have warmup tomorrow to find out a little bit more and make a few tweaks, but I'm confident heading to green flag tomorrow."
MARCUS ERICSSON (No. 7 Arrow Schmidt Peterson Motorsports Honda): "I thought it was a pretty good day from our side. We went for a bit of a different strategy for qualifying to go for two sets of reds (Firestone alternate tires). I think that worked out. The problem all year for me has been to get the feeling on new tires, especially the red ones, and we don't have many chances to try them out when you don't get them for tests and only like once in the race weekend before qualifying. It's been our – mainly my – problem all year to get that feeling that I'm looking for. I thought it was a good thing to try to use two sets of reds in Round 1 to allow me to build some confidence on the first run and then be able to execute on the second run. I think that showed – we were P2 in our group and had the pace to be right up there with the front runners. Of course, the downside with that strategy is that for Round 2 we only had used tires. We were still running up there when everyone else was on used tires, which showed that we had the pace, but then, obviously, everyone had a set of new tires to put on at the end and we didn't, so we dropped back to 12th. I still feel like that was a good effort. The Arrow SPM car was handling well, and from 12th, we can have a really good race. We know how strong we are on race day like we've been all year, so I think we can have a really good day tomorrow."
SANTINO FERRUCCI (No. 19 Cly-Del Manufacturing Honda): "At the Mid-Ohio track, everyone is so close. We just missed it by a bit with our No. 19 Cly-Del Manufacturing Honda and lost a little time everywhere. Also, being a rookie here and not having the chance to really run the reds (Firestone alternate tires) yesterday in Practice 2 (due to red flags) kind of hurt us today. Had we had more time with them, we would have known to put a little more front wing in it. That said, we've started there before and we've made some good things happen, so we'll have to do it again."
JAMES HINCHCLIFFE (No. 5 Arrow Schmidt Peterson Motorsports Honda): "Disappointing qualifying for us. Unfortunately, on our second lap, somebody drove off in front of us and put some dirt on the track, so that cost us a bit of time. Ultimately, we didn't have the best balance on the reds (Firestone alternate tires). The Arrow SPM car is really good on the blacks (Firestone primary tires), though, so we'll see tomorrow morning after warmup what tires are going to be the best for the race. We're sort of hoping blacks because we've been competitive on them all weekend, but we've got a bit more work to do tomorrow than we were hoping."
ED JONES (No. 20 Ed Carpenter Racing Scuderia Corsa Chevrolet): "We certainly made improvements on the black (Firestone primary) tires over the course of the weekend. However, not being able to run the reds (Firestone alternate) yesterday really cost us quite a bit, as we didn't know what to expect. It's not usually very easy to overtake here, but hopefully we are able to make some positions up."
TONY KANAAN (No. 14 ABC Supply AJ Foyt Racing Chevrolet): "Too many things happening, but I don't think we found the setup. I thought we did. We were planning to do three laps. We got caught in traffic – but that's nobody's fault – and we ended up only doing two. When that happens, we're not set up for that, the tire pressures aren't set up for that, none of that. It was just not a good day. We only have one way to go and that's moving to the front. We have warmup tomorrow, and hopefully, we'll do a better job tomorrow than we did today."
MATHEUS LEIST (No. 4 ABC Supply AJ Foyt Racing Chevrolet): "Disappointing qualifying today, very disappointing, considering we were running in or near the top 12 most of the time here. The car felt pretty good for most of the run, but we are lacking getting the speed out of the car. We have one more practice tomorrow to figure it out before the race."

SPENCER PIGOT (No. 21 Autogeek Chevrolet): "Qualifying was really frustrating. We seemed to be really quick through the weekend, but we obviously didn't have it there on red (Firestone alternate) tires. We didn't get a run on them yesterday, so that did not help us. We'll have to take a look at it and see where we can improve for tomorrow."
GRAHAM RAHAL (No. 15 Fifth Third Bank Honda): "Four cars were within six-hundredths of a second in our group and we weren't on the right end of that to progress to Round 2. Obviously, we're disappointed to not be faster. Gearing cost us two-tenths alone just down the straightaways. We're going to have to find more speed for tomorrow. We made progress this morning from yesterday and we hoped to continue that in qualifying. We won from 13th here, so we're just going to have to try to do the same from 15th."
TAKUMA SATO (No. 30 Mi-Jack / Panasonic Honda): "We're just not quite there on the setup. We made some improvements from practice, but it seems like we need more speed. We want to try a few things in the warmup to make the car faster, and then we will try to work our way forward in the race."
ZACH VEACH (No. 26 Gainbridge Honda): "It was a frustrating day. We missed it again. We have really been struggling getting the right feeling underneath us. It's going to be a frustrating race starting where we are on the grid. It is how this year has gone. We just need to figure out how to make changes that will allow us to move forward."
Lineup
| | | | | | | |
| --- | --- | --- | --- | --- | --- | --- |
| Pos | Car | Driver | Engine | Time | Speed | Session |
| 1 | 12 | Power, Will | Chevy | 01:05.1569 | 124.757 | Round 3 / Firestone Fast Six |
| 2 | 27 | Rossi, Alexander | Honda | 01:05.5317 | 124.044 | Round 3 / Firestone Fast Six |
| 3 | 2 | Newgarden, Josef | Chevy | 01:05.7885 | 123.560 | Round 3 / Firestone Fast Six |
| 4 | 22 | Pagenaud, Simon | Chevy | 01:05.8958 | 123.358 | Round 3 / Firestone Fast Six |
| 5 | 18 | Bourdais, Sebastien | Honda | 01:06.2040 | 122.784 | Round 3 / Firestone Fast Six |
| 6 | 10 | Rosenqvist, Felix (R) | Honda | 01:06.4914 | 122.253 | Round 3 / Firestone Fast Six |
| 7 | 88 | Herta, Colton (R) | Honda | 01:05.5650 | 123.981 | Elimination Round 2 / Top 12 |
| 8 | 9 | Dixon, Scott | Honda | 01:05.6999 | 123.726 | Elimination Round 2 / Top 12 |
| 9 | 60 | Harvey, Jack | Honda | 01:05.7231 | 123.683 | Elimination Round 2 / Top 12 |
| 10 | 28 | Hunter-Reay, Ryan | Honda | 01:05.7328 | 123.664 | Elimination Round 2 / Top 12 |
| 11 | 5 | Hinchcliffe, James | Honda | 01:05.7567 | 123.619 | Elimination Round 2 / Top 12 |
| 12 | 7 | Ericsson, Marcus (R) | Honda | 01:06.0428 | 123.084 | Elimination Round 2 / Top 12 |
| 13 | 21 | Pigot, Spencer | Chevy | 01:05.9377 | 123.280 | Elimination Round 1 / Group 1 |
| 14 | 19 | Ferrucci, Santino (R) | Honda | 01:05.7588 | 123.615 | Elimination Round 1 / Group 2 |
| 15 | 15 | Rahal, Graham | Honda | 01:05.9745 | 123.211 | Elimination Round 1 / Group 1 |
| 16 | 59 | Chilton, Max | Chevy | 01:05.9981 | 123.167 | Elimination Round 1 / Group 2 |
| 17 | 30 | Sato, Takuma | Honda | 01:06.3723 | 122.473 | Elimination Round 1 / Group 1 |
| 18 | 20 | Jones, Ed | Chevy | 01:06.1800 | 122.829 | Elimination Round 1 / Group 2 |
| 19 | 98 | Andretti, Marco | Honda | 01:06.4156 | 122.393 | Elimination Round 1 / Group 1 |
| 20 | 26 | Veach, Zach | Honda | 01:06.2115 | 122.770 | Elimination Round 1 / Group 2 |
| 21 | 4 | Leist, Matheus | Chevy | 01:06.5488 | 122.148 | Elimination Round 1 / Group 1 |
| 22 | 31 | Enerson, RC (R) | Chevy | 01:06.3196 | 122.570 | Elimination Round 1 / Group 2 |
| 23 | 14 | Kanaan, Tony | Chevy | 01:07.0491 | 121.237 | Elimination Round 1 / Group 2 |
Q3 Round (Fast Six)
| | | | | | | | | |
| --- | --- | --- | --- | --- | --- | --- | --- | --- |
| Pos | No | Name | Time | Diff | Gap | Speed | Engine | Team |
| 1 | 12 | Will Power | 1:05.157 | –.—- | –.—- | 124.757 | Chevy | Team Penske |
| 2 | 27 | Alexander Rossi | 1:05.532 | 0.3748 | 0.3748 | 124.044 | Honda | Andretti Autosport |
| 3 | 2 | Josef Newgarden | 1:05.788 | 0.6316 | 0.2568 | 123.560 | Chevy | Team Penske |
| 4 | 22 | Simon Pagenaud | 1:05.896 | 0.7389 | 0.1073 | 123.358 | Chevy | Team Penske |
| 5 | 18 | Sebastien Bourdais | 1:06.204 | 1.0471 | 0.3082 | 122.784 | Honda | Dale Coyne Racing w/Vasser-Sullivan |
| 6 | 10 | Felix Rosenqvist | 1:06.491 | 1.3345 | 0.2874 | 122.253 | Honda | Chip Ganassi Racing Teams |
Q2 Round
Pos
No
Name
Time
Diff
Gap
Speed
Engine
Team
1
27
Alexander Rossi
1:05.190
–.—-
–.—-
124.694
Honda
Andretti Autosport
2
10
Felix Rosenqvist
1:05.397
0.2070
0.2070
124.300
Honda
Chip Ganassi Racing Teams
3
2
Josef Newgarden
1:05.400
0.2106
0.0036
124.293
Chevy
Team Penske
4
22
Simon Pagenaud
1:05.421
0.2309
0.0203
124.254
Chevy
Team Penske
5
12
Will Power
1:05.426
0.2363
0.0054
124.244
Chevy
Team Penske
6
18
Sebastien Bourdais
1:05.562
0.3718
0.1355
123.987
Honda
Dale Coyne Racing w/Vasser-Sullivan
Did Not Transfer
7
88
Colton Herta
1:05.565
0.3752
0.0034
123.981
Honda
Harding Steinbrenner Racing
8
9
Scott Dixon
1:05.700
0.5101
0.1349
123.726
Honda
Chip Ganassi Racing Teams
9
60
Jack Harvey
1:05.723
0.5333
0.0232
123.683
Honda
Meyer Shank Racing w/Arrow SPM
10
28
Ryan Hunter-Reay
1:05.733
0.5430
0.0097
123.664
Honda
Andretti Autosport
11
5
James Hinchcliffe
1:05.757
0.5669
0.0239
123.619
Honda
Arrow Schmidt Peterson Motorsports
12
7
Marcus Ericsson
1:06.043
0.8530
0.2861
123.084
Honda
Arrow Schmidt Peterson Motorsports
Group 2 Round 1
Pos
No
Name
Time
Diff
Gap
Speed
Engine
Team
1
18
Sebastien Bourdais
1:05.270
–.—-
–.—-
124.541
Honda
Dale Coyne Racing w/Vasser-Sullivan
2
27
Alexander Rossi
1:05.281
0.0108
0.0108
124.520
Honda
Andretti Autosport
3
2
Josef Newgarden
1:05.381
0.1107
0.0999
124.330
Chevy
Team Penske
4
88
Colton Herta
1:05.433
0.1633
0.0526
124.230
Honda
Harding Steinbrenner Racing
5
22
Simon Pagenaud
1:05.646
0.3762
0.2129
123.827
Chevy
Team Penske
6
9
Scott Dixon
1:05.729
0.4592
0.0830
123.671
Honda
Chip Ganassi Racing Teams
Did Not Transfer
7
19
Santino Ferrucci
1:05.759
0.4886
0.0294
123.615
Honda
Dale Coyne Racing
8
59
Max Chilton
1:05.998
0.7279
0.2393
123.167
Chevy
Carlin
9
20
Ed Jones
1:06.180
0.9098
0.1819
122.829
Chevy
Ed Carpenter Racing
10
26
Zach Veach
1:06.212
0.9413
0.0315
122.770
Honda
Andretti Autosport
11
31
RC Enerson
1:06.320
1.0494
0.1081
122.570
Chevy
Carlin
12
14
Tony Kanaan
1:07.049
1.7789
0.7295
121.237
Chevy
AJ Foyt Enterprises
Group 1 Round 1
Pos
No
Name
Time
Diff
Gap
Speed
Engine
Team
1
12
Will Power
1:05.377
–.—-
–.—-
124.336
Chevy
Team Penske
2
7
Marcus Ericsson
1:05.729
0.3511
0.3511
123.672
Honda
Arrow Schmidt Peterso
3
28
Ryan Hunter-Reay
1:05.748
0.3709
0.0198
123.635
Honda
Andretti Autosport
4
10
Felix Rosenqvist
1:05.763
0.3856
0.0147
123.607
Honda
Chip Ganassi Racing
5
60
Jack Harvey
1:05.911
0.5332
0.1476
123.331
Honda
Meyer Shank Racing w/Arrow SPM
6
5
James Hinchcliffe
1:05.915
0.5377
0.0045
123.322
Honda
Arrow Schmidt Peterson
Did Not Transfer
7
21
Spencer Pigot
1:05.938
0.5602
0.0225
123.280
Chevy
Ed Carpenter Racing
8
15
Graham Rahal
1:05.975
0.5970
0.0368
123.211
Honda
Rahal Letterman Lanigan Racing
9
30
Takuma Sato
1:06.372
0.9948
0.3978
122.473
Honda
Rahal Letterman Lanigan Racing
10
98
Marco Andretti
1:06.416
1.0381
0.0433
122.393
Honda
Andretti Herta w/ Marco & Curb
11
4
Matheus Leist
1:06.549
1.1713
0.1332
122.148
Chevy
AJ Foyt Enterprises
[adinserter name="GOOGLE AD"]