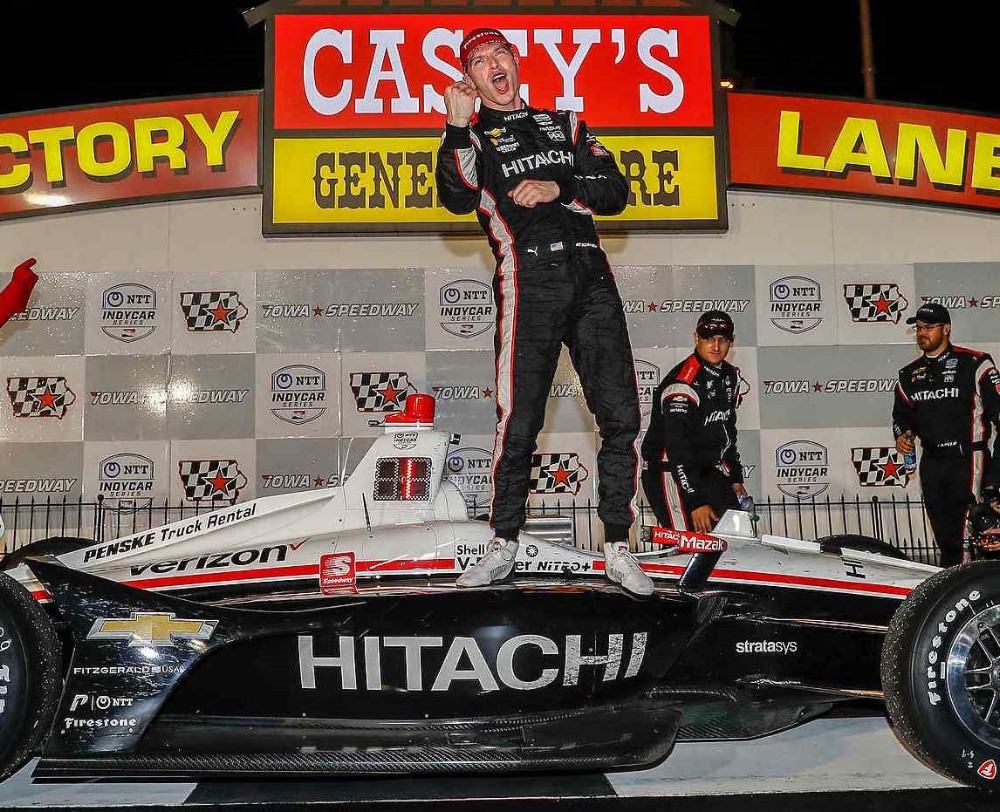 Newgarden dominates at Iowa and this year was no different
It's hard to believe now, but there was a time in my world when powering through until 3 or 4 in the morning or later was just a regular Tuesday-Wednesday. However, at my somewhat advanced age, I have to admit that pushing through this past Saturday night into Sunday morning for the Iowa 300 was a bit of a struggle.
With my circadian rhythms back on track (mostly), let's get out on with the AR1 Iowa Postscript.
The Decision
Although the race certainly did not agree with my sleep schedule, I really can't crush INDYCAR for the decision to start the race around midnight eastern and finish in the a.m. hours. For one, the Iowa race was the second a three-week race stretch for the teams, and one in which they were going to have to get the cars turned around from oval to road course spec to be ready to be in Mid-Ohio Wednesday. Second, the teams had checked out of their hotels and it would have been added expense to stick around another day. Last, the weather forecast for Sunday wasn't particularly good with rain on and off.
In short, it was far from ideal to run the race when they did. But given the choices, it was as good a time as any.
That said, I'll echo what numerous others have stated before and since: Iowa NEEDS to be a night race. The weather is much more pleasant there in the evening and when there is a crowd at night, the place truly sparkles. Hopefully, those details can be ironed out for 2020 and beyond.
Tsk Tsk
[adinserter name="GOOGLE AD"]Josef Newgarden was pissed off following qualify Friday. You might remember, he was incredibly short in his post-qualifying interview with NBCSN's Robin Miller after qualifying third behind teammates Simon Pagenaud and Will Power. From there, the driver of the No. 2 Hitachi Team Penske Chevrolet took that surly attitude into the media center.
"I'm not really into stats, so…" was Newgarden's response to a reporter who asked if he had any thoughts as to why the polesitter had never won at Iowa. I don't know the name of the reporter nor the affiliation. While I suppose the gentleman could be considered guilty of not sufficiently reading the pulse in the room, the question was in no way hostile or incendiary, and Newgarden could have handled it better. And personally, I would have wanted to hear Newgarden or Power (who was sitting next to him) give a racer's view as to why qualifying at Iowa perhaps doesn't translate as it does at other tracks.
Let me be very clear: Newgarden didn't do anything egregious, and his less than flattering disposition was HIGHLY out of character. He could have handled it better, but this was a 1/1000 instance.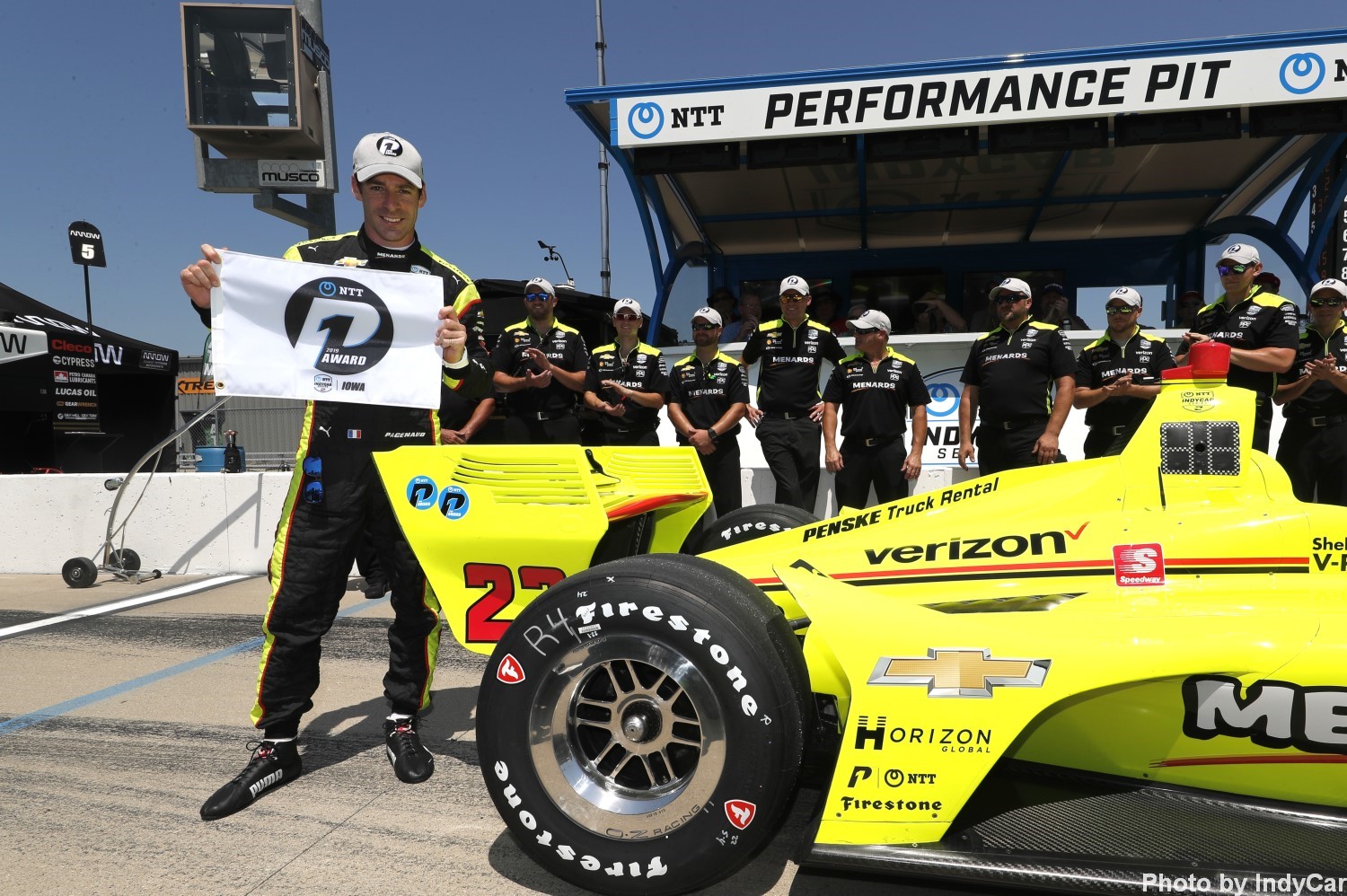 Newgarden was miffed that his teammate Pagenaud stole the pole
What does interest me is not that he was testy, but why exactly he was testy. Call me crazy, but I don't buy the generic whole he-was-pissed-off-because-he-didn't-win-pole stuff. I know he's not into statistics, but as we know, not winning the pole is far from a death sentence at Iowa. Plus, we've seen Newgarden handle much greater misfortune with incredibly grace and dignity on numerous occasions (remember the accident with Ryan Hunter-Reay at Long Beach a few years ago?). So, why the sourness suddenly on Friday when it was well, just qualifying?
I have to ask: did Newgarden's frustration have something to do with his teammates, in particular Pagenaud being at the front again? Does Newgarden believe Pagenaud is getting something from the team he is not? Would Newgarden have been as pissed if Power had won pole? Or Dixon? Or Rossi? Or a non-contender?
We'll probably never know exactly. But Newgarden did hit what for him represents something of a boiling point Friday. And this skeptical columnist, thinks there might be a little more to this than meets the eye.
The Race
Given the delay, Newgarden had plenty of time to get over whatever was eating at him. When the green flag fell, he spent some time behind Pagenaud and Power before moving to the point and never really looking back. It was Newgarden's fourth win of the season, and 11th in his 46 races for Team Penske.
Newgarden enters Mid-Ohio with a 29-point lead.
Championship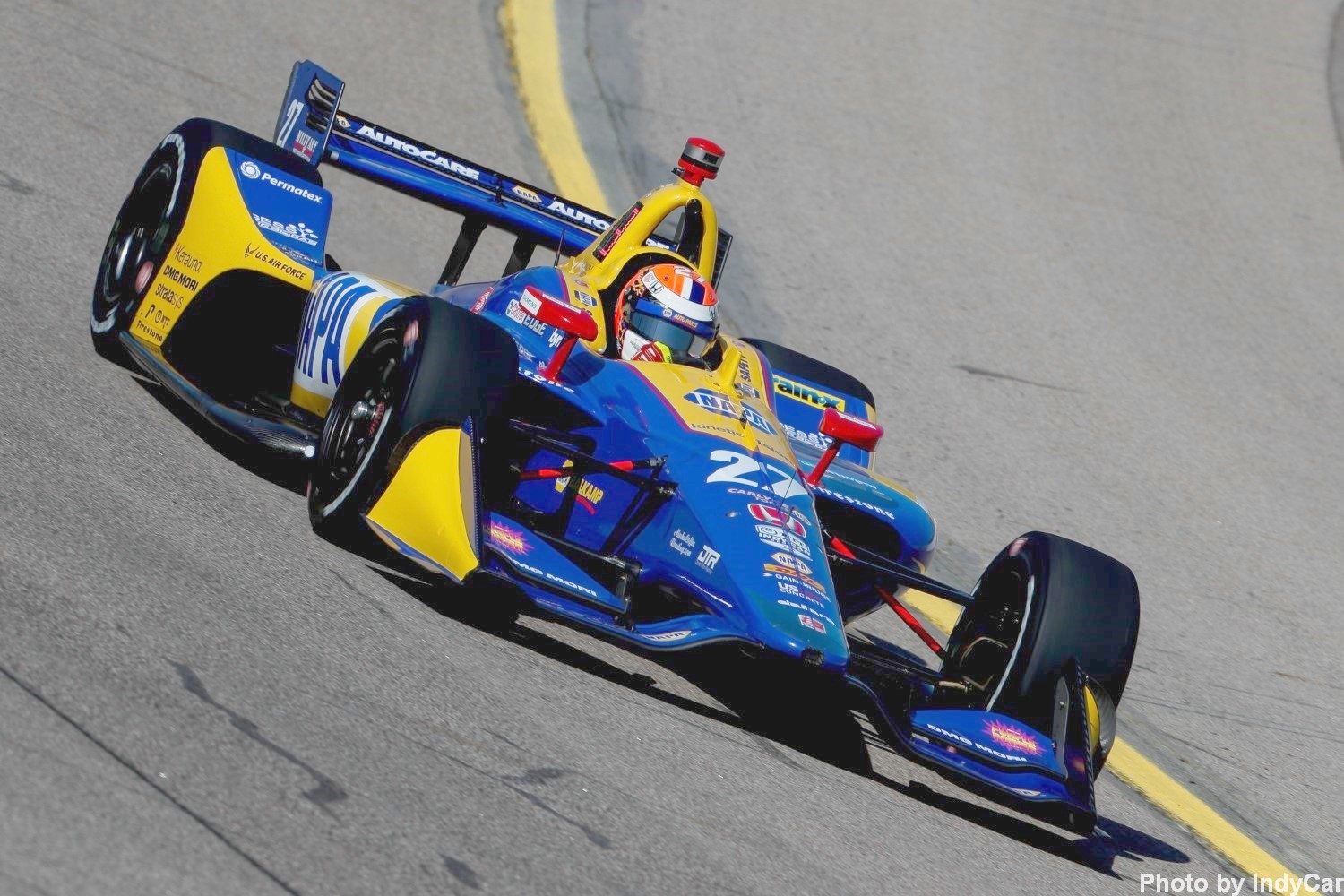 Rossi appears destined to stay put
I did a pretty thorough breakdown of the championship battle in last week's Toronto Postscript. One thing I think we can do following Iowa is cross Will Power off the list of contenders. A mistake on pit-entry cost Power dearly this weekend as he finished 15th. While he still sits 5th in the standings, he is now 165 points behind Newgarden with 5 races left.
Too many points back, too few races remaining, and too many good drivers in front of him. From a championship perspective at least, I think it's safe to count this as a lost season for Power.
Rossi
Despite rumors of a potential move to Team Penske, the latest indications are that Alexander Rossi and Andretti Autosport are close to reupping for 2020 and beyond. While a Rossi/Penske pairing certainly has the possibility of being a historic partnership, from a competitive balance standpoint it is good for the series in my opinion that Rossi stay exactly where he is.
Dixon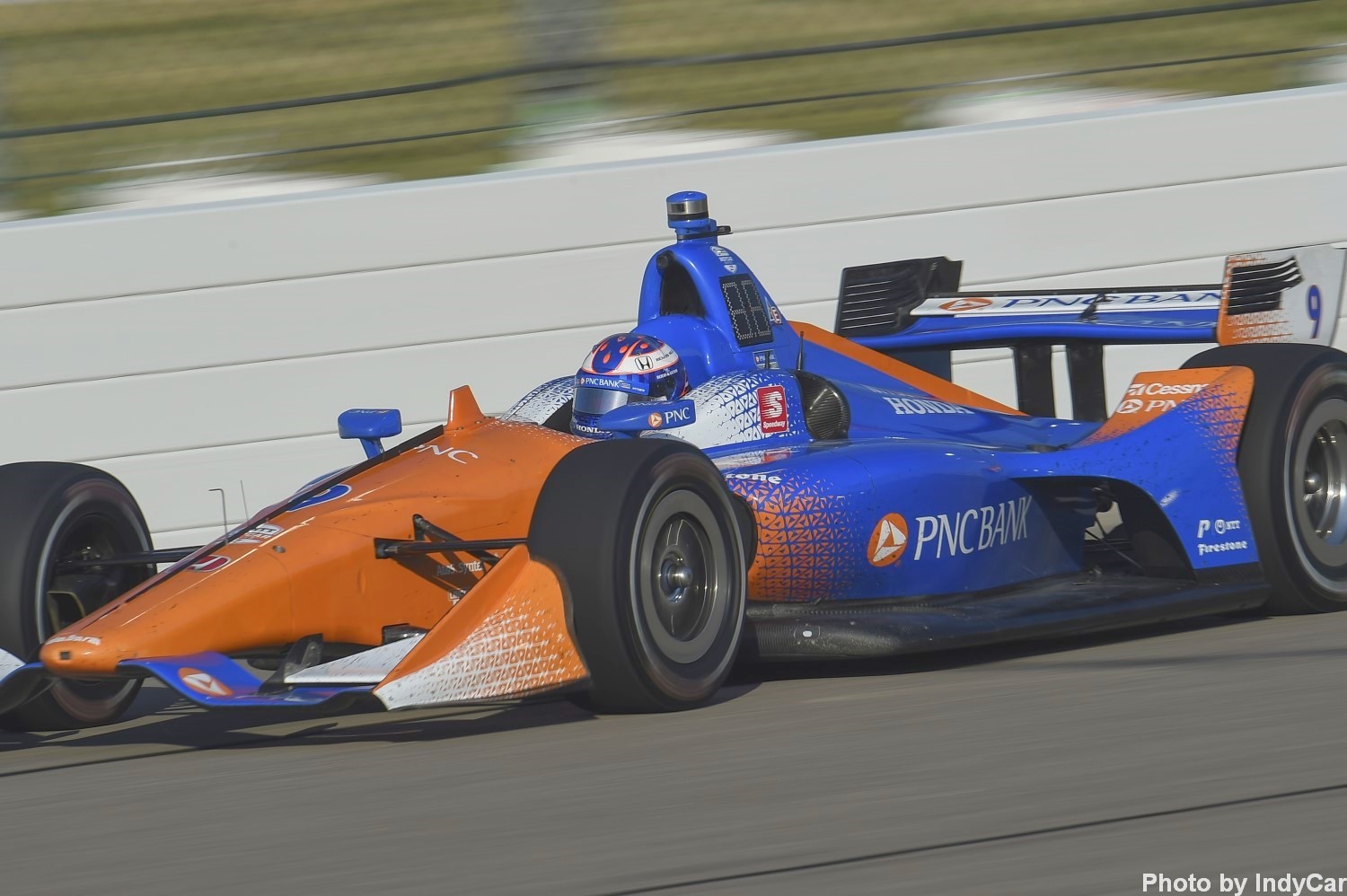 Even at his advanced age, Dixon just keeps running strong like the Energizer Bunny
Rossi staying at Andretti for an extended period would give him the opportunity to assume the role of Penske Killer that one Scott Dixon has enjoyed for a decade and a half. The five-time IndyCar Series champion Scott Dixon followed up an impressive second-place drive Saturday evening/Sunday morning by celebrating his 39th birthday on Monday. While nothing on the surface is particularly noteworthy about Dixon turning 39, let's use the milestone to take a little inventory.
Dixon's win last month at Detroit was his 45th American Championship Racing victory, placing him third on the all-time wins list behind Mario Andretti (52) and A.J. Foyt (67). And while 39 means the Kiwi is certainly closer to the end than the beginning, a look at Indy car racing history would indicate Dixon is far from finished.
Let's start with the two drivers ahead of Dixon, Andretti and Foyt. Mario won 19 Indy car races AFTER his 39th birthday, while Foyt won 24. Heck, Mario won 10 races after his 45th birthday. Other drivers such as Emerson Fittipaldi (21) and Bobby Unser (20) past the age of 39.
Now, Indy car racing is a bit of a different game nowadays with more road and street courses. And recent vintage has not seen too many drivers winning deep into their 40s. So, it would probably be farfetched to see Dixon winning at the rate of those mentioned above.
Still, Dixon is in impeccable shape. He has a good head about him, and no indication that there is anything off the track that would derail him from success into his 40s. Plus, Dixon remains the top dog at a team that has won 7 of the last 11 series championships. And it is more than conceivable that he has 4-5 good years ahead of him.
In short, Foyt's 67 wins are probably out of reach, but Mario's 52 are very much in play.
Ferrucci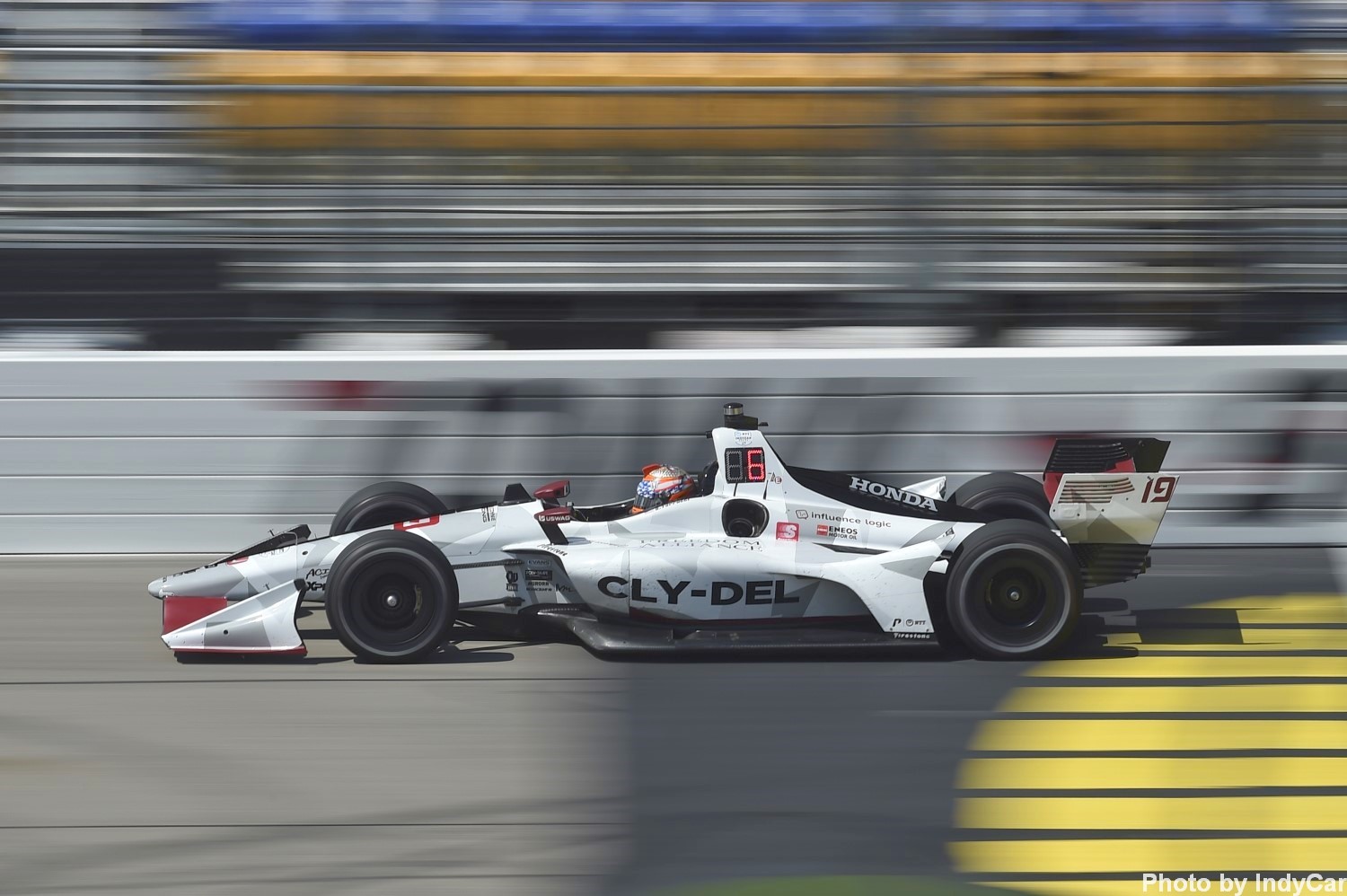 Santinoi Ferrucci could be another American star in the making
If you were able to stay awake, you saw a couple of breathtaking restarts from Santino Ferrucci. However, what has impressed me about Ferrucci has not so much been his daring inside the cockpit, rather his restraint. Remember, from aggressive on-track behavior to an overly-involved father, the 20-year-old Connecticut native came from Formula 2 with all sorts of buyer beware signs. And I can also tell you that the whispers in the paddock last season basically were not flattering, as many saw Ferrucci as an entitled hothead, driving only because of daddy's money.
Yes, he is still a rookie, but Ferrucci has shown NONE of the apparent hot-headedness in 2019 that got him unceremoniously run out of F2. Yes, he has been aggressive, but that aggression has been controlled. And the fact he has driven in a way that completely counter to less-than-sterling reputation has been his greatest victory of all.
Brian Carroccio is a senior columnist for AutoRacing1. He can be contacted at BrianC@AutoRacing1.com.