Briscoe and Westbrook Claim Northeast Grand Prix Win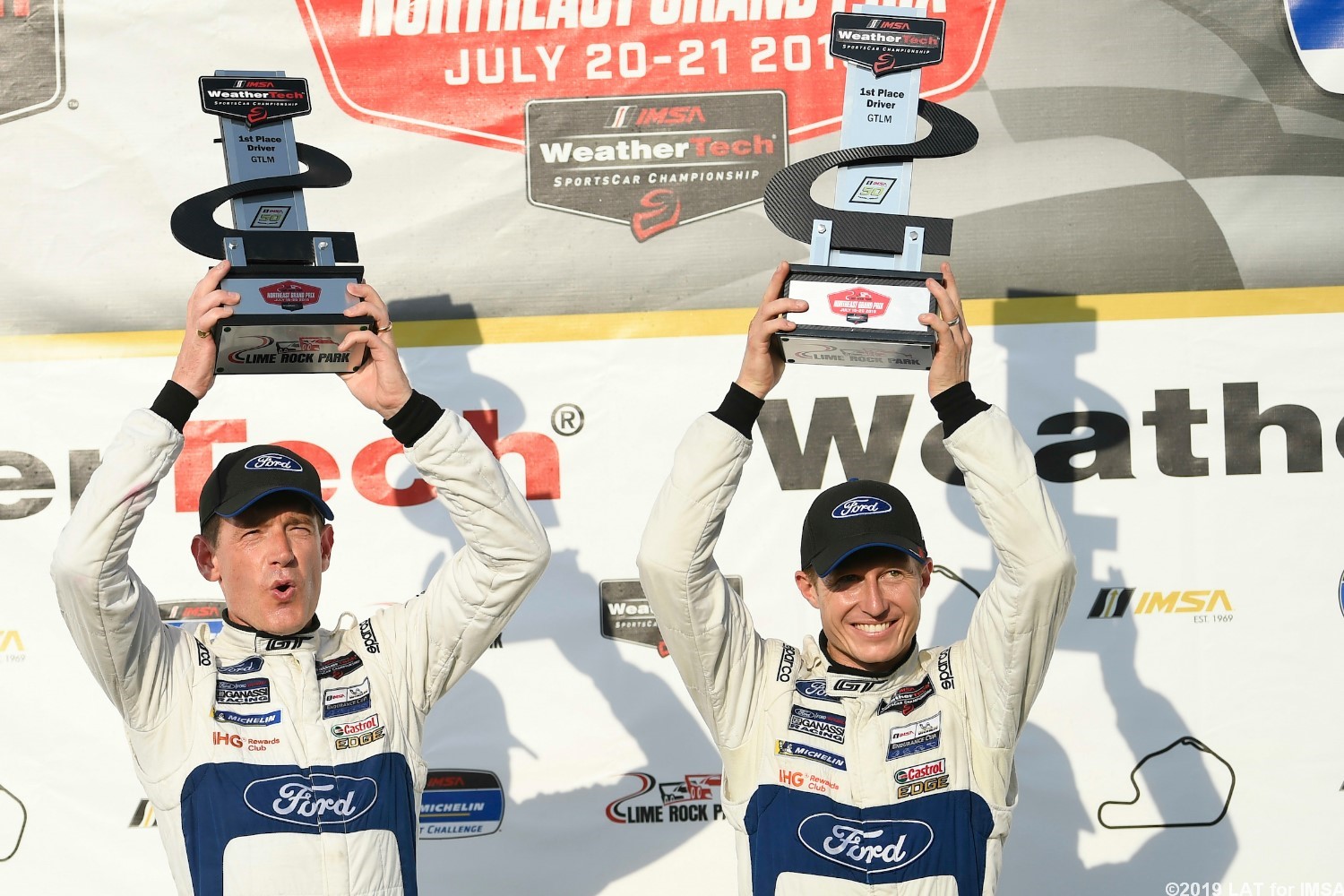 Westbrook and Briscoe celebrate
You could anticipate it coming for quite some time, but it wasn't until Richard Westbrook finally positioned his No. 67 Ford GT to the inside of Earl Bamber's No. 912 Porsche 911 RSR with six minutes and 32 seconds remaining in the Northeast Grand Prix that it was decided.
With that move, Westbrook secured what would be the first IMSA WeatherTech Championship GT Le Mans (GTLM) victory of the season for himself and his Ford Chip Ganassi Racing co-driver, Ryan Briscoe, on Saturday afternoon at Lime Rock Park.
"I had to pick my moment," Westbrook said. "There was a lot of marbles off-line. I just got it right. It was just an amazing race to be part of, fighting with two Porsches and my teammate, it was really close out there. I just had to be patient with the 912 and when the opportunity came, it was a matter of taking it."
The opportunity came largely as a result of the team's three-stop pit strategy for the two-hour, 40-minute race under sweltering midsummer heat in New England. Whereas the pair of Porsche GT Team entries led most of the race – combining to lead 140 of the race's 182 laps around the 1.474-mile circuit – Westbrook's fresher tires coming down the stretch paid huge dividends.
[adinserter name="GOOGLE AD"]"This place is just so tough," said Briscoe, who makes his home in nearby Hartford, Connecticut. "We didn't think we'd have the pace, so we went into the race with the goal of doing a three-stop strategy. We knew the tire life on two stops was going to be really difficult for everyone, so we just committed to it and knew we had to put the lap times in on fresh tires when everyone else was falling off and it worked out.
"It's really great, especially, to do it here at Lime Rock. I've got a lot of friends here, a lot of family and it's special to stand on the podium in front of all of them."
It was the 18th career IMSA victory for Briscoe and Westbrook's 15th. Their most recent victory prior to Saturday came last August at Road America.
After taking the lead from Bamber, Westbrook quickly pulled away. He went on to win by 7.003 seconds, snapping the Porsche GT Team's five-race win streak in the process.
"It's tough to beat a Porsche this year," Westbrook said. "So, I think we can all give ourselves a pat on the back."
Bamber and co-driver Laurens Vanthoor wound up second for their fifth podium result in seven races in 2019. They extended their lead in the WeatherTech Championship GTLM standings to eight points, 218-210, over their No. 911 Porsche teammates, Nick Tandy and Patrick Pilet.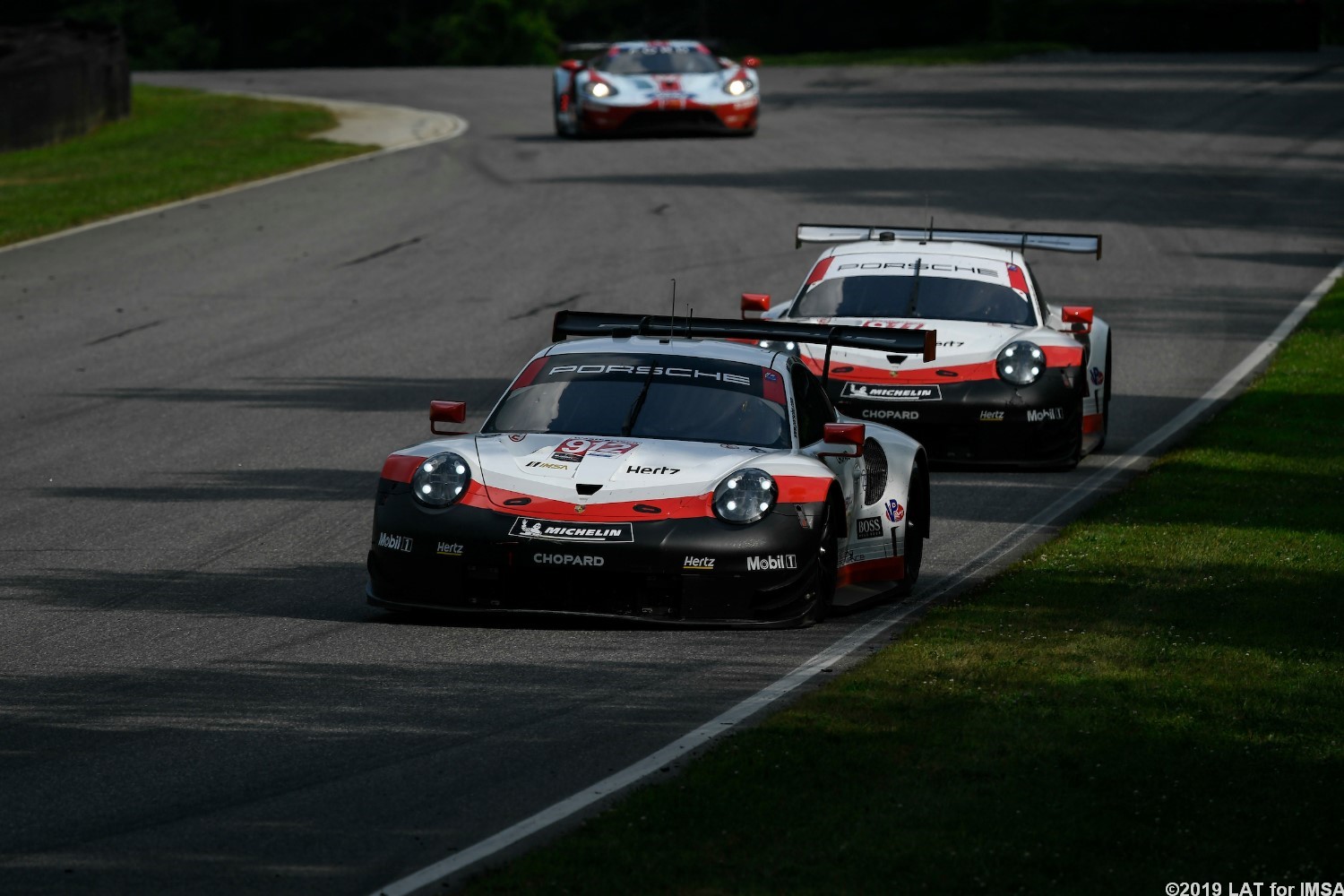 The Porsches dominated early
No. 66 Ford GT co-drivers Joey Hand and Dirk Mueller made it a double podium for Ford Chip Ganassi Racing with a third place showing. Hand and Mueller won last year's race at Lime Rock.
Tandy and Pilet came home fourth in the No. 911 ahead of No. 3 Corvette Racing Chevrolet Corvette C7.R co-drivers Jan Magnussen and Antonio Garcia, who finished fifth.
Next up for the IMSA WeatherTech SportsCar Championship is the IMSA Road Race Showcase at Road America on Sunday, Aug. 4. The race will be televised at 6 p.m. ET on NBCSN.
Live streaming of the race will be available on the NBC Sports App and NBCSports.com beginning at 2:30 p.m. ET. IMSA Radio also will have live coverage throughout the weekend on IMSA.com and RadioLeMans.com with live race coverage airing on SiriusXM Radio.
Pfaff Motorsports Steals First IMSA WeatherTech SportsCar Championship GTD Victory with Photo Finish
If anyone was shocked at the results of Saturday's IMSA WeatherTech SportsCar Championship Northeast Grand Prix at Lime Rock Park, no one would be more so than GT Daytona (GTD) class winners Pfaff Motorsports.
The No. 9 Porsche 911 GT3 R shared by co-drivers Zach Robichon and Dennis Olsen ran in the top five for the early half of the race after Robichon qualified the car fourth. The car then moved up into second place for nearly 80 laps, with Olsen keep the leading No. 86 Meyer Shank Racing Acura NSX GT3 of Mario Farnbacher within a second of his sights.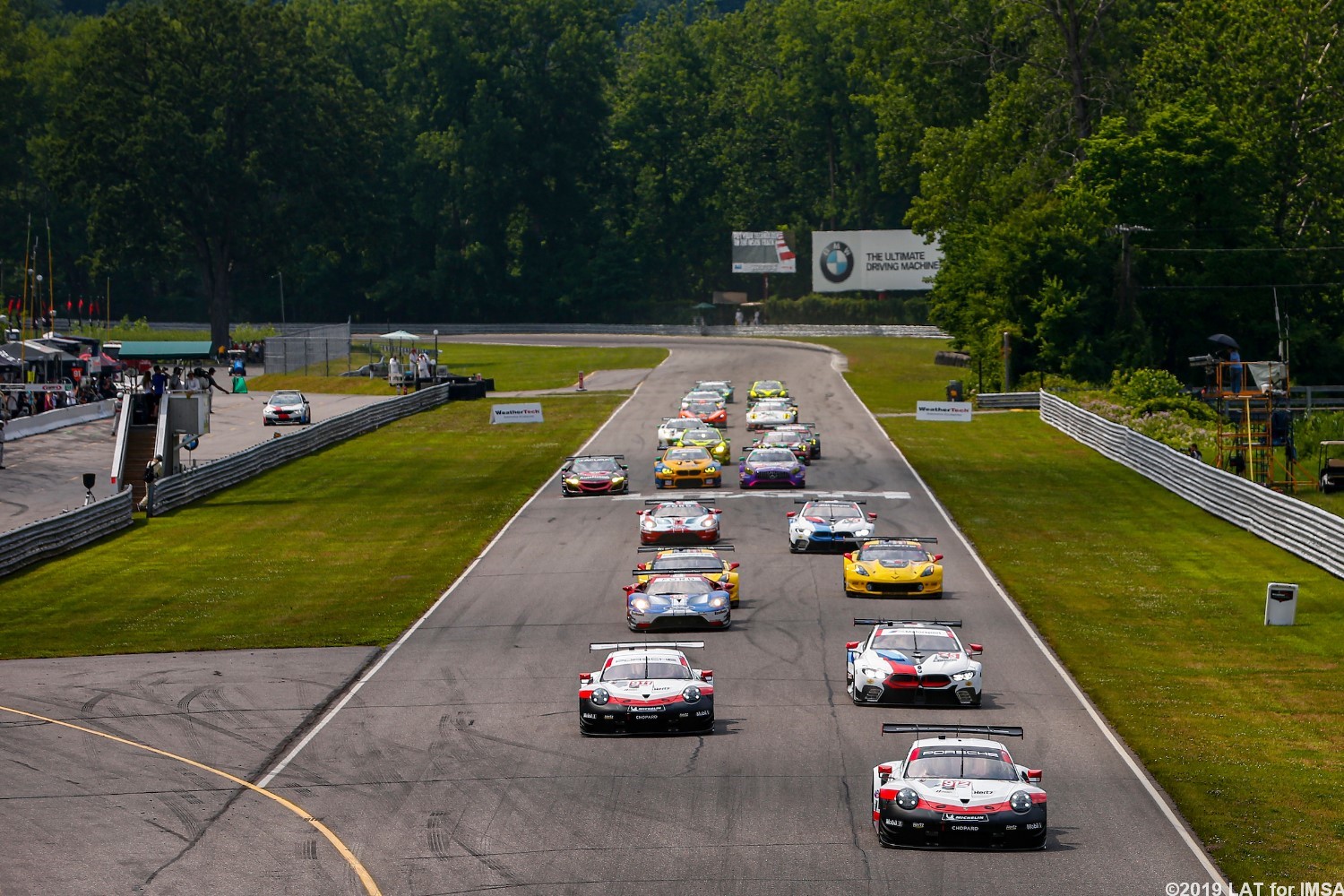 Race start
With five minutes remaining, the perfect opportunity presented itself for Olsen. Two lapped cars blocked the paths of both drivers, with Farnbacher in the outside lane and Olsen on the inside. As luck would have it – which Pfaff hasn't had much of this season – the inside lane opened up as the two dove into a corner and Olsen capitalized, sliding by and in front for the lead.
The drama wasn't done yet, however. A tire puncture slowed Olsen on the final lap, allowing Farnbacher to reel him back in. it was a drag race on the front straightaway to the checkered flag, which Olsen nipped by a mere .010 seconds.
"It was pretty tight, all of the moves," said Olsen. "The last one was just the Acura got held up by a bit of traffic in the front, I don't know what was going on. I just prepared myself to get around and gambled to go between and it worked out. I think it was a millimeter on each side, but it worked out."
With the win coming, literally, in the blink of an eye, Robichon was stunned as he reflected on his first WeatherTech Championship victory.
"I mean it was pretty stressful, definitely," said Robichon. "Dennis did such a great job. Usually I'm not at a loss of words like this. He did a great job. He was aggressive when he needed to be, but didn't take any unnecessary risks and I think with the traffic it all played out perfect. He didn't put a wheel wrong…He did a great job to stay in the lead and definitely well-deserved from the Pfaff Motorsports crew."
Farnbacher and co-driver Trent Hindman's runner-up result still benefited the duo in the championship standings. Following their fourth consecutive podium finish, they expanded their lead to 183-153 over the winners from the series' most recent race at Canadian Tire Motorsport Park two weeks ago, Bill Auberlen and Robby Foley in the No. 96 Turner Motorsport BMW M6 GT3.
Auberlen and Foley rounded out the podium at Lime Rock Park with their third top-three in as many races.