Overheard at Toronto Sunday (Rossi Saga Update)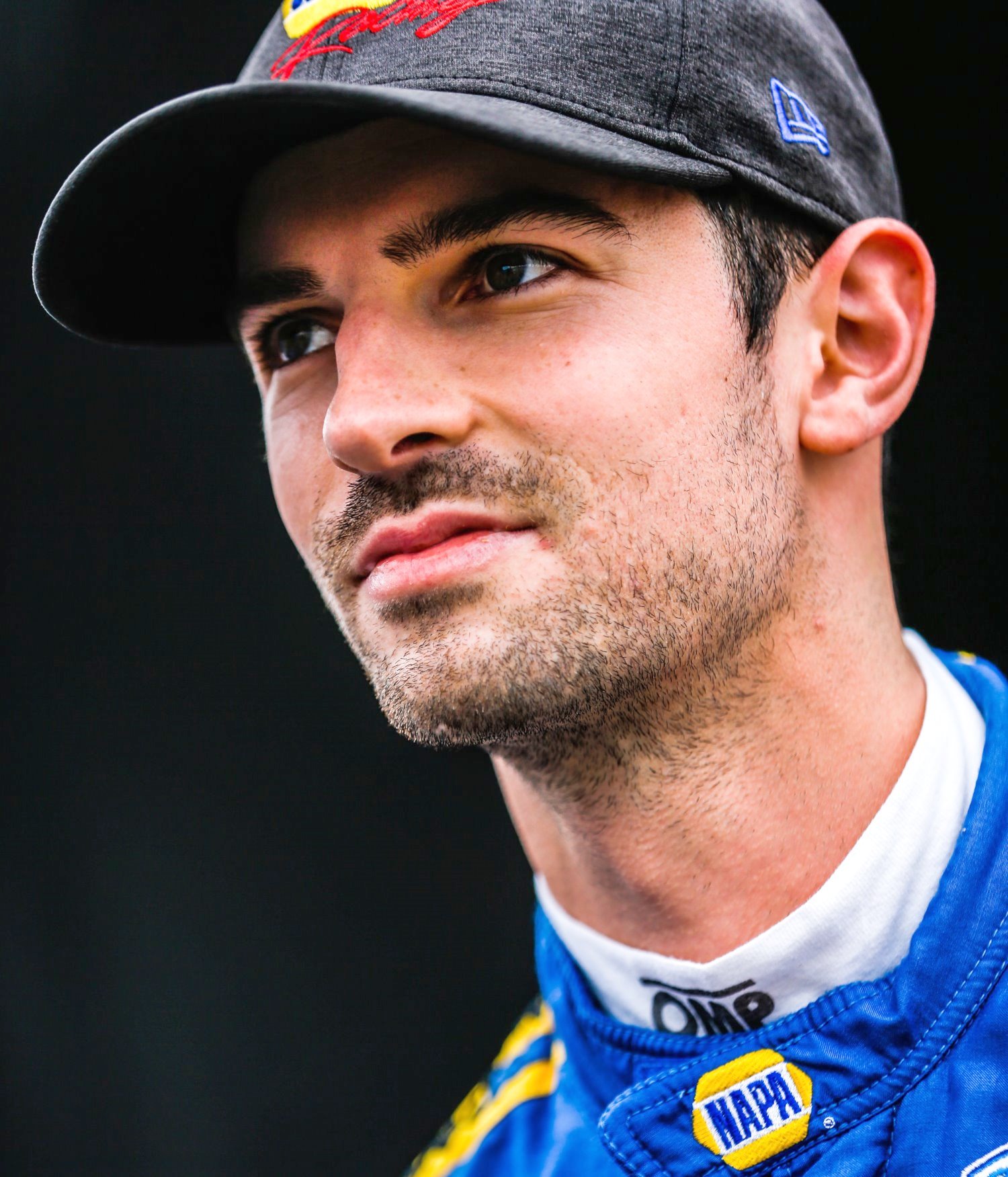 Rossi to replace Power?
UPDATE Another rumor has surfaced about Alexander Rossi going to Penske. We here at AR1.com were pretty sure that Andretti and Honda would renew with Rossi given Rossi's performance, plus the fact that after Pagenaud won both races at Indy plus this past weekend's Honda Indy Toronto, Penske has to keep him.
However, another rumor has come out of left field, that Penske will scoop up Rossi, putting him in Will Power's seat, and that Will Power will take Rossi's seat at Andretti Autosport.
Why would Penske jettison Power who has won so many pole and races for Roger? Perhaps age. Perhaps Penske wants to lower the average age of his drivers.
It does seem rather strange that all of a sudden Power is struggling this year (qualified poorly at Toronto, caused a first lap crash, then crashed on the next-to-last lap). Is he not getting the Penske team's A-game? Power has always had the measure of his teammates. What has happened this year? Has he reached that age?
We do not believe this rumor, we are just reporting it. We fully expect Power to stay at Penske and Rossi to stay at Andretti, but stranger things have happened in motorsports., especially given the fact that Penske pays his drivers a minimum of $1 million per year (to start) and it goes higher once you prove yourself. Power is reported to be over $2 million per year.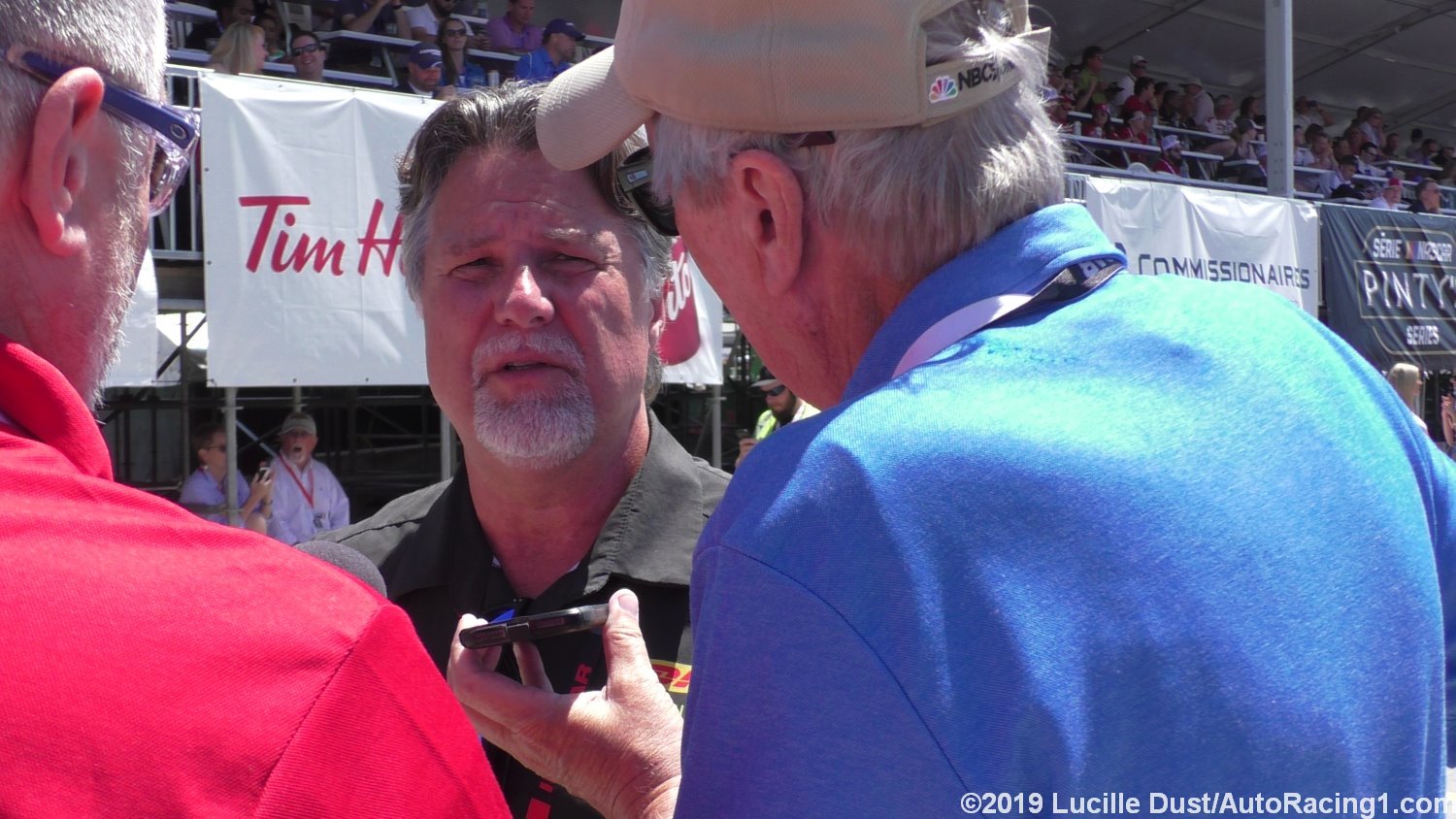 Andretti talking to us reporters about Rossi
07/14/19 UPDATE from Toronto Four weeks ago Michael Andretti said he hoped to have Alexander Rossi signed in 4 weeks. Well it's been 4 weeks.
This weekend in Toronto, Andretti told AR1.com's Lucille Dust that he hoped to have Rossi's deal done now in 2 more weeks.
"I think things are getting there," Andretti said. "We're not there yet, but we're close. I can't comment, but I think things are going in the right direction.
"Honda has been great. They've been really good to work with. I'm hoping we can put something together there, too. We've been part of Honda for so long. I think we are getting real close there.
"I'm hoping to have this resolved in the next week or two."
Recall our logic diagram that explained how it will play out for Rossi.
Michael told us he loved this track as a driver, where he won 7 times. Said you can pass at Turns 1 and 7. Michael also said he hopes to renew with Honda soon.
We asked Helio Castroneves if we would see him fulltime in IndyCar in 2020? Recall we rumored that he was talking to the AJ Foyt team.
He just looked at us and smiled. :"No comment"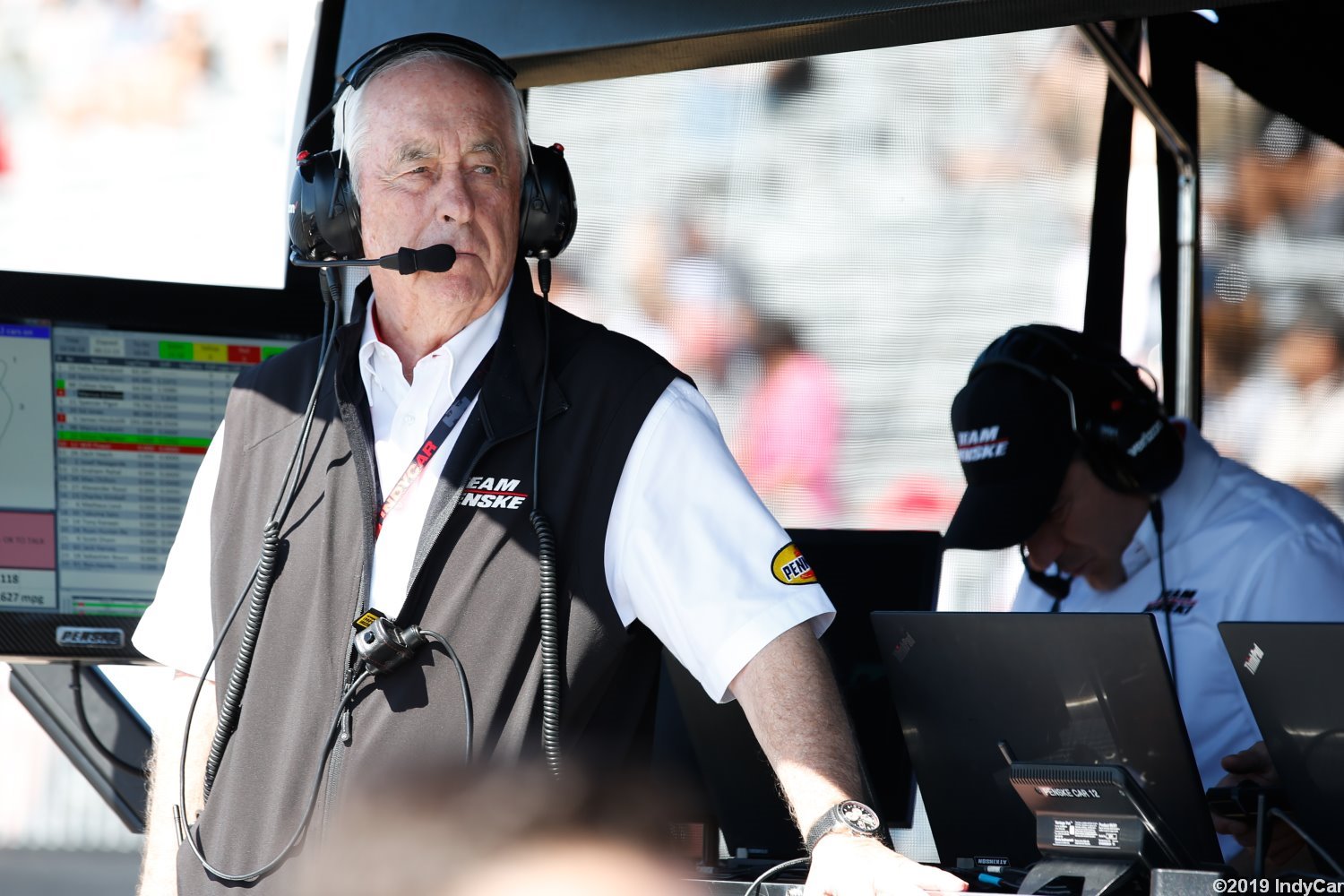 Penske watches as Rossi spanks his three drivers on Sunday
06/25/19 UPDATE From Road America After Simon Pagenaud won the Indy 500 Roger Penske confirmed he would be back with Team Penske. But Team Penske is the IndyCar Team, the NASCAR team and the IMSA team. When asked, Penske said he would be back with Team Penske, he was not specific about whether it would be on the IndyCar side of the house.
"I don't think that I said anything to the media about Simon," Penske said after the Indy 500 win. "He's on our team (note – team as in Team Penske). He's one of our drivers. You've seen that. That was scuttlebutt. I think that's a good word for it.
"But what he did this month, certainly he achieved records in his own personal life and certainly what he had expected to, and the run today, it's a history book run for me when we think about some of the races — an opportunity to be in the winner's circle, so he did a great job."
The rumors are there – that Rossi will replace Pagenaud in IndyCar, and Pagenaud will run for Team Penske in IMSA and the Indy 500, just like Helio Castroneves and Juan Montoya did when Penske moved them over to the IMSA side of the house.
In the post-race press conference at Road America Sunday after Rossi spanked all three of Penske's current drivers, he was pressed about where he will be driving in 2020 but would not say. "It's in God's hands," he said.
Too many, Penske is 'God' in the IndyCar paddock.
Rossi has a great team around him in Rob Edwards (Chief Strategist), Jeremy Milless (Engineer) and Scott Marks (Crew Chief), and it was Michael Andretti and Honda who gave him his big break in IndyCar.
Out of loyalty Rossi appears to want to stay with Andretti and Honda, but if NAPA does not cough up enough money to sponsor arguably the greatest talent to come into IndyCar in quite some time, he may fall into 'Gods' hands, which will be a huge loss for Honda and Andretti.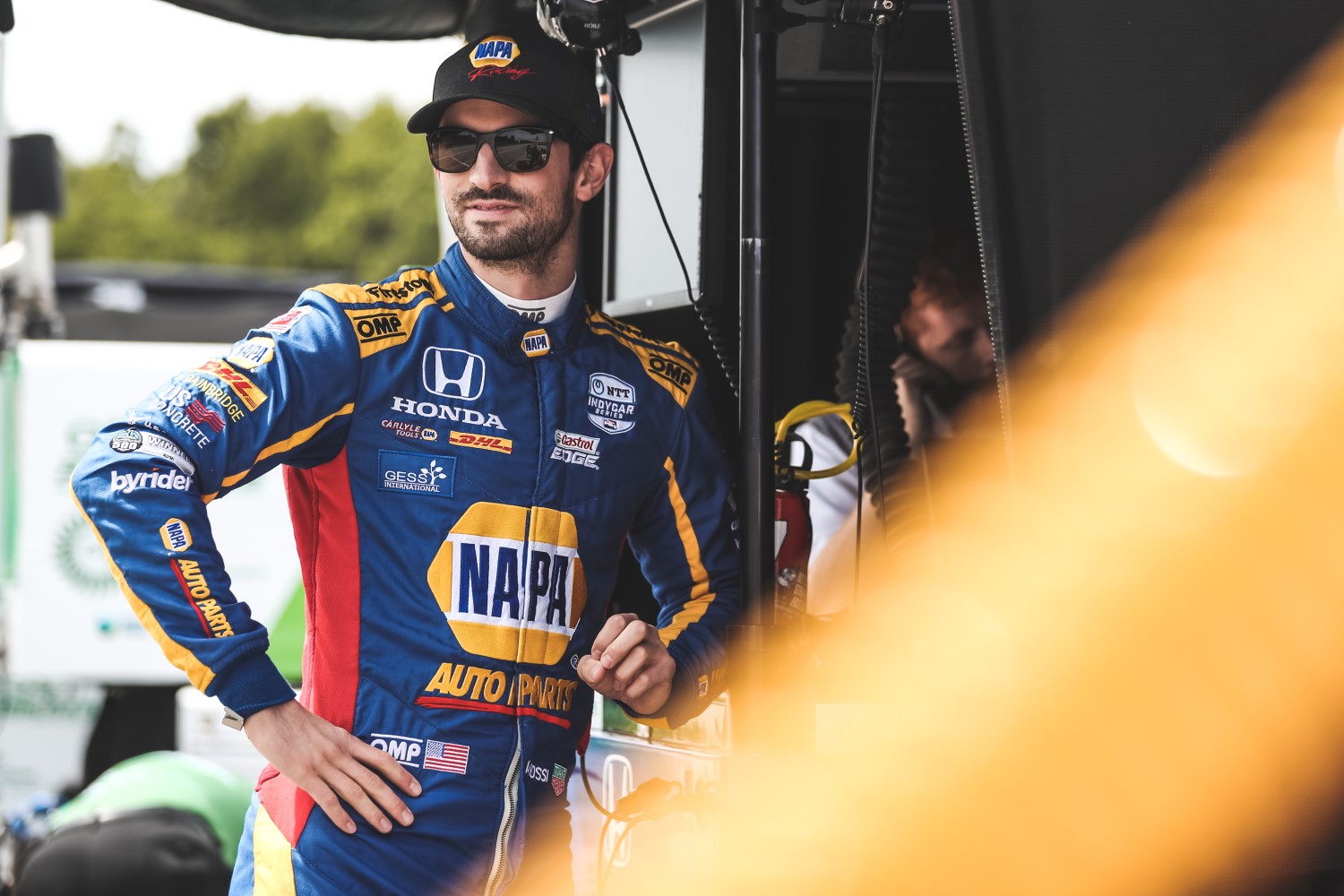 Rossi is still in play at Penske
06/22/19 Here is some wild speculation we heard in the paddock at Road America Saturday where the IndyCar series is hoping the rain holds off for Sunday.
We know that Helio Castroneves is talking to AJ Foyt Racing. Could he be moving back to IndyCar full-time with Foyt in 2020 to keep it an all-Brazilian affair?
Simon Pagenaud is staying with Penske, we know that, but will it be to take Helio Castroneves' seat for Penske in IMSA in 2020 or will it be to stay in IndyCar? We know Honda/Acura loves Pagenaud as he drove for them in Sportscars in 2009 and 2010.
We also know that NAPA's sponsorship for Rossi at Andretti is only for six races because the TV ratings on NBCSN are so bad. Andretti, we hear, gives NAPA the other races for free and Andretti is scraping for sponsorship for the talented American. NAPA is stringing Andretti along to step up for more money because not all the IndyCar races are on network NBC.
Given the lack of sponsorship for Rossi at Andretti, given Castroneves is talking to Foyt, and given Pagenaud's performance before May, and now after May, has been lackluster, the speculation is that Roger Penske will scoop up Rossi and put him in Pagenaud's IndyCar starting in 2020.
If it happens, we hear Penske will still run Pagenaud in the Indy 500 in 2020. Mark C. and Lucille Dust reporting