Corvette C8 rear photo leaked, or is it? (Update)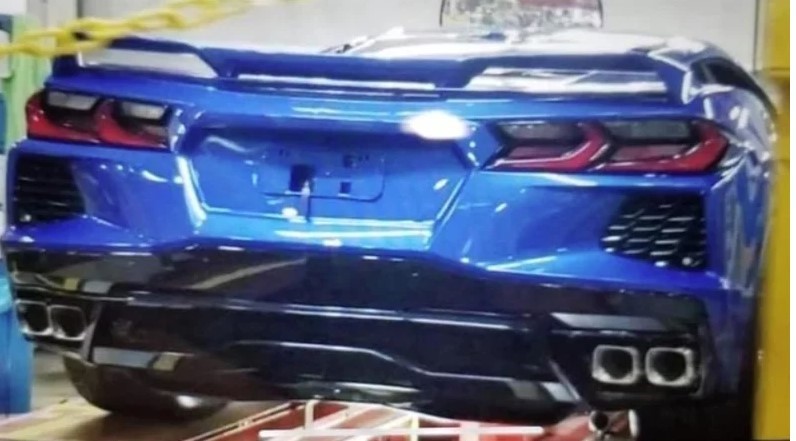 The C8 Corvette rear end resembles a Camaro in some respects
UPDATE The entry-level Chevrolet C8 Corvette is rumored to be powered by a naturally-aspirated 6.2-liter V8 engine known as the 'LT2'.
It has been speculated for quite some time that the new C8 Corvette, set to initially hit the market in entry-level Stingray guise, would use a 6.2-liter V8 engine. Now, GM Authority, citing sources familiar with Chevrolet's future product plans, has provided details about this powertrain.
It is reported that the LT2 is largely the same as the LT1 6.2-liter V8 found in the existing C7 Corvette Stingray and Grand Sport models.
Apparently, Chevrolet has updated the engine's active fuel management system and made various valving improvements to refine the engine. It is expected to produce between 480 hp and 500 hp, giving it a slight improvement over the 460 hp it offers up in the C7 Stingray Z51 and C7 Grand Sport. Torque is also expected to rise from 465 lb-ft (630 Nm) to around 480 lb-ft (650 Nm).
Chevrolet has also modified the 6.2-liter V8 engine to ensure it fits in between the supercar's axles as opposed to being mounted up front like the C7. The engine will be coupled exclusively to a seven-speed dual-clutch transmission. Powertrain details about future derivatives of the C8 Corvette remain up in the air but we anticipate a handful of different powertrains being offered, including a twin-turbo V8, and a twin-turbo V8 hybrid with upwards of 1000 hp.
07/08/19 The mid engine 2020 Chevrolet Corvette, scheduled to be revealed in a matter of days, is slowly leaking out, and the latest bit is a photo of the rear fascia that was first published by Corvette Blogger.
Though we can't confirm it, the photo does look like a new version of the Camaro ZL1 so we are still a bit suspect.