Toronto IndyCar Postscript
This week's Toronto IndyCar postscript examines the tussle between Honda drivers Sebastien Bourdais and Takuma Sato and what might be behind it. It's been festering for awhile and it all came to a head in Toronto. We also look at the five drivers remaining who seem to have a realistic shot at the 2019 IndyCar title. Two are a real longshot, one is a maybe but, barring any major hiccups, it's really down to two drivers for this year's title. And this year's title fight is what everyone has said for years that the series needs. That opportunity is well, right freaking there, right freaking now!
Bourdais Sato Tussle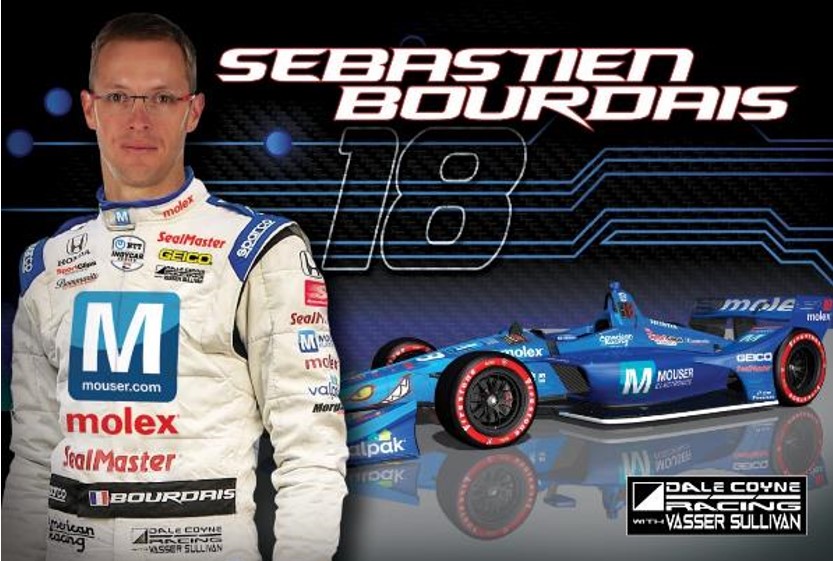 Sebastien Bourdais
I haven't searched the #INDYRIVALS hashtag in quite a while. But if memory serves, the Takuma Sato/Sebastien Bourdais rivalry didn't exactly set any trending records.
Nevertheless, the two found themselves embroiled in a bit of a tussle following a chop by Bourdais on Sato in final practice before qualifying for Sunday's Honda Indy Toronto won by Simon Pagenaud. The normally affable 2017 Indianapolis 500 winner took exception to the four-time Champ Car champion's maneuver approaching Bourdais as he got out of his car. With both drivers wearing their helmets a minor tussle of pushing and shoving ensued before being broken up by Bourdais' PR man Kevin Diamond.
And is it me or did anyone else find the lack of olive branches on both sides in the aftermath somewhat surprising?
Anyway, I'm not sure how exactly this all escalated. Apparently, there is friction between the two teams after Bourdais collided with Graham Rahal in the Indianapolis 500 and a many-laps-down Sato holding up Bourdais recently at Texas. While I obviously don't condone any sort of physical aggression, I get that these type of things happen in such a high-stress environment. Thankfully this spat didn't metastasize into anything more and everyone in the area was uninjured.
[adinserter name="GOOGLE AD"]One thing I will offer is that I have long been on record in saying sanctioning bodies need to come down very hard on drivers using race cars in an aggressive manner. NASCAR, for example, has responded to the hostile actions of drivers like Carl Edwards and Kyle Busch with cursory slap-on-the-wrist type punishments, or simply turning a blind eye for decades. Plain and simple: race cars are for racing, they are not instruments to strike or send threatening messages to another.
Now, let's be clear: Bourdais' action was incredibly mild relative to what I referenced from Busch and Edwards. Still, the Frenchman very clearly used his car to throw some chin music so to speak. I'm not saying Bourdais should be dealt with harshly, as the whole thing was highly out of character for both drivers. I am saying that INDYCAR needs to deal with Bourdais firmly, and make clear such actions cannot and will not be tolerated going forward.
As for Sato, one thing that may have sparked his fury was the fact he was in the midst of another very difficult weekend. Just over a month ago following the first race in Detroit, Sato sat fourth in the series standings 65 points behind Newgarden. However, in the last four races, he has finished 13th, 15th, 10th and 22nd, including a disastrous pit stop while leading at Texas. He left Toronto 133 points behind Newgarden and sixth in the series standings. Did Sato's frustration over seeing a potential outside run at the title slipping away, perhaps, fuel some of his frustration at Bourdais?
Who knows. Although Sato remains mathematically alive for a series title, and is having his best season in IndyCar, this weekend probably ended any chance of a Cinderella championship run.
Pagenaud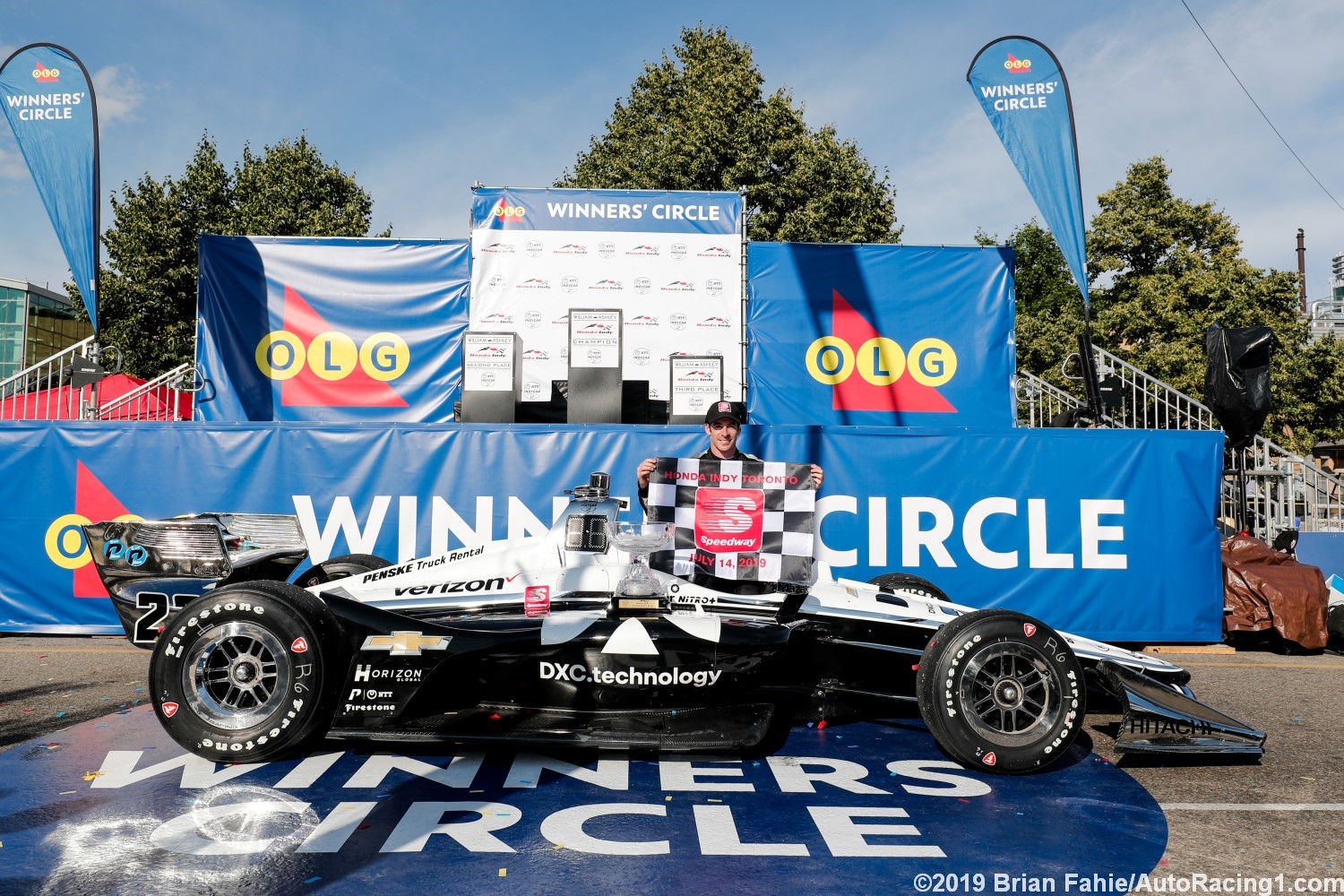 Pagenaud dominated but is he consistent enough to win the title??
As for the race itself, the weekend was totally and thoroughly dominated by Pagenaud. Yes, Scott Dixon closed a bit during the final stint of the race, but that was only when Pagenaud ran into traffic. And even Dixon admitted that he had trouble gaining any ground on the No. 22 DXC Chevy when he deployed Push to Pass.
The weekend was the continuation of what has been something of a strange season for Pagenaud. While he didn't dominate at the Grand Prix of Indy, he clearly had the best car in wet conditions, before leading 116 laps from pole and holding off a hard-charging Alexander Rossi to win the 500.
However, other than his three wins, Pagenaud has 0 top-5 finishes. In short, when Pagenaud is fast and why he is fast is something of a puzzle.
One theory could be that Pagenaud has something of a wounded animal thing going on, as he has seemingly put in his best performances when questions about his future seem to intensify. Remember, before the month of May, many believed it be a good bet that Alexander Rossi would replace Pagenaud at Team Penske next season. Obviously, the Frenchman responded to that speculation with a convincing month.
However, those questions began to mildly percolate again after a somewhat lackluster June before Pagenaud opened July with a dominant performance in Toronto. In short, Pagenaud seems to do his best work when his back against the wall so to speak. Still, his inconsistency this season is more than a little puzzling.
Championship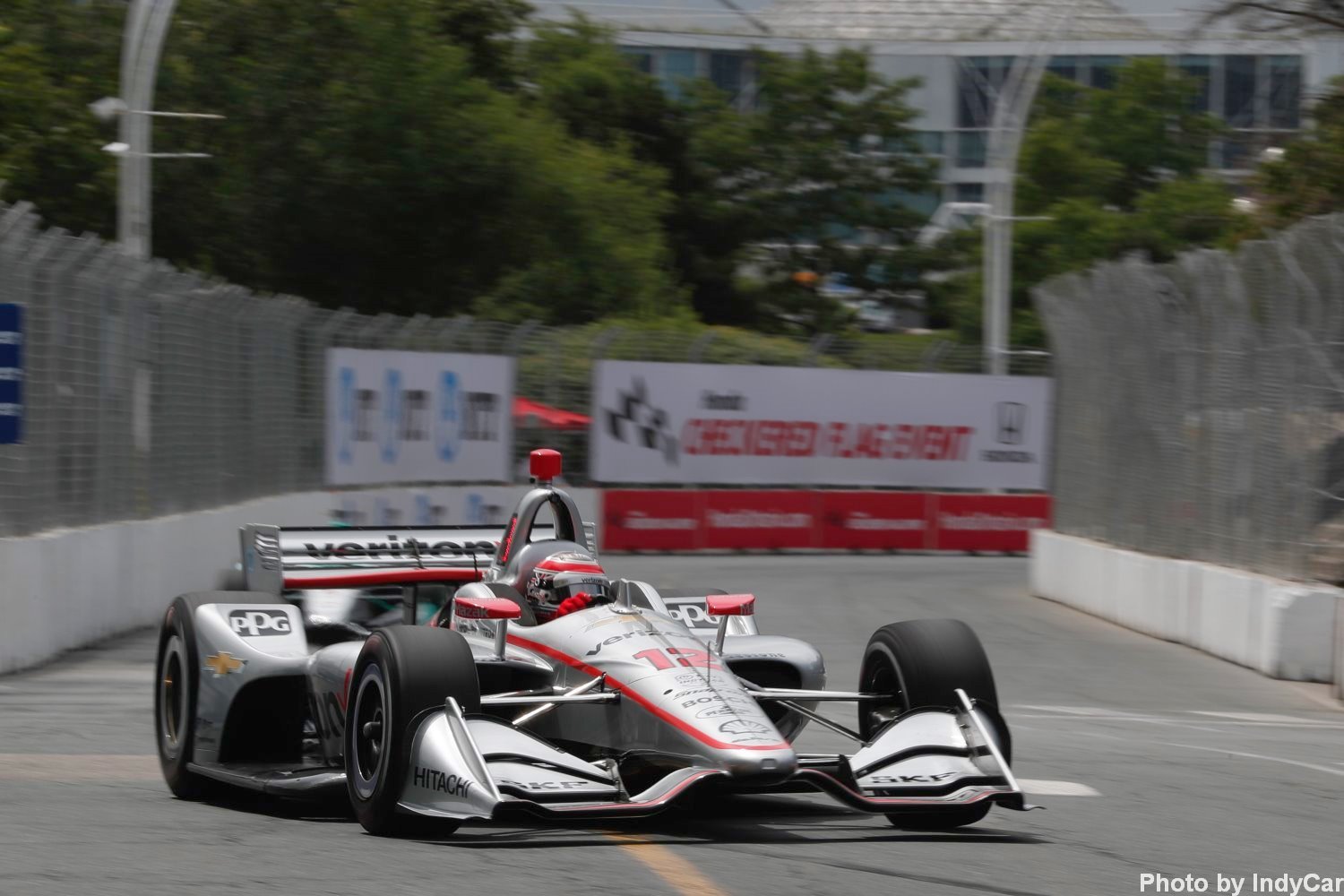 Power had a weekend he's just as soon forge
Pagenaud's dominant weekend reaffirmed his status as a championship contender. Despite the inconsistency Pagenaud sits a mere 39 points behind, right in the middle of what I consider a five-horse race for the championship. Let's take at the five hopefuls going forward.
Power (306 points)– I get what Power was doing on the opening lap. He knew it was going to be difficult to pass at Toronto and he knew he had to make up some spots on the opening lap. However, the move down the inside of Graham Rahal at turn 9 was at best, optimistic. The ensuing contact ruined any hope of a good result, and Power finished 18th; his third finish of 18th or worse.
Now, if anyone can reel off a three wins in the next four races type streak, it's Power. But time is of the essence for the 2014 series champion, and the next two races are at two of the few venues Power has never won. And even if he somehow does go on a tear, I just think at this point there are too many good drivers ahead of him.
Conclusion: Too far back with too few races left and too many good drivers ahead of him. I love watching Will Power wheel a race car, but a second championship will need to wait until at least 2020.
Dixon (348) – We all know this is the stretch of the season where the five-time champ usually does his best work, and an 86-point deficit can be made up. Heck, the Ginga Ninja (I just made that up) may be saying to himself "I got them right where I want them."
Knowing full well these could be famous last words that end up coming back to bite me, the problem I see for Dixon is his competition; in particular Rossi and Newgarden (see below). By and large, those two do not make major mistakes, and even when they have an off-weekend they, like Dixon, tend to salvage meaningful points from it.
Also, I'm not sure exactly how to quantify the revelation from this weekend regarding Dixon's elbow. Having had a tennis elbow type injury, I can tell you it's no joke when it comes to driving a Volkswagen Jetta three miles to the grocery store much less an Indy Car at Toronto, Iowa or Mid-Ohio. While I'm sure Dixon is doing something to manage the pain, this can't help matters.
Conclusion: Sure, Dixon could reel off a few wins; but he will also need Rossi and Newgarden to slip up a little. And while it's conceivable one of them could fall on their face a la Newgarden at Watkins Glen a couple years ago, I'm not sure I see them both giving significant ground. I see Dixon as a longshot at this point.
Pagenaud (395) – See above for details.
Conclusion: If we see the Pagenaud from Indy and Toronto, levitating the Pentagon, or parting the Red Sea would seem possible, much less winning a championship racing automobiles. And with 6 races left 39 points out of the lead is nothing.
But when taking the helicopter view, I don't see the consistency needed to contend with Rossi and Newgarden.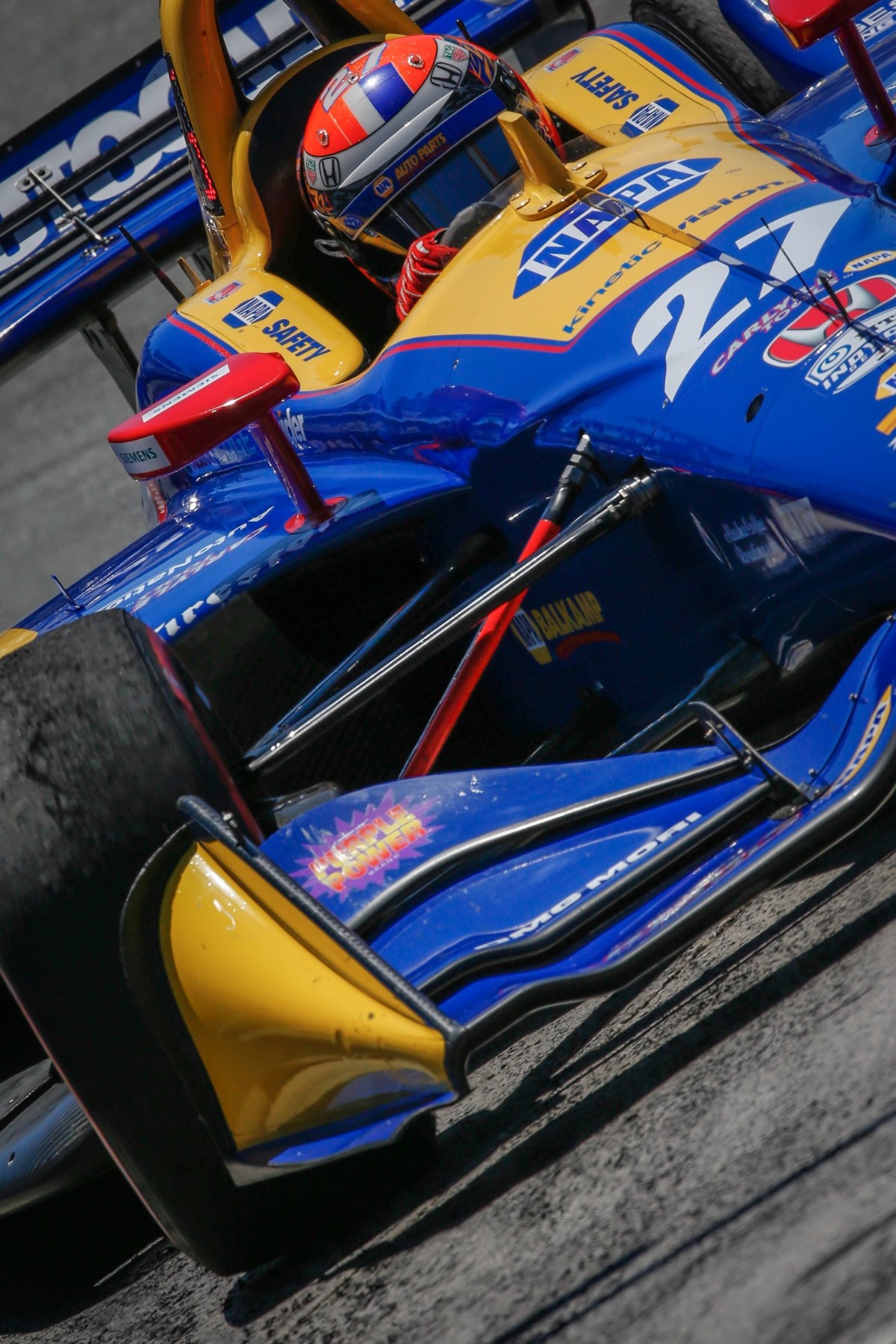 Rossi smells blood
Rossi (430) – In my opinion, Rossi has been the best driver in the series over the past two seasons. But of course, they don't hand out trophies based on what Brian thinks.
One thing Rossi clearly has in his favor is the ability to dominate. If you look at Rossi's last six IndyCar wins (this excludes his maiden win at Indy), he has started on pole 4 times (he started 2nd and 3rd the other times) and led 483 of the 575 laps. This season, of course, he scored dominant wins at Long Beach (20 seconds) and Road America (28 seconds).
Right now, there is no driver who can pummel the field into submission like Rossi.
Conclusion: No one questions the ability and he can contend anywhere. The only question I have regarding Rossi's ability to win a title lies with his opponent.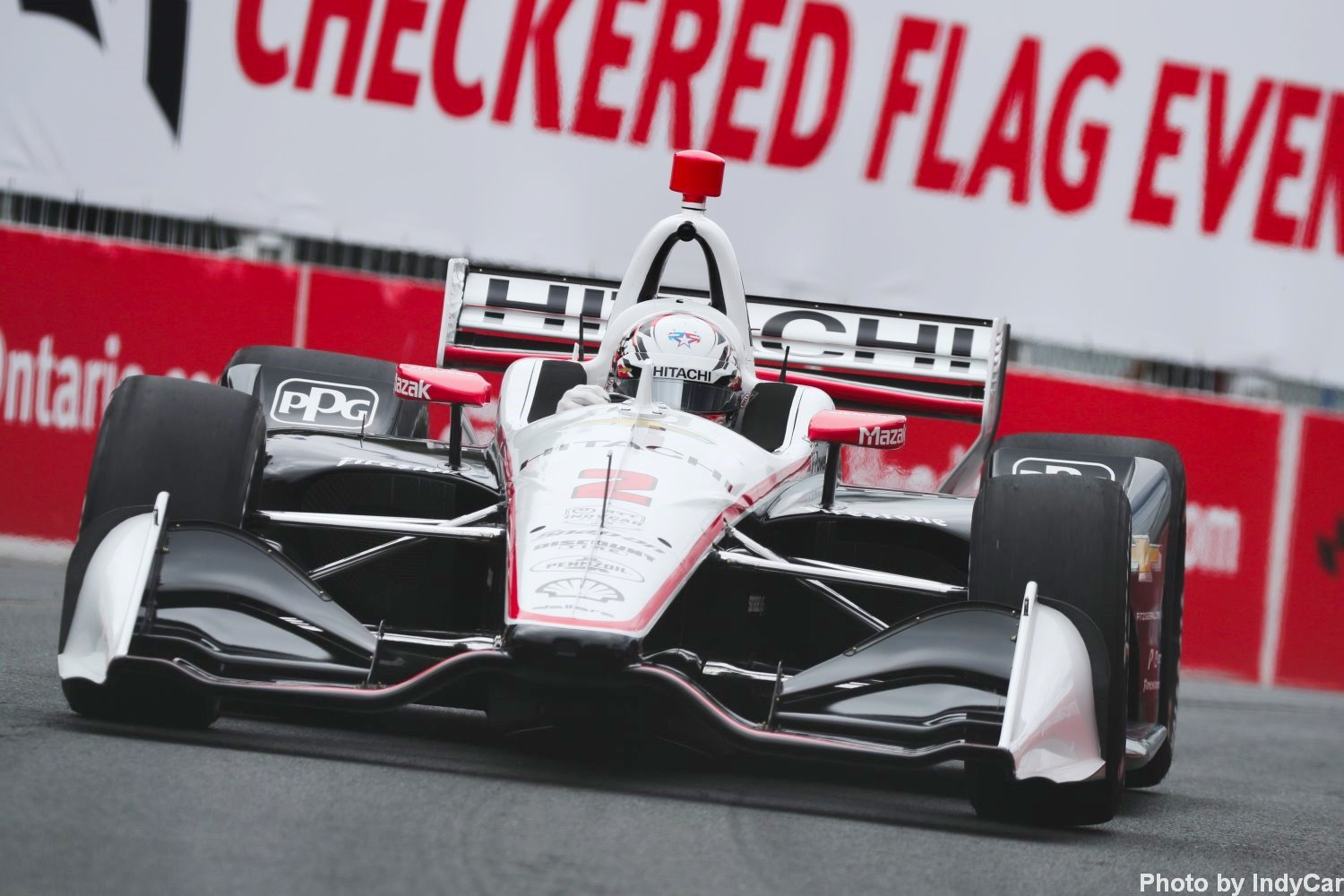 Can Newgarden repel Rossi's charge?
Newgarden (434) – Since joining Team Penske, Newgarden has 10 wins, some of them coming from a dominant start-up-front-and-lead-a lot-of-laps style a la Rossi. But what Newgarden has also shown in his holster is the ability to win when not dominating. Think Texas this season or Phoenix last season. In both those races, Newgarden plotted his way through the field, and emerged at the front towards the end of the race.
Furthermore, Newgarden has clearly gelled with Tim Cindric, who has put the 2017 series champion on the right side of numerous strategy calls a la Toronto 2017.
Conclusion – The mere four points separating Rossi and Newgarden show exactly how close it is between the two. One edge I may give to Newgarden comes from the fact Power and Pagenaud have run up front more than any of Rossi's teammates. While The Captain rarely does the team orders bit, might this come into play in favor of Newgarden?
#Merica
We've heard a lot about the importance of INDYCAR having race-winning American drivers to promote, as being vital to the popularity of the sport. For the record, while I don't begrudge anyone from anywhere competing, from a marketing standpoint, I do agree that it is helpful to have drivers that can connect with the public. And speaking at least on a superficial level, for a sports entertainment property that runs all but one of its events in the United States of America having contending American drivers is a good place to start.
Now, let me be clear: I don't expect to capitalize on the fact they have two late-20s stud American drivers going toe-to-toe for the title. But the opportunity that so many have been wanting for years is well, right freaking there, right freaking now!
Iowa
I won't be attending the race at Iowa this year, but I will say it's an event I'm quite fond of. And I think everyone has been done a favor with the race moving back to Saturday night.
ARX
Not sure if anyone caught the second Americas Rallycross event this past weekend from Gateway. Look, we all have to start somewhere, and ARX formed out of the ashes of Global Rallycross folding in early 2018. As a fan of Rallycross, I'm as hopeful as anyone that ARX can work out. But I fear that 7-car fields and no meaningful television platform don't really scream healthy and viable.
Brian Carroccio is a senior columnist for AutoRacing1. He can be contacted at BrianC@AutoRacing1.com.