Honda Indy Toronto Sunday Press Conference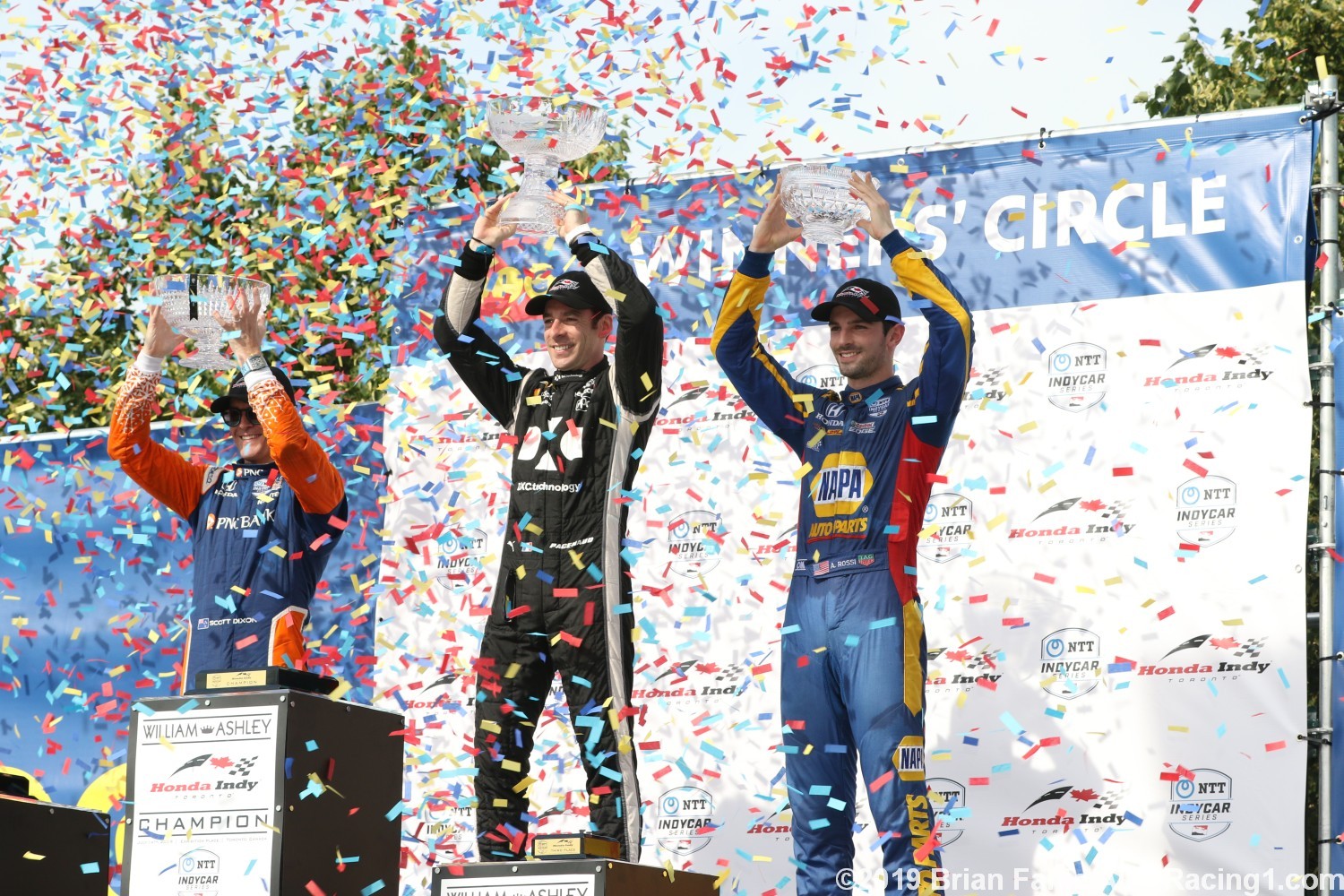 Dixon, Pagenaud and Rossi
Drivers
1 – Simon Pagenaud, Team Penske
2 – Scott Dixon, Chip Ganassi Racing
3 – Alexander Rossi, Andretti Autosport
6 – James Hinchcliffe, Arrow Schmidt Peterson Motorsports
THE MODERATOR: Simon Pagenaud, Team Penske joins us, within 39 points of the championship. Sounded like an almost perfect day.
SIMON PAGENAUD: It was. What a great weekend really. We really hooked up the whole weekend with a fantastic racecar. Super proud for DXC Technology, they came here with a big group. I wanted to give them another win. We got a win with the Menards car and with the DXC Technology car, which is important to our partnership with Team Penske. They are supporting our program. Not only being a partner on the race car, but also on the support side of racing with all the technology to bring, it helps us being better on the racetrack. That's very important to us.
Then it's Bastille Day in France. Being able to win for France, after winning Indianapolis, it's been a special year. I'm very proud to fly the French flag here in a cousin country, which is Canada. I'm really excited and proud.
I guess the French guy is leading the Tour de France today on the bike. I felt like I had to do the same. Super proud.
THE MODERATOR: Talk about the race.
[adinserter name="GOOGLE AD"]SIMON PAGENAUD: The first corner was difficult. We managed. We took off and the car handled really well. We definitely had an advantage on the tire wear. I knew we had a really good race car. We were able to match the Honda power pretty well. Helped us really to perform even better, so thanks to Chevy.
On the black Firestone tires, we were trying to make the fuel. Passing the backmarkers at the end was very complicated. I just played the game with (Scott) Dixon to make sure I was covering myself through Turn 1, catch the backmarkers.
That wasn't very fun for the leaders or for the fans. If I was trying to pass them, I would use a lot of fuel. They were making it quite difficult. I just used my experience to be smart there.
THE MODERATOR: Questions.
Q. This is the first time since May, the 500, that you entered a weekend with the mentality of coming out on top. You seemed to have a strong approach to May, getting the job done. This is the first time you've returned to that?
SIMON PAGENAUD: Yes. Detroit – and Texas is a different story. But Detroit was not the way I wanted to run a race weekend. You see when I'm well-prepared, I can do the job. I've shown it before. It's just a matter of being in that zone.
Certainly the car was phenomenal this weekend, so it really was a matter of understanding how to extract the maximum out of it and stay on that aggressive level. I kept driving hard all weekend, while still having some margin, except in qualifying.
We were always a little bit ahead of the competition while not taking too much risk. That really was a comfortable zone, yeah. Definitely a good approach certainly. I'm still working on that to make sure that happens every race.
There are days that start really well for you. There are days that are really the easiest day in racing. It's just a matter of executing. There are days where it's more difficult. In those days you learn a lot more and you become stronger.
Q. At what point did you know that Scott Dixon was right behind you, especially when he was a second behind you, half a second? How did you keep ahead of him, especially on those last 15 laps?
SIMON PAGENAUD: I knew the gap with Scott. Scott is a really good racer. He's five-time champ. You know he's going to be there at the end. I knew that was going to be the case.
I built a gap at the beginning to be safe over the pit sequence. Then at the end when I saw the back markers, I knew that was his chance to come back. So what I did is once I figured out that Hunter-Reay was using 'push to pass', I could use my 'push to pass', but I was using a lot of fuel doing so. I was putting myself at risk.
What I did is I just looked at where Dixon was strong and I adjusted my pace to make sure I was ahead of him enough and not bothered by the backmarkers through Turn 1 and 3. The rest of the track Dixon couldn't pass me, so I was saving the fuel there.
I kept a distance with the backmarkers not to be in trouble myself. I used a bit of experience there. Throughout the years I learned how to do that, watching the greats. That's how I pulled it off.
Q. When you hear the gap has gone from six seconds to a half second, he's right on your bumper, you have the team telling you to go into your fuel conservation, how do you handle that? Is it overwhelming?
SIMON PAGENAUD: I was very composed today because I knew I had such a great race car. It was just frustrating in a way. But I've been racing for a while now, so I managed to control my emotion and found a way to use the back markers to my advantage. Really I was in that mentality this weekend, just positive, never thinking negative.
The goal is to finish first, doesn't matter if it's half a second, 2/10ths, 10 seconds. It was really great for the fans, made it exciting. It's good, good for the show.
At the end of the day I feel confident always.
Q. You won the Indianapolis 500, then you win the Honda Indy. I believe, correct me if I'm wrong, the first person in history to go from Indianapolis 500 straight onto Indy, because you have all of these pressures of sponsorship, like that. What is it like to race from the Indianapolis 500 and win the Honda Indy right after that?
SIMON PAGENAUD: It's a great question. The difficulty, what's really cool about INDYCAR is the different tracks. Indy, the Speedway, is so different to Indy Toronto, it's pretty much big opposites. You're going through streets, you're braking really hard, you're sliding. In Indy, you got to be really smooth, doing 240 miles an hour. Here we have the slowest corner on the calendar with the hairpin in turn 3. Separate skills.
That's the beauty of INDYCAR. I think to win the championship, you have to be so complete. That's what I love.
But pressure, I do very well under pressure. It just drives me. I love it because that's when you have to extract more out of yourself. There's no other way to go. You can't turn back. It's just time to go for me right now. It's championship time.
Q. I know you're not a guy who doubts himself. Over the last month, there's been some eagerness to make this a Rossi-Newgarden championship fight, left you out. Did you see any of that? Is that motivation for you?
SIMON PAGENAUD: No, I think if you look at my Indy car career, I've been fighting for championships almost every year. Never count me out. That's all I can say.
Maybe here in the end, I'm showing it today, that's my determination that's talking, it's not pretentious, it's just that I have a great team behind me. We won the biggest race in the world. We just won an awesome race. To be at a driver track where you need to have a really good car, chassis and engine, we showed that today.
We've got all the equipment, all the tools to do so well. Now it's just a matter of knowing when to push it. It's a long championship. You've got to build it. I'm here and I think Newgarden, Rossi and Dixon know it, like I know they're here, too. It's going to be a great fight in the end.
Q. You mentioned the struggle after May to keep the momentum going. Why is it different this time? Do you imagine it's going to be tough to keep this momentum going?
SIMON PAGENAUD: No, I don't believe it's going to be tough. Those tracks coming up are very good for us. I love Iowa. It's a fun oval. Mid-Ohio, it's a really good track.
We just going to have to approach it the same way we have and execute. I think the momentum that we have, the way that my mechanics work on the racecar, the smiles that they have mornings and evenings, just shows the potential of our team.
I'm determined. I told (team owner) Roger (Penske) before the weekend, I said, I'm 100 percent in and I'm going to give you everything I have. That's what you want to hear. That's what you want to do, go out and win championships.
It's just I had to rest and I had to gather myself after this big storm that happened to me after winning Indy. I reorganized my team around me, not Penske, but my personal team, Team Pagenaud. We're doing a great job with that, which is about optimizing time so I can have time focusing on racing. That's what we're going to have to do, but it seems like it's working.
Q. Was this weekend in many ways like a microcosm of your month of May? Seemed like you were fast all weekend, fast in every session, won pole, won the race.
SIMON PAGENAUD: When you want it so bad, I guess it happens, right? That's why I kept saying after Indy, I dreamt about winning Indy, just got to work really hard at it. It's not about working hard, it's about working well, focusing on the right things.
I think last weekend, having time at home, studying tapes, studying data, going to the simulator, all that allowed me to have the time to rethink how I was going to approach this weekend. The same way I did for Indy.
I found something there that works really well for me. I just got to keep riding that wave forward. So, yeah, it's nice to be in that position.
Q. A couple of weeks ago you saw your clay face for the Borg-Warner trophy. After that you went back to France. Did you say after that, Celebration time has come to an end, now I'm back to full focus on the championship?
SIMON PAGENAUD: That's a good point. Good point. I think that was definitely a closure to go to France and realize the impact of the biggest race in the world. I had no idea the impact it was going to have in France. It was quite incredible.
We're actually going back in August for a media tour with INDYCAR to celebrate with the media there and fans in my hometown as well, which I'm really excited about. (The) Borg-Warner (Trophy) is going to be there. Those are good moments, too.
Yeah, I'm definitely switched to championship mode now even though I'm a happy person.
Q. A lot of us travel the circuit, we circle this event because it's such a great city. Was this one of the ones you had in your mind, I want to win Toronto?
SIMON PAGENAUD: Absolutely. Me, and my engineer (Ben Bretzman) was even more eager than me. We've been so fast here so many years, on the verge of winning so many times. Like I said earlier this weekend, yellow came out and then we finished either fifth or fourth, never had the win despite being fastest car.
That's another closure. It's nice to be able to tick that box, say we've done it. For me, it's one of the best street courses because it's so dicey. I really enjoy that. I felt like I had to win it at some point, so I'm glad it's done. Now I can focus on the rest.
THE MODERATOR: Simon, thank you.
SIMON PAGENAUD: Thank you.
Hichcliffe, Dixon and Rossi
THE MODERATOR: James, a lot of questions surely for you. But we will start with your teammate, Robert (Wickens). Drove a pretty good race.
JAMES HINCHCLIFFE: Yeah, he led every lap he was a part of.
That was obviously really cool. I was already strapped in the car. We didn't get to see the TV. I was just kind of watching everybody's reaction. I could tell when he was getting close to a wall, (fiancée)Karli's face was lighting up based on how everybody was reacting. You could hear the cheers every corner of the racetrack even from inside the car.
Awesome to see him back on track, home crowd, awesome to see the support he's had.
THE MODERATOR: You had to race a very exciting weekend for you, cap a strong performance.
JAMES HINCHCLIFFE: Yeah, with the race playing out the way it did, there wasn't a lot of strategy to be had with tires, with fuel. There were really no notable cautions to bunch the field back up. We didn't really have any help today. We had to kind of do it on the racetrack.
The Arrow car was solid, which has been the story of our year. We had problems on Saturdays, whether it was self-inflicted or bad luck. But Sunday this team really shows up.
Qualifying was unfortunate. We had the eighth fastest time in qualifying but started 14th because of the nature of the way the groups worked out. If we started a little higher up, we could have kept that top five streak alive.
The effort the guys put forward, with no help from yellows or strategy, we had to push our way to the front and capitalize on other guys' mistakes. All in all, not the end result you want. But the effort I put forth was pretty impressive.
THE MODERATOR: Questions.
Q. Take us through your mindset of switching off. You're in the car, ready to go, do you see Robert? You have to flip a switch, go racing. How do you do that?
JAMES HINCHCLIFFE: It's sort of the nature of our sport. Obviously it's not every day that something quite that cool happens right before you get in the race car. We're shaking hands with sponsors, taking pictures with fans up to the minute you put your helmet on. I don't think there's another sport where we're interacting with people outside our program so close to game time.
We're really seasoned at being able to flip that switch almost instantly. So this is kind of a good example of that.
Like I said, the particular thing was a little more emotional, a little cooler than what you normally have distracting you before a race.
I think, if anything, it certainly lifted me up and I think it lifted every driver on the grid up because we were all so happy to see it happen.
Q. Were you surprised at how fast the track was, the fact there weren't any crashes, everybody was able to handle themselves? Where is this party of yours at?
JAMES HINCHCLIFFE: Well, I think the quality of driver in the (NTT) IndyCar Series has gotten so high the last few seasons, we've seen a lot of races go essentially caution-free. I know this technically wasn't a caution-free race, but for all intents and purposes it was. We had the lap one deal, then the last lap. I don't think either of those affected the race too much.
It shows the quality of driver, even the guys that had mistakes were able to recover from them. (Sebastien) Bourdais got himself out of the tires, Spencer made it back to the pits. Fans want to see racing. They don't want to see caution periods.
For a track that is notorious for having a lot of incidents, I'm impressed with the field. One or two may have helped us getting a spot or two. Race control made an active effort to keep it green as much as possible. I think all the drivers are just doing a better job.
Q. The party?
JAMES HINCHCLIFFE: I don't know yet. We're still working on it (laughter).
Q. Looking ahead to next weekend at Iowa, the race being moved back to nighttime conditions, how do you expect that to change the racing conditions, more downforce?
JAMES HINCHCLIFFE: I mean, of course the race we were pretty good at last year had to go and change. I think honestly the night racing there is a lot of fun. We've done it in the past. I've loved it, to be honest, when we raced at night there.
The track is a little bit more forgiving in those conditions certainly. I think that helps open up both lanes, which is great. Good for racing. The tire deg will probably be a little less dramatic than last year. It's a 6:15 start. To call it a night race may be a little bit generous. I think it's going to be a dusk race. I think there's going to be a point in the race where the sun is in a very dangerous position based on what we've heard from people who tested there recently. I'm a little disappointed with the start time.
But no, I think the Arrow car was obviously very strong last year. Everyone has had a year to get better. They changed it from a daytime to a nighttime race. I don't think we can just expect to roll off the truck and dominate or anything. I think we can be strong. Just have a good, clean weekend and keep chipping away at the points.
Q. Busy weekend. Tired?
JAMES HINCHCLIFFE: Honestly, I've had enough experience doing this race to know what is too much. I have a great team of people around me that kind of help manage, know when to say no to stuff because I'm really bad at that so other people have to do it for me.
It was a bit different this year because we didn't have a race the weekend before. I was up here the middle of last week doing a lot more stuff in the buildup to this race. Relieved we survived, got through it, moving on to the next one, certainly.
At the same time it's always such a privilege to come home. The support is incredible. People want to talk to you, it's a good problem to have. It's always fun coming back. I think we managed it pretty well.
Q. This year did it seem to be more difficult to pass here than in previous years? Scott Dixon was saying you can't pass. The other thing, as bumpy as it is, is it like an off-road race?
JAMES HINCHCLIFFE: Hands are a little bit blistered. You're sore in places you aren't normally sore. Kind of the nature of this place.
As far as the passing goes, I think passing everywhere is difficult just because the level of competition is so high and the gap between drivers is so small. I don't know if it's any harder or easier to pass a car.
That would be the same lap time delta as a year ago. I just think the lap time delta car to car is smaller. Everybody is getting better, the teams are getting better. Second year with this body kit, everybody is figuring things out a little more. I think it speaks to the level of the competitiveness in the series.
THE MODERATOR: James, thank you. We'll see you in Iowa.
JAMES HINCHCLIFFE: Thank you.
THE MODERATOR: We are joined by third-place finisher Alexander Rossi of Andretti Autosport.
Alex, maybe not your best weekend of the year, but you accomplished mission No.1, which was closing the points championship somewhat. Still a difficult race, I'm sure.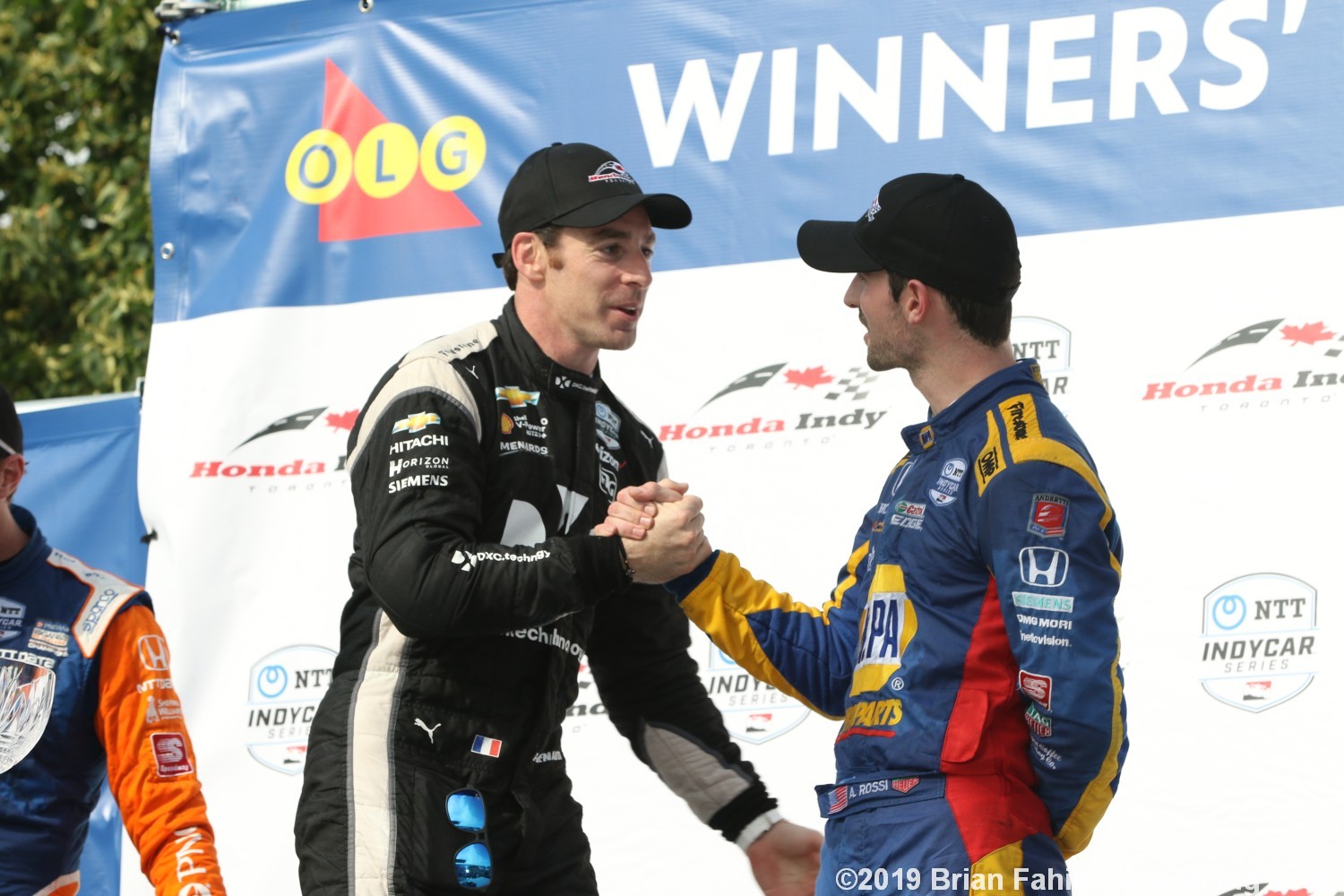 Rossi congratrulates Pagenaud on podium
ALEXANDER ROSSI: Yeah, it was pretty anti-climactic. We didn't think we had a first-place car really at any point this weekend. We made a good turnaround overnight on Friday night into Saturday for qualifying. The fact that we were able to put it in the top five was a good thing.
Then we thought we had a podium-place car. That was really about it, unless we had anything come to us in the form of luck. So it was good to just kind of capitalize on what we felt was our maximum today. Obviously finishing in front of Josef (Newgarden) was a good thing.
THE MODERATOR: You were gaining quite a bit in the latter stages of the race, but caught the same traffic as the leaders. I assume that's how it played out.
ALEXANDER ROSSI: For sure. We didn't have the pace of the two guys in front. About seven or eight laps to go, I closed down on them pretty quick because of lapped cars, but I caught the same ones they had to deal with. From that point it was pretty much maintaining third and bringing the car home.
THE MODERATOR: Scott Dixon has finished second on the heels of last year's victory. Scott, you gave it a strong fight. I suppose you got about as much as you could hope for.
SCOTT DIXON: Yeah, my really only option was probably on the first corner. He overshot, I had a pretty good run on the inside. He started to back out, I bailed out of it, braked. Actually was just trying to hold off (Alexander Rossi) and Felix (Rosenqvist) at that point, too.
I think it was just really hard to get close to cars today. You could kind of get to them, but even the pace I thought on our last set of blacks, we caught an eight-second gap in literally five or six laps. The pace was really good.
Then once we just got to Simon, we couldn't do anything. He did a good job of holding the pace up a little bit in (Turns) 6 and 8. We had some lap traffic with (Ryan) Hunter-Reay. Got a good run out of (Turns) 11 and 1.
Straight line speed was ridiculous today, to be honest. I don't know if they were trim. Honestly, on overtake I was barely closing on them. Something we definitely need to work on for the latter part of the season.
Car was good. I made a mistake, pretty big mistake, probably around Lap 12 or 15 where I hit the inside wall on (Turn) 9, bent the suspension pretty bad. Actually thought I had a puncture. Luckily it wasn't too bad. It was enough to get to the end, but not ideal.
THE MODERATOR: Steering wheel cocked, I understand?
SCOTT DIXON: It was a lot. That's why I thought I had a flat tire. Luckily the tire stayed up and we were able to continue on. Crazy it happened so early. Had flashbacks of Detroit again. It was nice to actually finish.
THE MODERATOR: Questions.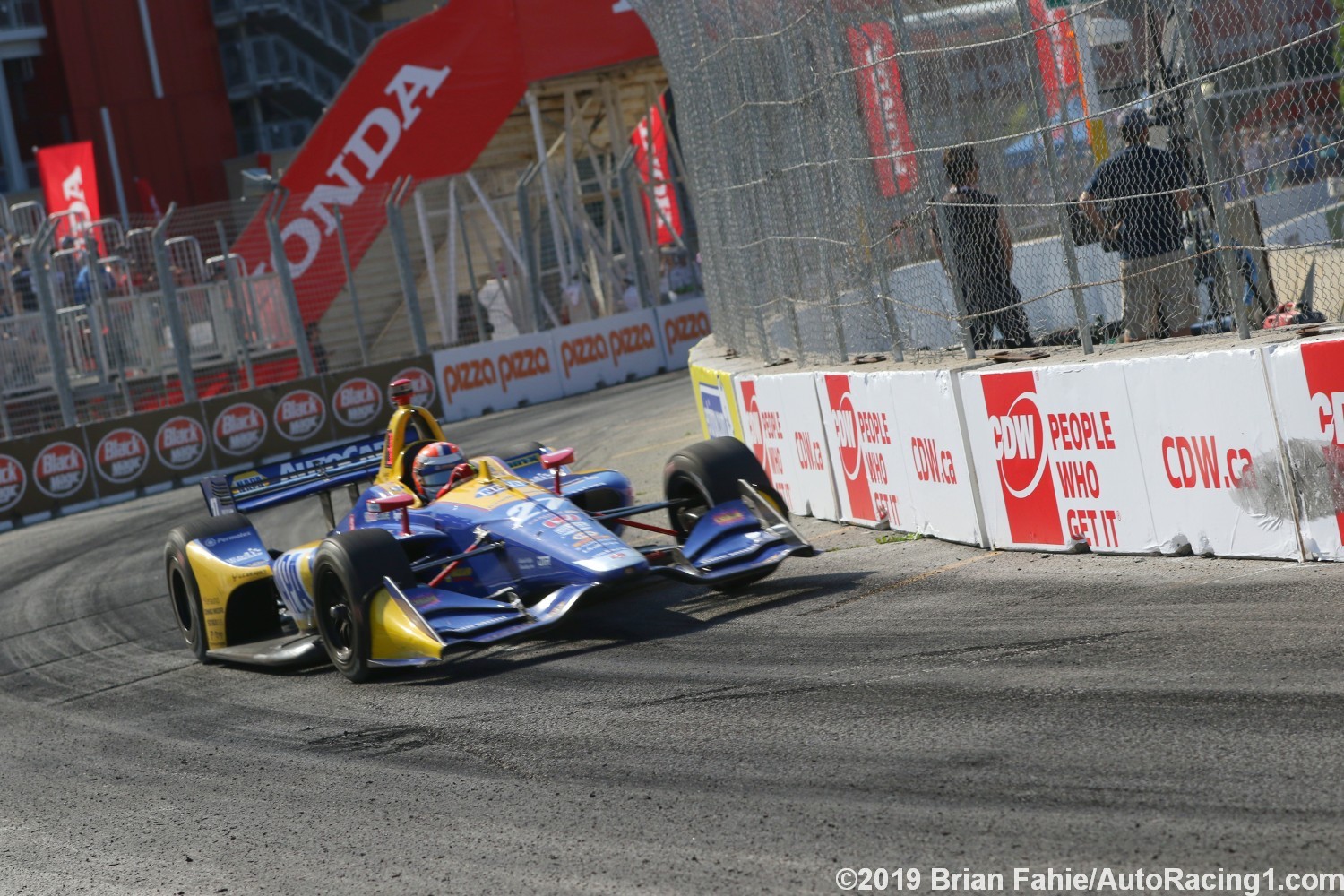 Rossi wrung everything out of his car
Q. Alexander, I saw you spoke with Robert (Wickens) pre-race. I'll leave that conversation between the two of you. Have you guys witnessed something so inspiring as that situation in your years?
ALEXANDER ROSSI: Probably the only situation I've been close to. I don't have a comparison. So proud of him, the fact that he's back here in a car, less than a year from his incident, in his hometown of Toronto, at the race he fell in love with as a kid. Amazing to see him be able to do that.
As we were all kind of in the cars waiting for the pace car to roll, we kind of watched — I watched his lap on the screen. To hear the cheers for him through (Turns) 9, 10, 11 was pretty special. Put a smile on my face. I'm sure he had fun doing it.
SCOTT DIXON: Impressive. I think a lot of us had the chance to go and hang with him in Denver through his rehab for a couple of days. The effort the guy is putting in is unbelievable. Six to eight hours a day he's been working. He's definitely giving it everything.
He's seeing good gains. As Alex just said, it was impressive to see him back here, him and (fiancée) Karli (Woods) going around today. Just seeing the crowd's reaction, it definitely put a smile on everybody's faces. Definitely cool to see.
Q. The president I believe it was of Arrow was talking about technology that Robert is using now. Robert is planning on having you guys behind him once again. If the technology is able to reach the point where Robert is competitively driving, would any of you be concerned with or have any issues with him being able to use that technology?
ALEXANDER ROSSI: Well, I don't really have a comment on that.
SCOTT DIXON: I don't know anything about what they're up to on that side of things. Ultimately he's trying to come back fully. Yeah, we're all going to support him no matter what.
Q. Scott, a place like this where you can't get it done in the first corner, then you had the damage at Lap 12, you do the majority of the race with the damage hunting somebody down, is that frustrating or you have to take what you get, go on to the next one?
SCOTT DIXON: Sometimes you have those days, right? The thing that you try to do is get to them and put as much pressure on them as possible. I think with the lap traffic, definitely Simon started to make a couple mistakes. But honestly he had it pretty well covered. He drove very smartly.
I don't think on the black tires — I think we definitely had the superior car and speed. Red tires did a fantastic job. Did a good job in gapping in the right spots.
It was definitely harder than normal, I thought, to get a run on somebody here. Normally out of 1 you can have a pretty good go. But it just, for us today, whatever our setup or the configuration wasn't…
Q. You've done very well with this track. What is it about this track you understand so well, especially handling the corner 3? What do you understand better than maybe some of the other drivers?
SCOTT DIXON: I don't know. I think at this point everybody's extremely good. It's just some of the teams hit the track a little bit better. If you start with a little bit of a gain, it's really hard to catch up I think on just how our weekends are, how short they are. This is a track or a configuration that Ganassi is very good at also.
It's a track I really enjoy. It's pretty high commitments. Everybody is rubbing walls. But even as you saw in qualifying, I think the first 12 were within half a second or less, 3 or 4/10ths.
It is tight, fun. I enjoy this a place, love coming here, the fans are great. I don't know. I think it's partly the team has a great setup and it's a track I really enjoy.
THE MODERATOR: Scott and Alex, thank you.