Honda Indy Toronto Saturday Press Conference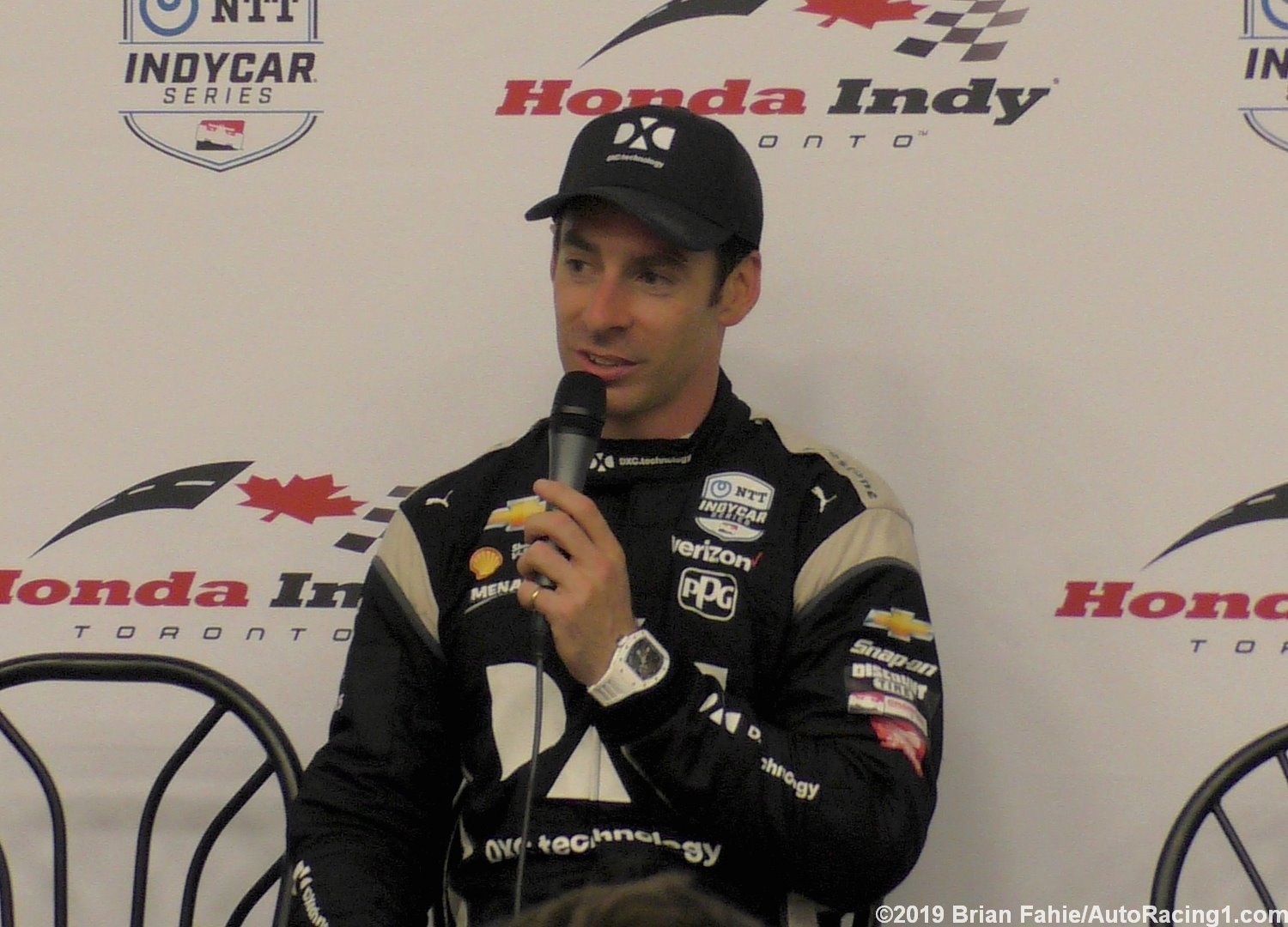 Simon Pagenaud
Drivers:
1 – Simon Pagenaud, Team Penske
2 – Scott Dixon, Chip Ganassi Racing
James Hinchcliffe, Schmidt Peterson Motorsports
THE MODERATOR: Our pole sitter for tomorrow's Honda Indy Toronto has arrived, winning his second NTT P1 Award of the season, the 12th pole of his developing decorated career, also won the pole for the Indianapolis 500, Simon Pagenaud.
SIMON PAGENAUD: Thank you.
THE MODERATOR: I just thought that you were on a lap, but all the adventure was behind you. I don't know that you know this, but Scott Dixon was sliding through (Turn 11) and Alexander Rossi was bouncing off the wall. It looked like you had a pretty clean lap.
SIMON PAGENAUD: Yeah, the DXC Technology car has been phenomenal all weekend, and it was a matter of just extracting the best out of it, getting the tires going, putting myself in a good rhythm.
We had pace all weekend. We had a bit of a margin on everybody all weekend, but at the end qualifying, everybody goes out to the maximum limit, so obviously the lap time gets closer and closer and closer. Very difficult to actually qualify, going through the qualifying segment being so far back in pit lane because you can't get your temperature in the tires because everybody is backing up. So I was really striving to just transfer and get enough heat in the tires in Q1 and Q2 there, finished my lap behind Sato in Q2 and luckily we transferred, but then once I was in the Fast Six I knew we had the car. We didn't need to make any changes, and it was super fast.
The last lap was definitely a little bit here, there, everywhere to try to extract the maximum amount out of the tires, and the engine was purring really well down the lake shore, and quite frankly it was one of my best laps in qualifying.
Q. It was mentioned on the television broadcast yesterday that it didn't appear you even broke a sweat yesterday, it was that good. Has it been as good of a weekend as it's appeared?
SIMON PAGENAUD: Yeah, the car is very consistent. One thing I explained this weekend is I was trying to get a car that's versatile, that can be good on different asphalt, that can be predictable for me to attack and trust, and that's really what it's giving me this weekend, so that's why you see me being so confident and being able to put laps down like I'm doing. It's honestly a pleasure to drive this weekend. I'm having the most fun I've had in a long, long time. Actually, no, I had just as much fun in Indy. So it's great to be in that kind of zone.
[adinserter name="GOOGLE AD"]Q. What would it mean for you to land a victory here in Toronto? It's one of those places that has eluded you.
SIMON PAGENAUD: Yeah, it has been eluding me here. Like I said, and we talked about it, I've always been really fast here, but unfortunately the yellows have often been against me here. Last year was great. I finished second.
But we certainly have way more pace this year than we did last year. I'm going to attack tomorrow. I mean, this is the end of the championship. It's time to be aggressive, time to pounce on the table, quite frankly, and I've got to mark my territory. So tomorrow I'm going to go out and drive hard, and I can't control the outcome, so we'll just see what happens.
Q. You mentioned yesterday just getting that break after Indy and how wild that was. Do you feel like you're — and then you had all the other races and all the other media tour stops that you did. Do you feel like you're back to the way you felt before May? Do you feel back to normal a little bit?
SIMON PAGENAUD: Yes, absolutely. Detroit was not fun. Detroit was not fun. I raced in 24 hours of Le Mans tired, but that was tired for too many days, which is a good thing. It is what it is. I've just had to take the time with Kristin Wiggs, my assistant, to reorganize the team around me and find a way to be a good ambassador for the 500 but also to have enough time for me to prepare. We're getting there obviously. As you can see, we're getting there. But it's definitely a life-changing event and I've got to adjust and be the champion that I want to be for the 500.
At this point I feel like May was great, but I've got other mountains I want to climb, and I want a second championship. Yeah, it's time to go.
Q. I have actually two questions. The Firestone tires from what I understand, they brought the same red tire as Detroit, but they worked on putting more grip into the black primary tires. If you touch both of them, the blacks seem to be stickier than the reds, which surprised me. Have you noticed anything? I don't know if you've gone enough laps to do a full stint on the blacks, but I'm just wondering if the blacks will have the longevity that they should have versus the reds?
SIMON PAGENAUD: In my opinion the blacks are going to have loss longevity than last year. They're going to have a bit more degradation, which I think is what was expected from Firestone for better racing. The reds will have strong degradation like you've seen in Detroit. That should be exciting. So we'll see. There will be cars — I think it's actually a really good combination. I think there will be cars that will be really strong on one set of tires and not as strong on the other. So it'll be interesting to see who does what on tire strategy. There's going to be a lot of that. You guys really need to pay attention how many laps each one of us is running on which tire.
But yeah, we're sitting pretty on tires, so I'm pretty excited about the race tomorrow.
Q. And when you say that your car is consistent, I take that to mean it doesn't matter whether you have reds or blacks on, your car is going to be great. But your teammates or at least Will Power took your setup and he seemed to really struggle with it. What is it that you have that he doesn't or how is it you're able to drive that and he's not quite adapting?
SIMON PAGENAUD: Well, I've been on the other side, too, quite frankly. You know, it's complicated to explain. I think it's actually just like a soccer player. You can't wear somebody else's shoe and you play well with your own shoe. I think at the end of the day, I'm comfortable with a certain type of car, I like certain behavior, and we like something different, a little bit different. On some tracks we're very similar, but because of the bumps here, we might be a little different.
I like a really strong rear end, but I need the front to be really strong mid-corner, and when I have that, I can really go. Will is very different. He likes something that rotates a lot from the rear, so it's a very different style, but we drive actually the same way. If you look at the data, you wouldn't say who's who. But it's just a feel thing, I think. I've been on the other side of it, and when i don't have what I want it's very hard to extract the best out of it, and it just shows how tight the field is and what it means to be confident in the car.
Yeah, that's what racing is all about, really.
Q. How important is pole at a track like Toronto? Do you think there's going to be a lot of passing tomorrow?
SIMON PAGENAUD: Pole is always important from an ego standpoint. You know, speed is speed, and we are racers, and you want to be the fastest, no question.
Now, that doesn't mean I'm going to win the race tomorrow, but certainly it puts me at an advantage. I've got the advantage to be up front and sliding through Turn 1 clear of anyone, and I'm going to try to take advantage from that. I certainly would rather start first than fifth and get collected in Turn 3.
It is an advantage here because it's difficult to race from back there, but anything happens in Toronto. I think that's what makes it such an amazing race for the fans, that anything can happen until the end.
Q. A little bit of a follow-up on that, we saw at Road America how that track really favors the leader. Does this type of track have that same effect where the clean air is going to be so much better for you, and the other guys in the back are going to have to scramble for themselves?
SIMON PAGENAUD: I don't know. I finished my lap behind Sato in Q2 and the car didn't feel bad at all. I think racing is going to be good. We've seen it last year, there was a lot of passing. Turn 3 is such a good corner for passing, and if someone makes a mistake in Turn 11, you're going to have some action in 1.
I just love the layout. I think it's a great layout for racing. Obviously it's a very shallow, very tight line, so if you make a mistake, you're going to go off and pay a consequence.
I think that's what makes it such a great event.
Q. Since May we've heard you a couple times, not a lot, but mention the attack, how I'm on the attack now. Is that a different — I mean this sincerely, is that a different kind of gear that comes from within because it seems like you've presented that a little more lately.
SIMON PAGENAUD: Yes. I think you get to learn yourself within racing. That's why this sport is so amazing to me. You get to learn how you function, how you think and what works for you, what doesn't work for you. I think obviously I'm not a crasher. I think I actually have a record of not crashing in Indy car throughout my entire career. I have to believe in myself that I'm not going to crash even though I attack.
So I found — in '16 I just found that there was a certain level of aggressiveness that worked really well for me, but it's not always easy to click into it. When it happens, it's a lot of fun. But I'm certainly still developing. There's no — it's a funny thing. It just feels like there's really no limit. The sky's the limit. I really enjoy working on that mental side of things.
Hinchcliffe and Dixon
JAMES HINCHCLIFFE: The Arrow car made some strides in Practice 3, we closed the gap to guys like (Alexander) Rossi and (Scott) Dixon in a big way. A couple hundredths (of a second) puts us in.
I definitely think we lost the group lottery on that one; I think Group 1 was a little bit less stacked than Group 2, but at the end of the day you have to be faster than everybody.
We've got a long race tomorrow, and we'll do what we can to make our way to the front. This series, it's tough to move forward at all, we have such a talented field. With such a short lap, there's not a lot of corners to make a gain on other guys. We've had really good Sundays, really good car on race days so far this year, so I'm confident we can pick off some of these guys.
Our Arrow guys have been great in the pits, fastest in the pits at Road America. We just need to do what we've been doing on Sundays, execute well, make smart decisions on the racetrack, call strategy well, and I think we'll be fighting for a top five."
Q: Strategy has worked for you, too?
JAMES HINCHCLIFFE: Yeah, for sure. I think being where we are, we can be a little more aggressive on strategy. I'm all for it. If we have a yellow that breaks our way, I wouldn't be mad at it, but that's not the way our season has gone. It wouldn't be a bad time for our luck to turn around.
Q: Yellows have to fall your way, but that's not anything new for you at this place.
JAMES HINCHCLIFFE: It's not something you can bank on. This track is a treacherous one seeing traditionally quite a few yellows. We'll see how it plays out. Attrition is part of it and you have to be there at the end. But we'll see how that plays out. But like I said, from where we're starting, we're going to have to be a little bit creative and that's what it comes down to.
Q: Talk about the support from the grandstands, knowing 99 percent of the seats out there will be pulling for you win or lose.
JAMES HINCHCLIFFE: That's what great about this event and the Canadian fans. They support you through thick and thin and that's why I love coming home. I want to give them something to cheer for coming from 14th place . So we'll try to get a fair way up the grid tomorrow.
THE MODERATOR: We have now in the press room Scott Dixon, the No. 2 qualifier, driver of the No. 9 PNC Bank Honda. Scott, an interesting final lap for you. It looks like you were pushing pretty strong and kind of got away from you.
SCOTT DIXON: Yeah, that was the pole lap right there, man.
THE MODERATOR: It always is.
SCOTT DIXON: I'd only done two corners, so I have no idea.
It's been an interesting day. The last two practice sessions, P2 and P3, have been really tough just to get track space, and even this morning we didn't get one single run with a clear lap, and it's really hard to feel what the car needs when you can't get these rolling laps together.
But qualifying is a lot easier with half the field. Still had to work on the car. Q1 was a little difficult, and then we need to — we found some gains for Q2 and Q3, which definitely helped. But yeah, still just leaving a bit on the table, not piecing the laps together as much as I should be able to.
I think the lap that got us second where I was up about a tenth and a half into the last corner and just hit the curb a little hard and slid the rear a lot. So congrats to (Simon) Pagenaud. He's been quick all weekend, and it's good to see, and going to the race. The starting spot last year as good for us. We were able to go on for the win, but as we can see the competition is extremely tight this weekend.
THE MODERATOR: You've won three races here, so obviously you have pretty high confidence and you must feel like you have a car to win.
SCOTT DIXON: Yeah, I think both the PNC car and also the NTT (car) with Felix (Rosenqvist) has been really strong. It's nice to have actually I think the cars were identical going into qualifying, so it's been really nice to have a lot of similarities. It's definitely helped throughout the weekend when we haven't been able to run as much as possible or get clear laps. We've still been able to go off of his pace and some of the things that he's really liked. That's been helpful.
Q. Do you feel a little lucky to have that spin happen, that you could be last in line there because otherwise you would have lost your quick lap.
SCOTT DIXON: Yeah, it's all about timing, right? We were lucky to be the last car. That's kind of how we had spaced it out and timed it. We knew we had about a four-second, five-second window before we started that run, including the out lap.
Luckily we were in some pretty clear air there behind, as well, that the next car was actually going to have to pit. So yeah, super lucky. It could have been second instead of sixth.
THE MODERATOR: Had Scott caused a caution, he would have lost his fastest lap.
Q. I'm wondering, there's been a lot of talk this weekend and pretty much every weekend in Toronto that (Turns) 9, 10 and 11 are kind of the trouble spots; are there any other areas, and maybe we saw a little bit in Turn 1, that are of concern for you?
SCOTT DIXON: I think it always used to be Turn 1, but once they resurfaced the approach there, it's been a little bit better. I have seen a fair few cars go straight ahead in Turn 1. It seems like Turn 11 has been pretty tricky, especially the first session yesterday. We've seen some cars, especially in the races, too, that have had some — a couple have spun in (Turn) 10, as well, where I spun. (Turn) 8 is always tricky, as well. It's a lot of surface change there, and that tire wall sticks out quite far, so as soon as you get it wrong, it can catch you pretty good. So yeah, I'd say (Turns) 1 (and) 3 in the race with traffic, (Turn) 5, you hit that curb wrong, you can go straight ahead there. (Turns) 8, 9, 11, there's a lot of corners, and each lap you know you can slightly just get wrong and you'll be in the fence.
Q. Paul Tracy said the other day that usually this race, the strategy gets determined early by either a caution or how the pit stops fall. What do you see as kind of that magic moment where you've got to decide on how many stops you go on fuel?
SCOTT DIXON: It's hard. The fuel window is a lot bigger than what it used to be. It used to be quite tough to do it in two, but I think with the manufacturers making such large improvements in the efficiency of the engines, it's pretty easy. You have fairly big windows now to be able to do it in two.
The hard part is how long you run on the reds. We've seen previous races this year, and this is the same tire as what we had at Detroit. You know, I think it was lap 4 or 5 we saw a caution in Detroit and the whole field pit except for us and maybe one other.
I think it's more not so much about fuel racing now, it's about tire longevity. Plus it makes it pretty interesting, too, because if you get cars off strategy, the speed difference is pretty big. But I think the tire that Firestone brought here and Detroit is much more suited to here.
Q. So the Road America qualifying melee there, kind of help today being last out in the Fast Six with your pit assignment? Could it be a problem tomorrow with how weird this pit lane is?
SCOTT DIXON: Yeah, it's definitely not ideal, especially on the curvature that we are in that pit because it's hard to actually get into the pit and stop and then also to leave. If you're on a left-turning one, which is kind of like the first six or eight, it makes it a lot better. Unfortunately with what happened in Road America we couldn't do anything about it, right. We couldn't have bounced on the Q2 because we didn't turn — we didn't have any power.
You can't do anything about it. So I think you just hope that we stay ahead of maybe the car that's in the box behind us; maybe hopefully they can give us space. I think if you have a green flag race it's not too much of an issue because you can kind of pit in your own time, whereas if it's a full-course yellow, that's when it's going to get really tricky, especially with how tight they are here. But yeah, this pit road is probably one of the worst that we come to all season as far as spacing and the curvature of it.
Q. We haven't seen you since the ESPYs. Any big moments for you, star-struck moments?
SCOTT DIXON: No, I think it was just — it's always impressive to go to that show and just see the intro, and Tracy Morgan did a very good job on the start of it, and there's giant people there, man, so everybody stands out. They're all wearing diamonds and sparkly stuff and they're all about seven feet tall. It's pretty interesting to go and people watch.