Two in a row for Mazda at Mosport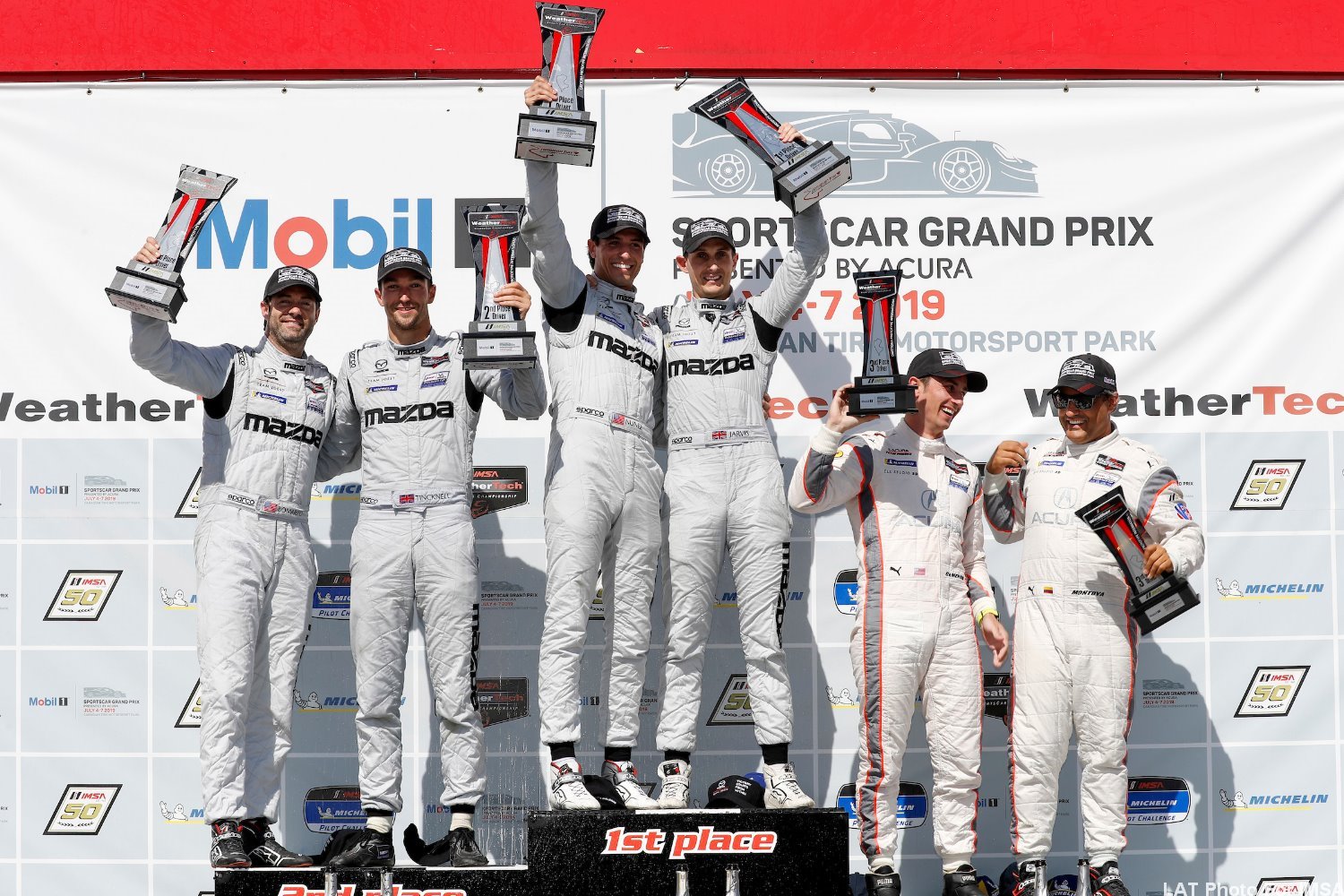 The #77 Mazda Drivers celebrate their win with 2nd place the #55 Mazda and third place #6 Acura
It took nearly seven years for Mazda Team Joest to return to IMSA victory lane between a victory at Road America in Aug. 2012 and last Sunday's breakthrough IMSA WeatherTech SportsCar Championship win in the Sahlen's Six Hours of The Glen.
This time, it took just seven days. After finishing second in last weekend's 1-2 result at Watkins Glen, Tristan Nunez and Oliver Jarvis took the victory in today's Mobil 1 SportsCar Grand Prix presented by Acura – leading a second straight 1-2 sweep for Mazda Team Joest.
Jarvis grabbed the lead from teammate Harry Tincknell in the No. 55 Mazda Daytona Prototype international (DPi) car on the final pit stop with just under 50 minutes remaining in the race and led the rest of the way, crossing the stripe 1.699 seconds ahead of Tincknell. It was Jarvis' third IMSA win and first since taking the overall victory in the Mobil 1 Twelve Hours of Sebring Presented by Advance Auto Parts in 2013.
"It's an amazing team effort," Jarvis said. "Incredible. It's been an incredible 10 days with the team. We were all getting quite bored of getting that question, 'When were we going to get our win?' We always said we were close.
[adinserter name="GOOGLE AD"]"I honestly believed if we got our first, to get the second seven days later is amazing. What an effort. Mazda Team Joest puts so much effort into this team, Multimatic and AER. This is a culmination of a lot of work. It's paid dividends in seven days. It's amazing."
For Nunez, it was his first overall IMSA race win and sixth class victory. His most recent before Sunday was a Prototype Challenge (PC) class win in the Grand Prix of Baltimore in 2013. Although just 23 years of age, Nunez is in his seventh season as a Mazda factory driver.
"I've been with the program since 2013 since we started the diesel GX (class) car," Nunez said. "I've said it multiple times, it's worth the wait. All the effort we've put in and the changes we've made, I really think we have a full, strong package now.
"We have all the pieces checked off. It showed in the past two weeks. You can't get better than two, 1-2 finishes. It's really a dream come true. I've been dreaming about this moment since I got signed on by [Mazda North American Operations Director of Motorsports] John (Doonan) in the beginning. So, it really hasn't sunk in yet."
Tincknell and co-driver Jonathan Bomarito combined to lead a race-high 87 of 125 total laps in the No. 55, but a slight issue on their final pit stop gave the lead and the win to the No. 77. Both the Nos. 55 and 77 teams have finished on the podium in three of the last four races.
Juan Pablo Montoya and Dane Cameron extended their lead in the DPi class lead with a third-place run in the No. 6 Acura Team Penske ARX-05 DPi. It was their fifth consecutive podium result and they now lead No. 31 Whelen Engineering Cadillac DPi-V.R co-drivers Pipo Derani and Felipe Nasr by three points, 207-204, after six of 10 DPi class races in 2019.
The No. 31 team finished fourth, followed by Ricky Taylor and Helio Castroneves in the No. 7 Acura Team Penske ARX-05 DPi. Castroneves and Taylor remain third in the DPi point standings, nine points in arrears of their leading No. 6 teammates.
In the LMP2 class, Matt McMurry and the No. 52 PR1 Mathiasen Motorsports ORECA team picked up their third-consecutive class victory to move into the class points lead by two over the No. 38 Performance Tech Motorsports ORECA and its driver pairing of Cameron Cassels and Kyle Masson. McMurry was joined in the victory by Canadian Dalton Kellett, who made his IMSA competition debut in the Mobil 1 SportsCar Grand Prix presented by Acura.
"This half of the season is going great: Mid-Ohio, Watkins Glen and now here," McMurry said. "The team's just been performing perfectly. The last three races the car's been great. The execution of the pit stops have been great. And our teammates have been doing well this whole time too."
"I actually got my start racing here probably eight or nine years ago," Kellett added. "And it feels amazing to get my first IMSA win here. My parents' house is 50 minutes west of here. This is my hometown crowd. This feels amazing. PR1 guys have done a good job the whole weekend. They were great. Matt really got me up to speed with the setup, driver changes, that was all new to me. I'm really happy."
The race was red-flagged for eight minutes following a heavy crash in Turn 2 by Victor Franzoni in the No. 50 Juncos Racing Cadillac DPi-V.R. Franzoni was awake and alert and was transported to a local hospital for further evaluation.
The DPi and LMP2 classes return to WeatherTech Championship competition next month at Road America for the IMSA Road Race Showcase on Sunday, Aug. 4.
Porsche Scores Fifth Straight GTLM Victory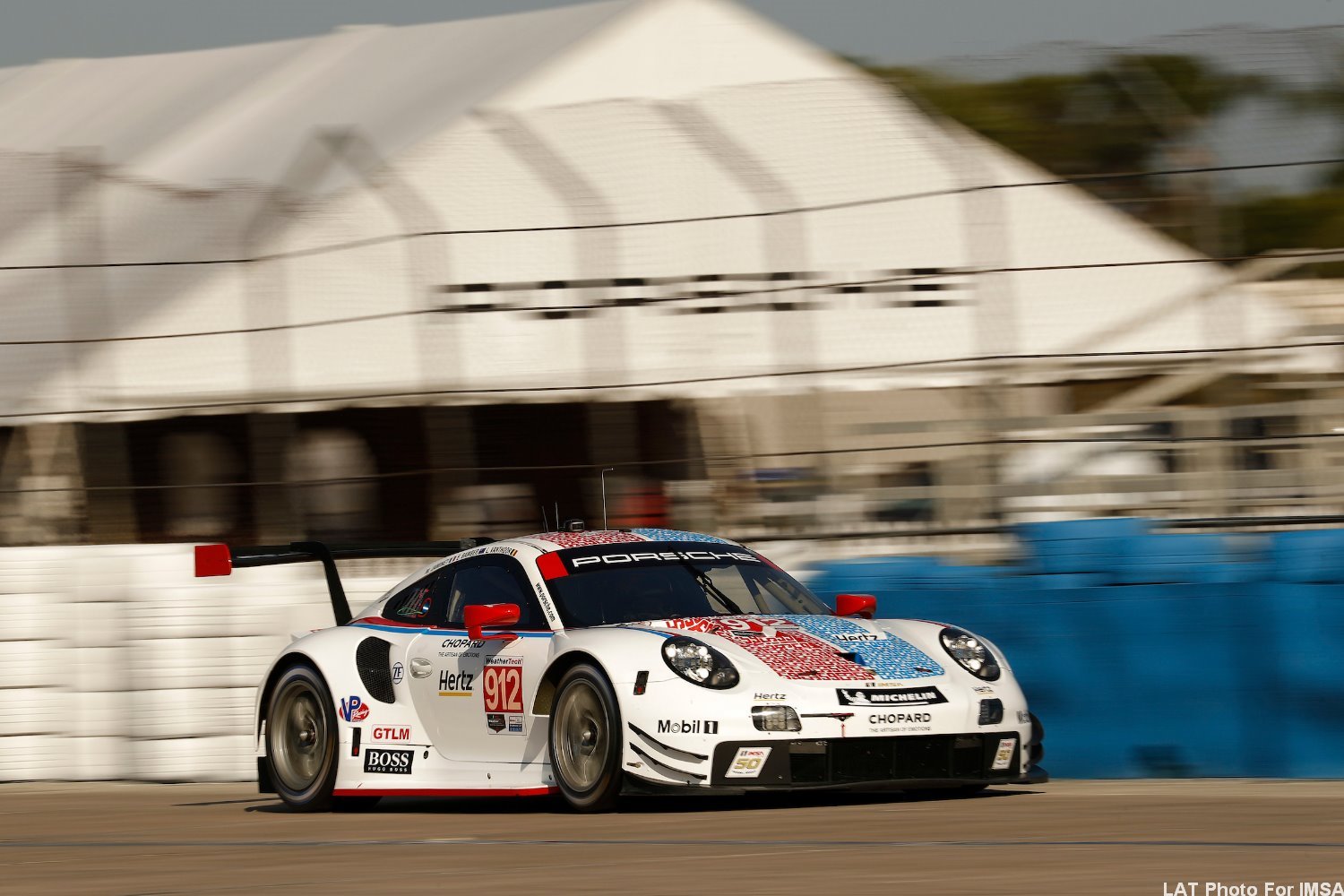 The #912 Porsche takes GTLM honors
It doesn't matter which side of the border they're on, there is no stopping Porsche right now in the IMSA WeatherTech SportsCar Championship.
The hottest manufacturer currently in the WeatherTech Championship, Porsche scored a record fifth consecutive GT Le Mans (GTLM) class win Sunday in the Mobil 1 SportsCar Grand Prix presented by Acura with Earl Bamber and Laurens Vanthoor co-driving the No. 912 Porsche GT Team Porsche 911 RSR to the victory at Canadian Tire Motorsport Park.
The five straight wins is a record in GTLM, besting a string of four straight from Corvette Racing (2014) and Ford Chip Ganassi Racing (2018). Porsche also won four consecutive races in 2015.
It was the third win of the season for Bamber and Vanthoor, following wins at the Long Beach street circuit in April and Mid-Ohio Sports Car Course in May. The team's No. 911 Porsche 911 RSR and drivers Nick Tandy and Patrick Pilet won the Mobil 1 Twelve Hours of Sebring Presented by Advance Auto Parts in March and the Sahlen's Six Hours of The Glen last weekend.
"Sometimes even to our frustration, until the manufacturer championship is won, they don't care if they win or we win," said Vanthoor of the Porsche team. "That's the reality. That's the main goal for Porsche even though we're race drivers, we want to win ourselves. We want to beat each other to be even more exciting during the season. We're obviously fighting for the same thing, but at the moment we work together and the main thing is a Porsche wins."
It was a two-car battle for much of the race between the No. 912 Porsche and No. 24 BMW Team RLL BMW M8 GTE of Jesse Krohn and John Edwards. Krohn started from the pole and led the race's opening 45 laps before losing the lead to Bamber on a series of green flag pit stops. The only other car to lead a lap was the third-place finishing No. 911 of Nick Tandy and Patrick Pilet which led one lap on that same series of stops. The No. 912 led a of class-high 69 laps.
Edwards had one shot at Bamber on a late-race restart with 15 minutes remaining but finished 1.208 seconds back in second in his No. 24 BMW. The No. 911 Porsche finished third, 2.177 seconds back.
"We're going to keep pushing, it's a tight championship right now, but I think we're carrying some momentum," said Bamber. "The BMW set a super, super quick pace so hats off to them. They were solid all day long. It was a really, really tough race. Hats off to the team, it was mainly strategy and quick pit stops. I think it's something special to say Porsche making five in a row, that's a little bit of history there."
With the win Bamber and Vanthoor vaulted to the top of the GTLM standings, jumping their teammates to take a four-point lead, 186-182. Running third in points, but losing significant ground following a seventh-place finish is the defending class champion No. 3 Corvette Racing Corvette C7.R of Antonio Garcia and Jan Magnussen.
Auberlen Closes to Within One of All-Time IMSA Win Record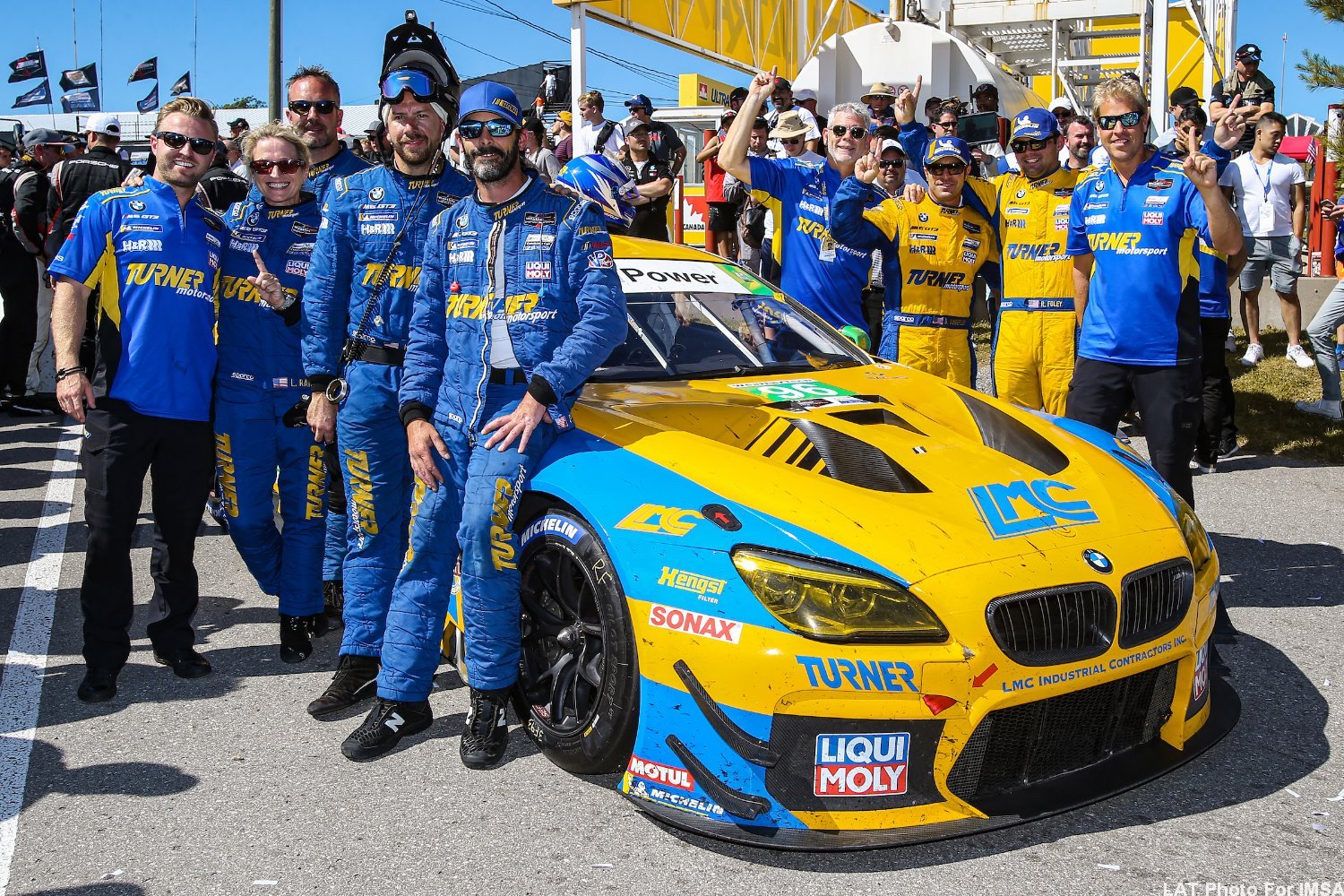 #96 GTD winners
Bill Auberlen is one win closer to making IMSA history.
Entering this weekend's Mobil 1 SportsCar Grand Prix presented by Acura at Canadian Tire Motorsport Park, the IMSA veteran had 58 IMSA victories to his name, two behind record-holder Scott Pruett.
Auberlen halved that gap on Sunday with a victory in the IMSA WeatherTech SportsCar Championship GT Daytona (GTD) class co-driving with Robby Foley in the No. 96 Turner Motorsport BMW M6 GT3.
Foley qualified the car on pole and from the drop of the green flag, the writing was on the wall that it was Turner's day. He and Auberlen would end up leading 107 of the race's 113 laps and with both essentially controlling the pace during their stints. Even after a restart before the final 15 minutes of the race, Auberlen didn't experience any pressure and was able to glide to Turner's first victory since Watkins Glen last year.
"That was a big part of my focus for so long, that I think it sort of took over my mind-frame on how to win races," said Auberlen of his win count. "Now we've put that aside. Will [Turner, team owner] said let's go for the championship. Now that we switched gears, we're on a roll here. We should have, could have, would have, won a lot of races this year. But we didn't. The luck seems to be going our way a little bit now.
"I'll tell you what makes it a lot easier is when you have a teammate who qualifies it on the pole and gives it to you with the lead. It's so easy. Robby is the up-and-coming guy that's going to be somebody to reckon with. He's going to be taking somebody's seat here soon. He's so good, so keep your eyes on Robby."
While it was Auberlen's 59th IMSA win, Sunday delivered Foley's first career victory in IMSA's top-tier series. The pair are also now in a three-way tie for third place in the championship standings after Sunday's win and a runner-up finish last week at the Sahlen's Six Hours of The Glen.
"It's nice to start at the front," said Foley. "It's a good feeling because you can kind of dictate what happens to an extent. You dictate the pace. The Turner guys gave us an amazing car. They've been flawless all year. It's been tough to have a fast car at every track and not have the results to show it. These guys deserve this today. For me, my first win? Yeah, it's been a while since I won a race, so it feels nice. I'd been on a bit of a bad luck streak. To get number one is good. Once the first one happens, they get rolling, so we'll see."
Trent Hindman and Mario Farnbacher collected their third consecutive podium, finishing second, and expanded their championship lead to 19 points, 151-132, over the No. 12 AIM Vasser Sullivan Lexus RC F GT3 duo of Frank Montecalvo and Townsend Bell. Bell and Montecalvo finished third on Sunday to round out the GTD podium.
The next round of the IMSA WeatherTech Sportscar Championship is the first GT showdown of the season. The two hour, 40-minute Northeast Grand Prix at Lime Rock Park will feature only the GT Le Mans (GTLM) and GTD classes and is scheduled for the weekend of July 18-20. The race goes green on Saturday, July 20 at 3:10 p.m. ET live on the NBC Sports App and NBCSports.com, with the NBCSN broadcast scheduled for 10 p.m.
Results
| | | | | | | | | |
| --- | --- | --- | --- | --- | --- | --- | --- | --- |
| Pos | Pic | No. | Cl | Drivers | Team | Car | Laps | Status |
| 1 | 1 | 77 | DPi | O. Jarvis/T. Nunez | Mazda Team Joest | Mazda DPi | 125 | Running |
| 2 | 2 | 55 | DPi | J. Bomarito/H. Tincknell | Mazda Team Joest | Mazda DPi | 125 | Running |
| 3 | 3 | 6 | DPi | J. Montoya/D. Cameron | Acura Team Penske | Acura DPi | 125 | Running |
| 4 | 4 | 31 | DPi | F. Nasr/P. Derani | Whelen Engineering Racing | Cadillac DPi | 125 | Running |
| 5 | 5 | 7 | DPi | H. Castroneves/R. Taylor | Acura Team Penske | Acura DPi | 125 | Running |
| 6 | 6 | 10 | DPi | R. Van Der Zande/J. Taylor | Konica Minolta Cadillac DPi-V.R. | Cadillac DPi | 125 | Running |
| 7 | 7 | 54 | DPi | J. Bennett/C. Braun | CORE autosport | Nissan DPi | 125 | Running |
| 8 | 8 | 84 | DPi | S. Trummer/S. Simpson | JDC-Miller MotorSports | Cadillac DPi | 124 | Running |
| 9 | 9 | 85 | DPi | M. Goikhberg/T. Vautier | JDC-Miller MotorSports | Cadillac DPi | 122 | Running |
| 10 | 1 | 52 | LMP2 | M. McMurry/D. Kellett | PR1 Mathiasen Motorsports | ORECA LMP2 | 120 | Running |
| 11 | 10 | 5 | DPi | J. Barbosa/F. Albuquerque | Mustang Sampling Racing | Cadillac DPi | 119 | Running |
| 12 | 1 | 912 | GTLM | E. Bamber/L. Vanthoor | Porsche GT Team | Porsche 911 RSR | 116 | Running |
| 13 | 2 | 24 | GTLM | J. Krohn/J. Edwards | BMW Team RLL | BMW M8 GTE | 116 | Running |
| 14 | 3 | 911 | GTLM | P. Pilet/N. Tandy | Porsche GT Team | Porsche 911 RSR | 116 | Running |
| 15 | 4 | 25 | GTLM | T. Blomqvist/C. De Phillippi | BMW Team RLL | BMW M8 GTE | 116 | Running |
| 16 | 5 | 67 | GTLM | R. Briscoe/R. Westbrook | Ford Chip Ganassi Racing | Ford GT | 116 | Running |
| 17 | 6 | 66 | GTLM | J. Hand/D. Mueller | Ford Chip Ganassi Racing | Ford GT | 116 | Running |
| 18 | 7 | 3 | GTLM | J. Magnussen/A. Garcia | Corvette Racing | Chevrolet Corvette C7.R | 116 | Running |
| 19 | 8 | 4 | GTLM | O. Gavin/M. Fassler | Corvette Racing | Chevrolet Corvette C7.R | 116 | Running |
| 20 | 1 | 96 | GTD | B. Auberlen/R. Foley | Turner Motorsport | BMW M6 GT3 | 113 | Running |
| 21 | 2 | 86 | GTD | M. Farnbacher/T. Hindman | Meyer Shank Racing w/ Curb-Agaj | Acura NSX GT3 | 113 | Running |
| 22 | 3 | 12 | GTD | F. Montecalvo/T. Bell | AIM Vasser Sullivan | Lexus RC F GT3 | 113 | Running |
| 23 | 4 | 73 | GTD | P. Lindsey/P. Long | Park Place Motorsports | Porsche 911 GT3 R | 113 | Running |
| 24 | 5 | 9 | GTD | S. Hargrove/Z. Robichon | Pfaff Motorsports | Porsche 911 GT3 R | 113 | Running |
| 25 | 6 | 57 | GTD | K. Legge/B. Figueiredo | Heinricher Racing w/Meyer Shank | Acura NSX GT3 | 113 | Running |
| 26 | 7 | 33 | GTD | B. Keating/J. Bleekemolen | Riley Motorsports – Team AMG | Mercedes-AMG GT3 | 113 | Running |
| 27 | 8 | 44 | GTD | J. Potter/A. Lally | Magnus Racing | Lamborghini Huracan GT3 | 113 | Running |
| 28 | 9 | 63 | GTD | C. MacNeil/T. Vilander | Scuderia Corsa | Ferrari 488 GT3 | 113 | Running |
| 29 | 10 | 76 | GTD | P. Holton/M. Plumb | Compass Racing | McLaren 720S GT3 | 113 | Running |
| 30 | 11 | 74 | GTD | G. Robinson V/L. Aschenbach | Lone Star Racing | Mercedes-AMG | 112 | Running |
| 31 | 2 | 38 | LMP2 | K. Masson/C. Cassels | Performance Tech Motorsports | ORECA LMP2 | 101 | DNF |
| 32 | 11 | 50 | DPi | W. Owen/V. Franzoni | Juncos Racing | Cadillac DPi | 100 | DNF |
| 33 | 12 | 14 | GTD | R. Heistand/J. Hawksworth | AIM Vasser Sullivan | Lexus RC F GT3 | 76 | DNF |