Repeat Pole Position for CORE in Canada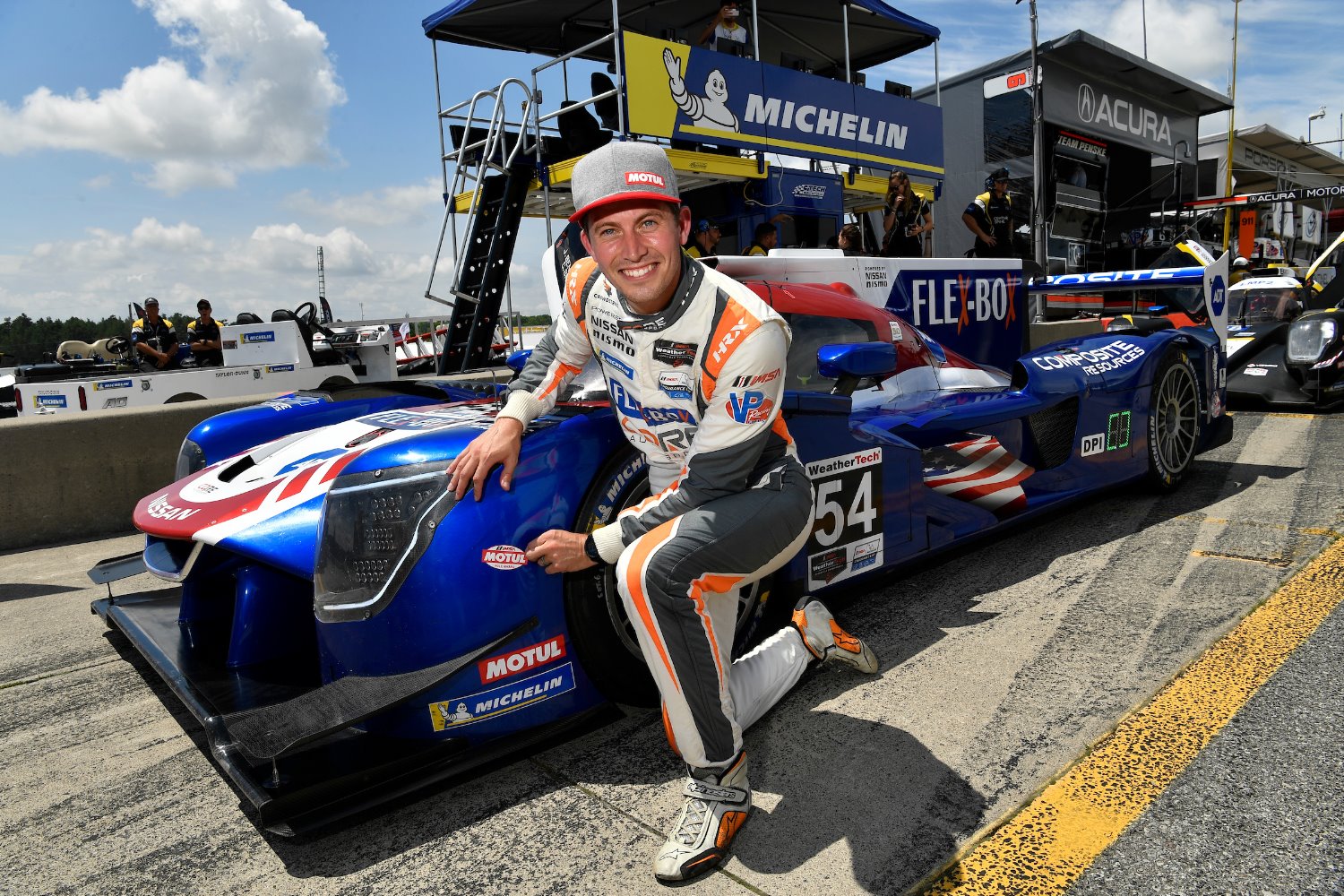 Colin Braun puts CORE on pole at Mosport
For the second-straight year, CORE autosport has earned the IMSA WeatherTech SportsCar Championship pole position at Canadian Tire Motorsport Park.
After topping both practice sessions on Friday, Colin Braun turned the best lap in Saturday's 15-minute qualifying session. His time of 1:05.452 was nearly a full second faster than his 2018 pole time and was 0.074-second clear of the second-place qualifier.
Braun shares the No. 54 ADT Nissan Ligier DPI with Jon Bennett. The pair won last year's Mobil 1 Sports Car Grand Prix after Braun claimed the pole position. Even with a change in car and tires this year, CORE hasn't skipped a beat when it comes to Canadian Tire Motorsport Park
Braun outpaced the No. 7 Team Penske Acura ARX-05 of Helio Castroneves by 0.074 seconds.
Jonathan Bomarito made it three DPi manufacturers in the top-three, putting the No. 55 Team Joest Mazda RT24-P third on the grid.
Juan Pablo Montoya qualified fourth in the No. 6 Team Penske Acura DPi, with Tristan Nunez completing the top-five for Mazda.
Felipe Nasr was the quickest of the Cadillac DPi-V.Rs in sixth, more than six-tenths behind Braun's pole-sitting time.
LMP2 class pole honors went to the No. 38 Performance Tech Motorsports Oreca 07 Gibson of Kyle Masson, who edged out IMSA debutant Dalton Kellett.
RESULTS: Qualifying
Colin Braun, Driver: No. 54 ADT Nissan Ligier DPi
"I love this race track. For us as a team, the better we do, the more confidence we have and the more confidence we have the better we do and that's the cycle. To be fast here in two different cars is a testament to the hard work of the CORE team.
"We were hoping to get a good feel for the tire degradation during that session, because with so much traffic, you don't really get a good feel for that in practice. We weren't sure what we were going to do fuel load and tire pressure wise, but our team did a good job nailing the right amount of fuel at the peak of the tire, so we got our best laps at the best time.
"It feels good to get ADT it's first pole!"
Krohn on pole in GTLM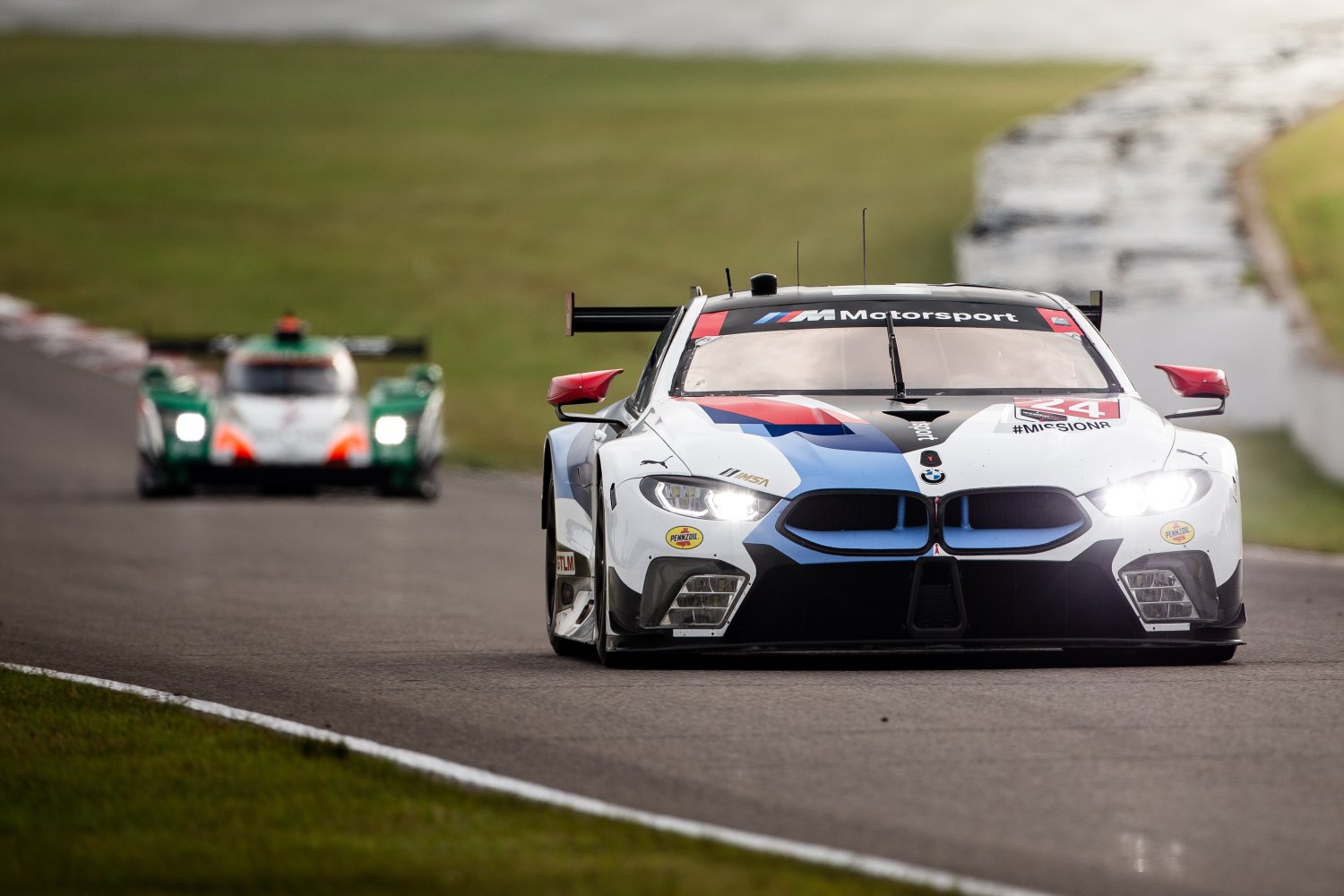 Jesse Krohn #24 BMW
Jesse Krohn scored his first pole position for BMW Team RLL to lead a GTLM class front row lock out in today's qualifying session for tomorrow's two-hour-and-forty-minute Mobil 1 Sportscar Grand Prix presented by Acura at the Canadian Tire Motorsport Park, in Bowmanville, Ontario, Canada. With a 1:13.086 minute lap around the 2.459-mile, 10-turn circuit and a new GTLM qualifying record, the Flying Finn drove the No. 24 BMW M8 GTE .468 seconds clear of the GTLM field and his teammate Tom Blomqvist. Krohn will share the No. 24 BMW M8 GTE tomorrow with John Edwards. Blomqvist, in his first weekend at CTMP, qualified second with a 1:13.548 minute lap in the No. 25 BMW M8 GTE. He will co-drive with Connor De Phillippi tomorrow.
Foley on Pole in GTD
Robby Foley scored his first career WeatherTech Championship pole in a closely fought qualifying session in GT Daytona.
Foley reeled off a 1:16.172 in the No. 96 Turner Motorsport BMW M6 GT3 that he will share with BMW veteran Bill Auberlen in tomorrow's two-hour and 40-minute race.
Friday Notebook
Defending Winner Braun Paces Both Friday Practice Sessions at Mobil 1 SportsCar Grand Prix Presented by Acura
There are some racetracks where a driver or team just clicks. So it is with Canadian Tire Motorsport Park and No. 54 CORE autosport Nissan DPi driver Colin Braun.
[adinserter name="GOOGLE AD"]A year ago, Braun and his co-driver, Jon Bennett, picked up their fourth victory together at CTMP in the Mobil 1 SportsCar Grand Prix presented by Acura after Braun won the Motul Pole Award in qualifying. He was at it again Friday, topping the time charts for both IMSA WeatherTech SportsCar Championship practice sessions with a best time of one minute, 5.875 seconds (134.438 mph) around the 2.459-mile circuit in the afternoon session.
"We were quick here last year in all the practices and won the race," Braun said. "For me, personally, it's a track I really enjoy, I think Jon does too. Whenever you come to a track with confidence it sets the tone for the whole weekend."
Matt McMurry was quickest in LMP2 with a best lap of 1:08.706 (128.844 mph) in the No. 52 PR1 Mathiasen Motorsports ORECA. In GT Le Mans (GTLM), Jan Magnussen topped the charts at 1:14.218 (119.275 mph) in the No. 3 Corvette Racing Chevrolet Corvette C7.R and Bill Auberlen was quickest in GT Daytona (GTD) at 1:16.859 (115.177 mph).
"I'm quite happy with what we did today," Magnussen said. "We got to try some different setups and work on some qualifying simulations. It was nice to get that out of the way. We'll see if we can use it tomorrow if it's not wet, but overall the car felt pretty good and I think have a good direction. We'll see what happens tomorrow."
Saturday's WeatherTech Championship schedule includes another hour-long practice session from 8 to 9 a.m. ET, followed by qualifying from 11:35 a.m. to 12:40 p.m. Qualifying will be streamed live on IMSA.tv with IMSA Radio commentary – which also is available on RadioLeMans.com.
Sunday's two-hour and 40-minute race will be televised live on the NBC network at 1 p.m. ET.
Fassler Returns for Unscheduled Appearance in No. 4 Corvette
Marcel Fassler usually only drives the No. 4 Corvette Racing Chevrolet Corvette C7.R in the Rolex 24 At Daytona, the Mobil 1 Twelve Hours of Sebring Presented by Advance Auto Parts, and Motul Petit Le Mans as a third driver alongside full-time WeatherTech Championship racers Tommy Milner and Oliver Gavin.
But Fassler was pressed into emergency service this week as a stand-in for Milner, who injured his hand in an opening-lap crash in the Sahlen's Six Hours of The Glen. The Swiss driver was on location at Canadian Tire Motorsport Park Friday to get preparations for Sunday's Mobil 1 SportsCar Grand Prix under way.
"I had an opportunity to look at the data from Free Practice 1," Fassler said. "This was a big help, and I also studied a video we had in our files. The second practice was a big improvement for me. Reed (Sullivan, No. 4 Corvette Race Engineer) gave me the chance to go immediately out in Free Practice 2 on new tires.
"That extra grip gave me a lot of confidence in the Corvette; I could start to push a bit more than before. I'm pretty happy for this, and thanks to the team for giving me that opportunity. I have to say this is a very challenging track. It's one of the circuits where I have to say it's challenging in a much different way from all these new tracks with the big runoffs. It's a big pleasure to drive and to race here."
Mercedes-AMG GT4s Strong at CTMP with Foss, Murillo Racing Fastest in IMSA Michelin Pilot Challenge
The star of the show in the pair of IMSA Michelin Pilot Challenge practice sessions at Canadian Tire Motorsport Park was Mercedes-AMG.
It was Eric Foss in Murillo Racing's No. 56 Mosing Motorcars Mercedes-AMG GT4 in the morning, posting what would be the fastest lap of the day at one minute, 23.506 seconds (106.009 mph). Foss and longtime co-driver Jeff Mosing will be challenging for their second Pilot Challenge win at CTMP after winning the ST class in 2017.
"We unloaded with a car that really felt pretty good," said Foss. "We were able to do a two-hour test yesterday and we learned a lot about this newer, harder compound Michelin S9 Tire. It's a little bit edgier tire, which isn't necessarily a bad thing. You just have to be more precise and smooth as a driver, so that's something that Jeff and I have been working really hard on.
"This place has always been close to our hearts and really good for us, so we're hoping to carry some of that momentum into qualifying and into the race."
Carrying Mercedes-AMG's dominance into Practice 2 was Owen Trinkler in the No. 46 Mercedes-AMG GT4 for Team TGM, who posted that session's fastest lap of 1:23.926 (105.478 mph). Team TGM's sister car, the No. 4 Mercedes-AMG GT4, also ranked third in Practice 1 at the hands of Guy Cosmo.
In the TCR class, the fastest lap of the day went to Michael Lewis in the No. 98 Bryan Herta Autosport Hyundai Veloster N with a time of 1:24.484 (104.781 mph). Lewis will be seeking his second consecutive Motul Pole Award this weekend and the team's second win of the season after he and co-driver Mark Wilkins took home the victory at Mid-Ohio Sports Car Course in May.
Saturday will be a packed day for the IMSA Michelin Pilot Challenge, with qualifying beginning at 9:40 a.m. ET and the two-hour Canadian Tire Motorsport Park 120 going green at 1:55 p.m. ET. The race will be streamed live, flag-to-flag on IMSA.tv with IMSA Radio commentary.
McAleer Scores First Career IMSA Pole in IMSA Prototype Challenge Qualifying
Stevan McAleer became the fourth different pole winner in four IMSA Prototype Challenge races Friday in qualifying for Saturday's three-hour endurance race (4:30 p.m. ET, live on IMSA.tv with IMSA Radio commentary).
It took a perfect final lap in the 15-minute session for McAleer to steal the top spot from Garett Grist. Making adjustments throughout the session, McAleer set the pole lap of 1:12.957 in the No. 10 Robillard Racing Norma M30 he co-drives with team owner Joe Robillard.
It was the first pole of McAleer's IMSA career.
"I'm super excited, this is the first race of the season that Joe and I have been teammates," said McAleer. "I knew we were going to be close. My biggest problem was I could not get the car out of [Turn] 5. I don't think it was setup related, I think it was brain related and I should've tried to slow down a little more.
"It was very hard to get the car accurately out of the corner and to be honest, on that last lap there I just kind of paced myself and made sure my only focus was to get out of 5. Coming up the back straight and turning into 8, I got a fuel pressure warning and the car started to run out of fuel so that was it, that was the only lap we could get. I don't think it cost us anything."
Grist held on to qualify second No. 51 K2R Motorsports Ligier JS P3 he co-drives Rob Hodes, while the No. 47 Forty7 Motorsports of Rodrigo Pflucker, co-driven by Austin McCusker, qualified third.
De Angelis Edges Kingsley for the Porsche GT3 Cup Challenge Canada by Yokohama Race 1 Pole
After leading both practice sessions earlier on Friday, 18-year-old Roman De Angelis went on to collect his third Porsche GT3 Cup Challenge Canada by Yokohama pole position of the season in the No. 79 Mark Motors Racing Porsche 911 GT3 Cup machine with a lap time of 1:20.067 (110.562 mph).
De Angelis, from Belle River, Ontario, also won the most recent GT3 Cup Challenge Canada race at CTMP, held at the track's annual Victoria Day SpeedFest in May.
"I think starting out front here is probably more important than most places just because there's not a lot of passing opportunities," De Angelis said. "There's really no brake zones except in (Turn) 5 and you can't really pass there. So yeah, starting on pole is a bit easier, less cars to pass."
His pole, however, didn't come easy. His time was just .135 seconds over Jeff Kingsley in the No. 16 Policaro Motorsport Porsche. Kingsley won the season opener at Victoria Day SpeedFest the day prior to De Angelis' win.
In fact, the top eight GT3 Cup Challenge Canada cars posted times within one second of each other.
De Angelis will lead the Porsche GT3 Cup Challenge Canada by Yokohama field to green Saturday morning at 10:30 a.m. ET. The race will be streamed live on the Porsche GT3 Cup Challenge Canada by Yokohama Facebook page.