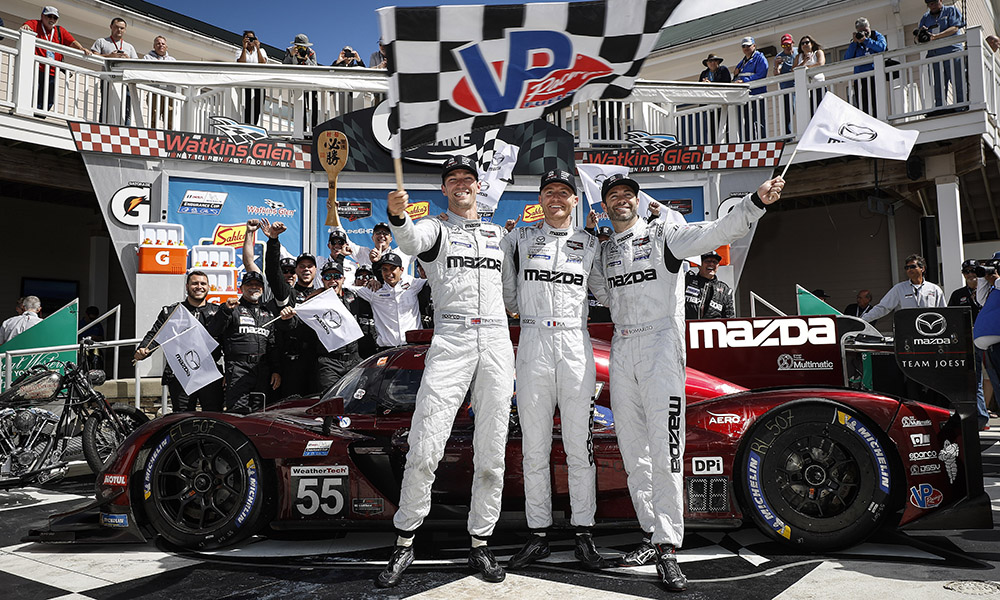 Winning #55 Mazda drivers Tincknell, Pla and Bomarito
"It's our day!" screamed Mazda Director of Motorsports John Doonan immediately after the pair of soul red Mazda RT24-P Daytona Prototype international (DPi) race cars took the checkered flag after six grueling hours of racing at Watkins Glen International.
It's been a long time coming, but Mazda Team Joest is finally a winner in the IMSA WeatherTech SportsCar Championship. No. 55 Mazda RT24-P DPi co-drivers Harry Tincknell, Jonathan Bomarito and Olivier Pla delivered the program's first victory in a dominating performance at the Sahlen's Six Hours of The Glen, leading a 1-2 sweep for the team. No. 77 Mazda DPi co-drivers Oliver Jarvis – who started the race from the pole position, Tristan Nunez and Timo Bernhard finished second, with Jarvis crossing the stripe 0.353 seconds behind Tincknell.
The scene in the Mazda Team Joest pits was sheer pandemonium, with screams, hugs and high fives all around. It was the culmination of six years of hard work and dedication amid struggles, close calls and heartbreak.
The pair of Mazdas were the class of the field throughout the six hours, but entering the final hour, they both were trailing Juan Pablo Montoya – winner of the previous two consecutive WeatherTech Championship races in the No. 6 Acura Team Penske ARX-05 DPi – who grabbed the lead through pit strategy.
Tincknell spent the better part of the next 30 minutes pressuring Montoya and looking for any opportunity to pass. He finally took his shot with 45 minutes to go, diving to the inside going through the "heel" of the famed Watkins Glen International "boot" section and came away as the leader.
"I had to attack and it was difficult to pass," Tincknell said. "I tried once around the outside and he kind of had a little bit of rubbin' is racin' and kind of pushed me off, so I knew it was going to have to be a super-bold move. In those circumstances you're better off committing 100 percent. It's the 95 percent commitment move that causes the crash, so I think I was probably 110 percent committed going into that corner, a little bit of rubbin' is racin' at the apex, and luckily we came out unscathed."
Jarvis got past Montoya and into second a few minutes later, and both Mazdas then pulled away from the field as they'd done for most of the race. But that didn't mean the ending was without drama.
With under 20 minutes to go in the race, the cover on the left side of the No. 55's engine dislodged and came to a rest on the car's sidepod, wreaking havoc on the car's aerodynamics and allowing Jarvis to close up and potentially overtake Tincknell for the victory. But with little to no pressure from behind, the pair of Mazdas elected to remain in formation where they finished.
"It sounds like it was more terrifying outside the car than it was in it," said Tincknell of the bodywork damage. "I certainly started to feel the car was a little bit freer on the rear, a little bit more loose, but I just thought it was the tires, to be honest. I didn't quite realize it was the damage that was there. Where that was caused and why, I'm not 100 percent sure."
"Me and Olly (Pla) were way more nervous, I can tell you that," added Bomarito.
It was the first overall IMSA race victory for Mazda since the American Le Mans Series (ALMS) Baltimore Grand Prix on Sept. 3, 2011, when Humaid Al Masaood and Steven Kane co-drove the No. 20 Oryx Dyson Racing Mazda-Lola to the win. It was Mazda's first IMSA win of any kind since Sylvain Tremblay and Tom Long co-drove the diesel-powered No. 70 Mazda 6 GX to the GRAND-AM Rolex Sports Car Series GX class victory at Lime Rock Park on Sept. 28, 2013.
"It's been an amazingly long journey," said Doonan. "All we wanted to do was to reach the top step for all the Mazda fans, all the Mazda owners, all of our Mazda racers, our dealers, our employees, it was trying to have a Mazda day and we finally got there. We didn't quit. There was plenty of times where faced insane challenges, so many close calls. We almost thought we had it so many times."
It was Tincknell's first IMSA victory and the third for Pla, whose most recent WeatherTech Championship win came in the Prototype class at Motul Petit Le Mans in 2016. It was Bomarito's seventh IMSA win (three WeatherTech Championship, four GRAND-AM) and first since a GTLM class win at Circuit of The Americas in 2014. The No. 55 led 106 of the 291 total laps in the six hours, with the No. 77 leading – appropriately enough – another 77 laps.
"Oh man, it's so amazing, so amazing," said Bomarito, who rejoined Mazda's WeatherTech Championship Prototype team prior to the 2015 season and is a graduate of Mazda's driver development ladder system. "A Mazda 1-2, this has been a long, long time coming. I've been with this program for so long, seen so many ups and downs, but both cars, both crews, amazing job. It's just as important for the 77. We'll share it all together tonight."
In addition to winning the race, the No. 55 team also was the Round 3 winner of the IMSA Michelin Endurance Cup as the DPi team that scored the most points in the race.
Speaking of points, it was a huge points day for Montoya and co-driver Dane Cameron, who finished third in the Six Hours. After qualifying second on Saturday, Cameron noticed the No. 6 car had a flat tire on the starting grid, forcing the team to change tires and start the race from pit lane.
They battled back from the early setback and Montoya led 19 laps before taking the team's fourth consecutive podium result, and second consecutive third-place run at Watkins Glen. That result coupled with a seventh-place result by the No. 31 Whelen Engineering Cadillac DPi-V.R shared by Felipe Nasr, Pipo Derani and Eric Curran moved the No. 6 driving duo into the DPi championship lead by one point, 177-176, over full-season co-drivers Derani and Nasr.
In the LMP2 class, No. 52 PR1 Mathiasen Motorsports ORECA co-drivers Matt McMurry, Gabriel Aubry and Eric Lux took the class victory by 20 laps over the No. 38 Performance Tech Motorsports ORECA squad of Cameron Cassels, Kyle Masson and Andrew Evans. It was the second consecutive victory for McMurry, the team, and was especially big for Lux, who hails from nearby Buffalo, New York.
"It felt really good," Lux said. "This is a home track for me, just a two-hour drive from Buffalo. I don't know how many times I've tried to do this race now. My best finish was fourth, so it feels really good to be on the top step today. It's constant fighting out there with all the classes. It was great battles. Really hats off to my co-drivers for the great driving all weekend."
It's a quick turnaround for the next IMSA WeatherTech SportsCar Championship, which heads directly to Canadian Tire Motorsport Park for next Sunday's Mobil 1 SportsCar Grand Prix presented by Acura. It will be the first IMSA race to be televised live on the NBC network, beginning at 1 p.m. ET.
Porsche wins in GTLM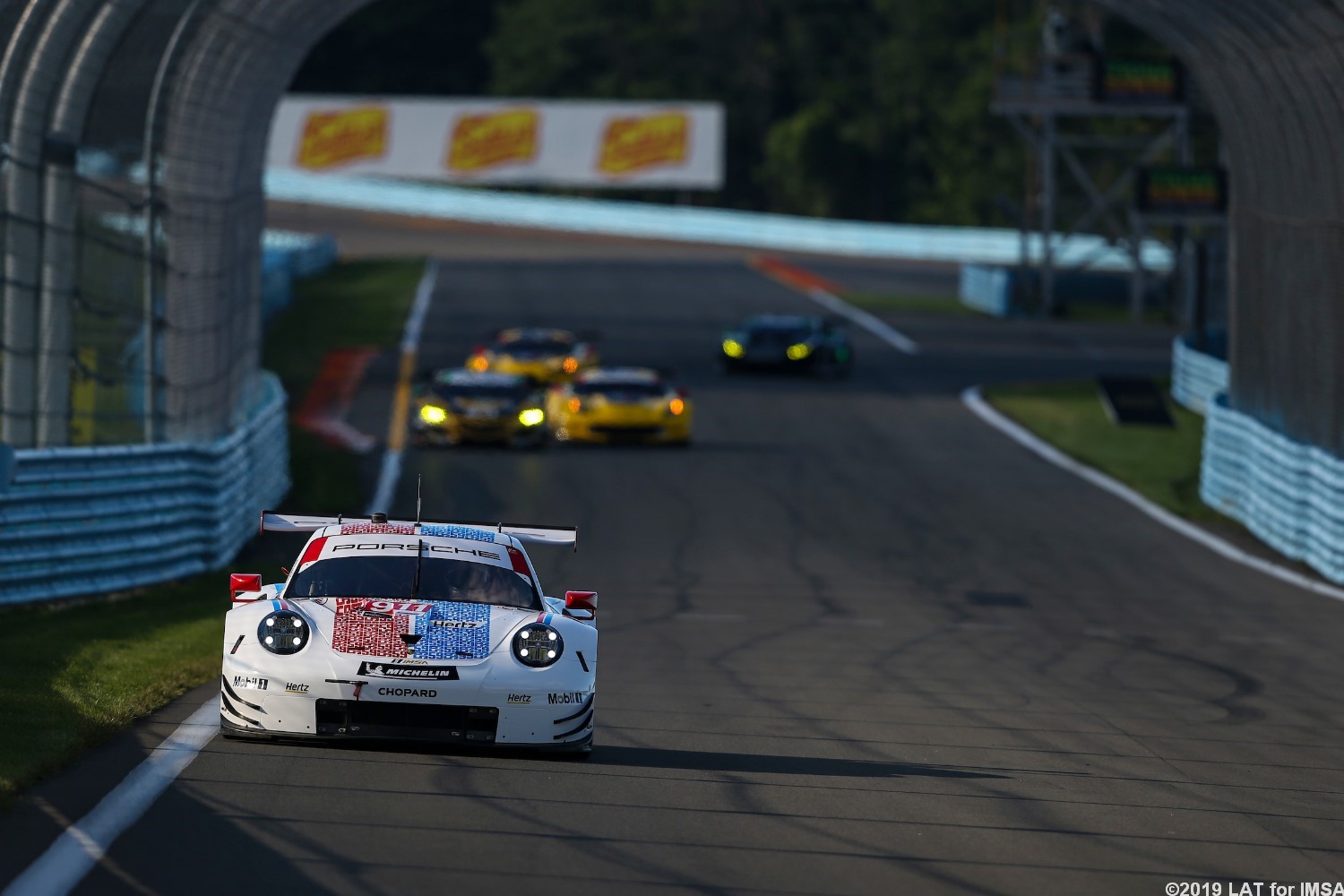 911 Porsche wins GTLM
There is no stopping Porsche right now in the IMSA WeatherTech SportsCar Championship GT Le Mans (GTLM) class.
The No. 911 Porsche GT Team Porsche 911 RSR of Nick Tandy and Patrick Pilet made it four consecutive wins for Porsche this season in Sunday's Sahlen's Six Hours of The Glen, continuing a dominant stretch rarely seen in the always-competitive GTLM class.
This one was certainly no cakewalk, however.
Tandy had to hold off a hard-charging Antonio Garcia in the No. 3 Corvette C7.R to secure the win, crossing the stripe a mere 0.452 seconds of the two-time defending series champion and his longtime co-driver Jan Magnussen.
Tandy inherited the lead when teammate Earl Bamber had to pit for fuel from the lead with 13 minutes remaining in the No. 912 Porsche GT Team Porsche 911 RSR had to pit for fuel.
That set up a duel to the finish between Tandy and Garcia. At one point, Garcia was over six seconds behind Tandy and over the course of his final stint managed to close the gap to just one car length, but was unable to make the pass on the final lap.
With the win, the No. 911 team moved into the GTLM class points lead.
"We wanted to build a lead and when the team told me the Corvette was catching us and the lap times he was running, I got a bit scared," said Tandy. "But in the end, our car held up really well. The Michelin tires got better and better and the car balance got really good as the fuel came out of the car."
"It was difficult to be honest, especially because we really wanted to win this race," added Pilet. "We were so close so many times. And we are now back in the championship, so it's really a good win."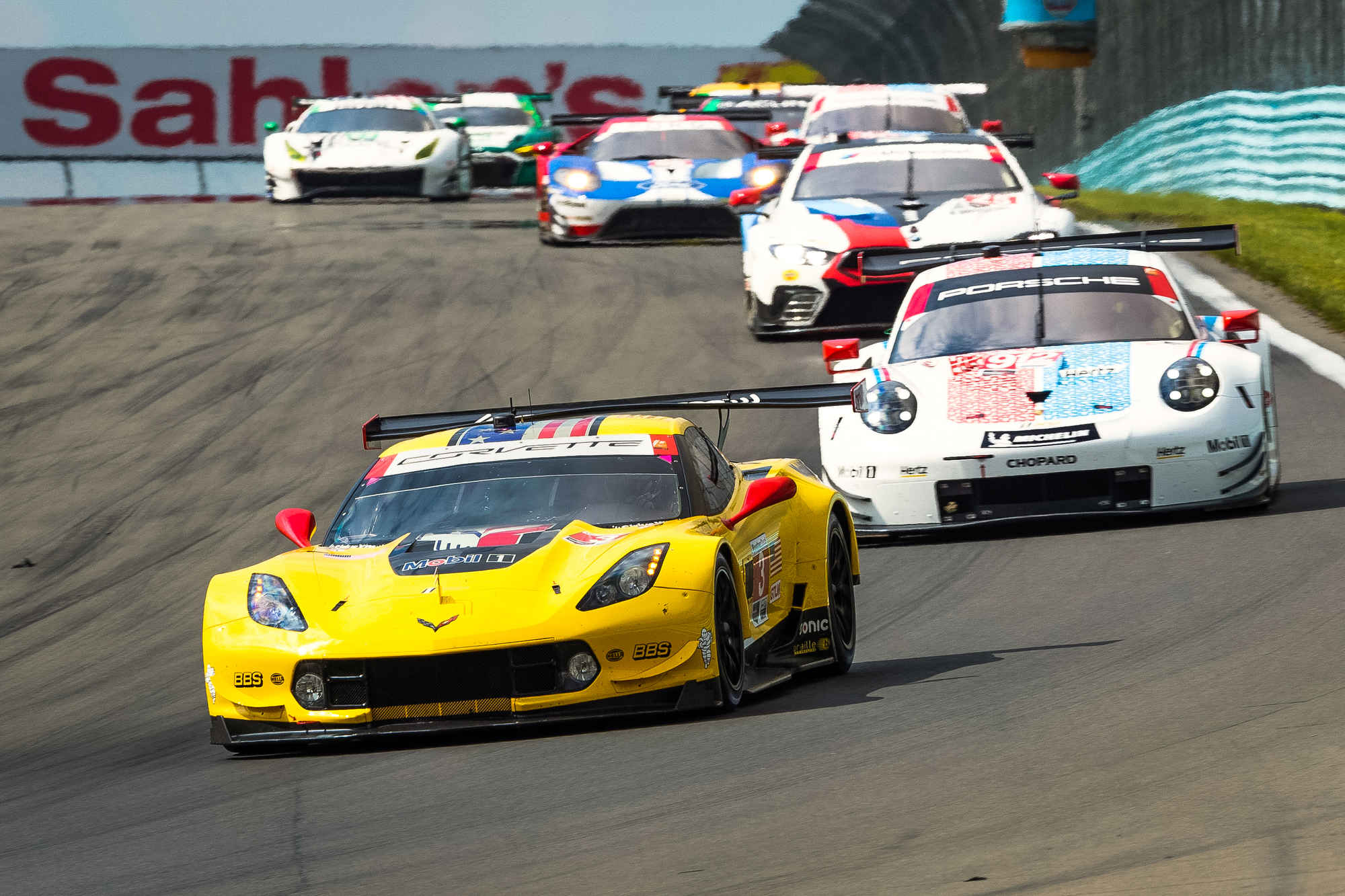 The #3 Corvette battles the Porsche
Tandy and Pilet also won the last IMSA Michelin Endurance Cup event, the Mobil 1 Twelve Hours of Sebring Presented by Advance Auto Parts in March. That win was followed up by consecutive trips to victory lane for the No. 912 of Bamber and Laurens Vanthoor at Long Beach and Mid-Ohio. Going further, at least one of the team's two cars has finished on the podium in all five races this season with the No. 912 also finishing third in the season-opening Rolex 24 At Daytona.
With Garcia challenging Tandy in the closing laps, it was more than just a race win on the line for Corvette Racing. The team has long been in search of its 100th career IMSA win, scoring win No. 99 at Long Beach in April of 2018.
Regardless, it was another strong points day for a No. 3 Corvette team that is on quite an impressive stretch of its own, with four consecutive podium finishes and three straight runner-up finishes.
With six races remaining on the 2019 WeatherTech Championship schedule, Garcia and Magnussen are now one point behind the No. 911 team in the class standings in search of a third straight GTLM title.
Three different manufacturers finished on the Sahlen's Six Hours of The Glen podium with the No. 67 Ford Chip Ganassi Racing Ford GT of Richard Westbrook and Ryan Briscoe finishing third. The team's No. 66 Ford GT of Dirk Mueller and Joey Hand finished fourth, while BMW made it four manufacturers in the top-five with the No. 24 BMW Team RLL of Jesse Krohn and John Edwards finishing fifth.
Meyer Shank Racing Acura Dominates at Watkins Glen to Claim GTD Win from Pole Position
Entering Sunday's Sahlen's Six Hours of The Glen at Watkins Glen International, Trent Hindman and Mario Farnbacher were in a unique position in the IMSA WeatherTech SportsCar Championship.
Co-driving the No. 86 Meyer Shank Racing Acura NSX GT3, the duo led the GT Daytona (GTD) championship standings without a win yet in the season.
That all changed Sunday afternoon.
It was a dominating performance that started Saturday, with Hindman putting the No. 86 Acura on pole for the second time this season. Between Hindman, Farnbacher and endurance teammate Justin Marks, the car paced the GTD field for a race-high 83 laps to claim its first checkered flag of the season.
"I think our championship lead is now 16 points," said Hindman, who with Farnbacher now holds a 119-103-point lead over the AIM Vasser Sullivan duo of Jack Hawksworth and Richard Heistand. "It's tremendous to come and get a win and keep the championship lead, but there is plenty of opportunity to extend it.
"We'll try to solidify our place in the championship. We're just going to take it race by race. Obviously, our focus was to win, and that's not going to change for the rest of the year. We're always going to be out here shooting for the win. Always being aggressive. That's what puts us in these positions to begin with. If it's not broken, don't fix it."
The win is a first for both Hindman and Marks in the WeatherTech Championship, but the sixth for Farnbacher, who closed out the race.
Though the car topped the class for the majority of the race, it was a nail-biter down to the end. Bill Auberlen – seeking his 59th IMSA win to come within one of all-time win leader Scott Pruett – was hunting down Farnbacher in his No. 96 Turner Motorsport BMW M6 GT3. Auberlen was able to close to less than half a second to Farnbacher in the closing minutes but would settle for second by 0.676 seconds.
"It was for sure not easy," said Farnbacher. "I tried to push for no mistakes and Auberlen was pushing like crazy. He closed the gap really easily and was always pushing. I tried to save it with no mistakes. I'm really happy for the team. Finally, we have the win. I'm so happy for the guys."
Auberlen co-drove with Robby Foley and Dillon Machavern, the latter of whom was part of the Turner Motorsport lineup that won at Watkins Glen in 2018.
Scoring their second podium of the season was the No. 63 Scuderia Corsa WeatherTech Racing Ferrari 488 GT3 of Cooper MacNeil, Toni Vilander and Jeff Westphal.
It's a quick turnaround for the next IMSA WeatherTech SportsCar Championship, which heads directly to Canadian Tire Motorsport Park for next Sunday's Mobil 1 SportsCar Grand Prix presented by Acura. It will be the first IMSA race to be televised live on the NBC network, beginning at 1 p.m. ET.
RESULTS: Sahlen's Six Hours of The Glen
[adinserter name="GOOGLE AD"]