Verstappen outduels Leclerc to win Austrian GP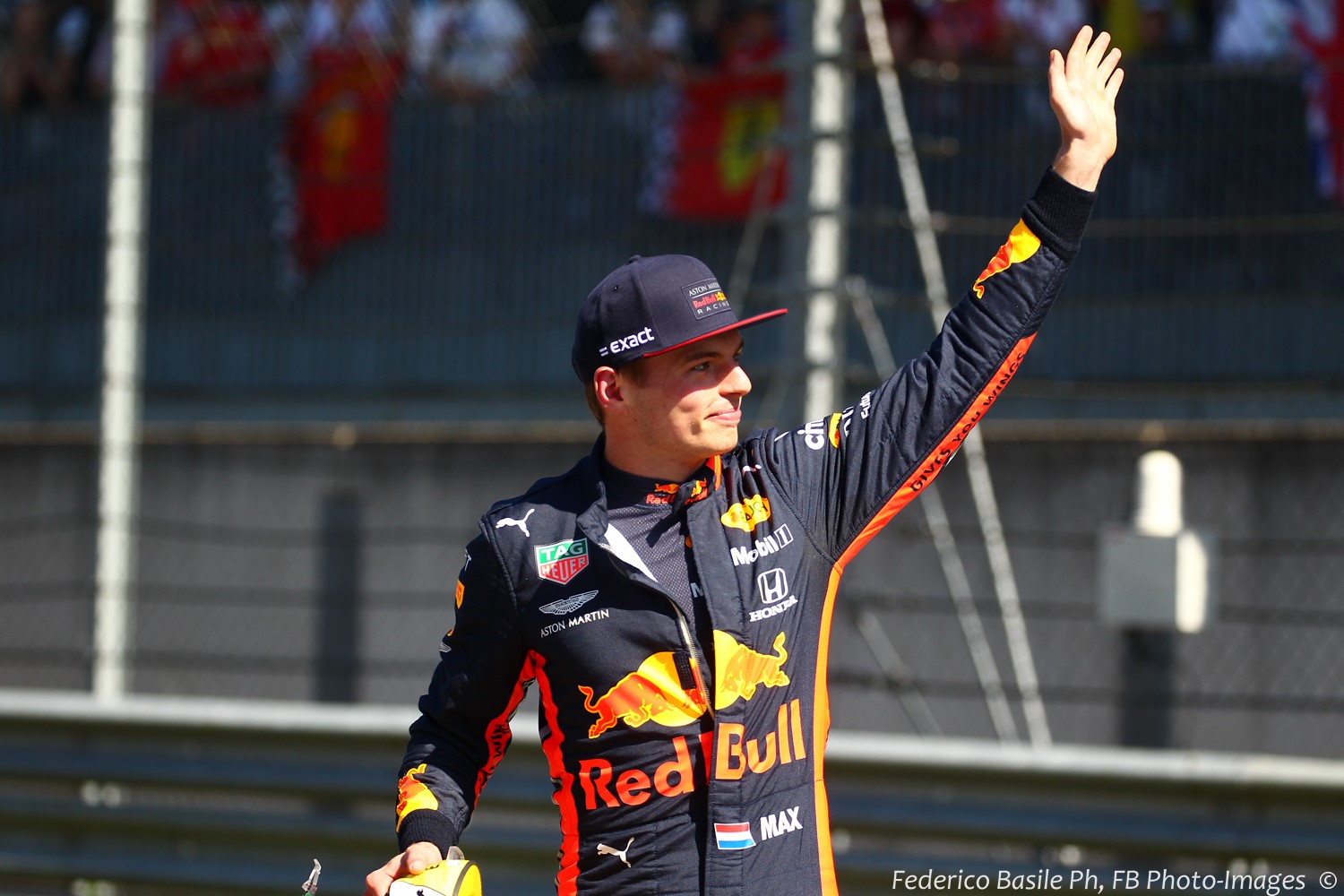 Max Verstappen waves to his adoring fans
Max Verstappen came back from a disastrous start that saw him drop from 2nd on the grid to 8th, to drive back through the field and pass Ferrari's Charles Leclerc with 3 laps to go to win the Austrian Grand Prix for the 2nd year in a row.
The race result was under review because Verstappen forced Leclerc off track to make the pass and the two cars touched.
Max Verstappen said "If those things are not allowed in racing then what's the point of being in Formula 1?"
Leclerc led from pole position and despite being on a strategy his rivals felt was "risky" managed to keep the lead Mercedes of Valtteri Bottas at arm's length throughout the grand prix.
[adinserter name="GOOGLE AD"]Valtteri Bottas barely held on to finish third by holding off a charging Sebastian Vettel in the 2nd Ferrari after the Ferrari disposed of Lewis Hamilton the lap before. Both Mercedes were suffering from overheating on a day when the temperatures were in the 90s.
Vettel started ninth after an engine-related problem in qualifying.
Lando Norris made up for his heartbreaking end to last week's race in France by winning the best of the rest battle for McLaren in sixth.
He kept the second Red Bull of Pierre Gasly comfortably at bay to score the best result of his rookie season.
Carlos Sainz Jr executed a long first stint to rise to eighth from the back of the grid, while Alfa Romeo duo Kimi Raikkonen and Antonio Giovinazzi completed the point scorers – Giovinazzi finally banking his first F1 point in the process.
Two Points of View
When asked in the post-race press conference if he felt the win had been stolen from him, Leclerc said: "Red Bull was very quick today, very good at keeping the tyres better than us.
"If I feel that the [first] overtake [attempt] was done rightly, I don't think the second one was.
"I believe that the end would have probably been the same anyway but it's just not the way you overtake, I think."
When asked to talk through the differences between the two moves, Verstappen said: "I think the second one I braked a bit deeper into the corner.
"We had a little contact of course, mid-to-exit of the corner. From my side I think it's racing.
"We all know there's a crest in that corner as well, so if you take the crest wrong, because we both went a bit straight on, at one point you run out of room.
"But it's hard racing. It's better than just following each other and having a boring race."
"I did the same thing from the first to the second lap," Leclerc said when asked in the post-race press conference if he felt he could have done anything different to avoid the contact.
"The only thing that changed from the first to the second lap was contact.
"And then I had to go wide, I lost quite a bit of time there."
"I did not expect any contact on the second lap.
"As Max said he braked a little deeper. I don't know if he lost it or not. But then there was the contact.
"I felt I was quite strong in traction on the first attempt, I managed to have a better traction and kept my position.
"On the second one I couldn't do that because I was off-track."
Quotes
Valtteri Bottas
I think we made the most of it today. We expected this race to be tricky, but it turned out to be even more difficult than we predicted. We had to do lots of lifting and coasting and couldn't use all engines modes to keep the engine from overheating. So, we couldn't really race properly, and I had to manage temperatures for the majority of the race. It made both defending and attacking very difficult. But you have to look at the positives – I got some good points out of this weekend and I don't think there was much difference in terms of race pace. So, it isn't all bad. We'll investigate and hopefully come back stronger at Silverstone.
Lewis Hamilton
It wasn't the easiest day, we knew already before the race started that we might be in trouble here. Overheating proved to be a fairly big issue for us today. I think we had good pace, the car felt good, but we just couldn't race due to the overheating. It seemed to be a limitation of our car this weekend and the other cars didn't seem to struggle quite as much as we did, so we'll have to look into this and try to fix it. There's going to be more hot races coming up like Budapest, so we'll need to get on top of this, otherwise it could be a difficult few races for us. I also damaged my front wing on the kerb, so we had to change it, which cost us a bit of time as well. It's just one of those bad days in the office, but at least I still got some good points with fifth place.
Toto Wolff
From a fan's perspective, this was a really exciting race to watch; however, from our team's perspective it was a difficult day. We said before the race that the high temperatures will be a huge challenge for us and that turned out to be true. Our Achilles heel was exposed, with both drivers struggling with overheating in these incredibly warm temperatures. We had to open up the bodywork all the way, turn down the engine and had to do lifting and coasting for long stretches. So, we couldn't really race with our car today, neither attack nor defend, we were just trying to keep it alive and cooling it properly. On a more positive note, though, we still scored a good haul of points and managed to put in some decent lap times despite these limitations. However, it's clear that we have to fix our cooling problems for the coming hot European races. As we say, the bad days are the ones when we learn the most to come back stronger. And we'll be looking to do just that at the next race at Silverstone.
Andrew Shovlin
It was good to see Honda get their first win since coming back into the sport; they have worked so hard for it, so hopefully they can enjoy the moment. For us it was an incredibly tough afternoon, we were on the limit with cooling all race. We knew this was our Achilles heel and the combination of ambient temperature and altitude were just too much for us to fight today. Valtteri did a good job to get on the podium, he was having to manage a lot whilst racing today and we had to give up a lot of performance to keep things cool, so we're happy that he got some reward. Lewis was in the same situation as Valtteri with temperatures and he was having to having to manage from start to finish. He was keeping his tyres in good shape but unfortunately his front wing flap broke on the kerb at turn 10 on lap 27 and we were losing too much time so stopped for a new nose and the Hard tyre. It was a shame to lose the place to Vettel right on the end, but it was just a consequence of all the issues we were having to deal with. Whilst temperatures were the headline item for us today, we weren't particularly quick even in Qualifying, so no doubt there are a few areas that we need to investigate and improve. We're looking forward to Silverstone, the car should work better there so hopefully we can get back to fighting at the front.
More to follow……
Results
| | | | | |
| --- | --- | --- | --- | --- |
| POS | DRIVER | NAT | TEAM | LAPS/BEHIND |
| 1 | Max Verstappen | NED | Aston Martin Red Bull Racing Honda | 71 Laps |
| 2 | Charles Leclerc | MON | Scuderia Ferrari | +2.724s |
| 3 | Valtteri Bottas | FIN | Mercedes AMG Petronas Motorsport | +18.960s |
| 4 | Sebastian Vettel | GER | Scuderia Ferrari | +19.610s |
| 5 | Lewis Hamilton | GBR | Mercedes AMG Petronas Motorsport | +22.805s |
| 6 | Lando Norris | GBR | McLaren F1 Team | +1 lap |
| 7 | Pierre Gasly | FRA | Aston Martin Red Bull Racing Honda | +1 lap |
| 8 | Carlos Sainz | ESP | McLaren F1 Team | +1 lap |
| 9 | Kimi Raikkonen | ITA | Alfa Romeo Racing | +1 lap |
| 10 | Antonio Giovinazzi | ITA | Alfa Romeo Racing | +1 lap |
| 12 | Nico Hulkenberg | GER | Renault F1 Team | +1 lap |
| 13 | Lance Stroll | CAN | SportPesa Racing Point F1 Team | +1 lap |
| 14 | Daniel Ricciardo | AUS | Renault F1 Team | +1 lap |
| 15 | Alexander Albon | THA | Red Bull Toro Rosso Honda | +1 lap |
| 16 | Romain Grosjean | FRA | Rich Energy Haas F1 Team | +1 lap |
| 16 | Sergio Perez | MEX | SportPesa Racing Point F1 Team | +1 lap |
| 17 | Daniil Kvyat | RUS | Red Bull Toro Rosso Honda | +1 lap |
| 18 | George Russell | GBR | ROKiT Williams Racing | +2 laps |
| 19 | Kevin Magnussen | DEN | Rich Energy Haas F1 Team | +2 laps |
| 20 | Robert Kubica | POL | ROKiT Williams Racing | +3 laps |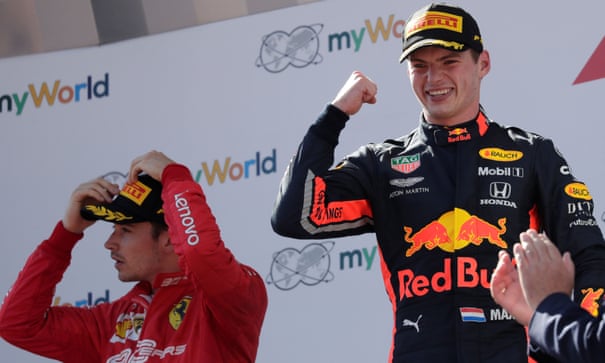 Verstappen ecstatic while Leclerc looks gutted
Drivers' Standings
| | | |
| --- | --- | --- |
| POS | DRIVER | POINTS |
| 1 | Lewis Hamilton | 197 |
| 2 | Valtteri Bottas | 166 |
| 3 | Max Verstappen | 126 |
| 4 | Sebastian Vettel | 123 |
| 5 | Charles Leclerc | 105 |
| 6 | Pierre Gasly | 43 |
| 7 | Carlos Sainz Jr. | 30 |
| 8 | Lando Norris | 22 |
| 9 | Kimi Raikkonen | 21 |
| 10 | Daniel Ricciardo | 16 |
| 11 | Nico Hulkenberg | 16 |
| 12 | Kevin Magnussen | 14 |
| 13 | Sergio Perez | 13 |
| 14 | Daniil Kvyat | 10 |
| 15 | Alexander Albon | 7 |
| 16 | Lance Stroll | 6 |
| 17 | Romain Grosjean | 2 |
| 18 | Antonio Giovinazzi | 1 |
| 19 | George Russell | 0 |
| 20 | Robert Kubica | 0 |
Constructors' Standings
| | | |
| --- | --- | --- |
| POS | CONSTRUCTOR | POINTS |
| 1 | Mercedes | 363 |
| 2 | Ferrari | 228 |
| 3 | Red Bull/Honda | 169 |
| 4 | McLaren/Renault | 52 |
| 5 | Renault | 32 |
| 6 | Alfa Romeo/Ferrari | 22 |
| 7 | Racing Point/Mercedes | 19 |
| 8 | Toro Rosso/Honda | 17 |
| 9 | Haas/Ferrari | 16 |
| 10 | Williams/Mercedes | 0 |